Since its creation in 1981, Xorel's simplicity has been integral to its environmental impact. Its extruded, solution dyed yarn was the critical element in creating a material that was high on performance and light on the planet. Since that moment 35 years ago, Carnegie has strived to improve its environmental footprint achieving some major industry firsts.
Carnegie's commitment to quality and innovation is inseparable from its commitment to sustainability. Research and development of sustainable textiles is one of our major business principles, which led to us becoming the first PVC-free textile and wallcovering company. The more we learned about the potential for the release of dioxin during the PVC manufacturing process, plasticizers during use, and dioxin during disposal if PVC is burned, we were convinced that we did not want PVC in our products. We are dedicated to finding high-performance alternatives for walls, windows, and furniture.
In 2013 Carnegie introduced Biobased Xorel, a plant-based product with a significantly reduced carbon footprint; offering the exact same beauty and performance the renowned Xorel brand has delivered for 35 years.
The Cradle to Cradle Products Innovation Institute awarded Biobased Xorel its rare Gold Certification, as did SCS Indoor Advantage. It also received the new FACTS Certification, and the USDA certified its biobased content between 60-85% depending on the pattern.
LPC offers a framework creating Living Products that are "Healthy and free of toxins; socially responsible and respects the rights of workers; Net Positive and benefit both people and the environment." We felt that LPC would offer us a great opportunity to have our signature collection vetted against a very comprehensive standard. Sustainability is at the very core of our business model and has been since the inception of our company some 60 years ago.
Our strategy was to seek Imperative level and review the findings to see if there is a clear pathway to Petal and ultimately Full Living Product Certification.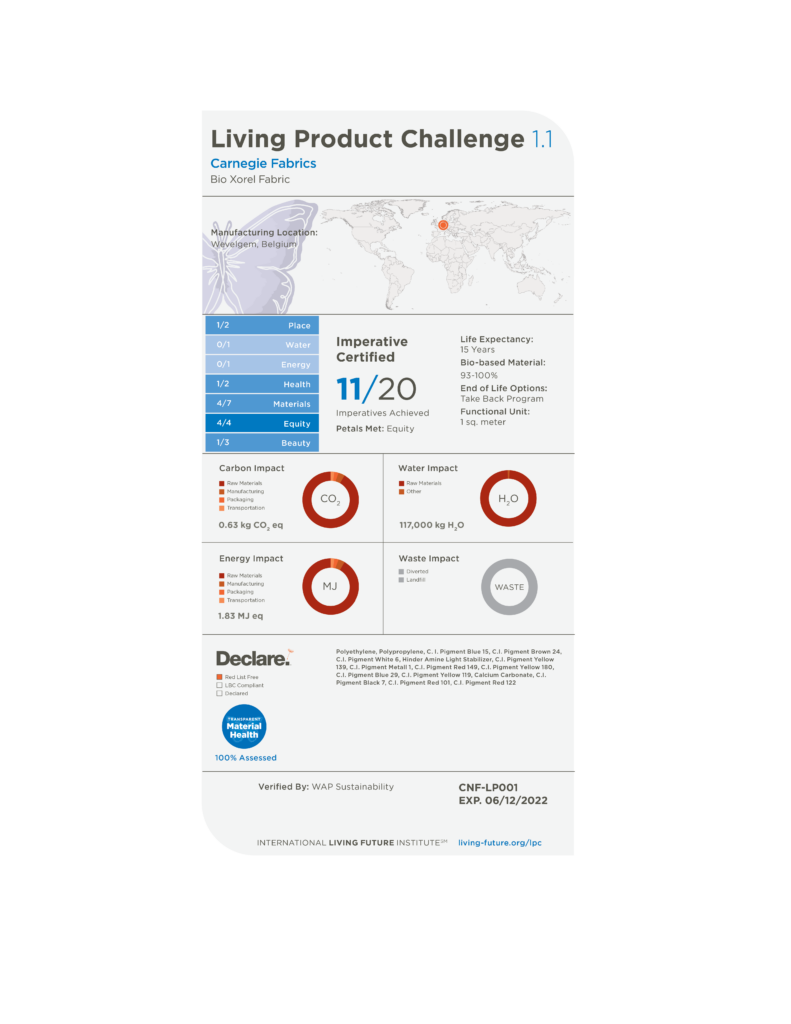 | Top Hurdles to Certification | Description of Solution/Changes Implemented |
| --- | --- |
| Working with global partners to gather the required documentation | Regular conference calls and communication |
| Ensuring documentation had the necessary information required for certification review | Packaging purchase orders will reference FSC Certified packaging moving forward |
3-YEAR PLAN
We will review the results of this assessment process and connect with the appropriate partners to achieve this goal through solid documentation and practices. Xorel manufacturing process uses little to no water, nor does it produce any effluence or harmful by-products.  With the LPC process, we are well on our way.
| 3-Year Plan Impact Area | Offset Required Per Unit of Product |
| --- | --- |
| Water | 117,000 kg water |
| Carbon | 0.63 kg CO2 eq |
| Energy | 1.83 MJ |
PLACE PETAL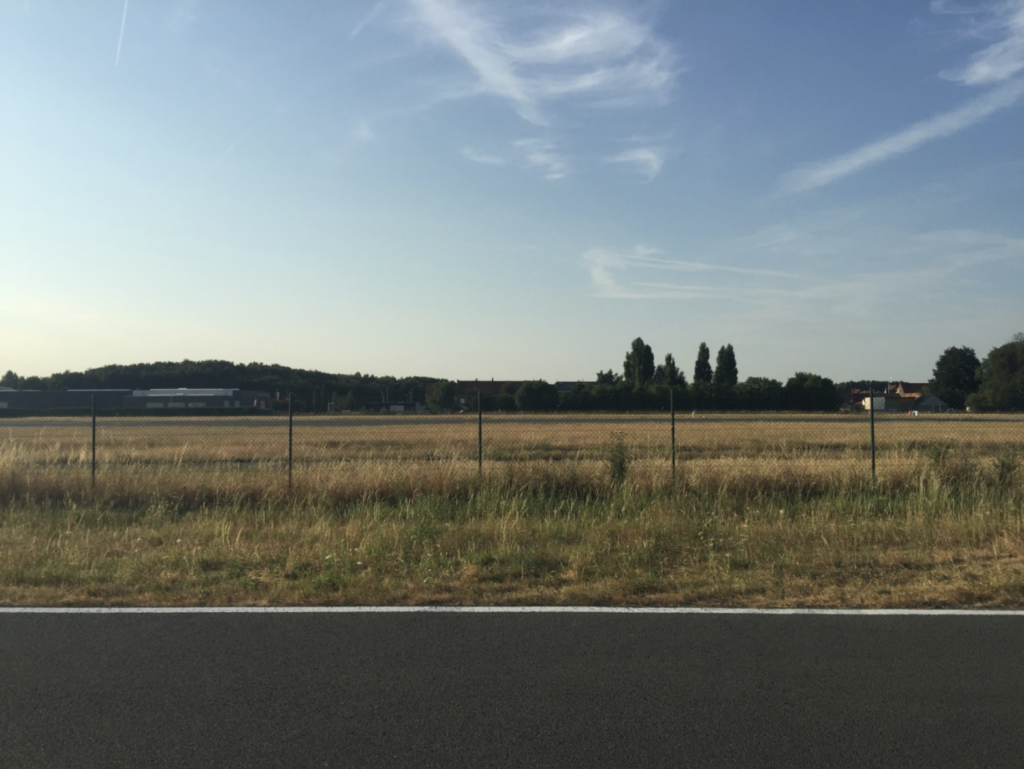 01. RESPONSIBLE PLACE AND HABITAT IMPACTS IMPERATIVE
Xorel fabrics are woven in the region described by Wildfinder as "Atlantic Mixed Forests Ecoregion includes coastal vegetation formations of dunes and heathlands with vegetation that thrives in salty soil. Sand dune systems occur along the southwestern coast of France, the region known as Les Landes, covered by both natural and planted forests of maritime pine (Pinus pinaster). They are rich in plant life, and home to a number of endemics. Bird diversity is particularly high — over 440 species have been recorded in The Netherlands alone. Most of the ecoregion's mammals are widespread in other parts of Europe. Several are listed on the IUCN Red List, including otter, European mink, and several species of bat (IUCN 2000). Only fragments of natural vegetation remain in this ecoregion, as most of the area was converted long ago into intensive agriculture or pasture."
There are no endangered Northern Right Whales near our weaving facility. The North Sea shore is 40+ miles away from our facility. Our facility is not located near any endangered species.
This area has a great history of weaving difficult fabric because people used to process flax before they processed it in one of the many flax factories in Wevelgem. That is also the reason De Leie got the nickname The Golden River, referring to the color of the flax. Because one could earn lots of money with flax, many people came to Wevelgem and stayed there for many generations. Today, the cultivation of flax is not so important, but there are still some factories that process flax, and other mills that process woven fabrics like Xorel.
WATER PETAL
The Water Petal was not achieved, but Carnegie Fabrics has shared its approach to the intent of the Petal.
Xorel product does not use water. Xorel is a solution dyed thermoplastic product; as such there is no wet process or water-related dyeing. There are not finishes applied to Xorel, there is no wet processing or related effluence. For effluents of product site their exist a lot of rules and verdicts from Federal State Government, Regional Government, Water Pollution Control Association and so on. About 40 parameters have to be controlled and reported in different time intervals (continuous, daily, weekly, monthly).
Water usage is limited to ancillary usage in employee sinks, bathrooms and water fountains and their purity is maintained as required by the laws in Belgium. Our weaving mill also uses recycled rainwater that is captured in cisterns that are installed on the roof or the waving facility.
From the position of the government, the potential impact of Belgium's water footprint depends entirely on where, in what quantity, when, and how water is abstracted. A significant water footprint in a region where water is in abundant supply is unlikely to have a negative effect on the local society or environment, but the same water footprint in a region where there is a shortage of water can give rise to serious problems, such as the drying up of rivers, the destruction of habitats and means of subsistence, and the extinction of species, as well as having an impact on agricultural prices, basic services, and local economies.
What water sustainability basically implies is effective collective action by those who use water and depend on it for the supplies they need. Xorel production fits into this important area of action for the government. It plays a major role here in devising the rules for water use and developing a legal framework or methodology, as it is able to adopt an overall approach to water-related questions, notably through the goods that we import, which account for a major part of the water footprint of a country like Belgium.
The details of the water footprint promoted by the government take freshwater resources into account in economic development, and in aid to developing countries. Such aid could, for example, include a component of sustainable water management in the countries concerned. The question of water is also closely linked to that of climate, and questions to do with rainfall, the amount of water abstracted and the timing of its abstraction are among the challenges faced in the battle against climate change. It is therefore essential for companies and the government to understand the issues to do with water in its totality, and for the debate on water management to relate to both its domestic and international aspects. Fortunately, Xorel does not use water in any significant for its production, but our workforce is still impacted by the government's policies, therefore, we will remain vigilant in our water conservation efforts.
Due to the large life cycle water impact of this product, the Water Petal was not pursued as the scale of the Handprint solution was not feasible at this time.
LCA FUNCTIONAL UNIT: 1 square meter
LCA RESULTS FOR WATER: 117,000 kg water
| Identify Water Hotspots | Description |
| --- | --- |
| Raw Materials | Due to the bio-based nature of the product, the upstream water usage is quite large, relative to other stages of the life cycle. |
| Other | All other life cycle stages represent less than 1% of the total life cycle water impact. |
HEALTH + HAPPINESS PETAL
Carnegie's core competency revolves around creativity. Our New York City studio houses a homegrown design team that develops original products in textiles with a commitment to transparency, innovation, quality, and sustainability. We readily share that vision with our design clients who visit with us and experience that process firsthand. Aligning ourselves with Be Original Americas is simply a natural extension of this belief system.
The proliferation of knockoffs is a true threat not only to textile design-driven companies like Carnegie but also to the value of creativity, problem solving and innovation. Supporting original design is both a corporate and social responsibility. It is a commitment to authenticity and to maintaining honest relationships with our clients. Be Original Americas gives honest companies a venue for their voices to be heard.
Employee work/life balance is an important part of our success Carnegie works relentlessly to create a positive personalized experience for our clients in the spirit of employee fulfillment. By clearly stating our core values, we can explain our expectations to all Carnegie employees and manifest these characteristics to our client base.
05. TRANSPARENT MATERIAL HEALTH IMPERATIVE
Years ago, Carnegie began looking at the chemicals contained in its products from the perspective of human and environmental health. As part of that process, it worked towards Cradle to Cradle certification, ultimately leading Carnegie to achieve Cradle to Cradle Gold Certification on its Biobased Xorel Product, meeting the requirements of this Imperative.
MATERIALS PETAL
07. RED LIST IMPERATIVE
As part of the Cradle to Cradle process, Carnegie has to collect all of the ingredient information from its suppliers, ultimately leading to an assessment of the material and environmental health of the substances. This information was readily available to then be screened for Red List chemicals, and none were discovered to be in the product above the 100ppm threshold.
09. RESPONSIBLE INDUSTRY IMPERATIVE
Carnegie has elected to utilize FSC Certified wood and paper packaging for all of its Xorel products to show its commitment to sustainable resource extraction. Furthermore, Carnegie has received a Third Party Verified Declare label, a requirement of the Living Product Challenge, to prove the disclosure to the market.
DECLARE ID: CNF-5001
12. PRODUCT FIT TO USE IMPERATIVE
The following is an excerpt from Carnegie Fabrics' product testing protocol.
We have an extensive product development process for our materials. The following process is to ensure that all development testing is completed, and all issues are resolved prior to the launching of new products.
Creative team creates and shares Tracking Chart with relevant product information along with any relevant testing supplied by the mill. Upon receipt:
We will examine fiber content and treatments for any potential issues related to its intended end-use.
We will review all testing information supplied by the mill to ensure that industry standards are met.
Upon arrival of test yardage into RVC, we will:

Inspect yardage for a physical defects and other quality issues
Review the fabric's construction, and advise if additional testing is needed.
Verify if alternative end-uses are warranted and test accordingly.
Send 1 yard to Creative team to confirm that aesthetic quality is acceptable.
Upon confirmation of aesthetic quality, yardage will be sent to the testing laboratory.
Upon completion of testing, we will:

Send test results and feedback to appropriate creative teams.
Flag any issues discovered during testing.
Work with mill and creative team to resolve all issues, when needed.
We will advise and /or develop installation and maintenance instructions for all new products
Proof all technical information for marketing materials.

We will confirm that all marketing claims align with our test data.
Offer suggestions on wording and/or disclaimers, as needed.

Space division will require a modified approach due to the unique nature of that business segment. However, our main product needs will be:

To verify that all components are durable in a commercial setting.
To ensure that all of components are free of any toxins or metals (Tantalum, Tin, Tungsten, and Gold) derived from "conflict" regions of the world pursuant Section 1502 of the Dodd-Frank Act. Publically held companies may request written confirmation that our components are compliant.
13. USEFUL LIFE DISPOSAL IMPERATIVE
Xorel fabrics are made with polyethylene, which is totally chlorine free, and contain no heavy metals, plasticizers or stabilizers, and is manufactured in such a way that it creates substantially less carbon monoxide, nitrogen oxide, hydrocarbons, sulfur dioxide, and dust.
WASTE TO ENERGY RECYCLING:
Xorel is composed of High Density Polyethylene fibers (HDPE), which is derived from natural gas. As such, these fibers possess a significant amount of stored energy and can be safely incinerated without emitting harmful gases into the air. Xorel can be committed to a Waste to Energy (WTE) facility. The steam created in the waste combustion process produces electricity for use in the local utility area.
LANDFILL
Xorel can be landfilled without concern of pollutants leaching into or harming groundwater. Xorel contains no Cadmium, Chromium, Lead or Mercury, thus making Xorel CONEG compliant.
RETURN TO THE CARNEGIE FABRICS
We will accept recovered Xorel material at the end of its useful life, and utilize it in our local waste-to-energy recycling program, which creates clean fuel for our local energy grid. Program details and application are available through our shipping and Technical Services Department.
EQUITY PETAL
14. EQUITABLE PRODUCT ACCESS IMPERATIVE
Carnegie has elected to sell Xorel to affordable housing projects at cost parity or discounted prices to allow Xorel to be a comparable and safer alternative to existing products in the market.
15. RESPONSIBLE CO-PRODUCTS IMPERATIVE
Carnegie Fabrics only produces responsible products and does not manufacture products known to cause harm to humans.
16. EQUITABLE INVESTMENT IMPERATIVE
Carnegie Fabrics is committed to sharing its resources with its greater community. As such, we have donated $22,775 during the recorded performance year, which exceeds the 0.25% donation requirement for the Equitable Investment Imperative.
In lieu of Christmas gifts to employees, Carnegie Fabrics allows each employee to identify a charity of their choice to receive a monetary donation in their honor. A few of the charities that have received donations are: Hydrocephalus Association, March of Dimes, Brooklyn Kindergarten Society, Material for the Arts, and the American Cancer Society.
Additionally, we have donated thousands of yards of material to students and designers for various endeavors and projects.
17. JUST ORGANIZATIONS IMPERATIVE
Carnegie Fabrics met the requirements of the Just Organizations Imperative through an aggregate B Corp score of at least 41 points in total across the three categories of Workers, Community and Governance.
To fulfill the performance requirement for B Corp Certification, a company must complete the B Impact Assessment. The B Impact Assessment (BIA) is a free, confidential platform designed to help measure and manage a company's positive impact on your workers, community, customers, and environment. The BIA assesses the impact of both your company's day-to-day operations and your business model—both what you do and how you do it. Responses to the B Impact Assessment determine the total numeric score. B Corp Certification requires a minimum verified total score of 80 across all impact areas.
The questions on the B Impact Assessment are determined by company size, sector and market, with around 200 total questions. The time it takes to complete the assessment will vary based on the company's size and complexity. The content of the B Impact Assessment is overseen by B Lab's independent Standards Advisory Council.
Best practice guides, goal-setting features, and improvement reports allow any company to use the BIA to create a roadmap for improved performance year-over-year or quarter-by-quarter.
Because the B Impact Assessment measures performance over the past twelve months, only companies that have at least one year of operations are eligible for B Corp Certification. Companies under one year are eligible for Pending B Corp Status.
BEAUTY PETAL
19. BEAUTY + SPIRIT IMPERATIVE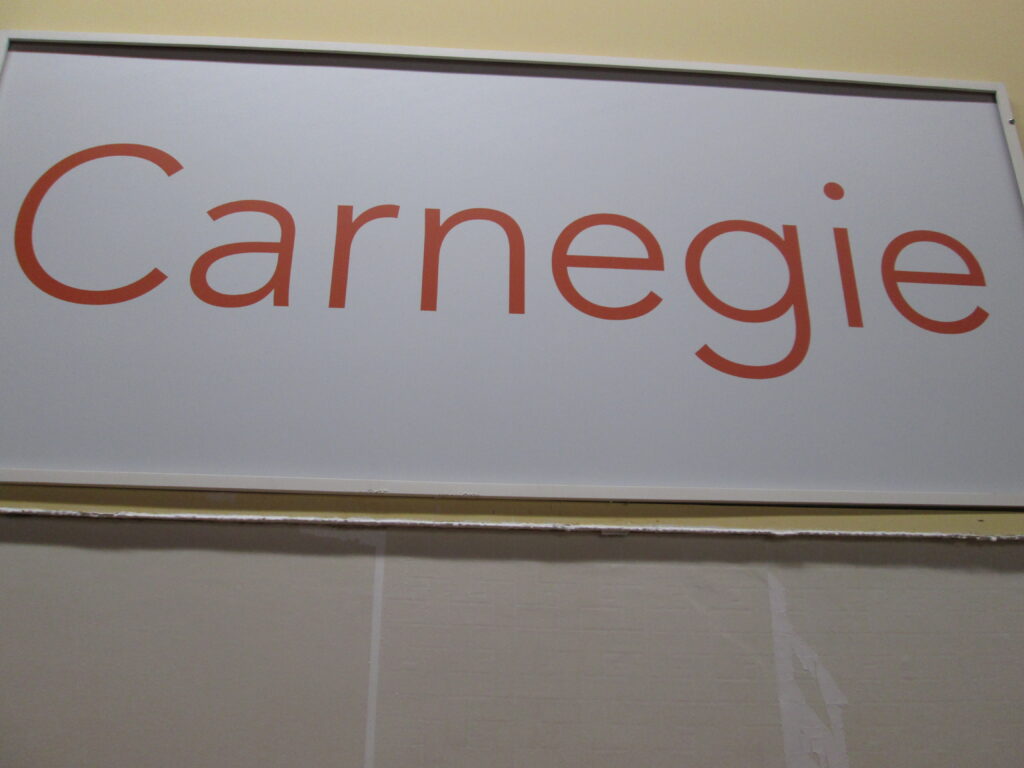 Our design inspiration is motivated by our guiding principles. Based in New York City, the Carnegie Creative Studio is dedicated to exploration, research and material innovation. Our talented and diverse team includes textile designers, weavers, painters and graphic designers committed to examining new technologies in addition to a quality assurance team that is second to none.
This commitment to innovation allows us to create customized and signature solutions for our clients, and we have developed a stellar reputation for providing solutions to our clients, and that ability is unsurpassed in the industry. Our showroom is open to clients who are free to visit our creative studio and showrooms in New York City, Chicago, and San Francisco. There are always great opportunities for partnering with Carnegie.
Design is at the core of our company ethos. We employ a multi-talented and multicultural team with a bevy of artistic backgrounds that fuels our creative rhythm. Our greatest asset is our ability to listen to our clients. Our approach is unique in that we are listening less to what the market wants today and focusing on what might be needed tomorrow is what fascinates and motivates us. Our collaborative spirit is multi-faceted, and our creative approach within our team and with our clients and suppliers signifies openness and commitment. Interdepartmental communication is critical in this regard. It allows for wider input.
Big enough to deliver scale, small enough to act upon new opportunities, we celebrate our ability to find new paths. The way it was done yesterday does not define how we do it tomorrow. We are curious and determined to find new ways to be excellent every day.