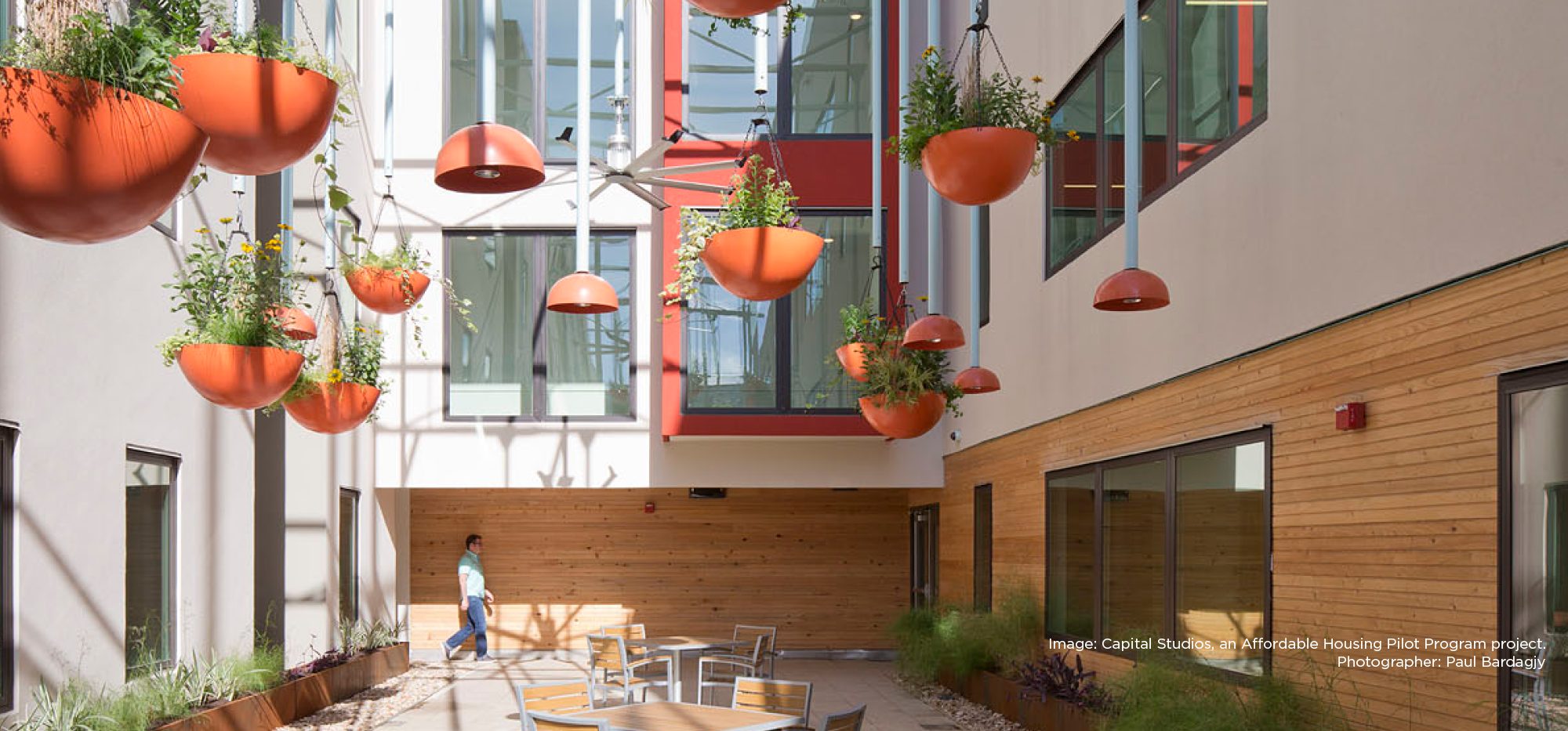 LIVING Affordable Housing
2023 Call For Proposals
ILFI is thrilled to announce that we are now accepting applications for our 2023-2026 cohort of Affordable Housing pilot projects! See the link below for instructions on applying and reach out to us at affordablehousing@living-future.org with any questions.
Note: Deadline Extended Until December 8th
At the Institute, we envision a future of Living Buildings for everyone. Watch the video below to learn how the Living Building Challenge® can help ensure affordable housing is resilient, healthy, and regenerative. To get started, check out the resources on this page!
Affordable Housing Framework
The Living Building Challenge® Framework for Affordable Housing outlines building strategies for multi-family affordable housing projects. We worked with a number of partners to identify how to overcome social, regulatory, and financial barriers to applying deep green technologies to affordable housing.
AFFORDABLE HOUSING materials Resources
RESOURCES FOR GETTING STARTED WITH RED LIST FREE MATERIALS:
This quick 3-step checklist provides an overview of the steps needed to confirm the Red List status of a product.
This guide provides an overview of the materials requirements in the Living Building Challenge® (LBC) 4.0 Materials Petal compliance, specifically I13 (Red List), I14 (Responsible Industry), I15 (Living Economy Sourcing), and LBC's Health and Happiness Petal (I10, CDPH), as well as key strategies and tips.
This crosswalk highlights the overlapping requirements and intersection between Core and Enterprise Green Communities. It will help teams pursuing both standards determine how to effectively align strategies under the requirements of both.
RESOURCES FOR FINDING AND RESEARCHING PRODUCTS:
Fifth Update! The goal of the Affordable Housing Materials List is to help affordable housing project teams more quickly and easily identify appropriate and Red List Free products to use. The list includes products in Declare®, as well as those that have been independently researched by the Institute and our affordable housing pilot project teams. Note that the file must be opened read-only. Please contact affordablehousing@living-future.org if you have products to add to the list or if you have any feedback on this resource.
The letters above are examples of the types of language that project teams can use when reaching out to manufacturers to inquire about the attributes of their product, such as the Red List status. Thanks to Atelier Ten and Shelby and William Aldritch for providing these examples.
The FSC Sourcing Guidance document provides an overview of the Forest Stewardship Council, describes the Living Building Challenge® requirements for wood, and provides links to various online resources to aid Affordable Housing Project teams in their search for FSC wood.
FSC, in conjunction with the Northwest Natural Resource Group (NNRG) has created a new supplier database that helps project teams search for specific products by region, providing supplier contact information and predicted turn-around times.
Living Product Manufacturers Committed to Equitable Investment
The manufacturers below have achieved the Equitable Investment Imperative of the Living Product Challenge™, indicating that they would be willing to provide their certified products at price parity for affordable housing projects.
Mohawk
Superior Essex
Owens Corning
Tarkett
Shannon Specialty Floors
Industrial Louvers
HMTX Industries (Metroflor Corporation)
Armstrong World Industries
Plant Solutions
Humanscale
Resources for Construction
Specification Resources
ILFI has drafted sample specifications for project teams to reference when including the Materials Petal and Health & Happiness Petal requirements in their Construction Documents.
Materials Case Studies
The three case studies below detail the efforts of three affordable housing pilot projects striving to achieve the Materials Petal. The case studies include information about the materials they researched, as well as the strategies and priorities that they each used.
ADDITIONAL Resources
Guide for Greener QAPS
The Institute has spent years forming relationships with state housing finance agencies around the country in order to add sustainability features and healthy materials incentives to each state's Qualified Allocation Plans (QAPs). This guide summarizes the lessons learned into nine steps, and illustrates how others might join in the Institute's efforts by advocating to their own state's housing finance agency to provide financial incentives for Living Affordable Housing.
Affordable Housing Solar Investment Tax Credit
The federal government's Renewable Energy Tax Credit (RETC) program includes a variety of incentives to subsidize renewable energy technologies. The Investment Tax Credit (ITC) portions of this program provide a mechanism to help finance solar energy systems used to provide electricity or solar hot water.
LEARN MORE!
Interested in learning more about Living Affordable Housing? You can access our online education to find courses related to the Living Building Challenge® in affordable housing, researching healthier materials, energy and carbon, and more. You can also check out ILFI's online journal, Trim Tab, to find articles about ILFI's Affordable Housing Program and information about our more than 50 affordable housing pilot projects. If you have any other questions or would like to get involved, you can also email the team at affordablehousing@living-future.org.