SARGENT Manufacturing, founded in the early 1800s, designs and manufactures high-quality innovative door hardware for commercial and institutional facilities. Now an ASSA ABLOY Group brand and market leader in cylindrical and mortise locksets, key systems, door closers, exit devices, decorative hardware and integrated access control products, SARGENT continues to lead our industry in new product introductions and innovations to existing products.
Sustainability is a driver throughout ASSA ABLOY's value chain; it is an important element in innovation, in sourcing, in production, in employee development, in applying ASSA ABLOY's products and solutions, and in the Group's relation to external stakeholders.
The challenge to develop an energy efficient electrified mortise locking solution led to the challenge of taking the extra step to explore just how much of a handprint it could have. EcoFlex was selected because of its energy saving nature, but also to provide a challenge for our team- this is a highly configured electrified product.
EcoFlex™ technology, available in electrified mortise locks and exit trims from ASSA ABLOY Group brands CORBIN RUSSWIN and SARGENT, represents a significant innovation in door opening technology. EcoFlex electrified mortise locks reduce energy consumption up to 96% and EcoFlex electrified exit trims up to 95%, as certified by GreenCircle Certified. With this dramatic reduction in energy consumption, drawing less than 1/4 watt at 12V, EcoFlex offers more flexibility to consolidate power supplies and reduce operating costs. EcoFlex offers a flexible, reliable solution with a single ANSI/BHMA Grade 1 mortise lock or exit trim that can be used for 12V – 24V applications and can be easily field-configured for fail-safe or fail-secure operation.
The process was intended to involve cross functional teams within the organization and that has been achieved. Colleagues from engineering, product development, supply chain, manufacturing, marketing, and innovation have all participated and advocated for this certification.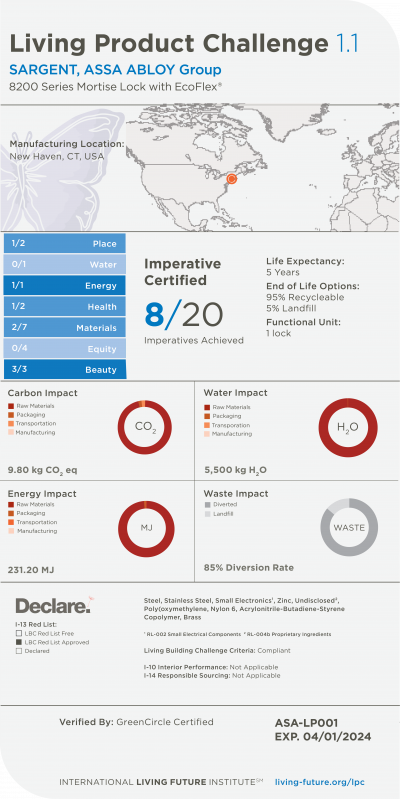 TOP LESSONS LEARNED
TOP HURDLES TO CERTIFICATION
| Top Hurdles to Certification | Description of Solution/Changes Implemented |
| --- | --- |
| Spend time on upfront research | Dedicate time to understanding the implications of each imperative. Be realistic about the timeline and the amount of resources needed. |
| Stay organized | There will be data and material utilized for this certification that may not have existed previously. It is important to manage this information as well as a detailed documentation checklist outlining requirements and responsible parties. |
| Have a solid team and dedicated third party | Guidance and support from outside our organization was key to completion. |
| Create awareness across the organization | Education and advocacy are components of the ILFI for a reason. This certification progressed when the team adopted the fundamentals and reasoning. |
| "Be like water" | The team understood that we would, in some cases, need to change or update the scope of the imperatives. |
3-YEAR PLAN
The ASSA ABLOY New Haven, CT manufacturing facility has a three‐year plan to reduce their energy consumption through various pathways, including upgrading building equipment, improving processing in their manufacturing operations, conducting testing to identify inefficiencies. The combination of these efforts will result in increased operational energy efficiency and reduced energy footprint for their products. Through use of the ASSA ABLOY Sustainability Compass tool, ASSA ABLOY is consistently evaluating their products and innovating to reduce their environmental impacts. The goal of the Sustainability Compass tool is to increase positive impacts like recyclability, recycled content, and reuse potential; while reducing negative impacts such as carbon footprint, in‐life energy use, water consumption, and raw material use. ASSA ABLOY uses this tool to reduce a product's individual energy footprint.
PLACE PETAL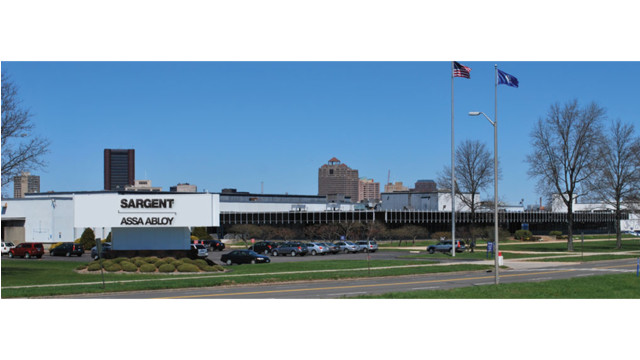 01. RESPONSIBLE PLACE AND HABITAT IMPACTS IMPERATIVE
The ASSA ABLOY Sargent manufacturing facility in New Haven, Connecticut 06511 is located within the Northeastern Coastal Forests Ecoregion. In order to protect this region, it is recommended that public lands are properly managed, pre-existing developments are designated for mixed use where possible, and further efforts are made to protect and enhance biodiversity and conservation. Some specific examples include the following: further protection should be added to the land within the Delaware Bay that has been carefully managed to promote eco-tourism. The undeveloped land within the Pennsylvania and Maryland serpentine barrens should be acquired and designated as conservation land. In general, all land within this eco-region needs to be managed appropriately to maximize conservation efforts.
Exception I01-E3: GRI Reporting was used for I01-4: Site Narrative. The facility was constructed prior to 2007.
ENERGY PETAL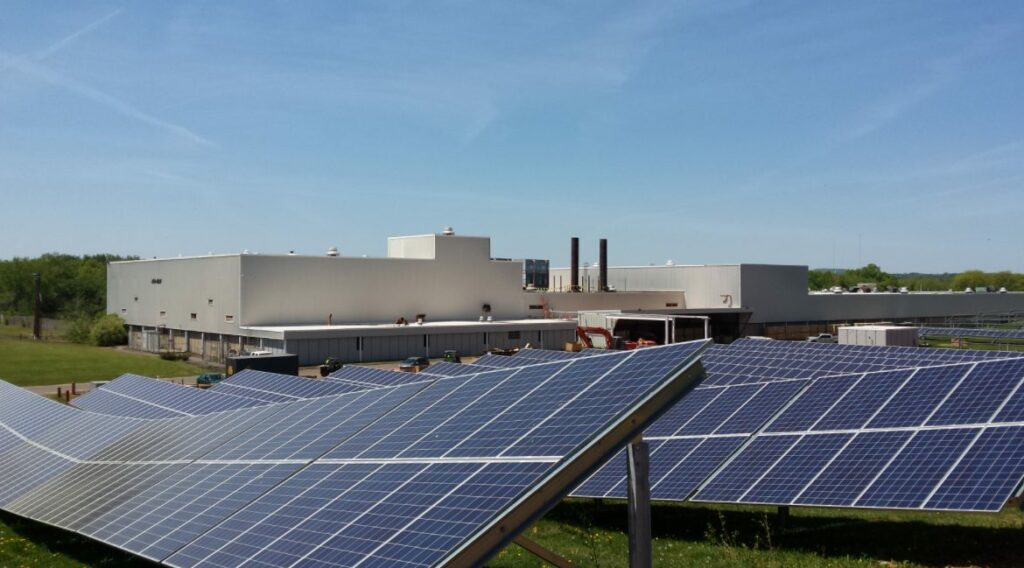 04. NET POSITIVE ENERGY IMPERATIVE
The New Haven facility utilizes electricity and natural gas as the main sources of energy to power the manufacturing operations. The natural gas and electricity inputs are used to facilitate mechanical assembly of the products. This energy represents a small portion of the overall energy consumed within the life cycle of the products. The primary source of energy consumption comes from the upstream energy consumption in the supply chain. Much of the upstream energy consumption comes from the supply chain manufacturing processes such as stainless‐steel cold rolling, steel stamping and turning, and brass casting and hot molding. The source of energy for the upstream supply chain processes is almost entirely electricity and natural gas. The New Haven facility does not have installed energy submeters to track energy use for specific product lines; rather, the Product Share Path was chosen to determine the energy footprint of the 8200 Mortise Lock with EcoFlex technology.
| | |
| --- | --- |
| Energy consumption per lock: | 42.1 MJ to manufacture one unit |
| On-site energy annual use: | 21,020,603 kWh |
| LCA Unit of Measure: | 1 unit or piece of EcoFlex Lock as specified in the Builders Hardware PCR |
| LCA Results for Energy: | 231.20 MJ |
| Identify Energy Hotspots | Description |
| --- | --- |
| Electricity during use phase | The lifetime energy consumption of the product consumes more electricity than all other contributors combined. |
| Electricity during manufacturing | Electricity generated in the New Haven grid mix during the manufacturing phase. |
| Stainless Steel as a raw material | Embodied energy of raw material inputs, including the upstream manufacturing processes of this raw material. |
| Steel as a raw material | Embodied energy of raw material inputs, including the upstream manufacturing processes of this raw material. |
| Brass as a raw material | Embodied energy of raw material inputs, including the upstream manufacturing processes of this raw material. |
EXCEPTIONS USED, LESSONS LEARNED
When expanding the system boundary of the product's life cycle, the use phase becomes the largest contributor of energy consumption. The use phase accounts for approximately 55% of all energy used in the product's life cycle, representing an impact three times greater than the second largest contributor.
ASSA ABLOY's Sustainability Compass is integrated into the product development process and provides an understanding of sustainability related design criteria. The goal is to improve the sustainable attributes in the company's product portfolio. The compass includes eight dimensions: raw materials, packaging, virgin material, end of life reusability, recyclability, in life energy consumption, carbon footprint, and financial cost. Each dimension is evaluated from a life cycle perspective and the goal is to have a lower impact than the previous product. These areas are tracked and communicated among internal stakeholders involved in product innovation and development.
HEALTH + HAPPINESS PETAL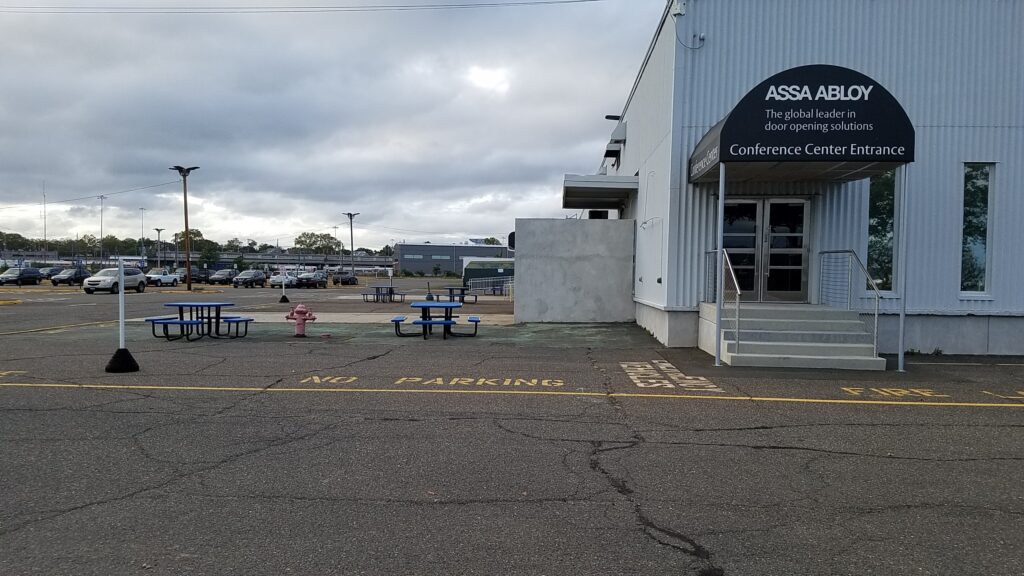 ASSA ABLOY has noticed a transition in the behavioral health industry towards developing spaces that are restorative and promote the safety and health of all who are within it. ASSA ABLOY's door and hardware installations therefore, not only focus on creating a safe and secure environment, but also on creating a therapeutic and restorative setting.
ASSA ABLOY's The Georges Collection, part of Corbin Russwin's Museo Line, is inspired by Georges Braque's cubist style which flaunts angular and multi-faceted planes.
06. HUMAN THRIVING IMPERATIVE
Employees enjoy access to healthy dining options at work, via the in-house cafeteria and catering options.
MATERIALS PETAL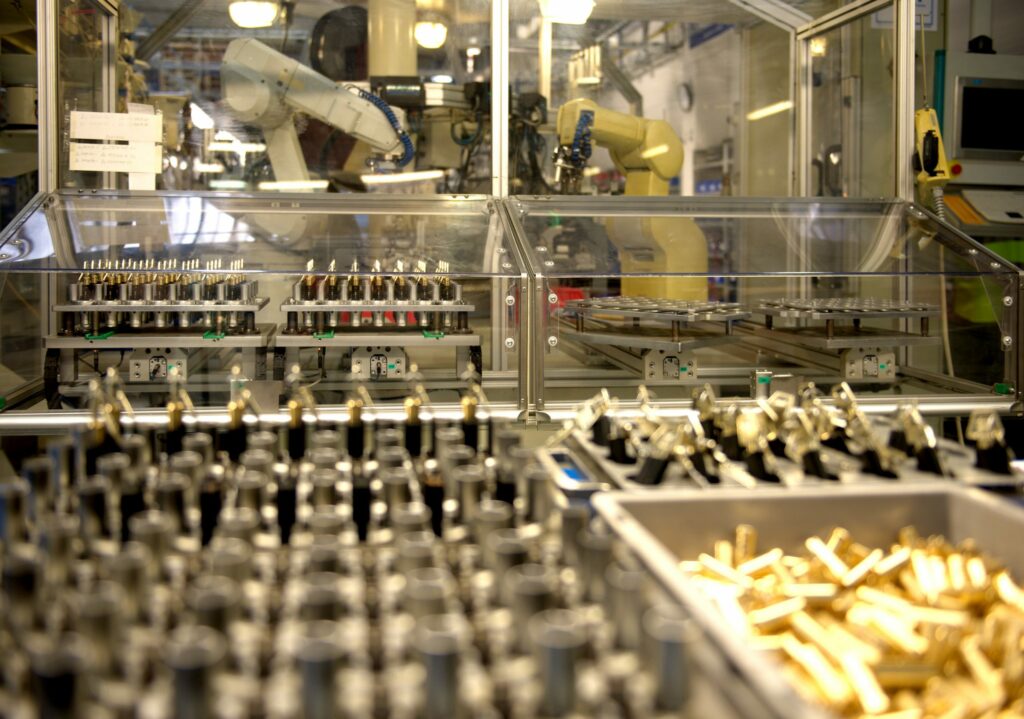 The Declare label was especially important and is a major benefit to completing the Materials Petal. Most of the existing ASSA ABLOY Declare labels pertain to mechanical products, or products which are not as heavily configured and complex as the EcoFlex lock. As you would imagine, a product with so many components involves numerous members of a cross functional team. Members of this team are charged with any number of projects in a year, including LPC certification. Our teams were forced to examine daily data in a different way; forging new relationships with suppliers, engineering, and operations. The level of detail required has encouraged our teams to start investing in new ways of mining data.
07. RED LIST IMPERATIVE
With global reach comes global responsibility. As a manufacturer, ASSA ABLOY works to become more accountable by taking into consideration the impacts that ASSA ABLOY products have on the environment and human health. As efforts in sustainability become a natural part of what is done as manufacturers, the company commits to taking a closer look at what goes into a product, how a product is made, and where the product was sourced from. ASSA ABLOY will take care to utilize various resources to make the most responsible decisions—from the early stages of product development all the way to the end of the product's useful life.
DECLARE ID: ASA-0028
09. RESPONSIBLE INDUSTRY IMPERATIVE
The primary manufacturing processes are made by Tier 1 suppliers and final manufacturing processes occur in New Haven & Berlin CT. The components come from processes like stamped steel, turning, and aluminum extrusion. The ASSA ABLOY supplier sustainability audit program focuses on direct material suppliers in low cost countries in South and Central America, Eastern Europe, Africa, and Asia, as these are perceived as the greatest risk regions for not complying with ASSA ABLOY's Business Partner Code of Conduct. The Business Partner Code of Conduct communicates ASSA ABLOY's policies and principles on business ethics, human rights, and labor standards, health and safety, and the environment to suppliers. ASSA ABLOY conducts its own supplier audits and due diligence processes to verify compliance.
BEAUTY PETAL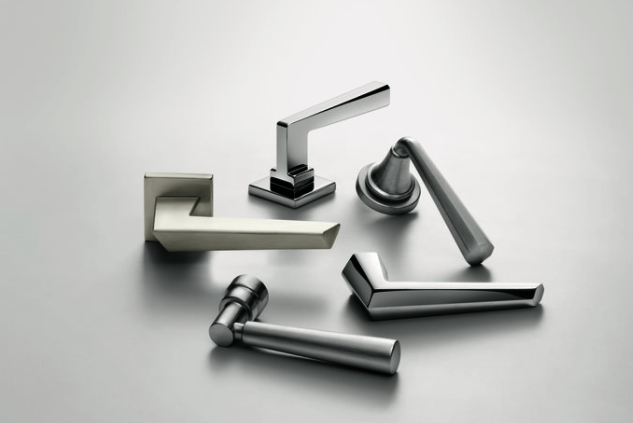 18. POSITIVE HANDPRINTING IMPERATIVE
EcoFlex locks are equipped with actuator motors instead of solenoids. In a traditional solenoid lock, an energy hungry coil pushes a metal plunger to lock or unlock the door. About 6W of power is continuously consumed to hold the lock in the energized state. When power to the solenoid is removed, a mechanical spring drives the locking mechanism in the opposite direction. By comparison, an actuator motor temporarily stores electrical energy in a capacitor and then drives the locking mechanism with a motor to lock or unlock the door. When power is removed, the capacitor is immediately discharged to drive the motor in the opposite direction. In addition, the actuator eliminates thermal breakdown, the primary cause of solenoid failure. The actuator does not produce heat and also significantly reduces the electrical load on a physical access control system, is less sensitive to extended wire runs or the gauge of the wire, and operates across a wider voltage range.
19. INSPIRATION + EDUCATION IMPERATIVE
Door hardware may be the most intimate points of contact we have with a building. We're affected by the way a door looks and, the way the lever or pull on that door feels. So while the first job hardware is to make what's behind it safe and secure, its aesthetics – its contribution to the dominant attitude of a space and the human experience – matters, too.
"The character or expression of any building can only be achieved if it is itself a total expression. Like any work of art, it must be dominated by a strong, simple concept. All of its parts must be an active part of one dominant attitude."

— Eero Saarinen
20. INSPIRATION + EDUCATION IMPERATIVE
LPC PAGE URL: https://www.intelligentopenings.com/en/solutions-by-topic/sustainability/