jh.architecture's new office in Burlington has been designed and built to receive Petal Certification for the Living Building Challenge. The project is the first in Ontario to receive this distinction. The design demonstrates jh.architecture's commitment to healthy and sustainable architecture. To achieve Petal Certification, the project focused on the Health + Happiness, Materials, and Beauty Petals to create a vibrant and engaging workspace that supports the essential environmental advocacy that takes place within it.
VITAL STATS
| | |
| --- | --- |
| Certification Status | Petal Certified |
| Version of LBC | 3.0 |
| Location | Burlington, ON, Canada |
| Project Area | 1,190 SF |
| Start of Occupancy | May 2015 |
| Owner Occupied | Yes |
| Occupancy Type | Commercial Office |
| Number of Occupants | 4 |
PROJECT TEAM
| | |
| --- | --- |
| Owner | James Hettinger – jh.architecture |
| Project Manager | jh.architecture |
| Architect | jh.architecture |
| Contractor | Robert Mitchell Contracting |
| Mechanical | Termobuild, P.Eng, Thornhill |
| Electrical | Lapas Consulting Engineers Limited |
| Plumbing | jh.architecture |
| Lighting Design | Lapas Consulting Engineers Limited |
| Interior Design | jh.architecture |
| Specialty Consultant(s) and Role(s) | Pinchin Ltd. – Air Quality Testing, Baker Brothers Unique Furnishings – Wood Working |
SITE INFO
Prior to the project start, the site was occupied by a car dealership until 2009. From 2010-2012 the site was redeveloped into townhouses with mixed-use units at street level. The described project is a renovation of one of these commercial spaces.
The site was selected to house the new office for jh.architecture, to highlight the importance of sustainable renovation projects within existing building, and brownfield site repurposing. Another reason for choosing this site was for its strong southern exposure which allows for ample daylight.
The location of the building itself encourages healthy living. The building is centrally located in Burlington and has close access to many methods of public transportation. Employees, as well as visiting clients, can conveniently utilize city bus routes, major train stations as well as a variety of bicycle paths. An electric charging station is provided for people traveling by electric powered transportation. Bicycle parking is available to encourage tenants to use human-powered transportation. The site also provides a smoke-free environment inside and outside the building, as the Halton District does not allow smoking close to commercial locations.
HEALTH + HAPPINESS PETAL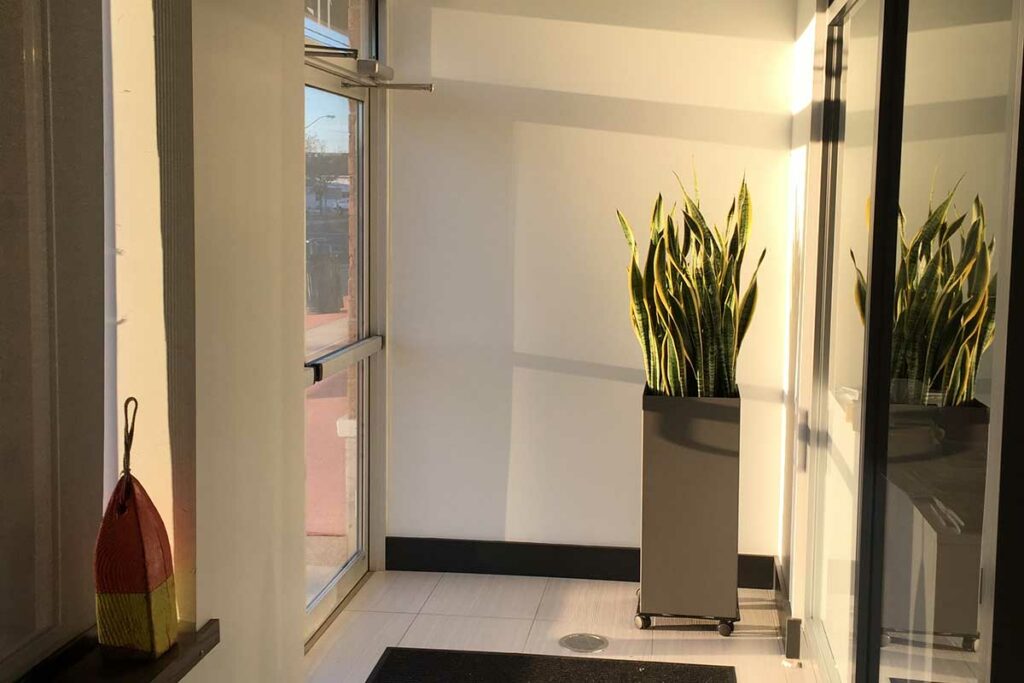 By creating a more open office environment, as opposed to providing enclosed private offices, all employees are granted access to daylight and natural ventilation. Sunlight is able to penetrate deeper into the space, which allows for a decreased need for artificial light. The open floor plan also provides positive interaction between visitors and permanent employees. Multiple types of workstations are provided, that are designed to allow tenants to sit or stand depending on the task at hand, allowing for a more healthy, mobile work environment.
07. CIVILIZED ENVIRONMENT IMPERATIVE
A window wall on the front elevation of the building combined with an open floor plan provides the space with ample daylighting and allows sunlight to penetrate deeper into the space, creating a decreased need for artificial light. Daylight harvesting performs by a sensor system that monitors the levels of light within the space and adjusts lighting as well as window fixtures to create the desired lighting effect. Blinds are used to interrupt direct sunlight from overwhelming the space, while still letting in enough diffused light for a comfortable atmosphere.
The current windows are non-operable, and due to the rules set by the development's condominium corporation, these cannot be exchanged for windows that provide natural ventilation. The front and back door of the space can be used as access to fresh air and cross ventilation to circumvent the problem.
08. HEALTHY INTERIOR ENVIRONMENT IMPERATIVE
The team integrated radiant heating and cooling of the tenant space using the existing HVAC equipment in a dramatically more efficient manner. This innovative method transforms dormant concrete precast floors into "smart floors" that act as rechargeable energy storage batteries, storing and releasing heat naturally upon demand. These intelligent floor panels skillfully combine three mechanical systems in one: ventilation, thermal storage, and radiant heating/cooling without wet systems. By utilizing the cores of the precast concrete planks we provided a replacement of the distribution ducts in the exposed ceiling space. The need for heating and cooling systems to be turned on during occupancy is also reduced due to the thermal storage of the floor; it can be heated and cooled at night and therefore during the day the concrete slab releases or absorbs heat as needed. Moving the heating and cooling elements into the floor allowed for the space to have more headroom, creating a more open environment for the office tenants. Air Quality Testing (IAT) is performed at various milestones during and after construction.The site also provides a smoke-free environment inside and outside of the building, as the Halton District does not allow smoking close to commercial locations. All materials used including paints were chosen for their low/zero VOC emissions. Planters are added to the space to provide a secondary air cleansing strategy. The architect chose sansevieria plants which are known for being good air purifiers that remove toxins such as formaldehyde, xylene, and toluene from the air. They also absorb carbon dioxide and release it as oxygen during the night. The planters themselves were sourced to be made of high-quality aluminum that has been powder finished as a way to eliminate any VOC emissions.
09. BIOPHILIC ENVIRONMENT IMPERATIVE
The team's Biophilic strategy for the project was to incorporate natural patterns and elements into the interior space. Indoor planters were installed to help bridge the divide between the natural and built environments, as well as to help improve the indoor air quality. The accent wall, as well as the entry seating, bench, and lunch stools, utilize natural cuts of Ashwood to accentuate the shapes found in nature. These accents form a unique connection to place because the wood is harvested from local trees that needed to be cut down due to damage caused by the ice storm of 2013 and disease caused by the ash borer beetle. Photographs of local nature are dispersed through the space to give employees visual breaks that connect them to the natural world.
MATERIALS PETAL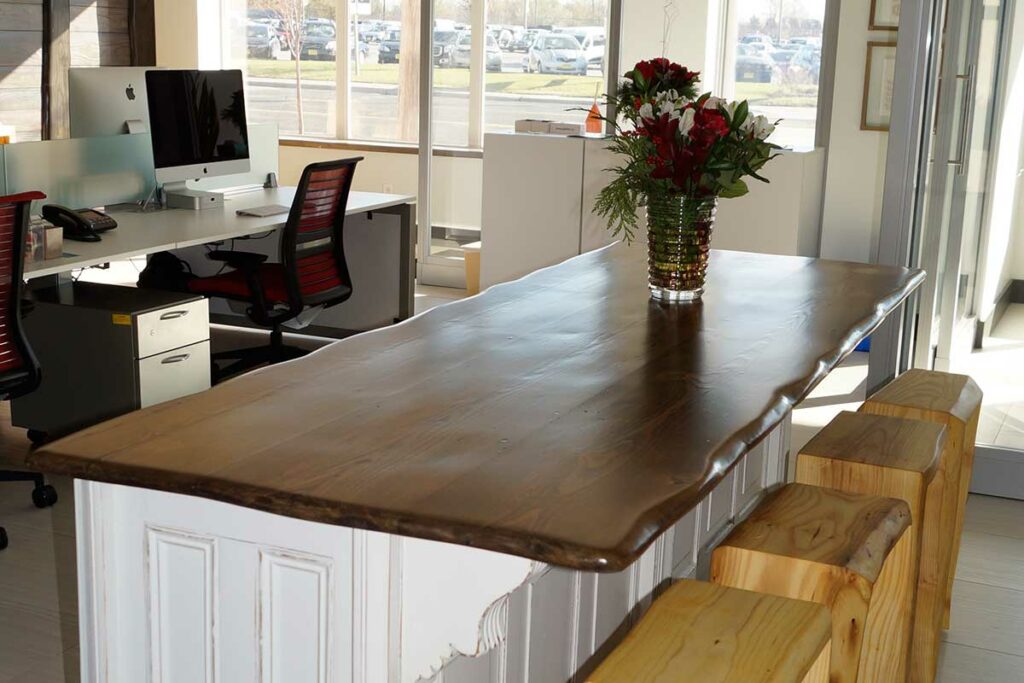 Research for the Materials Petal began during the schematic design. The team worked to identify any areas where reused materials could be utilized and any areas where Living Building Standards would need to be taken into consideration. Materials were chosen based on their qualities that encouraged a non-toxic, ecologically regenerative, transparent and social equitable materials economy. All materials have been sourced as locally as possible to reduce the carbon footprint as directed in the Petal Certification process. All materials and finishes have been sourced not to include VOC and formaldehyde as additives.
One of the more notable products that were implemented was the use of floor tiles from the Matrix Collection from Savoia. This product is certified by the GREENGUARD Indoor Air Quality (IAQ) Certification Program for Low Emitting Products, and includes recycled material content, is sourced regional, and is a low-emitting material. It is advertised as being "among the 'greenest' and most sustainable porcelain tile on the market." The interior partition walls were another product that was sourced for its Indoor Air Quality Certification. These were sourced from Steelcase Inc. Products, which use recycled, regional, low-emitting materials, and certified wood. All Steelcase products used in the office are also Cradle to Cradle Certified. The lighting system is certified by everGreen™ and DesignLights Consortium (DLC) which promotes lighting quality, performance, and energy efficiency for commercial lighting. The kitchen countertop was purchased from a surplus cabinet supplier as a leftover in-cut countertop pieces from previous projects.
10. RED LIST IMPERATIVE
One of the products that presented a challenge for achieving the Materials Petal was the cabinetry system for the office kitchenette. Many companies claimed to have "green certified" products but failed to provide an affordable product. Cabinets should be sourced at the beginning of the project to avoid complications and allow for time to find an affordable manufacturer. The availability of stock products, such as plywood, also presented a challenge, often companies did not keep them in stock, and they would need to be ordered or picked up from farther locations.
NOTABLE RED LIST SUBSTITUTIONS
| | | | |
| --- | --- | --- | --- |
| Division 6 – Wood and Plastic | Kitchenette Cabinetry | Formaldehyde | Tafisa Canada Inc. |
| Division 6 – Wood and Plastic | MDF & Plywood | Formaldehyde | Flakeboard |
| Division 6 – Wood and Plastic | Decorative Panel Products | Formaldehyde | Columbia Forest Products |
| Division 9 – Finishes | Paint | zero VOC after tinting | Benjamin Moore |
| Lighting Fixtures | Lighting Fixtures | Mercury | Focal Point, LLC. |
11. EMBODIED CARBON FOOTPRINT IMPERATIVE
NAME OF CARBON OFFSET PROJECT: Landfill Gas to Energy Project
LOCATION: Niagara, Ontario
NAME OF CARBON OFFSET BROKER: Carbonzero
CARBON OFFSET PROVIDER WEBSITE: http://www.carbonzero.ca
12. RESPONSIBLE INDUSTRY IMPERATIVE
The project has only utilized materials that meet Living Building Challenge requirements. All wood is Forest Stewardship Council (FSC) labeled and certified. Local consultants and contractors were used to encourage local businesses.
SOURCES FOR WOOD: Forest Stewardship Council (FSC) Certified wood and Salvaged wood
NOTABLE MANUFACTURERS OF FSC CERTIFIED WOOD PRODUCTS: Tafisa Canada Inc., Flakeboard, Murphy Company, Masonite, Resolute FP Canada
NOTABLE BROKERS OF SALVAGED MATERIALS: The Pine Guy
DECLARE PRODUCTS
| | | | |
| --- | --- | --- | --- |
| 12 36 61 | Quartz Surfacing Countertop | Quartz surface #7141 | Caesarstone |
13. LIVING ECONOMY SOURCING IMPERATIVE
FINAL PERCENT OF TOTAL BUDGET SOURCED FROM EACH ZONE
| | |
| --- | --- |
| 500 km radius | 50% |
| 1,000 km radius | 28% |
| 2,500 km radius | 11% |
| 5,000 km radius | 10% |
14. NET POSITIVE WASTE IMPERATIVE
Our firm recognizes that the construction industry is one of the largest producers of waste taken to landfills. Our project minimized the amount of material ordered to ensure that no leftover material would be sent to the landfill to ensure that we do our part. End cuts for wood and steel and gypsum wallboard were recycled at the various depots in Halton.
SALVAGE MATERIALS
A reclaimed antique island counter is used in the kitchenette. The island did not include a countertop, and therefore reclaimed wood from a barn door was repurposed and used. The kitchen countertop was supplied from a surplus cabinet supplier that had extra in-cut countertop pieces from previous projects.
LESSONS LEARNED
For a small project, it can be difficult to find green manufacturers of cabinetry to take on projects that do not use many units of their product.
BEAUTY PETAL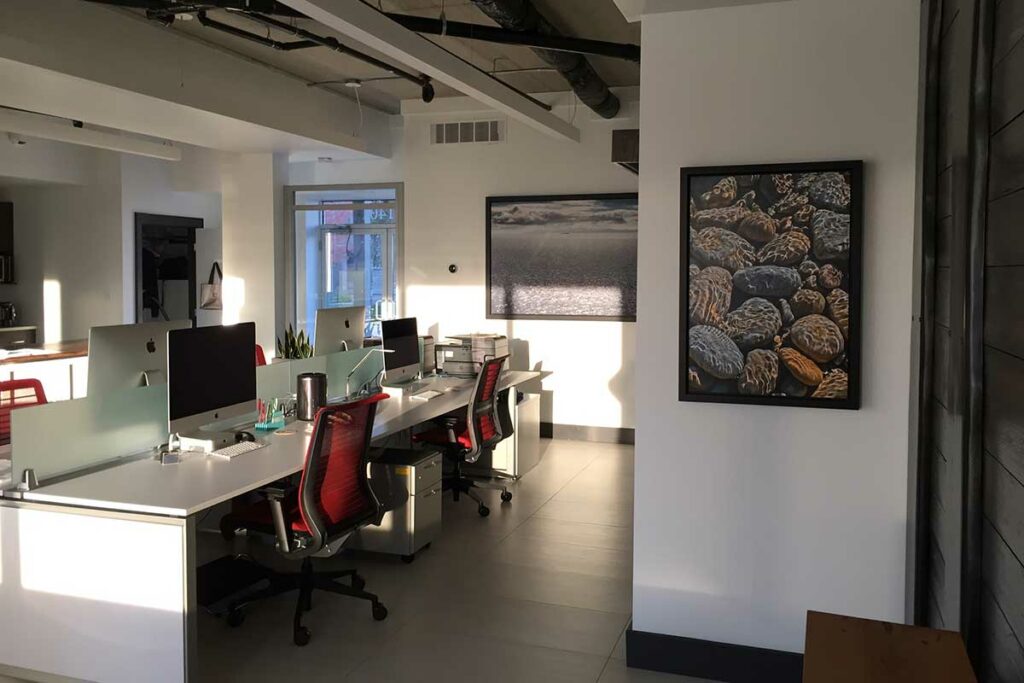 19. BEAUTY + SPIRIT
For the beauty aspect of the office, the Blair Brothers were contracted to design and build accent pieces throughout the space using wood that was extracted from trees that had been destroyed by invasive species and the ice storm of 2013. The wood was used in the construction of an entry bench with table, window sills, feature wall and lunch stools. The designer envisioned the feature wall to be a forest, with some long vertical planks that are in the natural shape of trees, and with a horizontal lap joint pieces of the Ash that were arranged to create the background.
Large-scale photographs of nature taken by a local photographer, Janusz Wrobel, are hung around the office. These allow for a more dynamic experience of nature that could otherwise not be accomplished in an urban setting while providing beauty through the use of colours and shapes.
20. INSPIRATION + EDUCATION IMPERATIVE
Our approach to inspiration and education was to hold open doors in the fall to show the new renovations to the community and to inspire others to use the Living Building Challenge specification for small projects. As an architectural firm, we also encourage clients to follow such practices as are outlined in the Living Building Challenge Standard.
Project Website: https://www.jh-architecture.ca