vital stats
| | |
| --- | --- |
| Certification Status | Zero Energy Certified |
| Version of LBC | 3.1 |
| Location | Austin, TX, USA |
| Typology | Building |
| Project Area | 23,475 SF |
| Owner Occupied | Yes |
| Occupancy Type | Educational |
| Number of Occupants | 40 |
project team
| | |
| --- | --- |
| Owner | Foundation Communities |
| Project Manager | Sunshine Mathon / Aubrie Christensen |
| General Contractor | BEC Austin |
| Architect | hatch + ulland owen architects |
| Mechanical Engineer | APTUS Engineering |
| Electrical Engineer | APTUS Engineering |
| Lighting Design | APTUS Engineering |
| Interior Design | hatch + ulland owen architects |
| Plumbing | APTUS Engineering |
| Structural | Integrity Structural |
| Landscape Architect | Studio Balcones |
| Key Subcontractors | Integral Group (energy modeling, daylighting), Harvested Rain Solutions (rainwater collection design and install), Lighthouse Solar (solar design and install and battery system design) |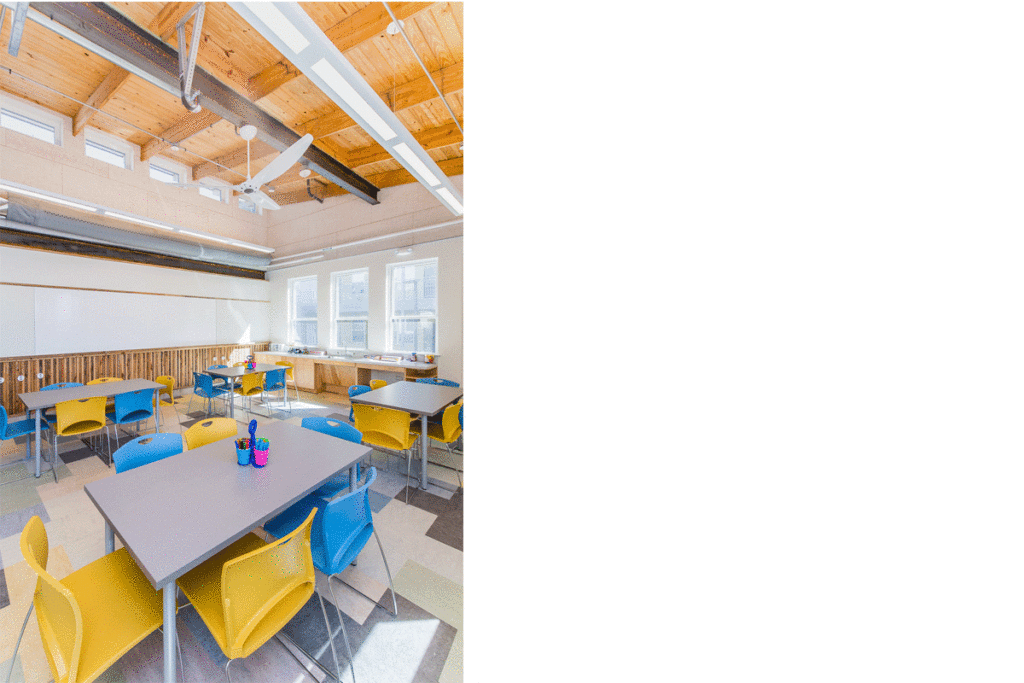 PROJECT LEADERSHIP AND STORY OF PROJECT
The Lakeline Learning Center set a new precedent for Foundation Communities, as a model for outstanding design, collaboration, and innovation. Foundation Communities' mission is to provide housing where families can succeed. There is a clear alignment between this mission and sustainable buildings.
– Energy and water efficiency help to lower utility bills, allowing residents to spend more on other essentials such as food, healthcare, and education.
– Healthy building materials and excellent indoor air quality contribute to healthy homes for some of the most vulnerable in our communities.
– Focusing on durability in design and product selection helps to keep O&M costs low, allowing funds to go towards services instead of maintenance.
As a leader in affordable housing and green building, and as an organization that is continuously pushing the envelope in everything it does, it made sense for Foundation Communities to take on the Living Building Challenge (LBC).
DESIGN PROCESS
The project team felt that the Lakeline Learning Center design was appropriate for the Living Building Challenge for a number of reasons. First, it was a stand-alone single story building with low water needs making it possible to experiment with new techniques, strategies, and systems at a comfortable scale. Second, it was not a residence, meaning staff had complete operational control. Third, learning centers are the community hub, designed to inspire and educate, and offer a place for community engagement, social events and activities.
The original goal was to achieve full Living Building Certification. But due to financing availability and issues related to battery storage, the team ultimately decided to pursue Zero Energy Certification. Nevertheless, deep and thoughtful analysis went into all decisions, with Foundation Communities' mission carefully weighed against the goals and ambitions of the project. When it became clear that achieving the Materials and Water Petals was no longer feasible, the team remained focused on selecting the healthiest materials for children and staff, and tailoring water strategies to maximize rainwater collection to meet the needs of all non-potable uses inside and outside of the building.
BUILDING SYSTEMS INFORMATION
| | |
| --- | --- |
| Roof R value | 29 |
| Wall R value and section specification | R31/R25 Zip R-Sheathing, blown-in cellulose cavity insulation, and EIFS or Hardie siding. |
| Windows | Double-paned with SunCoat Max low-e coating |
| Air infiltration rate and sealing protocol | Energy recovery ventilation |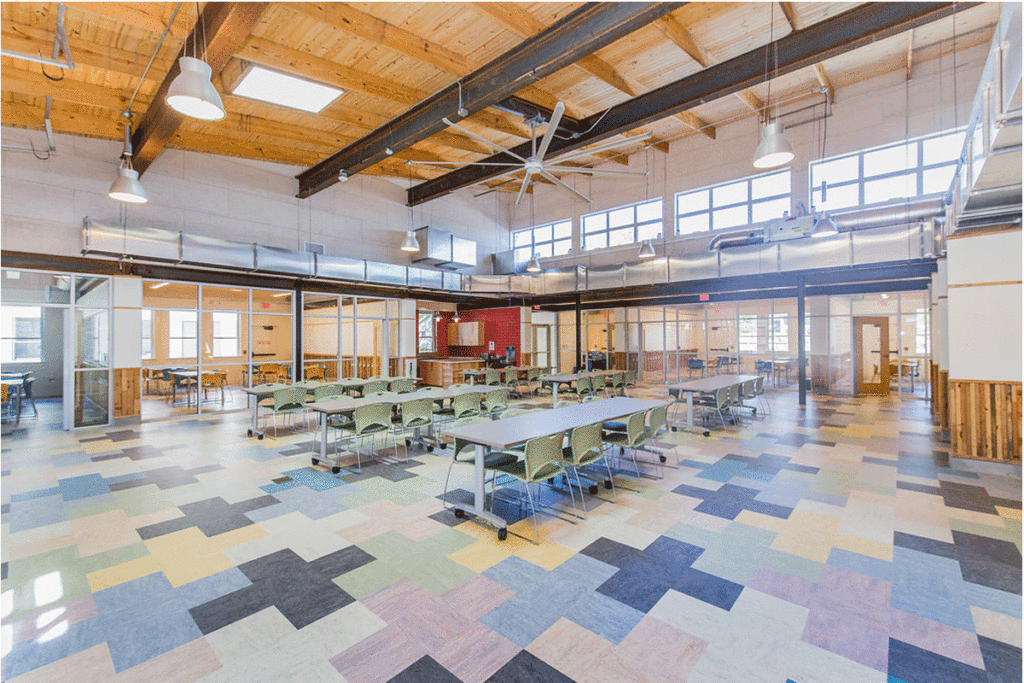 ENERGY SYSTEMS NARRATIVE
The original goal of the Learning Center was to be as efficient as possible to achieve net zero. But energy modeling results made it clear that designing exclusively for the highest level of efficiency was not necessary to achieve net zero. Design decisions emphasized efficiency, durability and replicability, as well as cost.
Envelope
The exterior wall system is similar to a typical residential system, with Zip R-Sheathing, blown-in cellulose in the cavity, and a combination of Exterior Insulation and Finish Systems (EIFS) and Hardie cement board siding. The original intent was for thermal mass infill walls between classrooms to help improve passive cooling and heating. Energy modeling results showed this method was unnecessary to achieve net zero, and the cost became prohibitive.
HVAC
The building utilizes a single, roof-mounted, 25 Ton High Efficiency Direct Expansion Variable Air Volume (VAV) system. A VAV box and thermostat in each classroom allow precise occupant comfort and control. Utilizing zone demand control ventilation along with supply air temperature setback control, the unit can continuously monitor the building's HVAC needs and cut back on capacity and usage when possible to save energy. An energy recovery wheel allows the unit to capture waste heat from the building, which is used to pretreat the ventilation air. Ceiling fans in each classroom, the main gathering room, and the screened porch, increase airflow and extend the days in the fall and spring when HVAC can be turned off.
A heat pump provides water heating for restroom fixtures, handwashing troughs, and the STE(A)M (Science, Technology, Arts, Engineering, and Math) classroom sink. The team chose to use a point-of-use water heater for the kitchen, located on the opposite side of the building from the rest of the plumbing, to reduce plumbing lines throughout the building.
Lighting
Lighting is 100% LED throughout the Learning Center. Daylighting analysis revealed inadequate daylighting in the main gathering room in the original design. The addition of skylights and slight shifting of clerestories made significant improvements. Plug loads are independently monitored per room, allowing opportunities for students to engage in monitoring through energy-use competitions among classrooms. Typical Foundation Communities learning centers include a dedicated computer lab with desktop computers. To reduce load and provide more flexible classroom space, this learning center shifted to a mobile laptop cart.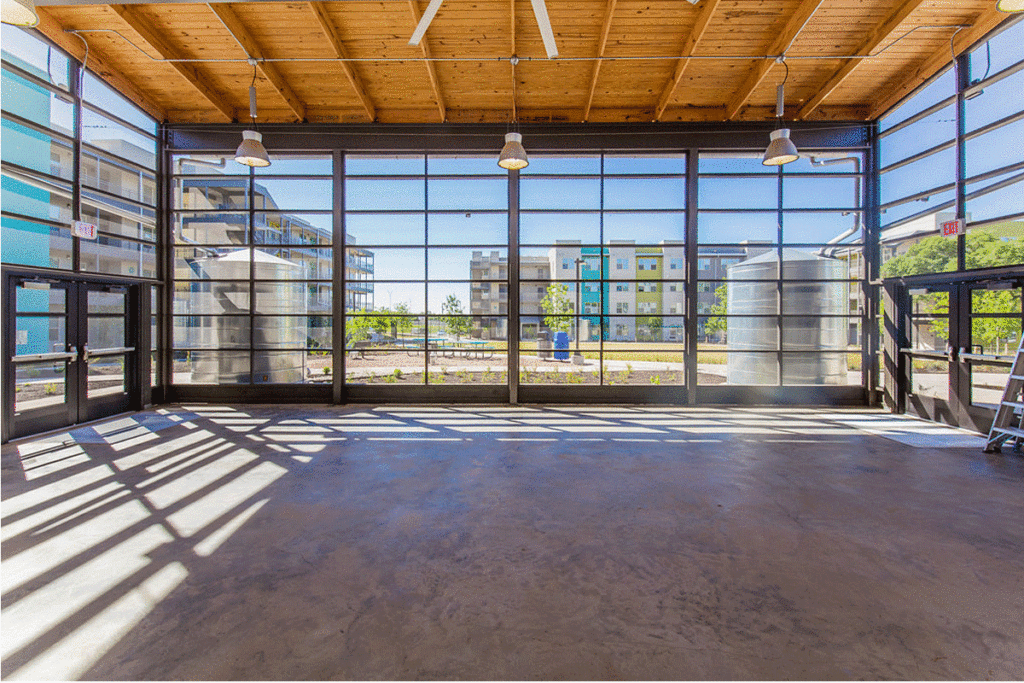 ZERO ENERGY PERFORMANCE
| | |
| --- | --- |
| Actual energy use during performance period | 86,600 kWh |
| Actual energy produced during performance period | 86,840 kWh |
| Net Energy Use | -240 kWh |
| EUI | 43 kBTU/sf/yr |
SOLAR ELECTRIC (PV) PANEL
| | |
| --- | --- |
| PV Array Size (kW) | 70.4 |
| PV Output Per Capacity Nameplate (W) | 1502 |
| Panel Quantity | 220 |
| PV Type and Brand | JA SOLAR JAP6-72-320/4BB |
| PV Inverter Quantity | 9 |
| PV Location | Rooftop |
| PV Ownership Details | Building Owner |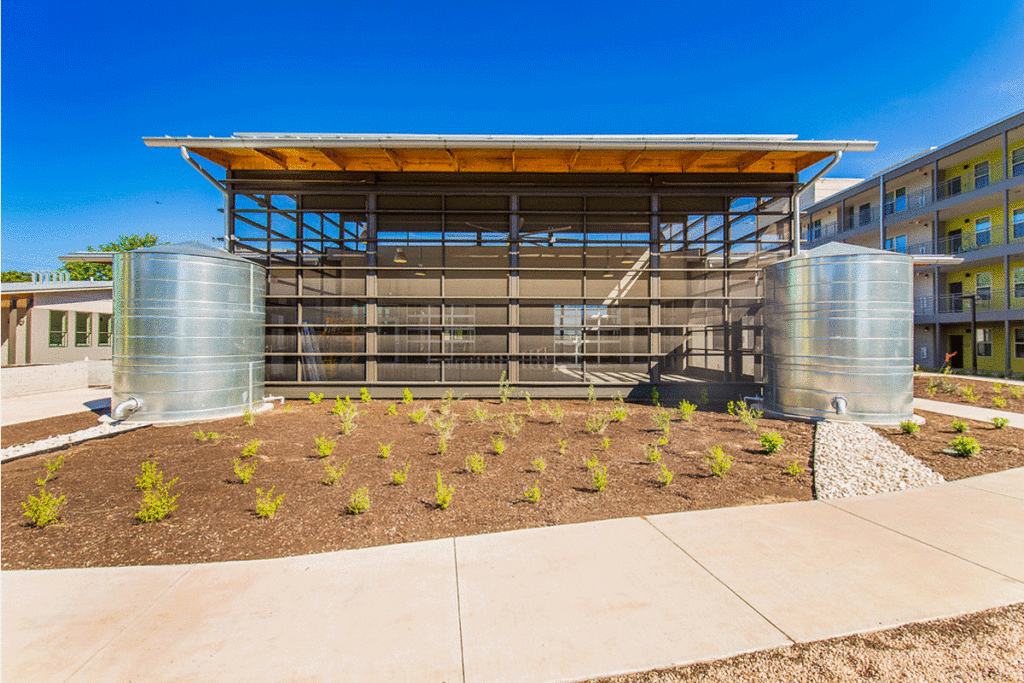 REGULATORY ISSUES
The Lakeline Learning Center is the first net zero commercial building in the City of Austin (COA). The COA does not allow for net metering for commercial systems larger than 20 kW, preferring reduced consumption for large arrays, rather than net zero. Typically, a commercial system under 20 kW that overproduces will receive money back from the COA, but if the array is over 20 kW, it goes back to the grid with no payback. This system prohibits Foundation Communities from taking advantage of local solar incentives, which played into financing decisions. Conversations are still ongoing with the COA.
In addition, the battery backup system created ongoing challenges, and the team is still working to implement a backup system that meets both local codes and the needs of the Learning Center. The original battery system was designed for Aquion batteries, which met the Materials Petal requirements. But prior to placing the order for the batteries, Aquion filed for insolvency. An alternate solution using lithium ion batteries by Tesla sited inside the building, faced permitting obstacles because the City lacked integration requirements and was particularly concerned about battery storage within occupied space. Meanwhile, it was learned that the batteries would not be available from Tesla until Q2 of 2018, a timeline which was subsequently not met. Ultimately, the team decided to settle on being "battery-ready" so that when the technology catches up with the industry, we can pursue battery storage at that time.
LANDSCAPE ARCHITECTURE
The team approached the landscape design with the goal of creating a functional, productive and educational landscape. The Learning Center is the community hub of a larger multifamily apartment community, a place for education, community activities, and year round after school care and summer school for children. The team wanted the landscape to provide learning opportunities for its users, be a resource for the community, and reflect the native landscape. It was also essential to consider maintenance and upkeep in the design. Considering all of these factors led to a landscape primarily featuring a variety of edible, low-water native and adapted vegetation that could be responsibly grown and harvested.
There are four primary components of the landscape – The Orchard, The Native Oaks and Edible Bramble, The Edible Garden, and The Community Gardens. Plants for each area were selected both for human delight and to provide food for native wildlife. Fig and Loquat trees, Prickly Pear and Blackberry brambles display a variety of colors, fragrance, and delicious treats throughout the seasons. A diversity of native and non-native edible herbs and shrubs in the Edible Gardens encourage culinary experimentation. The Community Garden provides a more traditional gardening experience utilizing a water efficient wicking system fed with rainwater collected from the building.
LESSONS LEARNED
Battery Storage
The building is capable of having a 40.5 kWh battery storage system, but as described elsewhere, numerous hurdles in design, product availability, and permitting have prevented us from installing it at this time. If it can be added in the future, the system would provide essential power during emergencies for refrigeration, a place to charge phones, and a safe place to come together as a community. Batteries would also provide built-in peak reduction, with the ability to use battery capacity during the day to shave peak consumption.
WEBSITE
https://foundcom.org/about/lakeline-station-living-building-challenge/