VITAL STATS
| | |
| --- | --- |
| Certification Status | Zero Energy Certified |
| Version of LBC | 3.1 |
| Location | Lincoln, Massachusetts, USA |
| Typology | Building |
| Project Area | 4,250 SF |
| Start of Occupancy | October 2014 |
| Owner Occupied | Yes |
| Occupancy Type | Single Family Residence |
| Number of Occupants | 4 |
PROJECT STORY AND LEADERSHIP
This modern farmhouse blends into the cultural landscape of Lincoln, Massachusetts – a town known for its rich history, farming traditions, conservation efforts, and visionary architecture.
The President of Thoughtforms, an accomplished builder in the greater Boston area, and his wife collaborated with ZED to design and build a new single-family home that respects the neighborhood's agrarian roots, produces more energy than it consumes, and provides the family with flexible spaces to live-play-work-entertain. The resulting 2,800 SF home is proof that families do not need to compromise on style, space or comfort in a highly energy-efficient and healthy home.
Generous ceiling height, natural light, and views to the outdoors expand the modest footprint. A break from the current trend towards open plans, the kitchen, and dining area are paired but separate from the living area. The generously glazed dining area looks onto the south facing front lawn. Each space in the house must serve a specific use, but also be flexible for atypical scenarios. The living area with views to the front and backyard includes an Away Room for watching movies and playing the piano. It can be closed off with its oversized pocket door for secondary use as a first-floor guest bedroom with en-suite bath, ideal for elderly or disabled guests. The Mudroom serves the everyday use for the couple and their children but is also used to receive guests, eliminating the need for two entries found in most homes. Similarly, the third-floor attic creates a flexible space for play, crafts, and overnight guests, in addition to housing mechanical equipment and ducts.
The attached garage is ubiquitous in new construction in New England's cold climate. This home's barn-inspired garage is detached from the primary dwelling. A covered walkway connects the two structures, creating an intentional connection with the outdoors between auto and home. The detached structure also includes an insulated, but not conditioned, exercise area that looks onto the backyard. The raised planting beds in the backyard also pair well with the root cellar in the basement, carved out of the thermal envelope for long-term energy free storage.
PROJECT TEAM
| | |
| --- | --- |
| General Contractor | Thoughtforms |
| Architect | ZED |
| MEP Engineer | ZED |
| Lighting Design | Lucia Light Design |
| Key Subcontractors | Soren Deniord Design Studio – Landscape Design |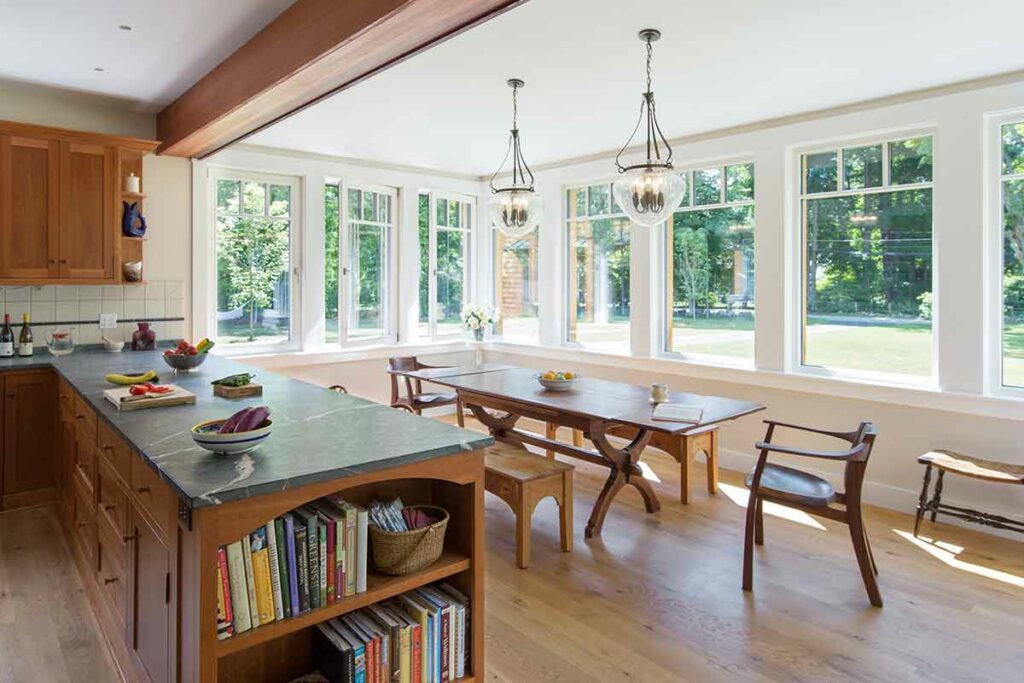 ZERO ENERGY PERFORMANCE
| | |
| --- | --- |
| Actual energy use during performance period | 10,174 kWh |
| Actual energy produced during performance period | 17,151 kWh |
| Net Energy Use | – 6,977 kWh |
| EUI | 12 kBTU/sf/yr |
ENERGY SYSTEMS
The all-electric home consumes 70% less energy than a code-built house, and with measured energy data produces 48% more energy annually than it consumes, making it a 'net positive' home. The super-insulated walls and roofs are free of thermal bridges by using dense-packed cellulose within the wood framing, paired with continuous rigid insulation. High performance, triple-glazed windows round out the super-insulated building envelope. The continuous air barrier yields minimal leakage, with testing revealing only .27ACH50, making the home among the tightest in the US.
An air source heat pump and an energy recovery ventilator (ERV) ensure that the house stays warm in the winter, cool in the summer, and provide a constant supply of fresh, clean air throughout the year. Heat pumps hot water heater, Energy Star appliances, and induction cooktop complete the high-efficiency package. A 13.1kW array of solar panels produces more than enough energy each year to offset consumption.
A circuit-by-circuit energy monitoring system allows the owners and architect to track their energy consumption and production. The home's net positive energy offers shelter from future heating & cooling costs, superior thermal comfort, and yields enough energy to support a future electric car for the family.
NON-MECHANICAL OR NATURAL SYSTEMS
The south facing, high performance, triple-glazed windows with a high solar heat gain coefficient take advantage of passive solar gain in the wintertime, which helps to decrease the heating loads.
BUILDING SYSTEMS INFORMATION
| | |
| --- | --- |
| Wall R value and section specification | R-44 (effective R-value); 2×6 @ 16" OC, filled with dense-packed cellulose (R-3.7/inch) + 4" foil-faced polyisocyanurate (R-6.5/inch) |
| Roof R value and section specification | R-70 (effective R-value); 2×10 @ 16" OC, filled with dense-packed cellulose (R-3.7/inch) + 6" foil-faced polyisocyanurate (R-6.5/inch) |
| Floor R value and section specification | R-28 (effective R-value); 4" concrete slab over 6" Type IX EPS (R-4.4/inch). This is the below-grade slab. |
| Window Make and Model, U value, Solar heat gain coefficient, visible transmittance | Makrowin; U-0.15, SHGC-0.31, VT-0.44. All values are whole-window values. |
| Air infiltration rate and sealing protocol | 0.27ACH50 |
| Summary of any non-mechanical systems | Energy Star appliances |
| Mechanical heating and cooling | MITSUBISHI Heat pumps; MXZ-8B48NA – Outdoor Unit; MFZ-KA12NA – Basement – ductless floor console; PEAD-A24AA – First Floor – ducted; SEZ-KD09NA – Second Floor – ducted; MFZ-KA09NA – Attic – ductless floor console |
| Mechanical ventilation | Zehnder ComfoAir 550 ERV with proprietary duct system |
| Hot water | STIEBEL ELTRON; ACCELERA 300 |
| Lighting type | LED |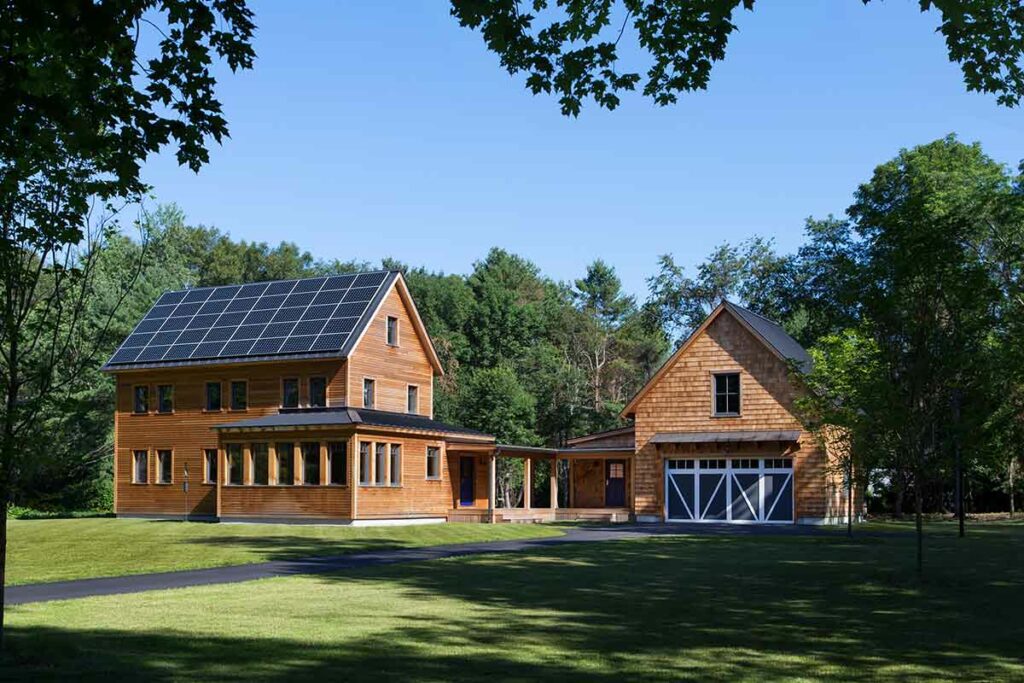 RENEWABLE PRODUCTION SYSTEMS INFORMATION
SOLAR ELECTRIC (PV)
Owned by the homeowner.
13.8 kWdc Rooftop PV Array:
(40) SunPower SPR-X21-345W PV module
PV Inverters & AC Combiner:
1 QTY 8kW & 1 QTY 5kW located in the garage
(1) SMA Sunnyboy 8000US Inverter
(1) SMA Sunnyboy 5000US Inverter
LESSONS LEARNED
Overall, the project is considered by the team to be exceptionally successful. Many of the decisions worked well including A) the super-insulated, airtight envelope maintaining a very consistent temperature and humidity level in the house, B) the air-source heat pump providing 100% of the home's heat, even as temperatures dropped to the negative teens at times, and C) the air barrier membrane, applied to the exterior sheathing, worked excellently – better than we would expect had we used spray foam insulation. One aspect we likely would have done differently is to use a small direct-to-exterior kitchen exhaust rather than a recirculating hood. Also, going forward we would like to implement post project VOC testing on all projects to assess indoor air quality and help to diagnose potential problems.