VITAL STATS
| | |
| --- | --- |
| Certification Status | Petal Certified |
| Version of LBC | 3.1 |
| Location | Seattle, WA, USA |
| Project Area | 23,482 SF |
| Start of Occupancy | October 2019 |
| Owner Occupied | Yes |
| Number of Occupants | 58 |
PROJECT TEAM
| | |
| --- | --- |
| Owner | PCC Community Markets |
| General Contractor | Woodman Construction |
| Construction Management | PCC Community Markets |
| Architect | MG2 |
| MEP Consultants | SeaTac Electric – Electrical Consultant; Williams Mechanical – Plumbing and Mechanical Consultants |
| Structural Design | Quantum |
| Specialty Consultant(s) and Role(s) | Key Mechanical – Refrigeration Consultant; RUI – Refrigeration Consultant; Skanska – Sustainability Consultant; Silliker & Partners – Sustainability Consultant; Graham Baba Architects – Design Architect; Harris Group – Mechanical Design; SeaTac Electric – Lighting Design; Quantum – Structural Design; Bargreen Ellingson – Food Service Design; Smith & Greene – Food Service Design; Western Neon – Environmental Graphics Design; Silver Star – Millwork Design & Fabrication |
PLACE PETAL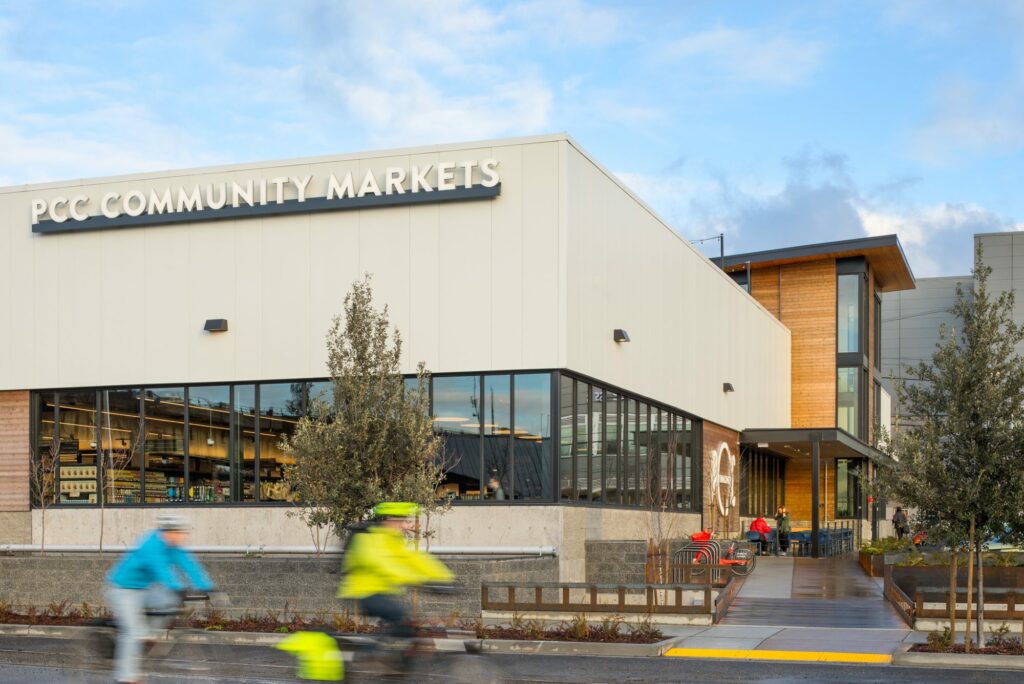 01. LIMITS TO GROWTH IMPERATIVE
The property is located in a commercial/industrial zoned area and was undeveloped for seven years prior to the PCC project. Portions of the property are located within 200 feet of the Lake Washington Ship Canal shoreline, a freshwater surface body.
Historically, the property is known to have been occupied by Pacific Coast Pipe Company from 1905 to 1917, which used and stored the wood preservative creosote. It was occupied by Wesmar Company Inc. and Color Tech. Inc. between 1979 and 2007. Wesmar was a chemical product manufacturer and distributor, and Color Tech was a metal coating service. In 1991, two underground fuel storage tanks are reported to have been removed from the property.
An environmental assessment of the site indicated that soil had been contaminated with polycyclic aromatic hydrocarbons (PAHs) and groundwater had been impacted by arsenic. A Consent Decree, which includes a Cleanup Action Plan and Environmental Covenant, was approved by the Washington Department of Ecology and recorded with King County in 2007. In late-2017, a site cleanup was conducted in compliance with Washington State's cleanup regulations, the Model Toxics Control Act (MTCA).
02. URBAN AGRICULTURE IMPERATIVE
PCC Community Markets is a triple bottom line organization, which means that they balance their social, financial, and environmental impact in all decisions that they make. PCC Community Markets is dedicated to preserving local farmland and committed to supporting organic agriculture through the products that they sell on their shelves and their growing partnerships with Northwest producers and ranchers. Farmland protection is also part of PCC's public policy and community giving priorities.
The Washington Farmland Trust was founded by PCC Community Markets in 1999 when they raised the funds necessary to protect Nash's Organic Produce from impending housing development. They incubated the program with staffing, funding, office space, and employee benefits. Today, the Washington Farmland Trust is a separate 501(c)(3) nonprofit and PCC Community Markets remains its leading business sponsor. On October 2018, PCC Community Markets announced a $1 million commitment to the Washington Farmland Trust's Our Farm, Our Future fundraising campaign.
The Washington Farmland Trust works to protect and steward threatened Washington farmland from the growing pressures of development. To date, they have conserved 28 farms, totaling over 3,039 acres. Their Our Farm, Our Future fundraising campaign is solely focused on protecting near-urban farmland and has already raised $26 million and counting. The Washington Farmland Trust protects and conserves farmland when farmers can't by working directly with landowners to remove their farm's development potential, or by purchasing at-risk farmland with the goal of leasing or selling it to a local farmer. Tools such as conservation easements are also used to make farmland more affordable. The Washington Farmland Trust also ensures that protected land thrives for generations through its Farmland Stewardship practices. They continuously monitor physical conditions of protected farmland and supports farmers' efforts to improve their lands' water quality, habitat, and soil health.
Lastly, the Washington Farmland Trust also created the Farm to Farmer program, which provides an online and in-person matching and coaching platform to enable new farmers to connect with land opportunities needed to grow their business. It also helps retiring farmers transfer their land to the next generation, ensuring that their land is not lost to development.
03. HABITAT EXCHANGE IMPERATIVE
PCC set aside in perpetuity habitat equivalent to the footprint of the project through the Institute's Living Future Habitat Exchange Program, which aggregates project funds to purchase large tracts of contiguous, high-value, intact ecosystems identified by the Wildlife Conservation Society.
04. HUMAN POWERED LIVING IMPERATIVE
The project supports human-powered lifestyle by fact that it is located adjacent to a street that connects to the Burke-Gilman Trail, a 27-mile recreational trail for walkers, runners, cyclists, skaters and commuters. The site is located within blocks of many other retailers, gyms, a day-care facility, places of worship, other grocers, and medium-density residential buildings, which encourages daily pedestrian community activity. Located one block away from a bus stop, it is very convenient for people to shop at this store without the need for a car.
Prominently located at the front of the store, PCC provided covered racks for 8 bikes. Racks for 16 additional bikes are located near the NW 45th Street entry and NW 46th Street for customer use. A weather-protected bicycle storage area in the parking garage has capacity for 10 bicycles for customer and staff use.
A map of cycling paths in the area, including the Burke-Gilman Trail is located prominently beside the covered bike racks, to inspire the community to explore the region by bicycle and facilitate navigation via safer and protected paths and routes around the city.
Inside the store, a prominent and wide staircase encourages customers and staff to climb stairs instead of using the elevator to reach the roof deck seating area and mezzanine level. This design makes the stairs more visible than elevators, and the proximity to the mural promotes one to explore the artwork further by using the stairs. Messaging on the stair risers calls out benefits of using the stairs over the elevator.
During the design phase of this project, PCC identified a need for a mid-block crosswalk on NW 46th street, which would allow pedestrians to safely cross the street to the store from nearby transit stops and other retail businesses at Ballard Blocks 1 and 2. Since PCC does not own the property, they decided it would be more strategic and effective to engage ownership, Regency Centers, to help PCC advocate for this crosswalk with the Seattle Department of Transportation (SDOT).
MATERIALS PETAL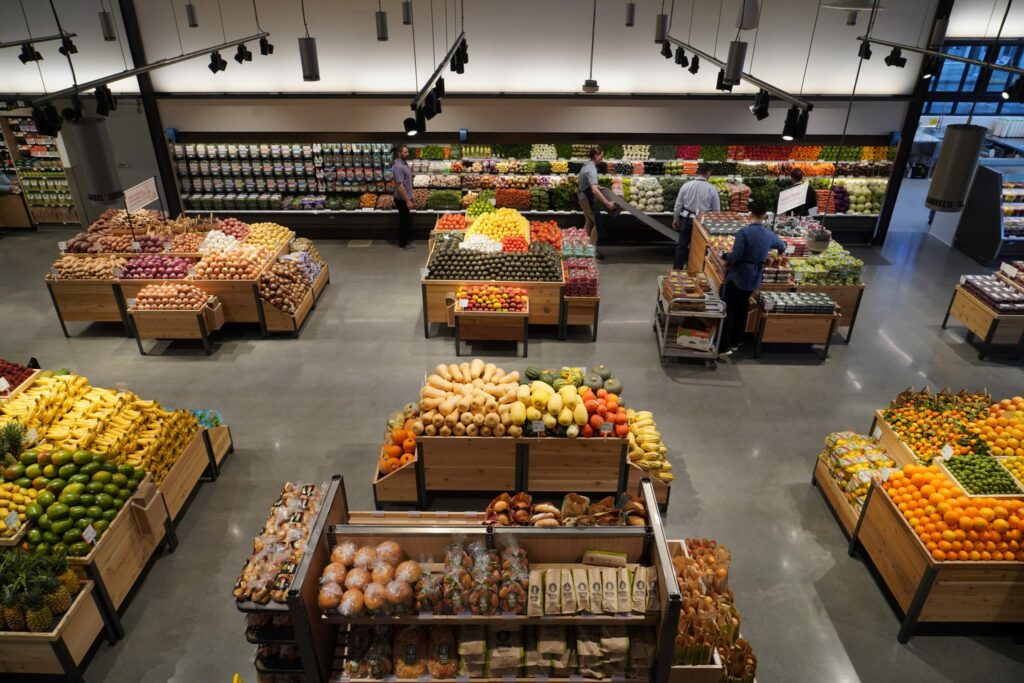 10. RED LIST IMPERATIVE
PCC developed a robust research protocol early in the design process, creating a multi-stakeholder approach to conduct the necessary research and documentation of products used in the project. PCC, the architect, the general contractor, and major system contractors teamed up to contact manufacturers and document the ingredients of all materials selected. Aside from researching materials and products that are merely suitable for the project, all were researched to the LBC Red List compliance standards. The team developed email templates and forms to collect information when reaching out to manufacturers, requesting disclosure of known product ingredients and including general information about the LBC Red List and a link to the ILFI webpage for more details. Each construction submittal for interior materials and finishes, structural materials, and MEP products was reviewed to confirm ingredients, sourcing location, and FSC chain-of custody (for wood products).
The team vetted ingredients of products down to the CASRN or to a level of specificity between 10,000 ppm and 100 ppm (1%-0.01%). When a manufacturer did not fully disclose ingredients, or the product was found to be non-compliant, at least two other manufacturers were vetted for due diligence. The team collected documentation demonstrating a genuine effort to exclude Red List products by communicating with manufacturers and advocating for the removal of Red List ingredients in their products in the future. A priority of the team was to specify as many Declare® products as possible, focusing on projects that are regionally appropriate, low-carbon, durable, non-toxic, and cost-effective. If no products were found to both comply with the Red List and meet the project's performance requirements, the team specified the least toxic version available. The team also requested manufacturers to substitute ingredients or components containing Red List ingredients for non-Red List ingredients or parts. Materials, manufacturers, pricing, and sourcing data were collected and tracked on a Materials Tracking Table. Documentation of the contents of all materials and products used in the project were organized in a shared location, allowing for continuous updates as the project construction progressed.
If manufacturers either did not disclose ingredients or were non-responsive to the team's request for product ingredients, an advocacy letter was sent to the manufacturer encouraging them to be more transparent in disclosing their product's ingredients. If products contained Red List ingredients, a letter was sent to the manufacturer advocating for research and development to remove toxic compounds.
11. EMBODIED CARBON FOOTPRINT
PCC Community Markets examined the embodied carbon of its Ballard stores through several lenses. The analysis for this LBC imperative was done at a building level—essentially the shell that contains the store. While this does provide some context and a rough baseline for the embodied carbon impact, it also illustrates that as a tenant, PCC does not have influence over the major contributors to this carbon profile— namely, concrete and steel.
Aside from the shell analysis, the team limited the transportation impacts of the products installed in their tenant space. Only 3 percent of their materials budget was manufactured outside of North America. PCC is also dedicated to high quality durable products, which reduces the need to replace items over time.
Additionally, several design choices helped to limit their carbon impact. PCC's custom casework is predominantly wood-based, which is generally less carbon intensive than metal. And their 100% FSC sourcing supports an important carbon-sink industry. Heavy-gauge steel is limited, and lightweight steel and aluminum is substituted whenever possible. Floors are mostly bare concrete and ceilings are exposed in nearly all areas, limiting the overall material required for their finished space. Materials with recycled content were selected whenever possible.
12. RESPONSIBLE INDUSTRY IMPERATIVE
Whenever possible, PCC submitted advocacy letters to manufacturers, advocating for responsible sourcing. To list just a couple of examples, PCC advocated for manufacturers to register their products with the ILFI's Declare® program, or to enforce independent third-party standards for the ethical harvesting of materials.
13. LIVING ECONOMY SOURCING IMPERATIVE
PCC paid careful attention to specifying and purchasing local and regional products, to reduce long distance shipping to the project site. The primary goal was to lower the embodied transportation carbon of materials used in the project. The entire design and construction team understood this goal and contributed by investigating manufacturing locations for all products and materials. In particular, PCC's ties to local fabricators of custom casework and signage is a large piece of its sourcing profile. While much of the project's kitchen and refrigeration equipment is manufactured outside the Pacific Northwest, the team worked hard to limit its purchases outside of North America to a mere 3% of the project's materials budget.
In all its materials, finishes, and equipment selections, PCC stands by its dedication to choose durable products that will perform at a high level for a long time, thus reducing the frequency of necessary replacements. Fewer replacements in the future will also reduce carbon emissions from manufacturing and transportation.
14. NET POSITIVE WASTE
PCC reused a variety of items salvaged from its other store locations including employee lockers, kitchen equipment, shelving, and stock room carts. During the construction of PCC Ballard, the team utilized several bins to sort recycling streams such as metal and wood. The general contractor worked closely with a leading hauler that provided best-in-class commingled recycling services, and also provided photographs and detailed reports of every load. For many years PCC has incorporated recycling and composting infrastructure in stores for employees and customers. In addition to providing well-marked bins, PCC has launched a line of compostable containers for packaging bulk food and house-made deli items.
BEAUTY PETAL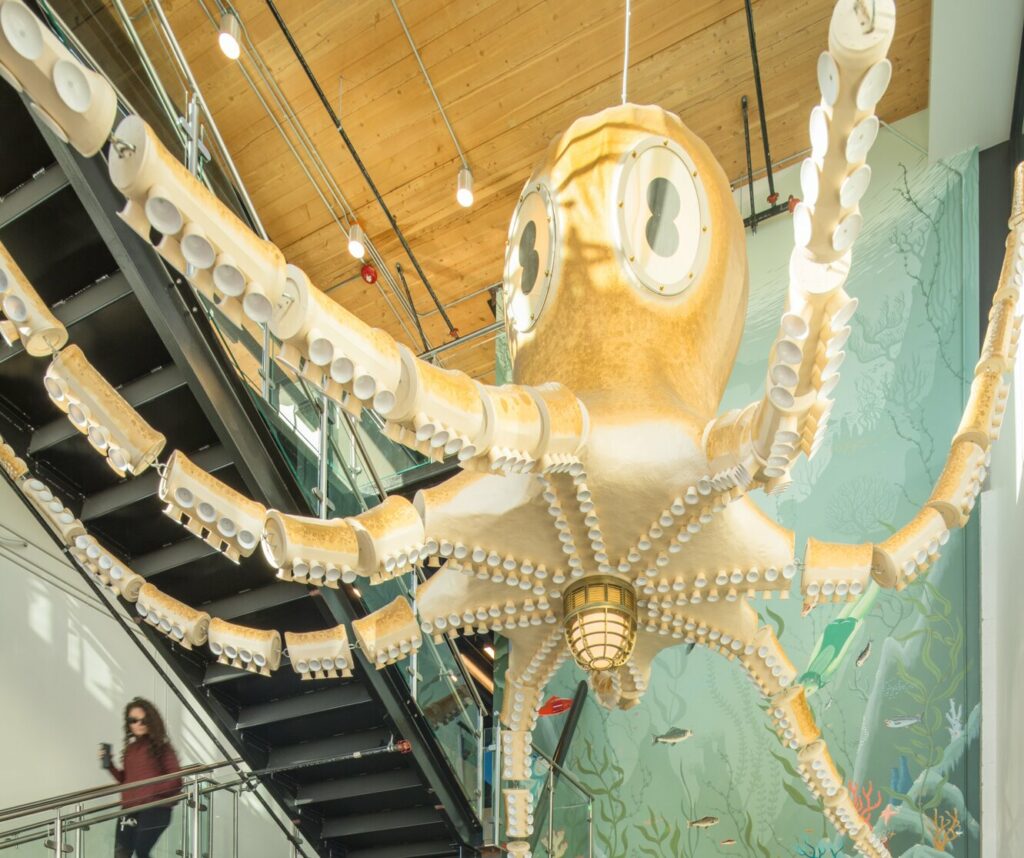 19. BEAUTY + SPIRIT IMPERATIVE
In designing the store, the design team prioritized daylight and views and to best celebrate them. Colorful produce departments are located with view to the outdoors and entries. The grocery floor is illuminated from above by rooftop skylights which lead shoppers through the store. The store layout emphasizes openness and transparency into the work of food preparation as well. Glass clerestories and wood canopies at food prep areas allow daylight into kitchens and are reminiscent of outdoor markets and food halls. Craftsmanship of steel and wood in custom fixtures as well as canopies adds detail in areas of customer interaction. The beauty of natural materials such as wood, stone, tile, and concrete are on display, bathed in ample natural daylight from skylights and windows.
The Ballard store celebrates its waterfront location. The check stands open up to views of bikers and runners on the Burke Gilman Trail. The rooftop deck allows customers and staff to experience a panoramic view of the busy maritime environment around the store. Views are revealed of the Ballard bridge, fishing boats travelling along the Ship Canal and snow-capped mountains in the distance. It is a special space to enjoy the living roof while sitting at outdoor communal tables enjoying food and drink. The seafood counter serves locally sourced sustainable seafood and celebrates the fishing culture that lies right outside the store and creates a community gathering space.
The octopus and mural in the vestibule was created by local artist, Kyler Martz who describes the art installation thus: "The vestibule octopus is an homage to the nautical history of Ballard and the Puget Sound, home to the world's largest species of octopus. The frame construction is a nod to boat building and fishing lures. The hardware is all salvaged from decommissioned boats, or marine hardware supply – all historical industries in Ballard. My intent with this piece was to embody the rich local history and craftsmanship into a striking visual entry into the space."
One innovation that was used in fabricating the octopus was the use of a Glowforge, a laser cutter which uses a focused beam of light to cut or engrave a wide range of materials. The artist used the laser cutter to create a traditional ship-style light fixture out of plywood. The use of this tool helped to keep costs low and allowed PCC to use FSC plywood in the artwork.
The artist gave the octopus a name, so regular customers say hello to Peggy as they enter the store.
20. INSPIRATION + EDUCATION IMPERATIVE
PCC operates on a triple bottom line: financial, social, and environmental considerations are a part of everything they do. In deciding to pursue the Living Building Challenge®, PCC strives to apply a similar rigor to the building of their new stores as they do to the products they carry inside their stores.
PCC strives to inspire and educate the public on socially and environmentally sustainable building design by encouraging the public to tour this store. PCC welcomes visitors and shoppers to stop by during operating hours, seven days a week, and learn what it takes for a grocery store to achieve Living Building Challenge® Petal Certification.
Free brochures are available in the entrance vestibule for shoppers and visitors who want to learn more about PCC Ballard's LBC features. This brochure was designed to accompany interpretive signage that's installed throughout the sales floor adjacent to examples of various sustainability features. Signage includes detailed diagrams and informative descriptions of what makes the feature more socially and/or environmentally sustainable. This encourages shoppers and visitors to physically tour the store with the brochure and read each sign while observing the building feature that it's next to.