VITAL STATS
| | |
| --- | --- |
| Certification Status | Zero Energy Certified |
| Version | 1.0 |
| Location | Urbana, IL, USA |
| Typology | Existing Building |
| Gross Building Area | 182,020 SF |
| Start of Occupancy | July 2014 |
| Owner Occupied | Yes |
| Occupancy Type | Education |
| Number of Occupants | 1900 |
PROJECT TEAM
| | |
| --- | --- |
| Owner | University of Illinois |
| General Contractor | Williams Brothers Construction Inc |
| Architect | SmithGroup Inc |
| MEP | KJWW |
| Interior Designer | SmithGroup Inc |
| Civil Engineer | TERRA |
| Landscape | SmithGroup Inc |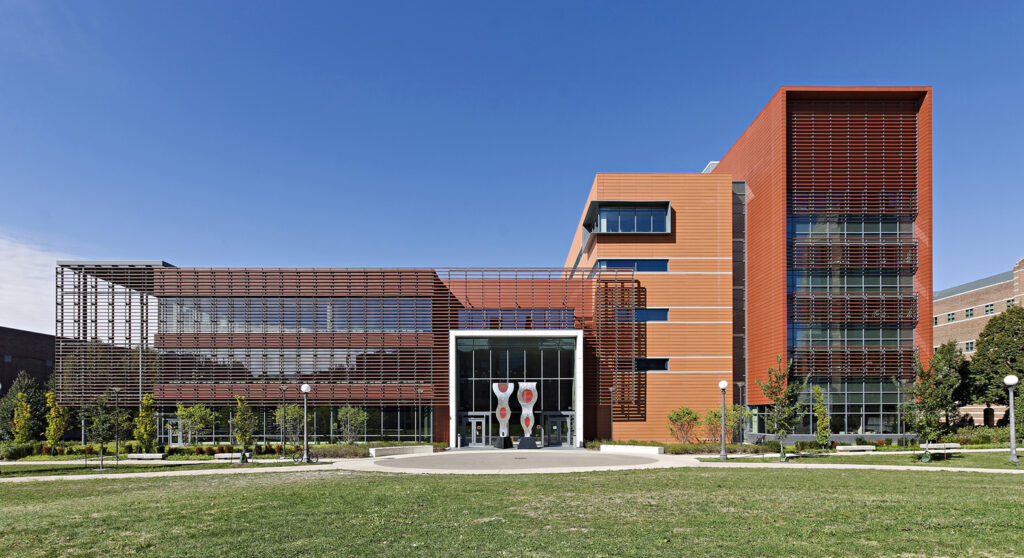 RENEWABLE PRODUCTION SYSTEMS INFORMATION
ENERGY PERFORMANCE
| | |
| --- | --- |
| Renewable Type | Solar Electric (PV) |
| Total Renewable Capacity | 12,320 kW |
| Renewable Location | On-site and off-site |
PROJECT LEADERSHIP AND STORY OF THE PROJECT
The Electrical and Computer Engineering Building on the University of Illinois at Urbana-Champaign (UIUC) campus achieved LEED Platinum certification in November 2019, and ZE certification on January 5, 2023. From a vast array of photovoltaic cells to a chilled-beam system to cool and heat the classroom tower, the Electrical and Computer Engineering (ECE) department has accomplished a major campus addition with maximum space with a minimal carbon footprint.
The ECE Building (ECEB) is meant to be a living laboratory, allowing students and faculty members to research its sustainable features and use its solar panels for teaching and research, as well as for energy production. It's also meant to be a model for net-zero energy design in the Midwest, proving you don't have to live in a tropical climate to gain this certification.
ECEB, at 235,000 square feet, is a multi-use building with labs, classrooms, a large two-story open foyer, office space, clean room, and machine shop. It reflects the University's sincere commitment to sustainable design and captures the spirit of a department that is always pushing the limits of technological innovation.
In addition to its sustainable design, ECEB has incorporated many notable contributions of ECE faculty and staff, including LED and fluorescent lighting advances, energy conversion and other systems that exploit new achievements in power electronics, and intelligent systems and interfaces that apply recent breakthroughs in computer technology.
The building was designed by SmithGroup, one the oldest architectural firms in the country, and a leader in sustainability design, with David King as the lead architect. The project could not have been accomplished without the knowledgeable leadership of Dr. Philip T. Krein. Dr. Krein is a professor emeritus in the Department of Electrical & Computer Engineering at UIUC and the Grainger Endowed Chair Emeritus in Electric Machinery and Electromechanics in Electrical and Computer Engineering. Additionally, a multitude of other project members held influential positions in the design, construction, and retro-commissioning phase, and in realizing the energy-efficiency features for ECEB. Many brilliant faculty and staff members in the various departments at UIUC were essential to the project. Furthermore, consultant groups and technical experts of mechanical, electrical, plumbing, structural and civil engineers, lab planners, specifications writers, and landscape architects also played major roles. No matter the task, every person involved was imperative to ECEB's success and mission.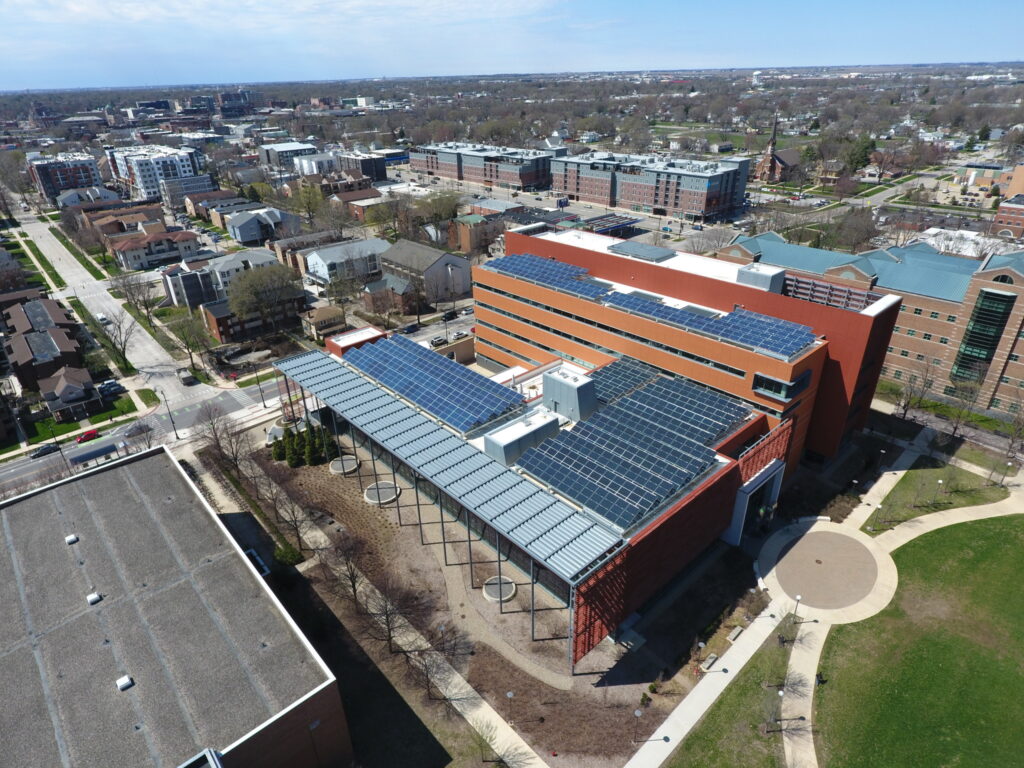 DESIGN PROCESS
Before construction, architecture firm SmithGroup considered the building's orientation and its position on the Engineering Quad, to maximize energy efficiency. The architects also created custom energy-use models based on a list of must-have features in the facility. ECEB is designed to consume about half the energy of an average new building of the same size and type and comes in at less than 50% of the national minimum energy standards.
Minimizing waste was important during the building's construction, so contractors first built a small-scale mockup on the building site, making sure complex systems like windows, terra cotta tiles, and other features could be installed correctly, with minimal extra material. ECEB's contractor recycled 75% of the waste generated during construction.
The ECE Building was built with recycled and regionally made materials. Some examples include granite from Minnesota, glass from Wisconsin, and bricks and steel from Indiana. The building's curtain walls were fabricated in East Moline, IL. Recycled materials included counter tops formed from resin and recycled wood fiber, and metal lab cabinets constructed of recycled materials. The building also features steel reinforcement, structural steel, and steel decking with a high percentage of recycled materials.
About 70% of the building is covered in distinctive terra cotta, part of a rain screen system that has a high insulating quality, to keep the building well-insulated. This reduces temperature fluctuations inside the building, and therefore, the amount of energy used for heating and cooling. The building has 16,348 terra cotta wall panels.
The ECE Building has a reflective white roof with an R-30 thermal value. This feature helps prevent the heat-island effect, which happens when urban areas are significantly warmer than nearby rural areas. The reflective roof material repels solar radiation on the surface, keeping the roof surface cooler, which also reduces the need to cool the building in hot summer months.
ENERGY SYSTEMS NARRATIVE
There are a multitude of energy efficient features in ECEB that combine to implement a net-zero energy working and living space.
First, the heating, cooling, and mechanical systems play significant roles. Displacement ventilation in ECEB's lobby and Grainger Auditorium supplies fresh low-velocity cool air at the floor level and recovers hot air at the ceiling. That is more efficient than traditional ventilation methods. Chilled beams are used throughout ECEB as the primary way to cool it. This efficient cooling strategy pumps cold water rather than cold air through occupied spaces. It takes advantage of natural convection and the building's fresh-air ventilation system and represents about 10% of ECEB's energy savings. Heat recovery chillers contribute water to heat and reheat the building and produce chilled water as a byproduct. The heat-pump system provides about 23% energy savings in ECEB, and extra chilled water is fed back into the campus' chilled water network for storage or for use in other buildings. The building also features heat-recovery wheels, which transfer heat between incoming fresh air and outgoing air during ventilation. This saves on heating and cooling costs and results in about a 10% energy savings. ECEB features premium, high-efficiency motors that circulate air, allow for heating and cooling, transport water and steam, and power elevators. Most of these motors use variable-speed power electronic drives that adjust them to run only as fast as necessary. A motor running at half-speed can drop its energy use by more than 80%. Optical equipment such as lasers, and electronic equipment in labs throughout the building generate heat as they operate. ECEB has a water-cooling loop to support said equipment and move heat more efficiently to the outdoors, reducing loads on air conditioning systems.
Second, the lighting and windows not only add aesthetics to the building, but aid in the net-zero energy facilitation. Windows cover the south side of ECEB in order to maximize daylighting. This reduces the need to turn on lights and allows in warmth from the sun in the winter. The windows are especially energy efficient and feature a low-E coated glazing. Windows account for 3% of ECEB's energy savings. The louvered metal canopy above the south hallway is designed to block hot sunlight in the summer but allow it inside during the winter. Terra cotta baguettes, located on sunshades in front of many of ECEB's windows, share this purpose and offer a 5% energy savings. The building sports 2,500 of these baguettes. These features shade about 80% of ECEB's windows. The building also features efficient LED and fluorescent lights. The fluorescent tubes use solid-state electronics for ballasts, which operate silently and are more efficient than magnetic ballasts. The LED lights, ultimately deriving from inventions by the late Professor Nick Holonyak, Jr., have electronic controls to adjust to daylight conditions. ECEB's design also includes windows to interior rooms. Clerestories, which are windows along the tops of many rooms, as well as frosted glass walls and glass doors, allow diffused natural light to stream inside the building. Occupancy sensors can be found throughout, and they turn off lights and reduce ventilation in spaces that are not being used. This prevents lighting rooms that are brimming with sunlight, and heating and cooling spaces that are not occupied.
Third, the use of Solar Power on the building and from Solar Farm 2.0 push our energy use to net-zero and potentially net-positive energy. The solar panels on ECEB's roof face south to capture the maximum amount of sunlight. They generate between 11% and 15% of ECEB's energy requirement, and paired with the University's Solar Farm 2.0, make the facility net-zero energy. Solar Farm 2.0 is a 54-acre, 12.32-megawatt unit which produces approximately 20,000 megawatt-hours per year, supplying the building and others on campus. Construction on Solar Farm 2.0 was completed in late 2020 and fully energized on January 29, 2021.
Lastly, there are other energy efficiencies the building utilizes that are unique to the project. The landscaping around ECEB highlights native plants, which thrive without an irrigation system. They are also lower maintenance than grass or sod. It features permeable pavers and a drainage design to control storm water around the building and store excess water underground. This reduces runoff from rainstorms and melting snow. ECEB has ample bike parking on its north and south sides and enclosed bike parking attached to the west side. Two showers in the building's basement support employees who bike or run to work. The Illinois campus is emphasizing bicycle commuting and unveiled its campus bike plan in March 2015. An adjacent bus stop encourages use of mass transportation, as well. Many indoor features make the building energy-efficient and environmentally friendly including the Distance Learning Classroom. It's equipped with cameras, microphones, and other special features to facilitate telecommuting to conferences, hosting meetings, or offering distance-learning classes. That helps reduce the carbon footprint of those who would otherwise have to travel.