vital stats
| | |
| --- | --- |
| Certification Status | Zero Energy Certified |
| Date of Certification | February 28, 2018 |
| Version of LBC | 3.1 |
| Location | Alpine, CA, USA |
| Typology | Building |
| Project Area | 12,681 SF |
| Start of Occupancy | April 2016 |
| Owner Occupied | Yes |
| Occupancy Type | Public Library |
project team
| | |
| --- | --- |
| Owner | County of San Diego |
| Owner Representative | Susan Freed |
| Project Manager | Mark Zabonik |
| General Contractor | C.W. Driver |
| Architect | Design Architect: Manuel Oncina; Architect of Record: Ferguson Pape Baldwin Architects |
| MEP Engineer | McParlane & Associates, Inc. |
| Energy Engineer | Brummitt Energy Associates |
| Electrical Engineer | ELEN Consulting |
| Lighting Design | ELEN Consulting |
| Specialty Consultants | Measurement & Verification: Brummitt Energy Associates |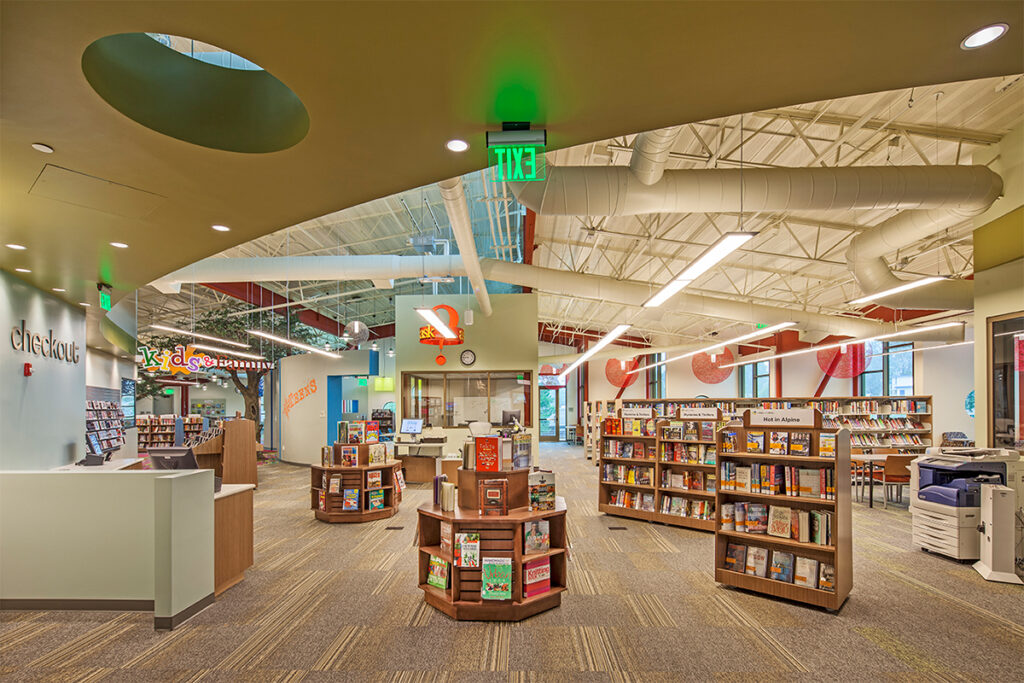 building systems information
| | |
| --- | --- |
| Wall R value and section specification | R20. |
| Roof R value and section specification | R60. Loose fill cellulose, vented roof deck |
| Windows | N Façade: Atlantica + Solarban 60 (3) by PPG Industries, Inc. Low-e-coated, insulating glass (1" overall unit thickness)S, E, W Facades: Atlantica + Solarban 70XL (3) by PPG Industries Inc. Low-e-coated, insulating glass (1" overall unit thickness) |
| Air infiltration rate and sealing protocol | High Insulation Levels. Focus on air tightness. One major focus of the Commissioning process was to ensure that there was no air leakage in or out of the spaces. Given the zero-net energy program, it was essential to ensure that building mechanical systems were not operating more than necessary. |
MECHANICAL HEATING AND COOLING
VRF systems utilize Heat Recovery Ventilation, allowing zones to heat while others cool. It utilizes refrigerant running between the fan coils and the Heat Recovery Unit to transfer heat from the warmer zones to the cooler zones if needed.
MECHANICAL VENTILATION
The system utilizes a VRF System with 12 Indoor Fan Coil Units, 5 Branch Selectors, and 1 Outdoor Heat Recovery Unit to provide ventilation to the Offices, Workrooms, Restrooms, Computer Lab, Library Resources, A.L.F.A. and Staff Lounge.
The IDF Room and Mechanical Well have their own assigned Split System Heat Pump/Fan Coil Units to provide sufficient ventilation.
The Tele-com, Restrooms, and Serving Room are each assigned Exhaust Fans to aid with air circulation.
LIGHTING
The lighting system consists of LED fixtures connected to a lighting control system that controls each fixture zone by daylighting sensors or occupancy sensors or both. This allows for the light levels to be consistent throughout the facility and dim the light output of the fixture where natural light is provided and turn off when the area is not used. The system is tied back and monitored from the EMS/BMS system. Daylight is introduced mostly from the North to minimize glare and heat gain.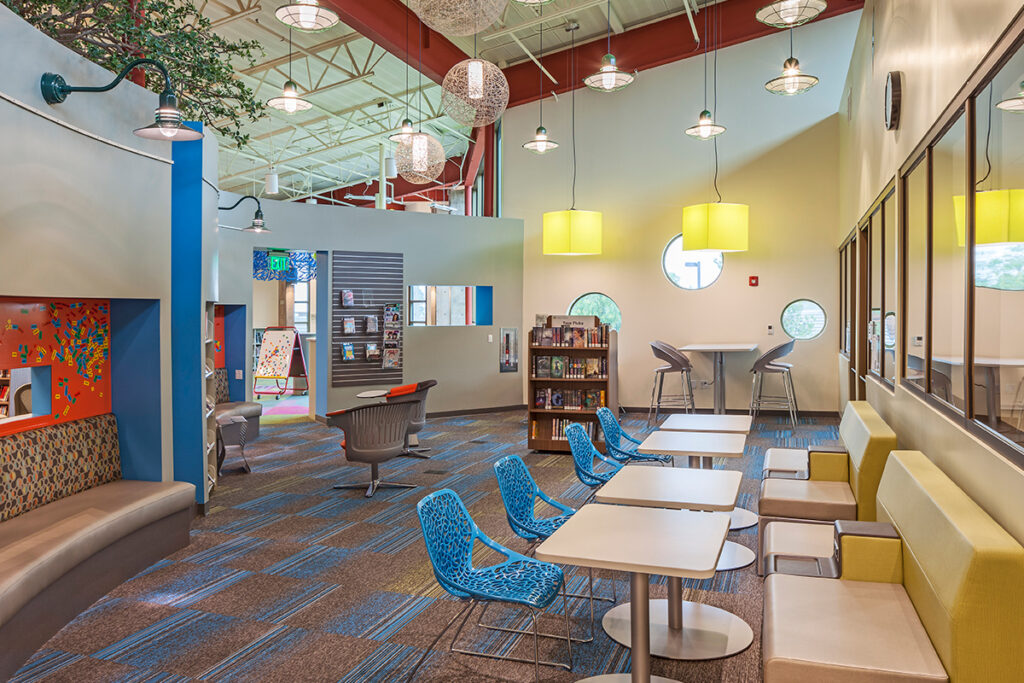 RENEWABLE PRODUCTION SYSTEMS INFORMATION
72 kW DC Size
(240) 300 Watt LG ACPV Micro-Inverter Modules
System mounted on the roof & owned by the County of San Diego.
PERFORMANCE
| | |
| --- | --- |
| Actual energy use during performance period | 15,368 kWh |
| Actual energy produced during performance period | 22,218 kWh |
| Net Energy Use | -6,850 kWh |
| EUI | 4.13 kBTU/sf/yr |
PROJECT LEADERSHIP AND STORY OF PROJECT
As part of the Strategic Energy Plan 2013-2015 for the County of San Diego, the Energy and Sustainability program explored the feasibility of achieving a zero net energy building. Department leadership support was integral in making the project begin.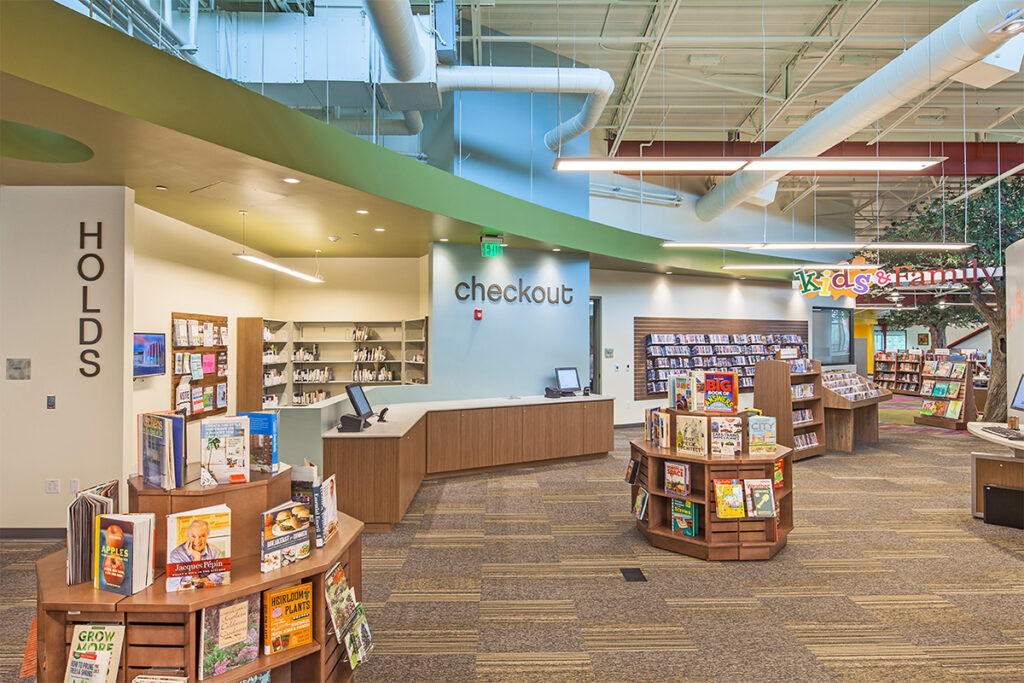 DESIGN PROCESS
The design features in the Alpine Library that help reduce energy use are as follows:
Building Orientation – the long side of the building faces south, taking advantage of north exposure for daylight in occupied areas without heat gain, and an excellent orientation for the solar array.
Windows – daylight is admitted to the building through large windows in the reading room, reducing the need for artificial lighting, which is typically about 30% of a building's energy use. The glass is thermally resistant which means that it doesn't transfer heat into or out of the building as readily as regular windows.
Building Insulation – the walls and roof are insulated to an extent that is optimal for this location and occupancy, reducing the loss of heating and cooling energy.
Lighting – lighting fixtures are LEDs, which are much more energy efficient than fluorescent lights, and are controlled by sensors which detect when the space is not occupied or when there is enough daylight to avoid artificial lighting, and will turn lights off or dim them.
Plug Receptacles – receptacles throughout the library are equipped with occupancy sensors which shut off power to the outlets when not in use.
Water Heating – solar thermal panels on the roof provide hot water for hand washing and a kitchen sink.
Heating and Cooling – the building employs a Variable Refrigerant Flow system, which is a very energy-efficient space conditioning system that brings cooling or heating fluid to precise locations only when it is needed, saving on energy used by pumps and fans that would otherwise run more often, and capturing waste heat when it is usable in the building.
Electronic Controls – controls adjust building conditioning (heating/cooling) according to actual building usage and can be adjusted for energy reduction during peak demand times.
Solar Power – The photovoltaic solar panels on the roof have a rated power generating capacity of 72 kW, and are predicted to produce about 108,500 kWh per year. At certain times of the year, the panels will provide more electricity than the building uses, so electricity will go back into the grid and SDGE will credit the County for this extra electricity.
ENERGY SYSTEMS NARRATIVE
Prior to opening to the public, Library staff were trained on the various building systems. Staff was shown how to adjust thermostats, lighting, operable partitions and various media items. County maintenance personnel participated in similar training sessions, with a focus on filter change requirements, locations or equipment, and shut-off valves.
occupancy issues
Part way through the design process it was identified that the community room was likely to be used more than originally thought. This increased potential operating hours and increased the size requirement for the PV system.
After occupancy, during site visits, it became apparent that the computers in the computer room were staying on all night long. This was identified to library IT personnel and sleep mode and energy saving programming was incorporated to reduce the load.
HVAC operational scheduling had to be adjusted so that cleaning staff could remain comfortable. This resulted in longer run times for HVAC than anticipated.
BUILDING COMMISSIONING, START UP, AND OPTIMIZATION
Don't try to finish too soon, leave plenty of time for coordination and commissioning
Building Automation system (BAS) is critical for troubleshooting equipment function issues, and assists with commissioning, as long as the equipment is submetered so end uses can be isolated and viewed for performance.
Critical for contractors to be ready for functional testing. Need to have the right people there in order to complete commissioning with minimal visits.
For M&V submeters it is important to oversee factory setup of meters to eliminate incorrect installation, faulty equipment, and calibration issues prior to commissioning. If possible, include manufacturer's rep during commissioning and pre-functional testing.
A hard open date for the library resulted in the building opening prior to final Commissioning. This resulted in challenges to getting the building commissioned, for example, contractors had moved on to other projects, commissioning activities had to be done during non-business hours.

Contractors were not prepared for the level of detail required to commissioning a ZNE building. Some examples:Lighting: The lighting is all LED and the light levels were higher than required in some areas. The upper dimming threshold for those areas needed to be reduced in order to reduce energy consumption and optimize for ZNE performance. This required several site visits at day and night to fine tune the light levels with the lighting and electrical contractor.
Measurement & Verification: Commissioning of the end-use submeters took a lot longer than anticipated. This required multiple site visits with electricians, controls integrators and even submeter factory technicians.
INCENTIVES
Savings by Design included incentives for indoor lighting, VRF system, glazing, outdoor parking lot lighting, end-use monitoring and PV adjustments for a total savings of $13,642.
REGULATORY ISSUES
Inspectors were inconsistent with their interpretation of interconnection requirements (for PV). Coordinate early with the utility and get their comments on the record.
LESSONS LEARNED
Understand the energy budget (with a feasibility study and whole building energy model) before design begins in order to correctly size the PV – a 5% average buffer is necessary to accommodate future contingencies
Insure that contractor knows they are responsible for producing a zero net energy building and that any part of the project that contributes to the success of ZNE is their responsibility – they should own the energy model
Must have an M&V third party agent to encourage coordination and teamwork during design and construction
Coordinate early with the utility and get their comments on the record – inspectors can sometimes be inconsistent with their interpretation of interconnection requirements (for PV)
Training for facilities operations staff is critical. Must begin before occupancy and allow enough time for all staff to be involved
Don't try to finish too soon, leave plenty of time for coordination and commissioning
BAS is critical for troubleshooting equipment function issues, and assists with commissioning
Quote from Project Manager: "Teamwork is critical, and the team members must be collaborative and willing. The actual staff working on the project, not just the company they work for, should have experience with a ZNE project. It is much more complicated and time consuming than a code compliant project."
During the design phase, plug load use was identified as a wild card, meaning it was very hard to predict energy use from plug loads in such a transient space. There are receptacles for visitor use in many locations throughout the library proper and the expectation was there would be a lot of energy use from visitor laptops and phone chargers. The actual energy use on the plug load panels has been significantly lower than predicted. In future libraries we will take this into consideration but are not likely to completely revise modeling assumptions based on this scenario in the event that this is specific to this community.