Backed by its mission to protect the Pacific Northwest's natural environment and promote healthy and sustainable ecosystems, the Bullitt Foundation wanted their new headquarters to be built to the highest level of sustainability. They also wanted the building to be a demonstration project that would set a new standard for developers, architects, engineers and contractors. The rigorous performance standard set forth by the Living Building Challenge® was perfect.
The Bullitt Center is a six-story commercial office building in the Central Area of Seattle, WA. The Center is home to a number of commercial office tenants who are successfully operating their businesses, while working in a net-positive energy environment. The Bullitt Center aims to advance the awareness and adoption of high-performance building through ongoing educational efforts, and by demonstrating that performance-based design works in a market-rate commercial project.
The Center is powered by a 244 kW rooftop solar array, composed of 575 PV panels. All rainwater that falls on the site is collected in a cistern in the basement, treated to potable drinking standards, and supplies all water needs of the building. The building is a type-IV heavy timber structure, made of Forest Stewardship Council (FSC) certified glulam beams and dimensional lumber. The building sits atop a ground-source heat exchange system made up of 26 wells, each reaching a depth 400 feet. All materials used in the building were screened for compliance with the Materials Red List to restrict toxic chemicals. The wide variety of performance-based attributes are shared with the public through a ongoing tour program, a public exhibition space, and a number of research projects all managed by the University of Washington's Integrated Design Lab.
CREATIVE FINANCING OPPORTUNITIES
The Bullitt Center pursued a number of local, state and federal incentive programs for water and energy conservation strategies. One primary financing mechanism came through the Federal 1603 program, which awarded grants in lieu of tax credits for the photovoltaic array and ground source heat pump systems installed at the Center. The City of Seattle's Office of Economic Development supported the project's overall financing package through an allocation of Recovery Zone Funding Bonds and New Market Tax Credits, specifically geared to support commercial development in target neighborhoods, and that simultaneously align with the City's criteria to grow its green economy.
PROJECT WEBSITE www.bullittcenter.org
| Vital Stats | |
| --- | --- |
| Certification Status | Certified Living |
| Location | Seattle, WA USA |
| Bioregion | Cascadia |
| Living Transect | L5 |
| Typology | Building |
| Occupant Type | Commercial Office |
| Project Team | |
| --- | --- |
| Project Manager/Director | PAE Consulting Engineers |
| Architect | Miller Hull Partnership |
| Contractors | Foushee & Schuchart |
| Water & Plumbing | 2020 Engineering |
| Lighting Design | Luma Lighting Design |
| Landscape | Berger Partnership |
| Structural Engineering | DCI Engineers |
| Solar Array Construction and Installation | NW Wind & Solar |
| Photovoltaic Engineering and Design | Solar Design Associates |
| Building Enclosure and Performance Testing | RDH |
| Development Partner | Point 32 |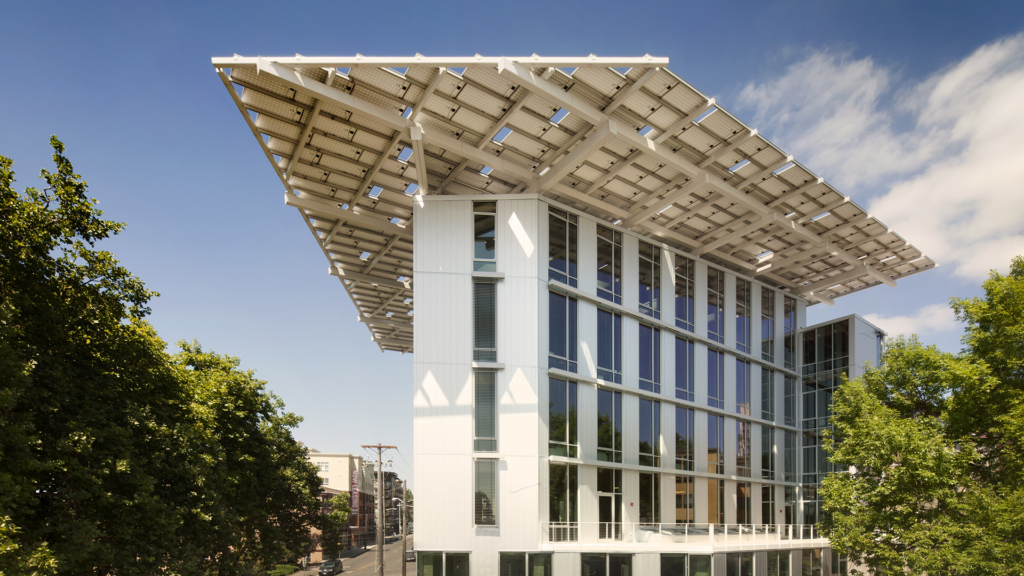 Photo by Nic Lehoux, courtesy of Bullitt Center
PLACE PETAL
01. LIMITS TO GROWTH IMPERATIVE
PRIOR SITE CONDITION
The previous development urban site included a 3,317 sf, one-story wood and brick building, and an asphalt parking lot that covered the remaining 6,750 sf of the lot.
SITE INFO
A small one-story bar and restaurant, along with a paved surface parking lot, formerly occupied the site of the Bullitt Center. Typically, developers are not allowed to remove pre-existing structures prior to issuance of a Master Use Permit. As a result, many existing structures are simply demolished in order to minimize impact on the overall project schedule and associated costs. The Bullitt Center team worked with City regulators to secure approval for deconstruction and material reuse well in advance of the final permit to integrate material recycling and salvage into the process.
03. HABITAT EXCHANGE IMPERATIVE
NAME Hoh River
LOCATION Jefferson County, Washington
LANDTRUST Western Rivers Conservancy
WEBSITE www.westernrivers.org
04. HUMAN-POWERED LIVING IMPERATIVE
The Bullitt Center is equipped with a bike garage and showers to attract occupants to take alternate modes of transportation.
WATER PETAL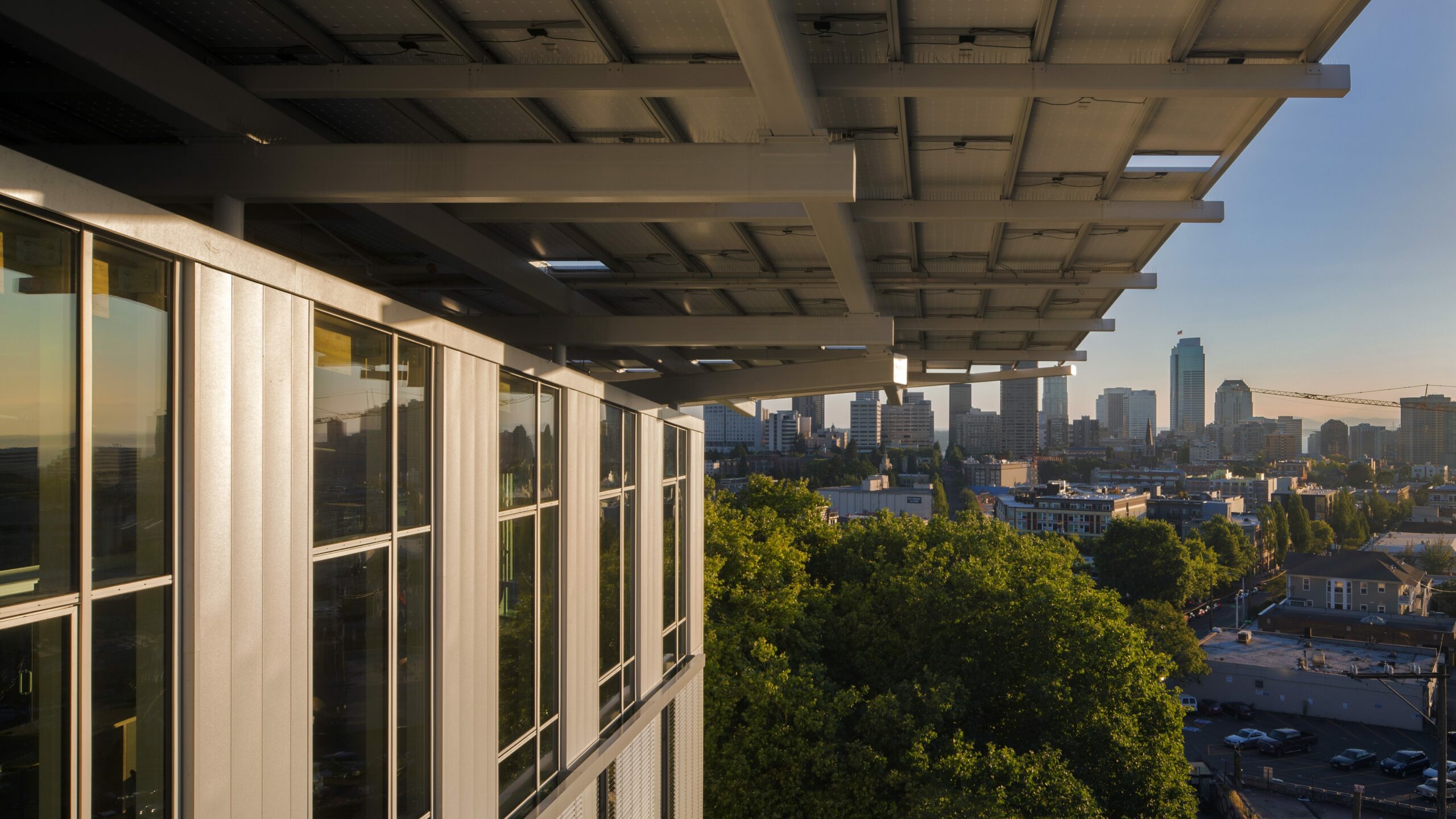 Photo by Nic Lehoux, courtesy of Bullitt Center
05. NET POSITIVE WATER IMPERATIVE
ANNUAL WATER USE
UTILITY-SUPPLIED FOR POTABLE USE DUE TO REGULATORY REQUIREMENT 50,730 gallons
SYSTEMS FED Potable water systems
HARVESTED ONSITE Year End Cistern Level – 47,626 gallons
COLLECTION STRATEGIES Rainwater collection on the building's roof membrane and diverted into a cistern in the basement.
SYSTEMS FED All potable & non-potable systems
GREY WATER 29,384 gallons of greywater treated onsite  SYSTEMS FED Recirculating gravel filtration system & green roof
WASTEWATER
Prior to the Bullitt Center, there was no clear precedent for the permitting of an onsite composting system and greywater treatment facility in Washington State. The Bullitt Center team worked with regulators from Washington State, King County and the City of Seattle to design rainwater collection and onsite waste treatment systems that have not previously been permitted in an urban setting.
The Bullitt Center's six-story composting toilet system creates a usable fertilizer at the end of its process. Because this fertilizer is from human origin, it must be treated as a bio-solid and processed at a secondary facility that meets the State Department of Ecology's criteria. King County and the Bullitt Center have partnered to create a process by which the project can send its leachate to King County's Carnation facility, where it will be filtered using natural processes and used to restore a native wetland.
GREYWATER
The building's greywater—which comes from sink and shower drains—will be filtered, stored, and then treated in a constructed wetland (visible on the building's second story roof). Once treated and cleaned to City and State-approved standards that were established as a result of this project, water will infiltrate into a green planting strip, where it will replenish the natural aquifer. These systems are designed as a complement to the municipal infrastructure, and provides a demonstration of how the demands of a growing population can be met with sustainable innovation.
Learn more about the Bullitt Center's approach to permitting their water system in this case study.
ENERGY PETAL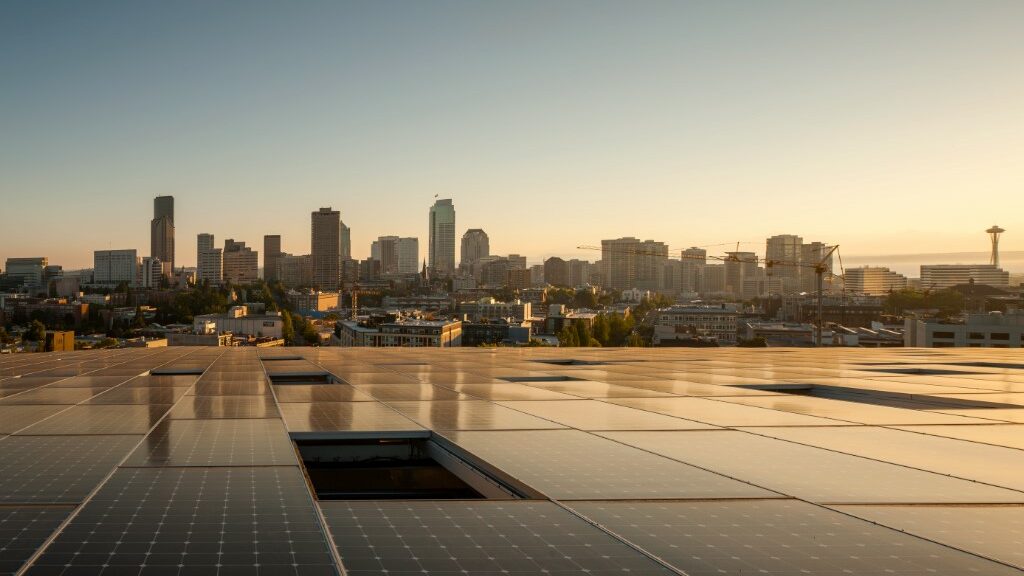 Photo by Nic Lehoux, courtesy of Bullitt Center
06. NET POSITIVE ENERGY IMPERATIVE
RENEWABLE ENERGY SYSTEM
244 kW Photovoltaic Array
ANNUAL ENERGY USE
ACTUAL 152,877 kWh / year
SIMULATED/DESIGNED 231,000 kWh/year
DESIGN TOOLS & CALCULATION METHODS
REVIT
To create the base building geometry
TRANE TRACE
To calculate the building heating and cooling loads
BENTLEY TAS
Airflow analysis (natural ventilation and night flush strategy analysis)
GLHEPRO
designing the geo-exchange field
AUTODESK SIMULATION 2012
CFD analysis to determine how additional conference rooms impacted cross ventilation
ECOTECT
To conduct daylight analysis
RELATED REGULATORY APPEALS
The City of Seattle's Department of Planning and Development created the Living Building Pilot Program in an effort to incentivize project developers to incorporate performance-based design into new buildings and further the cities leadership in green building. This pilot program allowed for performance-based departures under the Land Use Code, including the ability to increase floor-to-floor heights to increase interior daylighting and reduce the dependence on electric lighting. The City will use the lessons learned from the Bullitt Center and a handful of other projects pursuing Living Building certification to evaluate and revise current codes to achieve higher building performance. The City of Seattle is the first municipality in the nation to develop a program to promote the Living Building Challenge®.
ADDITIONAL COMMENTS
During its performance period, the Bullitt Center produced a surplus of 90,793 kWh of electricity, and operated with an actual with an actual EUI of 10.
HEALTH & HAPPINESS PETAL
Photo by Nic Lehoux, courtesy of Bullitt Center
The Bullitt Center design team placed occupant health at the forefront of project goals. Elements such as the 'irresistible' stair, a heavy-timber staircase enclosed in glass, encourages occupants to incorporate exercise into their daily routine in exchange for incredible views of the city skyline and Olympic Mountains beyond. Additionally, the flood of natural daylight and views that is available to every workstation in the building guarantees that tenants have a strong connection to the world beyond the walls of the building. Low VOC and zero VOC finishes selected during the construction of the project have positively contributed to the incredibly healthy air quality measured during preliminary indoor Air Quality tests on both occupied and unoccupied floors of the building during its 'lease-up' phase.
In an effort to help future project teams source healthy materials, the Bullitt Center has published it's "As Built" product list to the project website, bullittcenter.org.
MATERIALS PETAL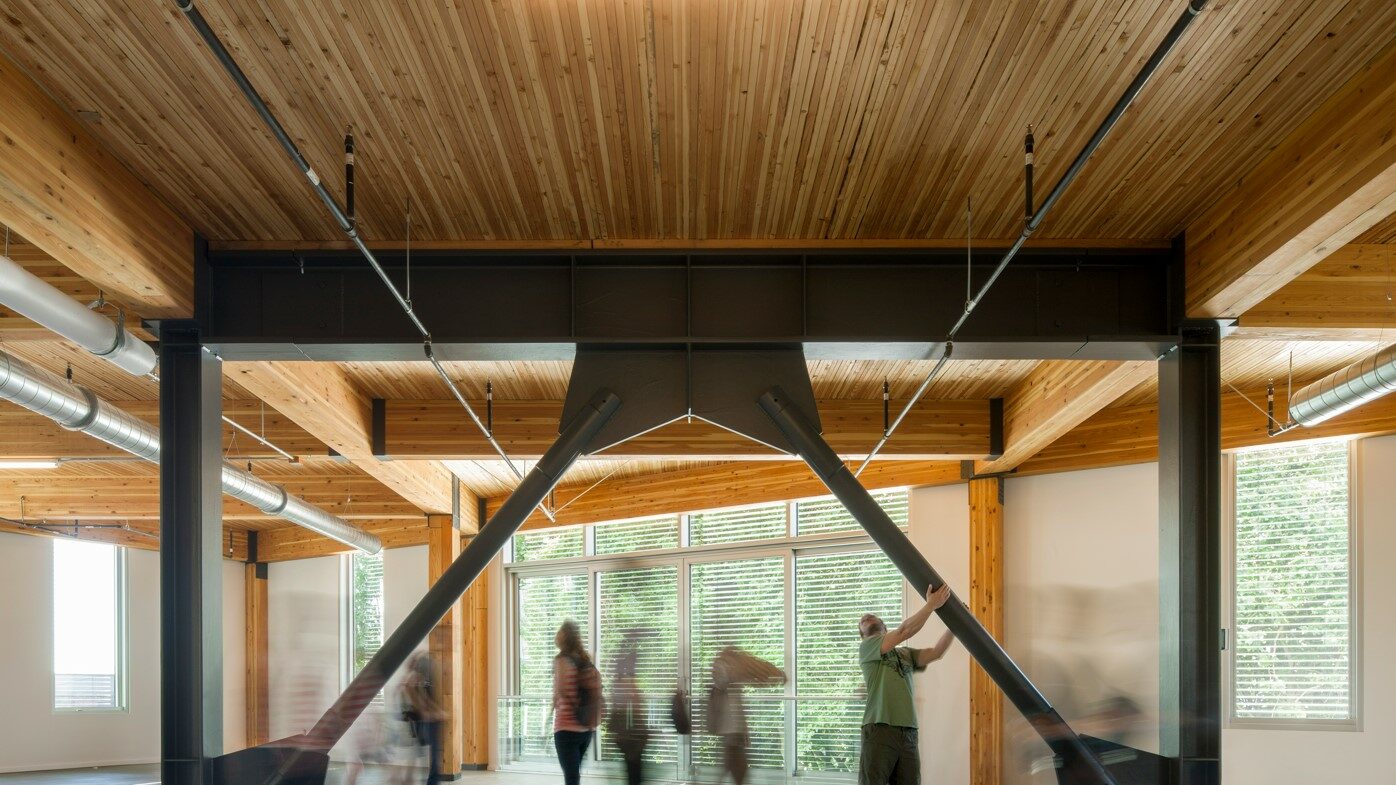 Photo by Nic Lehoux, courtesy of Bullitt Center
10. RED LIST IMPERATIVE
OUR APPROACH
The materials vetting process was a successful collaboration between the Developer, Contractor, and their sub-contractor team. The project team began pre-screening potential products that were recommended by the sub-contractors and installers. Manufacturers were contacted one-by-one and MSDS and product questionnaires were procured. The project team relied heavily on the Pharos Project chemical database to evaluate the chemical constituents identified through this process.
SUCCESSFUL RED LIST SUBSTITUTIONS
Original Product
Red List Item
Specified Manufacturer + Product Names
Pipe – 22 1000
PVC
HDPE, Ductile Iron, ABS
No-Hub Couplings – 22 1400
Neoprene
Mission EPDM Couplings
Liquid Applied Air Barrier – 07 2700
Phthalates
Prosoco Fastflash
Glulams – 06 1800
Urea-Formaldehyde
Calvert Glulams w/Phenol Formaldehyde binder
Ball Valves – 21 1300
Lead
Nibco Lead Free Valves
Casework – 06 4100
Formaldehyde
Columbia Forest Products Purebond Plywood
THE HURDLES
Assembling documentation for complex products including "articles" and complex equipment such as pumps and circuitry was very difficult. In most cases, despite the manufacturer's best effort, it was very hard to obtain written confirmation that the product was in compliance with the Living Building Challenge® "10% rule". This is largely due to the complex supply chains.
PROPRIETARY CLAIMS
Manufacturer
Product Name
Sherwin Williams – 06 0500
Misc Paints
BASF – 03 3000
Misc Concrete Additives
11. EMBODIED CARBON FOOTPRINT IMPERATIVE
EMBODIED CARBON FOOTPRINT (TCO2E) -3,000metric tons
12. RESPONSIBLE INDUSTRY IMPERATIVE
WOOD SOURCES FSC, Salvaged
SALVAGE MATERIALS SOURCING ASSISTED BY Rhine Demolition
Manufacturer/Supplier
Product Name
RedBuilt – 06 1000
LVLs
Allweather Wood – 06 1600
Plywood
Potlatch – 06 1000
Dimensional Lumber
Roseburg – 06 1600
Plywood
Columbia Forest Products – 06 4200
Purebond
Calvert – 06 1800
Glulams
Matheus Lumber – 06 1600
Plywood, Dimensional Lumber
SierraPine – 06 4600
Mouldings, Plywood
Rugby Architectural Products – 06 1600
Plywood
13. LIVING ECONOMY SOURCING IMPERATIVE
NOTABLE REGIONAL PRODUCTS
Product
Location
Schuco Curtainwall System – 08 4400
Manufactured in Everett, WA
Certainteed Type X Gypsum
Vancouver, BC
Glulam Beams – 06 1800
Vancouver, WA
EQUITY PETAL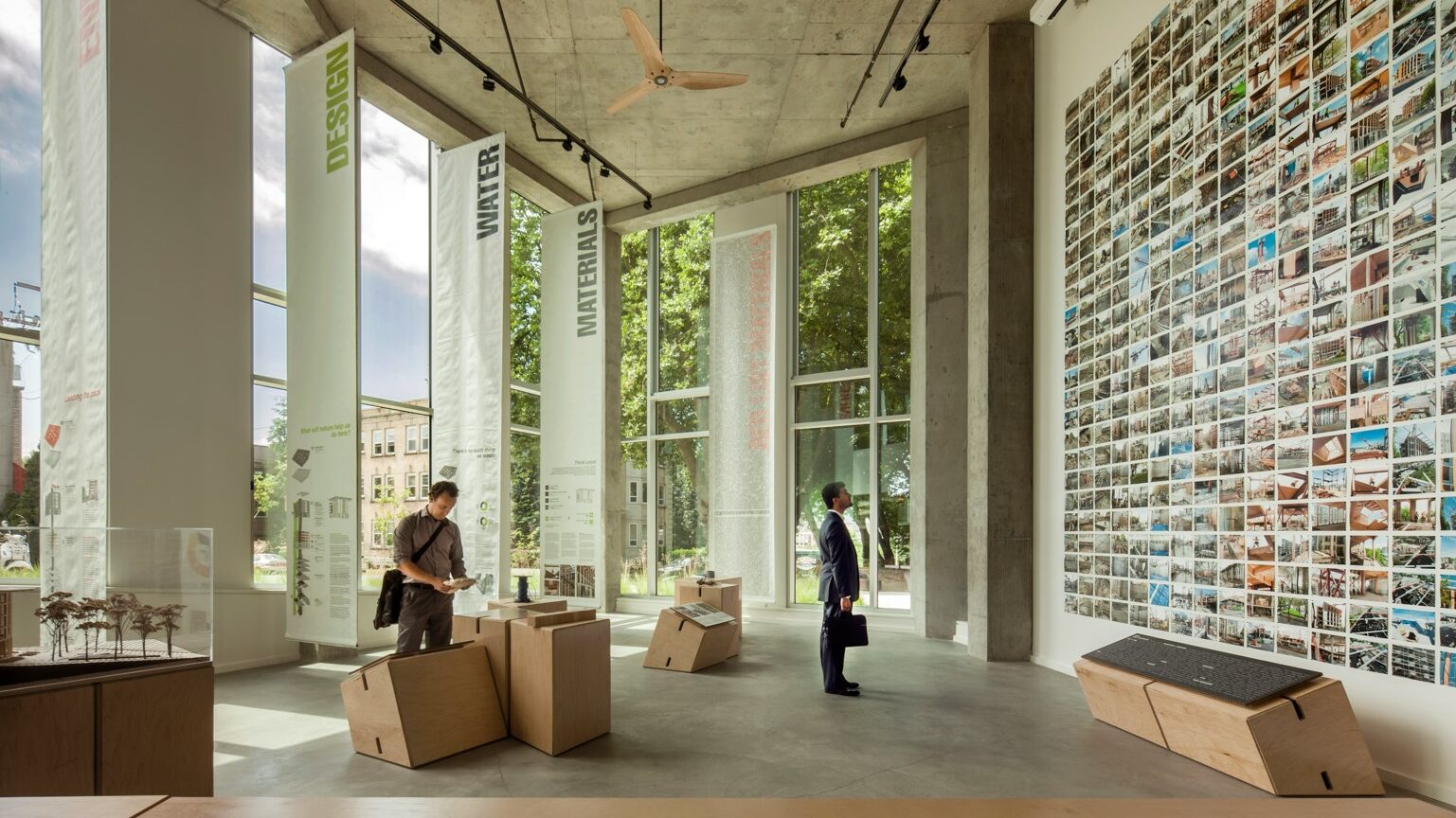 Photo by Nic Lehoux, courtesy of Bullitt Center
The primary mission of the Bullitt Center is to "take a bold leap forward and demonstrate what is possible in a contemporary office building". The Bullitt Center aims to advance the green building industry through ongoing community outreach, education, and public tours. The thousands of visitors who have made it a point to come to the Bullitt Center include government officials, developers, other designers, students of all ages and the general public–making it a vital resource for people to learn about green building and urban sustainability, ideally that can be replicated or built upon elsewhere.
An extension of this goal has been the ongoing effort to work with all levels of government to identify and lower barriers to entry for future high-performance structures. Groundbreaking policy such as Seattle DPD's Living Building Pilot program, King County's Zero-Discharge Capacity Charge legislation, and the Washington State Department of Health's innovative policies to allow the project to pursue net-zero water, are all examples of the project's effort to advance green building policy for all projects.
BEAUTY PETAL
TOUR INFORMATION OR WEBSITE WITH CURRENT DETAILS LISTED
http://www.bullittcenter.org/home/tour/
Tours are led by the UW Center for Integrated Design, located on the second floor of the Bullitt Center (1501 E. Madison Street). Enter on Madison Ave, the north side of the building.
The public tour typically lasts about an hour and starts at the following times:
JOIN US FOR A SPECIAL EARTH DAY CELEBRATION TOUR HERE.
Tours will be lead by volunteer docents from the CID, a collaborative between the University of Washington Integrated Design Lab and the Bullitt Foundation.