VITAL STATS
| | |
| --- | --- |
| Certification Status | Petal Certified |
| Version of LBC | 3.1 |
| Location | Melbourne, Victoria, Australia |
| Gross Building Area | 18,568 square meters |
| Start of Occupancy | December 2019 |
| Owner Occupied | Yes |
| Number of Occupants | 150 regular occupants; 2,000,000 visitors |
PROJECT TEAM
| | |
| --- | --- |
| Developer | Frasers Property |
| Architect | NH Architecture |
| Interior Designer | Russell & George |
| Interior Architect | Zwei |
| Creative Consultancy | Right Angle |
| Feature Light Designer | Electrolight |
| Planning Consultant | Tract |
| Landscape Architect | Group GSA |
| Signage Design Consultant | Strategic Spaces |
| Structural Engineer | Spencer Group Engineers |
| Mechanical & Electrical Engineer | ADP Consulting |
| ESD Consultant | Cundall |
| Infrastructure Consultant | Reeds |
| Hydraulic Engineer | CJ Arms |
| Waste Water Contractor | Aquacell |
| Building Surveyor | McKenzie Group |
| Traffic Engineer | Traffix Group |
| Fire Engineer | Omnii |
| Charity Partner | The Big Umbrella |
| Waste Consultant | Closed Loop |
| Food & Hospitality Consultant | Future Foods |
| Economic Advisor | Urbis |
| Independent Commissioning Agent | DeltaQ |
| Energy Consultant | Energy Action & Real Utilities |
| Indigenous Strategy & Design | Balarinji |
| Acoustic Engineer | Acoustic Logic |
| Engineering Consultant | Aecom |
| Air Quality Consultant | Virdis |
| Parents' Room Designer | Dovetail Design |
| Car Parking System Contractor | Smart Parking |
| Structure – Concrete Contractor (in situ) | V&G Concrete Constructions |
| Head Contractor | Hacer Group |
| Mechanical Contractor | Corbritt Airconditioning Pty Ltd |
| Electrical Contractor | Maxim Electrical |
| Hydraulic Contractor | Chadoak Plumbing and Drainage |
| Geotechnical | Golder Associates |
| Landscape Contractor | Normark Landscapes Pty Ltd |
| Structure – Steel Contractor | Continental Steel Pty Ltd |
| Structure – Steel Contractor | Continental Steel Pty Ltd |
| Structure – Concrete Contractor (precast) | Concrete Precast Systems |
| Carpenter Contractor | Star Ceilings & Partitions Pty Ltd |
| Civil Works Contractor | Ace Contractors Group |
| Concrete Polishing & Tiling Contractor | Akkari Tiling |
| Entrance Matting Contractor | Allway by MatTek |
| Metal Balustrade Contractor | Arc Metal Group Pty Ltd |
| Brick & Blockwork Contractor | Brickon Pty Ltd |
| Plant Deck Contractor | Con-Form Group |
| Metal Bench Top Contractor | Control Fab Pty Ltd |
| Wet Fire Contractor | Fox Fire |
| Glazing Contractor | Jaden Commercial Windows |
| Tactiles and Stair Nosing Contractor | Korb |
| BMS Controls Contractor | L J Services Pty Ltd |
| Bamboo Toilet Partition Contractor | LETObamboo |
| Woolworths and Dan Murphy's Electrical Contractor | M+G Electrical&Communications |
| Roller Doors & Sliding Grate Contractor | Mirage Doors |
| Metal Handrail Contractor | Moddex |
| Vinyl & Carpet Contractor | MacDonald Floor Covering Group |
| Painting Contractor | Opat |
| Roofing Contractor | AAA Premier Roofing |
| Dock Leveller Contractor | Safetech Tieman Solutions |
| Electrical Security Contractor | Securetel |
| Syfonic Water System Contractor | Syfon Systems |
| Signage, Ribbon & Canopy Contractor | The Blue Print |
| Lift & Travelator Contractor | United Lift Services |
| Waterproofing Contractor | Watertite |
| Roof Access Contractor | Workplace Access & Security |
| Solar Contractor | Solgen Energy Pty Ltd |
| Tiling Contractor | Stanmor Ceramics Pty Ltd |
PLACE PETAL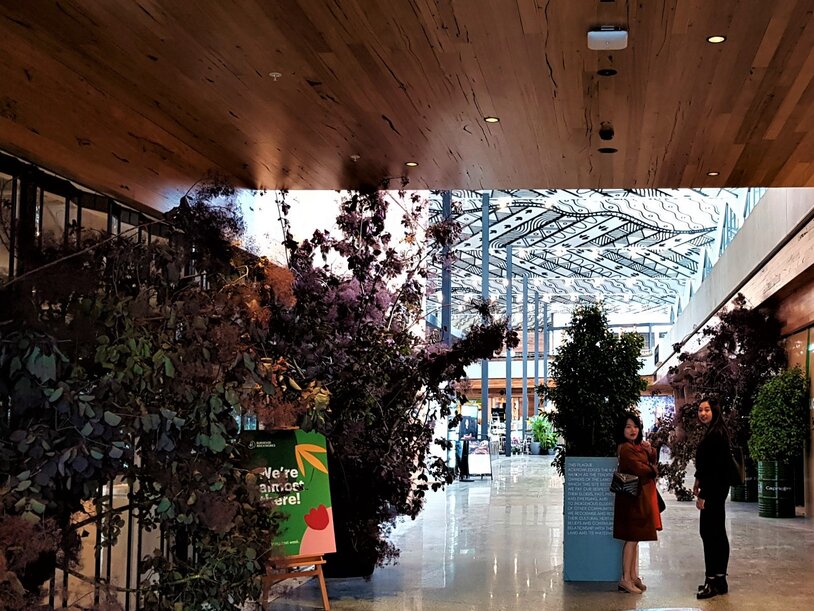 01. LIMITS TO GROWTH IMPERATIVE
The team wishes to acknowledge the Traditional Custodians of the Land on which the Brickworks project is situated, on Kulin Nation, and pay respect to the Elders, past, present, and emerging.
Prior to the development, the site was a brickworks (hence its name), and was used to manufacture building products for a number of decades before the operation was removed, leaving the brownfield land disused. The overarching approach to the landscaping design was to study the Reference Habitat (Temperate Broadleaf and Mixed Forests) and then introduce and reinstate a habitat to be shared both by humans and other species, with a focus on the sense of place, Water-Sensitive Urban Design, food productivity and attraction to pollinators, micro-climate amenity, human scale, and robustness appropriate to the retail typology. The landlord and tenants maintain the various components of the landscaping. Further research by the landlord includes engaging landscape and ecologist experts to assess the ongoing maintenance and evolution of the landscaping in the building and precinct more widely.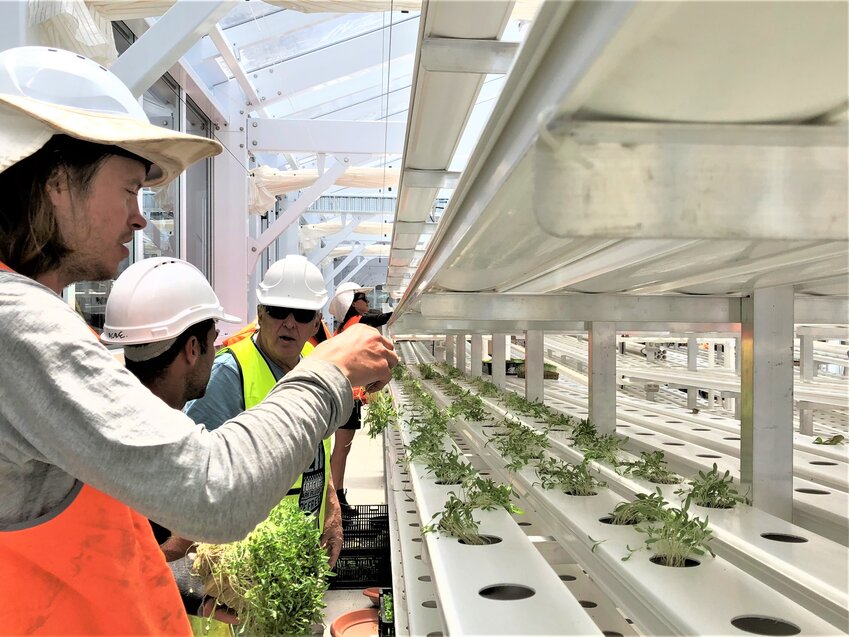 Photo Courtesy of Stephen Choi
02. URBAN AGRICULTURE IMPERATIVE
Across the site, over 5,000 square metres of agriculture has been integrated into the suburban shopping centre – including crops, animals, and other strategies that contribute to human and ecosystem health and/or food consumption. Urban agriculture for Brickworks provides multi-dimensional benefits, especially regarding food security, employment and training opportunities for disadvantaged and marginalized groups, enhanced access to fresh fruit and vegetables, and reduced environmental impacts as a result of less transport, packaging and storage. It plays a key role in supporting efforts to enhance urban resilience and contribute to meeting the challenges of adapting to climate change.
Melbourne is the leading centre of urban agriculture in Australia, and Brickworks wanted to demonstrate that urban agriculture has the potential to play a greater role – being part of a broader community that supports local, small-scale initiatives to help build more sustainable, city-wide food systems, with food being the potential as an agent for urban-regional-rural linkages.
Urban agriculture and urban food production at Brickworks includes vegetable and fruit growing; livestock raising, especially poultry; supporting pollinators such as bees; hydroponics; and value-adding (e.g. farm-to-plate practices). Every context of the shopping centre has been assessed for urban agriculture potential – roof areas, vertical gardens, public areas, and nature strips in the car park, in addition to the more typical ground-level food growing.
A shopping centre is obviously not a rural farm. The aim however is to replicate a functioning farm that can recycle its own organic waste and turn it into powerful natural fertilisers, avoiding waste, and aiming for every waste stream to be a resource. The concept was developed with agricultural experts being engaged on the project team. Significant research was undertaken to determine what should be grown to suit the climate. Members of the team spent weeks travelling around the state speaking with farmers and producers to better understand their processes and food-growing ethos. Selecting produce best suited to the climate is the first step of successful growing. Melbourne's weather is really varied so a large range of produce is possible.
The urban agriculture has been designed and is managed with a nature-based approach to growing food. The site intends to be an ecosystem within the broader ecosystem, with a strong focus on attracting the beneficial insects needed to create a healthy ecosystem, and to keep giving back to the soil. Manure (supplied by their friends from RSPCA), compost, worm castings and straw is used to constantly build soil, and ongoing research of soil types and practices continues whilst the building is in operation.
Each area of the building has been designed to provide a different facet of the overall urban agriculture strategy. A rooftop farm has a series of agricultural "areas" – an outdoor classroom, insect hotels, raised planters, an olive grove, and a closed-loop hydroponic system that has been integrated into the water strategy. The at grade carpark integrates vine-growth, that also provides shade; the Northern façade contains multiple citrus trees that can withstand the Northern sun; the South-facing façade of the medical centre hosts strawberries and other plants that prefer more shade; and a string of food plants poke over the external perimeter façade, providing fruits as well as local micro-climate control.
A farming team is employed to look after more than 70 different types of produce: leafy greens, lettuce, rocket, Asian greens, herbs, tomatoes, capsicum, chilli, zucchini, artichoke, pumpkin, rhubarb, radish, passionfruit, oranges, mandarins, lemons, limes, and flowers including sunflower, dahlias, salvia, foxglove, yarrow, cosmos and many more. Edible flowers not only attract pollinators and bring visual delight, but help to connect people with the seasons.
The greenhouse contains a hydroponic system home to 11,000 edible greens ranging from lettuce, soft leaf herbs, and microgreens, to strawberries and flowers that make their way to plates and drinks at Burwood Brickworks daily. Natural non-petrochemical fertilisers are used to provide nutrients for plant health and growth, which is mixed with rain and recycled water that flows through the growing channels periodically throughout the day.
Worm farms are the heartbeat of the farm, with thousands of worms turning food waste from the restaurant and café into a powerful soil conditioner and fertiliser. At any one time, a number of otherwise—homeless chickens are in the rooftop chicken run. The aim is to educate visitors how to care for chickens before they are adopted. A high-quality pellet mix is combined with greens, e.g. vegetable peels, that contributes to the overall ecosystem of the farm. At the time of writing, they currently care for 15 female and 3 male quail (which are a mix of Coturnix Japonica and Coturnix Coturnix varieties). Their quails eat beans, peas, melon pulp, and leafy greens from the kitchen, as well as high protein feed containing oats, barley, millet, sunflower, canola, lupins, peas, lentils, and soybeans. The quail coop is a native mini-grassland, with a mixture of perennial deciduous shrubs to provide shade and to also offer food for the quails. Quail provide the rooftop kitchens with around 70 eggs per week from Spring to Autumn. All animal infrastructure and practices are implemented under advice from the neighbouring RSPCA (originally Royal Society for the Prevention of Cruelty to Animals) – an independent, community-based charity providing animal care and protection services across the country.
Whilst a mixture of methods have been used to support human health and/or food – from direct crops people can eat, to birds that generously lay eggs, worms that provide soil health, flowering plants that encourage pollination, it's all essentially for education – to connect people to the food which they survive on. The on-site food growing is for people to touch, smell and really experience in person. The design of pathways integrated into the rooftop, coupled with an overall trail where people can wander around provides an opportunity to have conversations with the staff and visitors of the center, who start to understand the extent of the work that goes into the food they're eating. The intent is to show the public what urban food growing can look like, so they can try and do it in their own spaces. Children and adults from schools, aged care organizations, universities, medical facilities, and other community groups have been to Brickworks to learn about the possibilities. A full program of workshops and community events to learn more about regenerative food practices has been developed.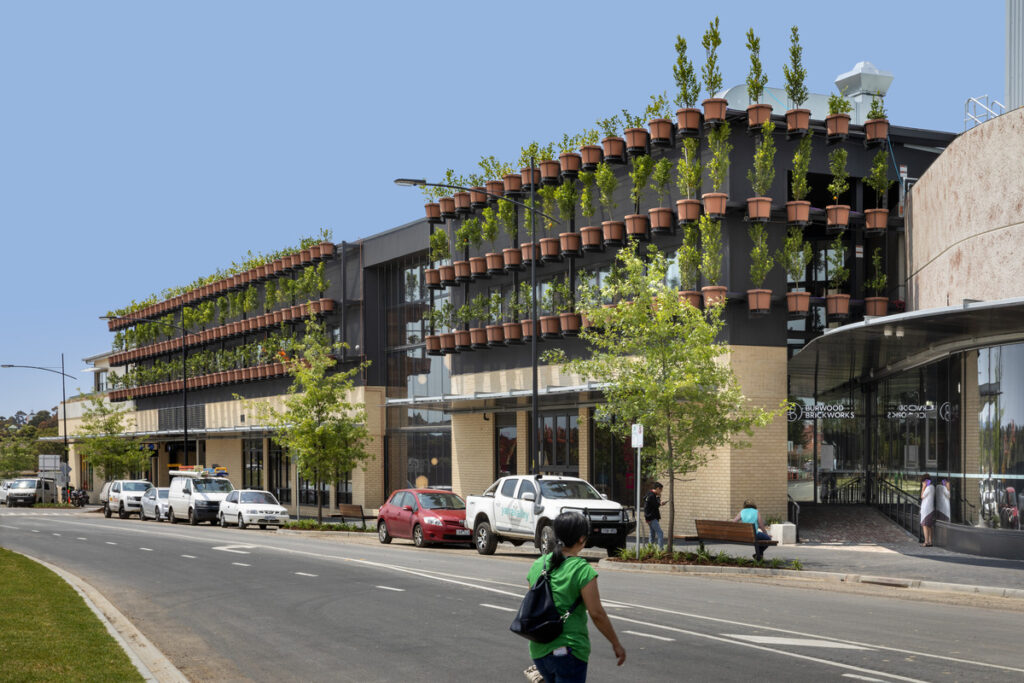 04. HUMAN POWERED LIVING IMPERATIVE
The project took a broad approach to its Mobility Plan, with the aim to reduce transportation-related environmental impacts and encourage lifestyles without reliance on private cars – all whilst increasing the density of the site, which on a macro scale increases the opportunities for public transport. Remembering this is a suburban shopping centre, these approaches are summarized here:
ALTERNATIVES TO PRIVATE PETROL CARS
Using the 15% rule, the team estimated that up to 1,200 people may be in the building at any one time, hence providing over 200 bicycles spaces, and ample showers, lockers, and changing areas. The experience so far is that the secure, weather-protected storage for bicycles is at this point, an over-provision! In reality, many people visiting a medical centre, supermarket, liquor store, or bar/tavern are less likely to cycle. The provision of public showers is rather unusual in a shopping centre environment, and the team hopes that this over-provision however will lead to more cycling in the longer term. The Public Transport Subsidy for staff is set up as a challenge – noting that big change comes from lots of small actions. The Burwood Brickworks Staff Public Transport Challenge asks staff across the whole centre to choose public transport as their preferred method to get to work, and they are rewarded for doing so. They are testing this idea and will vary it in future depending on its success. Whilst still for private cars, electric vehicle charging stations are provided for the use of any occupant – staff or visitor, and these are regularly in use.
GETTING PEOPLE MOVING
The team proudly positioned their main staircase on the sunny Northern façade and invested a lot of effort, through layout and design into promoting its use over the lift. They find that the vast majority of those use the stairs as a result – particularly for its biophilic qualities. A large component of this approach was to provide pedestrian shelter around the building in all main walking paths, and to carefully consider the right orientation of the building. In other words, the design aimed to maintain an unbroken pedestrian-only face to the urban plaza, keeping the necessary vehicle loading dock as far from that pedestrianised area as possible, and creating human-scaled entrances for the public on three of the four frontages, with the fourth frontage to the West allowing for staff pedestrian access.
ADVOCACY
To facilitate uptake of human-powered transportation, the team has been in long-term discussions with the Local Authority having Jurisdiction (City of Whitehorse Council) and the State Public Transport agency. The Council only required a very small number of bicycle racks (55), and the team provided four times that number. They were happily surprised that their advocacy is being reviewed by the Network Planning team in the Department of Transport (DoT) whom Public Transport Victoria (PTV) is part of. For the Brickworks wider project, they invested in a new bus stop in the overall master plan. This is already in operation and is well used.
HEALTH + HAPPINESS PETAL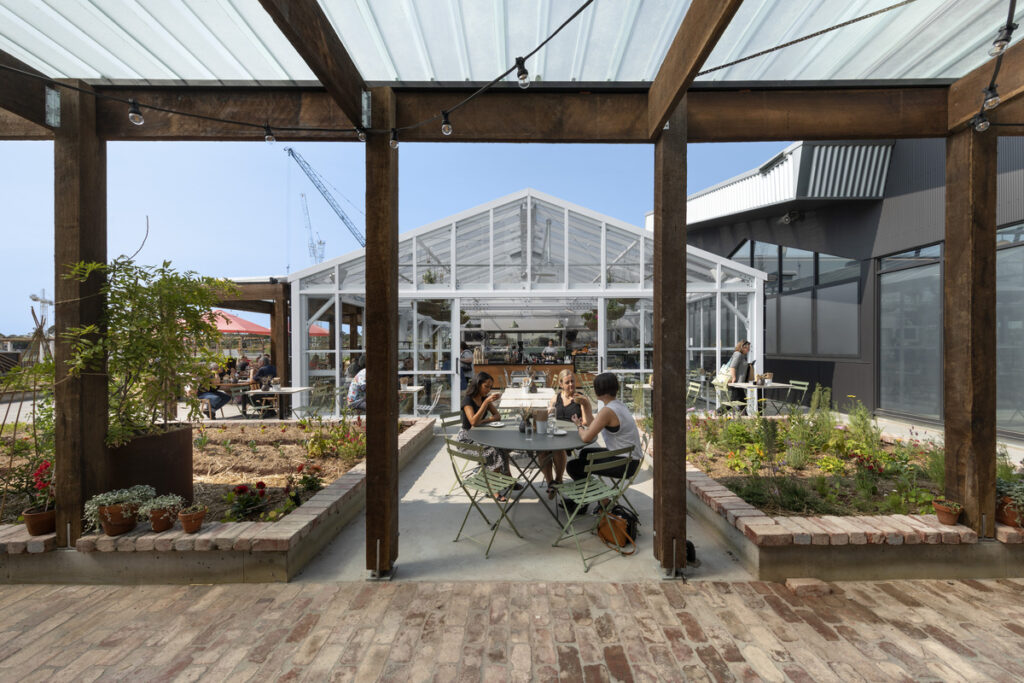 07. CIVILIZED ENVIRONMENT IMPERATIVE
Without doubt, one of the most challenging Imperatives for the project was the Civilized Environment Imperative, particularly the provision of daylight to regularly occupied spaces in a retail context, where staff and customers move around highly frequently.
Woolworths supermarket: Food products and other products that are sensitive to sunlight are across the entire floor plan. The layout of the supermarket had to include other areas that staff would be stationed for various periods, e.g. an internal bakery, meat counter, delicatessen. In these cases, solar tubes were provided to these areas as a compromise. The opportunity this did provide however was a fuller use of the supermarket roof space for solar energy capture.
Perimeter tenancies to North, East, and South: Every regularly occupied space has operable windows / doors that provide access to fresh air and daylight through at least one window wall (at least 10% glazed), and staff "workstations" are within 9m these. Where there are commercial back-of-house kitchens enclosed from other spaces for food safety and fire protection, operable skylights were installed. All openings, whether windows, doors, or skylights are able to be held open and are under complete control of the occupants
Mall-facing tenancies: These follow an identical model to the perimeter tenancies. The mall itself has operable windows at roof level and operable doors at all the building entrances. Internal planting was also introduced to give the feel of being a sheltered outdoor space.
In all cases, the team undertook a lengthy design process, first in a workshop with Amanda Sturgeon to establish principles, and then with each tenant to ensure their design complied. Each tenant was required to nominate all regularly occupied spaces, and then (re)designed the layouts as necessary, sometimes removing walls or other obstructions where there may have been originally designed.
08. HEALTHY INTERIOR ENVIRONMENT IMPERATIVE
The intent of the Burwood Brickworks shopping centre is to improve occupant health by reducing or eliminating indoor pollutants. Using a Healthy Indoor Environment Plan as a framework to achieve this, the project approached the exemplary indoor environment by adopting a number of measures.
Best-practice standards in terms of ventilation design were adopted, including dedicated exhaust for kitchens, bathrooms and cleaners' areas, which is over-and-above the Australian Standards and Building Code requirements.
The installation of in-situ monitoring for the key parameters of carbon dioxide, carbon monoxide, temperature, and humidity across various areas of the building. These inputs are also fed to a Building Management System, to help manage the environment of the building and act as alarms for unusual activity in operation.
Independent indoor air quality (IAQ) testing was commissioned from one of Australia's leading experts in the field, CETEC. One of the challenges was following test protocols developed in the US, because these required instruments that are not yet available in Australia.
A requirement for the specification of interior products that have been tested to the California Department of Public Health (CDPH) Standard Method v1.1-2010 (or international equivalent) was a huge challenge, as there were very few products in Australia that had undertaken emissions testing, and not a single product that had undertaken emissions testing to the CDPH Standard.
The entry approaches are heavily matted to reduce particulates tracked in through shoes, and generally help to keep the interior of this well-frequented building cleaner.
Their cleaning protocol requires cleaning products that comply with the Good Environmental Choice Australia Label – an international equivalent to the EPA Safer Choice label. There is also a prohibition of smoking within the project boundary.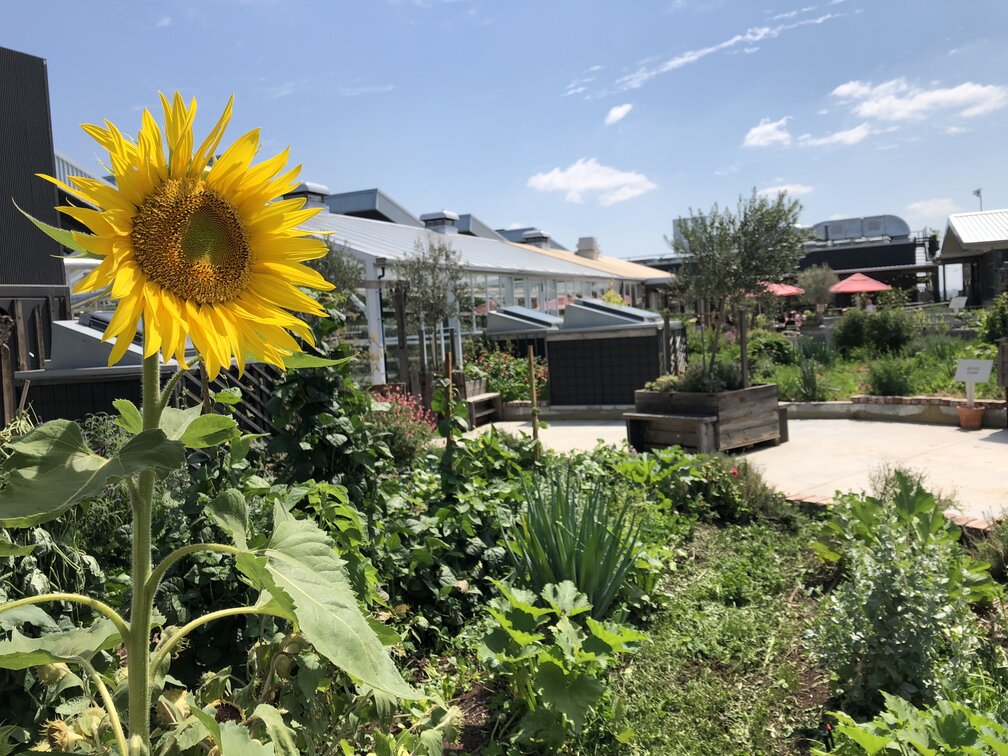 09. BIOPHILIC ENVIRONMENT IMPERATIVE
The project was designed to include elements that nurture the innate human-nature connection through engaging the whole project team in multiple all-day explorations of the biophilic design potential for the project. There was a huge focus on three key factors: the retail typology, the ecological systemic context, and the cultural history of the Country on which the project is located. It required multiple attempts to bring the team to an understanding that the object was to deliberately translate an understanding of the inherent human affinity to affiliate with natural systems and processes into the design, reflecting Kellert's Elements and Attributes.
The first exploration included engaging a biophilic design consultant, and involved seeing other case studies in the area. Ahead of this, the project team researched cultural, ecological, and climatic studies that examined the site and context. An additional specialist consultant was required to progress their understanding of the aboriginal cultural history of the site, particularly because the land is contested between two communities. A further way of engaging with users beyond the project team was to host an event series in Frasers' office, where all were freely invited – professionals and non-professionals – to engage with biophilic design and make suggestions for the project.
For the explorations, the team facilitated a number of design exercises both for individual project team members to consider in isolation and then in groups of otherwise less-connected project team members (e.g. pairing the hydraulic consultant with the finance assistant). Each strategy put forward was honed and explored more deeply before ideas were presented to the whole group. A smaller team that included the lead consultants, Contractor, and client workshopped separately to select and then integrate ideas into the project, with a focus on addressing all five human senses. These explorations were documented and drafted into a framework, and then a plan, which helped them to track progress and determine whether the framework and strategies were being properly implemented. These thoughts were also shared and summarised with new tenants coming into the building, and each were encouraged to engage with biophilic design within every one of their individual spaces. The biophilic design in this project is an ongoing piece of work that is very much alive. Several ideas are to be continuously tested and reviewed, and will evolve as necessary to get the best for the project.
MATERIALS PETAL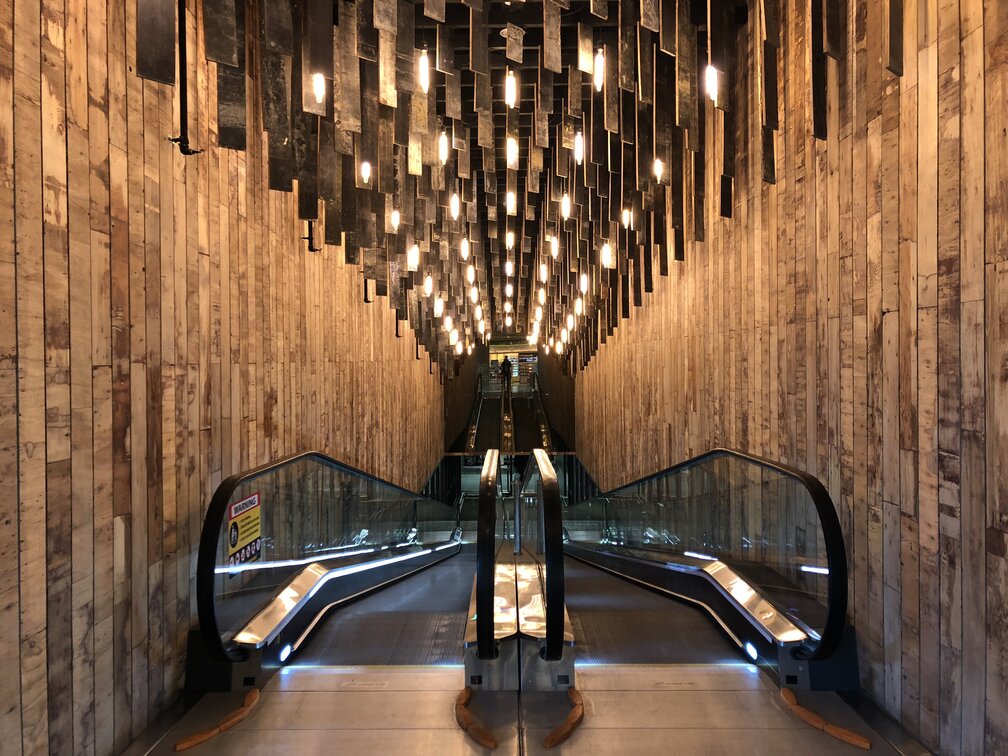 10. RED LIST IMPERATIVE
Materials vetting was extremely challenging, but the team feels that the extraordinary effort has been worth it. Whilst the level of research and necessary due diligence (including the sheer volume of correspondence, efforts with suppliers, and lack of support from other projects) was somewhat disheartening, the team truly believes the project has had a positive impact on the Australian built environment, reflected by the engagement across the industry and the relative surge in Declare labels.
At the beginning of the project, it was as though speaking to a market that had absolutely never heard of the LBC and its requirements. Not once in making some 6,000 calls over 20,000 hours to suppliers did the team receive a response where someone had heard of the LBC or the Red List or other projects requesting the information. The team had to go it alone in moving the supply chain. Challenges included: there were no paints that had VOC emissions testing in Australia, No adhesives or sealants had ingredients information and emissions testing in Australia, FSC certified timber was and still is extremely limited, and Declare had not been adopted in Australia.
The team's approach therefore was to flood the market with queries, in the hope that the project alone could noticeably shift the supply chain in Australia. Their research extended well beyond what was used on the project. The materials education process largely relied on direct phone calls, followed up by emails and in some cases meetings and workshops with suppliers and manufacturers of each product. The team explained the project, what they were aiming for (healthy materials), and why they required the documentation from the manufacturers.
A big part of the team's process was developed as part of a three-day workshop with Amanda Sturgeon at the project commencement during the Early Contractor Involvement phase. Interestingly, there was a lot of well-intended miseducation from designers and contractors from across the industry, which required a lot of "undoing" through the team's conversations with suppliers. They found a huge scope gap between designers and contractors – generally designers are not fully aware of how buildings are put together – they might draw a system, but not be aware of the parts required to construct the system. Education also involved the tenants of the building, their individual designers and contractors. In all cases, the team encouraged tenatns to suggest products and materials that the team hadn't looked at before. Even where the team may have had a compliant product available, for example, a specific light fitting or a standard plasterboard, they wanted to use this unique opportunity to draw in more and more suppliers to try and create a competitive environment to provide the healthiest and most transparent option.
The team developed what they called a "Greensheet" – a large list of pre-approved products that were shared with tenants and has since been shared freely on the Frasers Property Australia website. This greatly assisted in helping these stakeholders see that there were options already available but also being open to the materials they put forward as well to see if they were compliant. Due to the retail typology, timeframes are remarkably tight. A new shop might be leased, designed, and fitted out in a matter of a few short months. A fully-stocked list of options to be able to undertake a compliant fitout needed to be available without delay. Every person who entered the project and every tradesperson who attended the site had a mandatory LBC induction. The complexity of this was that the team was asking for multiple things: certified grown materials (timber); Declare or salvaged products where possible; ingredients disclosure assessed against the Red List; use of local suppliers where possible; low embodied carbon products where available; products that could support their design for disassembly aims; and products that met VOC content and emissions criteria.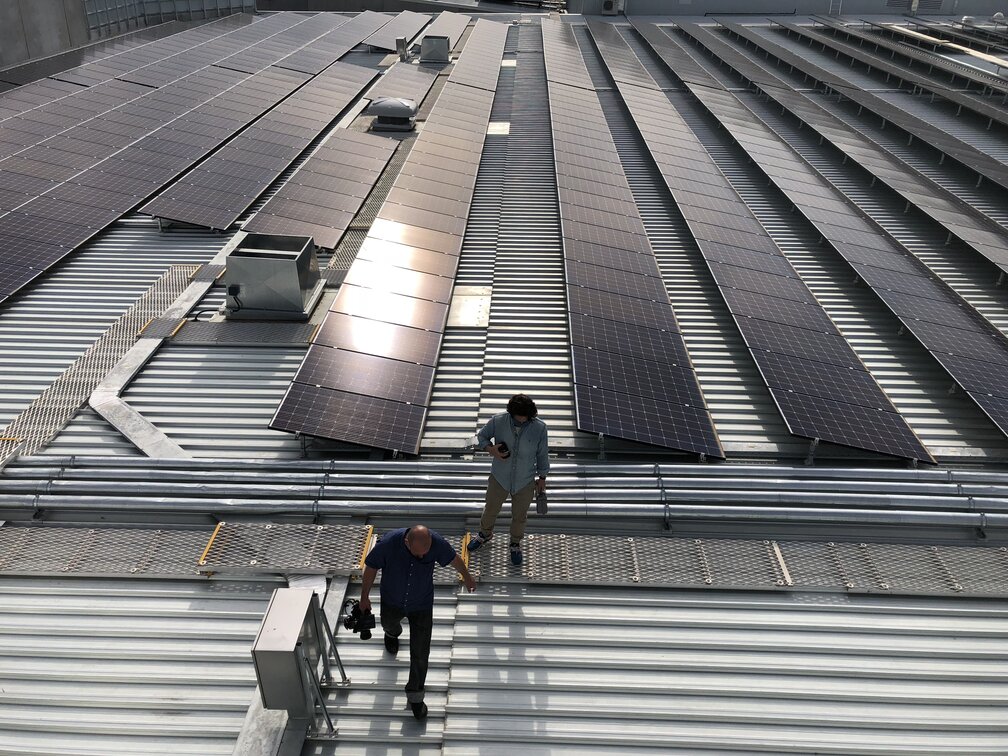 11. EMBODIED CARBON FOOTPRINT
The key to driving down the embodied carbon was to consider not just the design and construction, but the occupancy and end of life of the building and its component parts. This is particularly the case for leased spaces, considering the length of each lease and the potential churn of retailers over time.
Within each area, components were broken down by construction element, based on durability, considering intended purpose and frequency of use. The team prioritized salvaged materials and natural "honest" finishes that not only reduce the overall volume of new material in and associated carbon but tend to mean that materials can retain value, making them more feasible for reuse and recycling. This was helped by prioritizing mechanical connections over chemical connections.
Particularly for hydraulic services, the team used cross-linked polyethylene (PEX) or similar approved materials that have flexibility, resulting in fewer joints, hence fewer fittings, and subsequent labor. With electrical systems, the team often opted for plug-in over devices hardwiring where possible to avoid re-engineering the controls and the entire system for small future changes. Mechanical, electrical, plumbing, IT, and other services were designed to be removed or upgraded without damage to other systems and materials.
Clear spans in the supermarket, mall, cinema, and regularly spaced structural elements across the structural grid allow for multiple alternate uses of the interior in the future without heavy structural alterations. Furnishings and equipment are to be considered for lease rather than outright purchase, with a take-back scheme from the supplier.
The embodied carbon of the actual project is approximately half (50.5%) of a peer-reviewed reference case. As a side note, the project achieves the maximum points available in Green Star for Life Cycle Assessment, and for Innovation in exceeding the Green Star benchmark.
12. RESPONSIBLE INDUSTRY IMPERATIVE
The project team worked to advocate for the creation and adoption of third-party certified standards for sustainable resource extraction and fair labour practices. The team advocated to Manufacturing Australia and Cement Concrete & Aggregates Australia amongst others, who are directly or indirectly connected to the extraction of stones, rocks, metals, and other minerals.
The biggest challenge by a long way was, and will continue to be for a long time, is that Forest Stewardship Council (FSC) certified timber is severely limited in Australia. As a comparison, the availability of timber certified to the Programme for the Endorsement of Forest Certification (PEFC) scheme (locally called "Responsible Wood"), is around twenty-five times the volume of FSC. The team went through the entire list of FSC timber certified suppliers and mills in Australia and contacted each directly to determine what they could provide for the project and what was available.
The lack of FSC-certified timber was a great opportunity to engage the team in a search for salvaged materials. The project has more than ninety salvaged material products used across the building, ranging from hardwood to hardware, walls and floors to landscaping. A huge success for the project was through working with FSC Australia directly. The team set up meetings, workshops, and site visits to work through the supply chain issues. Every single product category was explored with every single supplier in Australia followed up. FSC themselves were really impressed with the team's efforts, and have publicized the Brickworks as a leading example of timber procurement.
At the beginning of the project, Declare was not yet established. The team sponsored the launch of Declare in Australia in 2017, and within three years, forty-two Declare products are now available, and the project was directly responsible for many of those.
13. LIVING ECONOMY SOURCING IMPERATIVE
Like other projects in Australia and New Zealand, the team expected use of the remote location exception for the sourcing of materials to be necessary. Unfortunately, the market has not changed substantially, and sourcing locally has become more difficult due to increasing shut down of local manufacturing plants and increasing import of materials. However, the team sought to source locally where feasible, and all consultants come from within 2,500 kilometers of the project location.
After a lot of detailed work and prioritization of Australian-made, the team was able to source a much larger quantity of products – particularly the more costly ones – locally. This drive was helped by their need to get accurate information on product compliance (e.g. Red List and VOC information), which meant that less reputable suppliers (who are sometimes overseas!) were not used when they might otherwise have been used on a project of this nature.
There was a heavy reliance on local procurement in the base building due to the unavoidable expenditure on specialty equipment in tenancies, most of which is made overseas due to Australian manufacturing industry being limited.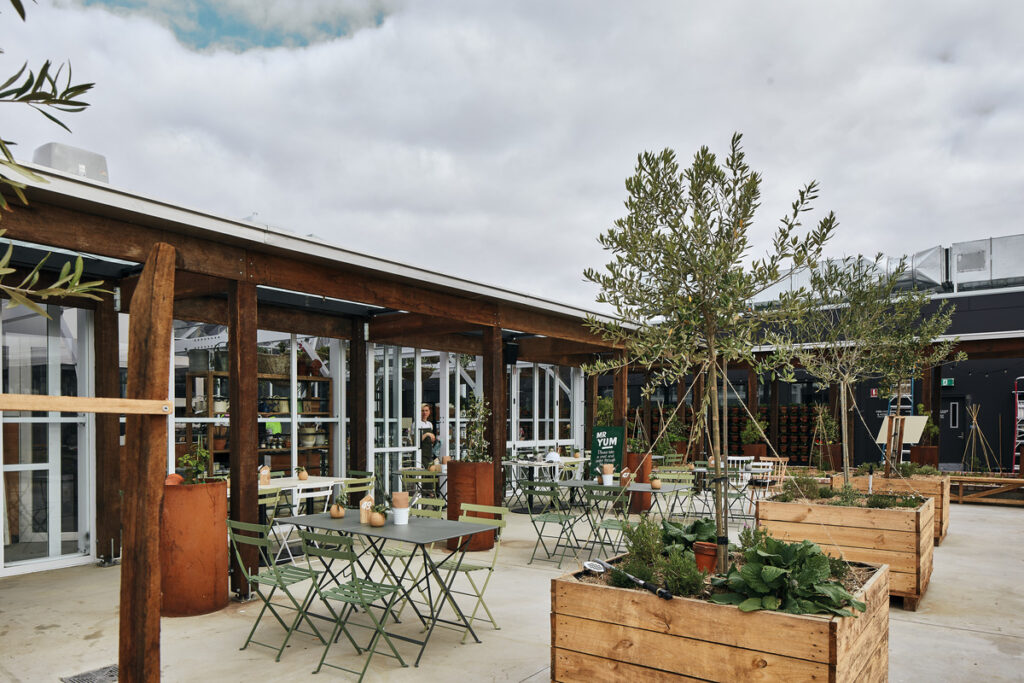 14. NET POSITIVE WASTE
The approach for the project was to reduce environmental burdens from the extraction, processing, and disposal of materials and turn waste into a valuable resource through beneficial reuse. Throughout design, construction, operation, and end-of-life, the waste hierarchy is adopted as an order of preference. The project team did (and continue to do) a deep investigation into achieving the intent of the LBC Imperative – noting that it is an ongoing obligation to be aware of ever-changing standards, trends, and legislation in this space.
In the Design Phase, the team adopted the mindset of adaptive reuse and appropriate durability, and maximizing materials conservation from building end-of-life management, aiming to create adaptable spaces to avoid materials removals altogether. Given the retail typology, the project team focused on both the potential flexibility and disassembly of the base building, and guided tenants to undertake their fit-out designs with regard to material/product selection, and installation approaches that are accessible to allow easier maintenance as well as deconstruction.
Through the construction phase of the project, the principal contractor Hacer Group commit to reducing environmental burdens from the extraction, processing, and disposal of materials. Working with waste contractor Fieldmans, Hacer Group staged the waste collection bins on site to correspond with the construction activities that were being completed at the time, and were monitored daily. All subcontractors completing work were required to complete a site induction. Part of this induction includes the explanation of both the materials and waste requirements that must be met by all employees undertaking construction works. Subcontractors were encouraged to remove excessive packaging from products, where possible, prior to arrival on site. Over-ordering was utilized as spare product or retained by the subcontractor for use on future projects.
The operational phase was to take into consideration waste stream generations, bin storage areas, location, and appropriate human and vehicular access. As an ongoing piece of work, site-specific waste audit is regularly audited, with training for tenants. Identified key waste streams from operations that are diverted from landfill include Soft plastics, Cooking oil, Polystyrene, Hard plastics and metals, Glass, Paper and cardboard, Compostables, Green Waste, and Organics. Extensive communication and education to engage stakeholders, both internal and external, is needed to continually improve the performance of the waste systems in place. This includes the continuous improvement of clear signage for waste infrastructure, which is an ongoing challenge, and the asset management team continually test different signage on both the public-facing bins and the back-of-house waste management areas.
Considering the future end-of-life phase, the project team focused on adaptability and deconstruction to allow for multiple alternate uses of the interior in the future without costly structural alterations, flexible building services, equity of access, and beauty. One component of this is an ongoing piece of work to assess tenant end-of-life waste, irrespective of their lease length. The tenant fit-out guide was developed to integrate approaches to reusing any fit out that may have been done prior to their joining the center, and to review their designs for disassembly/deconstruction. Designs had to be approved by Frasers – and often revised by tenancy designers – before shopfitters could begin work. The building will most likely be looked after and loved and less likely to be demolished if people love the Brickworks and have a deeper connection to it beyond its immediate function.
EQUITY PETAL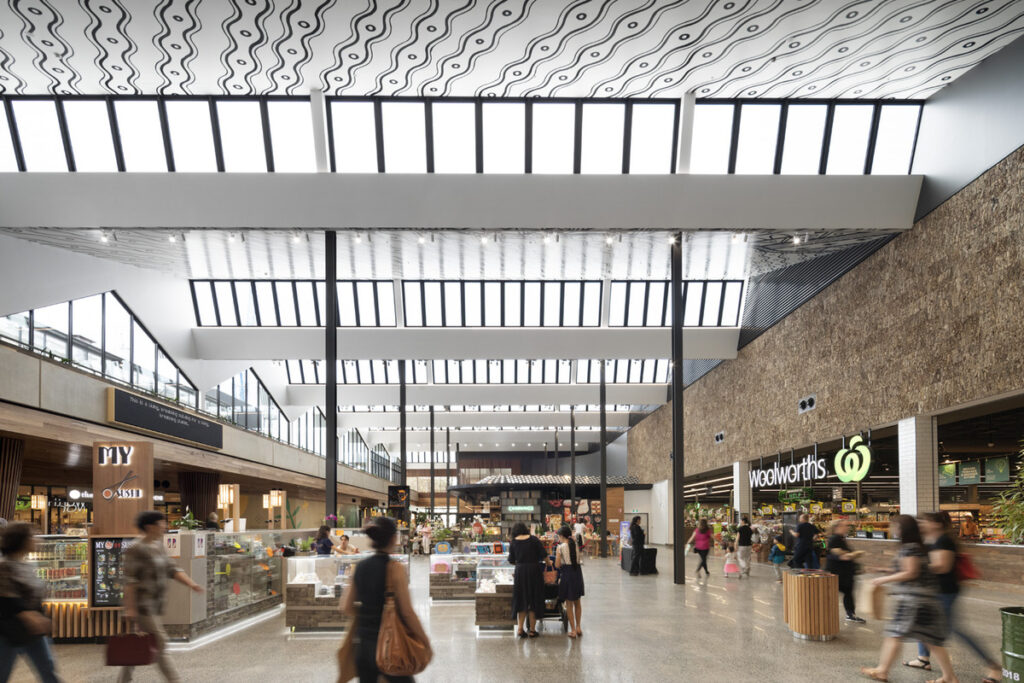 15. HUMAN SCALE + HUMAN PLACES IMPERATIVE
The project promotes culture and human interaction among people and the community through addressing the Imperative requirements, whilst being a shopping centre serving a suburb in Transect L4. These are summarised below:
PARKING
To increase the density of the site and support a human scale, the team has undertaken the following:
1. Moved a large proportion of parking (more than 50%) into the basement level, which occupies a full footprint underneath the building itself. This results in surface parking accounting for just 35% of the site area. Additional structured parking is not possible nor desirable, because of the relatively small scale of the car park.
2. Designed the integration of bioswales in the parking lot aisles to both reduce the urban heat island effect and capture stormwater run-off. The team also designed for passive irrigation of open green spaces by grading surfaces towards garden beds and bioswales.
3. Designed for mass planting of hardy understorey planting (ground covers, shrubs, grasses) in conjunction with trees planted throughout the at-grade car park area.
4. Designed a series of overhead arbours throughout the at-grade car park to create a series of intimate spaces that will reduce the visual impact of the car parking area, whilst also supplementing trees throughout. These physically and visually break up the car park to compensate for not limiting surface parking plots to 20m x 30m. Note – these are actually quite difficult to integrate into a retail development that relies on views across car parks for both safety and wayfinding.
5. Integrated a hand car wash at surface level, to bring human-scale activity into the car park itself. In summary, whilst limiting the car park to 15% of the site and breaking up parking plots to 20m x 30m is unfeasible for this project, the team believes the strategies taken to incorporate human scale elements has resulted in something very different from the standard car-parking environment found in any other retail center.
SIGNAGE:
The signage design has taken a diversion from typical large-scale billboard-style signage that is usually obtrusive over a landscape and focuses instead on the context and character of the neighbourhood. There are two overall signage components:
1. Incorporating signage into the façade of the building (in a refined manner that also supports wayfinding)
2. Incorporating signage into two sculptural pylons (that are not only shorter than the building, but combine multiple tenants rather than allowing individual freestanding large-format advertising).
BUILDING SIZE
The mixed-use building contains a number of different tenancies including a supermarket, specialty shops, urban farm, medical center, pharmacy, childcare center, restaurants, and cafés spread across two upper levels. The team adopted strategies to create significant building interior and exterior articulations that allow for gathering spaces and a range of spatial experiences, separating functions to allow access to the exterior spaces, differentiating building elements through massing, and allowing public passage through the building.
HUMAN SCALE
Being a retail center, there are many places for people to gather and connect, both internally and along the project's edge. The project includes seat walls, public art, internal displays, green space on Level 1 and along project's edge at the plaza. A mixture of these have been used across the building. Overall, despite being a suburban retail center, the project has been designed to create human-scaled places to promote culture and interaction both internally and with the neighborhood.
16. UNIVERSAL ACCESS TO NATURE + PLACE IMPERATIVE
The intent of the Burwood Brickworks Retail Centre was to create a place that is accessible to all, while also allowing public access to fresh air, sunlight and waterways. The centre was designed and constructed to be equally accessible to all members of the public regardless of background, age and socioeconomic class. Two unisex bathrooms are incorporated into the project to accommodate people with non-binary gender identities and mixed-gender pairs (e.g., guardian/child, patient/caregiver, etc.). Access for those with physical disabilities has been independently reviewed by the project Access Consultant. Being a distance from neighbours, the project does not produce noxious emissions that would compromise a neighbour's ability to use natural ventilation and does not block sunlight to adjacent building façades or rooftops. Additionally, the project does not restrict access to the edge of any natural waterway (there are no natural waterways present).
BEAUTY PETAL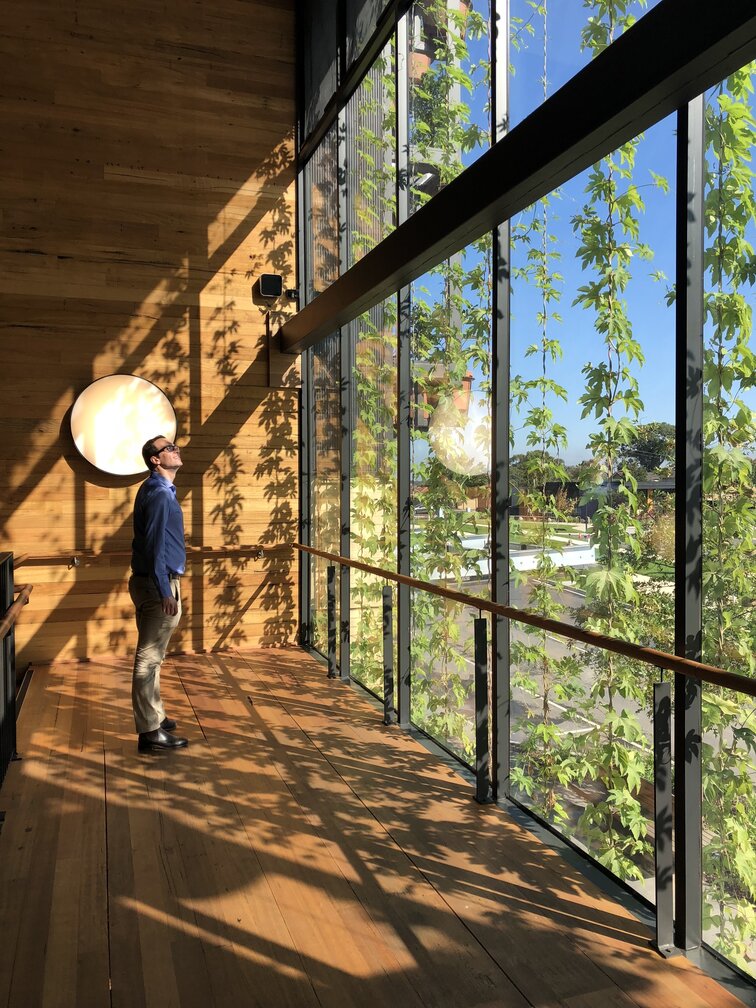 19. BEAUTY + SPIRIT IMPERATIVE
The Burwood Brickworks retail centre has a large number of features – both small details and big efforts – intended solely for human delight and the celebration of culture, spirit and place. Specific attention has been paid to an architectural connection to the regional vernacular, and a unique and powerful public art, contributing to the overall sense of place.
At a time when retail centres are full of small intense design tricks often representing a pastiche of contemporary design ideas that may be fashionable today but not tomorrow, Burwood Brickworks seeks to imbue its interiors with a more honest but dramatic form of narrative. It's a non-traditional narrative, one that is honest to the country and place that it sits in, engaging in contemporary ideas of urban Australia and paying respect to the indigenous setting that it finds itself in.
The western façade incorporates recycled bricks that were once made on the site more than half a century ago – the namesake of the project being the Brickworks – which is why bricks were selected, but used in a bespoke way. The curved, crushed brick and glass façade offers a unique tactility through the juxtaposition of variated textures, whilst also referencing the site's history. Bricks from all across Melbourne were sourced and brought to the site during the construction process. People from the local community were invited to share their three words about the community meant to them. These were painted on to salvaged bricks by Melbourne artist Lachlan Philps, and integrated into the Southern façade.
The travelator is a feature of the center, taking people between the basement and ground levels. Salvaged timber from the site itself and feature lighting intend to carry one's imagination as one moves from one space to another, before landing in a wide and open space. The amenities include graphics that are made for children to engage with, including imagery of the natural world in a very direct way. More subtlety, there are a number of reflective disks that are installed in entryways and above shared handwashing basins that reflect both the sky and the water.
The roof itself incorporates vernacular forms of two shed structures one being a café and the second being a glasshouse, each a historic reimagination of the structures that were originally on site. The central mall was intended to create a hall-like effect rising two storeys in height, as an incredibly light and dramatic space albeit straightforward. From the lower height human-scaled entrances, the central space intends to inspire and lift the spirits.
Every tenant was encouraged to integrate small details intended solely for human delight and the celebration of culture, spirit and place. Each shop has its own version of this, from paper birds in the nail salon, to colourful graphics in the restaurants, to plant-integrated signage in the pharmacy.
Practical and tangible connections have been carefully considered from one space to another, as well as from interior to exterior, as with the manufactured to the natural. As an integral part of this organic narrative, the design recognises the cultural significance of relationship to traditional country, through a design collaboration with Balarinji and multi-disciplinary artist Mandy Nicholson.
Burwood Brickworks site is located on the traditional lands of the patrilineal Wurundjeri-wilam clan with boundaries extending from the south bank of the Birrarung (Yarra), from Kooyong-koot (Gardiners Creek) or Kuyun-ut meaning 'flat, level-on'. Upstream to the Yarra flats and northern slopes of Corhanwarabul (Dandenong Ranges). The whole of the flat lands of the Birrarung (Yarra) comprises of many tributaries. The significant one in the Burwood area is Gardiners Creek. This creek forms one of the traditional boundaries for Wurundjeri. The Birrarung flats were once vast plains full of boorimul (emu) and marram (kangaroo), as depicted in the design. Its creation took place all around Burwood and surrounding suburbs, eventually making its way to Narrm Narrm (Port Phillip Bay) which means 'much scrubland', with Gardiner's Creek joining its journey nearby. The wavy lines with circles within them at the top of the design depict baanjmin (rain), which derives from the ngurrak (mountains), keeping the waterways continually flowing.
Wurundjeri culture has many different elements that make up the whole, including language (Woiwurrung), dance, ceremony, song, animals and the environment. These are physical or tangible elements of culture, but within those are the intangible or spiritual elements. These include the six layers of Wurundjeri Country. These elements connect to each other, each also has the commonality of water. Water is life sustaining in both a physical and spiritual way. Without water our life could not be, the environment could not be. The water of the creeks, rivers and oceans are the life blood of the land, they are like the blood that flows through our veins to keep us alive. These ancient connections are relevant to all that now call Wurundjeri Country home. The first rich culture of this Country is important for everyone to learn. It highlights that Aboriginal culture can exist in an urban context and is dynamic and alive. Being human, it symbolises our shared journey, both physically and spiritually. The journey we all share while travelling through Wurundjeri Country, and physically seeing each of the layers, helps everyone to appreciate and look at Country differently.
The expansive Aboriginal art installation sweeps across the interior of the sawtooth, interacting with the ridged form of the ceiling whilst simultaneously transcending it, as well as along the Western façade – depicting of ubiquitous Aboriginal culture – which often is hidden within the urban context. The concept contributes to creating a community sense of place and in context of the Living Building Challenge® to delight and inspire the retail centre's visitors and passers-by for generations to come. Lastly, it is worth noting that Wurundjeri art differs from other regionally based styles of x-ray and dot art. There is a very specific and unique art style, comprising symmetrical lines and diamond motifs. The artworks across the Burwood Brickworks display this style in a breathtaking way.
A large part of addressing the imperatives in involved a lot of learning and re-learning about what we mean by "place". The project team members engaged with indigenous cultural history and spent time becoming educated on this shared history.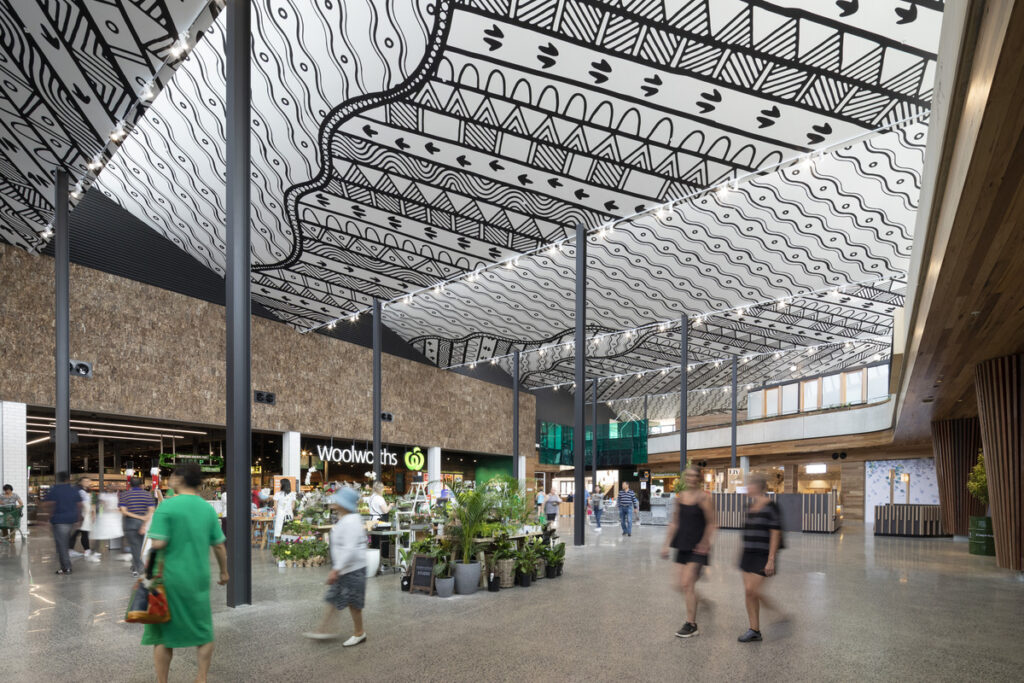 20. INSPIRATION + EDUCATION IMPERATIVE
The Brickworks is just one project, but it exists to encourage all who experience it, as well as others in the industry to learn about why Living Buildings are what we want, and what we can expect. The project addresses this Imperative in a number of ways:
Regular behind-the scenes tours for the staff and public, as well as industry.
Provision of Operations and Maintenance Manuals for the assets team and visiting Contractors.
A brochure describing the design and environmental features of the project (which will be updated regularly).
Interpretive signage that teaches visitors and occupants about the project.
An educational website.