VITAL STATS
| | |
| --- | --- |
| Certification Status | Petal Certified |
| Version of LBC | 3.1 |
| Location | Falls Church, VA, USA |
| Project Area | 8,611 SF |
| Start of Occupancy | July 29, 2019 |
| Owner Occupied | Yes |
| Number of Occupants | Variable |
PROJECT TEAM
| | |
| --- | --- |
| Owner | Hitt Contracting, Inc. |
| Project Manager | Brian Lantz |
| Superintendent | Garrett Fuerst |
| Architect | Eric Ross |
| MEP Engineer | Galen Staengl |
| Civil Engineer | Glen Faunce |
| Structural Engineer | Christie Engineers |
| Landscape Architect | Siteworks |
| Lighting Design | Loisos + Ubbelohde |
| Specialty Consultant(s) and Role(s) | Topflight Specs – Specification Writer |
| Consultant – Materials Petal | Megan O'Connell |
PLACE PETAL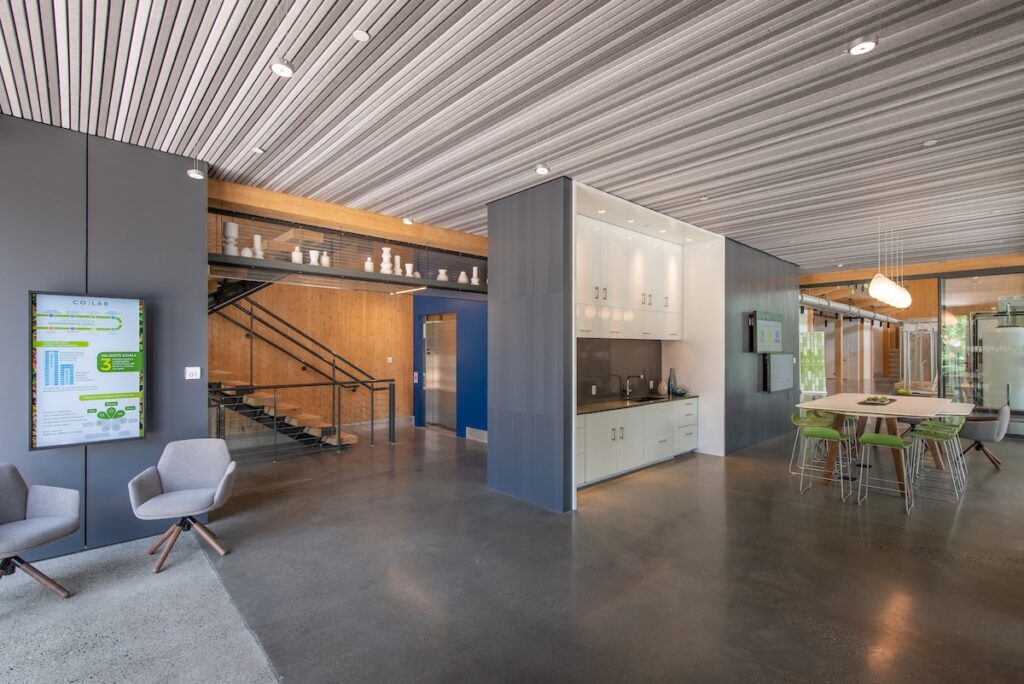 01. LIMITS TO GROWTH IMPERATIVE
The project site was previously developed and classified as a greyfield. The project landscape was designed as a predominantly native planting for high habitat value within an urban/commercial building context. The surrounding area is a mix of residential townhomes, industrial buildings, and commercial buildings directly off I-495 (one of the busiest highways in the metro Washington, DC area). The plant palette consists of a range of native shade trees, shrubs and groundcovers of native and adapted species. These were selected knowing they are located in their ideal growing conditions, considering elements like sun exposure, slope aspect, and soil conditions. These considerations will ensure that the chosen plants will thrive without additional irrigation beyond establishment, in support of responsible water use, and HITT offering no dedicated irrigation system for the project site.
02. URBAN AGRICULTURE IMPERATIVE
Completing the urban agriculture imperative began with understanding the Floor Area Ratio (FAR) calculation. The result showed that we needed to dedicate 7,100 SF of agriculture at the site, which would be a challenge due to the small lot size and requirements for egress, accessible parking, and external mock-up space. After several design meetings, it was decided the project would have to use Scale Jumping to meet Imperative requirements.
The owner and project team were enthusiastic about the Scale Jumping approach. The project team partnered with Virginia Cooperative Extension (VA Coop Extension) to identify local organizations as partners that would embrace urban agriculture. It was decided to select organizations that would not only manage the gardens, but use them as teaching tools to local communities interested in learning more about gardening. Due to the FAR area requirement and the desire to reach as much of the local community as possible, three sites were chosen: James Lee Community Center, Dale St. community gardens, and Chinquapin community gardens. Master Gardeners, students, teachers, and local community members work together to plant, maintain, and harvest the gardens.
The project team also worked with VA Coop Extension and nurseries to determine the most suitable plants for each location based on climate, soil conditions, pest resistances, environmental benefits, and suitability for the site. Permaculture planting was used to help teach permaculture practices to the local community and to produce a thriving garden.
03. HABITAT EXCHANGE IMPERATIVE
Using the Land Trust Alliance resources provided by ILFI, HITT identified the Capital Regional Land Conservancy (CRLC) as the land trust to protect 0.4 hectares (1 acre) in perpetuity.
04. HUMAN POWERED LIVING IMPERATIVE
The development of Co|Lab has increased the human-powered accessibility of the site for visitors, and the residential and commercial community that regularly passes by.
A sidewalk was added along the western frontage of the site, connecting two existing sidewalks on either side of the project site. Previously, pedestrians had to walk into the street to pass the project site and now are provided a safe sidewalk area. Additionally, a new pedestrian crosswalk was added adjacent to the project site as part of the scope of this project.
There are also 8 bike racks at the entrance to the building, along with bike storage in the unfinished mock-up bay area, if needed during inclement weather. There is a shower located on the first floor to accommodate employees or guests.
The project installed an electric vehicle charging station to encourage the use of electric vehicles in lieu of combustion-based vehicles.
Directions to the building provided on the HITT website also encourage people to get to the building via public transportation, and provides metro stop details and approximate walking distance.
MATERIALS PETAL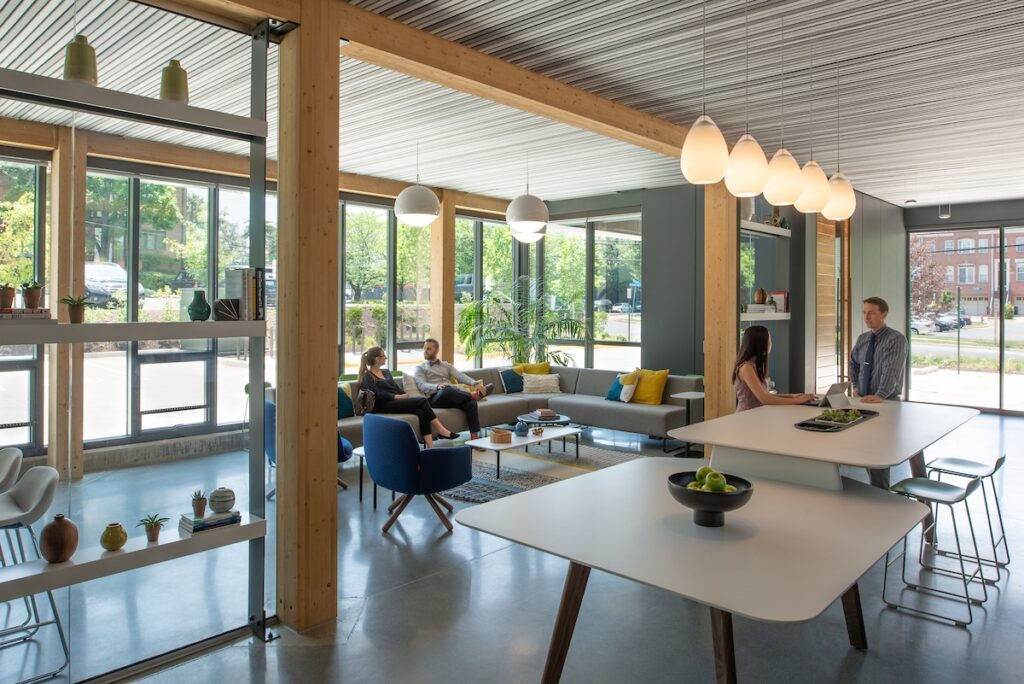 10. RED LIST IMPERATIVE
The team pulled together several resources to develop and implement the Red List vetting and materials selection process. Personnel included a consultant to assist in structuring the materials vetting process, and a staff person from HITT's sustainable building certifications department who stepped up to take the lead on the Materials Petal documentation process. ILFI's online tools and material tracking table proved incredibly helpful to guiding the process with suppliers and subcontractors.
The first step in the vetting process was partnering with the architect to prioritize Declare Red List Free products where possible. If for design or operational reasons, a different product proved more fitting, our sustainable construction lead engaged the supplier or subcontractor for the documentation and ingredient lists required. This was then compared to ILFI's Red List; if any were present, we advocated for adjusting the product to remove Red List chemicals. This was successful in a few items, but not in others. In the case that the product could not be changed, we continued down the path of due diligence to find an alternative product that would comply.
The process of compiling a full ingredient list was often arduous for our suppliers, as they typically had never been asked for this information, so didn't have it on hand. Talking to them about the disclosure requirements led to educating them on what the Red List is and why it is so crucial to be aware of the chemicals in their products.
Meeting Red List requirements was incredibly challenging and time consuming; the submittal timeline alone was double that of a typical certification project. Some notable results:
Avoiding PVC can be challenging when it is such a staple in building design for MEP systems. Not only is it often used for pipes, but wire jacketing can also be difficult to find without Red List plasticizers. We opted for copper pipes and were able to find one of the few wiring products that excludes Red List chemicals.
The conference room features Shaw EcoWorx carpet tiles, Clarus glassboard, and a Kawneer curtainwall system, all of which have Declare labels with a Red List status permitting use on a Living Building Challenge project.
While not required for Material Petal certification, all of the furniture in the building is Red List free. The due diligence process prompted our partner Haworth to remove an unnecessary chemical in one of their furniture products, a prime example of how consumers can drive market change.
11. EMBODIED CARBON FOOTPRINT IMPERATIVE
The structure is glulam beams and columns alongside cross-laminated timber (CLT) walls, floors, and roof decking. The project team's commitment to the use of Forest Stewardship Certified (FSC) mass timber for Co|Lab's structure (all provided by Nordic, see Responsible Industry) was a key strategy for lowering the embodied carbon footprint of the building, and a great opportunity to educate the market on both embodied carbon, and the use of mass timber products. Co|Lab is the first type IV mass timber project in Virginia, and only the second in the Washington, DC metro area.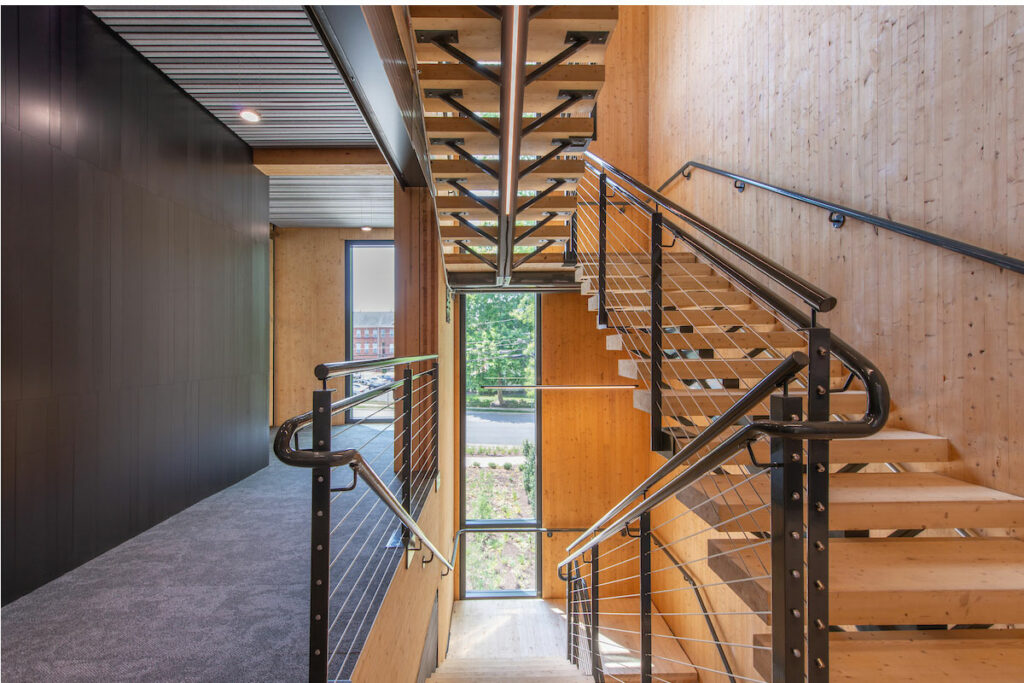 12. RESPONSIBLE INDUSTRY IMPERATIVE
HITT Contracting sourced a combination of FSC, locally sourced, reclaimed, and reused materials to demonstrate the possibility of a responsibly sourced building. The structure of the building is mass timber (MT) sourced from a Canadian supplier, Nordic. This timber is FSC Mix certified and promotes responsible material selection through chain-of-custody operations to ensure responsible sourcing of raw materials. It is important to design these materials into our buildings, and advocate with suppliers or networks who are not aligned with third-party certified transparent chain-of-custody processes.
The interior millwork was milled in place to rough sawn planks and sourced directly from trees on the project site. This millwork is installed in the lobby bar area, a central location, visible to visitors when they first enter the building. Because these trees were originally grown very close to one of the busiest highways in the metro Washington DC area, less wood was usable than originally anticipated. This is a telling demonstration of how car travel can greatly affect the health of a natural habitat in close proximity.
13. LIVING ECONOMY SOURCING IMPERATIVE
The structure of the building was designed as mass timber; suppliers of this prefabricated timber product are not widespread in the United States, so one of the closest options was Nordic located in Canada. Incorporating place-based solutions where possible was central to the product decisions to ensure this project contributed to the regional economy. Nearly 40% of the material cost is sourced from within a 500 km radius.
14. NET POSITIVE WASTE
A pre-building audit was completed during the fall of 2016, before design and construction began. The site housed a small abandoned brick home and detached garage. The buildings were in total disrepair and empty, resulting in potential safety and liability concerns. All demolition waste was recycled through IDS Broad Run (Industrial Disposal Services, a company which recycles used construction materials), but there was nothing that could be reused of the structures. In an effort to reuse what was available, the team intentionally harvested cherry and maple trees on the property. The maple was used for millwork, and the cherry was used to make the custom wood door.
Full materials conservation management plans were created from the design through end-of-use phases as well. In design and construction, material re-use was a key objective; ultimately, 9% of materials by cost used for the project were specified from sources with recycled content, including Shaw Ecoworxs carpet tile, Kawneer curtain wall, and recycled concrete.
The completed facility has three waste streams – compost, paper/plastic/aluminum recycling, and landfill. Given the variable nature of the building occupancy, the building does not have its own dedicated dumpsters, and is able to share with a neighboring property in order to minimize waste. The building does have a dedicated composting vendor, which picks up weekly and is able to provide periodic collection reports. To avoid single-use options, the building provides ceramic dishes and glassware for visitors' use.
BEAUTY PETAL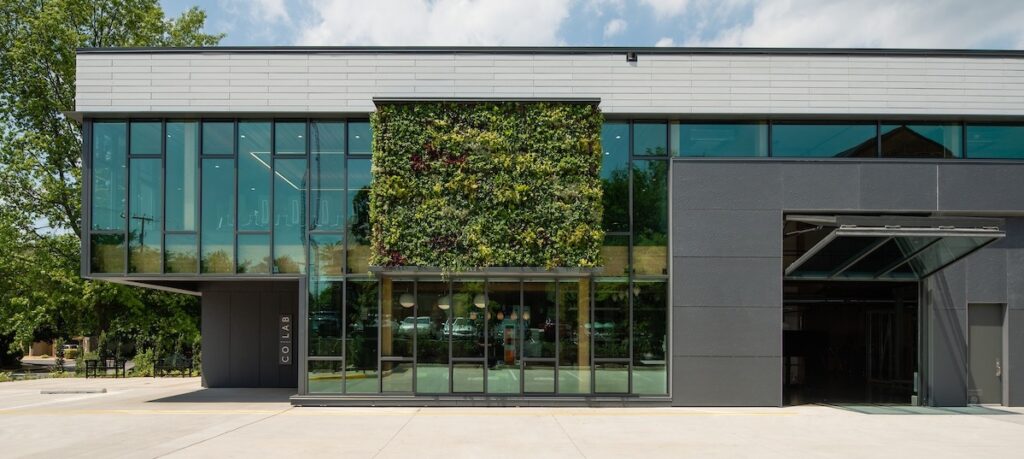 19. BEAUTY + SPIRIT IMPERATIVE
The building's location was not only important for obtaining net-positive energy, but was also chosen for its natural characteristics. Co|Lab utilizes reclaimed maple and cherry harvested from the original property, creating unique, native-to-place design elements that could not be replicated in other manufactured building products. This wood was used to make the front door and the grey millwork around the lobby kitchenette, providing custom artistic elements in the space. This connects employees to their unique place in the world, helping to unify project teams, generate new ideas and stimulate communication with the surrounding community.
The building is also designed with an eye towards natural views for employees and guests, often members of the community or other building professionals. Occupants can glance outside at birds and other native wildlife encouraged by native plantings surrounding the structure. Operable windows and daylighting also provide a strong connection to the outdoors.
The 3D printed light fixtures in the main lobby space were created specifically for the space.. These pendant lights are artichoke-shaped, displaying another natural inspiration against the felt fiber ceiling tiles.
Cross-Laminated Timber was utilized as a finish material, providing surroundings comprised of natural hues. Designed and built to accommodate flexible work spaces, the structure offers a model of biophilia, long-term flexibility and aesthetic appeal while reflecting tenants' commitment to healthy building.
20. INSPIRATION + EDUCATION IMPERATIVE
To support learning about the building, HITT team members created a tour app that can be found on Apple's app store called "Co|Lab Tours".
Education is central to Co|Lab's mission to inspire real change in our industry. This applies to both HITT team members and building visitors. Design and operational information is provided across Co|Lab's information outlets – the website, tour app, printed informational sheet, social media, and graphic signage displayed at the facility. Each touches on: mass timber, designing for disassembly, net zero energy operations and high performance design, responsible waste management, the importance of sub-metering and data analytics, building automation, healthy materials, prefabrication, how individuals can make a difference, and many other unique design elements that push the envelope and show thought leadership.
The public is invited to request in-person tours at the building via www.coab.build/get-involved/.
There are also regular public tours via numerous educational, industry, and associations based in the area, which advertise tours and events publicly. In 2019, a sample of tours included NAIOP MD/DC, USGBC National Capital Region, CoreNet Northern Virginia, Marymount University, George Mason University CREE, CREW DC, American Subcontractors Association, and others.