Desert Rain is a residential compound, located on a 0.7-acre parcel on the edge of a historic downtown neighborhood. The focal point is the building called Desert Rain: a 2236-square foot, one-story residence with a stucco exterior, graceful rooflines and a striking curved wall which greets visitors on approach. The wall threads through the building and exits out the opposite side, near a walkway which connects this main residence to the other buildings: a 489 square foot accessory dwelling unit called Desert Sol, a 512 square foot detached garage, which supports more solar panels and houses the rainwater collection cistern, and Desert Lookout, an 815 square foot second dwelling above a garage and the central composting system. The structures cluster in the southeast part of the site; to the north, a constructed wetland filters greywater from all three dwellings. Native plants, rocks and pavers fill out the common areas.
The home was inspired by the owners' desire to build an "extreme green dream home" in 2008. Although they were well into the design process when they heard of the Living Building Challenge® in the fall of 2009, they decided to adapt the existing plan to meet the challenge. This proved to be more difficult and expensive than anticipated, resulting in a painful (and expensive) decision to scrap the original plan in December of 2009 and begin afresh.
Desert Rain is the product of many talented and committed individuals: the core team, comprised of the designers, general contractor, landscape architect, water systems engineer and sustainability consultant, as well as the many subcontractors and craftspeople who contributed their specific skills. Consultants from near and far lent their expertise, and representatives of municipal and state agencies met with the team to hammer out code issues. Suppliers and vendors worked with the team on materials selection and vetting.
Finally, hundreds of people including schoolchildren, family, friends, residents of Bend and people who were simply curious or craving a dose of inspiration have toured the project in various stages of construction.
The core team met innumerable times over the years, often around a dining room table. Though the owners, Thomas and Barbara Elliot, were the ultimate decision makers, the process was extremely collaborative. While more time-consuming, this process ensured a more holistic and integrated design.
VITAL STATS
| | |
| --- | --- |
| Certification Status | Certified Living |
| Version of LBC | 2.1 |
| Location | Bend, OR, USA |
| Typology | Building |
| Project Area | 31,350 SF |
| Gross Building Area | 4,810 SF |
| Start of Occupancy | January 2013 |
| Start of 12-month Performance Period | July 2015 |
| Owner Occupied | Yes |
| Occupant Type | Residential |
| Number of Occupants | 4-6 |
PROJECT TEAM
| | |
| --- | --- |
| Owner | Barbara Scott and Thomas Elliott |
| Architect | Tozer Design |
| Contractor | Timberline Construction |
| Mechanical | Moore Climate Control |
| Electrical | All Phase Electric |
| Plumbing | Parazoo Plumbing |
| Lighting Design | Luma Lighting Design |
| Landscape | Heart Springs Landscape Design |
| Landscape | Winter Creek Restoration |
| Water Systems | Whole Water Systems, LLC |
| Structural | Walker Structural Engineering |
| Interior Design | Tozer Design |
| Sustainability Consultant | Vidas Architecture, LLC |
PLACE PETAL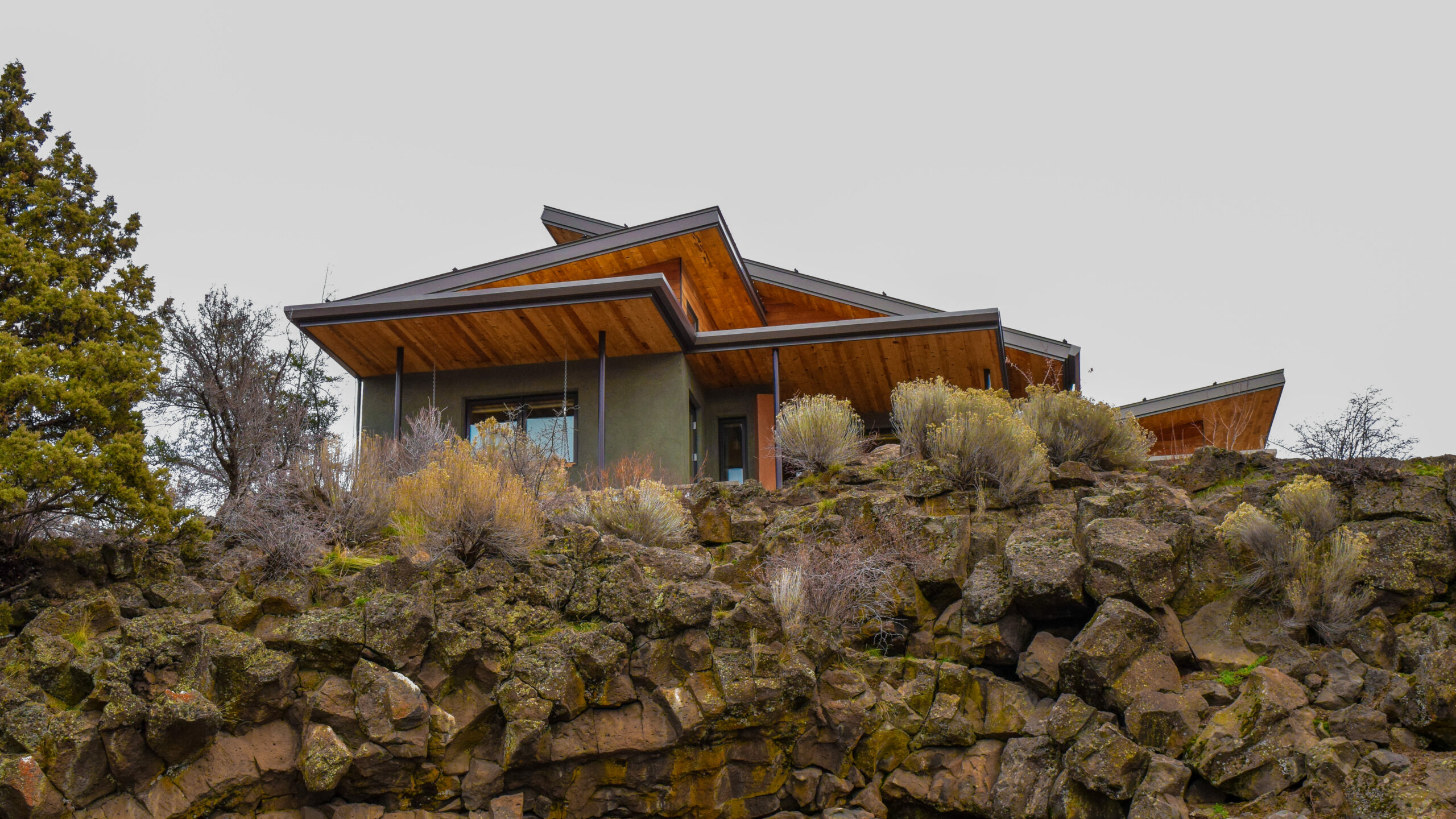 Photo: Courtesy of Dorothy Freudenberg
SITE INFO
The site, prior to the construction of Desert Rain, was comprised of two older single-family homes on three city lots. These homes were constructed in the 1920-1930's by mill workers from the nearby lumber mills and were near the end of their useful life. The original plan was to deconstruct one home and remodel the other, but the poor quality of construction and general condition of the homes made remodeling infeasible. Therefore, the team elected to carefully de-construct both homes and salvage materials for reuse.
With regard to landscaping, the team used an ecological approach to create a self-sustaining landscape. Rock outcrops were constructed in the landscape for functional and aesthetic objectives. Rock work was used to create microclimates for species adapted to those environments, as structural components to reduce erosion and control sheet flow, and as an aesthetic element by providing structure and beauty to the landscape.
Rocks collect and radiate heat early in the growing season, and create cool and moist areas by providing shade in the summer. Numerous native plants are adapted to those specific environments, and recreating those features in a landscape helps mimic natural patterns and creates a self-sustaining landscape. In a similar fashion, shrubs in desert environments act as resource islands, concentrating organic matter, nutrients, and retaining moisture that supports forbs and grasses. The team recreated these patterns in the landscape at Desert Rain to help develop a naturally functional planting. This landscaping, which mimics the sagebrush steppe plant community, can thrive on less (and eventually, no) irrigation.
The High Desert plants that thrive in the Bend area are adapted to cope with wide temperature swings and less than twelve inches of rain each year: shrubs such as rabbitbrush and sagebrush, hardy bunchgrasses and forbs such as Oregon sunshine and purple monkeyflower—and of course, the ponderosa pine.
Some native species, including Oregon grape, sagebrush and bitterweed, grew in pockets around the site, but non-native plants—annual ryegrass, cheatgrass and mustard—dominated other parts of the property. These non-native plants posed a significant challenge since the team wanted to avoid the use of any herbicides on site.
As this landscape matures and grows, it will provide food for wildlife and become habitat for insects, birds and mammals. A pollinator hotel is included to attract nesting pollinators, such as native bees, flies and wasps.
The property's most dramatic attribute—a sheer, rocky outcropping—is also its most limiting. Much of the site is solid basalt; the little soil present is poor and thin. This posed a difficult challenge in relation to the urban agriculture requirements of the Living Building Challenge®.
The placement of new trees was limited by a provision from the State of Oregon's plumbing code which prohibits trees within twenty feet of gutter edges if they are to be used for collecting rainwater for potable use.
02. URBAN AGRICULTURE IMPERATIVE
Based on Desert Rain's Transect and Floor Area Ratio, 35 percent of the project's area is to be used for food production. Although the team was granted an exception for the site's steep slopes, which simply cannot host plants, this requirement posed a challenge given Desert Rain's High Desert location. The region typically receives an average of 11 inches of water per year, often even less in drought years, and food plants typically need lots of water. Balancing the requirements of both the Urban Agriculture Imperative and the Net Zero Water Imperative required a broader interpretation of "edible."
The team utilized plants that are technically edible, such as Englemann's Wood Rose, Oregon grape and serviceberry, with the understanding that wildlife, not humans, would likely eat the fruits. Along with established apple trees already on the site, serviceberry, choke cherry and elderberry trees were added. The list of shrubs that produce edible berries includes currants, Oregon grape and roses (for their rosehips); wild strawberries provide an edible groundcover. In addition, a dedicated food garden irrigated by treated graywater lies northeast of the Main Residence, near the constructed wetland.
A critical fungal community was introduced by inoculating plants with mycorrhizal fungi and increased organic matter and bacteria in the soil by incorporating compost in all landscaped areas. All plants were installed with Aquasmart™; a corn-starch based polymerized sand that absorbs water and slowly releases it in the root zone. This technique, in conjunction with establishment of mycorrhizal fungi, reduces water use significantly and is a method the team found very successful in dry land plantings.
As a result of these efforts, the site has fruits and vegetables throughout the growing season. Rhubarb is available in May and June, wild strawberries in late June and July, currents, service berries, and Oregon grapes in July, apples and crabapples in August. The food plot is planted with garlic, spinach, various lettuce varieties, radishes and other garden vegetables.
04. CAR FREE LIVING IMPERATIVE
The owners purposely picked this site because it is in a diverse neighborhood with very easy access to human services: library, stores, and recreation. The neighborhood surrounding Desert Rain includes a mix of older, Craftsman-style homes, and contemporary homes along winding, comfortable streets. Mixed into the neighborhood are restaurants, markets, a public library and various retail outlets. The Deschutes River, Bend's River Trail and Miller's Landing, a riverfront park, are a few minutes' walk away.
Tom and Barb utilize cruiser bicycles for many errands, although the project provides sufficient energy to charge two electric vehicles year-round. The garages are located on the alley of the property to minimize their visual impact.
WATER PETAL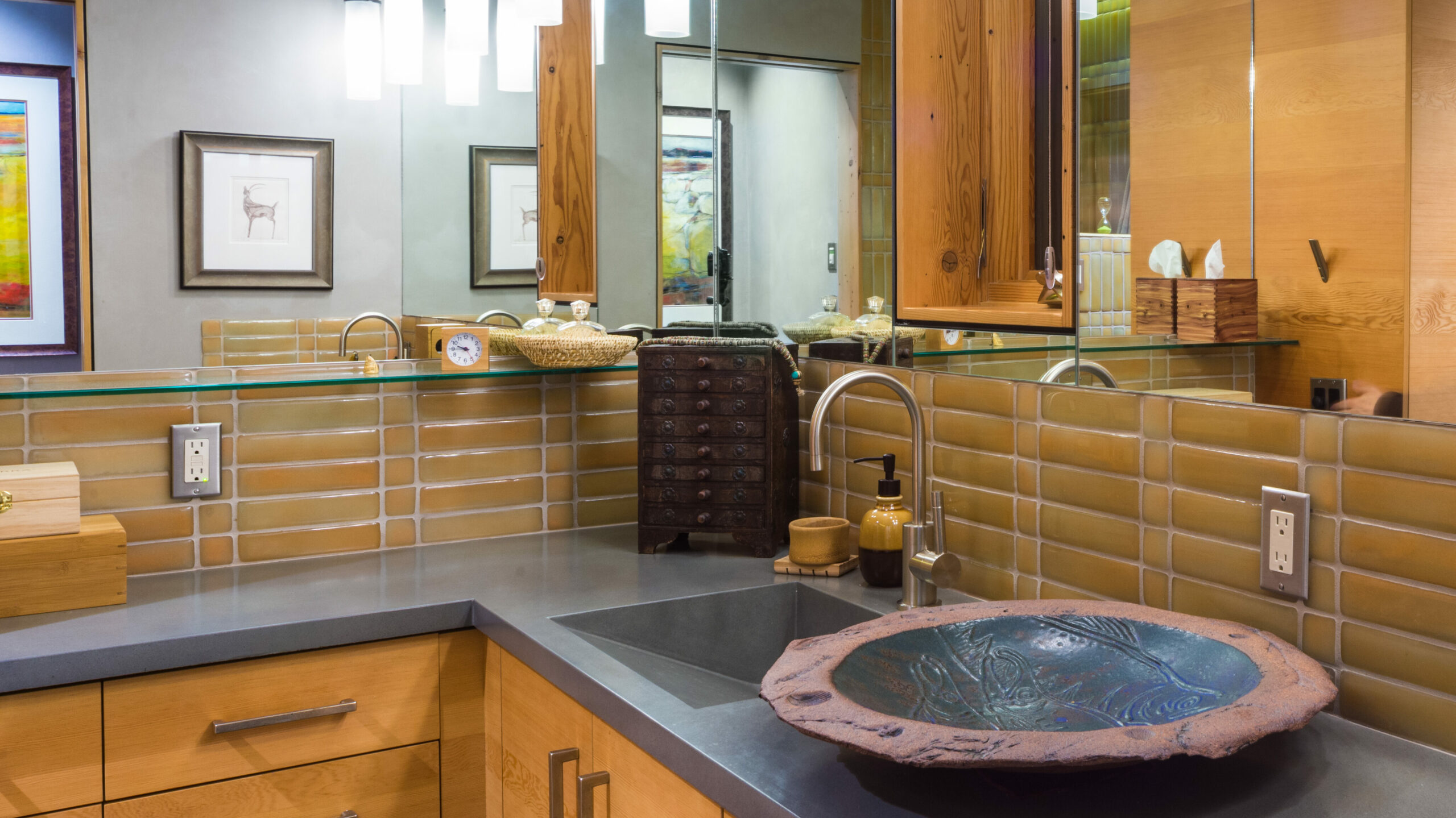 Photo: Courtesy of Chandler Photography
05. NET ZERO WATER IMPERATIVE
The Desert Rain residence is located in the arid high-desert region of Eastern Oregon. Local average annual precipitation is only 12 inches and dry years can produce as little as 7 inches of moisture. In this demanding environment, achieving the Net Zero Water Imperative – supplying 100% of the project's water needs from captured precipitation – is arguably the most challenging of the LBC Imperatives.
Desert Rain's rainwater harvest system was designed using Oregon plumbing code's Appendix M Rainwater Harvest Guidelines. Since Appendix M was relatively new at the time and still in the form of "guidelines, rather than finished code" according to Oregon's Chief Plumbing Inspector, the project team consulted with him on numerous points requiring unique interpretation.
Desert Rain consists of five buildings, including the main residence, a detached guest apartment, a second detached guest apartment/office studio and garages. Precipitation falling on the standing seam metal roofs is collected and directed to gutters at the bottom edges of each roof. Each gutter is covered by metal screening to prevent coarse debris from entering the system. Water then flows through downspouts to gravel filters located at ground level.
Appendix M guidelines specified that each downspout be equipped with a First Flush Diverter (FFD) to dispose of the initial "dirty" water during a rain event. Since achieving Net Zero Water is difficult enough in an arid climate without adding losses from FFDs (known to be relatively water inefficient in practice), the team requested and achieved approval for a design that replaced FFDs with gravel filters at the bottom of each downspout. The gravel filter consists of a 1 square foot by 20 inches deep box filled with three layers of gravel separated by screens that can be accessed and cleaned if needed.
After passing through the gravel filters, harvested rainwater is conveyed via underground plumbing to a centrally located cistern beneath the main garage. The 30,000-gallon cistern was built into the foundation of the garage with its roof functioning as the floor for the garage. Harvested rainwater flows first into an entry chamber where any sedimentation can settle to the bottom. Water then passes through an Orenco Biotube filter (designed to remove 2/3 of any remaining suspended solids) before being stored in the main cistern chamber.
Collected rainwater passes through two additional filters before it is delivered to the house as potable water suitable for human consumption. First, microfiltration removes all remaining suspended solids and finally, an ultra violet (UV) disinfection unit ensures the water is sanitary and free of pathogens.
06. ECOLOGICAL WATER FLOW IMPERATIVE
Desert Rain has three residential structures that generate greywater, including the main residence, a detached guest apartment and a second detached guest apartment/office studio.
All used water – except from toilets and dishwashers – is considered greywater in Oregon and routed through the constructed wetland for advanced secondary treatment as specified in Oregon Department of Environmental Quality (DEQ) Type 2 greywater code. Water from sinks, showers and laundry machines is permanently plumbed out of the house towards the constructed wetland treatment system. Greywater code requires that all fixtures have a valve capable of diverting water to the sewer in the event that water does not meet their greywater definition (e.g. washing diapers, cleaning paint brushes). Desert Rain's system meets this requirement with a single diversion valve located outside the buildings.
Desert Rain's greywater system consists of four principal elements:
Primary tank for trapping solids and oils
Subsurface constructed wetland for secondary treatment of suspended solids and organic material
Storage for treated greywater
Irrigation system for treated greywater reuse
Desert Rain's greywater treatment system was designed with the intent that it could be used in the future to treat not only the greywater, but all of the "wastewater" generated by the residence. The primary tank and constructed wetland are designed and sized to meet DEQ specifications for onsite wastewater treatment for three dwelling units – which is how DEQ classifies Desert Rain's detached guest apartments. When the local sewer code is amended to allow onsite treatment and reuse of wastewater – including blackwater – Desert Rain's constructed wetland system will be capable of treating (to reuse standards) the full wastewater from three residences.
Blackwater is generated in the three residential buildings of Desert Rain from toilet fixtures and dishwashers. Vacuum toilet fixtures in the main residence and guest apartment are routed via vacuum plumbing to a Phoenix compost toilet system located in a mechanical room in the second guest apartment/office studio building. The Jets vacuum toilet fixtures are extremely water efficient, allowing the attractive commodes to be connected to a composting system located at a distance.
The project team worked closely with the vacuum toilet system manufacturer (Jets, Norway), the Bend building department and local plumbing engineers (Interface Engineering) to secure what is believed to be the first (non-institutional) vacuum plumbing system building approval in the U.S. It is the project engineers' belief that this combination of attractive vacuum toilets, vacuum plumbing conveyance, and centrally located composters is an appealing solution to the LBC Ecological Water Flow challenges faced when using compost toilets in urban office buildings.
Because the Phoenix is a large robust compost system, it is able to handle the water load and still compost efficiently – provided the occupants are able to stay within a reasonable average water budget. A single conventional waterless compost toilet fixture is located directly above the Phoenix mechanical room. Sensors are in place that monitor the compost system water level affording warning prior to a maintenance issue and allowing occupants to modify their behavior (i.e. less entertaining, more use of the conventional waterless compost toilet fixture). The Phoenix system includes an evaporator to ensure that compost leachate will not overflow to the public sewer. This evaporator was enlarged to allow it to be able to also evaporate the dishwasher discharge – plumbed separately from the main residence – provided again that the occupants stay within a reasonable water budget. Monitoring of the evaporator storage tank will allow occupants to modify their behavior (e.g. hand wash dishes) should it become necessary to avoid overflowing to the sewer.
ENERGY PETAL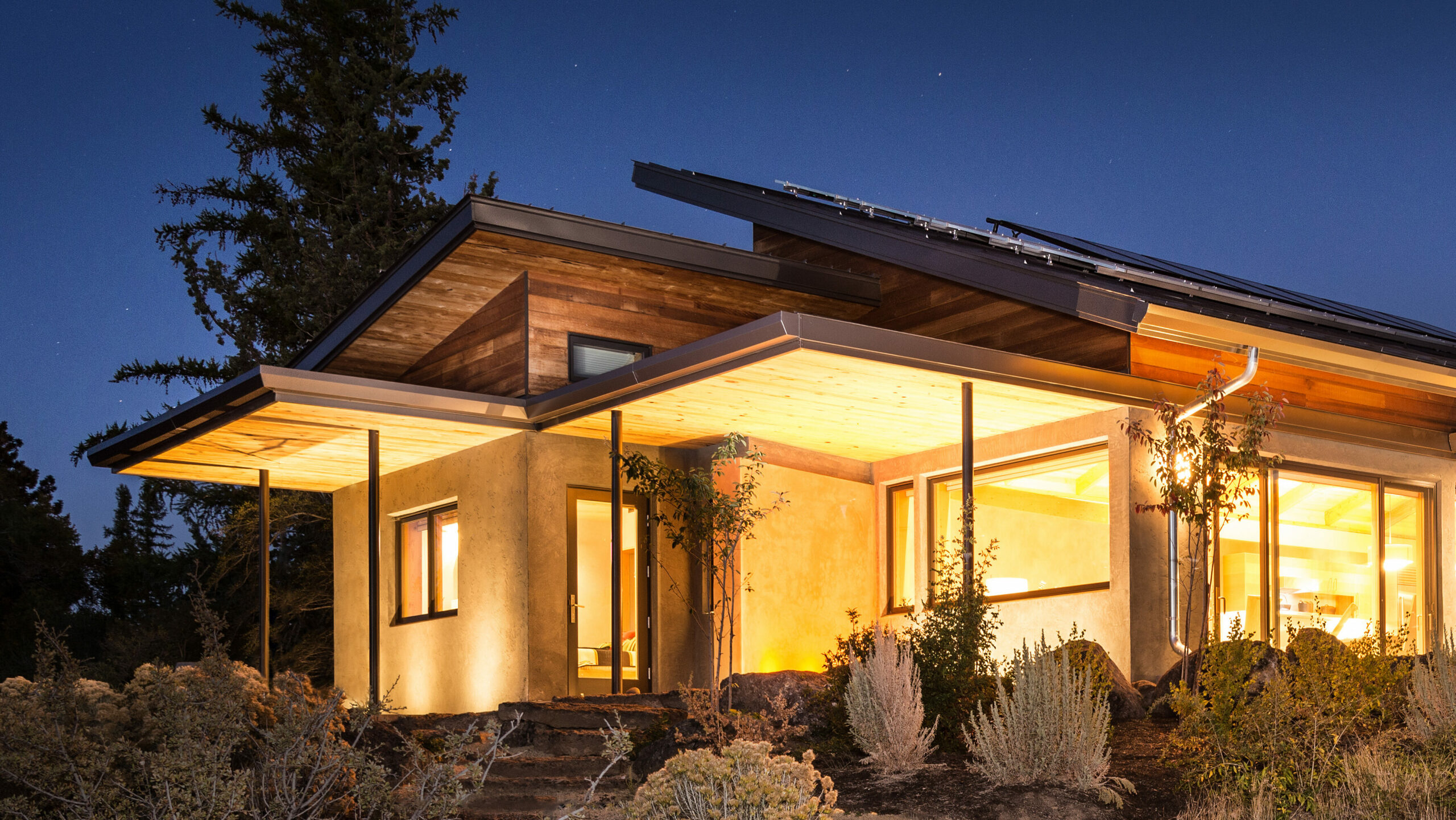 Photo: Courtesy of Chandler Photography
07. NET ZERO ENERGY IMPERATIVE
Desert Rain features three renewable energy systems: a solar PV array; a solar thermal drainback system for heating domestic water and powering the hydronic floor system in the Main Residence; and solar "hot air" system, which aids in evaporating liquid from the composting system.
SOLAR PV ARRAY
E2 Solar originally sized Desert Rain's PV array at 8.5 kW, but the homeowners wanted to also have enough energy to charge two electric vehicles. This meant nearly doubling its capacity.
The 14.95 kW grid-tied array consists of 65 255W Sunmodule monocrystalline panels from Oregon manufacturer SolarWorld. 44 of the panels cover the Main Residence's south-facing shed roof; the remaining 21 are mounted on the Main Residence's Detached Garage's roof. Enphase micro-inverters allow each module to function independently and to be individually monitored.
Central Oregon is an excellent place to harness solar energy, with many sunny summer days and cold, clear winters. At Desert Rain, there were no issues with shading, but the orientation, which angles just slightly west, lowered their solar resource score to just below a perfect 1.41.
E2 estimated that Desert Rain's array would generate 19,842 kWh per year, just offsetting annual energy demand—including electric vehicle charging. But the array was sized before Desert Lookout was built; additional loads, such as pumps for the graywater wetland and composting system, had not yet been accounted for. Because there were so many variables, the homeowners had Desert Lookout pre-wired to accommodate additional solar panels, if needed.
SOLAR THERMAL SYSTEM
The infloor radiant heat system allows for combined water and space heating in the Main Residence. The system is powered primarily by a solar thermal drain-back system. The solar collectors are located on the south-facing roof of the Main Residence; the primary and smaller drain-back tank are located in the Mechanical Room. Both the drain-back system and the radiant heat system were installed by Bobcat and Sun of Bend, OR.
A Daikin Altherma Monobloc air-to-water electric heat pump works in tandem with the solar thermal system. This unit extracts heat from outside air by passing it over a heat exchanger. A second heat exchanger "rejects" the heat into water, and the cooled refrigerant returns to repeat the cycle again. This heat pump is extremely efficient, extracting 3 to 5 kWh of usable heat for every 1 kWh of energy consumed. It also includes an electric back-up heater for extreme cold weather. Unlike many combined systems, the Daikin unit supplements the solar thermal system, rather than the other way around.
SOLAR HOT AIR SYSTEM
Four SolarSheat 1500g panels power the "Evapotron," an essential part of the blackwater composting system housed in the ground floor of Desert Lookout. The Evapotron removes the water from the waste coming from toilets and dishwashers.
The panels work simply: a fan draws air into the bottom of the panels; once heated, it blows through ducts on the other side. For aesthetic reasons, the homeowners decided to have three panels mounted on the south-facing exterior wall of Desert Lookout, but this meant that the eave overhang would partially shade them in summer, hindering their performance. The representative from Advanced Composting Systems was concerned the three panels would not provide enough heat to evaporate the liquids at the required rate, so the team decided to lower the panels and add a fourth one on the west façade. In addition, Timberline Construction trimmed the eave, which had already been finished with siding.
Meanwhile, the HVAC installer had used a slightly smaller pipe to transport the hot air coming out of the panels, which means a smaller but hotter volume of air will reach the Evapotron. Ultimately, the fourth panel may not be needed. If this turns out to be the case, it will be used to heat the composting room itself.
HEALTH PETAL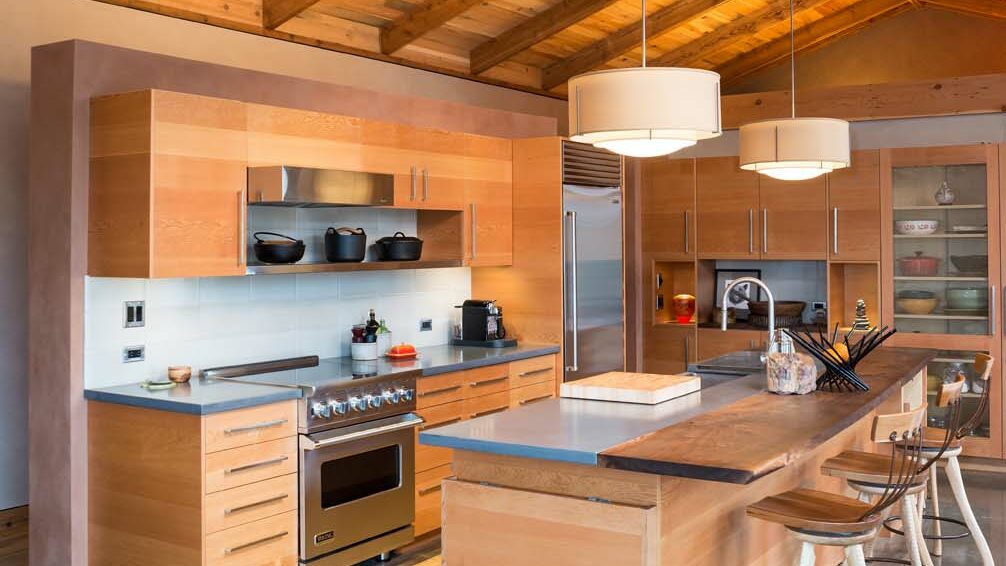 Photo: Courtesy of Chandler Photography
One of the goals from the outset was to create and model a healthy physical and emotional environment throughout the design and construction of Desert Rain. During the design phase, meetings were often held in Tom and Barb's home and prefaced with social time or supplemented with refreshments. Conversations were typically round table discussions rather than prescriptive. Decisions were collective so all parties felt empowered in the process.
During construction, it was imperative to keep a clean site and ensure every worker was in compliance with the Living Building Challenge®. Every contractor, sub-contractor and crew member was required to attend a one-hour presentation on the Living Building Challenge® and to sign an agreement acknowledging their understanding of the Challenge. Consequently, the site was kept extremely clean and crew members were self-policing regarding any potential contamination.
To avoid any health hazards during times when there were potential concerns, such as off-gassing when the closed cell insulation was applied, no other sub-contractors were allowed on the job site. Throughout the project, the contractor worked to keep only one trade on site at a time. While less efficient, this practice avoided risks of distraction and cross-purposes among crew members.
All design, materials and practices were aimed at creating a healthy environment post-occupancy. The avoidance of paints and utilization of low–to-no VOC finishes, along with the tremendous number of operable windows and an ERV unit, resulted in very high air quality throughout the structures.
Further, the organic incorporation of biophilia elements, indoor-outdoor spaces and daylight create a powerful engagement with nature at Desert Rain. Visitors routinely describe an experience of 'sanctuary'.
08. CIVILIZED ENVIRONMENT IMPERATIVE
All three residences feature ample windows, including glass doors that lead to discrete outdoor destinations, such as patios, courtyard gardens and the solar oven.
Knowing a high ratio of glazing can seriously compromise energy performance, the team intentionally chose superior triple-paned windows. This increased the extent of daylight, operable windows and natural views throughout the project.
09. HEALTHY AIR
Desert Rain met the primary requirements of this Imperative by ensuring the presence of a dirt track-in system, both inside and outside; equipment to monitor indoor levels of carbon monoxide, temperature and humidity; and ventilated required rooms, including kitchens and bathrooms.
In addition, the team conducted air quality tests before occupancy and (at least) nine months afterward. This test measured both respirable suspended particulate matter (RSPM) and total volatile organic compounds (VOCs). Furthermore, there is continuous monitoring of CO2 levels in the main house.
Beyond meeting these requirements, the use of natural materials and Red List-compliant sealants and finishes—or no finishes at all—makes for non-toxic indoor environments. The American Clay plaster product used on the interior walls and ceilings of Desert Rain is completely free of VOCs and resists mold growth. The myrtlewood floors are finished with Osmo, a Swedish product made from plant-based oils and waxes. The wood ceilings and diamond-polished concrete floors are not finished with anything at all.
An energy recovery ventilator captures waste heat, but also ensures a steady influx of fresh air into the main residence. To reduce the impact of electro-magnetic frequencies (EMFs), electrician Mike Wagnon wired the bedrooms with metal clad (MC) cable.
Occupant behavior also influences indoor air quality; the owners open windows daily and utilize a ceiling fan in the master bedroom to circulate air.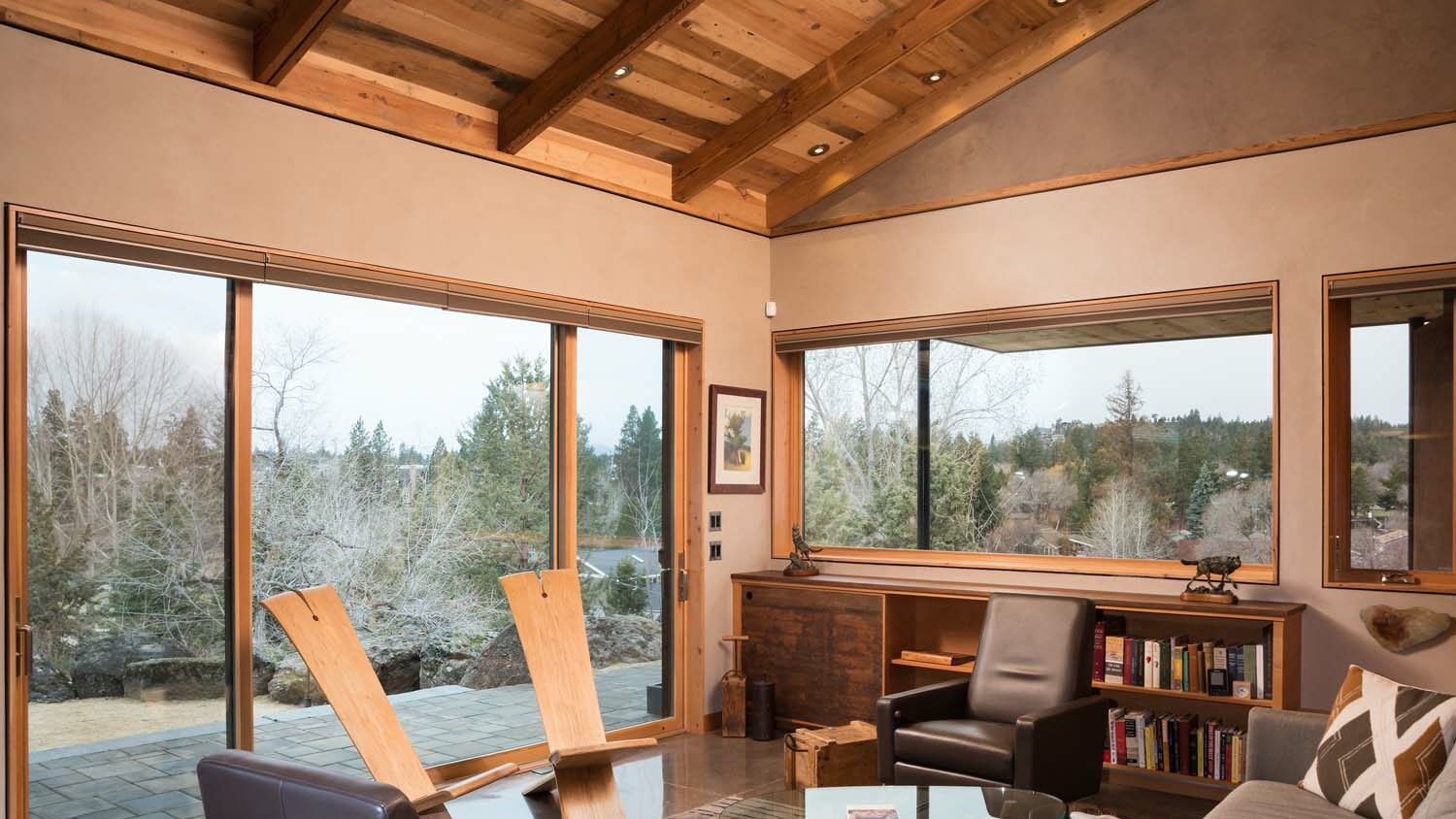 Photo: Courtesy of Chandler Photography
10. BIOPHILIA IMPERATIVE
The owners have been increasingly informed by the notion of biophilia—the instinctive bond between human beings and other living systems, the love of life. As Tom Elliott states, "We initially thought of biophilia as a significant design element required by the Living Building Challenge®. Now we understand that biophilia also means turning toward life internally and externally in our everyday choices. Desert Rain represents our effort to grow something life-giving for our community and ourselves."
The extensive use of natural materials and "organic" colors characterizes all of the buildings at Desert Rain. The warm gray exterior plaster and salmon tones of the larger Miro wall are colors inspired by the native Manzanita; these tones and textures are complemented by stone and wood. Bubbling rocks of reclaimed graywater replicate the sound and freshness of a small brook. Inside, the combination of reclaimed wood and clay plasters create warm, clean-smelling spaces filled with natural light.
Natural shapes and forms such as the curving Miro wall that threads through the Main Residence are used throughout the project. The arrangement of light fixtures in the stairwell at Desert Lookout follows the Golden Ratio, a common proportion found in everything from nautilus shells to finger joints. Other features, both inside and outside, use "sacred geometry" to create harmonious, nature-inspired places.
American Clay plaster was chosen for all interior wall finishes, not only for its earthy hues, but for its natural breathability. Natural lighting and a feeling of spaciousness help occupants feel they are in a natural setting, as do subtler features, such as the integration of light, space, and mass.
In all three residences, generous windows create constant views of the surrounding landscape, including resident wildlife, near-distant trees and the mountains beyond.
The use of native plants in the landscaping, including the thoughtful placement of locally-sourced boulders, forges a direct connection with the region. The use of salvaged materials links Desert Rain to unique and particular stories. Though the structures are contemporary in design, the use of wood, particularly reclaimed and sustainably harvested wood, connects them to Pacific Northwest building traditions, and points to a future where these traditions are reinterpreted so that they sustain both the region's forests and its communities.
MATERIALS PETAL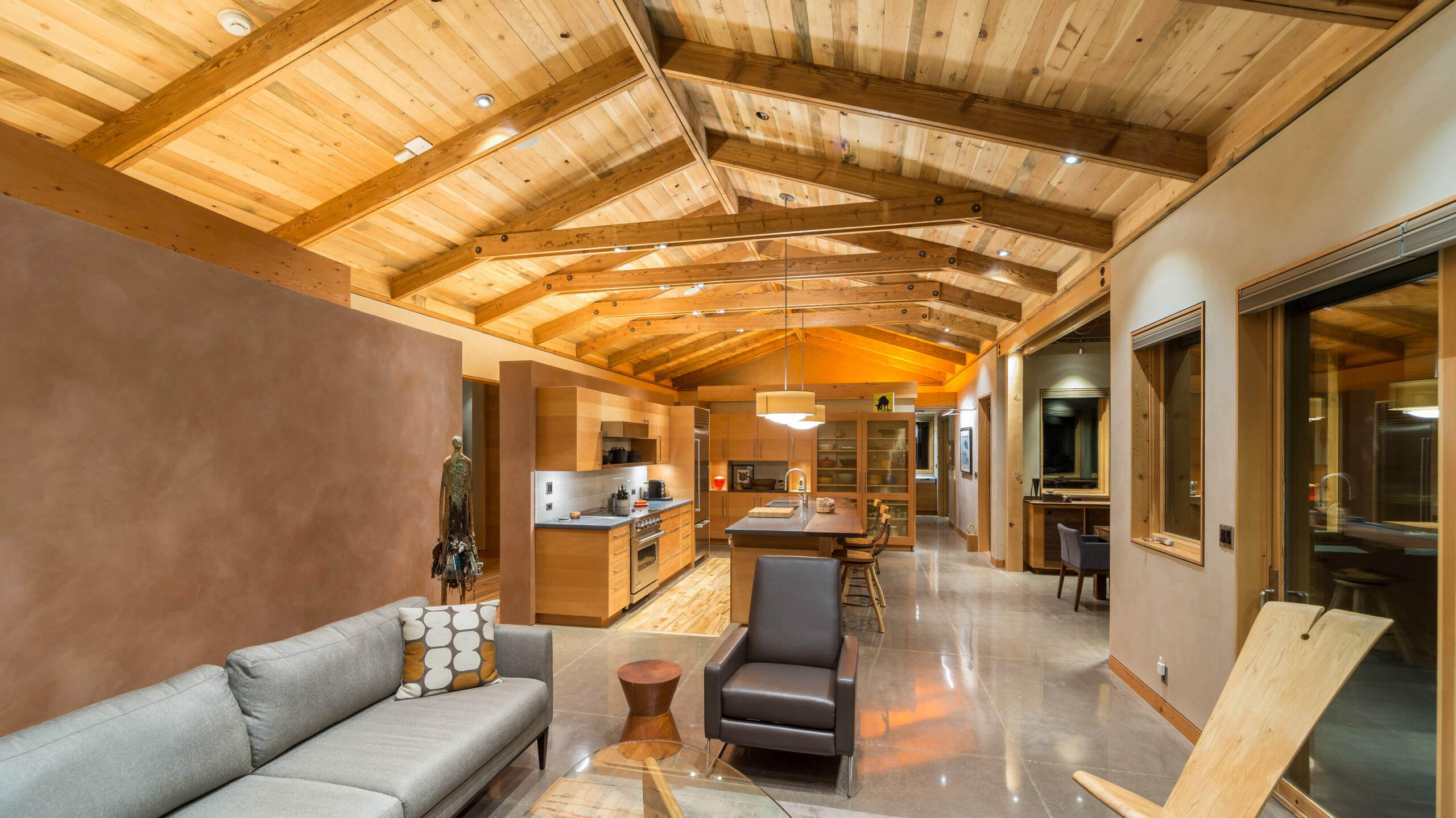 Photo: Courtesy of Chandler Photography
The team vetted over 500 materials for the Desert Rain project. Sustainability consultant ML Vidas served as the lead for this enormous task. She developed a spreadsheet protocol, based on the basic form provided by the ILFI but customized to include the team's tracking, vetting and approval process.
Point people were assigned to funnel information to Vidas in the form of "e-data sheets." Kevin Lorda of Timberline Construction kept ongoing lists for materials and products gathered from the many subcontractors; he emailed Vidas prioritized groups of e-data sheets to ensure the vetting process would not cause unwanted delays. Wendy Knight of Tozer Design did the same for interior finishes, products and materials, pre-vetting them as best she could. Chris Hart-Henderson was responsible for landscaping materials.
11. RED LIST IMPERATIVE
The following product classes and/or specific products presented challenges to achieving the Imperative:
LED lamps (none available domestically)
Metal roofing (confusion/discrepancies between Living Building Challenge® requirements and feedback through Community Dialogue)
Irrigation components (had to get small component exception for parts made in Israel)
Spray foam insulation (had to get exception for flame retardants)
The following are notable regional products that were specified:
Exterior plaster is made almost entirely of local clay, straw, and sand
12. EMBODIED CARBON FOOTPRINT IMPERATIVE
The team sourced materials as locally as possible and tried to use materials that had low embodied carbon. For instance, the Appropriate Sourcing Imperative inspired David Kaiser, Jr. of Elite Plastering to create an exterior plaster recipe utilizing local and regional materials. The material was mixed in shallow pits onsite.
The team's general strategy was to choose local and natural materials. Wood was used extensively, both in the framing of structures and as cladding and as a finish material. Wood was sourced in several forms: reclaimed lumber from deconstructed houses on the project site, reclaimed lumber from elsewhere in the region and FSC-certified lumber that was sustainably and regionally harvested. Other natural materials include clay-based plasters on the interior and exterior of all the structures, stone boulders and pavers used in the hardscape and landscaping. Not only did these materials define Desert Rain aesthetic, they were easy to vet and are a responsible choice when considering the whole life cycle. Natural materials don't contain Red List items; they reduce the project's carbon footprint due to their local sourcing and they also don't pose a disposal problem, as they are biodegradable.
In addition, the team tried to minimize the carbon footprint of the project through the careful selection of long-lasting materials with lower embodied energy. Desert Rain does include a significant amount of concrete, which has a high embodied energy. To minimize this, they used concrete that contains 40 percent fly ash, which is the particulate matter captured by pollution control equipment from the smokestacks of coal-burning plants. Using fly ash in this manner diverts the material from the landfill and reduces the amount of Portland cement in the mix—and thereby reducing the amount of energy required to produce the same volume of concrete.
Many elements were crafted close to home, thus reducing the carbon footprint. Carbon economies were utilized where possible by shipping raw materials and finishing them locally. For instance, rather than purchase roofing panels and ship them from a manufacturer, the team purchased a large roll of steel and fabricated almost all of the roofing, eaves, and rain gutters on location.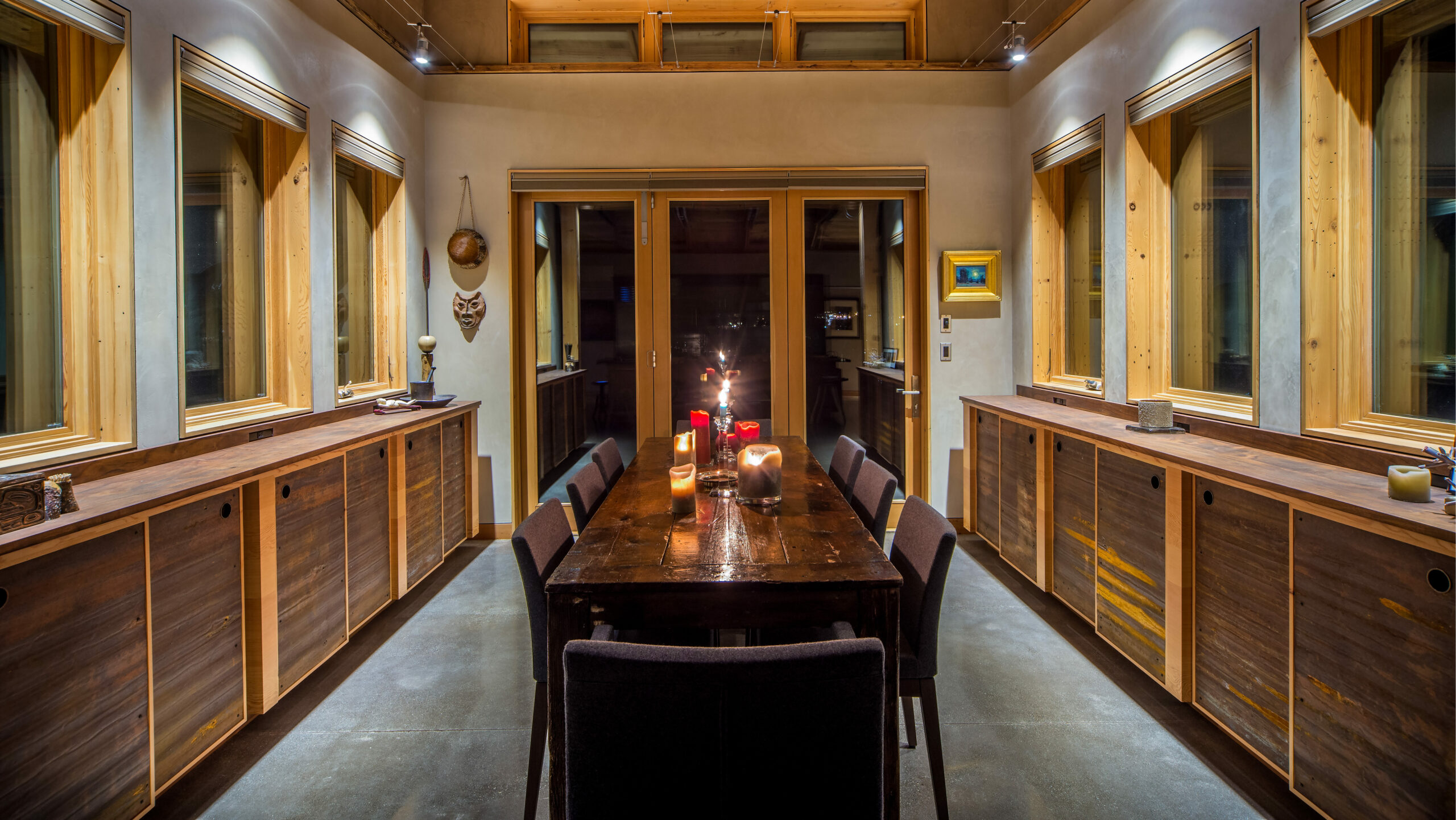 Photo: Courtesy of Chandler Photography
13. RESPONSIBLE INDUSTRY IMPERATIVE
Where possible, the team relied on third-party certifications to document sustainability and fair labor practices. The primary construction material was Forest Stewardship Certified wood and salvaged wood. Most of the salvaged wood was generated on-site by Desert Rain's own crew during deconstruction of the existing homes. In one instance, the deconstruction crew realized they had seriously underestimated the time involved in such meticulous deconstruction. Consequently, they had under-bid the project. Rather than take unfair advantage of the deconstruction company, the owners met with them and re-negotiated a fair wage.
14. APPROPRIATE SOURCING IMPERATIVE
The Desert Rain team used the "small components" and Red List exceptions for several materials; for example, some of the wiring includes a PVC coating, as Timberline Construction could not find a substitute for the material which met building code. Similarly, the closed-cell spray foam insulation, chosen for its high R-values and air-sealing capabilities, contains flame retardants.
The Red List requirement sparked several innovative solutions. Timberline chose western red cedar for the sill plates instead of pressure-treated lumber. This material, sourced through Sustainable Northwest Woods, was 100 percent FSC-certified cedar harvested as part of a restorative forestry management program at Homestead Girl Scout Camp in Zigzag, Oregon.
Instead of PVC, all plumbing lines and landscaping irrigation tubing used in Desert Rain are made from cross-linked polyethylene, or PEX. This flexible tubing also runs through the radiant floor system in the main residence.
We also took advantage of some allowed exceptions to this Imperative. For example, we could not find domestically-manufactured LED lamps. (Nearly all LED lamps are made in China, and none are made in North America.)
The team also applied for a small components exception from the Appropriate Sourcing Imperative for some of the irrigation valves and fittings. Although they were sourced from a supplier in Fresno, California, the items were manufactured in Israel, well beyond the 5,000 km radius allowed for irrigation equipment.
Heart Springs Design was responsible for sourcing many of Desert Rain's heaviest materials: pavers, gravel, soil and plant material. The landscaping reflects the regional environment, beyond just the native and climate-adapted plantings. The Holland permeable pavers, sourced from Willamette Graystone, were made at the company's manufacturing facility near Eugene, Oregon. Concrete for some of the patios was salvaged from the foundations of the original structures. Bend-based Empire Stone provided gravel, drain rock and the one of the most striking landscape elements: the columnar basalt that forms the exterior stair treads.
As mentioned before, the Appropriate Sourcing Imperative inspired David Kaiser, Jr. of Elite Plastering to create an exterior plaster recipe utilizing only local and regional materials. The material was mixed in shallow pits onsite and was comprised of sand, clay, straw and lime—an extremely low embedded carbon formula.
15. CONSERVATION + REUSE IMPERATIVE
During the deconstruction phase in which the team deconstructed two aging mill houses, they resolved to reclaim as much as possible for use in the construction of Desert Rain. What couldn't be reused on the project was offered to Habitat For Humanity or to workers on site for reuse. This resulted in less than one truckload of material going to the landfill from the deconstruction of two homes.
The Desert Rain team also made a commitment in the design phase to choose local and natural materials that generated little waste in the first place.
Wood was used extensively, both in the framing of structures and as cladding and as a finish material. Much of this lumber came from the deconstructed mill houses on site and was re-milled and used in soffits and other places. The team also salvaged lumber from a barn in Prineville, about an hour northeast of Bend. Douglas-fir, alder and ponderosa pine lumber from this barn was repurposed as rafters and collar ties in the Main Residence; some was also used in the tongue-and groove-soffits and interior ceilings. Larger timbers were repurposed as posts between the dining room and kitchen.
The team also utilized lumber from trees harvested from the area and from the project site itself. Wood from a single walnut tree on the Concordia College campus in nearby Portland was used in countertops and built-ins; lumber from a larch sacrificed for the project was used to form the stair treads in Desert Lookout.
The project team tried to use local suppliers and craftspeople as much as possible. By doing so, they were often able to avoid long-distance shipping, excessive packaging and other externalized costs.
The concrete sinks were cast locally by Cement Elegance and required no unnecessary packaging or shipping. The team was able to source solar panels from an Oregon manufacturer. Interior designer Wendy Knight purposely sought out smaller regional vendors for certain materials; for example, the recycled glass tile from Fireclay Tile.
Vendors were encouraged to minimize packaging or use recycled materials for packaging where possible. The entire window package for all structures was packages using 100% recycled or reused materials from the factory in British Columbia.
To handle construction waste, the team implemented an aggressive recycling program organized by Anna Vacca. Instead of loading waste materials into a dumpster, crews separated them into piles or containers on site. Vacca picked up the materials with her trailer and delivered them to the recycling center and landfill. Though this required some training, eventually most people who worked on the project got used to the new system and learned to separate materials. Tasking one individual with recycling provided tighter control and accountability.
Desert Rain chose to showcase, rather than hide, much of the salvaged and reclaimed wood used in the project. Using such wood on the vaulted ceilings contributes to a lofty experience that at the same time feels warm and protective. Making reclaimed wood visible also reminds people, especially the homeowners, of the stories behind the materials, which add meaning to their beauty, and perhaps subtly remind people of their long-lasting value and that they have experienced several incarnations, both as living trees and in other structures. The slight irregularities, scars and knots in the wood save the interior from feeling too refined, which is in keeping with the homeowners' personal aesthetic. In fact, Desert Rain celebrates wood in all of its buildings, and on both the micro and macro level. This is in keeping with the craft traditions of the region, which draw on the Pacific Northwest's bounty of natural wood resources.
Reclaimed wood was used to create the custom doors, gates and entry that offer a unique experience to anyone who passes through them. The main entry into the central courtyard is an amalgam of a trilithon—an ancient post and lintel gateway—and a traditional Chinese gate. Tom Elliott, the owner, designed the entry, matching the curve of the top post with the curve of the Miró Wall. Andrew Scott, an acupuncturist, woodworker and friend of the owners, worked with Al Tozer's design, adding carved characters for harmony and tranquility to the top of the posts. He also added carvings of native wildlife and other nature-inspired symbols to the tops of other gateposts throughout the site. Some of these details are tucked in out-of-the-way places, but they are there to delight and inspire the observant.
EQUITY PETAL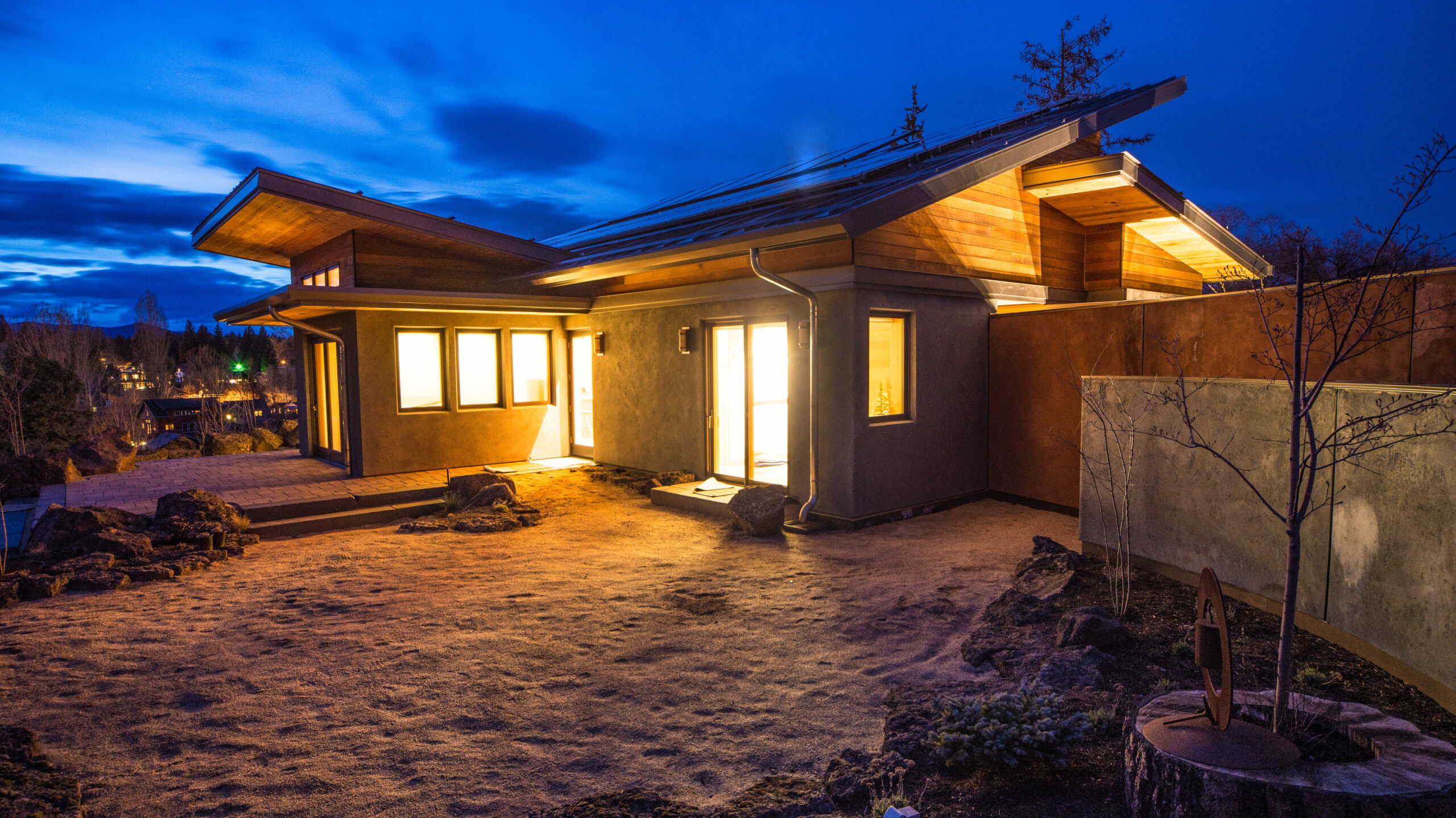 Photo: Courtesy of Chandler Photography
16. HUMAN SCALE + HUMANE PLACES IMPERATIVE
From the beginning, the team worked to scale the Desert Rain compound to complement the scale of the surrounding neighborhood. The compound concept resulted in multiple smaller buildings clustered around courtyards to keep the scale more humane and to encourage a sense of community.
The site design includes several common areas and opportunities for interaction; in particular, the intersecting pathways, shared food gardens and area around the constructed wetland. The path that winds up the steep slope from Shasta Place formalizes what was an historic road; benches and native landscaping invite people to linger.
No perimeter fence separates Desert Rain from the rest of the neighborhood. A swing in an apple tree and picnic table in the shade further welcome visitors near the fringes of the property.
The alley access creates a casual, rather than formal initial experience, and the entrances to the main residence and ADU are adjacent to each other, increasing the possibility of chance interactions between residents of each. Shared bicycle parking in an enclosed area next to the alley encourages residents to use pedal power for errands and commuting.
Automobile parking is located on the alley side and consists of earth-toned pavers leading to each garage visually separated and aesthetically minimized by surrounding planted areas.
While under construction, the Desert Rain project nurtured the culture of the greater Bend community by providing a "field college" of sorts for the many builders, craftspeople, volunteers who worked onsite. We have continued to host tours and educational opportunities now that construction is complete.
17. DEMOCRACY + SOCIAL JUSTICE IMPERATIVE
Although not required for a residential project, Desert Rain design criteria specified that two of the dwellings would be accessible for those with physical disabilities. Geoff, a friend of the owners who is confined to a wheelchair, reviewed plans and visited on-site to "ground truth" their efforts.
From the beginning, there was an "open door" policy at Desert Rain. The team hosted numerous tours and open house events while the project was under construction. The groups ranged widely, from elementary school students to personal friends.
The team also posted large informative signs at strategic locations (on Shasta Place and in the alley), providing passers-by with information about the project and the Living Building Challenge®.
The owners will continue to host tours and other events onsite. When not occupied by tenants, the ADU and Desert Lookout may function to house guests who are visiting to attend workshops or other events. In this way, Desert Rain will continue to educate and inspire a large number of people through direct experience. The team further ensured that the site is accessible to all by creating gently sloped pathways devoid of steps.
18. RIGHTS TO NATURE IMPERATIVE
While the Desert Rain site did not pose any significant barriers to waterways or other natural features for humans, the team was careful not to block the natural movement of wildlife through the property.
They also were mindful of the neighbor's viewspaces and the general openness of the neighborhood. Consequently, no border privacy fences were constructed, relying instead on vegetation for screening.
BEAUTY PETAL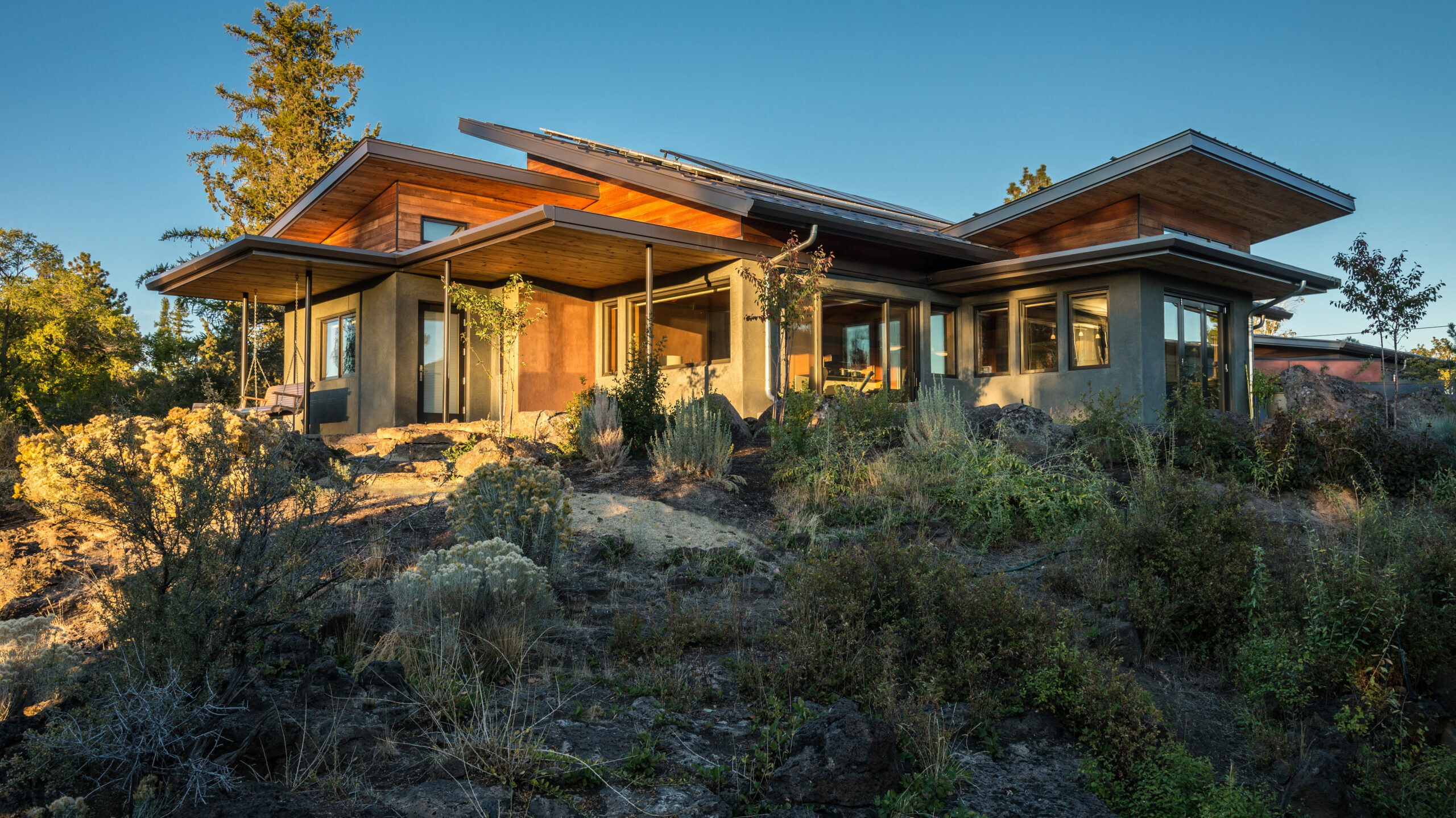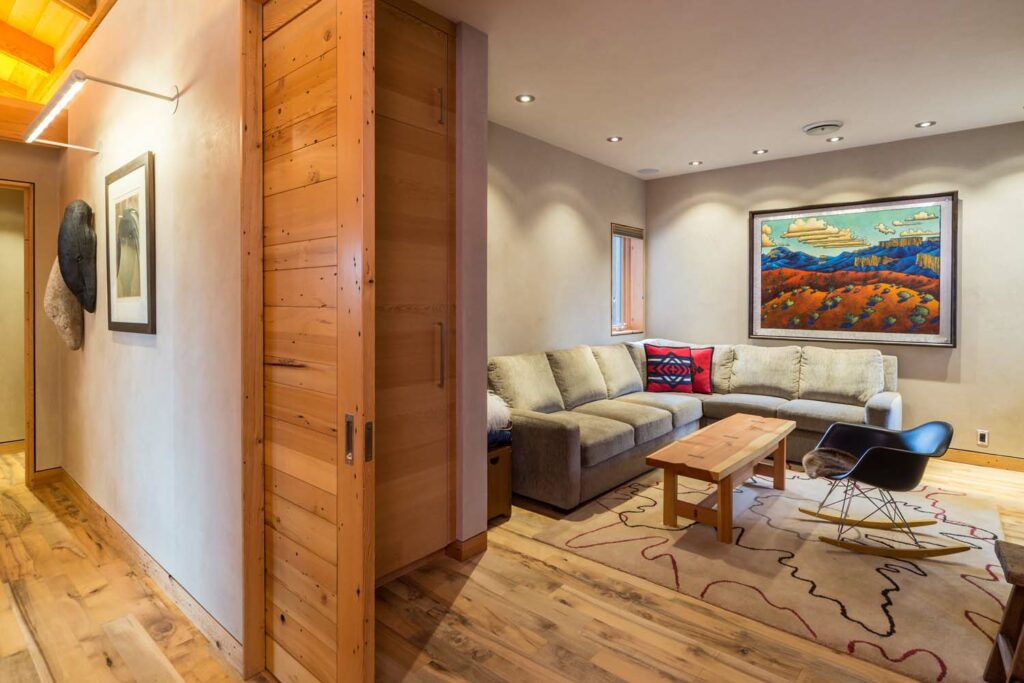 Photo: Courtesy of Chandler Photography
19. BEAUTY + SPIRIT IMPERATIVE
Desert Rain is a harmonious blend of contrasts. It is a comfortable, water-independent home in a harsh, arid climate. The exterior spaces envelop the home with a layering of walls, walkways, and plantings. The interior is distinctly divided between the passive solar side with large, south-facing windows opening to the outside, and the quieter northern rooms. Cozy interior nooks give way to expansive views of the Cascade Mountains. The materials palette brings the outside in, as a reminder of what existed on this site before this house was built, before the earlier mill houses stood here. The crowning achievement is the capturing and processing of rainwater to meet all its water needs, in an environment that only experiences 9" of annual precipitation. It is truly a Desert Rain.
Desert Rain was designed to embody values that celebrate beauty, culture and spirit throughout. From materials choices to landscaping and structural design, the team wanted to inspire a certain warm-hearted awareness and appreciation for their natural surroundings.
Desert rain is also intended to create interior spaces that connect to the outdoors. The many windows and glass patio doors help accomplish this connection through views and direct access to courtyards.
Lighting was also of primary concern. Both natural daylighting and "artificial" fixtures enhance the beauty of the interiors. Although 100% LED, the artificial lighting was designed to reflect off surfaces in order to create a softer quality of light.
A hallmark of this project is the balance of yin and yang: angular, masculine lines, such as the counterpointing shed roofs and cube-like volumes, balanced with feminine curves and the earth-toned palette. The Miro wall, which is also a good example of the intersection of biophilia and beauty, introduces a large curve that unifies the buildings, and is echoed by the curving pathways that wind through the site. Cooler materials like steel, used in posts, roofing and fascia, are balanced by the warmer tones of the stucco and wood.
Desert Rain draws much of its beauty from the careful balance of natural materials, both on the interior and exterior. These materials impart a slightly rustic elegance, and also respect and reflect the landscape and regional culture and traditions.
20. INSPIRATION + EDUCATION IMPERATIVE
The owners conceived Desert Rain as a demonstration project, even before learning about the Living Building Challenge®. They hosted numerous tours while the project was under construction; these ranged from public events, such as the region's annual Solar Tour, to private tours for specific groups, including friends and family. The owners have continued hosting tours periodically and maintain a contact list for people interested in upcoming tours.
The team required all sub-contractors and their employees to participate in a one-hour presentation on the project and the Living Building Challenge® before they were permitted on-site. While mandatory, every effort was made to connect on a personal level with individuals attending these meetings.
During construction, signage was installed outside so that passers-by and neighbors could learn about the project and the Living Building Challenge®. Members of the project team presented at schools, the community college, the local Environmental Center and the ILFI UnConference.
In all, signup sheets indicate at least 400 people have seen presentations during the course of construction and occupancy.
The team also built permanent signage into a privacy fence facing the alley describing the project and the Living Building Challenge®. This has been responsible for numerous informal conversations with neighbors and passersby.
Finally, there is a website for the project, which the owners still maintain, and which included a very active blog on all aspects of the construction and on the Living Building Challenge®. The owners funded and collaborated on a book about the Desert Rain project, which is part of EcoTone Publishing's library of Living Building Challenge® case studies and will no doubt help other project teams pursuing the Living Building Challenge®. Purchase the book here.