VITAL STATS
| | |
| --- | --- |
| Certification Status | Zero Energy Certified |
| Location | Cedar Rapids, IA, USA |
| Typology | Renovation |
| Project Area | 14,800 SF |
| Start of Occupancy | October 2016 |
| Owner Occupied | Yes |
| Number of Occupants | 45 |
PROJECT TEAM
| | |
| --- | --- |
| Owner | Design Engineers, PC |
| Project Manager | Dwight Schumm (Design Engineers, PC) |
| General Contractor | Eagle Point Solar |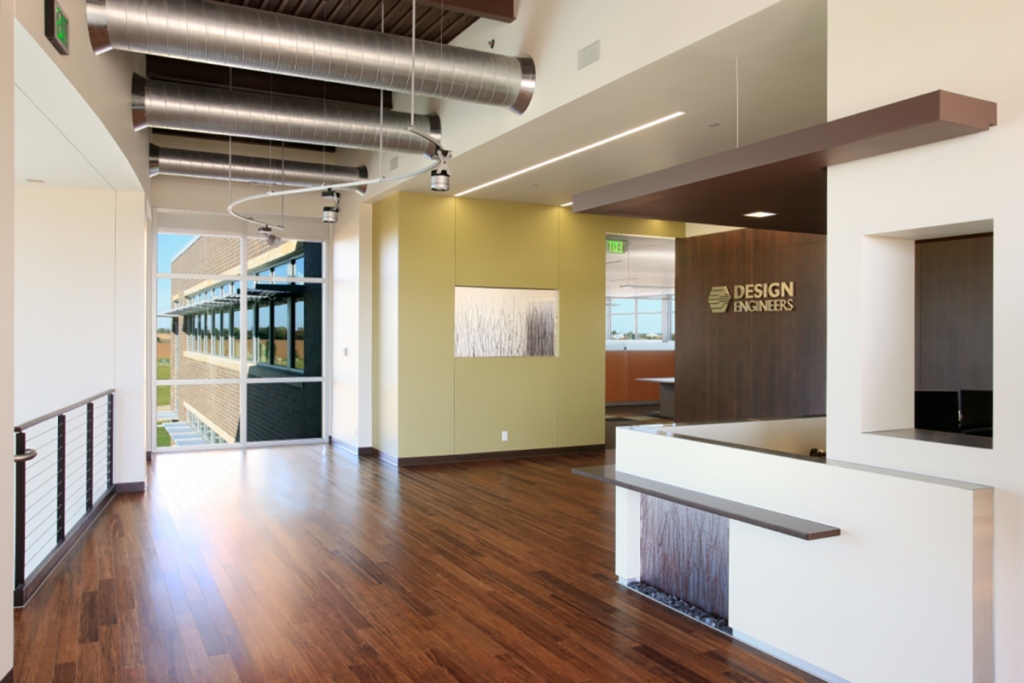 BUILDING SYSTEMS INFORMATION
| | |
| --- | --- |
| Wall R value and section specification | 16. 4″ face brick, air space, 2″ polystyrene board insulation, moisture barrier and wall sheathing, 6″ metal framing, 5/8″ gypsum board |
| Roof R value | 24 |
| Floor R value | 10 |
| Window to Wall Ratio | 34% |
| Window U Value | 0.42 |
| Window Description | Double pane 1″ thick insulating units with low-e coating on outside glass and 0.5″ air gap. Aluminum frames with thermal break. |
MECHANICAL HEATING AND COOLING
Ground source heat pump with total energy recovery of building exhaust air and variable speed ground loop pumping.
MECHANICAL VENTILATION
Energy recovery ventilator with total energy recovery effectiveness of 70%. Outdoor air from ERV is ducted to the return of the individual ground source heat pumps. Low return within each zone increases outdoor air delivery effectiveness (20% less OA).
LIGHTING
LED and fluorescent lighting with daylight and stepped dimming and occupancy sensors.
USER LOAD REDUCTION STRATEGIES
Programmed tight control of common are occupancy sensors to reduced fixture on-hours. Installed occupancy-controlled power strips. Encouraged employees to shutoff computers at end of day. Also encouraged employees to adjust interior shading devices at appropriate times to utilize the maximum amount of daylight. Programmed permanent setback mode in unused offices. Increased unoccupied mode for heat pumps to better match hours of employee occupancy.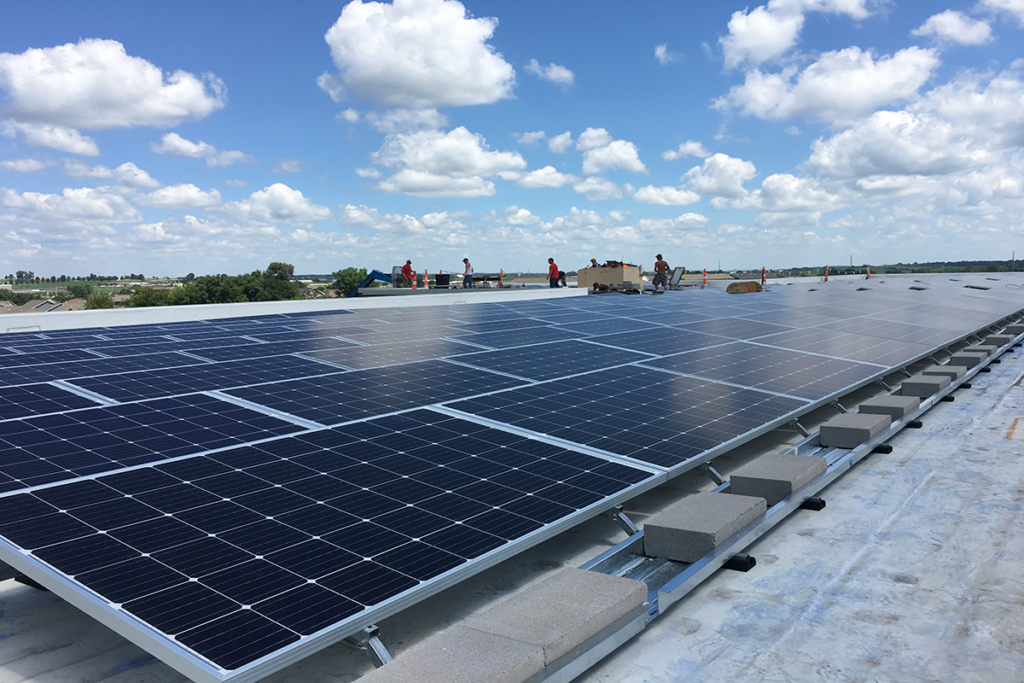 RENEWABLE PRODUCTION SYSTEMS INFORMATION
| | |
| --- | --- |
| Panel Array Size | 103 kW |
| Panel Quantity | 360 |
| Type and Brand | Crystalline Silicon, Suniva |
| Inverter Quantity | 6 |
| Location | Roof |
| Ownership Details | Same ownership as project |
PERFORMANCE
| | |
| --- | --- |
| Actual energy use during performance period | 128,599 kWh |
| Actual energy produced during performance period | 128,637 kWh |
| Net Energy Use | -38 kWh |
| EUI | 29.6 kBTU/sf/yr |