Etsy envisioned its new global headquarters as an opportunity to instigate change, to set a new standard for sustainable construction and design in a renovation project, and to create a space that reflected its values, especially those related to community, craft, and sustainability. They approached each decision with careful consideration of the long-term health of both the project's and the surrounding community's ecosystem.
Early on in the project, it became clear that Etsy's aspirations to hold this project to the highest standards for sustainability aligned with the goals and Imperatives of the Living Building Challenge®, particularly those of the Materials Petal.
These five principles guided the project from concept to ribbon-cutting:
ASPIRE TO BE A FULLY INTERDEPENDENT, REGENERATIVE ECOSYSTEM: Carefully consider the long- and short-term effects of design and materials selection on all stakeholders.
CELEBRATE THE HANDMADE: Design a reprogrammable work platform that is committed to working with and engaging makers and local artists on a large scale.
CREATE POSITIVE COMMUNITY IMPACT: Support local businesses and the responsible use of local, natural resources.
IMPLEMENT RESILIENT, MISSION-ALIGNED INFRASTRUCTURE: Use resilient and efficient materials and systems.
MAKE SPACES THAT EMBODY ETSY'S VALUES: Integrate local, sustainable materials from makers and artists, with an emphasis on inspiration from the natural world.
The wide range of collaborators on this project is nearly innumerable. They included many of the internal Etsy teams—Workplace Ecology & Design, Sustainability & Social Innovation, Culture & Engagement, Global Food, Brand Design, Audio Visual, and IT, among many others—the design firm Gensler, dozens of local artists and Etsy sellers, and hundreds of other partners. This collective effort resulted in a space that reflects Etsy's values and its overarching mission. The final product is an embodiment of community, craft, and sustainability.
VITAL STATS
| | |
| --- | --- |
| Certification Status | Petal Certified |
| Version of LBC | 3.0 |
| Location | Brooklyn, NY, USA |
| Typology | Renovation |
| Project Area | 198,635 SF |
| Start of Occupancy | May 2016 |
| Owner Occupied | No |
| Occupancy Type | Office |
| Number of Occupants | Confidential |
PROJECT TEAM
| | |
| --- | --- |
| Owner | Etsy |
| Owner Representative | VVA |
| Architect | Gensler |
| Contractor | JRM |
| Mechanical | AMA Consulting Engineers |
| Electrical | AMA Consulting Engineers |
| Plumbing | AMA Consulting Engineers |
| Lighting Design | HDLC Architectural Lighting Design |
| Interior Design | Gensler |
| Landscape | RGR Landscape |
| Structural | ADG Engineering P.C. |
| Specialty Consultants and Roles | Evenson Best – Furniture, Greenery NYC – Interior greenscaping |
| Key Subcontractors | Modworks, Modern Woodcraft, Lukas Lighting, Maxus |
PLACE PETAL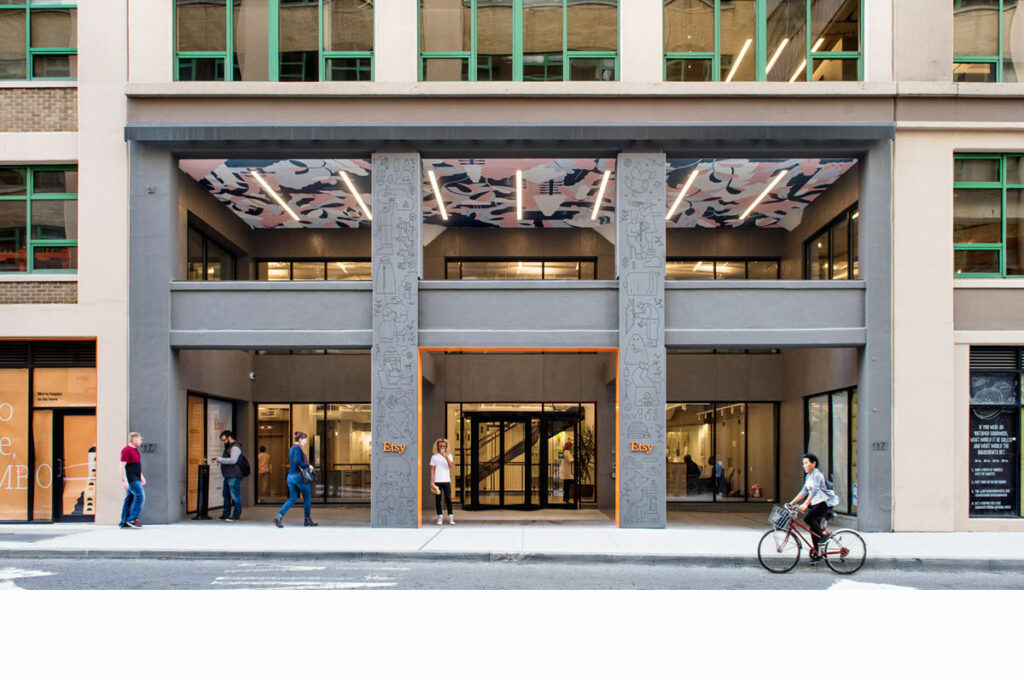 SITE INFO
Sticking with its roots, Etsy decided to move a few blocks down the street from its former headquarters in DUMBO Brooklyn. The building chosen was built in 1926, expanded in 1955, and housed the Jehovah's Witness printing press until it was sold and converted into a mixed-use office/retail space in 2013. Prior to its renovation, the building already had many appealing features, including: accessibility to public transportation and bike lanes; being outside the flood zone; potential for three distinct outdoor rooftop spaces; attractive floor-to-ceiling heights; shallow lease span on upper floors with ample access to daylight; and quality finished slab condition.
The building has a zero lot line so there was no opportunity for landscaping on the project site beyond the green roofs constructed as part of the tenant fit out. Though not within the scope of this certification, all the rooftop landscaping followed the LBC requirements, using native plants that are well adapted to the local environment, creating a healthy habitat for insects, birds, moss, and ferns. All plants are supported by a rainwater collection system and no commercial pesticides or fertilizer are used.
HEALTH + HAPPINESS PETAL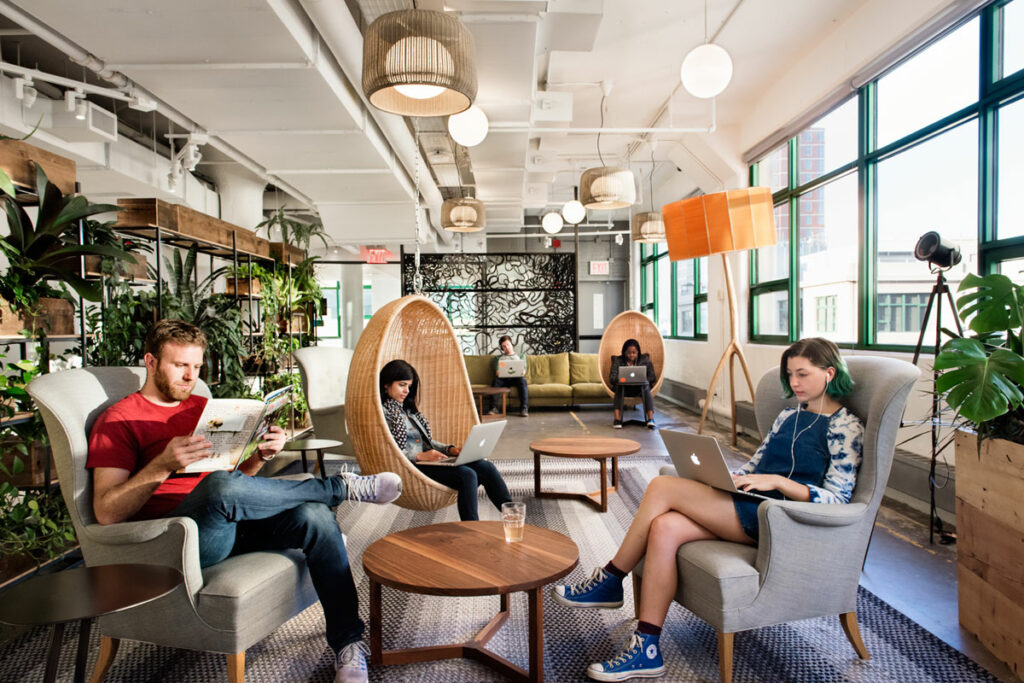 HEALTH + HAPPINESS INFO
In the design phase, the project incorporated numerous "active office" strategies: a prominent staircase at the main entrance and promotion of fire stairs for regular use; allocating room to park more than 100 bicycles; a meditation/yoga room; and locker rooms complete with showers.
At the core of this project is the idea of biophilic design, which includes a planning principle to give every employee access to views of greenery from any seated position in the office, an extensive collection of artwork using natural materials and mimicking patterns found in nature, and access to daylight and views of the surrounding Brooklyn cityscape and Manhattan skyline. In addition to the omnipresent plants helping to clean the air, the design adhered to Imperative 10 Red List requirements, thereby eliminating toxins frequently found in building materials and ensuring a high level of indoor air quality.
Throughout the construction phase, contractors implemented an indoor air quality management plan, taking measures to protect construction from moisture damage, to keep contamination of ductwork by particulates to a minimum, and to clean and suppress dust on site. Low VOC and CDPH-compliant products were specified and checked onsite for all wet applied adhesives, sealants, paints, and coating and finish materials. Indoor Air Quality tests were conducted prior to move-in and post-occupancy to verify the project's compliance with Imperative 08 Healthy Interior Environment.
During occupancy, Etsy provides local, healthy and sustainably-sourced meals and snacks to employees in the Eatsy cafeteria. The Brooklyn Food Program team partners with nearby farmers, vendors, and chefs to help grow small businesses and support the local economy. Green cleaning products certified by the Environmental Protection Agency's Safer Choice program are used to help keep indoor air free of chemicals and other impurities.
07. CIVILIZED ENVIRONMENT
In accordance with the requirements for the Renovation Typology, all workspaces are located within 41 feet of the nearest window wall, providing access to daylight, views, and ventilation via manually operable windows. Workstations and office furniture are all desk height with no vertical dividing partitions and views are largely unobstructed throughout the open workspace. Additionally, the project team used early daylight studies in order to plan for maximizing natural daylight to workspaces and minimizing glare. Manual shades and solar film were used to mitigate glare on the south and west facades that get direct solar exposure.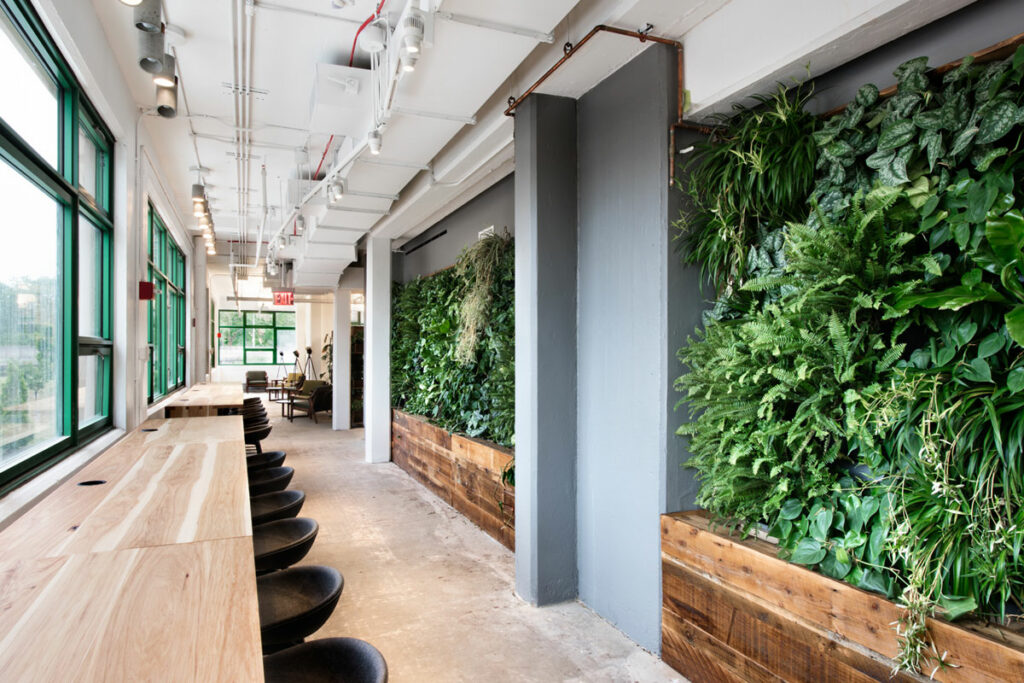 08. HEALTHY INTERIOR ENVIRONMENT
Etsy's approach to Imperative 08 Healthy Interior Environment consists of the following:
Etsy's purchasing policy for cleaning products comply with the EPA Safer Choice certification. The Etsy HQ complies with the current version of ASHRAE 62. Additionally, dedicated exhaust has been provided for applicable spaces including kitchens, bathrooms, and janitorial areas.
Smoking is prohibited within the Etsy HQ project boundary. Signs are located in the main lobby, as well as on the sundeck, 5th floor terrace, and the roof terrace.
The Etsy HQ entry approach uses integrated walk-off grates located at the main lobby entrance, sundeck, 5th floor terrace, and roof terrace to reduce particulates resulting from foot traffic.
In addition to Red List criteria, all interior building products are in compliance with the California Department of Public Health (CDPH) Standard Method v1.1-2010 (or international equivalent). Where CDPH testing results were not available for products, the team has provided documentation showing extensive coordination with manufacturers in the vetting process and advocacy for compliance.
Testing following protocols consistent with the 'United States Environmental Protection Agency's Compendium of Methods for the Determination of Air Pollutants in Indoor Air' was performed before occupancy as well as five months post-occupancy. A post-occupancy timeframe Exception was provided through the Dialogue.
A commissioning systems report verifies performance for permanently installed equipment used to monitor levels of carbon dioxide (CO2), temperature and humidity, including photographs of hidden systems.
09. BIOPHILIC ENVIRONMENT
The following describes the planning principles, architecture and operations embedded within the project and their alignment with the 14 patterns of Biophilic Design:
PLANNING PRINCIPLES
| Design Concept | Biophilic Design Pattern |
| --- | --- |
| Planning for Views: Site lines of views to Brooklyn, Manhattan, and the vistas across terraces and the Etsy campus were preserved. | Visual Connection with Nature, Prospect |
| Access to greenery: Views to interior greenscaping accessible from every seated area allow occupants to be in constant contact with nature. | Visual Connection with Nature |
| Minimize straight lines: Avoiding straight walls and right angles mimics irregularity found in nature. | Biomorphic Forms & Patterns, Mystery |
| Planning to maximize access to natural daylight: Placing workstations adjacent to window and views to the outdoors | Non-Visual Connection with Nature, Dynamic & Diffuse Light |
| Open plan and benching systems: Allows for open spaces with access to light and vistas around the office. | Complexity & Order, Prospect |
| Design to achieve a regenerative ecosystem: Whenever possible, closing the loop on systems and operations within the building (e.g., rainwater cistern and the composting/CSA food system). | Connection with Natural Systems |
| Open ceiling: Exposed mechanical systems and structure are representative of both complexity and order found in natural systems | Complexity & Order |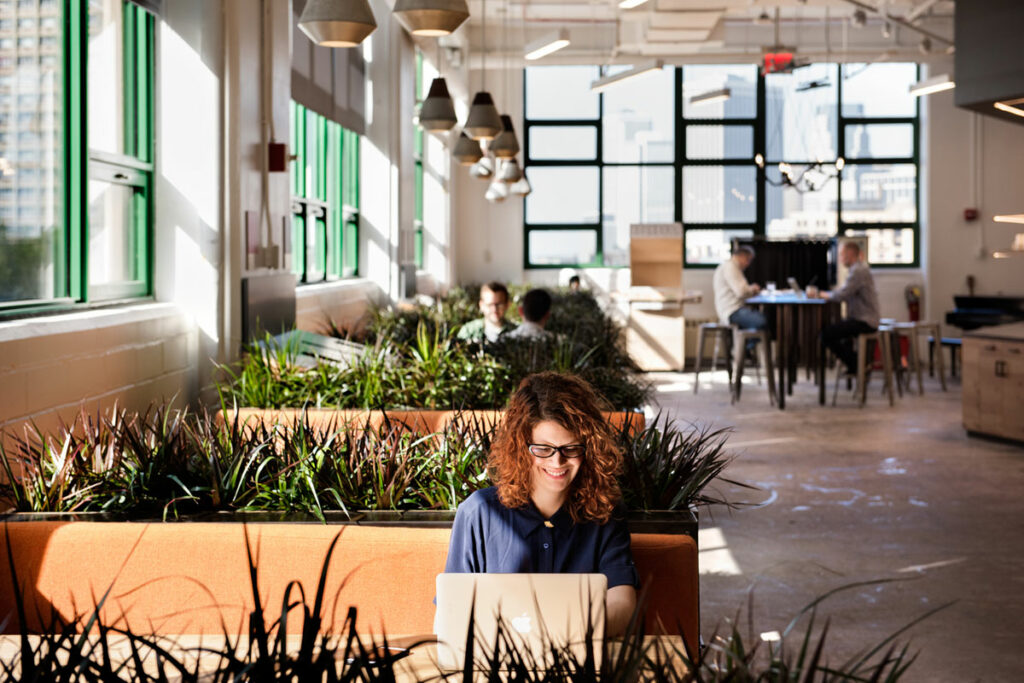 ARCHITECTURE
| Design Concept | Biophilic Design Pattern |
| --- | --- |
| Terraces: Three distinct terraces with natural and adaptive vegetation that attracts birds and pollinating insects. | Visual Connection with Nature, Non-Visual Connection with Nature, Non-Rhythmic Sensory Stimuli |
| Diversity of Spaces: Maker huts, corner/perimeter seating nooks, and telephone rooms interspersed on workplace floors give employees a diversity of spaces to seek refuge from the open plan. | Refuge |
| Art Curation: Artwork throughout the space mimics natural forms, materials & patterns | Biomorphic Forms & Patterns, Material Connection with Nature, Mystery |
| Interior Greenery: Vegetated walls, planters and green columns are spread throughout. | Visual Connection with Nature, Biomorphic Forms & Patterns |
| Maker Furniture: Handmade furniture evokes patterns and materials found in nature and provides occupants with an indirect connection to the local maker community | Biomorphic Forms & Patterns, Material Connection with Nature |
| Bridges and Ramps: Indoor wood bridges, ramps, outdoor pavers and steps create different planes and perspectives. | Biomorphic Forms & Patterns, Material Connection with Nature, Prospect |
| Natural Materials: Natural, tactile, and textured fabrics, wall finishes and furniture evoke patterns and materials found in nature. | Non-Visual Connection with Nature, Biomorphic Forms & Patterns, Material Connection with Nature |
| Solar Array: 14 kW rooftop array that offsets approximately 1% of building energy and visually represents our remote net metering arrangement. | Connection with Natural Systems |
| Stormwater Capture: A 3,500 gallon rainwater cistern offsets irrigation throughout the space and connects the office to the local water system. | Connection with Natural Systems, Presence of Water |
| Screens and Drapery: Architectural screens and curtains help manipulate light. | Non-Rhythmic Sensory Stimuli, Dynamic & Diffuse Light |
| Lighting: Varied dynamic pendant lighting simulates a night sky, clouds and other natural elements. | Biomorphic Forms & Patterns, Complexity & Order |
| Celebration of Views: Terraces, a sky bridge, stairs and interior sun rooms all have vistas across outdoor spaces, the other floors on the building, and the East River. | Prospect, Risk/Peril |
| Breathing Room: Room supporting activities such as yoga and meditation allow for contemplation and quiet respite. | Connection with Natural Systems, Refuge |
OPERATIONS
| Design Concept | Biophilic Design Pattern |
| --- | --- |
| Dog-friendly Policy: Allows employees to bring their dogs to work and maintain a tactile connection to the natural world. | Non-Visual Connection with Nature |
| Food Systems: Local food program Eatsy, integration of composting and CSA program connect Etsy to the food ecosystem. | Connection with Natural Systems |
| Remote Net-Metering: A solar array located nearby will offset Etsy energy use and connects them to a larger renewable energy ecosystem. | Connection with Natural Systems |
MATERIALS PETAL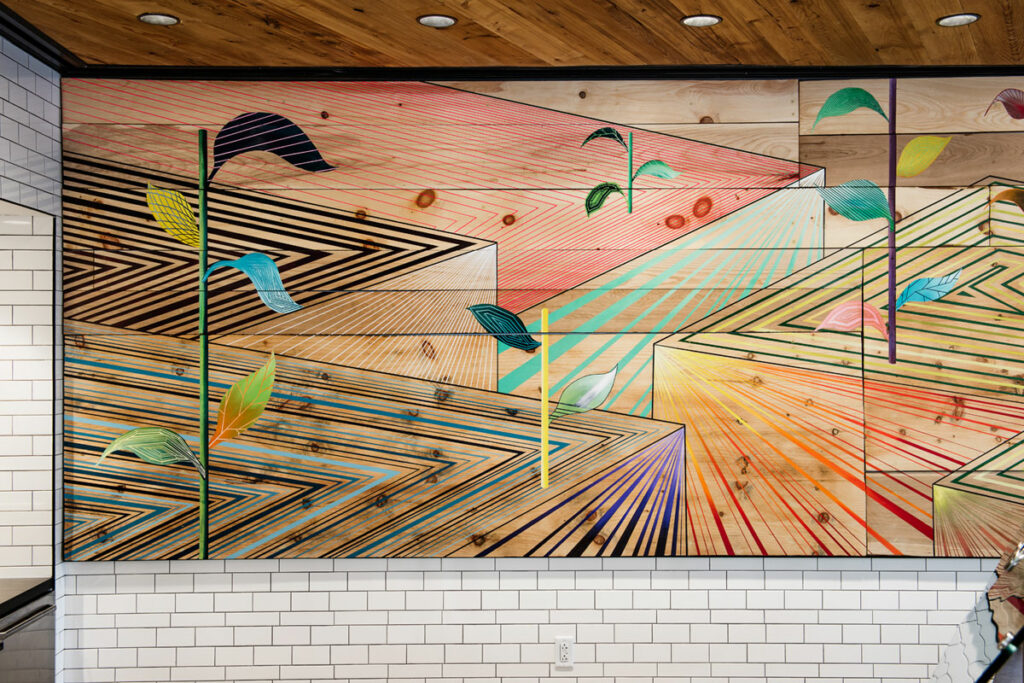 MATERIALS INFO
Etsy's material sourcing goals of conscientious reuse, radical transparency, non-toxic materials, and hyper-local purchasing positioned it well for pursuing the Materials Petal.
The entire project team sought out LBC-compliant construction materials, ultimately vetting more than 1,500 materials for Red List, CDPH compliance, and ingredient disclosure. Small scale Etsy furniture makers collaborated with the project team, FSC, and ILFI to rework their product fabrication to achieve Declare® Labels on 31 furniture pieces while collaborations with large scale manufactures enabled first-time, LBC-compliant documentation, reformulated product lines, and pursuit of additional Declare® labels.
IN ALL, THE PROJECT INCORPORATED 69 DECLARE LABELS REPRESENTING 24% OF THE MATERIALS BUDGET.
10. RED LIST
The project team worked diligently to find compliant solutions to challenging product classes. As an example, Red List compliant galvanized sheet steel (ductwork, conduit) presented challenges related to order quantity as well as lead times not originally anticipated by the project team. Additionally, products with complex componentry (lighting fixtures, HVAC, and food service equipment) required extensive due diligence. As an example of one approach the team took in order to work around PVC, a common material in light fixture wiring, a lighting subcontractor was sought out to custom fabricate PVC-free, low-smoke, zero-halogen (LSZH) wiring substitutions.
11. EMBODIED CARBON FOOTPRINT
Using Athena EcoCalculator, the team ran two calculations to simulate the embodied carbon of the project. The first calculation looked at the existing building, consisting of poured concrete footings, exterior walls, windows, interior walls and roofs. To represent the interior renovation, the total carbon was divided in half. For the second calculation, the team accounted for the interior wall constructed through the renovation only. Etsy elected to purchase offsets from the existing building calculation totaling 7667 TCO2eq / 2 = 3833.5 TCO2eq rather than the smaller total from the interior renovation calculation totaling 1,023 TCO2eq.
EMBODIED CARBON FOOTPRINT – 3833.5 TCO2eq
PROJECT – McKinney Landfill Gas Methane
PROVIDER – 3DEGREES GROUP, INC
WEBSITE – https://3degreesinc.com/services/carbon-offsets/
CARBON CALCULATOR – Athena EcoCalculator
12. RESPONSIBLE INDUSTRY
Salvaged, invasive species, or FSC Certified materials were used for all wood products and the thresholds for manufacturing distance were met for all products. Additionally, letters were sent to the Natural Stone Council, American Institute of Steel Construction, and American Galvanizers Association advocating for creating third-party standards in their industries to ensure their products are extracted, transported, and processed in an environmentally sound and socially responsible manner.
WOOD SOURCES Forest Stewardship Council (FSC) Certified wood, Salvaged wood
NOTABLE MANUFACTURERS
Product
Manufacturer
Location
Furnishings: Tables, lounge chairs, workstations, credenzas, benches, dining tables
First Third
Brooklyn, NY
Furnishings: Tables, credenzas
Robert Sukrachand
New York City, NY
Lobby Desk, stools
Socotra Studio
New York City, NY
Conference room tables, credenzas
Boles Studio
Bronx, NY
Coffee tables, bar height tables
Jason Hernandez
Brooklyn, NY
Conference room tables, meeting room tables
Analog Modern
Brooklyn, NY
TIMBER HARVEST/LUMBER SEASONING Excelsior Wood Products – Kingston, NY
SALVAGED MATERIAL
Modworxx (water tower wood, scaffolding material)
Tri-Lox (water tower wood, scaffolding material)
Hudson Company (Mushroom wood)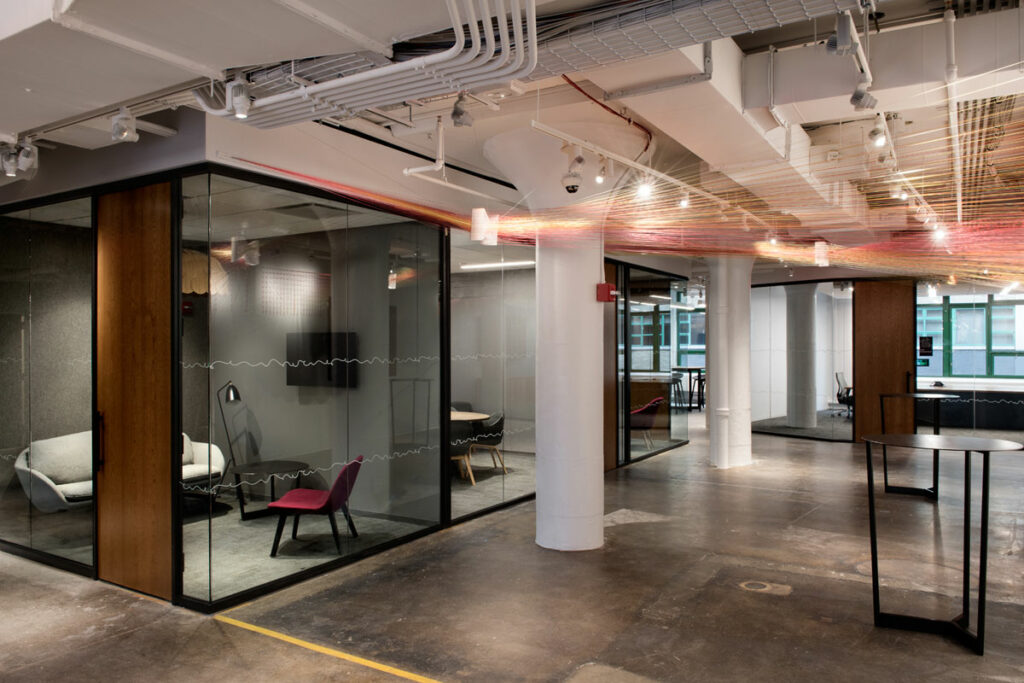 13. LIVING ECONOMY SOURCING
NOTABLE REGIONAL PRODUCTS
Div 12 – Maker Furniture, Various (Conference Tables, Credenzas, Workstations, Pantry Tables, Occasional Furniture), Various (Analog Modern, Brian Boles, First Third, Porter Cycles, Robert Sukrashand, In.Sek Design) –Brooklyn, NY
Div 08 – Office Fronts, Acme 50 Series, Inscape – Falconer NY
Div 26 – Lighting, Custom Fixtures, In.Sek, Brooklyn, NY
Div 26 – Lighting, Various (Pendent fixtures, etc), Amerlux -Oakland, NJ
Div 09 – Acoustical Panels, Polyphon Polyester Acoustical Panels, Acoustical Solutions, Richmond, VA
Div 12 – Shade Hardware, Mecho 5, MechoSystems – Edison, NJ
14. NET POSITIVE WASTE
Through comprehensive waste reduction strategies, the project diverted over 90% of construction waste from landfills. Excess materials were sent to nearby building projects through a partnership with Big Reuse, a local nonprofit. Scrap wood went directly to the on-site woodshop, where it will be repurposed for projects around Etsy's office. Operational strategies target zero waste to landfill. Etsy's operations teams have developed extensive strategies to reduce consumption while the facility team weighs all outgoing material and waste streams on site.
SALVAGED MATERIALS
From the project site, over 1,150 linear feet of reclaimed water tower wood and 10 industrial doors celebrate the building's Dumbo neighborhood legacy: a printing and publishing house. Eight hundred linear feet of reclaimed NYC scaffolding wood accents the pantry areas and coat closets throughout the project. Additionally, an inventory of the existing space and new project site identified early opportunities for extensive salvage and reuse including over 750 furniture pieces, food service equipment, and art commissions inspired by (and incorporating) Etsy legacy materials, like their old hand-painted desks.
SUMMARY OF LOGIC
The team used the existing I14-E2 Municipal Limitations Exception for construction waste diversion. The exception was required based on the team's circumstances as a union-affiliated construction project in the New York City area. Etsy made every effort to avoid landfill deposits throughout the project and was able to achieve the required 90% diversion from landfill. However, a portion of that was used for waste-to-energy purposes as an alternative fuel source in existing boilers. Etsy carried out its due diligence with respect to the waste diversion partners and practices accessible to this specific project and determined this exception was warranted given the municipal waste management landscape unique to the scale of this project and to New York City.
Similarly, the team required an I14-E2 Municipal Limitations Exception for rigid foam and insulation scraps. The project team carried out its due diligence with respect to waste diversion partners and was not able to find a facility able to reuse the material.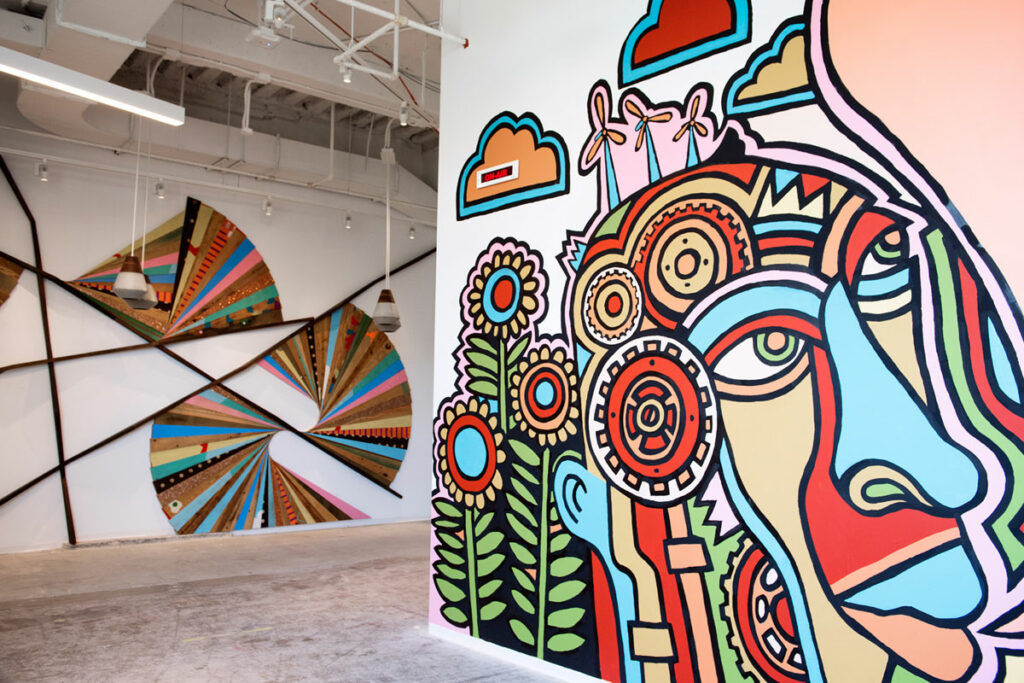 BEAUTY PETAL
19. BEAUTY + SPIRIT
The beauty of this project came from the strong collaboration of a diverse team who sought to translate the ethos of Etsy into a physical space. Early visioning sessions with each of Etsy's user groups resulted in some key design concepts, which guided the team throughout the project:
CELEBRATION OF MAKING: Many hands joining together to weave a bigger community story.
NARRATIVE JOURNEY: Unlayering a multifaceted story, built on intimate single authorships.
THE GREEN EMBRACE: Bring the outside in to let nature permeate and reclaim the building.
A MATERIALS STORY: Sustainable, authentic, and locally sourced. Bringing new meaning to discarded materials.
Ultimately these concepts manifested in a headquarters that embraces community by celebrating small and local artisans, supporting employees' innovative working styles and overall well being, all while adhering to the Living Building Challenge®.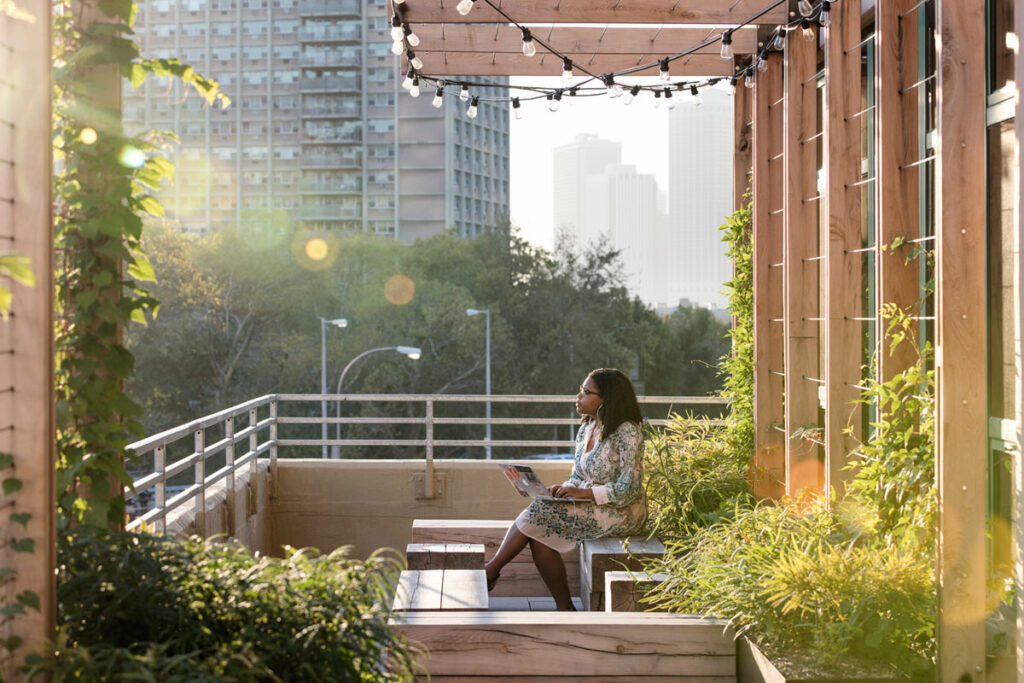 20. INSPIRATION + EDUCATION
Engaging signage throughout the space educates building occupants and visitors about the project's sustainability efforts, including information on material selection, water conservation, and energy efficiency. Etsy has also regularly hosted tours of the space since its opening; these tours are open to the Etsy community and the general public. In 2017, Etsy aims to develop the headquarters project into a cultural hub for its community by hosting regular creative programming in the space, including ongoing Crafternoons, Code as Craft events, and beyond.
Visit the project website at etsy.com/living-building-challenge
All images courtesy of Emily Andrews.