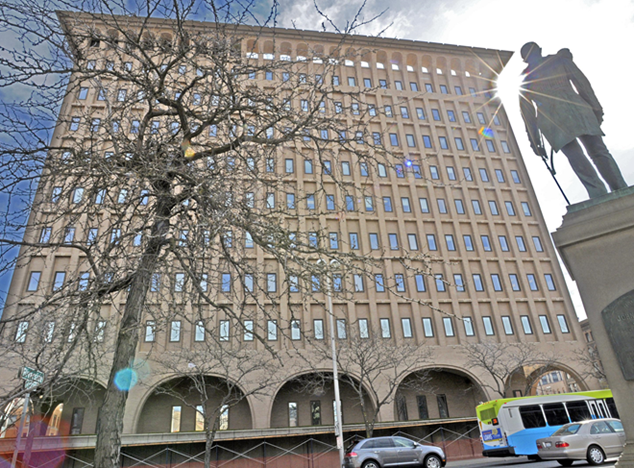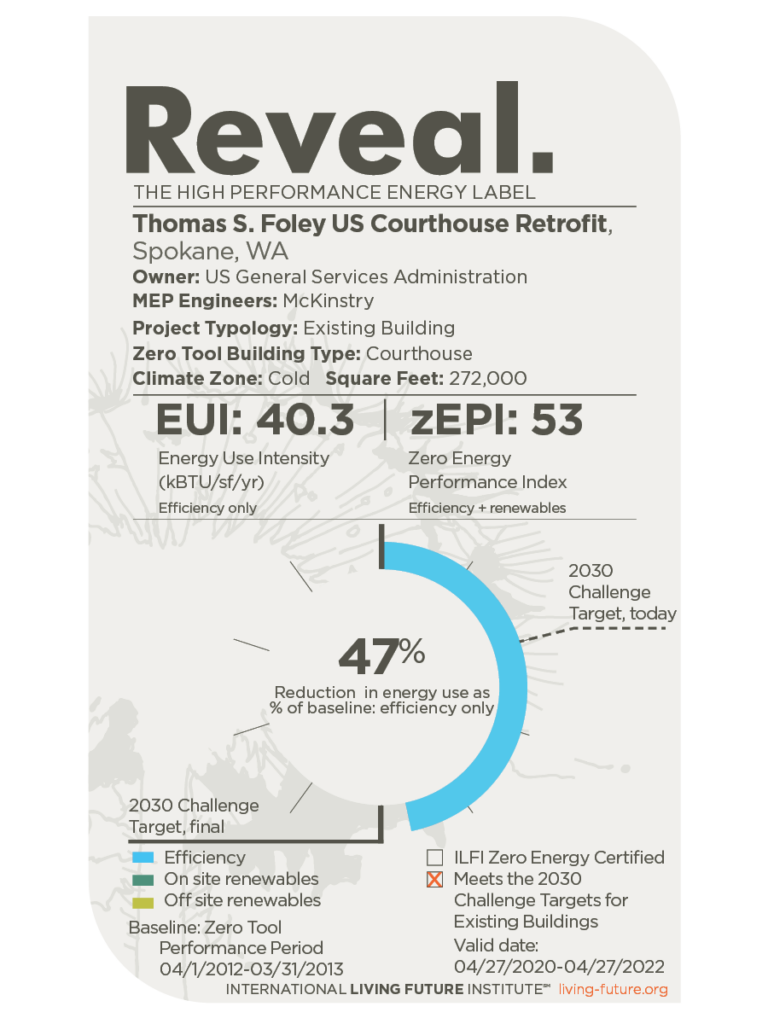 SPOKANE, WASHINGTON
Built in 1967 and retrofit in2013, the Thomas S. Foley U.S. Federal Courthouse in Spokane, WA, is a 10-story, 272,000 sq. ft. building that includes courtrooms, offices, and a maximum-security cell detention block. The U.S. General Services Administration (GSA) hired a joint venture comprised of McKinstry and Lydig Construction to modernize the courthouse and guarantee the building's performance. The GSA also stipulated that the facility would remain fully occupied throughout the renovation and set an aggressive energy use intensity (EUI) goal. With a large percentage of the design-build team's fee at risk, the risk shifted away from the owner and provided a strong incentive for the design-build team to meet the energy guarantee.
The energy retrofit scope included converting the steam heating system to a modular condensing gas-fired boiler plant, replacing cooling towers with induced draft towers, replacing the multi-zone air handling (AHUs) units with a mix of new constant volume and variable air volume AHUs, replacing all perimeter fan coil units, lighting upgrades, a full controls system overhaul and expansion, retro-commissioning, and a complete tenant improvement on one of the floors. To efficiently ventilate the building, the design-build team implemented a supply air demand-control ventilation (DCV) strategy. Using carbon dioxide sensors as a measure of indoor air quality, the system sets the airflow rates based on the concentration of carbon dioxide in the supply air. Matching the ventilation airflow rates to the actual building occupancy avoids over-ventilation and leads to heating and cooling energy savings.
Replacing 80-90% of the mechanical systems while the building remained fully occupied mandated a phased approach. A major challenge during both the design and construction phases of work was the presence of asbestos above the ceiling on each floor. Construction had to be carefully sequenced, floor-by-floor, to allow crews to install each mechanical system overnight and be functional by the next morning.
By the performance period, the Measurement and Verification team was very familiar with the building's systems and how they operated, which allowed for energy savings beyond the contractual guarantee to materialize during normal operations. Tracking daily or hourly provided an accurate picture into actual energy use that allowed for quick decisions and solutions, keeping the systems in line and ensuring actual energy use matched the modeled use. Close involvement of the commissioning, design, and M&V teams during the one-year operationally active performance period allowed for rapid and efficient responses to operations and maintenance issues that arose.