Garden Tower Project (GTP) is small company with big ideas located in Bloomington, Indiana. Committed to socially and ecologically responsible practices at every level, GTP is rapidly becoming a leader in the container garden industry. In an era of urbanization, rapidly rising food prices, and industrial farming practices that strip land and food of essential nutrients, GTP works to empower people and communities toward food security. This social mission is accomplished through the development and marketing of urban gardening tools and complementary educational support to increase distributed local food production.
The Garden Tower 2 (GT2) is the flagship product created to provide households and communities access to growing healthy, nutrient dense food anywhere regardless of climate or gardening experience. This vertical container garden and vermicomposting system transforms kitchen scraps directly into organic fertilizer to support the growth of 50 to 80 plants in a small area of only 16-square feet. The GT2's uniquely containerized nutrient cycling system increases plant productivity due to the high content of available fertilizer made available to plants by way of the patented vermicompost tube. Nearly all varieties of garden vegetables, herbs and flowers can be grown in the GT2, including tomatoes, beans, peppers, leafy greens and more. Manufactured at Burco Molding Corporation in Noblesville, Indiana, USA from materials sourced completely within the United States, the GT2 is made of domestic, non-toxic, food-grade, UV-protected, 100% recyclable, high-density polyethylene (HDPE) plastic.
Garden Tower Project began its pursuit of Living Product certification for the Garden Tower 2 in September 2015 as a means to further improve the company's environmental impact and prove leadership in the container garden and plastic industries.  GTP shares the LPC vision that products can be "beneficial, creating habitat, building soil, nourishing the human spirit and providing inspiration for personal, political and economic change."  We believe this vision is embodied in the design and use of the GT2.  As a mutual advocate pushing markets and transforming the way consumer products are manufactured, used and promoted, GTP is honored to be a participant of the LP50 and have access to ILFI's leadership.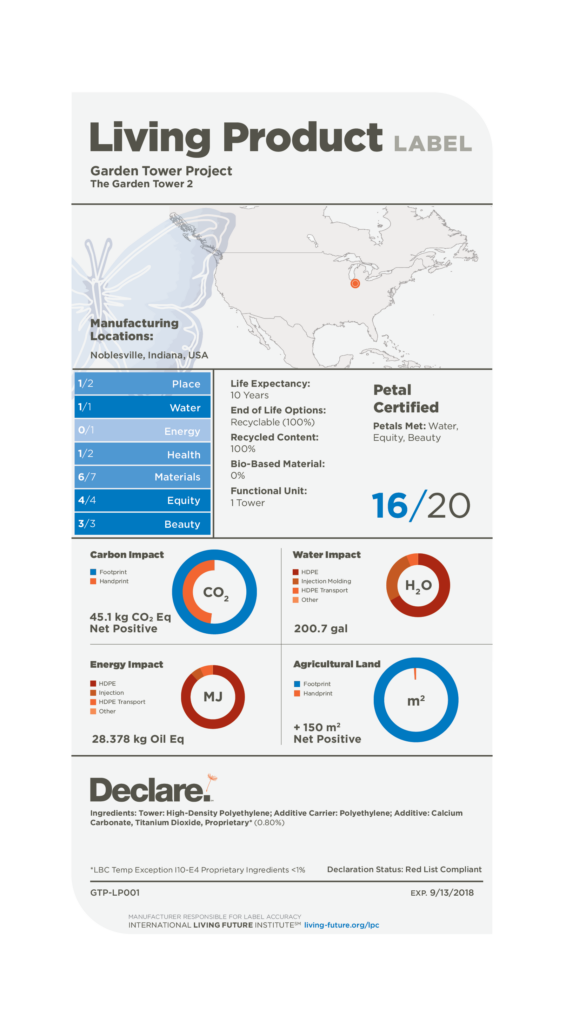 PLACE PETAL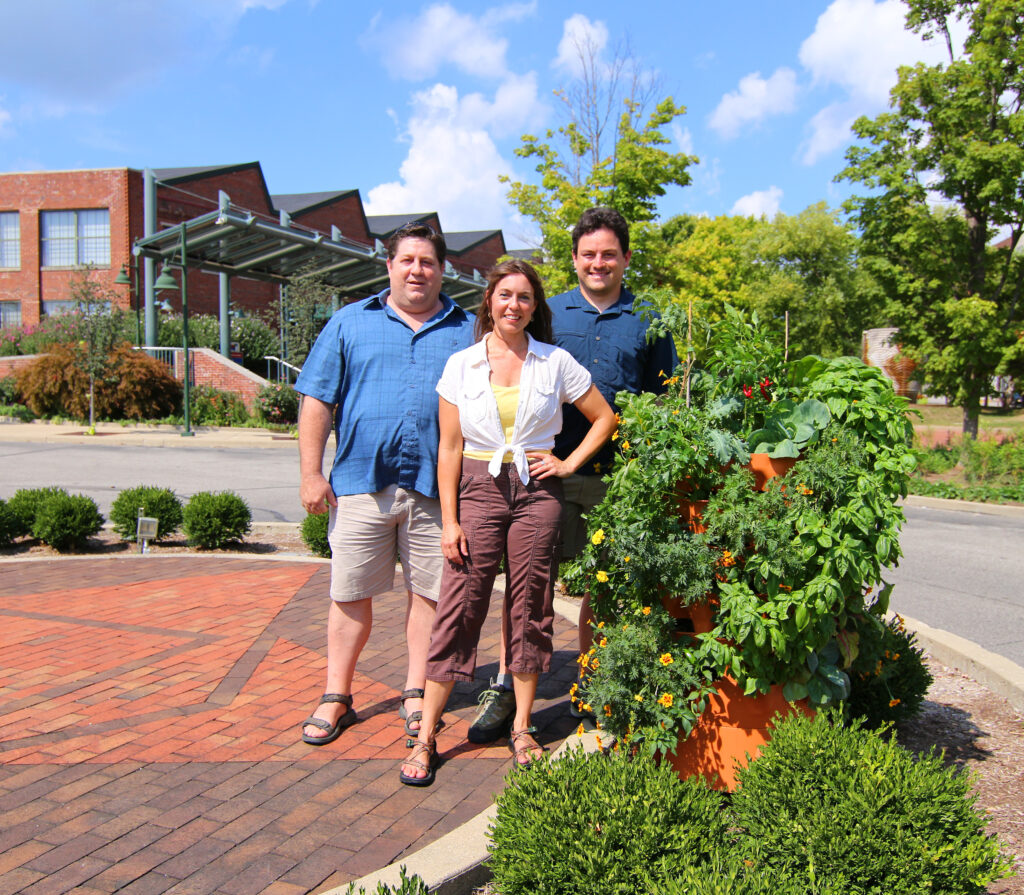 01. RESPONSIBLE PLACE AND HABITAT IMPACTS IMPERATIVE
The Garden Tower 2 is manufactured at Burco Molding Corporation, located 20 miles northeast of Indianapolis in Noblesville, Indiana, U.S.A. Noblesville is situated in the Southern Great Lakes forest ecoregion, which covers southern Michigan, southwestern Ontario and western New York, much of Indiana south to Louisville, Kentucky and the eastern half of Ohio. The area was once characterized by thick deciduous forests primarily made up of maple, beech, and oak trees. In the 1800s, the unbroken canopy of hardwoods was noted to be so dense sunlight barely broke through the leaves.
Over the last 200 years, the Southern Great Lakes ecoregion has been significantly transformed due to increased agriculture, industry, and urban development. Less than 1% of the 20 million acres of primeval forest that once covered the state of Indiana remain. The results of severe habitat loss have left little room for wildlife in the now patchwork of forests scattered throughout the region. The site of Burco Corporation, like so many suburban areas, reflects the prevailing degradation and fragmentation of the ecoregion. The remaining habitats need protection from continued urban sprawl, industrial agriculture and manufacturing. Open, unused areas need to be rehabilitated. Uniquely, Burco Molding Corporation and its neighboring manufacturer, Kings Systems, maintain some shade from older trees. There is a combined 3 to 4 acres of grassy areas surrounding the buildings. Potential may exist for businesses in this manufacturing complex to participate in habitat restoration projects in the future.
WATER PETAL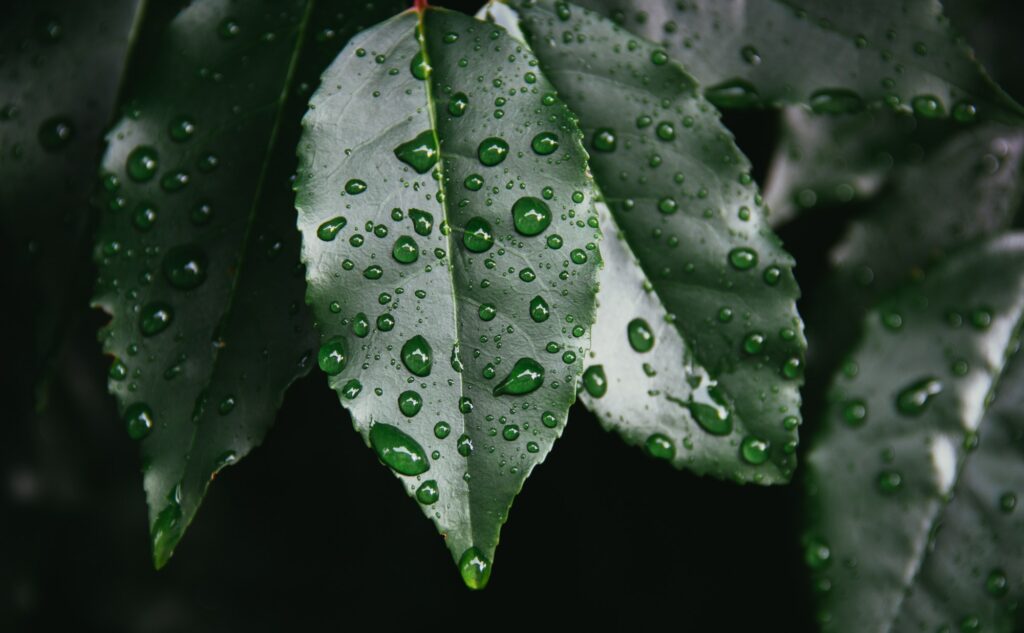 03. NET POSITIVE WATER IMPERATIVE
Burco Molding was constructed within 1.3 miles of a major hydrologic feature of central Indiana, the White River. This area of Hamilton County features numerous gravel beds and quarries as the glaciers deposited inter-till sand and gravel along the carved topography of the current White River watershed. The Burco facility uses about 0.11 mgd (million gallons per day), a volume that is consistent with typical large diameter well yields across much of Central Indiana.
No water is chemically contaminated during the molding of the GT2. The major use of water is for heat extraction to cool the molds that form each component of the GT2 assembly. Injection molding facilities generally use either an open or closed water handling system for this purpose. The Burco facility was located in an area capable of supporting industrial and municipal water extraction demands and uses an open non-contact cooling system. The production side of the Burco facility is not connected to municipal water supplies or sanitary sewage systems.
Burco extracts water from the ground at the molding facility from a 100 ft. well. In June 2016, a total of 3.2 millions of ground water were used for cooling and discharged at a permitted outlet on a tributary of the White River. Burco monitors the temperature of the discharge water leaving the facility to guarantee the temperature is at or below 70 degrees Fahrenheit to prevent thermal disruption of the downstream aquatic habitat. Burco also submits samples of the discharge water to an independent lab to monitor pH and check for contamination from contact with oil or grease in compliance with the Indiana Department of Environmental Management's issued NPDES permit for the facility.
Water extracted from Burco's well is ultimately returned to the same watershed from which it was extracted for continuous recharge along basin. This open process eliminates the need for intensive electrical water cooling/conditioning capabilities at the facility; thereby greatly reducing the total electrical needs of Burco and the ultimate embodied energy of Burco's molded products. The ability to use an open system is regionally/place/site specific and represents a major advantage to operating this type of industry in an area of plentiful water supply.
HEALTH + HAPPINESS PETAL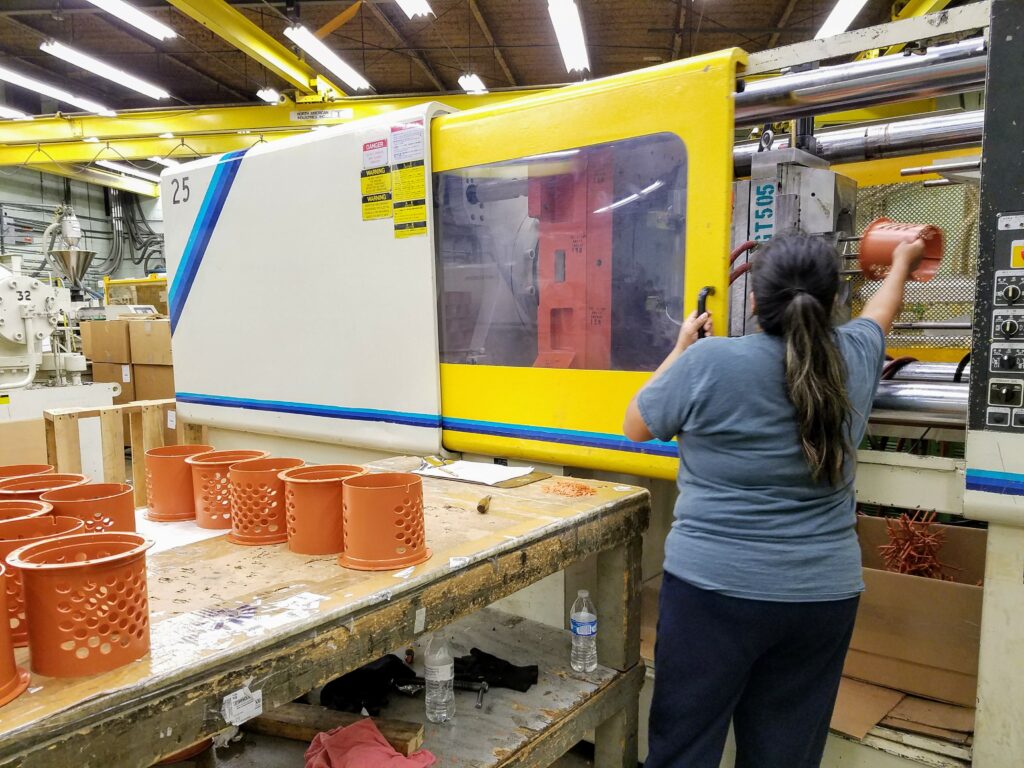 Health and happiness of the workers manufacturing the GT2 is important to Garden Tower Project. The LPC certification process encouraged a GTP to take a closer look at the working conditions at its manufacturing facility, Burco Molding. Material interaction, air quality, and opportunities to interact with the outdoors were considered.
There are no exposure guidelines related to the resin used to produce the GT2 according to Chase Plastic's MSDS for the Food Grade Injection Molding HDPE Thermoplastic Resin (PE100HDC-8M NATURAL and PE100HDC-20M Natural). Therefore, no related OSHA regulations or necessary contaminant handling protocols are dictated. The stability and non-toxic formulation of the plastic allows it to be handled without concern for human health.
Burco Molding is operated as three connected and partially contained air spaces. Each air space has its own rooftop air handlers of which every unit has the ability to pull 100% fresh air if requested. If a process is occurring in the facility that requires specific air handing procedures, Burco can manipulate the fresh airflow through the air handling units at-will accordingly. All of the air handlers are programmed to pull fresh air when outside air is within a specific temperature range.
Garden Tower Project believes the well-being of employees working at Burco Molding manufacturing the GT2 are equally as important as the benefits experienced by its end users. To encourage a healthy lifestyle and human-nature interaction at the facility, a GT2 was set-up near an outdoor picnic table where Burco employees spend time outside during breaks. Several employees came outside the facility to see, ask questions, and plant the GT2. A team of Burco employees is committed to caring for the Tower and harvesting the produce.
05. NET POSITIVE MATERIAL HEALTH IMPERATIVE
Garden Tower Project is committed to making products safe for human exposure at all stages of their lifecycle. Designed and created with very few ingredients, GT2 materials are relatively simple to track through supply and waste streams. The material composition of the GT2, 98% HDPE plus a 2% colorant additive package, is verified Red List Free, non-toxic, non-leaching, and food grade quality. GT2 materials are safe to use during the manufacturing phase at Burco Molding, as well as, during consumer use as a container garden and composter. Due to the non-toxic, Red List Free composition of the GT2, it is also safe during the end-use phase when recycled. The primary ingredient used in GT2 production is 100% fully recyclable #2 HDPE plastic. The one process chemical used during injection molding of the GT2 has also been declared Red List Free. Burco Molding Corporation adheres to all OSHA standards and has reported no deaths or serious injuries at the facility in the past year.
06. HUMAN THRIVING IMPERATIVE
The GT2 has the potential to transform human-nature relationships by providing a solution for gardening and composting in areas previously thought unsuitable for growing food. Patios, balconies, concreted areas, and places in which the soil is contaminated can grow 50 – 80 plants vertically in the GT2 in the small footprint of only 16 sq. ft. This provides a mechanism for nearly anyone, anywhere, to engage with the ecological processes of natural systems.
A full circle relationship is established between users and an ecosystem when growing with the Garden Tower 2. One of the most notable demonstrations of this interaction is the utilization of the vermicomposting feature. After growing and enjoying homegrown produce, leftover kitchen scraps are placed into the Garden Tower's patented compost tube. Nutrients from the decomposing plant matter are recaptured through this process instead of being displaced in a far away landfill. With the help of red wriggler worms, nutrients become available as fertilizer for the next generation of healthy plants. GT2 users have the first-hand experience of being actively engaged in a sustainable pattern of consumption.
Water consumption is another prominent feature of the GT2's contribution to human thriving. Water scarcity is prevalent throughout the world and to develop a truly sustainable product, water conservation and utilization were an intentional forethought in the design of the GT2. Users naturally become water conservationists as they recycle water and soluble nutrients collected in the bottom catchment drawer back into the system.
HEALTH + HAPPINESS LESSONS LEARNED
The Garden Tower 2 is one of two-dozen products made annually at Burco Molding. Many of the other products manufactured at Burco use unique and/or proprietary materials that Garden Tower Project has no control over. GTP would like to support Burco in providing the safest, healthiest, most enjoyable working environment possible for its workers. The Living Product Challenge has improved GTP's awareness for human thriving at Burco Molding. The Living Product Challenge encouraged conversations about human-thriving between GTP and Burco's owners and the leadership team. GTP will continue to promote strategies for whole facility improvements beyond the GT2 product-share.
MATERIALS PETAL

Human health and nutrition are at the forefront of Garden Tower Project's mission. The GT2 was created as a solution for food deserts, urban areas where healthy, nutrient dense food is inaccessible. Knowing this agricultural tool would be in contact with the soil and plants produced for consumption, careful consideration was made regarding the material composition of the GT2.
07. RED LIST IMPERATIVE
Garden Tower Project believes transparency in manufacturing is essential for shifting the material economy toward one that supports healthier human and non-human populations. GTP demonstrated this commitment with its very first model of the Garden Tower. As a small start-up company with little leverage or capital to source affordable non-PVC plastic for the center vermicompost tube, PVC was used to create the original Garden Tower, Gen 1.0. Information was displayed on the company's website to inform consumers of the risks of PVC.
Specifically related to the material safety and transparency, as well as, human and environmental health, GTP designed the Garden Tower 2 to be completely PVC-free. This was one of the main inspirations for the creation of the modular compost tube sections in the GT2. Taking the commitment one step further, GTP's GT2 has achieved Red List Free designation through ILFI's Declare program.
Garden Tower Project is committed to making products safe for human exposure at all stages of their lifecycle. Designed and created with very few ingredients, GT2 materials are relatively simple to track through supply and waste streams. The material composition of the GT2, 98% HDPE plus a 2% colorant additive package, is verified Red List Free, non-toxic, non-leaching, and food grade quality. GT2 materials are safe to use during the manufacturing phase at Burco Molding, as well as, during consumer use as a container garden and composter. Due to the non-toxic, Red List Free composition of the GT2, it is also safe during the end-use phase when recycled. The primary ingredient used in GT2 production is 100% fully recyclable #2 HDPE plastic. The one process chemical used during injection molding of the GT2 has also been determined to not be on the Living Building Challenge Red List.
08. LIVING ECONOMY SOURCING IMPERATIVE
FINAL PERCENTAGE OF TOTAL BUDGET SOURCED FROM RADIUS
| Distance | Percentage |
| --- | --- |
| 1000 km radius | 99% |
| 2000 km radius | 1% |
09. RESPONSIBLE INDUSTRY IMPERATIVE
Obtaining containerboard certified by the Forest Stewardship Council (FSC) for manufacturing the custom-made GT2 box proved to be a challenge. Between October 2015 and August 2016, GTP requested FSC-certified containerboard from three different suppliers, International Paper (IP), Packaging Corporation of America (PCA), and Hoosier Container. All three companies can provide Sustainable Forest Initiative (SFI) certified corrugated cardboard for the GT2 packaging; however, these companies do not currently source from FSC-certified manufacturers.
Garden Tower Project (GTP) representatives provided these three companies information about Living Product Challenge's Responsible Industry imperative, as well as, FSC standards. Industry representatives convey SFI is more suitable for containerboard manufacturing based on the belief, "The FSC certification is not generally used in [the] industry as it deals with hardwoods found in rain forests…we use softwoods," (Hoosier Container) and "…There is not enough FSC certified fiber in the US Southeast to support linerboard production," (PCA).
Packaging Corporation of America (PCA) is the current producer and supplier of the GT2 shipping box. Over 95% of PCA's raw material comes from SFI certified organizations that meet the SFI Fiber Sourcing standard. GTP will continue advocating the use of FSC certified fiber and encourage PCA to supply FSC certified container board for GT2 packaging.
10. NET POSITIVE CLIMATE IMPERATIVE
Through the ISO 14044-compliant LCA study completed through the LPC certification process, it was shown that GT2 is net positive for its climate impacts by design. The amount of CO2-eq units that GT2 has the potential to sequester over its use phase is greater than the embodied carbon of the product's materials and manufacturing processes. Manufacture of the HDPE was identified as the materials with the largest footprint, and was therefore also identified as the best opportunity for GTP to reduce its footprint through changes such as sourcing recycled HDPE.
12. PRODUCT FIT TO USE IMPERATIVE
The Garden Tower 2 is made of 100% recyclable #2 HDPE. No plasticizers, no BPA, no PVC, and no phthalates are included. The GT2 features the maximum amount of food-grade UV protection available in the industry for an expected 10-year lifespan even in harsh climates. The additives are formulated the highest amount of UV protection without going to 4% additive. This insures 5 years of UV absorbance for a thinner plastic (half the thickness of the GT2). In real life, the Garden Tower 2 is shaded part of the time from foliage. In the worst-case scenario, in which the GT2 is left outdoors year round exposed to both the sun and freezing temperatures, we expect at least a 7-year lifespan. Accelerated weather testing was explored but was found to be too costly. If the GT2 is covered or moved inside during winter, we expect an average of a 10-year lifespan.
In terms of weight capacity and stress, a 1000-pound destructive load test was successfully performed. There was no visible or functional damage to the Garden Tower 2. This test can be viewed here.
13. USEFUL LIFE DISPOSAL IMPERATIVE
Once the Garden Tower 2 reaches the end of its life cycle, it can be dropped off at any location where #2 HDPE plastic is accepted for recycling. Garden Tower users in the countries listed below can find local recycling information at the following links:
United States – http://www.iwanttoberecycled.org/
Australia – http://recyclingnearyou.com.au/
Canada – http://www.call2recycle.ca/locator/
England – http://www.recyclenow.com/
This information is posted on the Garden Tower Project website, www.gardentower.com
EQUITY PETAL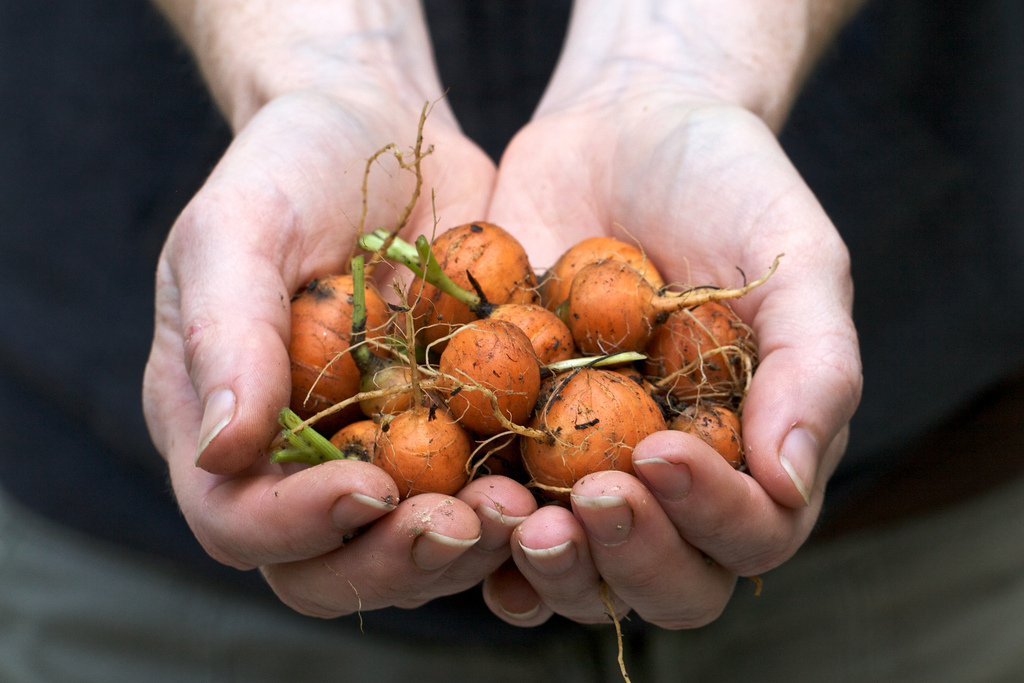 14. EQUITABLE PRODUCT ACCESS IMPERATIVE
Submitted documentation demonstrates the annualized purchase price is below the product category share specified in the product life database. Garden Tower also offers significant discounts to employees, educators, retail customers and non-profits.
15. RESPONSIBLE CO-PRODUCTS IMPERATIVE
Neither Garden Tower Project nor its contracted manufacturing company, Burco Corporation, are directly involved in the making of weapons or armaments, production of tobacco products, pornography, violent video games, or illicit drugs. Garden Tower Project and Burco do not directly engage in fossil fuel extraction nuclear energy production or nuclear weapons manufacturing. Neither company engages or facilitates prostitution, payday lending gambling, the patenting of life, or charge interest rates in excess of market peers.
16. EQUITABLE INVESTMENT IMPERATIVE
Garden Tower Project has demonstrated that it donates to schools and other organizations in excess of ¼ cent per dollar.
17. JUST ORGANIZATIONS IMPERATIVE
Garden Tower Project is exempt from the JUST requirement because it has fewer than 5 full-time employees.
BEAUTY PETAL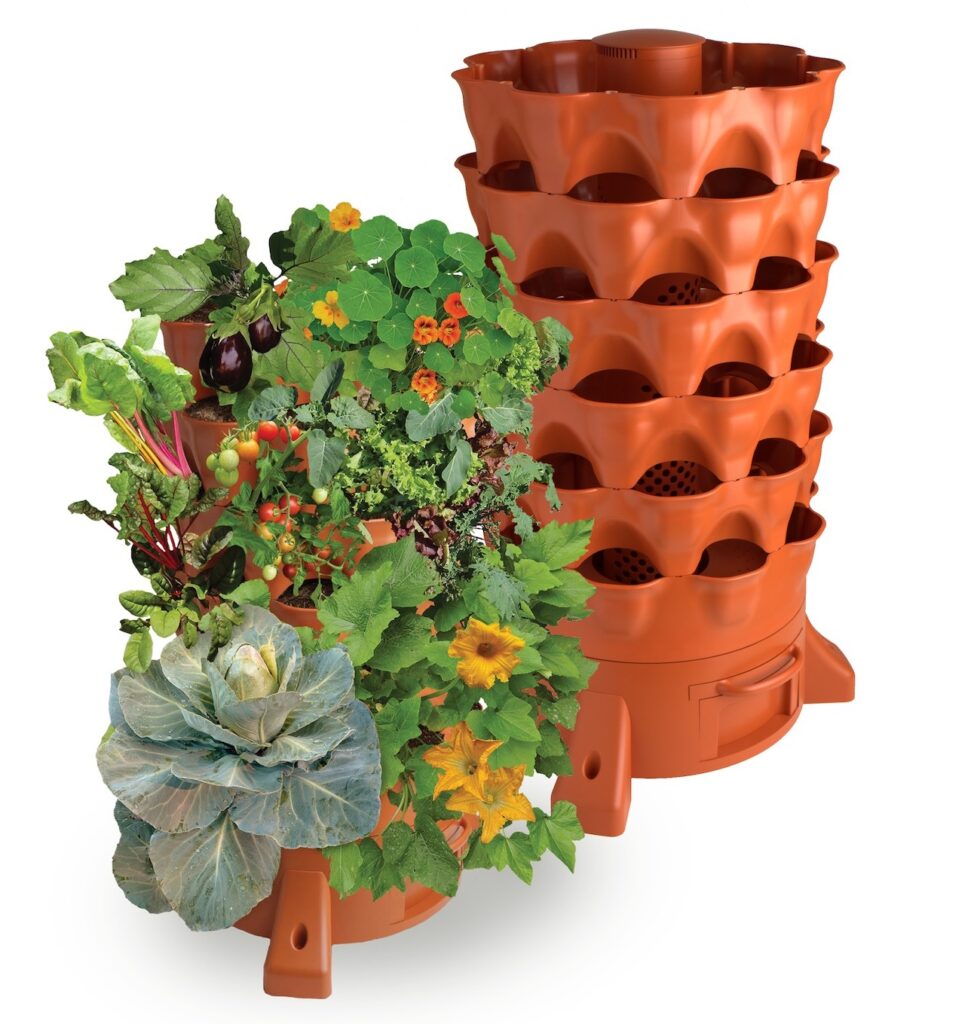 18. POSITIVE HANDPRINTING IMPERATIVE
The Garden Tower 2 is Net Positive due to its overall Handprint being larger than its Footprint across its lifecycle. Crade-to-gate, the GT2's LCA results show net-positive benefit in 16 of 18 impact categories. The greatest benefits were noted in the GT2 having a favorable, net positive impact on climate change, agricultural land occupation, freshwater and terrestrial ecotoxicity, human toxicity, and urban land occupation. These benefits are the result of this agricultural tool's capacity for distributed food production and its ability to capture nutrient by way of the compost tube where it is cycled back into production locally. By comparison, the GT2 greatly reduces the amount of fossil fuel consumption and nutrient runoff demonstrated in the use of industrial fertilizer transportation and application on large, centralized scales.
Recognizing the GT2's largest footprint is fossil fuel depletion due to its main ingredient, HDPE, Garden Tower Project will use this negative impact as an opportunity for a larger Handprint. The company is inspired and working to create a "fossil-free" Garden Tower made of plant-derived bioresin. It is anticipated that the new Garden Tower will be released within the next year.
19. BEAUTY + SPIRIT IMPERATIVE
Function for efficient, nutrient dense food production was the primary focus when designing the GT2, and yet, inspiration from nature and beauty are inherently found in the design. Shapes and forms in nature are rarely straight or characterized by hard angles. Conversely, curves, spirals, repeating and complementary patterns are demonstrated in limitless combinations. The GT2 is made up of five grow rings consisting of nine pockets. Each ring, when viewed from the top, is shaped like a flower. When viewed from the side, the GT2 appears as a 4-foot column with five tiers of alternating pockets. When irrigating the GT2, water occasionally cascades down the smooth concave surfaces next to the protruding pockets. Though the design was specifically inspired by function, GT2 gardeners take pleasure in watching the captured water run along the outer surface.
Efficient function is often recognized in beautiful forms. Colors and unique designs are prevalent in the botanical world for the purpose of function and recognized by the human eye as beautiful. Terra cotta colorant was chosen based on consumer preference and the familiar color of clay garden containers. Following efficient function, the design integrated the capacity for the GT2's five grow rings to be nested within one another, inherently and beautifully mimicking the alternate stacking form of contracted lotus petals.
Beauty can also be found in motion. The rotation functionality of the GT2 magnifies the aesthetic pleasure of the product with its smooth, graceful motion. This feature allows the user to more fully engage with the product and deepen their appreciation of its beauty by creating the opportunity for interaction. This is similar to the way that kinetic sculptures delight and amaze the viewers/participants that play with them.
Ultimately, the GT2 is an open vessel in which the gardener is the designer, customizing from a wide palette of plant varieties in desired patterns. Inspired spiral and triangular patterns of color, size, and shape are arranged by way of the gardener's hands. The gardener's engagement reflects the surrounding culture as regionally familiar plants are chosen for edible, medicinal, and aesthetic purposes within the bounds of climate. Meals made from the plants grown in the GT2 further contribute to the celebration of human-nature connections as homegrown life-giving sustenance is shared around the dinner table.
Humans find natural patterns, shapes and forms pleasing, and are even more attracted to them when the function of form is discovered. Enthusiastic GT2 gardeners continually attest that the product's form, originally designed to follow sustainable functionality, is a delight and inspiration to use.
SUMMARY OF PROCESS AND BENEFIT OF PURSUING LIVING PRODUCT CHALLENGE
The Living Product Challenge has encouraged Garden Tower Project to consider its impact, both negative and positive, as an innovative, socially and environmentally responsible company pushing the standards of the material economy. The process inspired the company to improve its waste stream management and the health and happiness of the product manufacturers. LPC facilitators and auditors provided valuable and constructive support throughout the process.