VITAL STATS
| | |
| --- | --- |
| Certification Status | Zero Energy Certified |
| Version of LBC | 3.1 |
| Location | Hadera, Israel |
| Typology | Building |
| Project Area | 9,849 SF |
| Owner Occupied | Yes |
| Occupancy Type | Educational |
| Number of Occupants | 35 |
PROJECT TEAM
| | |
| --- | --- |
| Owner | Hadera Development Company |
| Project Manager | Hadera Development Company |
| Architect | Heidi Arad |
| Mechanical Engineer | Avner Vishkin |
| Electrical Engineer | Bar-Akiva Engineering |
| Interior Design | Heidi Arad |
| Structural | Galinsky |
| Key Subcontractors | Alfa Sustainable Projects, Ltd |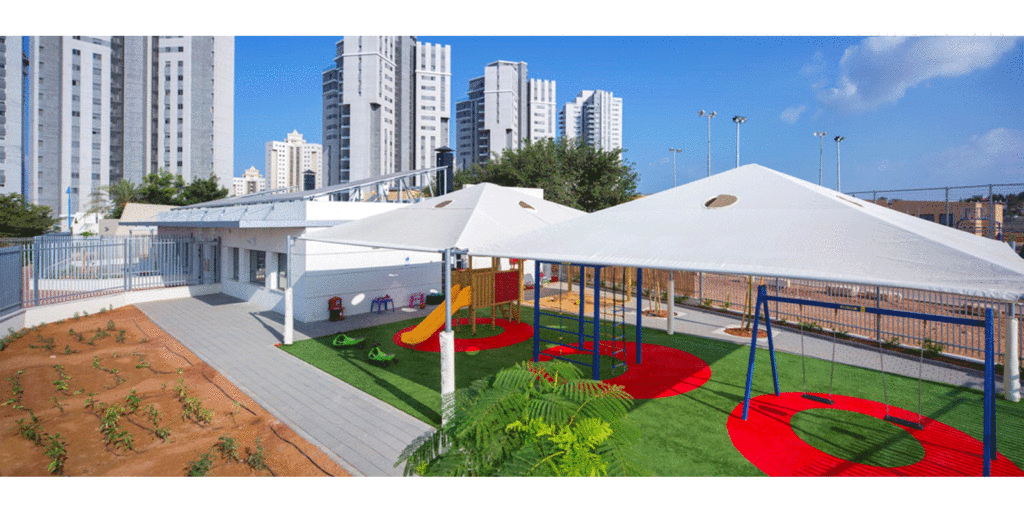 PROJECT LEADERSHIP AND STORY OF PROJECT
This project was created with the main purpose of raising awareness among the kindergarteners about sustainability, in recognition of the importance of introducing concepts at an early age. Parents, teachers and students are experiencing sustainability in their daily routines.
As part of the project handoff, teachers were trained to use the building energy management system, and to take advantage of all the sustainability features included in the design. They are using the kindergarten as a learning tool, having the children build models of PV roofs and create art projects about sustainability.
The kindergartners are also getting direct benefits from their classroom's sustainable design. According to their teacher, the children are enjoying the building's comfortable temperatures, and the classrooms have gone for weeks without active heating or cooling. "There is a pleasant atmosphere, the sunlight warms the floor, the insulated walls keep out the cold."
All involved hope that the kindergarten will inspire more net zero energy buildings in the coming years.
BUILDING SYSTEMS INFORMATION
| | |
| --- | --- |
| Roof R value | 16.7 |
| Wall R value and section specification | 8.35, wall insulation extends 5 feet (1.5m) below grade |
| Windows | Double-paned, low-e coating |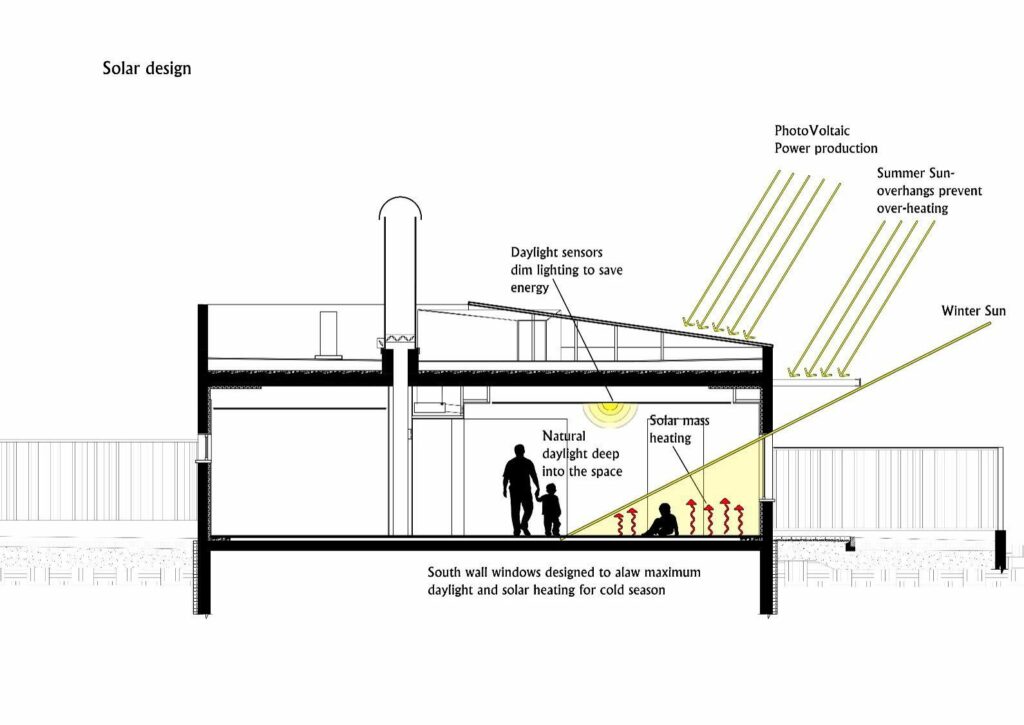 ENERGY SYSTEMS NARRATIVE
Located in Hadera, the project is the first Kindergarten in Israel to operate at net zero energy. Passive solar design, external shading, an insulated facade and natural ventilation all contribute to reduced energy consumption. In addition, the new buildings ensure a healthy space for children through control of the indoor air, testing of outdoor air, and use of non-toxic materials.
While a typical building in Israel would have no wall insulation, not only is it present in the kindergarten, it extends 5 below grade to buffer the floor from the greater temperature swings experienced at shallower ground levels.
The kindergarten's electrical power is supplied via rooftop solar PV panels, and high efficacy LED fixtures help reduce the overall installed lighting power density. The lighting fixtures in the main area are connected to a daylight sensor with 2-step control. Hot water is also generated through solar heating.
Fresh air is provided by a dedicated outdoor air system and high efficiency inverter HVAC system. An innovative solar chimney allows natural ventilation into the building, employing automated controls that allow fresh air to circulate when temperature and humidity levels are appropriate.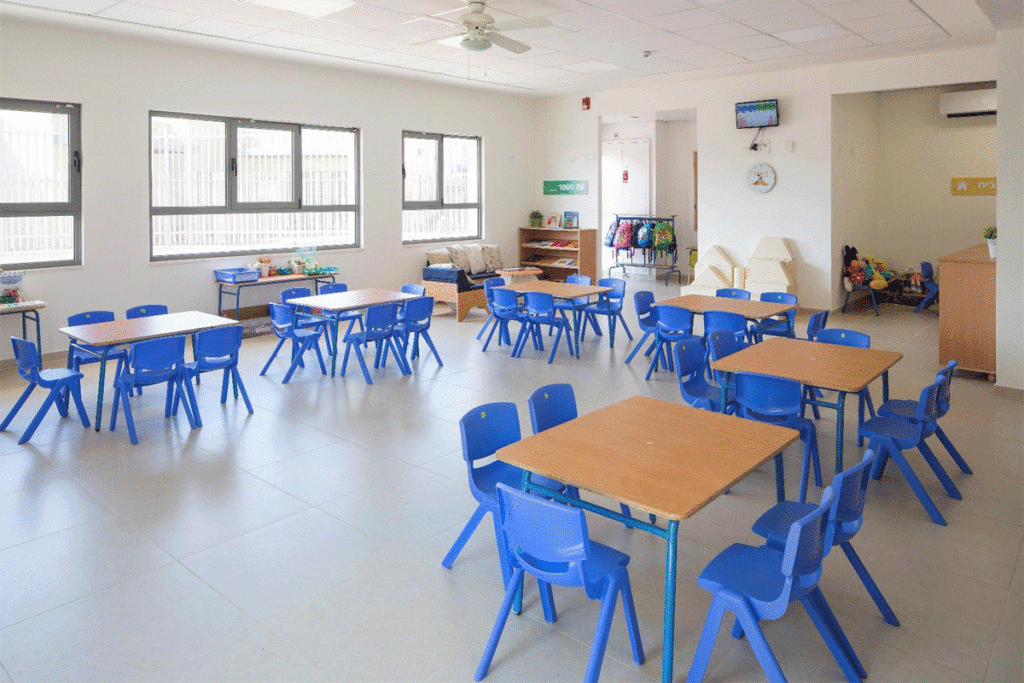 ZERO ENERGY PERFORMANCE
| | |
| --- | --- |
| Actual energy use during performance period | 14,591 kWh |
| Actual energy produced during performance period | 19,046 kWh |
| Net Energy Use | -4,455 kWh |
| EUI | 20 kBTU/sf/yr |
SOLAR ELECTRIC (PV) PANEL
| | |
| --- | --- |
| PV Array Size (kW) | 11.52 |
| PV Output Per Capacity Nameplate (W) | 320 |
| Panel Quantity | 36 |
| PV Type and Brand | JAM6-72-320/SI JA Solar Holdings Co., LTD |
| PV Inverter Quantity | 1 |
| PV Location | Rooftop |
| PV Ownership Details | Building Owner |