After bringing the Living Building Challenge to market, Jason McLennan wanted to exemplify the principles of the Living Building Challenge (LBC) in the design and construction of his family home. He wanted to model what is possible in this place that he loved, Bainbridge Island, Washington. In collaboration with local artisans, builders and technical experts, Heron Hall makes use of local industries, materials and skilled labor in what Jason terms a "localist" project. It is localist because of the salvaged nature of local materials, and the way in which the house celebrates local culture, trades and ecological systems.
During an early site visit, a beautiful heron swooped overhead, pointing the way to the neighboring estuary. It became the totem animal for the project. Jason wanted a haven for his family nested within the existing living systems, and for the family's interactions with those systems to in turn improve the health and vitality of the local estuary. Jason designed a place where his children could grow up surrounded by natural wonder, where their imaginations could run free, and where they would understand intuitively how to participate with living systems.
Having grown up in the polluted and degraded ecological systems of Sudbury, Ontario's nickel industry, Jason learned firsthand the power of regenerative acts in forming the character of an individual and a community. As a teenager, he participated in local efforts to recover ecological systems, plant trees, and build community support for clean air. Jason wanted his family to have a chance to participate with life on Bainbridge Island and to do so with a small energy, carbon and water footprint.
VITAL STATS
| | |
| --- | --- |
| Certification Status | Petal Certified |
| Version of LBC | 3.0 |
| Location | Bainbridge Island, WA, USA |
| Gross Building Area | 3,992 SF |
| Start of Occupancy | March 2017 |
| Owner Occupied | Yes |
| Number of Occupants | 5 |
Project team
| | |
| --- | --- |
| Owner | Jason F. and Tracy McLennan |
| Architect | McLennan Design |
| General Contractor | Smallwood Design & Construction |
| MEP Engineer | Integral Group |
| Water Systems Consultant | 2020 Engineering |
| Electrician | Frederickson Electric |
| Lighting Design | McLennan Design |
| Structural Engineer | Associated Engineering |
| Landscape | Mark Sindell |
| Solar Consultant | Solar Design Associates |
| Interior Design | McLennan Design |
PLACE PETAL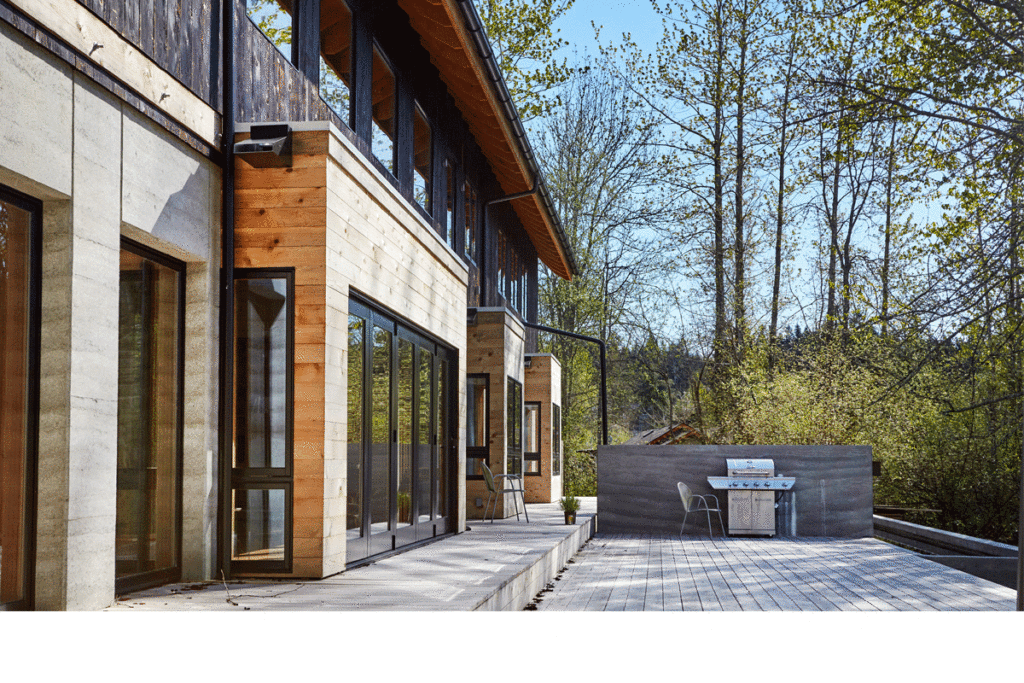 01. LIMITS TO GROWTH IMPERATIVE
In the 1980s, Gale Cool, a developer with a big vision for a large piece of waterfront property, purchased multiple tracts of land near a suburban development, including the future site of Heron Hall. Gale's work began by convincing multiple jurisdictions to reconnect historic water flows under an existing road and to gradually rebuild the tidal estuary. By installing native landscaping, and daylighting an old stream way (diverted by a suburban development) the estuary was re-established. By inviting natural function back to land where invasives had been allowed to spread and natural water flows had been interrupted, Gale undertook an ambitious restoration project that would be eagerly continued by the McLennan family as part of the Heron Hall building process. The human-encouraged, intertidal zone's function continues to improve with time and stewardship. With natural functions allowed, the site now purifies the water that moves through it. The estuary boasts the island's best birding site and some of its only salmon spawning habitat.
The McLennan family's vision of a home with an ecological restoration component aligned with Gale's vision for the property and created a synergistic partnership. Since moving in, the McLennans have removed considerable stands of invasive English ivy and blackberry and planted and retained native stands of vegetation all around the property, including the water's edge and buffers. Native sword fern, snowberry, Indian plum, western red cedar, vine maple, and salal have been incorporated throughout the site. The landscape provides a natural transition from managed landscape to the unmanaged woods beyond. A meadow area planted with native and adaptive species of grasses, ground covers, and flowers visually frames the transition from the property to the nearby estuary and seashore beyond. The site now attracts and supports pollinators, creates habitat for other native fauna, and provides the family with food.
02. URBAN AGRICULTURE IMPERATIVE
Heron Hall's landscape plan divides the managed outdoor spaces into five zones: orchestrated native, meadow, urban agriculture, exotic native and adaptive, and driveway trees. In the orchestrated native zone, specially curated native plants soften the connection of the home and gardens to the surrounding landscape with quaking aspen, western red cedar, Indian plum, vine maple, Oregon grape, several fern varieties, salal, camas, and more.
The meadow zone responds to the proximity of Puget Sound with low grasses that invite leisure and provide views for inhabitants. Here dwarf grasses, yarrow, clover and other low to the ground covers are planted.
The urban agriculture zone is comprised of the home's green roof as well as several designated planting beds interspersed throughout the rest of the landscape. Plantings include apple, persimmon, plum, and pear trees, blueberry, strawberry, and huckleberry bushes, various herbs, and vegetables. The food can be harvested by wildlife as well as by wild children who will pick while they play. Harvesting and processing the food will also be a part of their daily chores and their daily meals.
Exotic native and adaptive plants lend texture and color to the overall landscape. These plants were selected to enliven and distinguish the garden spaces from the greater surrounding landscape and include ginkgo, hellebore, anemone, gunnera, clematis, lilac, manzanita and more.
The final zone flanks the driveway and is planted with trees: dogwood and katsura.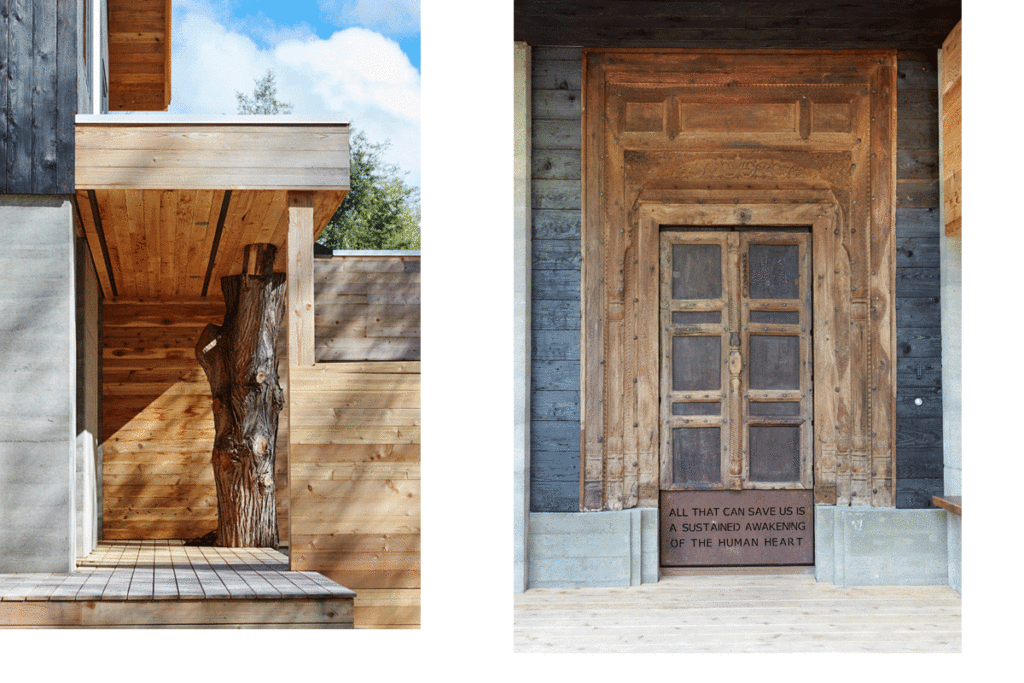 04. HUMAN-POWERED LIVING IMPERATIVE
As a single-family residence with two adults and three children currently residing in the home, Heron Hall's mobility issues are fairly minor. That said, the location and creation of Heron Hall was strategic for the family, and resulted in reduced transportation impacts and greater pedestrian autonomy by moving the family closer to the places they frequent.
The combination of several intentional factors makes for a family mobility plan with a small footprint. The decision to move closer to both Lynwood Center and downtown Bainbridge positively affected the family's transportation impacts–the new home is a mile closer to each of the children's schools and Jason's Bainbridge office, and within walking distance of a town center with many services and amenities. These include several restaurants, a wine bar, a coffee shop, a farm stand selling local produce, a convenience store, several retail and service shops, a movie theater, and a hotel, and account for the home's walk score of 29 (their previous home's walk score was 0). The owners' private vehicles are all electric and powered by photovoltaics. The childrens' regular use of school buses and the occasional ride on the public bus line that serves the area, account for the entirety of the family's daily transportation impact. Jason's world-travel footprint for work is calculated outside of the family's footprint.
The homeowners participated in community advocacy for improved infrastructure for biking in their immediate community and island-wide. Bike lanes and dedicated trails are currently being installed on the island as a result of this advocacy. Kitsap Transit has also increased their services in response to public demand from the McLennans and many of their neighbors.
WATER PETAL
05. NET POSITIVE WATER IMPERATIVE
Hydrological function of the site has recently been restored after nearly a century of disruption precipitated by development of the nearby town center of Lynwood. Restoration efforts included re-establishing an intertidal zone and restoring a stream that skirts the property. Heron Hall, designed to meet LBC's net positive water requirement, is one of the first modern residences relying exclusively on rainwater collection for 100% of its water demand. Between green roofs and metal roofs with a water catchment system, all roof water is captured, utilized, and slowly filtered into the restored aquifer. Additionally, all parking surfaces are permeable, allowing for proper drainage without the compounding effects of erosion. Composting toilets greatly reduce the demand for domestic water. There is not a connection to municipally provided domestic water, storm sewers or sanitary sewers.
This closed-loop system features a 15,000-gallon cistern allowing the home to float through four months of drought for resilience. Ultraviolet disinfection and charcoal filtering render potable water. Together, these systems make Heron Hall entirely independent of municipal water utilities. Composting toilets provide soil rather than wastewater and greywater is filtered and used for site irrigation. Photovoltaics power the water treatment system and all pumps, eliminating all water-related energy impacts. An additional agricultural cistern is situated on the south side of the home and water captured there provides all that is required to maintain the permaculture and native landscape.
BEAUTY PETAL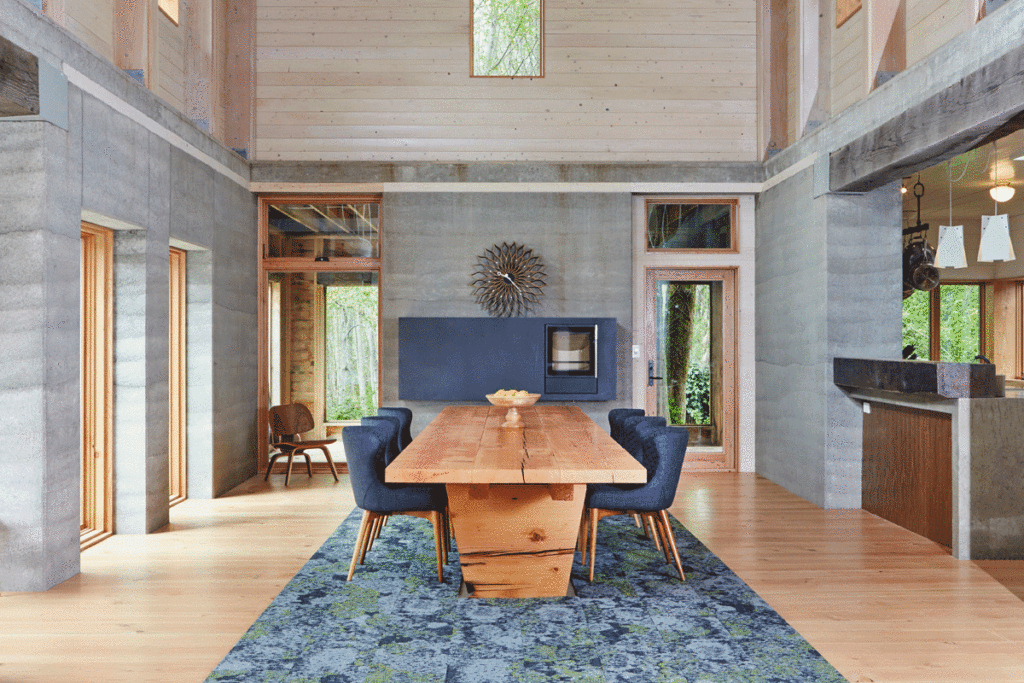 19. BEAUTY + SPIRIT IMPERATIVE
Throughout the design process, each decision was treated as an opportunity to provide multiple benefits. Though functionality was necessary, no single element was chosen solely for its functional properties. Rather, each design choice was approached as an occasion to intertwine function with the surrounding environment, and with the spirit and culture of place. Beauty was as integral a quality of each chosen element as functionality, resulting in an underlying cohesion that sets the mood of the finished home. For this reason, it is as difficult to single out aspects of the home intended solely for human delight as it is to single out aspects of the home that are functional. Elegant solutions were found to solve multiple functional challenges, many of which reference the surrounding natural beauty, the local culture of makers, craftspeople, and artisans, or a combination of all.
The project's goals and a lack of product availability encouraged several key collaborations producing deeply sustainable products and services now featured in Heron Hall, and widely available to consumers. Biophilia principles influenced these designs, producing elegant results that highlight the complementary guiding objectives of beauty and sustainability. These products include:
Outdoor pavers by Coldspring
Lichen Collection modular carpeting system from Mohawk
Sire Wall rammed earth construction
Neil Kelly FSC Cabinets
JELD-WEN Salvaged Wood Windows

Bainbridge Island serves as an enclave for artists and craftspeople, and their presence in the community was tapped extensively for artistic elements in the home. This resulted in a multi-faceted celebration of place–the artists themselves are represented by their work, and their work celebrates the natural environment from which it's made.
Salvaged materials incorporated throughout the home lend it a maturity beyond its years. These components were chosen for their stories, patinas, and references to place, nature, and history.

20. INSPIRATION + EDUCATION IMPERATIVE
The building process and site were visible and available as a community learning laboratory. Public-interfacing opportunities have included site tours throughout building stages and since completion; local, national, and international lectures presenting Heron Hall to thousands as a case study in sustainability, design ingenuity, and collaboration; and numerous articles and interviews. As a result of this attention, a second living building home is in the planning stages on Bainbridge Island. A combination of the project's goals and a lack of market availability at the time, encouraged several key collaborations that produced deeply sustainable products and services now widely available.

Biophilia principles influenced these designs, producing elegant results that highlight the complementary guiding objectives of beauty and sustainability. The way this dual focus works to promote wellness in the home's occupants is evidenced by the gathering place the home has become for the neighborhood kids. In its ten months of occupancy, Heron Hall has exceeded personal comfort goals and affected family life and the lives of the children in unexpected ways. The owners report that all the kids' friends love the home and are always stopping by–about 10 times more frequently than at their old home–lending it a magical quality.