TARKETT
For 130 years, innovation, dedication to excellence, and a long-lasting commitment to sustainability have made Tarkett a global leader in innovative flooring solutions and sports surfaces for all market segments.
Tomorrow's sustainable business models must go beyond just financial performance in order to welcome the expected world population of 9 billion people by 2050. Driven by the purpose of building a sustainable future and taking into account planetary and human health, Tarkett is determined to address the major challenges society faces today: combating climate change, sustainably managing scarce natural resources, and the development of people friendly spaces. Managing each of these challenges is essential to creating a balance of quality of life, while preserving the planet.
The Living Product Challenge™ (LPC) is a rigorous certification challenging manufacturers to use healthy and safe inputs, to optimize the health of products, create environments that promote well-being, drive circular and regenerative economies, and support a just and sustainable world.
The LPC not only evaluates a product's material health or a facility's infrastructure, but takes a deep dive into a manufacturer's approach to business, requiring them to demonstrate significant efforts behind social, environmental, and human health and thereby assessing the businesses intrinsic ability to create positive change. Tarkett believes in a good future where people and the planet prosper in balance. So we're doing good—connecting our sustainability efforts with everything our customers value most. We operate according to an active commitment to deliver on the promise of doing good by bringing the best science and innovation to every challenge. We're designing for life and closing the loop, contributing to more responsible consumption and preserving natural capital to develop sustainable cities.
JOHNSONITE RUBBER TILE
Johnsonite's Rubber Tile flooring is naturally slip resistant, has shock absorbing qualities and natural acoustic properties. Its composition of natural and recycled material is Cradle to Cradle® Bronze and FloorScore™ certified to enhance indoor air quality. Our manufacturing facility in Middlefield, Ohio operates on 100% renewable electricity and a 96.5% closed-loop water system. With a long life cycle and low maintenance requirement, rubber flooring offers greater resource efficiency than many other materials. To achieve certification was a collaborative effort; operations, marketing, human resources, product managers, legal, as well as our customers were instrumental.
With this public benchmark of Living Product Challenge™ Imperative certification, Tarkett will continue to challenge our teams and push the boundaries further. As pioneers, our goal is to inspire manufacturers across industries to follow suit. Join us in doing good to create a healthy, beautiful, sustainable world. Because next-generation products need to be breathing, regenerative, Living Products.
TOP HURDLES TO CERTIFICATION
| Top Hurdles to Certification | Description of Solutions/Changes Implemented |
| --- | --- |
| Communication | Certification was pushed into a short time frame. Given this timeframe, it was important for all stakeholders to be unified; Tarkett, ILFI, the assessor, and consultants. This certification requires participation from all departments and gaining their buy-in to expedite tasks is difficult. Clear communication between all stakeholders was essential for alignment and forward movement. |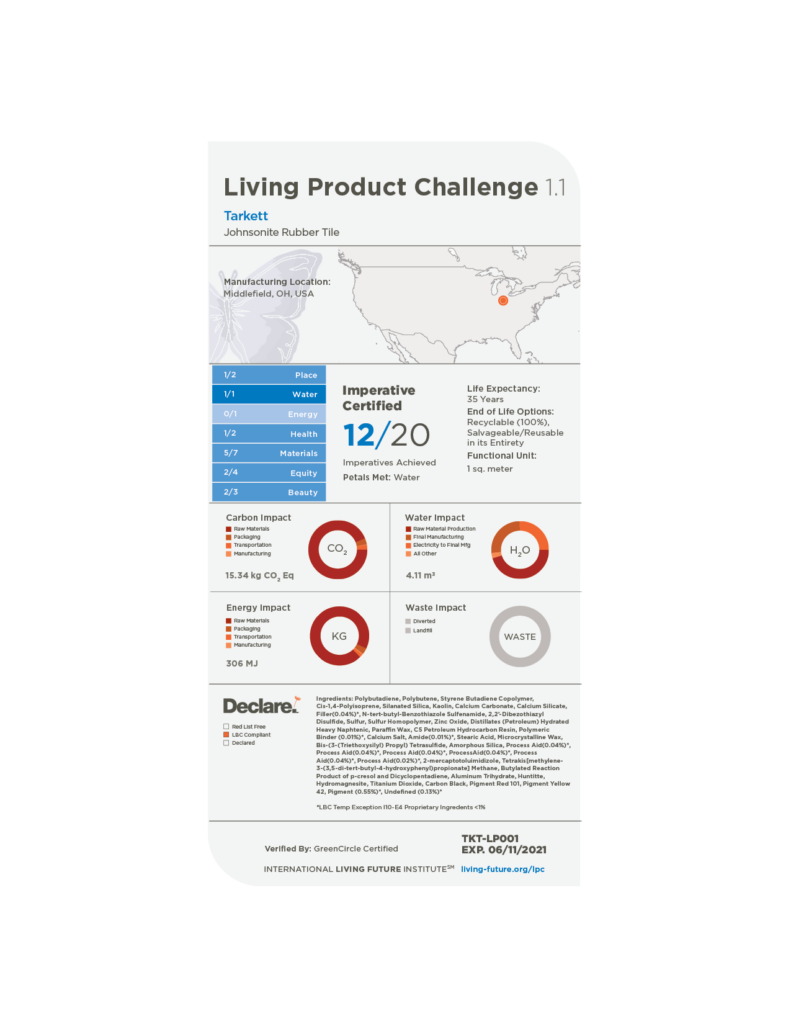 PLACE PETAL
01. RESPONSIBLE PLACE AND HABITATS IMPERATIVE
Tarkett's Rubber Tile plant in Middlefield, Ohio is located in the center of the Southern Great Lakes Forests, which span across Indiana, Michigan, Ohio, Pennsylvania, New York, and Ontario. Known for their sugar maple and beech trees, these species historically comprised 80% of the forests' canopy prior to industrialization.
In 1873, a narrow gauge railway was constructed between Painesville and Warren, which made it possible to locate industry in Middlefield. Members of the Johnson family formed The Ohio Pail Company in 1895. In 1925, the business was sold and the family launched Johnson Rubber Company. They developed the first integrated steel pail with a rubber gasket sealed lid, replacing the wooden pail. This provided environmental benefits by reducing the need for timber and prevented leakage of toxic materials into the environment. With its success, the market grew and catapulted Johnson into the automobile industry, Johnson Rubber was born.
Aiming to diversify, the company made its first foray into the floor covering sector in 1964 with the launch of a line of baseboards and floor coverings in the 1970's. As they grew, the Rubber Tile manufacturing lines moved from the Chagrin Falls plant to its current site in the 1990's, a designated industrial zoned area. Tarkett acquired Johnsonite in 2005.
This facility site and its operations do not contribute to forest loss or degradation, displacement or harvesting of fossil fuels, dredging of rivers, or filling in of wetlands, all activities which negatively impact this ecoregion. The Middlefield facility has improved the site over the years with native landscaping, site grading, and surface water amenities to efficiently infiltrate storm water into underlying soil.
WATER PETAL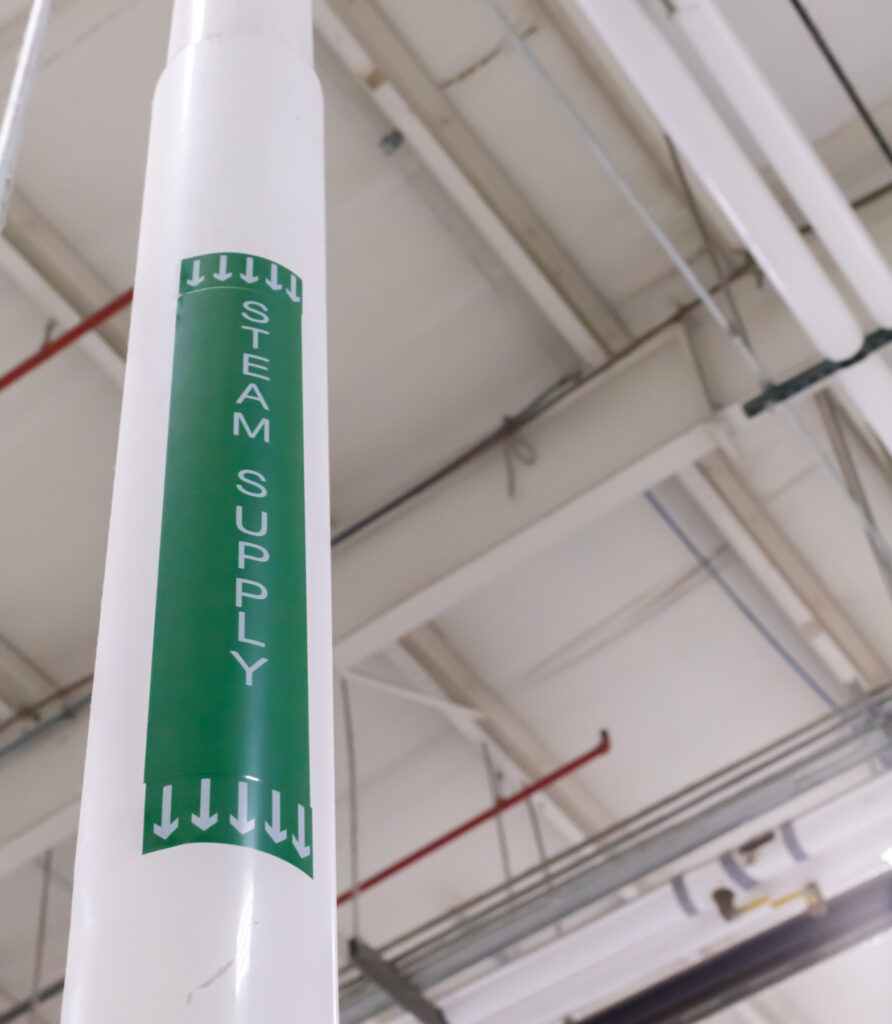 03. NET POSITIVE WATER IMPERATIVE
The requirements for LPC are that the manufacturer demonstrate that they are Net Positive for water both on-site and also create a 3-year plan to become Net Positive within the life cycle of the product.
ON-SITE NET POSITIVE
The Middlefield facility utilizes the village water supply, which is treated well water. The overall facility water demand per year is 2.55 liters per square meter and is currently a 96.5% closed loop system. LPC requires that only the product share of facility water be offset if the product comprises less than 75% of the facility output by cost or weight. Therefore, the product share of water for just the rubber tile product is more than offset by the facility-wide system.
Two hotspots, the calendar line and Thermoset Base (TSB) process (not a rubber tile line) are not closed loop. In June 2018, there will be an ultra-filtration trial on the calendar line to reuse the 700-gallon tank that is dumped out weekly due to bacteria growth. If successful, this filtration system will be implemented by the end of 2018 and a trial for the TSB process will follow at the beginning of 2019. There is a small amount of backwash from machinery that goes to sanitation.
In all other processes, water is recirculated for reuse. The same water travels through the chillers, through the hydraulics system, into the pit, and then back to the chillers to circulate again. Steam boilers heat the plats (used to mold the rubber) to finish the product. There is no evaporation since there is a diminutive window of opportunity for the water to access air.
An onsite engineer captures water usage data weekly. Next quarter, the site will purchase new meters that will monitor specific equipment for better accuracy.
LIFE CYCLE NET POSITIVE
Tarkett has committed to becoming Life Cycle Net Positive for the Johnsonite product within three years. In order to do this, Tarkett first measured the Life Cycle impacts of the product for the full production of the rubber tile product. Tarkett then created a Handprinting Plan designed to create a Water Handprint greater than the Footprint of the product in order to become Net Positive. Over time, the manufacturer may adjust the plan as needed to achieve Net Positive.
Tarkett plans to create a Water Handprint through its partnership with EarthEnable. By enabling conversion of  dirt floors to earthen floors in lieu of concrete floors, each home will effectively reduce its need for water on average by 264 gallons.
| | |
| --- | --- |
| Water consumption per unit of measure: | 4.11 cubic meters |
| On-site water annual use: | 2.55 liters per square meter |
| LCA Unit of Measure: | 1 square meter |
HEALTH & HAPPINESS PETAL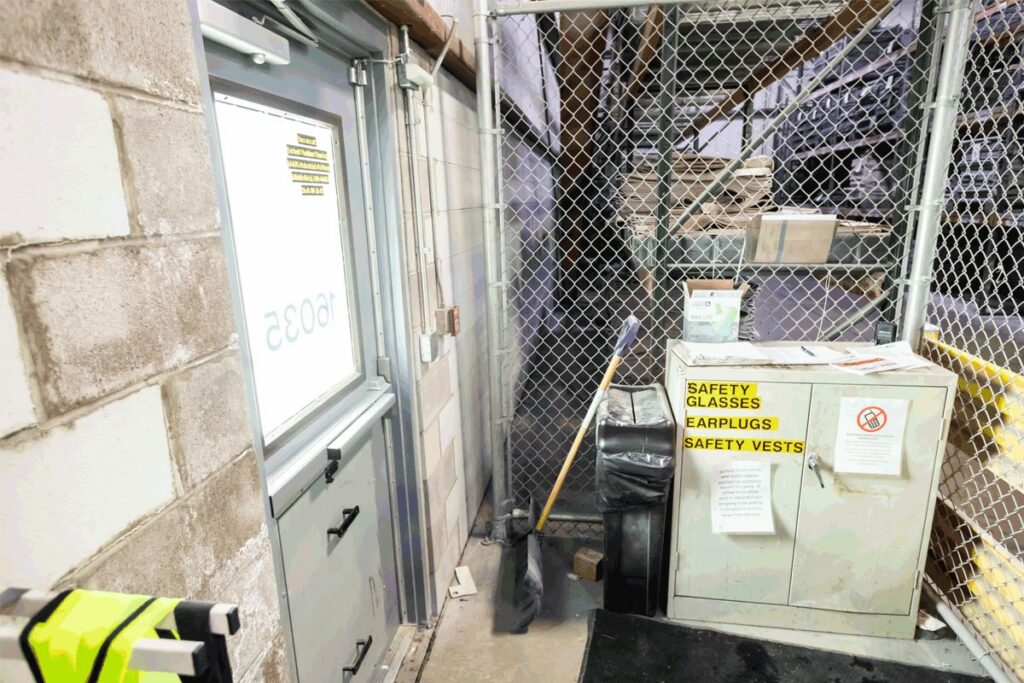 In 2016, Tarkett undertook a materiality assessment, a survey to ensure that its sustainability policies are aligned with external and internal stakeholder expectations. Four key topics stood out unanimously: health and safety at work, health and safety of product and materials, environmental impact of products, and resource and material use. These results are fully aligned with our sustainability principles and strengthen Tarkett's strategic direction, which aims to develop eco-innovation fostering indoor air quality, healthy spaces, responsible use of resources, and the circular economy, while applying high standards of ethics principles across its value chain.
"What makes us stand out is that sustainability is so embedded in our organization. Not only does it drive new product development, but also reaches operations, marketing, and our partnerships with suppliers and customers. What inspires this holistic approach is the importance of health and well-being in relation to the built environment. As a result, we've influenced the industry long before these terms were commonplace.
Sarah Robinson-Enaharo – Product Sustainability Manager, Tarkett North America
06. HUMAN THRIVING IMPERATIVE
Tarkett is dedicated to creating a healthy and safe workplace. In 2016 a survey was sent to employees about what wellness programs Tarkett should expand; 54% were interested in fitness programs. In 2017, Tarkett introduced two walking challenges with teams from all sites. Teams of up to eight people collectively reach a daily 7,000 step goal. Discounted walking trackers are available and weekly raffles entice participants.
Other priorities for employees were education on nutrition, stress and weight management. In 2017, programs included onsite cooking demos, blood pressure screenings, chair massages, flu shots, and seminars on cancer prevention. All programs are to promote a healthy active lifestyle.
In addition, employees have access to four outdoor sitting areas located near each exit directly off the manufacturing floor where natural light is prevalent. In the warmer months on Tarkett Cares days, organized volunteer events for organizations such as United Way are outdoors. Discounted walking trackers are available and weekly raffles entice participants.
Tarkett is dedicated to empowering our employees who in turn influence the type of wellness programs offered. To support employee health and wellness, classes on nutrition, stress and weight management, onsite cooking demos, blood pressure screenings, chair massages, flu shots, and seminars on cancer prevention.
MATERIALS PETAL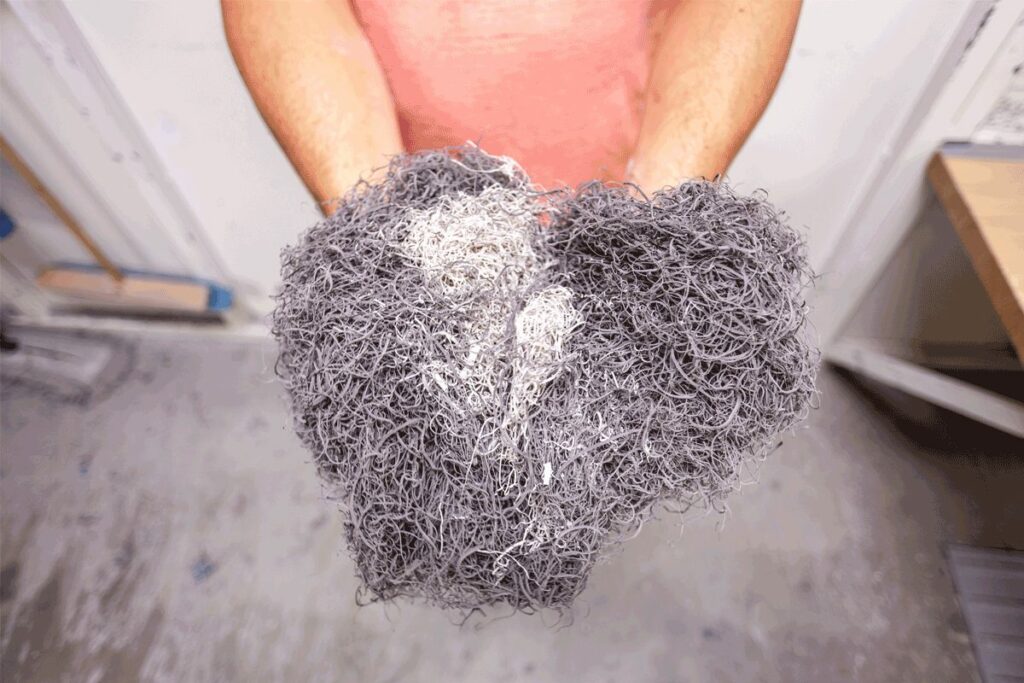 07. RED LIST IMPERATIVE
Since 2010, materials across Tarkett's 34 global manufacturing plants have been assessed by the Environmental Protection and Encouragement Agency (EPEA).
In 2012, Tarkett's leadership realized more detailed information and assessments of product materials should be made public to assist consumers in making more informed purchasing decisions. Our solution was the creation of the Environmental and Health Statement (EHS), a full disclosure of the potential chemicals of concern in Tarkett products. In each EHS, we compared our own product ingredients to a set of priority hazard lists, based on lists from government agencies and GreenScreen for Safer Chemicals.
At the time, a review of existing disclosure documentation revealed that the available transparency tools may not provide a complete view of the impact building products have on both human health and the environment. In 2013, Tarkett engaged with EPEA to launch the Material Health Statement (MHS): a declaration of content and material health based on the Cradle to Cradle® principles. The MHS is based on an ecological and toxicological assessment of material ingredients. The methodology of the Cradle to Cradle Material Health Assessment is science-based, widely accepted in the building and design industry, and easy to understand. The Material Health Statement is intended to address the environmental and human safety of a finished product (including worker exposure) and the potential for post-use resource recovery.
As customers demanded simpler manufacturer-driven material inventory and for customers driven by ensuring no Red List ingredients were present in a product, Tarkett pursued and received a Declare® label for its Johnsonite Rubber Tile and it does not have any of the chemicals on the list.
"Ninety-six percent of our materials, about 3,000 chemicals that we procure globally, have been assessed to date. This is a monumental achievement. We want to understand our chemistry. When you do, you can optimize your products more rapidly."
Dhruv Raina – Product Stewardship Director, Tarkett North America
In 2017, Tarkett added REACH (Registration, Evaluation, Authorization and Restriction of Chemicals) compliance, a regulation of the European Union, to compare our raw materials inputs as part of our drive towards optimization.
Because of Tarkett's assessment, we were the first flooring manufacturer to eliminate phthalates plasticizers from our products.
09. RESPONSIBLE INDUSTRY IMPERATIVE
In 2010, Tarkett joined the United Nations Global Compact as a signatory to mainstream the ten Global Compact principles in the areas of human rights, labor, environment and anti-corruption in all its business activities across the world. By embedding these principles within our supply chain, we can ensure how many of our suppliers actually adhere to these principles themselves. Tarkett continues to elevate these discussions inside the World Economic Forum, in addition to aligning with the UN Sustainable Development Goals. These collaborations are challenging us and are guiding our commitment to making a positive contribution to global challenges.
In addition to respecting local labor legislation, Tarkett applies in all the countries in which it operates the same respect for its fundamental values and principles of freedom of association, and in particular, respect for trade unions. Tarkett does not tolerate the use of child or forced labor in any of our operations and facilities. As a purchaser of goods and services, we expect our suppliers and contractors with whom we do business to uphold the same standards. We provide living wages that should always be enough to meet basic needs and provide discretionary income. These wages are reviewed every couple of years.
Due to life cycle thinking driving the product development process, Tarkett's rubber tile has achieved positive design milestones along the continuum of improvement and is suitable for cycling perpetually, using ingredients that are safe and beneficial – to be fully recycled into high-quality materials for subsequent product generations, again and again. This allows Tarkett to eliminate the concept of waste and recover value.
DECLARE ID: TKT-0002
10. NET POSITIVE CLIMATE
Tarkett's Doing Good—Together platform is inspired by the world's most ambitious sustainability goals and organizations. From our membership in the World Economic Forum to our participation in the UN Global Compact and our alignment with the UN Sustainable Development Goals, we're committed to big ideals and positive action, working for the health of our products, our world, and a good future for all.
One example of how we translate bold goals into action is through our partnership with organizations such as Earth Enable. Earth Enable started with a dream to improve health outcomes through simple and affordable solutions. Traveling through Rwanda, the founders first sought to understand how sub-optimal homes affected physical and emotional health outcomes and were shocked to discover the significant health problems that dirt floors cause. Eliminating a dirt floor from the home results in dramatic reductions in childhood asthma, diarrhea, malnutrition, and parasitic infestations. They realized that they could change lives if they found a way to floor Rwanda.
Dust floors are a public health nemesis, dust is kicked up, spills and puddles stick around, and the floors of peoples' homes become a breeding ground for mosquitos, parasites, and all of the disease that comes with them. Earth Enable's custom-developed earthen floors eliminate unsanitary dirt floors and provides affordable, sanitary flooring that can be washed, cleaned, and used to create a healthy home environment for millions of people. The goal is to reduce healthcare costs, curb carbon emissions, and strengthen rural economies.
Tarkett is in the process of developing a longer term protocol in support of Earth Enable that includes, but is not limited to, technology transfer, access to Tarkett's research and innovation (R&I) facilities, helping Earth Enable scale the 40,000 square meters of flooring that were installed through the end of 2017, to rapidly and economically cover the entire nation of Rwanda and neighboring Nigeria. The primary emphasis of this project is to increase the durability and longevity of the floors resulting in significant impact to social and economic health of the people in the region. This Handprinting Plan will assist in Earth Enable's mission to floor Rwanda and contribute to Tarkett's Handprint through the avoidance of concrete floors that might otherwise be installed in homes.
| | |
| --- | --- |
| Name of Carbon Offset Project: | Earth Enable |
| Location of Carbon Offset Project: | Rwanda |
| LCA Unit of Measure: | 1 square meter |
| Life Cycle Assessment Results for Climate: | 16.4 kg CO2-eq |
12. PRODUCT FIT TO USE IMPERATIVE
Rubber Tile is known as the most durable resilient flooring in the industry. Tarkett performs the ASTM D 3389, a test that measures abrasion resistance by an independent lab. If less than 1,000 grams of material is abraded after 1,000 cycles as specified in the testing procedure, the product passes the test. There have been no wear failures of the Johnsonite brand of rubber flooring when maintained according to Johnsonite written directions.
13. USEFUL LIFE DISPOSAL IMPERATIVE
Onsite, Tarkett's Rubber Tile is 100% repurposed into chips for our Speckled Rubber Tile and Dropzone Speckle Rubber Flooring in our Sports division.
Additionally, Tarkett offers a waste-to-energy take-back program for disposal. The Huntsville Solid Waste-to-Energy Facility, operating in Covanta Huntsville, Inc., is located on 20.5 acres adjacent to Redstone Arsenal in Huntsville, AL. Covanta Huntsville produces nearly 180,000 pounds of steam per hour, which travels through a six-mile long export line for the arsenal's heating and air conditioning needs.
EQUITY PETAL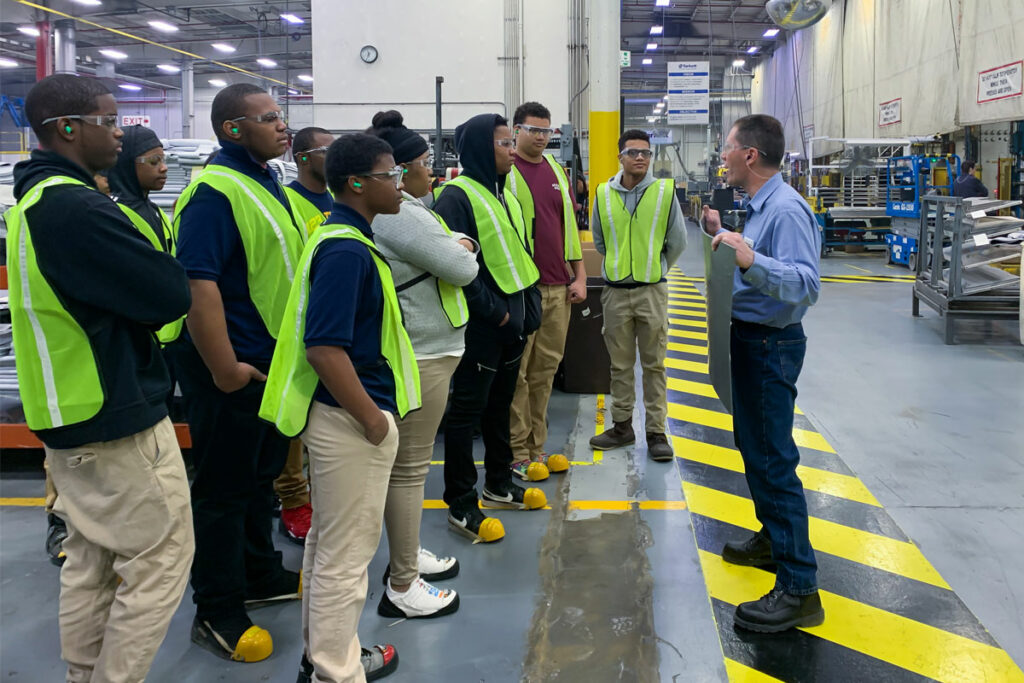 14. EQUITABLE PRODUCT ACCESS IMPERATIVE
In 2018, Tarkett North America donated flooring products valued at $400,000 to Habitat for Humanity as part of the global corporate social responsibility initiative, Tarkett Cares. The partnership began during the 2017 hurricane season with the donation of $250,000 of Johnsonite and Tandus Centiva flooring to aid with Habitat's disaster recovery and rebuilding efforts in Texas and Florida.
In addition, Tarkett is supporting Home Builders Blitz with a donation of $150,000 in product to help build safe, affordable housing for families in need. The Home Builders Blitz is a week-long initiative each summer that enlists help from thousands of professional home builders who work alongside Habitat homeowners and volunteer their time and talents to construct, repair, and revitalize homes.
In recognition of its outstanding commitment to the betterment of low-income housing, Tarkett has been inducted into the prestigious Habitat for Humanity Cornerstone Council.
15. RESPONSIBLE CO-PRODUCTS IMPERATIVE
Tarkett and its subsidiaries, including product brands Johnsonite and Tandus Centiva, do not manufacture directly or indirectly, sell or provide any of the goods or services below:
Weapons or armaments of any kind
Tobacco products, pornography, violent video games, or illicit drugs
Engage in fossil fuel extraction
Engage in nuclear energy production or nuclear weapons manufacturing
BEAUTY PETAL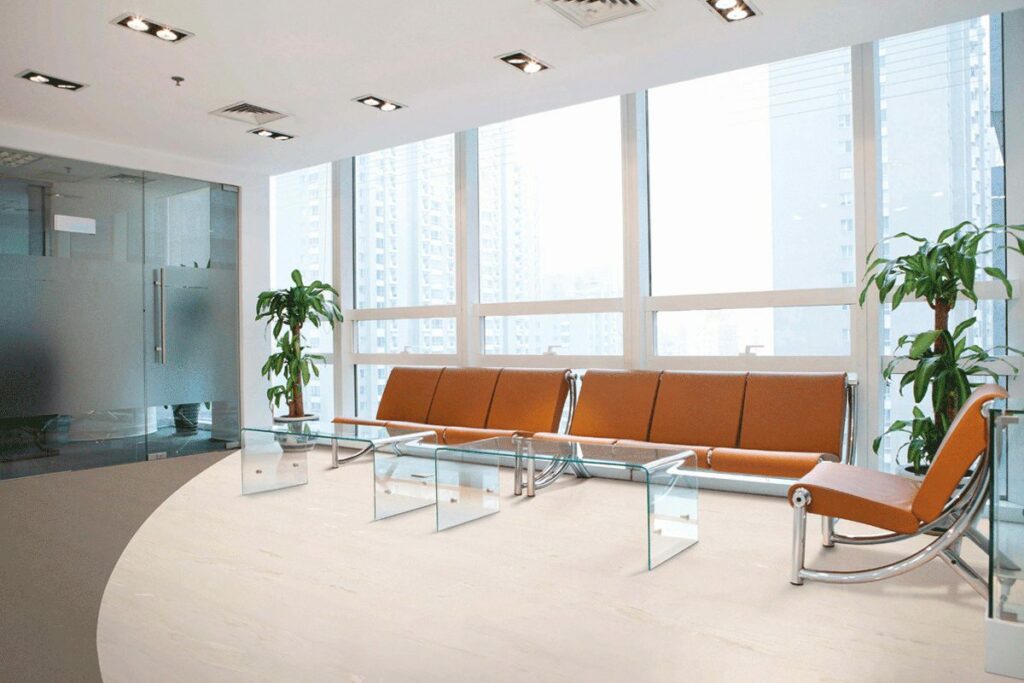 19. BEAUTY + SPIRIT IMPERATIVE
"Rubber flooring has been perceived as industrial, performance-driven, and utilitarian. Regarding design, rubber has traditionally been flat—solid colors with specs. My job is to elevate the perception of rubber and expand where designers can use it. To make it look more organic, softer, layered, and sexier. Texture allows that. I appreciate how nature affects organic matter. Similar to a stone, the colors flow naturally in streaks, giving it a weathered feel. Color inspires me and I love patterns that allow our products to work in any space. It's a luxury to be a part of the process, from concept, strategy, rough work, marketing, and manufacturing. It's amazing to see your ideas come to fruition. All to make a product that affects people's lives daily and eases transitions. A place where a caregiver can communicate with a patient, give comfort and warmth in senior living, allow ease of mobility. To contribute to that, it's fun and, as a designer, it's a great challenge. To design rubber so they don't even know it's a rubber. It's a compliment."
Janette Murray – Senior Design Manager, Tarkett North America
From distinctive textures to metallic sheens, marbleized patterns to formulas made with renewable cork and walnut shells, these style collections test what's possible with rubber flooring and reconnect us to the natural world.
Universally embraced for its practical beauty, our rubber flooring collection balances function with aesthetics, safety with efficiency and short-term cost with a lifetime return—combining style and design flexibility with the brute strength of this sustainable material. An expansive palette of colors, patterns, textures and shapes gives you thousands of possible combinations to create a truly unique environment. Beyond the standard color palette, Johnsonite can also match a custom color, helping craft just the right solution with comfort and style.
20. INSPIRATION + EDUCATION IMPERATIVE
LPC PAGE URL: https://commercial.tarkett.com/en_US/node/living-product-challenge-3811