VITAL STATS
| | |
| --- | --- |
| Certification Status | Zero Energy Certified |
| Date of Certification | September 21, 2017 |
| Version of LBC | 3.1 |
| Location | Seattle, WA, USA |
| Typology | Building |
| Project Area | 3,680 SF |
| Start of Occupancy | June 2016 |
| Owner Occupied | No |
| Occupancy Type | Office |
| Number of Occupants | 18 |
PROJECT TEAM
| | |
| --- | --- |
| Owner | 1257 King, LLC |
| Project Manager | Julian Weber |
| General Contractor | Belotti + McHugh Design and Construction Services |
| Architect | Julian Weber Architects, LTD. |
| Lighting Design | Jaidee Weber |
PROJECT LEADERSHIP AND STORY OF PROJECT
JW Architects has been on a four-year journey to design, build and achieve Net Zero Energy in their new office building, located at 1257 South King Street in Seattle. Their office is the only second office building in Seattle to achieve certification. In 2014, JW Architects selected the site in the urban core of Seattle for its proximity to their homes, projects, and transit options. The project supports alternate transit with bike parking, showers and clothes storage.
"We worked as a team to create a building we could all stand behind," said Julian Weber, Founding Principal. "Our vision included net-zero energy use, balanced daylighting and flexibility for future growth. Every employee at the firm had a role in the building, making it a uniquely collaborative process."
The 2-story, 3,600 SF office building has blown-in insulation, LED lighting, a tight envelope, and windows placed for views but minimal heat loss or gain. The natural light that floods the building also allows the occupants to go through their workdays with minimal overhead light. The saw-tooth roofline and clerestory windows support energy efficiency goals and complement the industrial nature of the food manufacturing buildings in the neighborhood.
The architecture and landscape were inspired by Japanese minimalism. Simple lap siding covers the east and west facades, and traditional Japanese Shoji screens influenced the design of the north and south facades.
To make the journey come full circle, King Street was awarded an Honorable Mention at the 2017 AIA Seattle Honor Awards.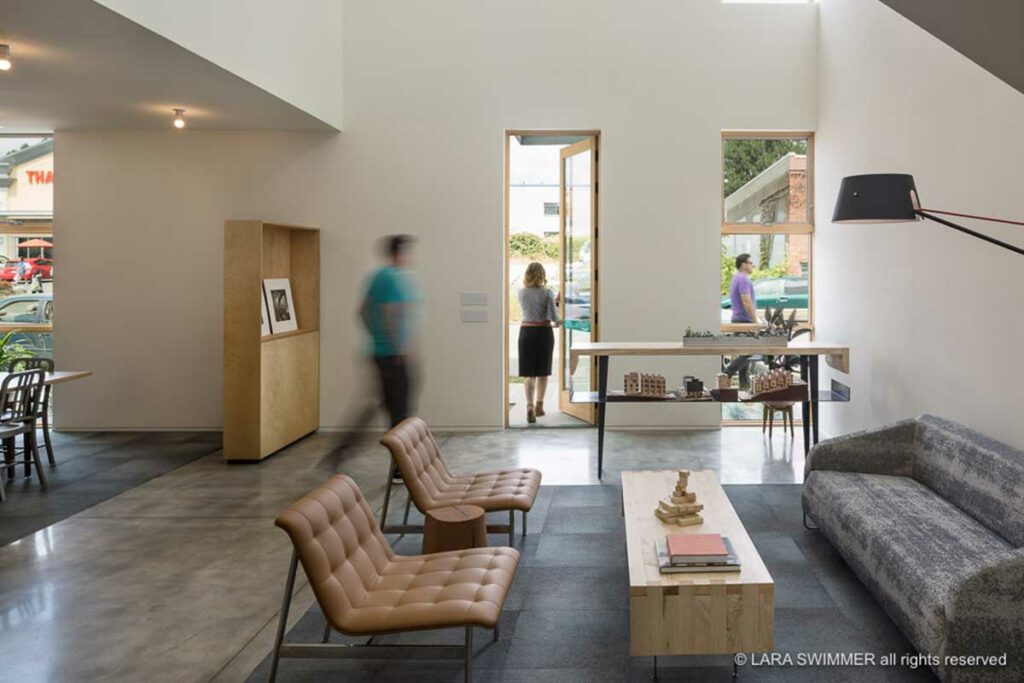 ENERGY PERFORMANCE
| | |
| --- | --- |
| Actual energy use during performance period | 18,822 kWh |
| Actual energy produced during performance period | 28,187 kWh |
| Net Energy Use | -9,365 kWh |
| EUI | 17.5 kBTU/sf/yr |
BUILDING SYSTEMS INFORMATION
| | |
| --- | --- |
| Roof R-Value | 75.9 |
| Floor R-Value | 18.1 |
| Wall R-Value | 40.3 |
| Wall Section Description | 2×8 stud wall with blown-in fiberglass insulation and 2 inches of rigid insulation. |
| Window-Wall Ratio | 19.4% |
| Window U-Valve | 0.25 |
| Window SHGC | 0.37 |
| Window Description | Aluminum Clad Wood – Double pane Advanced Low-E Insulating Glass with Argon |
| Lighting | LED Lights, Daylighting, Occupancy Sensors, Vacancy Sensors, Furniture-based Lighting Systems |
| HVAV System Characteristics | Passive Cooling, Passive Thermal Mass |
| Ventilation | Heat Recovery Ventilation (HRV), Natural Ventilation |
| Occupancy | Occupant Training, Occupant Engagement Strategies, Occupant Feedback from Monitoring System |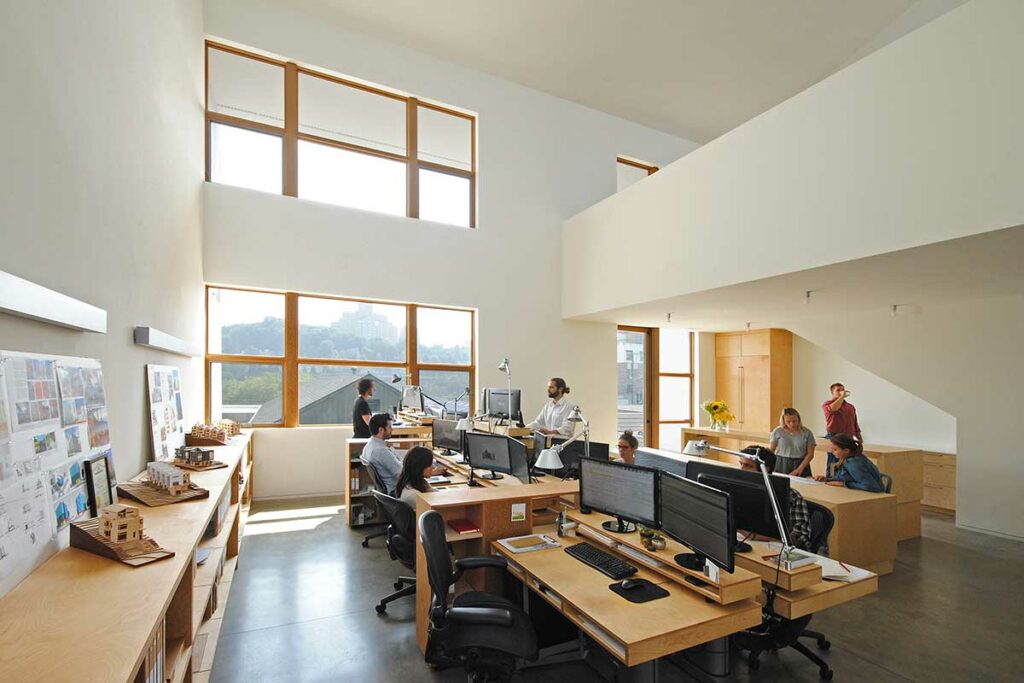 RENEWABLE PRODUCTION SYSTEMS INFORMATION
Solar Electric (PV). 24.26 kW DC/STC, 77 panels x LG Neon, 3 x String Inverters. Located on roof and owned by JW Architects.