VITAL STATS
| | |
| --- | --- |
| Certification Status | Zero Energy Certified |
| Date of Certification | December 11, 2017 |
| Version of LBC | 3.1 |
| Location | Minneapolis, MN, USA |
| Typology | Building |
| Project Area | 3,640 SF |
| Start of Occupancy | October 2016 |
| Owner Occupied | Yes |
| Occupancy Type | Single Family Residence |
| Number of Occupants | 2 |
PROJECT TEAM
| | |
| --- | --- |
| Owner | Stewart + Linda Herman |
| Project Manager | Marc Sloot + Sean Morrissey |
| General Contractor | Sean Morrissey, Morrissey Builders |
| Architect | Marc Sloot, SALA Architects |
| MEP Engineer | Massmann Geothermal |
| Specialty Consultants | Building Knowledge, Inc. |
| Key Subcontractors | Innovative Power Systems, Massman Geothermal |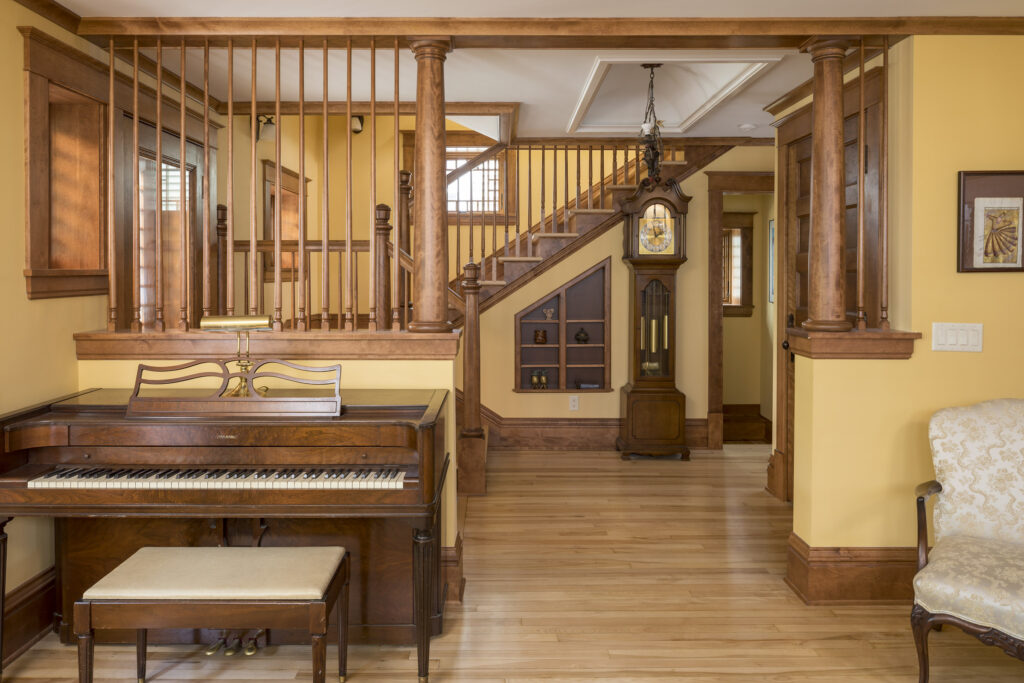 BUILDING SYSTEMS INFORMATION
| | |
| --- | --- |
| Wall R value and section specification | R40. PERSIST system built out from existing frame of the house. Moisture-proof barrier with 60% of insulation outside and 40% inside barrier. Basement: R-30 Cocoon; 4 inches of foam inserted along foundation walls |
| Roof R value and section specification | R79. 10 inches of foam between new I-Joist. Rafters, on top of 6"fiberglass batts. |
| Floor R value and section specification | R48. |
| Windows | Double-hung, casement, awning, and fixed-triple pane. U values = 0.215, SHGC = 0.360 |
| Air infiltration rate and sealing protocol | 350 (CFM-50). RESNET protocol. |
NON-MECHANICAL SYSTEMS
Passive cooling with operable windows.
MECHANICAL HEATING AND COOLING
A completely new forced air system with all new ducts was installed. A Ground Source Heat Pump (GSHP) heats and cools the air.
MECHANICAL VENTILATION
Enthalpy Recovery Ventilation (ERV) is ducted to draw ongoing exhaust air from source points, which include all bathrooms, kitchen and laundry room. Each source point location has a crank timer to allow occupants to boost exhaust flow from that location as needed. ERV pushes fresh air into the primary HVAC ductwork for distribution and overall mixing of house air.
HOT WATER
Heat Pump Water Heater is installed.
LIGHTING
The home incorporates all LED lighting, whether in traditional fixtures, cans or other locations and takes advantage of natural daylighting.
USER LOAD REDUCTION STRATEGIES
The interior of the total gut rehab involved retaining the original birch flooring on the first floor and installing on the second floor recycled maple flooring harvested from three Twin Cities houses being demolished. The original yellow-birch millwork (window, door casings, and baseboard) was removed, refinished and reinstalled. Supplementary millwork was regionally sourced yellow birch, milled to the same design as the original. Recycling the millwork and maple flooring provided Stewart with much sweat equity in the house: all this material was hauled to his home in Fargo for 11 steps in refinishing (millwork) and cleaning (maple flooring).
General light fixtures and task light fixtures installed, give the owners flexibility and the ability to turn on lights for specific activities and turn off lights, not in use. To save energy, the home uses a geothermal heat pump, a heat-pump driven water heater, and a ventless heat-pump driven clothes dryer. The house exceeds code for tightness by five times, meeting the passive-house standard (.05). It is ventilated by an ERV (drawing exhaust air from kitchen and bathrooms). When the range hood operates, cooler makeup air is drawn past the refrigerator coils for more efficient cooling. The wallboard is of a new type (CertainTeed 'Air-Renew') that absorbs formaldehyde for a promised ten years.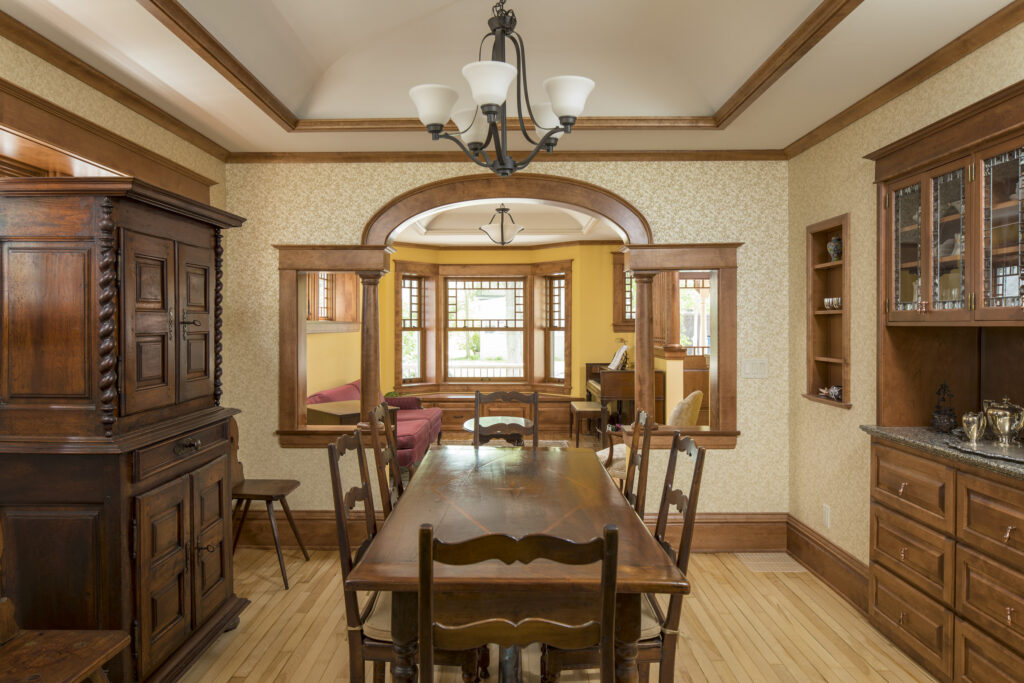 RENEWABLE PRODUCTION SYSTEMS INFORMATION
(54) roof (10:12 slope) mounted PV panels (42 on house, 12 on garage), 315 watts each, thus 17,010 watts for total array. LG 31 5N12C-G4. Panel arrays are equipped with a total of 29 Solar Edge DC Optimizers owned by the homeowner.
(2) Solar Edge Inverters (6kw in house, 3kW in garage).
PERFORMANCE
| | |
| --- | --- |
| Actual energy use during performance period | 12,334 kWh |
| Actual energy produced during performance period | 17,422 kWh |
| Net Energy Use | -5,088 kWh |
| EUI | 11.6 kbtu/SF/yr |
PROJECT LEADERSHIP AND STORY OF PROJECT
The Minneapolis Net Zero Victorian was intended to be a demonstration project to show that a standard city house on a standard city lot in chilly Minneapolis could be renovated to net zero in energy with no sacrifice in attractiveness, space or comfort. These goals were achieved with the 2015-2016 renovation of a 1907 balloon-frame house on a 40×130-foot lot in the Whittier neighborhood. The house has hosted four tours of various kinds in 2017 (American Institute of Architects, local home tours, Minnesota Renewable Energy Society), with approximately 1500 visitors in total.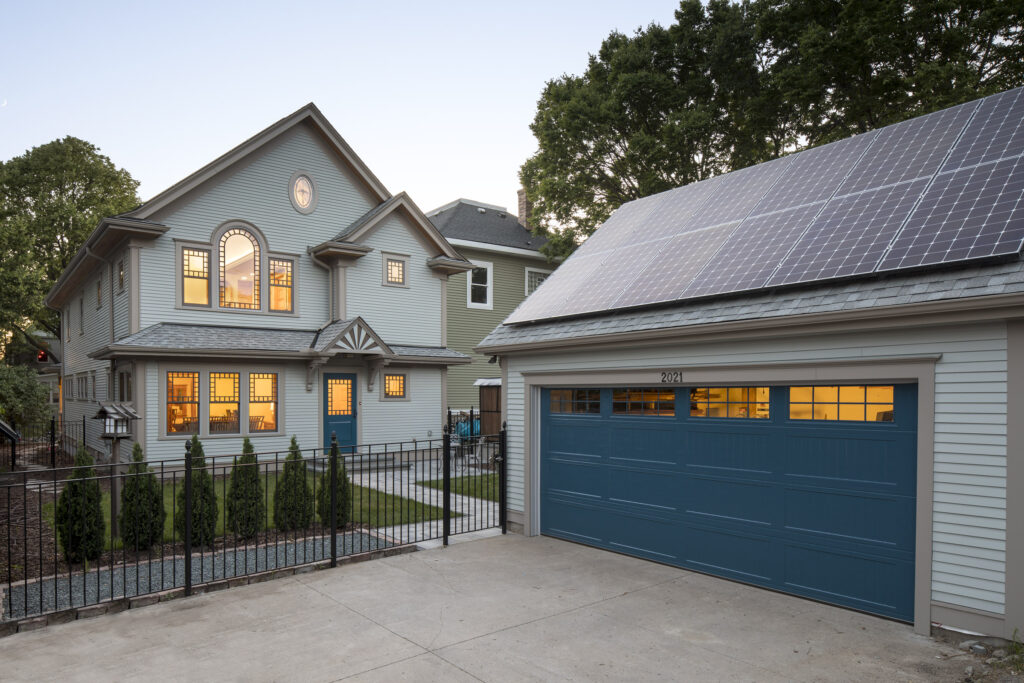 DESIGN PROCESS
In 2014, the homeowners learned of net zero energy at the Minneapolis Building Show. Shortly thereafter, they purchased their retirement home and interviewed five different sets of architects and builders to compose the core of the design team. They settled on the one with the most "green" building experience and connections, Marc Sloot of SALA Architects, who also recommended a builder with green experience, Sean Morrissey of Morrissey Builders in St. Paul.
The design and permitting took more than a year, (beginning in August 2014 through the end of 2015), proceeding through the usual architectural steps of conceptual design to detailed CAD drawings. Permitting was obstructed for a few months due to a proposal to extend the home's walls by one foot to accommodate insulation.
Since the owners are in their late 60s and hope to live in the house for as long as they are able, the house incorporates many design features from the National Association of Homebuilders, which enables occupants to live in a house throughout old age. An accessible rear entry to incorporate a ramp, 36″ wide doorways to accommodate wheel chairs on one level, wide turning radiuses throughout, a 4-foot wide stairway between floors, soft close cabinets in kitchen, base cabinets with pullout shelving, easily manipulable faucets, wall-mounted toilets (for easy cleaning), bright LED lighting throughout, sensor lighting on the exterior, lever door handles on exterior doors, low-maintenance exteriors including porch decking, washing and drying machines raised 12″ above floor, side-by-side refrigerator, laundry chute, grab bars in bathrooms including shower and tub, brightly-lit closets, and etc. have been incorporated into the home.
ENERGY SYSTEMS NARRATIVE
Efficient insulation and energy conservation were the biggest drivers for the design and energy outcome of the home. Foam is expanded polystyrene (EPS), with 1000 times less environmental impact than extruded polystyrene (XPS). Four linked Geothermal wells, 250' deep, in a diamond pattern 10 feet on a side, exist within the 30×40' backyard. A ground-source heat pump was sized accordingly with a reduced load made possible by thick insulation. A solar PV system is used to power geothermal systems and other technologies within the home. This system was sized accordingly through modeling which initially projected an annual consumption of 19,000 kWh. The actual output ended up yielding around 17,000 kWh, more than enough to cover 12,000 kWh consumption in the first year.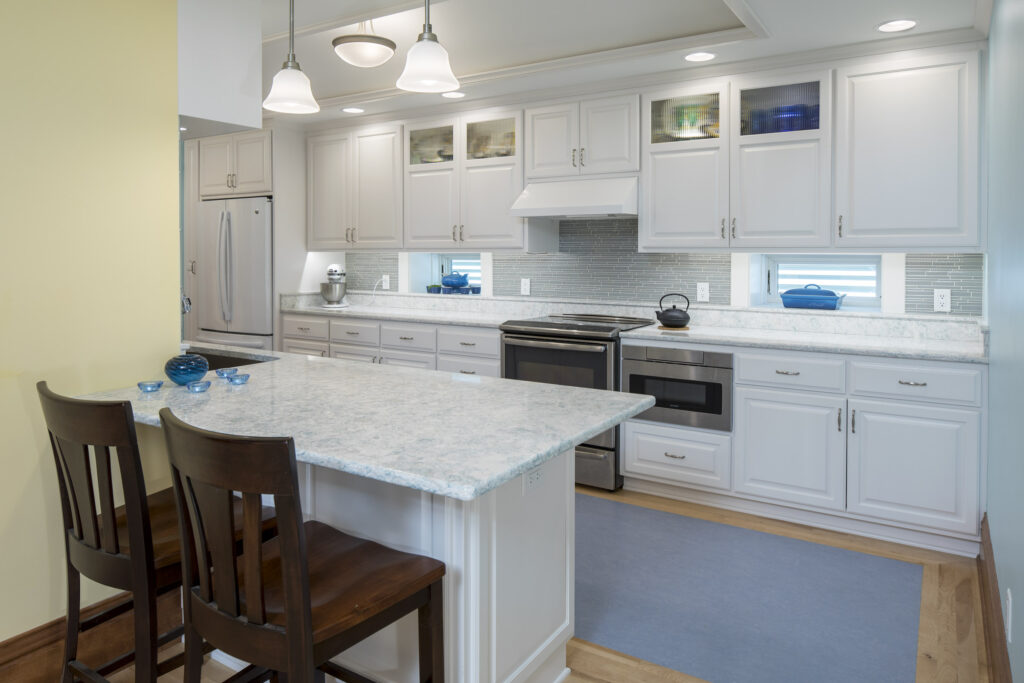 OCCUPANCY ISSUES
The house performed as designed—no issues other than deferred completion of some construction tasks.
BUILDING COMMISSIONING, START UP, AND OPTIMIZATION
Homeowners were educated on the home's systems, but require little involvement on a day-to-day basis. An eGauge electricity monitoring system is installed to allow the monitoring of up to twenty-four individual circuits throughout the house.
REGULATORY ISSUES
A variance in local zoning had to be sought since the exterior walls on one side of the house were already over the side yard setback from the property line, and the added exterior insulation moved the exterior wall surface even closer to the property line. This kind of variance was unusual for Minneapolis community economic planning and development board. Also, the owners sought approval for a 500-foot addition, just within the legal limits for the lot. After four months (late 2015-early 2016), approval was granted for both. They also had to secure a geothermal drilling permit, which did not cause any particular difficulty or delay.
ENERGY RELATED BUILDING COMPONENT SUGGESTIONS
The most recent technology available was used. The one problem was LED strip lighting for the ceiling coves and under-cabinet lighting. It has proven faulty and must be replaced.
LESSONS LEARNED
Even though costs could have been better-contained with a faster construction time by razing the house and building anew from the foundation up, the owners were convinced that the renovation of the home was the right path. They have the satisfaction of knowing that they rescued and repurposed a perfectly viable structure, which helped preserved its character and demonstrated that a neighborhood can be revitalized without being reduced to a brownfield.