The Midwest Offices of the Natural Resources Defense Council (NRDC), located in Chicago's historic Civic Opera House, is the first tenant improvement project in the world to achieve certification through the Living Building Challenge®™. In keeping with the NRDC's mission to be the "Earth's Best Defense," the design demonstrates the organization's commitment to a cleaner, stronger environment. To achieve Petal Certification, the project team focused on the Site, Materials, and Beauty Petals to create a vibrant and engaging workspace that supports the important environmental advocacy that takes place within it.
Despite the fact that the project budget and schedule were both set before the team elected to pursue Petal Certification, the Midwest Offices were completed both on time and on budget. This accomplishment is a testament to both the commitment of the project team and to the feasibility of meeting the rigorous requirements of the Materials, Site and Beauty Petals without incurring additional costs.
PROJECT WEBSITE  www.nrdc.org/midwest
VITAL STATS
| | |
| --- | --- |
| Certification Status | Petal Certified 2016 |
| Location | Chicago, IL, USA |
| Living Transect | L6 |
| Typology | Renovation |
| Project Area | 7,800 sf |
| Start of Construction | February 1, 2013 |
| Start of Occupancy | July 1, 2013 |
| Owner Occupied | Yes |
| Number of Occupants | 15 |
| Number of Visitors | 50 quarterly |
| Hours of Operation | 9:00 AM to 5:00 PM M-F |
PROJECT TEAM
| | |
| --- | --- |
| Owner | Natural Resources Defense Council |
| Owner Representative | Anthony Guerrero |
| Project Manager | Eileen Quigley |
| Architect | Jeanne Gang + Studio Gang Architects, Ltd., Associate Architect Nushu, LLC, Chicago, IL |
| MEP | WMA Consulting Engineers Steve Sovak Vice President, Project Principle |
| Specialty Consultant(s) | Closed Loop Advisors, LLC |
| Contractor | Norcon, Inc., Chicago, IL |
PLACE PETAL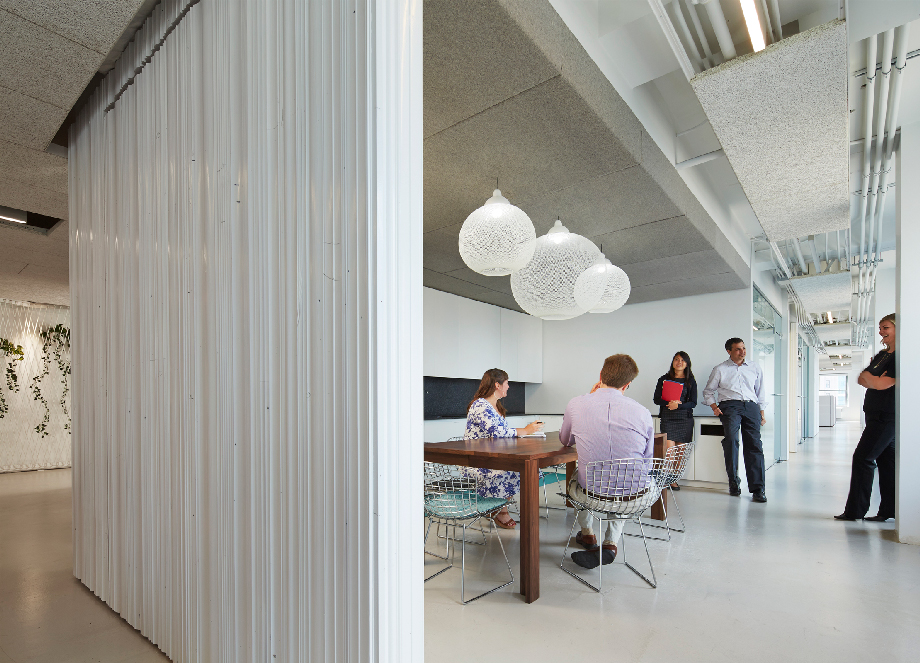 The NRDC selected the Civic Opera House building as the site for their new Midwest office to highlight the importance of sustainable build-out projects within existing buildings. Construction was completed on the iconic Civic Opera House building in 1929 and includes a 45-story central office tower with two 22-story wings. The building is centrally located in Chicago's Loop, the primary business and entertainment district. The building location allows NRDC convenient access to CTA buses and trains, Metra commuter trains, and Chicago bike lanes with pedestrian access to restaurants, parks, and surrounding commercial office buildings. The NRDC office includes views of the City on three exposures; including views of multiple CTA train lines, the Chicago River and surrounding architecture.
LESSONS LEARNED
In working to design and construct the most environmentally friendly office, the team had to evaluate both how the office would be used and what building materials would be used. Moving from enclosed private offices and open office to only open office allows employees to share daylight and natural ventilation, reduced lighting power density, reduced duct work required, reduced building materials and encourages a collaborative work environment. The NRDC Office is more than the materials used to build out the space; it is the efficient use of resources and the positive interaction of its inhabitants.
HABITAT EXCHANGE 
Exemption for non-profit agency with focus on environmental advocacy.
MATERIALS PETAL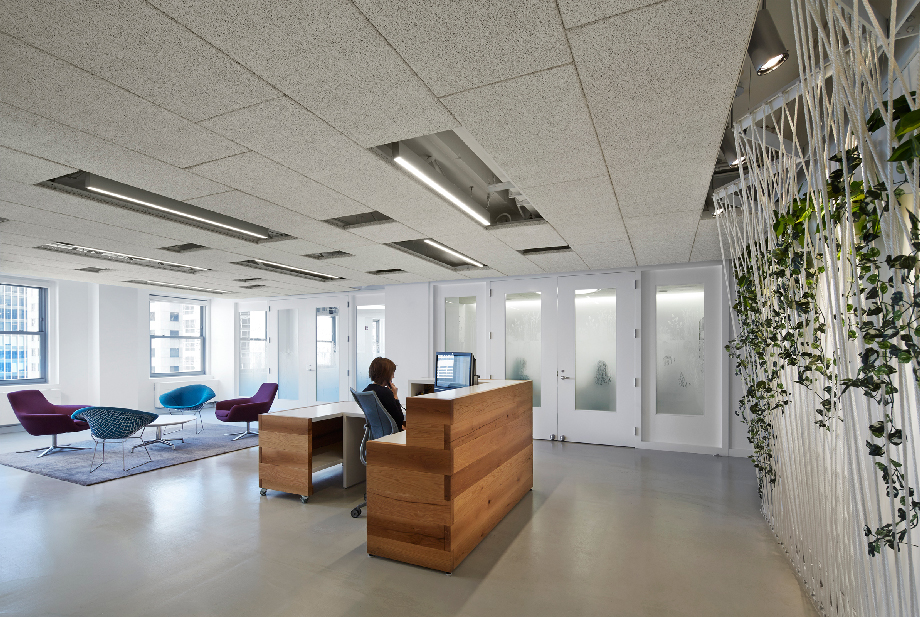 Materials Petal research began during schematic design. The team worked to identify and review materials for reuse as well as their compatibility with the Red List, Sourcing, Responsible Industry and Conservation and Reuse Imperatives and requirements as early as possible. The general contractor worked closely with the architect, owner, engineer and sustainability consultant starting in the design phase to identify products and subcontractors within budget and capable of meeting the Living Building Challenge® requirements. The team continued to work together throughout the specification and installation process to review materials and identify substitutions. The project features felt wrapped tectum ceiling panels, wood panel walls constructed from reclaimed wood trim, custom trellis work on columns and walls to support climbing plants, reclaimed barn wood reception desk and an open office layout that provides flexibility while reducing construction materials.
10. RED LIST IMPERATIVE
SUMMARY OF CHALLENGES
The team was unable to find formaldehyde-free flush wood doors within required zones. In addition, the team was unable to find a paint manufacturer willing to fully disclose paint ingredients, and experienced difficulty finding lighting manufacturers willing and able to fully disclose ingredients. Notable manufacturers who made "proprietary claims" about their products' contents included Philips Lighting, Benjamin Moore and Sherwin Williams.
SUCCESSFUL RED LIST SUBSTITUTIONS
| CSI Materformat Division | Original Product | Red List Item | Specified Manufacturer & Product Names |
| --- | --- | --- | --- |
| Division 8 | Composite Flush Wood Door | Formaldehyde | Ceco Door: replace originally specified composite flush wood doors, full material disclosure |
| Division 9 | Carpet Tile | PVC, Formaldehyde | Bolyu Brights Carpet Tile: quick to disclose all ingredients in carpet tile and provide information outlining plastic recycling process and material sourcing |
| Division 23 | VAV and Air Distribution Equipment | PVC | Titus: full disclosure of VAV and air distribution equipment, even followed up supplier to ensure a complete and accurate list |
| Division 26 | Metering System | Neoprene | Noveda Metering System: full disclosure of all non-electronic components, commitment to research Red List compliant gasket options to remove neoprene |
| Division 26 | Lighting | PVC, Mercury | Focal Point: quick to disclose all ingredients, even identifying Red List chemical in electronic components |
11. EMBODIED CARBON FOOTPRINT IMPERATIVE
EMBODIED CARBON FOOTPRINT (TCO2E) 391 tCO2e
PROJECT Indiana School Wind Turbines
LOCATION Indiana, USA
BROKER Native Energy
WEBSITE www.nativeenergy.com
12. RESPONSIBLE INDUSTRY IMPERATIVE
WOOD SOURCE Certified by Forest Stewardship Council (FSC), Salvaged
FSC CERTIFIED PRODUCT MANUFACTURERS United Woodworking – custom wood trim walls
SALVAGED WOOD BROKER Rebuilding Exchange, Chicago, IL
BEAUTY PETAL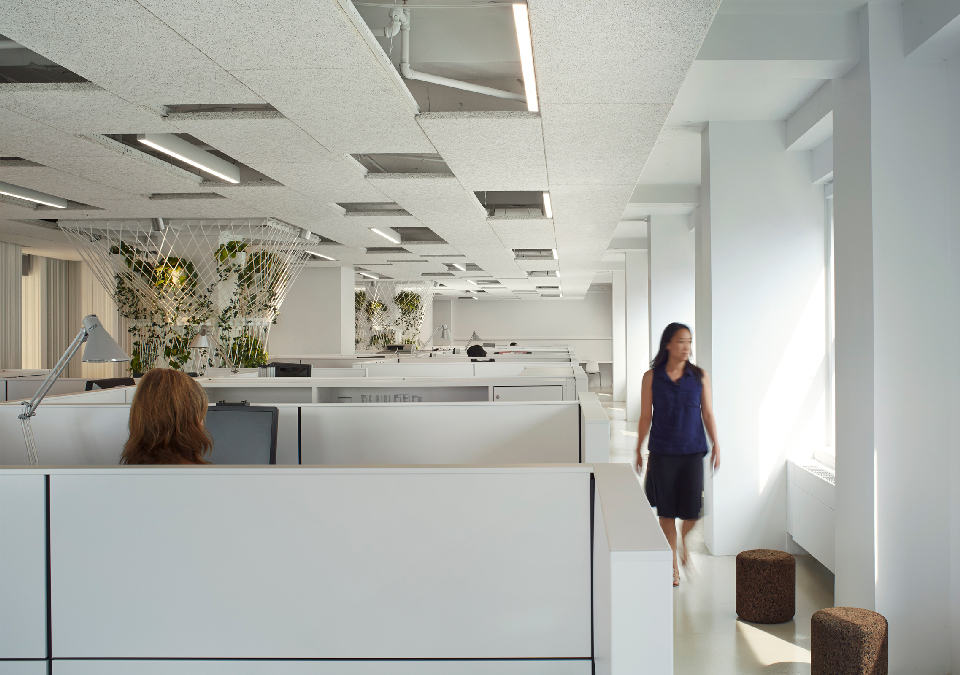 19. BEAUTY & SPIRIT IMPERATIVE
THE VISION, FROM THE NATURAL RESOURCES DEFENSE COUNCIL
The new office for the Natural Resources Defense Council (NRDC) in Chicago was designed by Studio Gang Architects to not only meet NRDC's environmental and sustainability goals but also to express the beauty and spirit embodied by NRDC and its mission. NRDC as an organization focuses on seven priorities– curbing global warming, creating the clean energy future, reviving the world's oceans, defending endangered wildlife, protecting our health, ensuring safe and sufficient water and fostering sustainable communities. The spirit of NRDC can be found within these goals.
The new Chicago office reflects this spirit by incorporating an aesthetically beautiful atmosphere that fosters productivity along with a cohesive and cooperative culture. The project team took an integrated design approach involving collaboration between a committee of NRDC staff and the architectural team. An open floor plan was implemented, allowing the space to be more equitable and democratic in nature, while encouraging collaboration between employees.
LOCALLY SOURCED, REUSED MATERIALS
Further embodying the culture and spirit of NRDC, a number of the organization's goals were addressed practically in the office design, and the new office blends this practicality with aspects intended solely for human delight. In order to reduce the global warming impact of construction, all materials and resources were locally sourced (including the staff that worked on the project) to reduce shipping and travel distances. These materials were then reimagined to match the spirit of the new office and bring in a new aesthetic – for example, etched glass from the old office depicting native Illinois prairie scenes was updated and installed in conference room doors in the new office. In addition, custom wall panels were constructed using wood trim found at the building reuse warehouse, the reception desk was fashioned from reclaimed wood, and the granite slab in the pantry was rescued from an old project that was never completed. These reused materials capture the nature of NRDC, but also add beauty and aesthetic pleasure to the office.
NRDC used only materials and finishes with low quantities of volatile organic compounds (VOCs) in order to minimize pollution and to protect the health of employees and visitors. Improved indoor air quality is not only important to the physical wellbeing of those within the office, but also provides an appealing and inspiring environment. Just® two days after the office was opened, a few delivery people remarked on how the air smelled clean like trees and nature, and were shocked to find out that construction had only just been completed. While the air quality likely contributed to this observation, it is our belief that it also a result of the general spirit that the office exudes, from the open floor plan to the recycled woods and glass, that brings beauty even to the eyes of the passing visitor.
The new office was also designed specifically with the Midwest region in mind. This attention to "place" is cohesive with NRDC's commitment to the natural environment, and was considered with each design detail. On a large scale, one of the main missions of the Midwest office is to clean and protect the Chicago River from further pollution. This commitment represents a respect for area in which the office is located, as the Civic Opera Building rests on the East bank of the Chicago River, and other efforts were also made to incorporate the spirit of place into the office itself. For example, locally sourced materials such as lumber, carpet, and furniture, as well as the companies who supply these materials, were used to both support the geography of the area as well as contributing to a lower carbon footprint.
The open office layout and large windows not only contribute to a cohesive and collaborative work environment but also overlook the Chicago River and capture natural light on both sunny and overcast days. As an added touch, the central portion of the flex spaces is modeled after the shape of Illinois. The combination of these details helps to bring the setting and location of the new Chicago office to the interior. In this way, the new office embodies the spirit and culture of NRDC – by emphasizing the importance of cohesion between our daily lives and our external environment.
THE ROLE OF BEAUTY, FROM STUDIO GANG ARCHITECTS
The Natural Resources Defense Council might just be the ideal client, a group of environmental attorneys with an ambition to make this world a better place. In pursuit of a better space, we found that they were willing to innovate, to test out ideas, and to see them through with us together. This project began like any other office project, with a series of typical questions about function and performance: What is our occupancy? Should the pantry be adjacent to reception? Can we meet our power density goals? But these questions quickly pivoted to more ambitious inquiries: How might we create a space that is truly 'in defense of natural resources'? What would that look like? How might an office embody the very ideals and values of its inhabitants; in this case, how might it reflect the environmental stewardship for which the NRDC stands?
As these answers evolved, we came to define this very harmony as something beautiful. Of course we expected such a definition of beauty to be demanding; we knew it would demand, in truth, a bit of idealism. In the end, however, it was this idealism that drove our decision to jump aboard the Living Building Challenge®, and this same idealism motivated our most essential design decisions.
One of our earliest decisions was to work with the NRDC to establish an open work environment, a place of cooperation rather than hierarchy, with open workstations that encourage movement and communication by their very organization. The NRDC got onboard. From a design perspective, the importance of this solution is that it prevents private offices from stealing coveted daylight at the perimeter. One of the most remarkable consequences of the open plan is the amount of shared light we are able to harvest. Not only can we boast environmental performance, but the NRDC Chicago Office is a sunny place to work. Coupled with bright finishes, the environment is touched by an optimism befitting the work of the NRDC .
MATERIAL CHOICES
We wanted to ensure that the materials were environmentally motivated, worthy choices for the NRDC. An early thought was to challenge the practice of material reuse as much as we could, to not simply reuse existing materials, but to reveal, to reinvent and to re-claim them as our own. We were looking for a single material that could be translated in a variety of ways, while ultimately providing synergy to our disparate programmatic collection. We brainstormed a wide range of materials – reusing IGUs, for instance – and experimented with ways to transform these basic building blocks into a new formation. Ultimately, however, we realized that as a building material, the IGU was too large, and already too constructed and incapable of being broken down to comply with the Red List. We needed to start with a smaller building block; something natural, but something flexible, something shapely, textured and capable of Red List Compliance.
Wood is a natural choice and we experimented extensively with ways to reclaim it, to dip it and strip it and turn it into something new. One of our early discoveries was that building reclamation sites have large bundles of wood trim, salvaged from local base boards and crown moldings in a process of careful demolition. We bought a lot of it. We turned it around, painted it, mirrored it, sliced it, stripped it and sanded it. We even designed our own profiles from reclaimed barn lumber and created screening slats from back to back pieces. We mounted the trim in vertical strips, one after the other, and ran our hands over the curves. What we found was a beautiful pattern of stripes, with hills and valleys, peaks and depressions. It caught the sunlight and cast shadows.
Not only did this one object, a piece of ordinary reclaimed trim, allow us to make something new from something old, it also suggested to us a variety of iterations of itself that could be manipulated while remaining true to its basic impression. Thus, we see our reclamation as a redefinition; and in the end, this new material gives character to the programmatic and communal heart of the office space.
A LIVING PRESENCE
From the onset, the NRDC was interested in bringing a living presence to their office. While we examined several opportunities to deploy a so-called Living Wall, ultimately we found these products to be more superficial than they were alive. The plastics in their irrigation systems were having trouble passing the Living Building Challenge®, and their versatility was limited by the artificial housing in which the plants "lived." We decided instead to build our own "living architecture" by designing several nylon rope structures, strung between custom steel frames. We had the climbing vines locally grown from seed. The plants hang inside these nylon gardens and their vines range across the ropes. While they require regular maintenance, the NRDC was willing to undertake that responsibility as a part of their habitation. In the end, the liberty of these vines is a nice complement to the striated pattern of the wood trim walls.
Together with an innovative partner in the NRDC, we arrived at a series of design decisions that we believe highlight the beauty of natural materials, the possibilities of reclaimed materials and the power of daylight. Moreover, with the Living Building Challenge® as our guide, every material choice was a balance of aesthetic desire and social conscience. Without knowing it, we believe that each and every material and programmatic decision contributes to the overall sensation of the office. We see the finished space as a tribute to the opportunities born of healthy building practices. The challenges we solved along the way will inform the way that Studio Gang Architects values our built environment. Perhaps our final desire is for the NRDC Chicago Office to live up to its name, for people to visit and agree that, in and of itself, we've created a space that is truly in defense of natural resources. – Angela Peckham Studio Gang Architects