VITAL STATS
| | |
| --- | --- |
| Certification Status | Zero Energy Certified |
| Location | Oceanside, CA, USA |
| Typology | Building |
| Gross Building Area | 54,560 SF |
| Start of Occupancy | August 2018 |
| Occupancy Type | Government Office & Live Well Regional Center |
| Number of Regular Occupants | 50 |
PROJECT TEAM
| | |
| --- | --- |
| Owner | County of San Diego |
| Project Manager | County of San Diego |
| Architect | HMC Architects |
| Contractor | Balfour Beatty |
| MEP Engineer | Syska Hennessy |
| Lighting Design | Syska Hennessy |
| Civil | Excel Engineering |
| Landscape | Arch McCullough |
| Structural | Miyamoto International |
| Interior Designer | HMC Architects |
| Energy Engineer | Syska Hennessy |
| Commissioning Consultant | 3QC |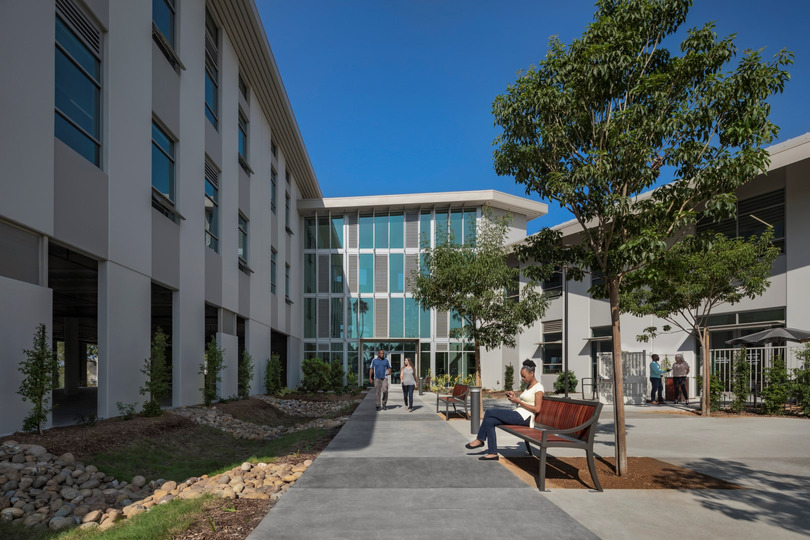 BUILDING SYSTEMS INFORMATION
| | |
| --- | --- |
| Wall R value | R15 |
| Roof R value | R20 |
| Floor R value | R10 |
| Windows | Viracon Vue-50, thermally broken aluminum frame |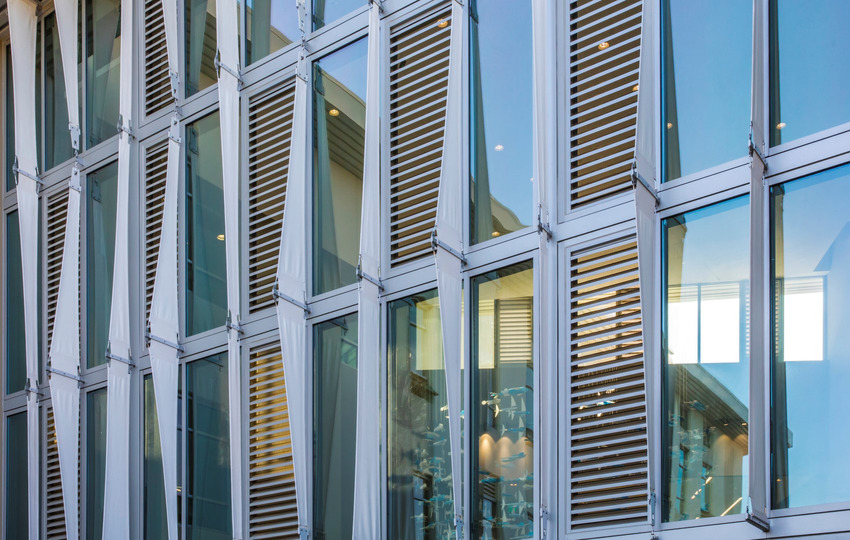 METERING/MONITORING SYSTEM
Energy information from all systems is captured in 15-minute intervals by submeters with circuit-level Current Transformers, aggregated into production and consumption end uses, and sent through the County intranet to a centralized control dashboard where the trends can be monitored and recorded. With this system, operators can troubleshoot issues when actual performance exceeds predicted baseline performance.
MECHANICAL SYSTEMS
A variable refrigerant flow (VRF) system is the as-design main HVAC system. It utilizes the refrigeration cycle to move heat, carried in refrigerant, between outdoor heat pump units located centrally and fan coil units located at each thermostatic zone. The fan coil units mix fresh outside air with recirculated return air, send it through a heat exchanger coil and supply it into the space. A thermostat signals the system to provide heating or cooling to maintain a temperature setpoint range, and a valve modulates to vary the flow of hot or cold refrigerant through the coil. The variable flow characteristic of this system helps ensure optimal temperature control and allows for a very efficient part-load operation.
There are two 20-ton condensing units serving each wing. The IDA/Data rooms are served by separate units which are VRF heat pump that providing cooling only. The lobby is completely naturally ventilated. There is no Make-Up Air Unit designed for providing outside air. Instead, the OA is directly delivered through the louver above windows into each FCU and gets conditioned off the coil before going into each zone.
VENTILATION
Under the mild Oceanside climate, there is a big potential to completely natural ventilate the lobby area for the facility. The large lobby is open to above for three stories. Therefore the ventilation mode in the lobby is similar to a stack ventilation.
When natural ventilation is applied from From July to October, there are 132 hours above 75 F in the lobby between 8 am and 6 pm. And there are 378 hours (43%) of the occupied hours the temperature is between 70 F to 75 F. The control strategy is that the openings will be closed at night and be opened during the day. In addition to that, the openings will be closed when the outdoor temperature is below 60F.
Louvers along the lobby façade are equipped with a shutter that closes and open based on temperature to optimize natural ventilation strategies and thermal comfort.
LIGHTING
Daylighting control is utilized in the spaces where the daylight is available. Based on the sensed illuminance for each space, the lighting control is able to adjust the lighting Power Density (LPD) to reduce the lighting energy usage while still keeping a visually comfortable indoor environment. Automatic daylight dimming is now an energy code requirement and it has to be implemented in this project.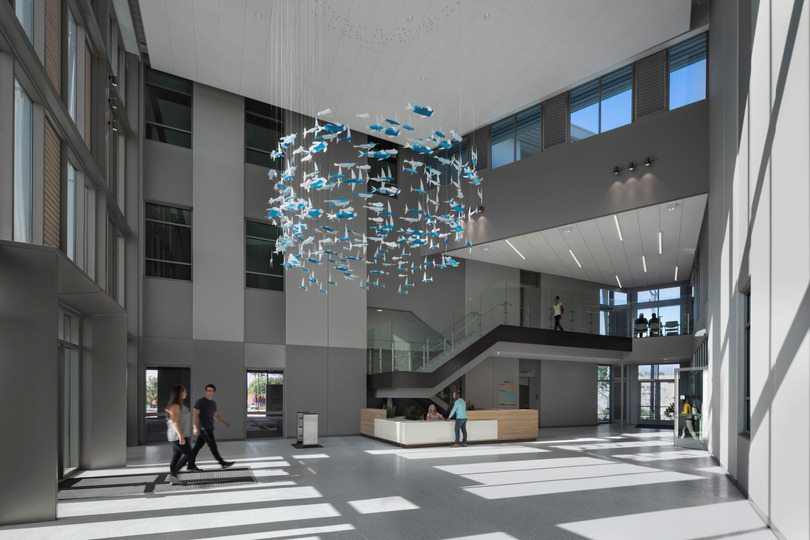 PERFORMANCE
| | |
| --- | --- |
| Actual energy use during performance period | 295,775 kWh |
| Actual energy produced during performance period | 383,730 kWh |
| Net Energy Use | -87,955 kWh |
| EUI | 18.5 kBTU/sf/yr |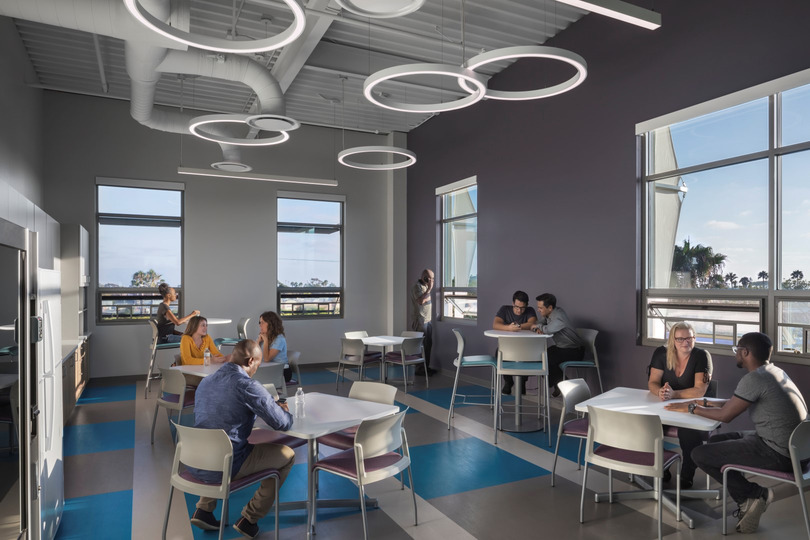 RENEWABLE PRODUCTION SYSTEMS INFORMATION
| | |
| --- | --- |
| Panel Array Size | 243 kW |
| Panel Output Per Capacity Nameplate | 360 kW |
| Panel Quantity | 854 |
| PV Type and Brand | SunPower X series X22-360-COM |
| PV Inverter Quantity | 11 |
| PV Location | On-site roof-mounted |