VITAL STATS
| | |
| --- | --- |
| Certification Status | Zero Energy Certified |
| Date of Certification | November 30, 2017 |
| Version of LBC | 3.1 |
| Location | Roseville, MN, USA |
| Typology | Building |
| Project Area | 2,434 SF |
| Start of Occupancy | September 2016 |
| Owner Occupied | Yes |
| Occupancy Type | Single-Family Residence |
| Number of Occupants | 2 |
PROJECT TEAM
| | |
| --- | --- |
| Owner | Mark + Kate Hanson |
| Project Manager | Marc Sloot |
| General Contractor | Kerry Hage, Hage Homes |
| Architect | Marc Sloot, Sala Architects |
| MEP Engineer | Massmann Geothermal |
| Lighting Design | Architect, Interior Designer, Owner |
| Interior Design | Lilu Interiors |
| Plumbing | Hoss Plumbing |
| Key Subcontractors | Verdant Electric |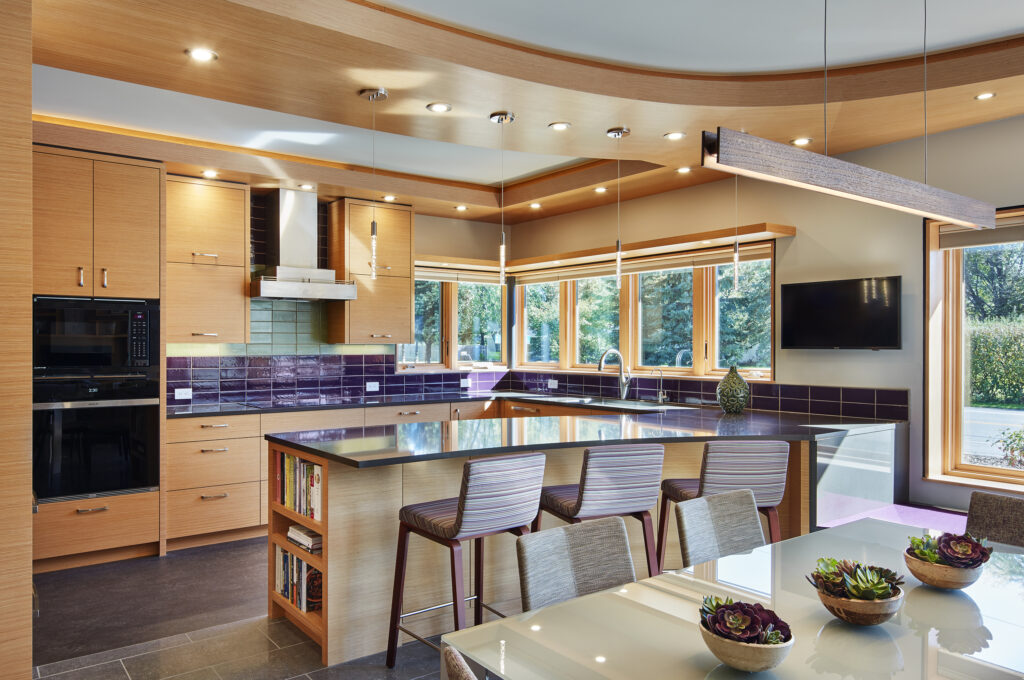 BUILDING SYSTEMS INFORMATION
| | |
| --- | --- |
| Wall R value and section specification | R37 weighted. Double 2×4 framing spaced for 11-1/4" cavity thickness and filled with dense pack cellulose. |
| Roof R value and section specification | R83 weighted. 2" closed cell spray foam topped with blown cellulose. |
| Floor R value and section specification | R47 weighted. Cantilevered floor truss with closed cell spray foam insulation. |
| Windows | Andersen A-Series, Triple Pane. Low E 180 coating on surfaces #2 and #5. U value = 0.22, SHGC = .36, VT=.44 |
| Air infiltration rate and sealing protocol | Infiltration Htg: 301 Clg: 301 CFM50 (0.05 CFM50 per sq. ft. of building shell) Interior smart vapor barrier installed on above grade walls. Spray foam rim joist and ceiling skim coat. Careful sealing of all penetrations and window / door openings. All ducts sealed with mastic. |
NON-MECHANICAL SYSTEMS
To take advantage of the southern exposure, windows are concentrated on the south with proper overhangs for passive solar heating which is a tremendous benefit in the winter and prevents overheating in the summer.
MECHANICAL HEATING AND COOLING
For the mechanical heating and cooling systems, a GeoComfort GCT024, water to water combination and water to air combination, Ground Source Heat Pump (GSHP) heating & cooling system was installed in the home. A hydronic in-floor radiant heating with ducted forced air for cooling and heating backup was also installed.
MECHANICAL VENTILATION
As for ventilation, a Broan High-Efficiency ERV 250 with ECM motor was installed and ducted for multiple source points in each bathroom, laundry room and kitchen. Fresh air is distributed through forced air ducts.
HOT WATER
The hot water system is pre-heated by a GSHP dedicated to space heating. Additional GSHPs were installed to bring pre-heated water to a set point temperature.
LIGHTING
All LED lights are installed throughout the house and some include dimmers.
USER LOAD REDUCTION STRATEGIES
To help reduce their load, an eGauge monitoring system was installed to monitor electricity usage, circuit-by-circuit. The homeowners are quite diligent about turning off lights not in use.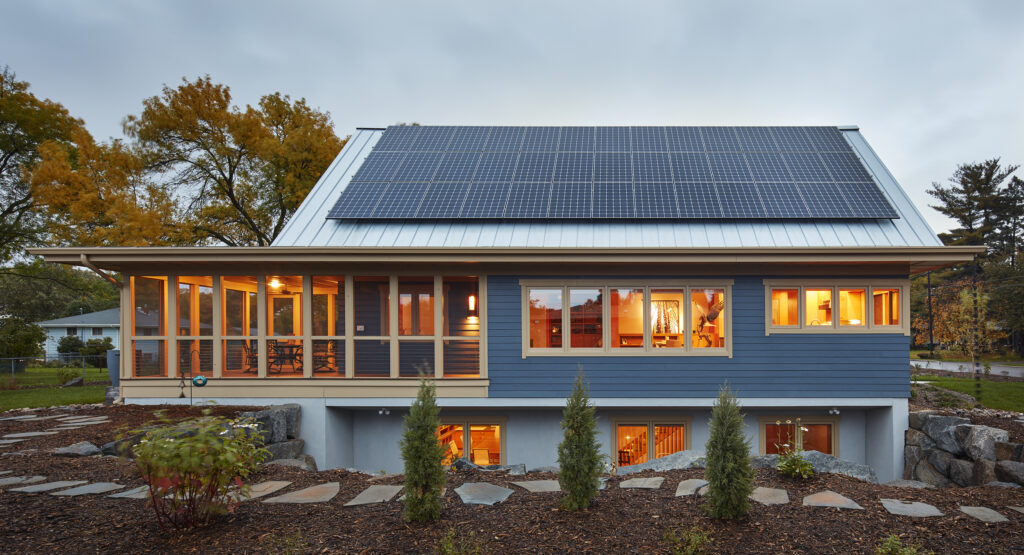 RENEWABLE PRODUCTION SYSTEMS INFORMATION
18.91 kW array. (61) LG 310 watt panels. (3) Solar Edge Inverters. (2) of which are located outdoors along the north side of the house. (1) inverter located indoors under the stair.
Taking the cost of the Solar Array with an expected life of 35 years with the standard degradation, the owners' cost for electricity for the next 35 years will be 11cents/kWh, before incentives. These incentives include federal energy rebates for solar and for geothermal use.
PERFORMANCE
| | |
| --- | --- |
| Actual energy from grid during performance period | 9,998 kWh |
| Actual energy to grid during performance period | 18,467 kWh |
| Net Energy Use | -8,469 kWh |
PROJECT LEADERSHIP AND STORY OF PROJECT
Ohm Sweet Ohm, a single-family residence, located in the suburbs of Roseville, Minnesota aimed to prove that energy efficiency and sustainability goals can successfully integrate into an established neighborhood.
Since the owners frequently host gatherings, a communal spirit radiates throughout this abode. Due to its frequent visitor occupancy, the owners wanted a home that operated efficiently and used alternative methods for energizing and comforting their home.
Their major goal was to achieve net zero energy and minimize their car's electricity consumption on an annual basis.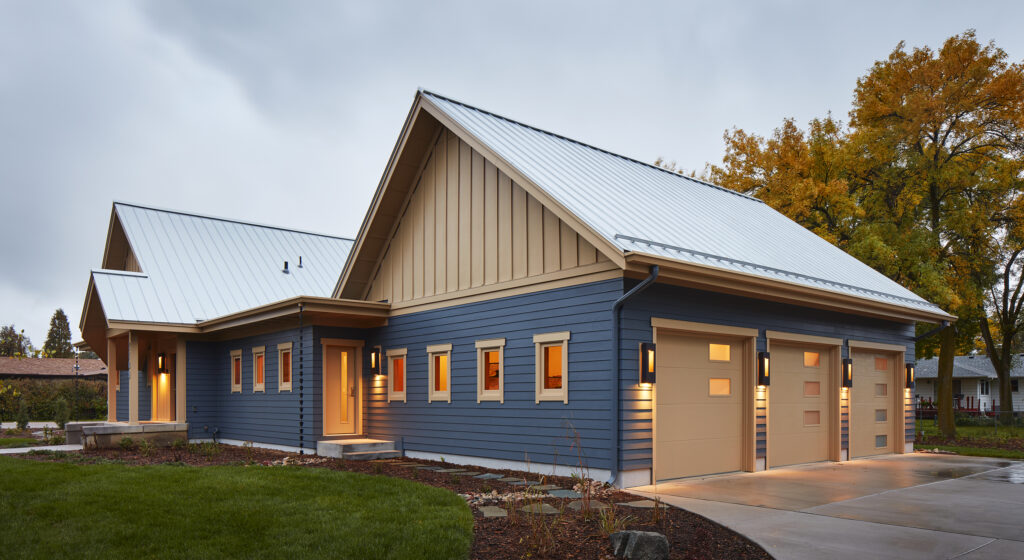 ENERGY RELATED BUILDING COMPONENT SUGGESTIONS
Tesla Powerwall battery packs were not available at the time of construction and are due to be added this year, further proving the owners' commitments to limiting their impact and energy usage.
LESSONS LEARNED
With very few bumps along the way, the owners did, however, encounter some minor issues with concrete and the concrete subcontractor. The delays due to this were minor, and the results were completely functional. To make up for the poor aesthetics of the concrete, the efficiency of the home was slightly better than expected, with their energy use being significantly less than the modeled numbers.