VITAL STATS
| | |
| --- | --- |
| Certification Status | Zero Energy Certified |
| Location | San Francisco, CA, USA |
| Typology | Renovation |
| Project Area | 20,240 SF |
| Start of Occupancy | June 2014 |
| Owner Occupied | Yes |
| Number of Occupants | 12 |
PROJECT TEAM
| | |
| --- | --- |
| Owner | San Francisco International Airport |
| Owner Representative | Joshua Heth (City and County of San Francisco) |
| Project Manager | Raniel Camacho (City and County of San Francisco) |
| General Contractor | Trivco Construction, SVALA Construction, Inc, Albion Power Company |
| Architect | Derrick Homer (City and County of San Francisco) |
| Mechanical | Joshua Heth (City and County of San Francisco) |
| Electrical | Ben Cruz (City and County of San Francisco) |
| Plumbing | Libi Yap (City and County of San Francisco) |
| Lighting Design | Chi Lao (City and County of San Francisco) |
| Energy Analyst | Jonathan Kocher (City and County of San Francisco) |
| Sustainability Director | Erin Cooke (City and County of San Francisco) |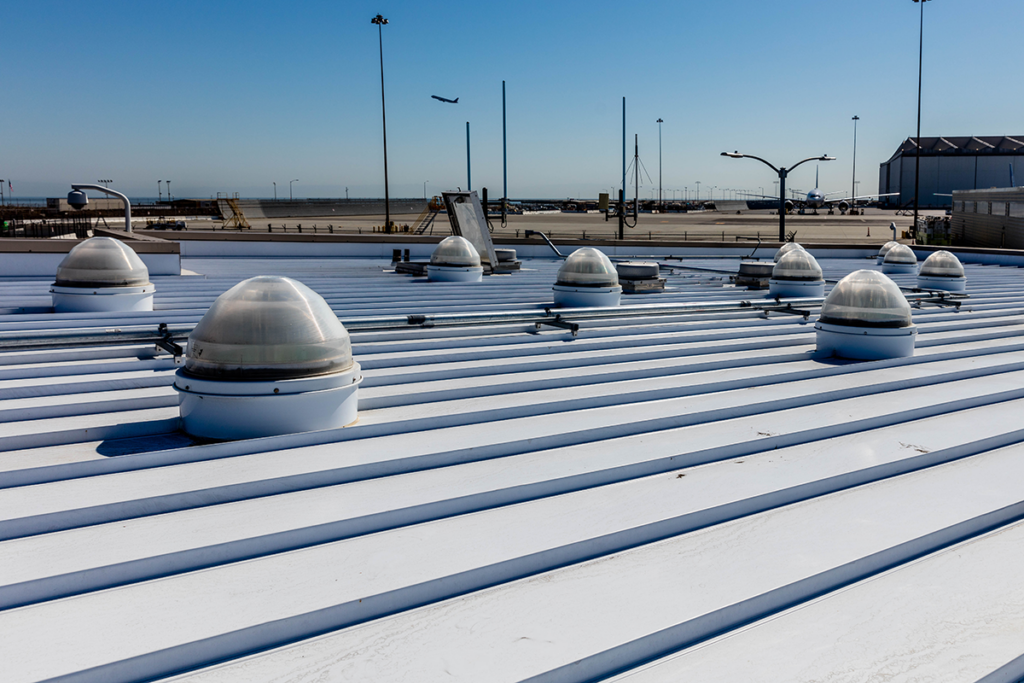 BUILDING SYSTEMS INFORMATION
| | |
| --- | --- |
| Wall R value and section specification | 21. 3″ insulated metal wall panel, 6″ rigid board roof insulated entirely above deck |
| Roof R value | 30 |
| Window to Wall Ratio | 24.4% |
| Window U Value | 0.29 |
| Window Description | View Dynamic Glazing with window SHGC between 0.09 – 0.46 depending on tint level |
MECHANICAL SYSTEM DESCRIPTION
The office is served by a Daikin Heat Recovery VRV system which is comprised of 11 fan coil units and 2 heat recovery VRV heat pumps. Ventilation is provided to the office by a dedicated outside air fan. Each zone has a schedule depending on operations. Only a portion of the building is utilized 24 hours a day.
The garage is unconditioned.
MECHANICAL VENTILATION
Ventilation air is provided to the office by a dedicated outside air fan with variable speed drive. Ventilation air is filtered, but not conditioned. The air is ducted directly to a mixing box on the intake side of each fan coil unit.
LIGHTING
A combination of LED lighting and sky light tubes (Solatube 750 DS) are used for lighting the office. Occupancy sensors are located in every room and are connected to lighting control system, which varies the intensity of lights and light switches if needed.
USER LOAD REDUCTION STRATEGIES
The building occupants were engaged in a series of meetings to make them aware of the strategies being used to improve the performance of the building. it was important to inform them why these changes were being made and ensure that the changes would not adversely effect the operations of this critical facility.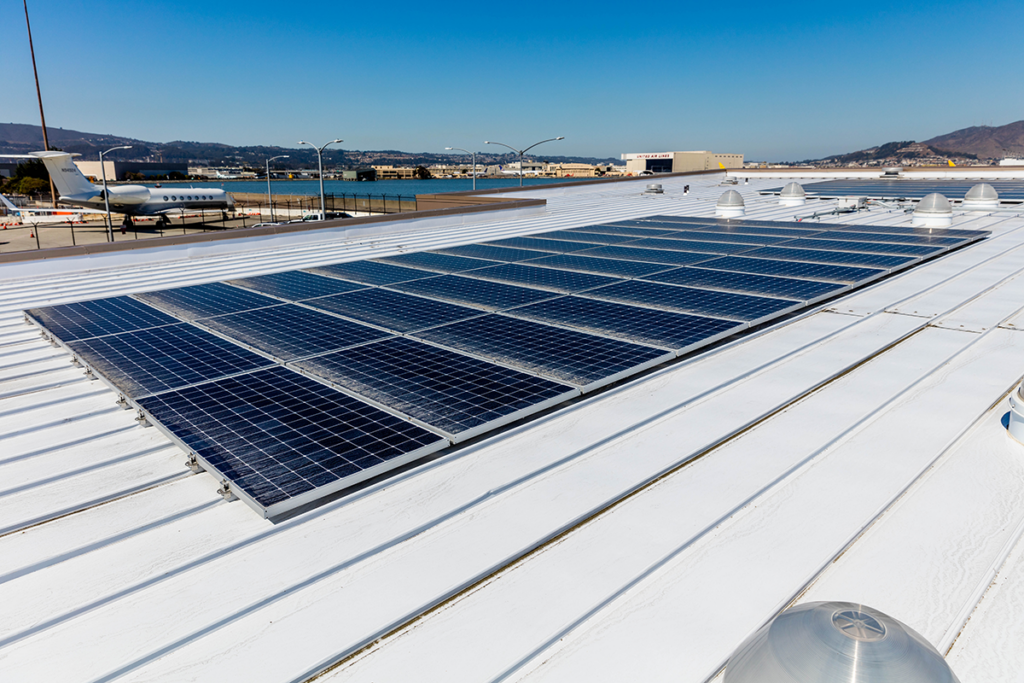 RENEWABLE PRODUCTION SYSTEMS INFORMATION
| | |
| --- | --- |
| Panel Array Size | 141.6 kWh |
| Panel Quantity | 400 |
| Panel Type and Brand | SunEdison MEMC-P300BMC-20 (240) & SunPower E20-435- COM (160) |
| Panel Location | Office Roof and Garage Roof |
| Inverter Quantity | 3 |
| Ownership Details | San Francisco International Airport |
PERFORMANCE
| | |
| --- | --- |
| Actual energy use during performance period | 159,447 kWh |
| Actual energy produced during performance period | 163,863 kWh |
| Net Energy Use | -4,416 kWh |
| EUI | 26.9 kBTU/sf/yr |