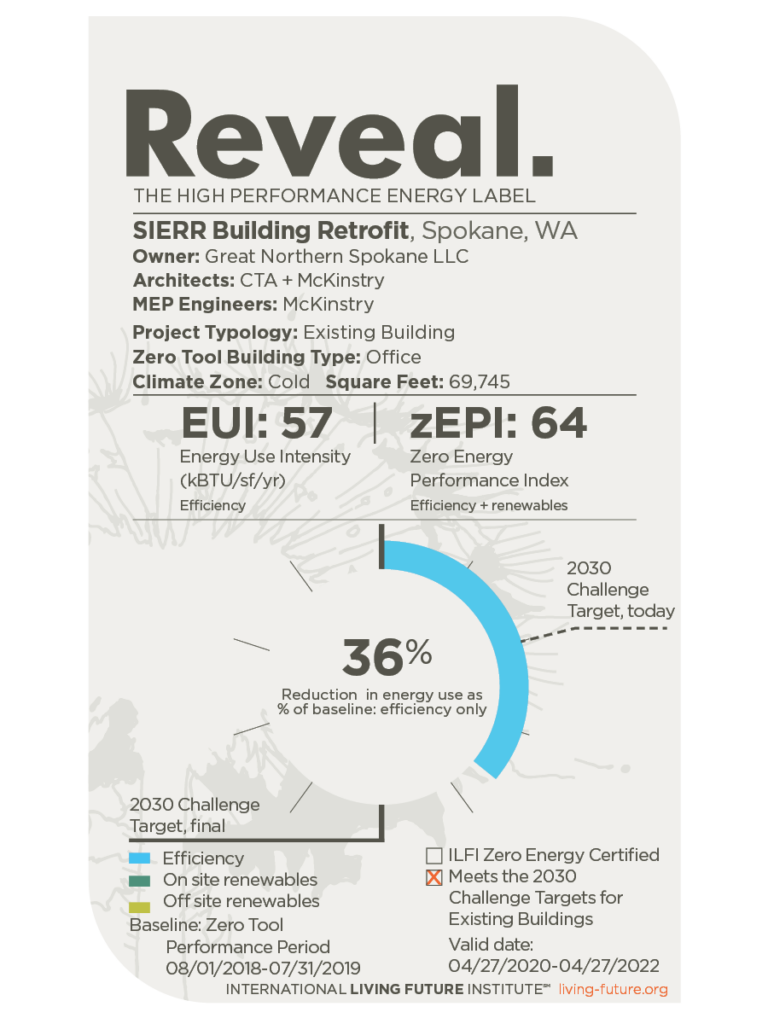 SPOKANE, WASHINGTON
The Spokane & Inland Empire Railroad (SIERR) Building, built in 1907,was formerly a repair depot for the city's first electric railway system. The very neglected, partially collapsed building (which had been hit by a train) was converted by McKinstry to be its regional Inland Northwest headquarters (occupying 30,000 sq. ft. of the 68,000 sq. ft.), with additional office tenants. McKinstry worked to have it designated as a National Historic Landmark, making it the largest intact example of an electric streetcar facility from its era.
The Landmark designation highlighted the historic importance of the building, and also brought very substantial limitations on the degree to which the building could be retrofit and altered -in particular, preservation and exposure of the brick structure, including 70% of the interior walls. This meant a strong focus on hidden mechanical systems, with limited modifications to the building envelope. A ground-source heat pump system provides the backbone of heating and cooling. Peak heating is provided by condensing gas boilers. Distribution is via hydronic slab, eliminating the historic impact of large overhead ductwork. A small portion of the building, where the existing slab was left intact, are served by air source heat pumps. In addition, heat is recovered from the building's data center and distributed elsewhere in the building. Ventilation is provided by a dedicated outdoor air system, using a heat wheel. High occupancy conference rooms are equipped with CO2sensors switching transfer fans connected to the surrounding large open areas, rather than the DOAS system, simplifying and providing greater efficiency.
Building envelope improvements were limited to substitution of double paned insulated glass units which could fit within the existing wood windows, partial wall insulation, and roof insulation. Seven skylights were installed, providing ample daylighting.
The result of all these systems exceeded the energy use of ASHRAE 90.1 –2007 by 40%. The building also won the prestigious international ASHRAE Technology Award (First Place, Existing Commercial Buildings).