The project is located at 1717 K St. NW, a multi-tenant 12-story office building centrally located in downtown Washington D.C. The Summit Foundation a non-profit charitable organization. The project director, Lex Sant, is a trustee and treasurer of the Summit Foundation and also a member of Sant Associates. Both small organizations occupy a portion of the office floor equaling approximately 5,000 sq.ft. There are approximately 20 total occupants/employees.
One of the core charitable focus areas of the Summit Foundation is Sustainable Cities, and the members of the organization are deeply interested in sustainable energy and sustainable materials. The project team hoped that by pursuing the Materials Petal, the project could have a social, economic, health and carbon reduction impact that could ultimately benefit its employees, the regional community, and global ecology. Because the project is small, the sponsors hoped that the project, in combination with the organization's grant making and convening authority, would be an example that could show that premium office space could be constructed within the envelope of best-available sustainable building practices.
The space is a mixture of private and open office workspace with the private offices having glass walls to enable light transmission as deep into the interior as possible. The office includes a reception area, a small break room/kitchen, two conference rooms, and a mailroom with a printer (low-volume printing only to avoid indoor air pollution). Plumbing fixtures are limited to the kitchen, and water will be greatly reduced by efficient equipment and fixtures.
VITAL STATS
| | |
| --- | --- |
| Certification Status | Petal Certified |
| Version of LBC | 3.0 |
| Location | Washington D.C., USA |
| Project Area | 5,000 SF |
| Start of Occupancy | February 2016 |
| Owner Occupied | Yes |
| Occupancy Type | Office staff, Transient visitors |
| Number of Occupants | 15 |
PROJECT TEAM
| | |
| --- | --- |
| Owner | The Summit Foundation/Sant Associates |
| Owner Representative | The Summit Foundation |
| Project Director/Manager | Perkins+Will |
| Architect | Perkins+Will |
| Contractor | RAND Construction |
| Mechanical | Integral Group |
| Electrical Group | Integral Group |
| Plumbing | Integral Group |
| Lighting Design | Pinnacle Architectural Lighting |
| Interior Design | Perkins+Will |
| Specialty Consultants and Roles | Stok – Sustainability and Certification Consultant, Hush Acoustics LLC. |
| Key Subcontractors | LightArt, Belden, 9Wood, Imperial Paints (Ecos Paints), BIOS EPS |
PLACE PETAL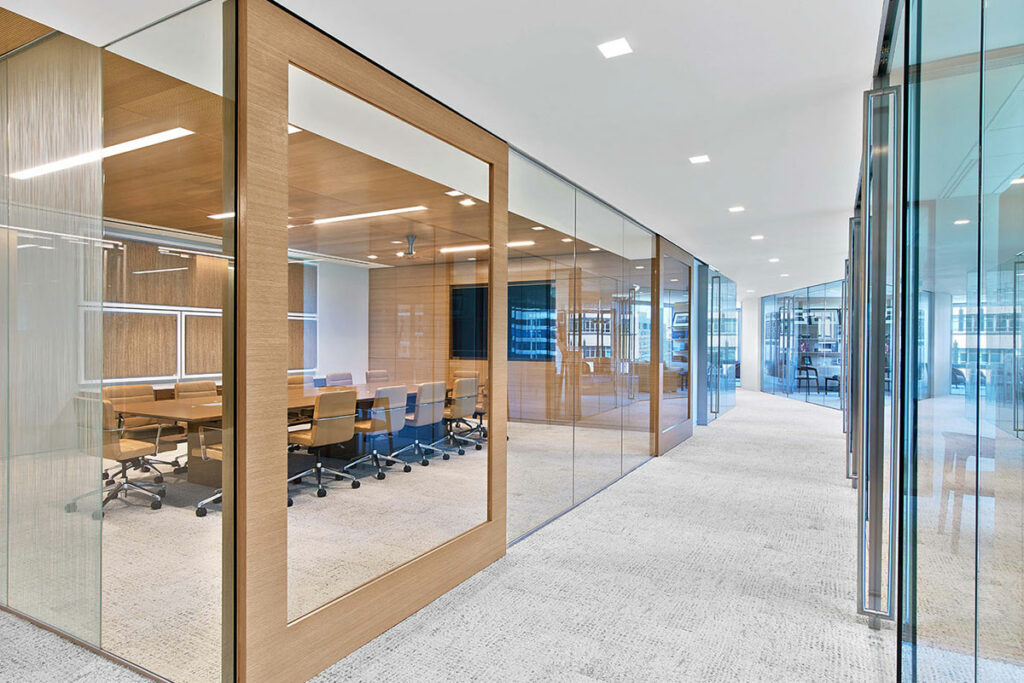 01. Limits to Growth Imperative
The project is located in an existing building in a dense urban area. There were no exterior site area improvements or landscape included in the project.
03. HABITAT EXCHANGE IMPERATIVE
The Potomac Conservancy was selected due to its proactive acquisition and protection of beautiful wildlife land areas on the East Coast of the U.S. The specific easement, White Horse Mountain, is a 1,700 acre forested mountain in Hampshire County, WV. It is the last remnant of what was once tens of thousands of acres of former timber company land – much of it public access. These timber lands have been systematically sold off as residential subdivisions, degrading the local character, wildlife habitat and water quality of this rural region. White Horse was also purchased by a developer, but the housing crash forced them to place the property back on the market, yielding a rare opportunity to protect this land and return it to public access – forever. Potomac Conservancy has negotiated an option to purchase the mountain, but needs to raise more than $3 million to make it happen and transfer it to the WV Division of Natural Resources (DNR) to become the State's newest public Wildlife Management Area. This land, rather than being divided into 70 residential lots as proposed by the current owner, will instead be opened to the public for hunting, hiking, wildlife viewing and other enjoyment.
LESSONS LEARNED
There are many specific funding opportunities for protected land easements that desperately need money before a deadline to purchase the land. By asking if there were projects with immediate needs, the team was able to time the donation to assist with the urgent acquisition. The team also requested land as close to the site as possible so that the donation could directly impact the local ecology, wildlife, and beauty.
MATERIALS PETAL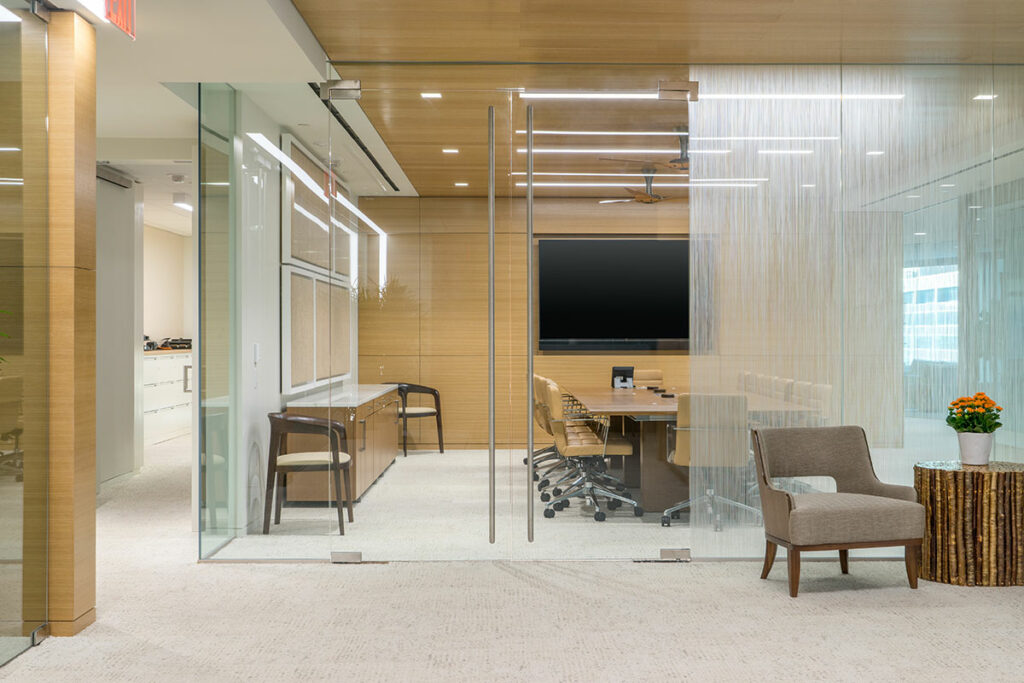 In the concept planning phase, the architect, Perkins+Will, aimed to use a minimal material palette to provide a more streamlined approach to achieve the Materials Petal. The use of simple materials like stone, wood, and glass, rather than complex systems with many components, helped to reduce the number of hours spent talking to manufacturers over the phone about product composition.
Declare Label products were researched before the design began so that opportunities to incorporate these products would not be missed. Flooring finish materials were selected early in the process because the team knew that there were many flooring products available with Declare Labels. The team also knew that there were Declare Label paints available in a variety of colors and finishes, so these products were used as a key strategy to add subtle character and texture to the space.
The contractor, RAND, was brought onto the project much earlier than on a typical project in order to perform materials sourcing due-diligence and materials training with the subcontractors. This led to better communication with the subcontractors and better relationships with manufacturers that enabled the team to obtain materials data that is not easily available. Despite this, there were many non-finish materials that the team didn't know were needed in the project until after construction began and there was difficulty tracking down compliant materials in small quantities with short notice. Manufacturers told the team that larger projects might have an easier time ordering custom materials that meet the Red List requirements. Sourcing materials within the required distances was challenging. However, many of the high-cost items like stone, wood, and glass were found locally. For larger projects requiring large amounts of steel from overseas, this might be more difficult.
During construction, the design team waited to approve material submittals until all of the LBC documentation was obtained and approved. This was both very important and very challenging. Many manufacturers claimed their products were compliant but were unable to produce documentation, so the team was glad they chose to wait for documentation. The team also found it challenging because construction projects move very fast, and waiting for one small product (like sealant) to be approved held up the pace of construction.
10. RED LIST IMPERATIVE
Traditional drop ceiling systems were only used in offices that needed acoustic control. The acoustic system was made up of a custom-designed FSC wood ceiling so that all of the components could be compliant. This took more time and money than traditional solutions, but it turned out to be very beautiful and well worth the investment.
Lighting proved to be a challenge because the design team preferred to use small local vendors in order to support the local economy. However, small, local vendors sometimes did not have good documentation for their products. The team kept looking and eventually found lighting designers that took great pride in their craft and were able to track the components that they used to local vendors. Still, the lighting industry needed education and was not well versed in sustainable materials terminology.
Certain textiles labeled as organic, handmade, and natural hemp could not be used because their 100% of their binding ingredients could not be identified. All of the manufactured tile products the team researched could not be used on the project because the factories did not have documentation on the mesh backing materials.
NOTABLE RED LIST SUBSTITUTIONS
| Original Product | Substitution | Manufacturer |
| --- | --- | --- |
| Hard Surface | Marble Counters and Table Tops from Imperial Danby Marble | America Countertop Company |
| Wall Tile | Marble Backsplash from Imperial Danby Marble | Artistic Tile |
| Roller Blinds | EcoVeil | Mechoshade |
| Carpet (Red List) | Carpet (Red List Free) | Integral |
| Acoustical Ceiling (Red List) | Acoustical Ceiling (Red List Free) | 9Wood |
| Gypsum Board | Permabase Cement Board & 5/8″ Gold Bond XP Fire Shield Gypsum Board | National Gypsum |
| Metal Studs | RoHS, Red List Free Metal Studs | Marino Ware |
| MDF | FSC-Certified, Red List Free MDF | Sierra Pine |
| Wood Doors | Reused Wood Doors | Salvaged |
11. EMBODIED CARBON FOOTPRINT IMPERATIVE
The project was located in an existing (and low energy) building instead of creating a new building. The main strategy was to reduce materials use and waste and to source all materials as locally as possible. The total embodied carbon footprint in the final design was reduced by 31% from the initial estimate. Many products were swapped for high recycled content materials to reduce manufacturing carbon, including: ducts, pipes, wall board, ceiling tiles, furniture and carpet. Using reclaimed wood instead of new wood for doors and shelves also helped reduce embodied carbon. Using materials produced with renewable energy further helped reduce carbon; the Interface carpet used throughout the office was manufactured at a plant where 84% of its energy comes from renewables. The team explored using wood where metals are conventionally used to reduce the carbon footprint, but due to local fire codes, this was not possible without the use of carcinogenic chemicals.
EMBODIED CARBON FOOTPRINT – 500 TCO2e
PROJECT – McKinney Landfill Gas Project
PROVIDER – 3Degrees
WEBSITE – https://3degreesinc.com/
CARBON CALCULATOR – Rocky Mountain Institute's Green Footstep
12. RESPONSIBLE INDUSTRY IMPERATIVE
The team focused on using as many Declare Label products as possible. However, every category of product is not yet represented in the Declare Product Database. Therefore, the team found other products with Environmental Product Declarations (EPD) as a starting point. These manufacturers tended to have more information and data available for their products. Wood for cabinets, doors, casework, wall finishes, furniture and acoustic ceilings mostly came from a single supplier, Sierra Pine, that has FSC wood readily available. Many phone calls with the manufacturers, distributors and suppliers were required to ensure the team was able to source products that would meet LBC requirements. The construction team searched all over Washington D.C. for salvaged wood and other salvaged materials, and eventually found some doors and other wood on another construction site that they were able to save from being sent to the landfill. For the stone used on site, since there were not yet standards in place, the team sent an advocacy letter to the National Stone, Sand & Gravel Association encouraging the development and enforcement of independent, third-party standards that are not funded by the industry.
WOOD SOURCES
Forest Stewardship Council (FSC) Certified wood, Salvaged wood
NOTABLE MANUFACTURERS OF FSC CERTIFIED WOOD PRODUCTS
| Product Type | Manufacturer | Manufacturer Location |
| --- | --- | --- |
| MDF | Sierra Pine | Medford, OR |
| Wood Baseboard | J. Anderson-Tully Lumber Co. | Vicksburg, MS |
| Acoustical Ceilings | 9Wood | Springfield, OR |
| Poplar | Frank Miller Lumber | Union City, IN |
| Veneers | SJ Morse | Capon Bridge, WV |
NOTABLE BROKERS OF SALVAGED MATERIALS
Reused salvaged doors – Columbia Woodworking (Washington DC)
13. LIVING ECONOMY SOURCING IMPERATIVE
Whenever possible, natural materials from the US Southeast (wood, uncoated metals) were selected to reinforce a sense of place and biophilic goals. Products were locally sourced (500 km radius for dense materials) and the vast majority of materials, like wood siding, zinc shingles, drywall, lighting, mechanical systems, appliances, and finishes are all US-made.
Complicated products were some of the most challenging to source, so the "complex components" clause was a helpful exception. As with the Red List, transparency remained one of the toughest challenges for appropriate sourcing. The proprietary exception was particularly helpful. Another invaluable policy was the fact that miscellaneous hardware was not tracked.
We struggled to find drywall within our radius that was not intentionally made of coal ash with traces of mercury. In the end, the manufacturer helped us by making a special custom edition out of natural gypsum.
NOTABLE REGIONAL PRODUCTS
| CSI# | Product | Manufacturer | Location |
| --- | --- | --- | --- |
| 09 00 00 | Tile, Imperial Danby Marble | Artistic Tile | Secaucus, NJ |
| 09 51 13 | Metal Studs | Marino Ware | South Plainfield, NJ |
| 12 24 13 | Window Coverings | Mechoshade | Edison, NJ |
| 23 00 00 | VAV Boxes | Titus | Tarboro, NC |
14. NET POSITIVE WASTE IMPERATIVE
No existing materials were removed from the site during construction since it was an empty shell Tenant Improvement space in an existing structure. Because there weren't existing materials on­site on which to concentrate conservation efforts, the design team focused heavily on conservation through design, construction, and end-of-life for the products selected.
The office layout is very modular and the team tried to efficiently use the typical dimensions of studs, drywall, and ceiling tiles to eliminate construction waste. In general, the aesthetic also supported the conservation purpose with minimal use of materials (a very simplified palette). A balance of local, recycled content, and sustainably-sourced materials were used with an emphasis on high-quality, durable materials that could serve the office space for the duration of their occupation and be reused afterward – including furniture, wood acoustic ceilings, glazed partitions, countertops, and lighting. Manufacturers with take-back programs were preferred. The materials will be well maintained – with minimal wear due to the elimination of chemicals needed for cleaning – and will eventually be reclaimed.
SALVAGED MATERIALS
The design team salvaged the original wood suite entry door and reused it as the new back door. The other custom interior wood doors were salvaged from other projects and cut and/or modified to meet this project's size requirements. The contractor was able to source these wood doors by surveying their other local projects for waste materials that could be salvaged.
As this was a core and shell space to begin with, the team did not have any materials outside of the original wood suite entry door that could be reused within the new space. Throughout the project, the team sought different options for salvaged materials. Some options worked, such as the salvaged doors from other projects, which were used to create the sliding doors. Other options did not work, and the team chose not to use them in order to maintain the integrity of the design and craftsmanship of the overall project.
INNOVATIONS
Perkins+Will worked with Geiger Furniture to fast track their LBC Compliant product line and bring high-end systems furniture and casegoods to the Red List Compliant market.
The integrated team worked to locally source and manufacture custom marble surfaces for the project. This custom product was also used in lieu of tile to avoid unidentifiable plastic backing found in standard tile products.
Additionally, finding a compliant insulation adhesive proved quite challenging. After contacting several manufacturers, the team found that The Reynolds Company provided the best documentation for a Red List Free adhesive. The team released the subcontractor in purchasing the specified adhesive; however, the team discovered that the particular adhesive needed could not be made in a small batch. To use this adhesive, the team would have had to wait until additional orders came in to fill the minimum production quantity. They worked closely with The Reynolds Company, who was able to identify an old formula that was also Red List Free but was no longer in production. The Reynolds Company willingly brought the old formula back to the production line and fulfilled a custom order for this project.
LESSONS LEARNED
Planning and early preparation for construction are key components of a successful LBC design process. There were many materials that caused delays because of difficulties meeting Red List requirements.
When the team began this process, manufacturers on the east coast were not as familiar with LBC as manufacturers on the west coast. Because the team sourced materials locally to meet the inherent goals of Summit Foundation and LBC, this required hours of additional education and explanation that was not anticipated. By the end of the project, those same manufacturers told the team that since their first contact, the manufacturers had requests from 10+ projects also seeking LBC certification. Education, persistence, and attention to detail are key to all successful LBC projects.
Other lessons learned would be to reach out to product manufacturers early and ask them what the minimum quantity orders are and what the realistic maximum lead times for these products are. The team found that everything took longer than originally planned for. It would be ideal to use mainly reclaimed materials and Declare Label products. On other products, having a backup plan or alternate is key when a product doesn't come through.
EQUITY PETAL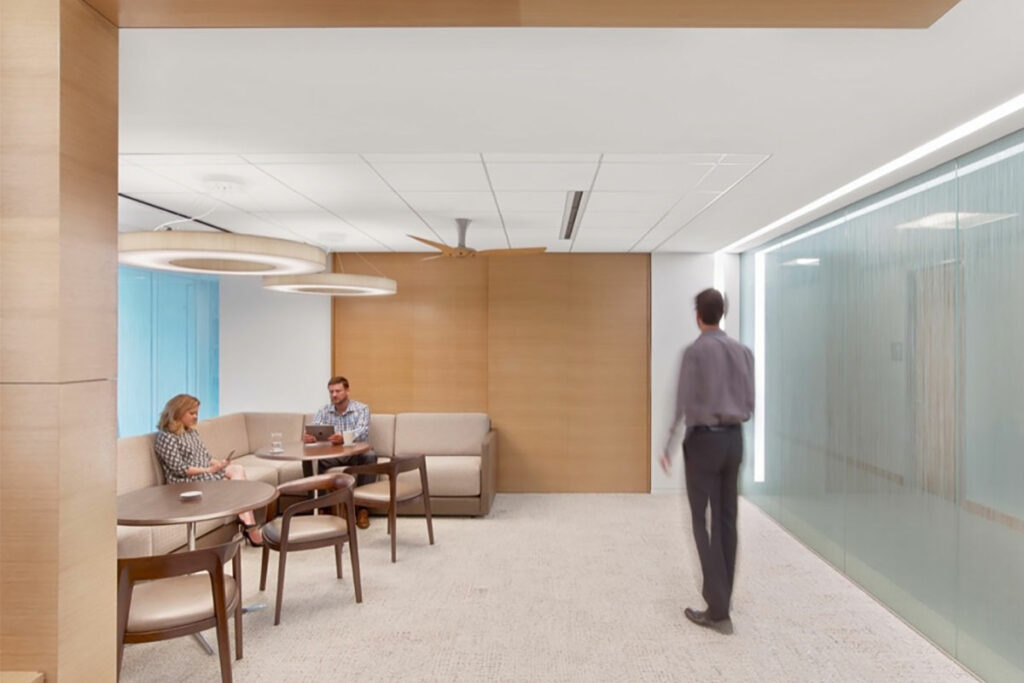 18. JUST ORGANIZATIONS
The project relied on a Just Organization as its Engineer of Record (Integral Group) and documented more than the required ten letters to consultants and subcontractors asking them to consider participating in the Just Program. The project's sustainability and certification consultant, stōk, was inspired to become a Just Organization during the process and completed its labeling in January of 2016.
BEAUTY PETAL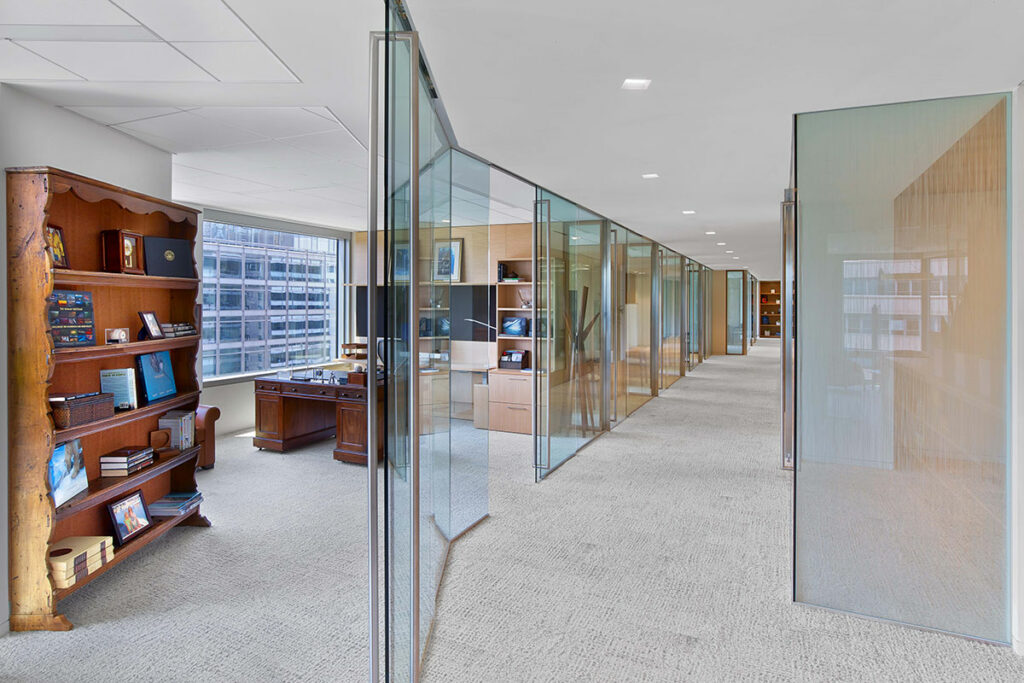 19. BEAUTY + SPIRIT IMPERATIVE
The owner, Lex Sant, believes that employees are happiest in beautiful, healthy, and meaningful architectural spaces, and that this translates to better quality work and more effective relationships between colleagues. Lex wanted to bring these ideas to the Summit Foundation/Sant Associates workplace in Washington D.C., but he also aimed to prove to a conservative city that workplaces of the future can be healthy, environmentally responsible, and can employ a refined and polished aesthetic. Ultimately, the design team decided to create a regenerative and restorative project that was healthy for both the occupants and everyone that touched the products during their lifecycle while also making the space educational and beautiful for the occupants and their future clients.
The design aspect of beauty came mainly from a refined and simple materials palette that utilized calming colors and textures. Natural elements included the extensive use of wood and stone surfaces throughout the entire office. Whites, beiges, and browns evoke earth tones common in natural landscapes.
Function and flow are also elements of beauty. Everything and everyone in the space have their place. This resulted from careful assessment of the client's needs and extensive space planning exercises.
Daylight access and a view to the outdoors were key strategies for improving the working environment beyond the Interior Designer's Material palette. Perkins+Will had daylight simulations performed to inform space programming, material reflectance of finish surfaces, and glazing locations. While the private offices required by the client divide up the space into smaller rooms, the transparency of the dividing partitions allows daylight from the perimeter to penetrate deep into the office space. In terms of layout, regularly occupied spaces were prioritized for areas that receive regular daylight, and less occupied or infrequently occupied program areas had lower daylight priority.
The resulting space is calming and vibrant. The employees have expressed how beautiful, functional, and comfortable the space is.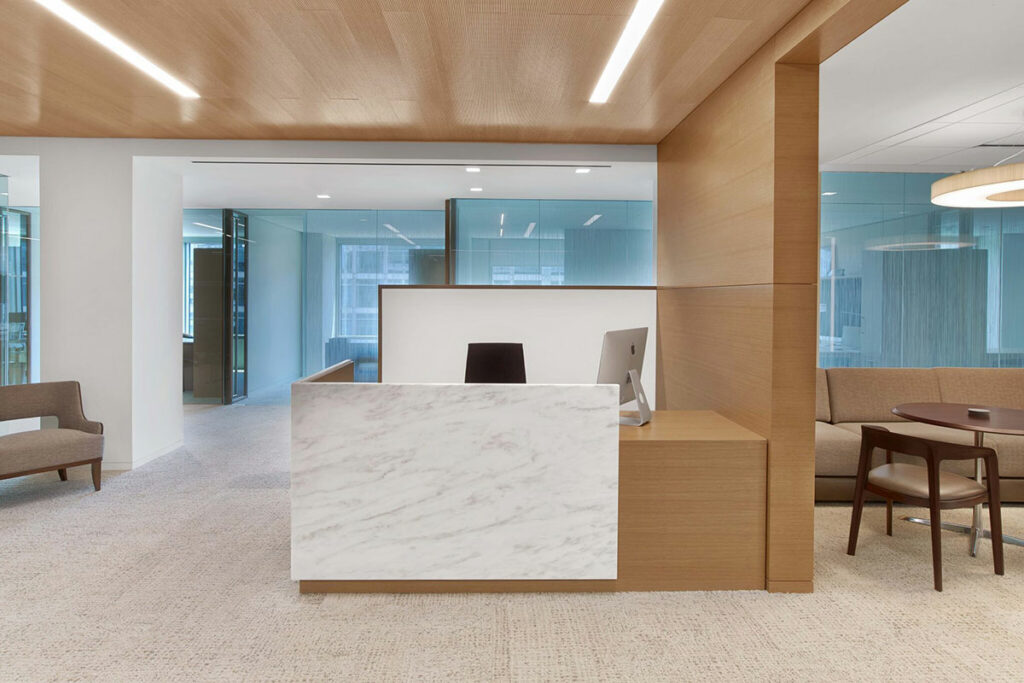 20. INSPIRATION + EDUCATION IMPERATIVE
The project was designed to inspire a respect and appreciation for the environment and environmental stewardship. As a non-profit organization with an environmental protection mission, it was important to the owner that the space was filled with natural local materials and that daylight and energy efficiency were major themes.
A digital display screen in the lobby of The Summit Foundation offices shares sustainable design information with employees and visitors to educate them about the features of the project as well as individual employee energy use.
In an effort to promote the Living Building Challenge on this project and inspire and educate other project teams, the client, Lex Sant, has made the space open for tours and questions for everyone he meets. He has asked the product manufacturers the team worked with to get Declare Labels for their products, and a few of them have. He has told the design team and product manufacturers to bring potential Living Building Project clients by the Summit Foundation space so they can learn about the process and outcome. Lex and the design team presented the process, findings and outcomes to a large audience at Greenbuild 2016 in Los Angeles, CA.
In addition to project signage and an educational project webpage, The Summit Foundation will host an annual Open House on February 20th to educate a broader audience on the industry impacts of the Living Building Challenge and the Materials Petal in particular.
The aim of the design was to delight and inspire the office occupants and enable them to find joy in going to work every day. For this reason, high-quality materials were selected and a large proportion of the office space was dedicated to social gathering, interaction, and fun. The lounge area directly adjacent to the reception area offers comfortable seating booths where employees can have lunch or take a coffee break. The kitchen is large and aims to facilitate interaction between employees. The employees all have great relationships with each other and many are close friends because of the work environment that is promoted.
ANNUAL TOUR DATE Address:
The Summit Foundation/Sant Associates
1717 K St. NW
Washington D.C. 20006
Open House: February 20th
PROJECT WEBSITE: summitfoundation1717k.org