TARKETT
For 130 years, innovation, dedication to excellence, and a long-lasting commitment to sustainability have made Tarkett a global leader in innovative flooring solutions and sports surfaces for all market segments.
Tomorrow's sustainable business models must go beyond just financial performance in order to welcome the expected world population of 9 billion people by 2050. Driven by the purpose of building a sustainable future and taking into account planetary and human health, Tarkett is determined to address the major challenges society faces today: combating climate change, sustainably managing scarce natural resources, and the development of people-friendly spaces. Managing each of these challenges is essential to creating a balance of quality of life, while preserving the planet.
The Living Product Challenge™ (LPC) is a rigorous certification challenging manufacturers to use healthy and safe inputs, optimize the health of products, create environments that promote well-being, drive circular and regenerative economies, and support a just and sustainable world.
The LPC not only evaluates a product's material health or a facility's infrastructure, but takes a deep dive into a manufacturer's approach to business, requiring them to demonstrate significant efforts behind social, environmental, and human health and thereby assessing the business' intrinsic ability to create positive change. Tarkett believes in a good future where people and the planet prosper in balance. So we're doing good—connecting our sustainability efforts with everything our customers value most. We operate according to an active commitment to deliver on the promise of doing good by bringing the best science and innovation to every challenge. We're designing for life and closing the loop, contributing to more responsible consumption and preserving natural capital to develop sustainable cities.
ETHOS®
Utilizing a previously untapped waste stream, Tarkett developed ethos®, a high-performance polymer recycled from disposed windshields and safety glass. Tandus Centiva's ethos® Modular Tile is Cradle to Cradle Certified Silver (v3), the first American modular carpet tile to achieve this level of certification. With the innovation of Omnicoat Technology added to ethos®, we offer a modular tile that virtually eliminates the possibility of installation problems before they ever happen. Omnicoat Technology is a proprietary coating that creates a chemical barrier that works no matter what type of adverse flooring substrate problems rear their ugly heads. In 2017, as part of Tarkett's commitment to designing for life, all soft surface products including ethos® now receive advanced defense with Eco-Ensure soil treatment. Eco-Ensure is a highly specialized, fluorine-free soil protection technology that protects commercial carpeting from stains while improving indoor air quality.
With this public benchmark of Living Product Challenge™ Imperative certification, Tarkett will continue to challenge our teams and push the boundaries further. As pioneers, our goal is to inspire manufacturers across industries to follow suit. Join us in doing good to create a healthy, beautiful, sustainable world. Because next-generation products are LIVING products.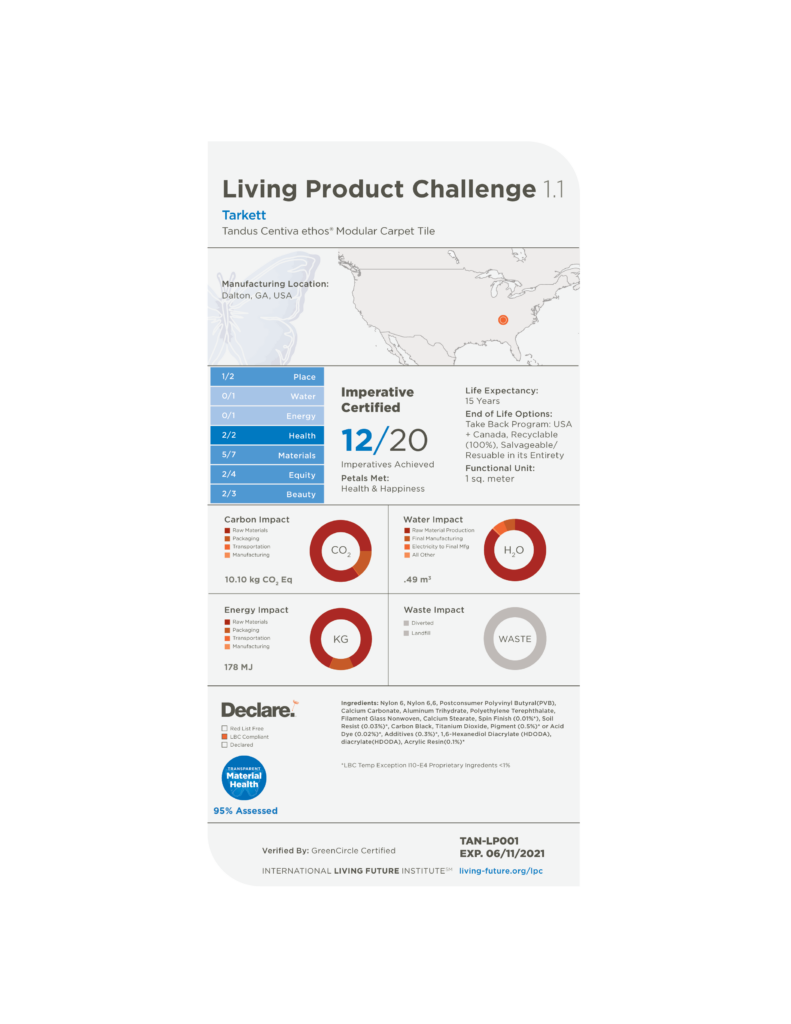 | Top Hurdles to Certification | Description of Solutions/Changes Implemented |
| --- | --- |
| Communication | Certification was pushed into a short time frame. Given this, it was important for all stakeholders to be unified; Tarkett, ILFI, the assessor, and consultants. This certification requires participation from all departments and gaining their buy-in to expedite tasks is difficult. Clear communication between all stakeholders was essential for alignment and forward movement. |
PLACE PETAL
01. RESPONSIBLE PLACE AND HABITATS IMPERATIVE
Nestled in the foot hills of the Blue Ridge Mountains, Tarkett's Tandus Centiva plant is located in the Appalachian Blue Ridge Forests in Dalton, Georgia. Rich in diversity, it is home to 158 different species of trees, more than any other location in North America. Ancient limestone has eroded into extensive karst formations, creating a network of caves that is a popular tourist attraction. The underground river and rocky terrain provide an obstacle course of exploration, and an important habitat for fish, invertebrates, and the world's most diverse population (34 species) of lungless salamanders.
Before Dalton became the "carpet capital of the world" it was a cotton mill town until Catherine Whitener created the "bedspread capital of the world" in the 1930s. The dyeing and finishing companies that served the old bedspread industry were perfectly placed to help Dalton's new carpet manufacturers in the 1960s.
Through numerous acquisitions and equity group transitions over the years, Tarkett expanded to include extrusion, dyeing, tufting, finishing, and an environmental center. Tarkett acquired Tandus in 2012, merging it with the Centiva brand.
Beautification projects on the site, such as tree plantings have better integrated the facility into its surrounding ecosystem over time.
HEALTH & HAPPINESS PETAL
In 2016, Tarkett undertook a materiality assessment, a survey to ensure that its sustainability policies are aligned with external and internal stakeholder expectations. Four key topics stood out unanimously: health and safety at work, health and safety of product and materials, environmental impact of products, and resource and material use. These results are fully aligned with our sustainability principles and strengthen Tarkett's strategic direction, which aims to develop eco-innovation fostering indoor air quality, healthy spaces, responsible use of resources, and the circular economy, while applying high standards of ethics principles across its value chain.
"What makes us stand out is that sustainability is so embedded in our organization. Not only does it drive new product development, but also reaches operations, marketing, and our partnerships with suppliers and customers. What inspires this holistic approach is the importance of health and well-being in relation to the built environment. As a result, we've influenced the industry long before these terms were commonplace."
Sarah Robinson-Enaharo – Product Sustainability Manager, Tarkett North America
05. TRANSPARENT MATERIAL HEALTH IMPERATIVE
Tarkett selects safe, healthy ingredients and aims to use mineral abundant, rapidly renewable and recycled materials. Since 2010, materials across Tarkett's 34 global manufacturing plants have been assessed by the Environmental Protection and Encouragement Agency (EPEA). Because of Tarkett's assessment, we were the first flooring manufacturer to eliminate phthalates plasticizers from our products.
"Ninety-six percent of our materials, over 3,000 raw material inputs that we procure globally, have been assessed to date. This is a monumental achievement. We want to understand our chemistry. When you do, you can optimize your products more rapidly." – Dhruv Raina – Product Stewardship Director, Tarkett North America
Tarkett's goal is to design products today that will become the raw materials of tomorrow. In case of ethos®, applying the Cradle to Cradle® design principles in 2004 to select healthy and safe materials that can be perpetually cycled. Tarkett demonstrated compliance with this Imperative through its achievement of Cradle to Cradle Silver certification level.
06. HUMAN THRIVING IMPERATIVE
Tarkett is dedicated to creating a healthy and safe workplace. In 2016 a survey was sent to employees about what wellness programs Tarkett should expand, 54% were interested in fitness programs. In 2017, Tarkett introduced two walking challenges with teams from all sites. Teams of up to eight people collectively reach a daily 7,000 step goal. Discounted walking trackers are available and weekly raffles entice participants.
Other priorities for employees were education on nutrition, stress and weight management. In 2017 programs included onsite cooking demos, blood pressure screenings, chair massages, flu shots, and seminars on cancer prevention. All programs are to promote a healthy active lifestyle. In addition, employees have access to outdoor sitting areas and natural light is prevalent on site.
Service Days involve landscaping and beautification of the community. Teams volunteer at the Boys and Girls club to re-mulch the playground, clean up the bike path and garden area, as well as plant flowers. In 2017, a team went to a local school to construct a living tunnel lined with vegetation and flowers.
MATERIALS PETAL
07. RED LIST IMPERATIVE
In 2012, based on customer feedback, Tarkett's leadership realized more detailed information and assessments of product materials should be made public to assist consumers in making more informed purchasing decisions. Our solution was the creation of the Environmental and Health Statement (EHS), a full disclosure of the potential chemicals of concern in Tarkett products. In each EHS, we compared our own product ingredients to a set of priority hazard lists, based on lists from government agencies and GreenScreen for Safer Chemicals.
At the time, a review of existing disclosure documentation revealed that the available transparency tools may not provide a complete view of the impact building products have on both human health and the environment. In 2013, Tarkett engaged with EPEA to launch the Material Health Statement (MHS): a declaration of content and material health based on the Cradle to Cradle® principles. The MHS is based on an ecological and toxicological assessment of material ingredients. The methodology of the C2C material assessment is science-based, widely accepted in the building and design industry, and easy to understand. The Material Health Statement is intended to address the environmental and human safety of a finished product (including worker exposure) and the potential for post-use resource recovery.
As customers demanded simpler manufacturer driven material inventory and for customers driven by ensuring no RED LIST ingredients were present in a product, Tarkett pursued and achieved a DECLARE label in 2014 for Ethos® and the product does not have any of the chemicals on the list.
In 2017 we added REACH (Registration, Evaluation, Authorization and Restriction of Chemicals) a regulation of the European Union, to compare our raw materials inputs as part of our drive towards optimization.
09. RESPONSIBLE INDUSTRY IMPERATIVE
In 2010, Tarkett joined the United Nations Global Compact as a signatory to mainstream the ten Global Compact principles in the areas of human rights, labor, environment and anti-corruption in all its business activities across the world. By embedding these principles within our supply chain, we can ensure how many of our suppliers actually adhere to these principles themselves. We continue to elevate these discussions inside the World Economic Forum, also by aligning ourselves with the UN Sustainable Development Goals. These collaborations are challenging us and are guiding our commitment to making a positive contribution to global challenges.
In addition to respecting local labor legislation, Tarkett applies in all the countries in which it operates the same respect for its fundamental values and principles of freedom of association, and in particular, respect for trade unions. We do not tolerate the use of child or forced labor in any of our operations and facilities. As a purchaser of goods and services, we expect our suppliers and contractors with whom we do business to uphold the same standards. We provide living wages that should always be enough to meet basic needs and provide discretionary income. These wages are reviewed every couple of years.
Due to life cycle thinking driving the product development process, ethos® has achieved positive design milestones along the continuum of improvement and is suitable for cycling perpetually, using ingredients that are safe and beneficial – to be fully recycled into high-quality materials for subsequent product generations, again and again. This allows Tarkett to eliminate the concept of waste and recover value.
These actions coupled with a life cycle analysis have encouraged us to study a wider scope than the manufacturing processes of our flooring products, in particular integrating the entire upstream component of our value chain, as well as the use phase and the end-of-life of our flooring products. Making the transition to a circular economy is a significant priority, in which we use recycled materials to reduce emissions related to raw material extraction and limit waste production.
DECLARE ID: TAN-3001
10. NET POSITIVE CLIMATE IMPERATIVE
Tarkett's Doing Good—Together platform is inspired by the world's most ambitious sustainability goals and organizations. From our membership in the World Economic Forum to our participation in the UN Global Compact and our alignment with the UN Sustainable Development Goals, we're committed to big ideals and positive action, working for the health of our products, our world, and a good future for all.
One example of how we translate bold goals into action is through our partnership with organizations such as Earth Enable. Earth Enable started with a dream to improve health outcomes through simple and affordable solutions. Traveling through Rwanda, the founders first sought to understand how sub-optimal homes affected physical and emotional health outcomes and were shocked to discover the significant health problems that dirt floors cause. Eliminating a dirt floor from the home results in dramatic reductions in childhood asthma, diarrhea, malnutrition, and parasitic infestations. They realized that they could change lives if they found a way to floor Rwanda.
Dirt floors are a public health nemesis, dust is kicked up, spills and puddles stick around, and the floors of peoples' homes become a breeding ground for mosquitos, parasites, and all of the disease that come with them. Earth Enable's custom-developed earthen floors eliminate unsanitary dirt floors and provides affordable, sanitary flooring that can be washed, cleaned, and used to create a healthy home environment for millions of people. The goal is to reduce healthcare costs, curb carbon emissions, and strengthen rural economies.
Tarkett is in the process of developing a longer term protocol in support of Earth Enable that includes, but is not limited to, technology transfer, access to Tarkett's research and innovation (R&I) facilities, helping Earth Enable scale the 40,000 square meters of flooring that were installed through the end of 2017, to rapidly and economically cover the entire nation of Rwanda and neighboring Nigeria. The primary emphasis of this project is to increase the durability and longevity of the floors resulting in significant impact to social and economic health of the people in the region. This Handprinting Plan will assist in Earth Enable's mission to floor Rwanda and contribute to Tarkett's Handprint through the avoidance of concrete floors that might otherwise be installed in homes.
| | |
| --- | --- |
| Name of Carbon Offset Project: | Earth Enable |
| Location of Carbon Offset Project: | Rwanda |
| LCA Unit of Measure: | 1 square meter |
| Life Cycle Assessment Results for Climate: | 8.82 (ethos® with recycled yarn) to 11.75 (ethos® with virgin yarn) kg CO2-eq |
12. PRODUCT FIT TO USE IMPERATIVE
Tarkett and Tandus Centiva's Modular Soft Surface Products and Powerbond undergo the Fabric Adoption System Test Battery and meet or exceed the pass/fail criteria for all tests in order to qualify for establishment as a standard product offering.
The testing categories include appearance retention, colorfastness, construction, dimensional stability, flammability and performance. Additionally, all Modular and Powerbond products carry a non-prorated Lifetime Limited Warranty that remains in effect for as long as the original end-use purchaser maintains the product in the original indoor installation location.
13. USEFUL LIFE DISPOSAL IMPERATIVE
As a leading manufacturer of commercial floor coverings, Tarkett has a responsibility to make products that are safe for the people who use them and the environment. That means we design our flooring to have a long, meaningful life and at the end of use, our products can be repurposed back into new flooring through our ReStart® Program.
We were the first in the industry to reclaim and recycle soft surface flooring from the waste stream, the first to third-party certify a recycled content product and the industry's first to third-party certify a closed-loop reclamation and recycling program.
The Architectural Sample Return Program repurposes unused and outdated samples returned from specifiers.
Our Contractor Return Program reclaims clean installation flooring waste, and incorporates it into our new products.
The Post-Consumer flooring recycling program recycles all soft surface and VCT flooring. We recommend using our releasable adhesive as it makes the floor easier to recycle. But, don't worry, Tarkett will still take it back for recycling if you didn't.
EQUITY PETAL
14. EQUITABLE PRODUCT ACCESS IMPERATIVE
In 2018, Tarkett North America donated flooring products valued at $400,000 to Habitat for Humanity as part of the global corporate social responsibility initiative, Tarkett Cares. The partnership began during the 2017 hurricane season with the donation of $250,000 of Johnsonite and Tandus Centiva flooring to aid with Habitat's disaster recovery and rebuilding efforts in Texas and Florida.
In addition, Tarkett is supporting Home Builders Blitz with a donation of $150,000 in product to help build safe, affordable housing for families in need. The Home Builders Blitz is a week-long initiative each summer that enlists help from thousands of professional home builders who work alongside Habitat homeowners and volunteer their time and talents to construct, repair, and revitalize homes.
In recognition of its outstanding commitment to the betterment of low-income housing, Tarkett has been inducted into the prestigious Habitat for Humanity Cornerstone Council.
15. RESPONSIBLE CO-PRODUCTS IMPERATIVE
Tarkett and its subsidiaries, including product brands Johnsonite and Tandus Centiva, do not manufacture directly or indirectly, sell or provide any of the goods or services below:
Weapons or armaments of any kind
Tobacco products, pornography, violent video games, or illicit drugs
Engage in fossil fuel extraction
Engage in nuclear energy production or nuclear weapons manufacturing
BEAUTY PETAL
19. BEAUTY + SPIRIT IMPERATIVE
"We are constantly inspired by nature. When starting a new collection, we try to draw from as many natural elements as possible. The veining of a stone, the rings on a slice of wood, the way morning dew sparkles on a spider web. No two things are ever the same in nature. Every day brings countless new sources of inspiration. With our ethos Modular Tile, we are focusing on sustainability and wellness and that feels good. We strive to create sustainable design cultivated out of good stewardship to the planet's natural resources. Ethos is a cornerstone of that commitment." – Misty Lewis, Director of Design, Soft Surface, Tarkett North America
The beauty of ethos® is its flexibility—in both design and installation. Made with PVB film from recycled safety glass, ethos® Modular carpet backings are offered in 162 different styles, with a variety of color choices in each style. Choose from an expansive array of leafy green hues, blues that resemble the oceans and sky, and earth tones that ground us in firm terrain. ethos® Modular Tile with Omnicoat Technology is available in several tile and plank sizes and four pattern types: linear, geometric, organic, and solid, allowing customers to create any environment they imagine.
20. INSPIRATION + EDUCATION IMPERATIVE
LPC PAGE URL: https://commercial.tarkett.com/en_US/node/living-product-challenge-3811