The project was a redevelopment of the site where the developer, Jon Brett, was born and raised. The original home was architecturally designed by his father and named Tanglewood in the late 1940s and continually extended through the 50s 60s and 70s. The original part of the house was eventually sold, and the remaining building dismantled. A new version of Tanglewood was designed to nestle in amongst native plants (instead of lawn and rose garden) re-using much of the salvaged timber and furniture from the old building.
Tanglewood has successfully achieved Petal Certification, focusing on Energy, Health & Happiness, and Beauty. This Case Study focuses on insights in hindsight, hoping to show how EGO-centric projects can be ECO-centric, sensitive to both our own natural desires and the natural tendencies of the Place (eco is derived from the Greek oikos, meaning an extended family unit that consists of the house, members of the family and all property).
VITAL STATS
| | |
| --- | --- |
| Certification Status | Petal Certified |
| Version of LBC | 3.0 |
| Location | Auckland, New Zealand |
| Project Area | 198 square meters |
| Start of Occupancy | October 2018 |
| Owner Occupied | Yes |
| Number of Occupants | 2 |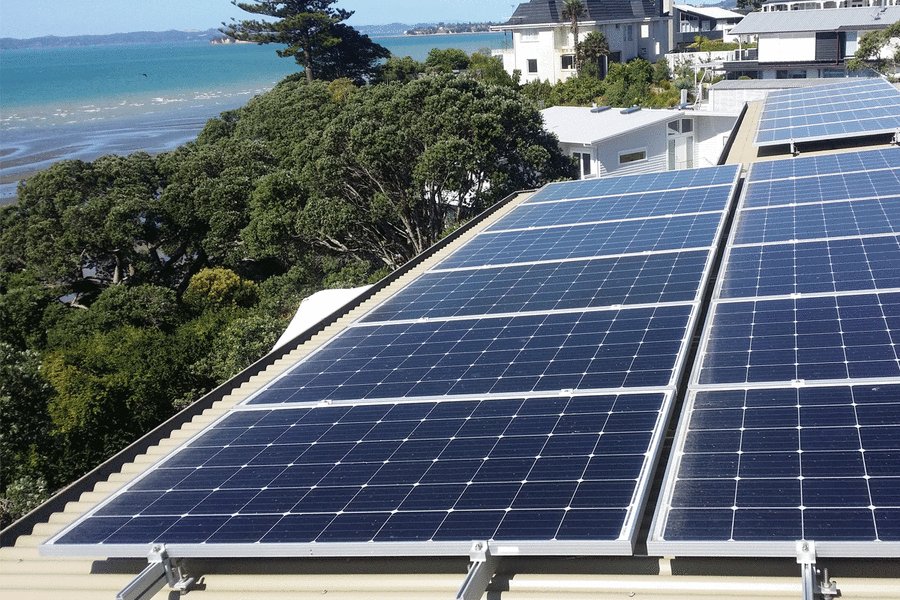 PROJECT TEAM
| | |
| --- | --- |
| Owner | Yoshimi & Jon Brett |
| Licensed Building Practitioner | Equinox Design |
| Contractor | BioBuild |
| Electrical | Bull Electrical |
| Plumbing | Get Plumbed |
| Lighting Design | Wix Lighting |
| Geotechnical | Geotek Services |
| Civil | Airey Consultants |
| Energy Consultant | Evident |
| Landscape | Te Whangai Trust |
| Structural | Sullivan Hall |
SITE INFO
Whāia te iti kahurangi, ki te tuohu koe, me he maunga teitei.
Seek the treasures of your heart, if you bow your head, let it be to a lofty mountain.
A Whakatauki (proverb) from the Ancient Wisdom of the Maori
We originally set our sights too low, too ego-centric. The Living Building Challenge encouraged us to be more eco-centric and consider a much loftier mountain in this new decade where, as Buckminster Fuller says: The future is a choice between Utopia and Oblivion.
Tanglewood is a regenerative project, returning a typical suburban property to a more natural state. We de-colonialised a typical English garden with neatly mown lawns and pretty rose gardens, replacing it with native bush which is naturally resilient without our intervention. The house was intended to step lightly on the land, with minimal earthworks, concrete, steel and construction waste.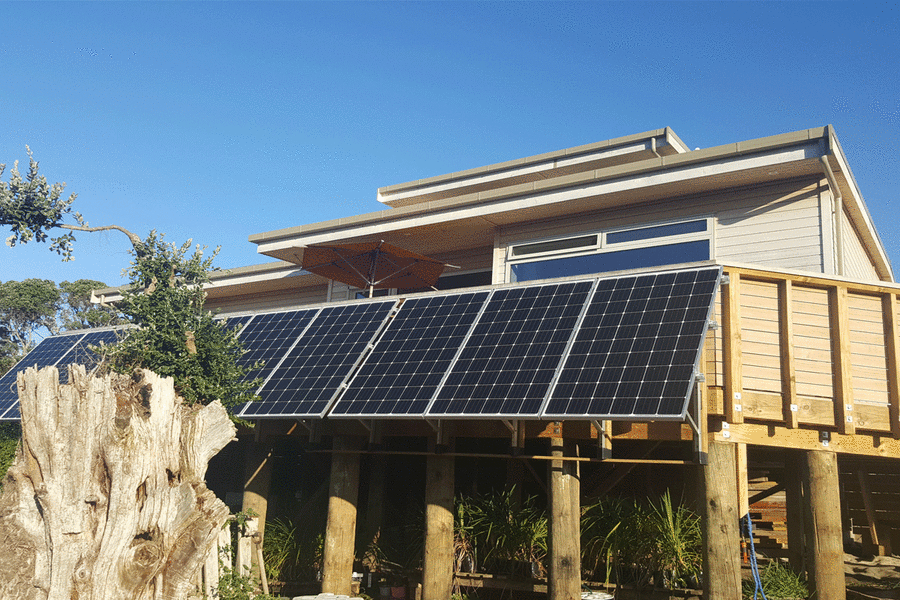 ENERGY PETAL
The aim for Tanglewood was to build a house with low embodied energy and to generate enough energy for our local transport as well as all our household use. Highly efficient appliances, massive insulation to minimize heating/cooling, plus enough solar panels to generate household electricity requirements, enable us to contribute to the electricity grid as well as charge an Electric Vehicle.
REDUCING EMBODIED ENERGY
To reduce embodied energy we have minimized the use of materials made by burning coal:
Laminated timber structural beams and portals instead of steel.
Timber floor on timber post foundations instead of concrete slab.
Acrylic instead of glass in most of the smaller windows.
REDUCING WASTED HEAT
Exterior walls have 3 layers of insulation totaling 185mm thick made with fibers from recycled plastic bottles, Red List Free and 100% recyclable. There is minimal use of two hydronic radiators for either heating or cooling which rely on the same heat pump as the hot water system. One day during winter we turned on heating for 2hrs to see if it worked. Similarly, this summer we have only wanted it on two of the hottest days.
HOT WATER
We have a thermal store which is just a large heat exchanger containing less than 30 liters of potable water, but 300 liters of closed system heat storage, kept at around 45-50°C. Heat pumps are much more efficient at this temperature than above 50°C, plus we don't waste as much heat in the pipes. An independent 30 liter hot water cylinder below the kitchen sink allows almost instant, really hot water.
ENERGY GENERATION
Facing exactly due North is ideal for solar panels, but the magnificent view is also due North and we do not want to look at the back of solar panels. 18 panels are flat to the roof and only 5° above horizontal which means they are not very efficient in the winter when we need the most power. However, we have one bank of 9 panels in front of our deck balustrade that can be adjusted seasonally to 50° during May- 2 / 2 July, then back to 30° for the rest of the year. Theoretically they are 40% more efficient than the flat 5° panels during the three winter months. A lowered walkway around the outer edge of the deck enables the balustrade to be only 50cm above floor level, effectively underlining the view rather than intruding into it.
We generate far more electricity than required, and feed back into the grid with the aim of regenerating the embodied energy of the project. Even in winter we have more than enough for the household, including charging our Electric Vehicle, which we say "runs on sun".
ENERGY STORAGE
The 13.5kWh Tesla battery enables us to operate independently of the grid when the sun is not shining. A fully charged battery provides up to 10kWh of energy, which is a 74% discharge. We only needed this once when we charged the car before the Tesla battery was fully charged, and the following morning used an unusually large amount of energy for breakfast and laundry before the sun came up. Lesson learned.
If the grid went down for an extended period, we would use any excess solar energy to heat our 300 litre thermal store from 50° up to 80°, effectively giving us up to another 10kWh of energy storage specifically for hot water.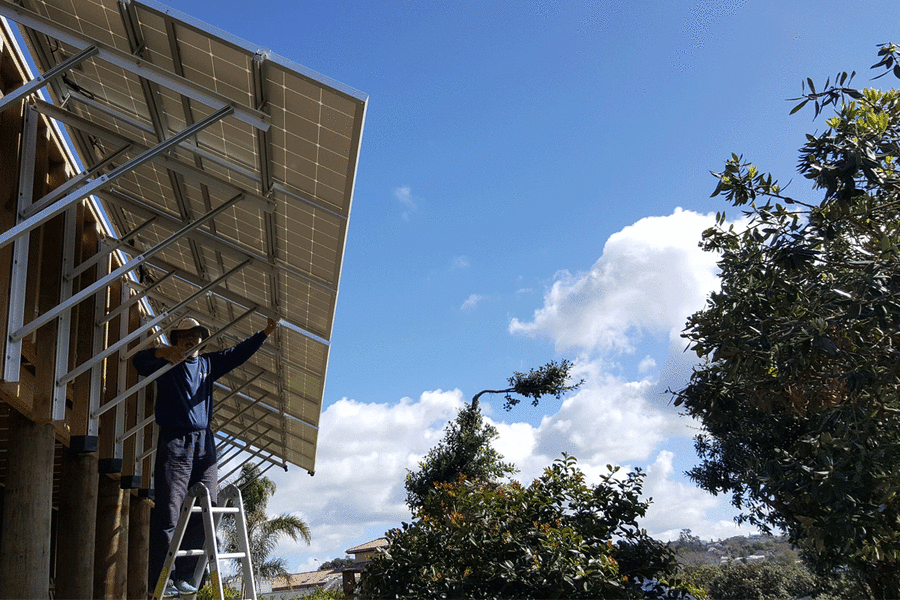 HEALTH & HAPPINESS PETAL
Biophilia means, the love of life…thus the love of Nature…thus the love of human Nature. It's the last one…human nature that'll make or break us. Nature will sustain just fine without us. The question is, What must we do NOW to care for and connect with the planet and each other to ensure an ecological, healthy, sustainable, biophilic future for all of life? 
Yoshimi and Jon Brett, 2020
07. CIVILIZED ENVIRONMENT IMPERATIVE
From the early stages of design, Tanglewood was imagined as a home that provided a sanctuary amidst its setting overlooking a beautiful bay and neighboring islands. It was always intended to nourish heart, mind and body with its direct connection to earth, air, water and the sun.
Every window and door was designed to provide a connection to nature while providing excellent ventilation, natural light, shade, openness to nature's sounds and sensations (the sea, birds, breeze, warmth).
Active ventilation is available in the Laundry and bathrooms, with the Master Ensuite and Laundry using Lunos fans which also reduce heat loss and humidity.
The following ensure optimum ventilation, clean air, no glare, warmth in winter, coolness in summer, peace and quiet, re-energized body and soul.
Inside-Out Connection with Nature:
Double glazing and thermally broken joinery for thermal insulation.
Awning windows above most picture windows for ventilation.
North-facing picture windows are tinted to reduce glare and enhance the color of the water and islands.
Opaque windows facing neighbors provide natural light without losing privacy.
Experiment: Plexiglas in selected windows on the East and West sides where windows are small and high (mainly to the sky) and usually left ajar for ventilation (so no point in double glazing).
Screens allow windows and some doors to remain open while filtering out dust and insects.
Recycled Rimu (timber) entry floor and shoe-zone.
Marmoleum (Linseed-based DECLARE product) floor in kitchen and bathrooms.
100% NZ wool carpet with sweeping curve between the living room carpet and dining room marmoleum, imitating the beach below.
Recycled Rimu timber ceilings aligned to define functional spaces (living/dining) and highlight the beautiful timber grain (enhanced by the natural Tung Oil finish).
Hemp and natural fiber soft furnishing covers.
Outside-In Connection to Nature:
Welcoming entrance w/ recycled guava tree branches and native plants
Lowered walkway around the outer edge of the deck allows a solid balustrade hiding solar panels and effectively underlines the view across the tops of a row of native Pohutukawa trees to the sea, even when sitting on the floor.
Every room has a window to the outside, except the secret Harry Potter room under the stairs.
Views of the sea, trees (neighbors' & pot plants) or sky from every clear window.
Grass pavers for car turning area.
08. HEALTHY INTERIOR ENVIRONMENT IMPERATIVE
Our approach was let Nature do the work, but be prepared for climate change as we may need more heating and cooling in future. Currently our primary temperature control is by opening or closing windows. Massive insulation, double glazing and thermally broken joinery make this possible in our temperate climate, even without any thermal mass. However, our heat pump not only heats our hot water but also can either cool or heat via hydronic radiators with fan assistance.
Most of the feature timber is salvaged from the original building that my Father designed and I grew up in. Most of the wood had blonded over time, having been polyurethaned. Milling and resurfacing the timber with high quality natural Tung Oil based treatments has not only protected the timber but highlighted the grain like I had never experienced. The floors are cleaned every two weeks with black tea which naturally preserves the beautiful grain without bleaching it.
Living next to the sea means we generally have clean, fresh air, largely free of vehicle pollution. Although we did not set out to be combustion free, we realize it is relatively easy, especially now that you can get good quality electric vehicles, barbecues and candles.
Stunning views of the sea and islands in the distance are a feature in every room except two bathrooms on the south (cold) side of the house. Even the Harry Potter room under the staircase has a view after opening a huge secret door.
In the summer, our health regime is to try and swim every day at high tide. Sometimes it is quite chilly, and we need a bath to warm up (yes, even in the summer). Our master ensuite is easily accessed from the deck, and we have the shower next to the bath to shower off the salt – followed by a hot bath with a million dollar view and a window sill large enough for snacks and drinks. That is our healthy indoor environment!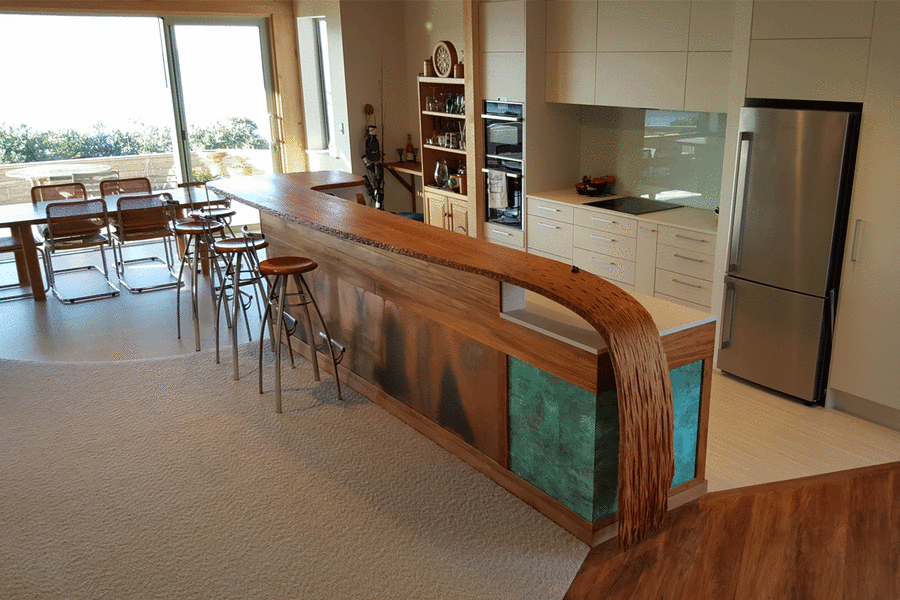 09. BIOPHILIC ENVIRONMENT IMPERATIVE
One highlight of the Living Building Challenge Journey was learning about, researching, and valuing biophilia. This imperative allowed us to be creative in approach. Addressing this imperative gave us a firm foundation and a fourth principle from which to design and build. The principles of the project, and the way we live, continue to guide our every action. They are to be:
Ecologically Restorative
Socially Just
Culturally Rich
Inspiringly Creative
CREATING A BIOPHILIC ENVIRONMENT
Interior and exterior designs started with nature's metaphors: the paua shell with its external resilience and internal beauty, and the rata tree, which reflects the dismantling of Tanglewood 1 and restoration of Tanglewood 2.
Nature's forces were measured from the beginning with a study of earth energy lines and by replacing negative forces with positive affirmations. Geomancy drawings warranted floor plan design considerations. The sun's energy and light, earth's contours and clay, aged trees and views all came into play to support a healthy, vibrant Tanglewood, inside and out.
Time was taken to understand and acknowledge the land upon which we will spend the rest of our lives. Long before Jon's father removed the tangled wood and weeds from the land to build Tanglewood, Maori tribes (Ngāti Kohua, Ngāi Tai, Ngāti Whatua to name a few) lived, gathered seafood and fought each other as well as British colonists. This research is explained on our website – it is referred to here because knowing, speaking to and asking permission from the land was key in building a relationship to place. This relationship ensured our biophilic endeavours were relevant, holistic, beautiful and regenerative.
THE PROCESS
After working with 4 different architects (that's another story), we re-connected with a friend who magically brought our vision to life with working drawings just in time for Tanglewood's Biophilia Workshop! Significant stakeholders including our builders, consultants, neighbors and Maori friends whose ancestors preceded us all, were invited. The workshop was the first opportunity to share our holistic approach to Tanglewood's vision and values. Our approach reflects a model we created in 2000 called TetraMap. TetraMap is a metaphor and framework based in Nature and combined with the wisdom of Buckminster Fuller. Like Bucky, our vision reflects Nature's beauty and abilities to create synergy through inter-dependence and diversity, wasting nothing in the process.
Tanglewood's LBC biophilic aspiration is to shift mind-sets that design, build and behave ecologically to create a safe, healthy, just, living future for all on Spaceship Earth.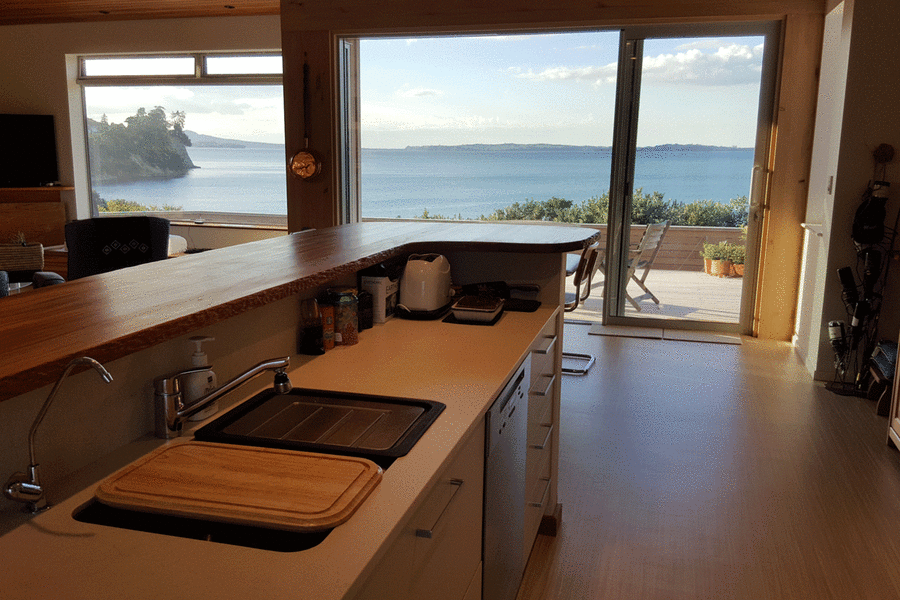 BEAUTY PETAL
19. BEAUTY & SPIRIT IMPERATIVE
The owners' approach to the Tanglewood Living Building Challenge was to:
Hold the Vision: Reduce conflict – Leverage Diversity
Live our Values: Sustainability – Transparency – Responsibility – Inter-dependence – Creativity – Holism
Prove that using TetraMap as a framework, an approach and way of being can reduce conflict and leverage diversity for the betterment of the project, humanity, and the planet.
Applying "delightful and inspiring" to Tanglewood's desired outcome was a perfect opportunity to demonstrate the extended fourth LBC principle: to be "Inspiringly Creative". The following elements have been included in the project:
The Rimu (native NZ timber salvaged from Tanglewood1) entry, bar and ceilings.
The front door handle, balustrade and stair bannister crafted from a trimmed guava tree still growing below the solar panels.
The marmoleum (DECLARE) flooring that transitions to 100% wool carpeting in the living room with a curved sweep imitating the beach below.
The clay plastered living room wall with its matching view to the sandstone cliffs at the end of the beach. The clay is from the front garden. Alan, master earth builder and owner of BioBuild, mixed the clay with sand and water. This was his gift to the Bretts.
The stairwell gallery of John Brett paintings. (Jon's great grand-father) J. Brett was a British Pre- Raphaelite painter with works at the Tate and other galleries.
The secret room behind the beautifully crafted rimu 'wall' with a Tokonoma (Japanese alcove usually depicting Nature) on the outside.
The deck that overlooks Howick Beach and neighboring islands – designed with a wrap around, lowered walkway and a solid balustrade that underlines an unobstructed view out from the living/dining/music rooms, as well as hiding a row of articulating solar panels.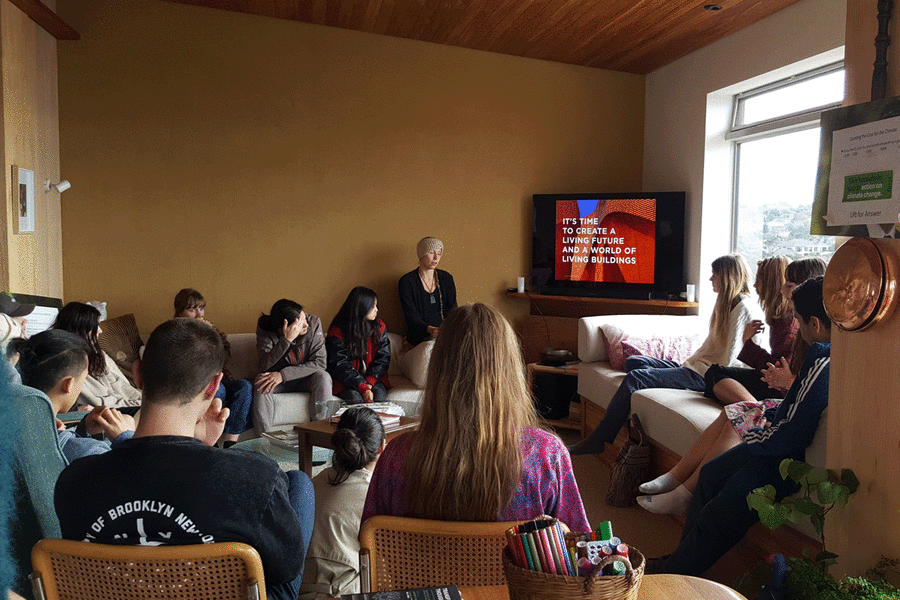 20. INSPIRATION & EDUCATION IMPERATIVE
This imperative was a natural for us. As teachers in our early lives, life-long learning has always been a concept central in our development. Our recent retirement was preceded by 25 years as corporate facilitators – helping individuals, teams and organizations stay connected, ethical and to navigate decades of massive change.
At the heart of our teaching and facilitation are lessons from Nature and Buckminster Fuller. We created TetraMap, a model, framework and approach that reflects Nature's principles of diversity, interdependence and synergy. These principles crystallized into, as Bucky defined… "the minimum structural system in Universe", the tetrahedron. In 2015, through BFI, we learned of Jason McLennan's work and so started our Tanglewood LBC journey that beautifully aligned with our life's work.
Throughout the project, we were compelled to share the lessons and challenges as part of our advocacy for climate action. Thanks to TetraMap, we merely applied what we had been shouting out for years about reaching goals and finding solutions. Simply put, in building all relationships we:
Set a firm context of vision, values and leadership
Engaged with challenges compassionately
Worked to shift mind-sets away from debilitating status quo
Always, always strived to raise self and group-esteem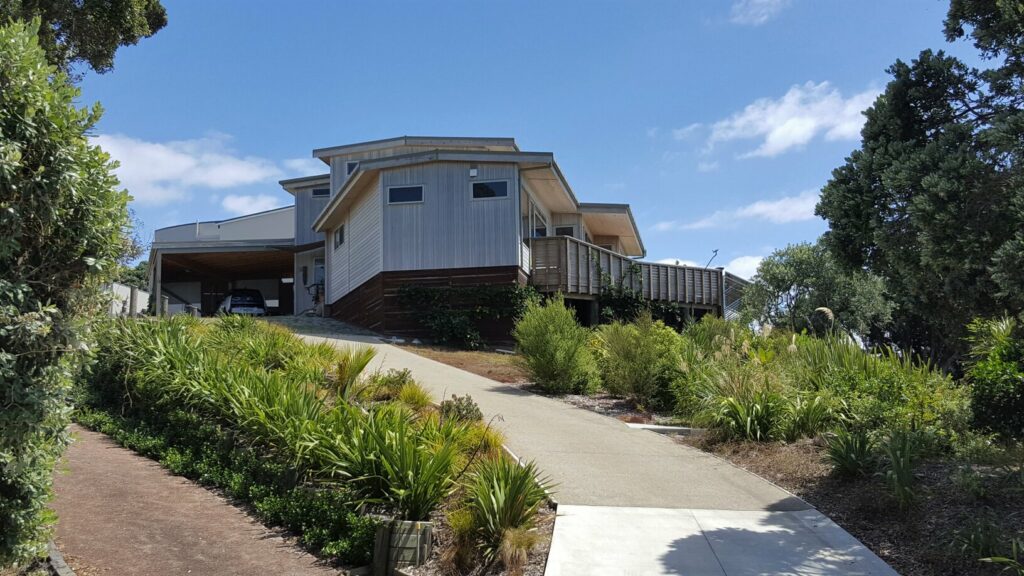 In summary, the project team encourages others to take actions that result in:
Reducing Footprint AND Increasing Handprint
Eco over Ego
Biophilia as a mainstream thinking and doing
Inter-dependent and diversity-respected solutions
For the team's full case study and more, see http://tanglewood2.net/LBC.