Mohawk Group, the world's leading producer and distributor of quality commercial carpet and hard surface flooring, delivers industry-leading style, cutting-edge innovation, unmatched service and superior sustainability. A mission to believe in better guides leadership in transparency with over 500 Red List Free products that contribute to healthy spaces. With a heritage of craftsmanship that spans more than 130 years, Mohawk Group's enduring family brands are widely regarded as the most trusted names in commercial flooring.
Mohawk believes that they can build a better world by listening to Mother Nature. Mohawk is redefining flooring with products that not only minimize climate impacts, but also foster beauty and allow people to thrive. This commitment extends to their customers, employees and communities – because believing in better is good for everyone.
Mohawk has been leading the building products industry in transparency through the Declare program, Environmental Product Declarations, and Health Product Declarations. To elevate their position on transparency and evaluate their product platform to align with a higher level of performance, Mohawk has chosen their NXT backing combined with their Internal N6 Solution-Dyed Duracolor fiber to achieve the ambitious Living Product Challenge certification.
Designed by Jason F. McLennan, the founder of the Living Product Challenge, in collaboration with Mohawk Group and his team at McLennan Design, Lichen is inspired by the idea of "Nature's Carpet." The design team looked at natural assemblages of rich multihued, multi-textured lichens from extreme climates as the foundation for the collection. Just as lichens play a regenerative role in their ecosystem, the Lichen Collection is on track to give more resources back to the environment than it uses during its entire life cycle.
Innovative precision tufting technology was used to create the Lichen collection, so the textures and colors are more pronounced. It is made with Mohawk's Duracolor solution dyed premium nylon yard for permanent stain resistance, and come standard on EcoFlex NXT, our Red List Free backing. Installed with our Flex Lok tabs, it is the only Red List Free carpet installation system in the marketplace.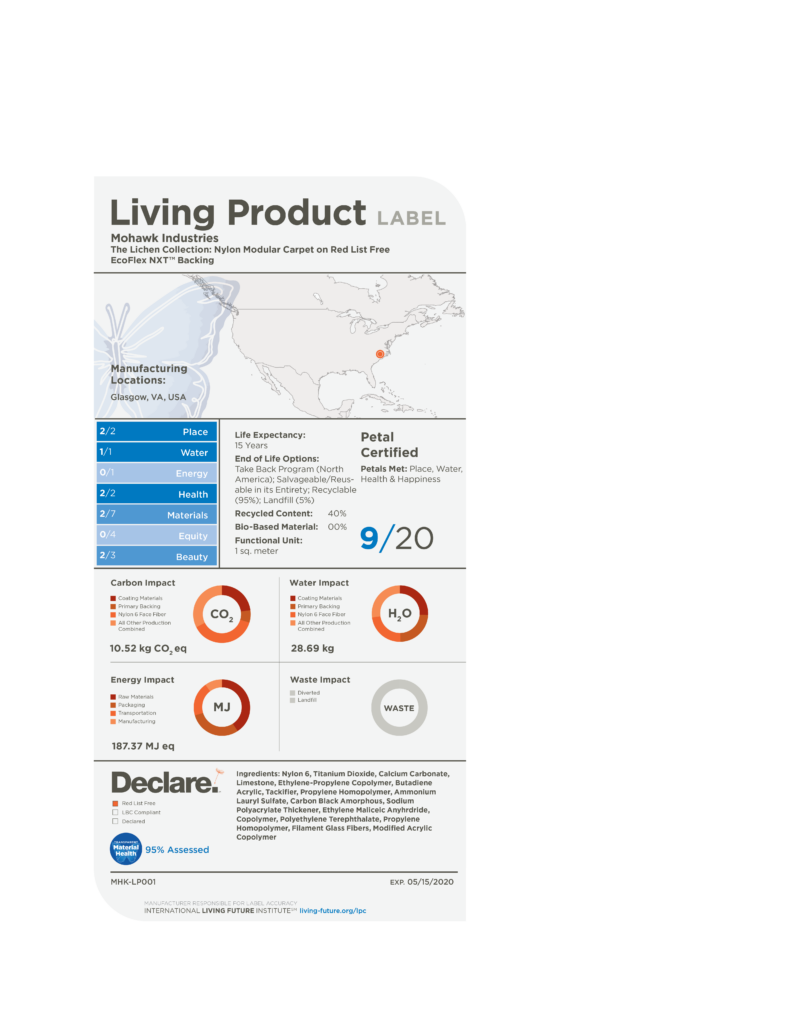 PLACE PETAL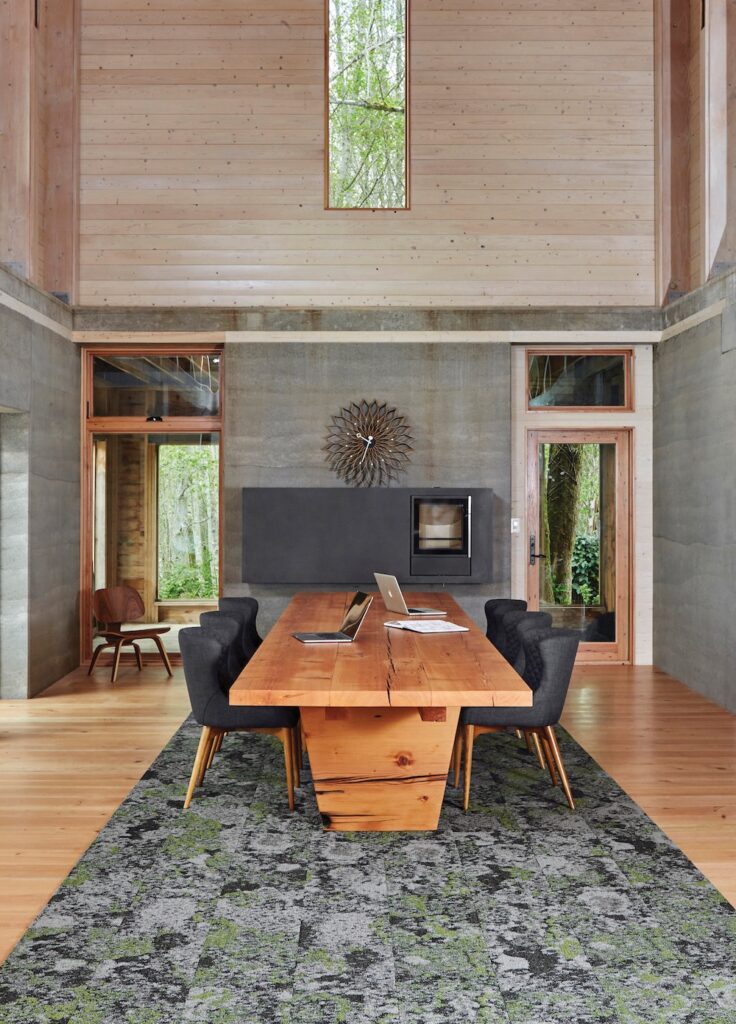 01. RESPONSIBLE PLACE AND HABITAT IMPACTS IMPERATIVE
Mohawk Group's commercial carpet plant in Glasgow, VA sits at the base of the Blue Ridge Mountains along the Maury River. On either side of the small town of Glasgow is the Shenandoah National Park and the George Washington and Jefferson National Forest. Built in 1935, the facility is located on approximately one hundred ten acres.
Mohawk employs seven hundred fifty associates in the thirty-six-acre facility manufacturing commercial carpet tile. In achieving the Place Petal, Mohawk looked for ways to create a healthy coexistence between the manufacturer and the natural environment. The company maintains an apiary with eight hives to support the local bee population. The hives are kept by one of Mohawk's tufting associates who has been a beekeeper for more than 25 years. Mohawk is also improving the greater ecosystem by joining Businesses for the Bay (Alliance for the Chesapeake Bay) as a founding member.
02. HABITAT EXCHANGE IMPERATIVE
As part of the Habitat Exchange imperative, Mohawk will be contributing towards the preservation and protection of the Appalachian Trail through the Appalachian Trail Conservancy. The Appalachian Trail Conservancy's sole missions is to protect and preserve the 2200 miles Appalachian Trail. Through the conservation efforts, the organization ensures the natural beauty and priceless cultural heritage is preserved and can be shared and enjoyed for generations to come.
The Appalachian Trail Community at Glasgow, VA is one of the 40 communities along the Appalachian Trail's corridor that have been recognized in The Appalachian Trail Community program. These towns and cities are considered assets by all that use the A.T., and many of these towns act as good friends and neighbors to the Trail.
WATER PETAL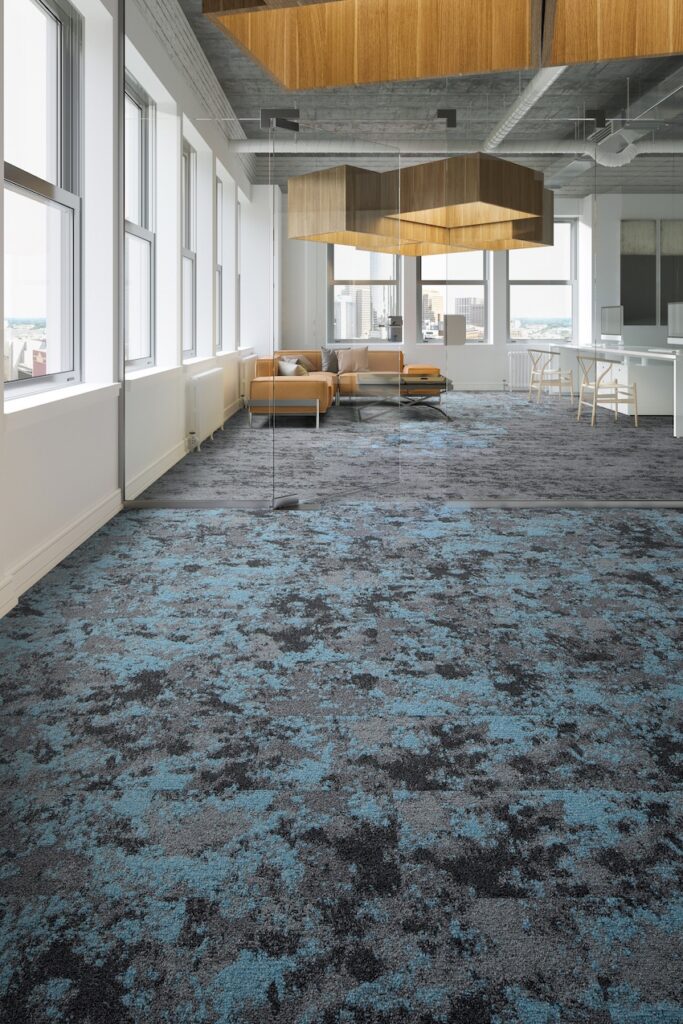 03. NET POSITIVE WATER IMPERATIVE
The Glasgow, VA area experiences a generally temperate climate with warm summers, and cold, but not severe, winters. Annual average minimum temperatures are 44.5 (F) and average maximum temperatures are 66.4 (F). The majority of water consumed at the Glasgow plant is taken from onsite Wells with a small amount of potable water coming from the Town of Glasgow. The Town water system draws water from municipal owned wells. All wells are recharged by the James River.
As part of the Living Product Challenge certification, Mohawk conducted an LCI analysis on EcoFlex NXT with Duracolor Solution Dyed Nylon 6 Face Fiber. Based on the Blue Water usage of 28.70 kg/sq meter, the total footprint for the purposes of this certification is 4,034,663 kg on an annual basis (1,135,795.19 gallons/yr).
3 YEAR HANDPRINTING PLAN
For the Water Petal, Mohawk sought to create a positive impact by developing a strategy for water savings that will exceed the 1.1 million gallons per year used for Lichen's manufacturing. To achieve that goal, Mohawk is partnering with Morehouse College in Atlanta to retrofit the showerheads in its dorms. Although only 15 showerheads would be necessary to meet the water-saving needs for Lichen's handprint, Mohawk is helping to install more than 100 low-flow showerheads, enough for every shower in every Morehouse dorm.
HEALTH & HAPPINESS PETAL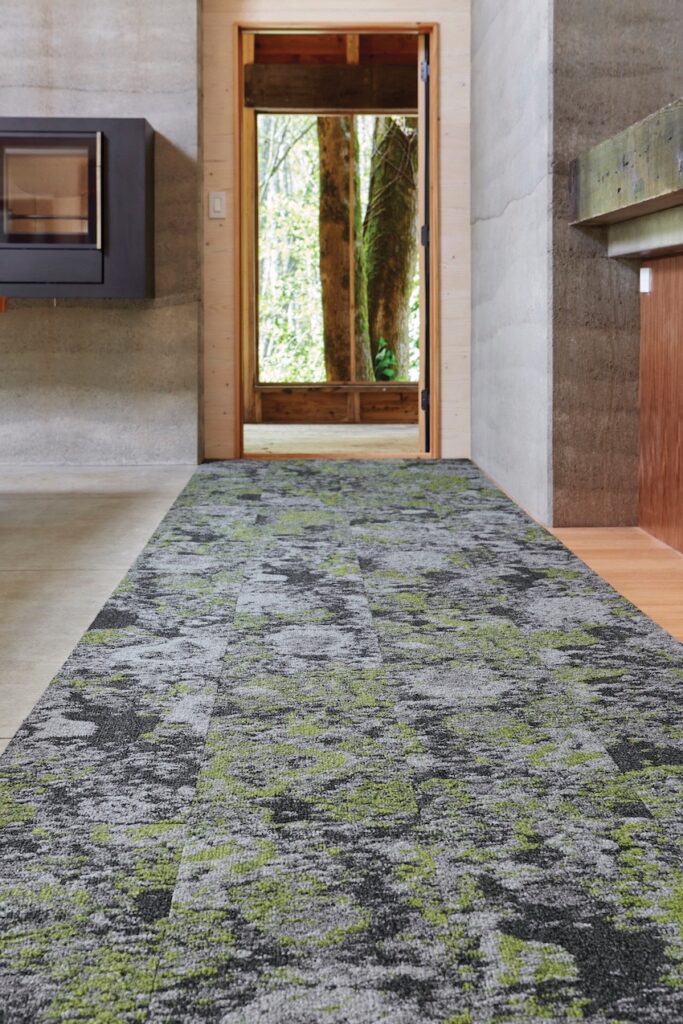 05. NET POSITIVE MATERIAL HEALTH IMPERATIVE
To meet the net positive material health imperative, Mohawk conducted an inventory research for all of the raw materials that are in Lichen's supply chain to verify the absence of any red listed chemicals.
The idea was to innovate to reduce the amount of toxic chemicals in the product or used in its manufacture. We worked with third-party assessors and a toxicologist to conduct in depth-analysis of all chemicals that are part of the product's supply chain.
06. HUMAN THRIVING IMPERATIVE
Additionally, Lichen is manufactured at Mohawk's Glasgow, VA carpet facility, which is located in biodi­verse and environmentally robust surroundings that allow the employees to experience nature in their daily lives. Like many Mohawk facilities, this location also has an on-site Healthy Life Center, which is part of the company's wellness programs. The center offers health coaches to guide associates toward achieving their fitness goals.
MATERIALS PETAL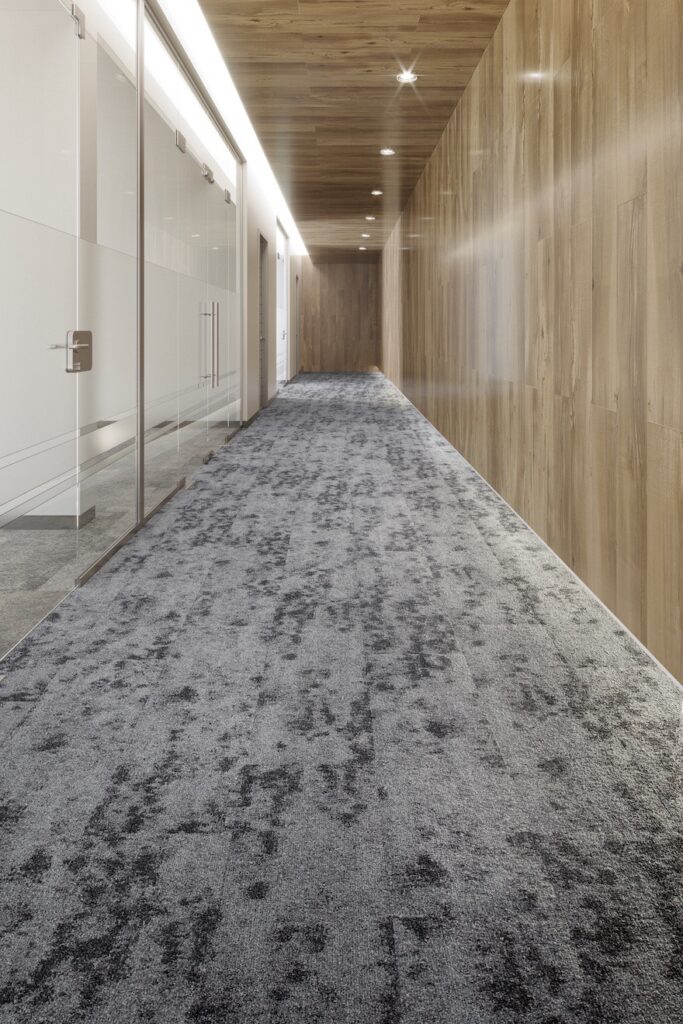 07. RED LIST IMPERATIVE
Mohawk has evaluated its NXT backing combined with our Internal N6 Solution-Dyed Duracolor fiber and all ingredients against the Red List.
09. RESPONSIBLE INDUSTRY IMPERATIVE
At this time, Mohawk is unable to source FSC certified packaging. The current supplier, WestRock can provide SFI packaging, but is unable to provide a reliable source of FSC packaging. Two other suppliers, Georgia Pacific and Sonoco were engaged as alternatives and both supplier were also unable to source FSC certified packaging. Documentation of these limitations was provided as part of the LPC certification.
BEAUTY PETAL
19. BEAUTY + SPIRIT
Lichen is nature's carpet, and comes in every color of the rainbow. Using our new yarn system of clean bright colors and heathered yarns, the design of Lichen Collection is based on actual Lichen species found in nature. We identified nine species that are each represented as a different colorway and unique pattern. Constructed on our 'pattern perfect' looms we were able to produce sculpted textures and forms on the surface which look authentic can capture nature's impact on our senses and wellbeing. The collection is a fitting example of biophilic design, where we replicate nature for the built environment.
20. INSPIRATION + EDUCATION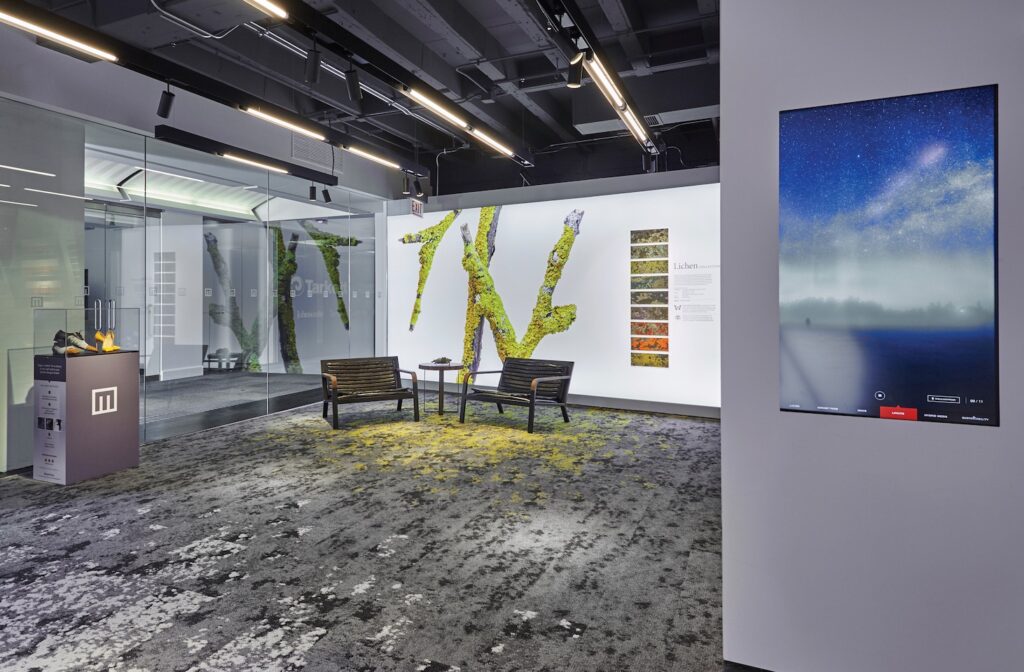 WEBSITE LPC Page