In 2009, The City of Berkeley adopted their climate action plan with an aggressive goal: reduce greenhouse gas emissions by 33% (below 2000 levels) by 2020 and by 80% by 2050. To reach their target, the city realized they would need every new building to operate at net zero energy. In 2008, a measure was passed by the citizens of Berkeley to update and modernize the city's four existing branch libraries.
When the Request for Proposals (RFP) for the West Berkeley Public Library was issued in 2009, Harley Ellis Devereaux (HED) was the only entry that proposed a net zero energy facility and thus was selected to design the library; the first net zero energy library in California.
From the onset of the project, all stakeholders (city, community members and HED) intended to create a net zero energy facility that would take a strong civic presence and provide valuable services to an underserved community.
DESIGN PROCESS
HED works in a highly-iterative and collaborative process that requires key design members and stakeholders to remain engaged throughout the lifecycle of a project. The firm initiated a number of public workshops and multiple design charrettes held with active community engagement before finalizing the design. Extensive building simulation modeling and research were carried out by in-house HED/Greenworks team members:
Site and climate analysis
Plug load, energy usage and available renewable energy generation analysis.
Solar insolation studies to determine the optimum roof height for maximum solar gain and minimal solar access encroachment.
Computational fluid dynamics studies to study the effectiveness of the wind chimney in drawing fresh air through the building.
Thermal comfort verification of staff offices and adult literacy
Daylighting studies
PROJECT WEBSITE berkeleypubliclibrary.org/locations/west-branch
| Vital Stats | |
| --- | --- |
| Certification Status | Net Zero Energy Building Certified on March, 30th, 2015 |
| Location | Berkeley, California |
| Living Transect | L4 |
| Typology | Building |
| Project Team | |
| --- | --- |
| Owner | Berkeley Public Library |
| Owner's Representative | City of Berkeley, John Rosenbrock |
| Architectural | Harley Ellis Devereaux |
| Mechanical | Timmons Design |
| Electrical | Timmons Design |
| Plumbing | Timmons Design |
| Lighting Design | Max Pierson |
| Geotechnical | Moran Engineering |
| Civil | Moran Engineering |
| Landscape | John North Roberts & Associates |
| Commissioning | Orry Nottingham |
| Structural | TippingMar |
| Specialty Consultants | Harley Ellis Devereaux, Greenworks (Sustainability/Building Simulation), SFMI (AV/IT), Bruning Associates (Signage) |
| Key Subcontractors | CEMEX (Concrete), Big Valley Metal (Structural Steel), Camblin (Rebar), Smith & Sons (Electrical/Lighting), Bay Cities Fire Protection (Fire Sprinklers), Woodtech (Glulams), Channel Lumber (Sheathing), Waterproofing Associates (Roofing), Redbuilt (Joist & Truss Joist) Trinity EMCS (Building Controls) US Glass (Aluminum Windows/Curtain Wall) Wet Bay Builders Sunterra (Photo Voltaic) Building Insulation – PCI Flooring- Joe Wang Carpet & Flooring |
| General Contractor | West Bay Builders |
PLACE PETAL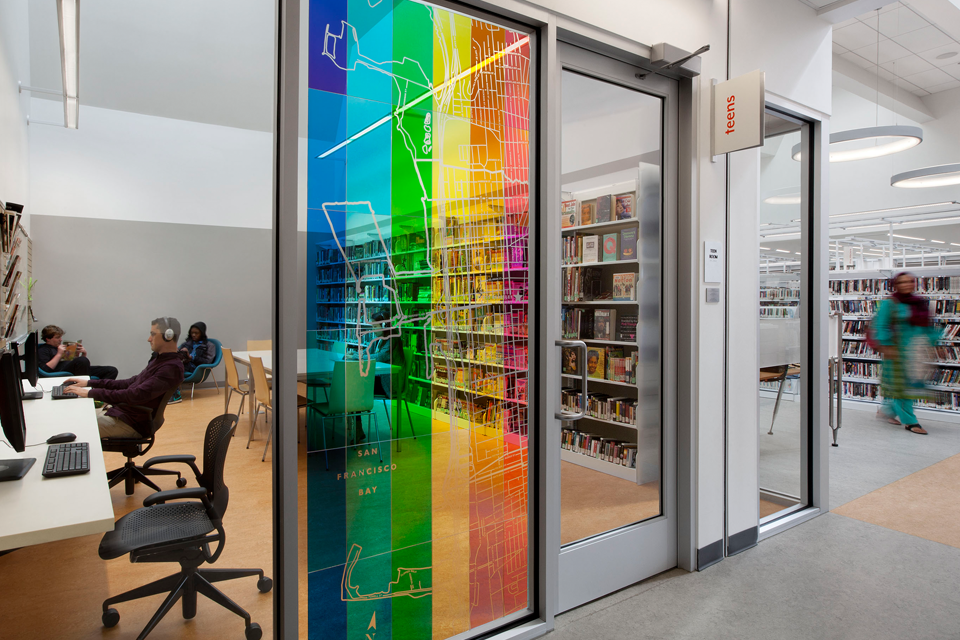 01. LIMITS TO GROWTH IMPERATIVE
Previously, the site of the new West Berkeley Library housed a single-story, Carnegie library that had been in operation since the 1920s. The structure had subsequently been remodeled several times over number of decades, but the overall space would not meet the current community's functional needs. Due to the discovery of asbestos, the site was classified as a brownfield and due diligence was carried out for proper building demolition and then reconstruction of the new library.
ENERGY PETAL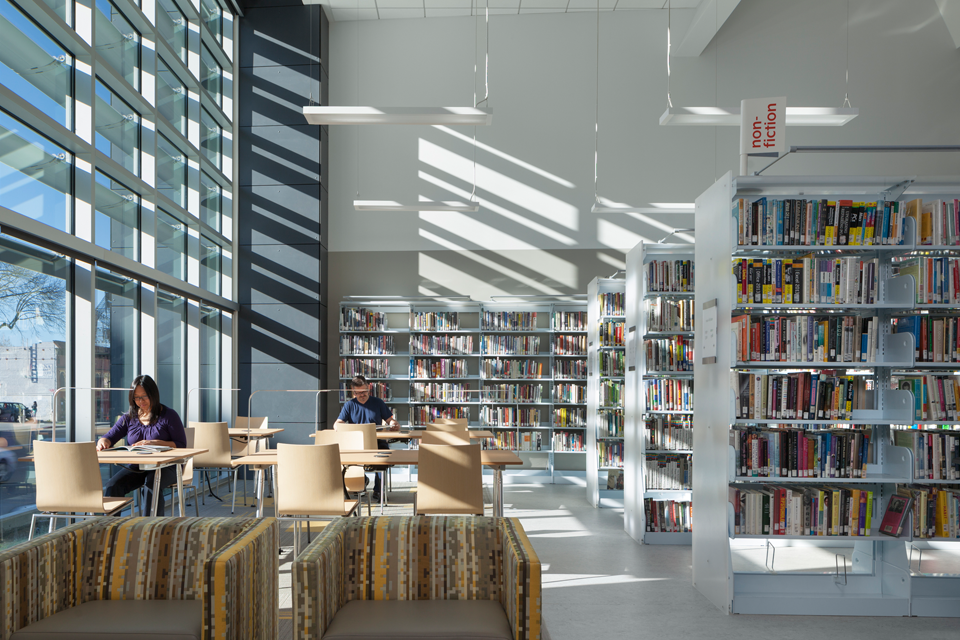 ANNUAL ENERGY USE
| | |
| --- | --- |
| Actual Energy Use | 66,525 kWh |
| Annual Energy Use Intensity | 17.4 kbtu/sf/yr |
| Actual Electricity Generated | 73,669 kWh |
| Net Energy Generation | 7,144 kWh |
NET ZERO ENERGY DESIGN STRATEGIES
DESIGN APPROACH
The key approach to energy reduction was creating a design that incorporates passive strategies. Berkeley is blessed with great weather and abundant sunshine, which allowed the design team to focus on designing a high-performing, energy-efficient structure that leverages both natural ventilation and solar access with daylighting and renewables.
NATURAL VENTILATION, HEATING & COOLING
Mix mode of solar thermal with three small heat pumps and a condensing unit on the roof for heating and cooling.
The Building's BMS (Building Automation/ Monitoring System) controls the PV, natural ventilation, fans, radiant heating and cooling. The lighting panel controls are tied to the BMS.
Computer Fluid Dynamics (CFD) models were generated to study the characteristics of air flow in the building.
The radiant flooring consists of triple wall pex tubing that are embedded in a 4" concrete slab over 2" of rigid insulation on a 18" thick concrete mat slab.
HEATING & COOLING
There are 5 mix modes for natural heating and cooling in the building:
HEATING MODE
Solar Thermal collectors on the roof provide heat to the radiant slab. If there is insufficient sunlight, supplementary heating is provided via heat pumps located on the roof. Required air exchanges (fresh air intake) are achieved with preheated air passing through Runtal radiators at the exterior windows. These operable windows are opened and closed by the Building Management System (BMS) which utilizes sensors within each space to detect elevated levels of carbon dioxide. Windows can be opened manually for added individual control but the BMS will perform a sweep at predetermined times and close the windows as necessary to ensure energy is not wasted.
COOLING MODE 1
In the cool, early season, outside air is drawn through building utilizing negative pressure at the wind chimney to extract warm interior air. The standard air flow is from the operable windows at the north, through the building and up the wind chimney. In addition to carbon dioxide sensors, there are thermostats within each space or zone that monitor the temperature of the room and communicate with the BMS. Should the temperature exceed or fall below set points, the radiant system will initiate.
COOLING MODE 2
In moderately warm temperatures, Cooling Mode 1 is employed plus additional air movement achieved by opening operable skylights.
COOLING MODE 3
During warm weather, Modes 1 & 2 are used with additional air movement utilizing large fans in interior spaces and a supplementary exhaust fan located at the wind chimney for heat extraction.
COOLING MODE 4
In hot temperatures, all windows and skylights are shut. Supplementary cooling provided through radiant floor via heat pumps on roof. Windows are opened by BMS for fresh air intake as required.
LIGHTING
There are extensive daylighting models. All artificial lighting is tied to lighting panels and daylight sensors. In the library the lighting was designed to be task-based versus spatial illumination.
BEAUTY PETAL
19. BEAUTY & SPIRIT IMPERATIVE
The building is located within a composite commercial fabric of West University Avenue. The large-scale frame element articulated in a neutral gray makes the building very distinct from its surroundings while still relating to the overall urban context. The pedestrian-scale entry trellis in warm wood forms a welcoming entrance porch. Here, the southern light creates a playful mix of light and shadow. In concert these framing elements create a sense of civic presence for a community that prides itself for its public engagement. Public art installations made by a local artist utilizing various types of glass, dichroic and colored glass are located throughout the building to help enhance and draw attention to the daylight that is shared throughout the building.
The warm wood material runs continuously from the entrance to the service desk in the main, central space within the library. It invites one to touch and feel its texture thus enhancing the sensory experience within the library, already enlivened with natural light.
Day-lighting throughout the building is one of the most important sustainable features for the West Berkeley Library. It is also the principal generator of a sense of well-being and delight within the space. Building parts that enhance the effect of natural light are used to form a strong spatial character. The skylight slots in the ceiling exemplify this: light-reflecting ceiling panels are angled to amplify the bouncing and diffusing effect of the incoming light while simultaneously forming large coffered volumes that cross the space to give these natural light elements a monumental appearance.
Passive strategies to ventilate, heat and cool the space eliminate the need for traditional mechanical equipment that can large and take up space. The space is, therefore, more pure in form, simply shaped by natural light.
20. INSPIRATION & EDUCATION IMPERATIVE
An energy dashboard in the entry lobby highlights the sustainable features of the building and is also available online and can be accessed from smart phones, tablets and other web base interfaces. The library staff have been provided with educational material that explains the sustainable features and in turn regularly respond to questions from the public about the design features of the building.
The library does not have a scheduled annual tour, but it is a public facility and there have been several tours and presentations about the building. Library staff routinely host tours from Berkeley public schools and other organizations on request.