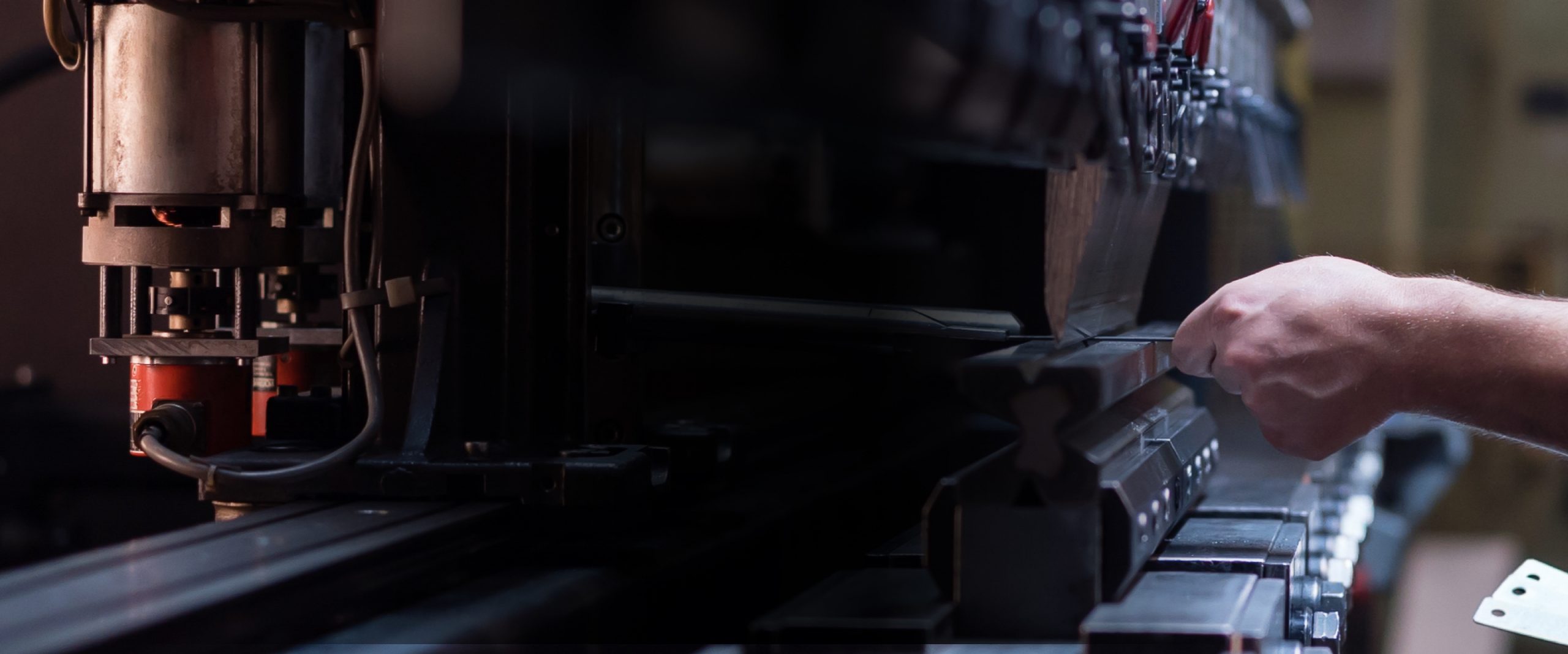 A PLATFORM TO SHARE AND FIND HEALTHY BUILDING PRODUCTS.
Manufacturers voluntarily disclose product information on easy-to-read Declare labels. These labels report all product ingredients and use a simple color code system to flag chemicals of concern. Further information is provided on the product's final assembly locations, life expectancy, end-of-life options, and overall compliance with relevant requirements of the Living Building Challenge (LBC).
All active Declare labels are accessible on a free and searchable database. The database is used by leading designers, large real estate owners, and conscientious homeowners to specify products they know they can trust and that meet the requirements of leading green building standards, including the Core Green Building, LBC, LEED, and WELL Certifications.
By facilitating and simplifying the exchange of complex ingredient information, Declare has positively changed the materials marketplace to enable the creation of buildings that support human and environmental health.
Program Details
Label Overview
Declare is a nutrition label for building products. It is designed to help specifiers quickly identify products that meet their project requirements. Declare labels disclose all intentionally-added ingredients and residuals at or above 100ppm (0.01%) present in the final product by weight. Each ingredient must be reported with a chemical name, CAS number, and percentage or percentage range.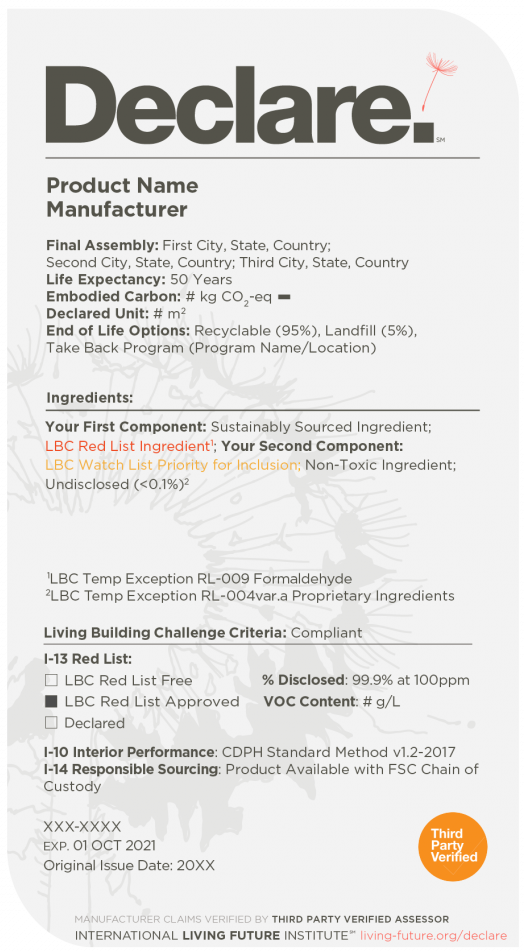 Red List Chemicals
Declare screens a product's ingredients directly against the Living Building Challenge (LBC) Red List, saving project teams from the arduous task of vetting products by hand. The LBC Red List contains the "worst in class" materials, chemicals and elements known to pose serious risks to human health and the greater ecosystem that are prevalent in the building products industry.
Declaration Status
A product's compliance with the LBC Red List is represented on the Declare label by the product's Declaration Status. There are three Declaration Statuses:
LBC RED LIST FREE products disclose 100% of ingredients present at or above 100 ppm (0.01%) in the final product and do not contain any Red List chemicals.
LBC RED LIST APPROVED products disclose a minimum of 99% of ingredients present in the final product and meet the LBC Red List Imperative requirements through one or more approved exceptions.
DECLARED products disclose 100% of ingredients present in the final product, but contain one or more Red List chemicals that are not covered by an approved exception.
Program Alignment
In addition to the LBC Red List, the Declare label demonstrates alignment with other requirements within the Living Building Challenge and Core Green Building Certification, as well as LEED and WELL certifications. These requirements include ingredient disclosure thresholds, VOC content and emissions, embodied carbon, and responsible sourcing, including FSC Chain of Custody.
Third-Party Verification
ILFI has collaborated with approved third-party assessors to provide manufacturers with the opportunity for third-party verification of Declare label claims. This optional program offers an additional level of confidence and risk mitigation through the review of all ingredients, supply chain information, and Declare label claims.
For more in-depth details on program requirements, download the Declare Manufacturers' Guide.
Label Process
The Just User Manual offers a comprehensive overview of the program and describes the Registering a product for the Declare label signals a manufacturer's commitment to ingredient transparency and interest in connecting with leading building projects.
STEP 1: SIGN-UP
To begin the Declare label process, the manufacturer needs to have an active Living Future Membership linked to an account in 3E Exchange, the software solution for Declare label applications.
STEP 2: DISCLOSURE
Once registered, a manufacturer can begin populating information for the Declare label in the 3E Exchange platform. Each Declare application requires a complete Bill of Materials (BOM) listing ALL INTENTIONALLY-ADDED INGREDIENTS PRESENT AT OR ABOVE 100PPM (0.01%) IN THE FINAL PRODUCT BY WEIGHT. The manufacturer may upload its BOM directly to 3E Exchange or manually populate the BOM directly on the platform. Upon submission, these ingredients will be screened directly against the LBC Red List. Where applicable, the manufacturer must also report the product's qualifications for additional Living Building Challenge Imperatives.
STEP 3: PAYMENT
Label license fees are due at the time of submission. A Declare label costs $1,000 USD for a 12-month license. Tiered pricing is available for manufacturers with 10-25 and >25 labels:
| # of Labels | <10 | 10 – 25 | >25 |
| --- | --- | --- | --- |
| New Label Fee | $1,000 USD/label | $750 USD/label | $500 USD/label |
The manufacturer may pay via credit card directly on the 3E Exchange platform or contact ILFI at declare.support@living-future.org to request an invoice.
STEP 4: REVIEW
Once payment is received, ILFI will review the submission to ensure that it is complete and meets program reporting requirements. If the manufacturer is submitting a label with third-party verification of the disclosure, then the selected independent assessor will be assigned at this time to review the application.
ILFI will contact the manufacturer to correct any part of the submission that is not complete or does not meet the program requirements. Once the review(s) have been completed, ILFI will draft the Declare label and share it with the manufacturer for final approval.
Declare Label Review Timelines: All listed timeframes will commence following the successful submission of all required information by a manufacturer or third-party assessor into the 3E Exchange platform, and payment of associated fee(s).
Standard Review: ILFI's standard reviewing time frame for a Declare label is seven (7) business days, during which time a staff member will respond with any feedback or confirmation that the label is ready to publish. Standard review times may be longer if the manufacturer requires technical support or chooses the optional pre-publishing label review.

Rush Review: Declare label(s) may be reviewed within 1-2 business days for an additional rush fee of $500.00 USD per label. Rush Fees will include up to 120 minutes of additional ILFI staff support, during ILFI's normal business hours, for the expedited review and/or necessary technical assistance. Rush requests must be initiated directly and approved by contacting declare.support@living-future.org, and be accompanied by full payment of all fee(s), and be accompanied by a complete and accurate BOM for review.
STEP 5: PUBLISH
Once the label has been approved by the manufacturer (and third-party assessor, if applicable), ILFI will publish the Declare label and accompanying database entry to the public-facing Declare database. At that point, the manufacturer is also able to use the Declare label on marketing materials following the guidelines laid out in the Declare Terms and Conditions. The label license is valid for 12 months after the publish date. Manufacturers can renew for another 12-month license and receive a 20% discount on label fees.
For more in-depth details on the label process, download the Declare Manufacturers' Guide.
For support with the label process, contact ILFI at declare.support@living-future.org or schedule an appointment.
Product Specification
DECLARE DATABASE
The Declare database is a free tool that assists project teams to specify products they know they can trust and that meet their project goals. All active Declare labels appear on the database, which is searchable based on product type, manufacturer, and certification requirement. Entries include the Declare label, as well as a product description and contact information.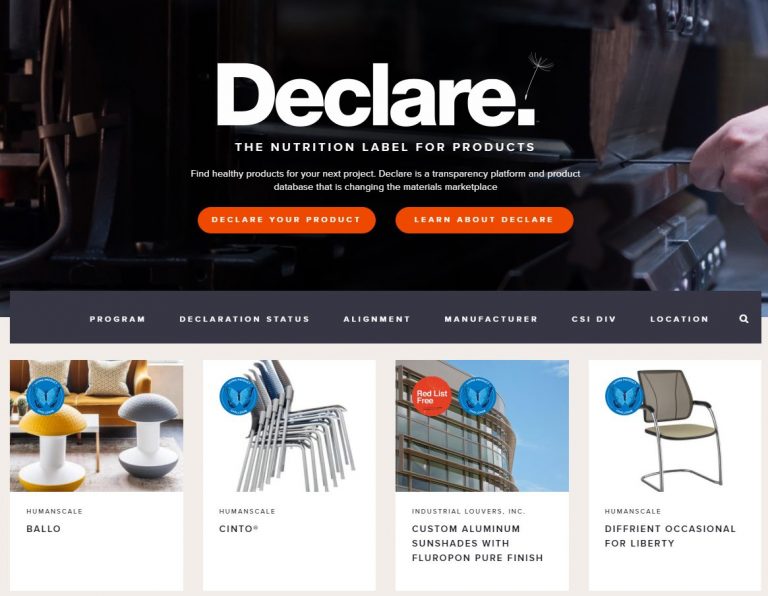 PROGRAM ALIGNMENT
While the Declare label primarily addresses the product requirements of the Living Building Challenge, it also demonstrates a product's compliance with the other leading building certifications and purchasing programs, including:
Enterprise Community Partners' Green Communities Criteria
International Living Future Institute's Core Green Building Certification
International WELL Building Institute's WELL Building Standard
United States Environmental Protection Agency's Recommendations to Federal Purchasers
United States Green Building Council's LEED Certification
For more in-depth details on Declare program alignment, download the Declare Manufacturers' Guide.
PROJECT SPECIFICATIONS
Regardless of building certification type, Declare can serve as a valuable framework to inform specification of healthy products in your project. Check out ILFI's Materials Guidance and Specification Guidebook for more information about how to meet the product-related requirements of the Living Building Challenge.
DISCLOSURE ADVOCACY
Can't find a product you need for your project? Encourage others to get Declare labels through advocacy for transparency.
Program Partners
TOXNOT PLATFORM
ILFI partners with 3E Exchange to provide a robust material reporting platform and streamlined Declare product submission process. Declare manufacturers can create a dynamic bill of materials for a product, contact suppliers, link supplier and testing data, screen product materials against multiple chemicals of concern lists, contact ILFI for feedback on product applications, and seamlessly submit products for Declare through 3E Exchange.
INTERNATIONAL PARTNERSHIPS
To meet the increasing demands for transparent building materials in international markets, ILFI has partnered with capacity-building organizations to provide outreach and support to international markets. The Declare International Partner program provides local resources and expertise, along with label translation services, to manufacturers and suppliers in select markets.
APPROVED ASSESSORS
The International Living Future Institute has collaborated with approved third-party assessors to provide manufacturers with the opportunity for an independent, objective verification of Declare label claims. All approved third-party assessors have met ILFI's assessor criteria and undergone Declare-specific verification training. Interested in a third-party verified Declare label? Contact one of ILFI's approved assessors below:
PARTNER DATABASES
ILFI has relationships with various material databases to streamline the product specification process. Declare product information is directly entered into Red2Green, Sustainable Minds and mindful MATERIALS databases.
Declare Resources
FOR MANUFACTURERS:
Bill of Materials (BOM) Template
Supplier Advocacy Letter
3E Exchange Help
FOR PROJECT TEAMS:
Manufacturer Advocacy Letter