Group14 Engineering is an energy efficiency and sustainability consultant committed to personal, societal, and ecological prosperity. Our mission is to inspire better buildings where people thrive. Group14 brings solutions to projects throughout the United States.
While Group14's expertise is in the built environment, our passion is the people for whom and with whom we work. We recognize that whenever we sit down at a table we have an opportunity to learn from our colleagues.
EMPLOYEE RESPONSES
HOW HAVE THE EMPLOYEES RESPONDED TO THE JUST PROGRAM AND THE WILLINGNESS OF THE FIRM TO DEMONSTRATE TRANSPARENCY ON THESE SENSITIVE ISSUES? HAS THIS PROCESS AND JOURNEY HELPED ELEVATE EMPLOYEE ENGAGEMENT LEVELS?
The response from our team has been nothing but positive. JUST serves as a great measurement of where we are today and how we can look to improve. The program has given us an avenue to discuss some of these sensitive topics and show our commitment to not only transparency, but to identifying opportunities for betterment. We have definitely found engagement around the label – our staff is genuinely interested in seeing how we are performing and they are being included in the identification of goals that matter most to us as a firm.
KEY BENEFITS
WHAT DO YOU THINK ARE THE MOST VALUABLE BENEFITS TO ANY ORGANIZATION PURSUING THE JUST LABEL?
I think the greatest value has been in showing our staff that we want create a dialog around these metrics – that these social justice and equity indicators have true value to our organization and that by being transparent we are reflecting on our impact both internally to our company and externally to our community.
Transparency provides opportunity. It goes back to the saying 'you can't improve what you don't measure'. There is real benefit to having a measuring stick and the JUST label is a great resource for identifying organizational goals and best practices.
LEVERAGING THE LABEL
IN WHAT WAYS ARE YOU LEVERAGING THE JUST LABEL? ARE YOU USING JUST IN YOUR SUSTAINABILITY REPORTING, BLOG ARTICLES, SOCIAL MEDIA OR CORPORATE COMMUNICATIONS?
We use the JUST label in our marketing collateral, our website, social media, BCorp Annual Report… you name it.
ADVICE FOR PROSPECTS
WHAT ADVICE WOULD YOU GIVE PROSPECTIVE JUST ORGANIZATIONS?
First, identify a team that is best equipped to answer the questions around the indicators. From there, identify tangible goals that can be met and get staff to weigh in when creating policies. We gave a brief presentation to our staff about the label and the indicators so that they knew what we were finding and why we were pursuing the label, and so they could talk about it to people outside of our organization. It gave everyone a chance to be part of the dialog and ensure it was an inclusive process. We gave those with a passion for corporate social responsibility a seat at the table by creating an internal committee knowing this would be an ongoing endeavor.
LESSONS LEARNED
WHAT ARE SOME OF THE MOST IMPORTANT LESSONS LEARNED ABOUT YOUR ORGANIZATION AS A RESULT OF THE JUST APPLICATION PROCESS? 
That, despite being a progressive organization that was fulfilling many of the social justice and equity indicators, we did not have internal polices around many of these items – instead, they just came naturally. By writing policies, they became more engrained in who we are as an organization and ensured that we continue the trend towards a more transparent, more equitable organization.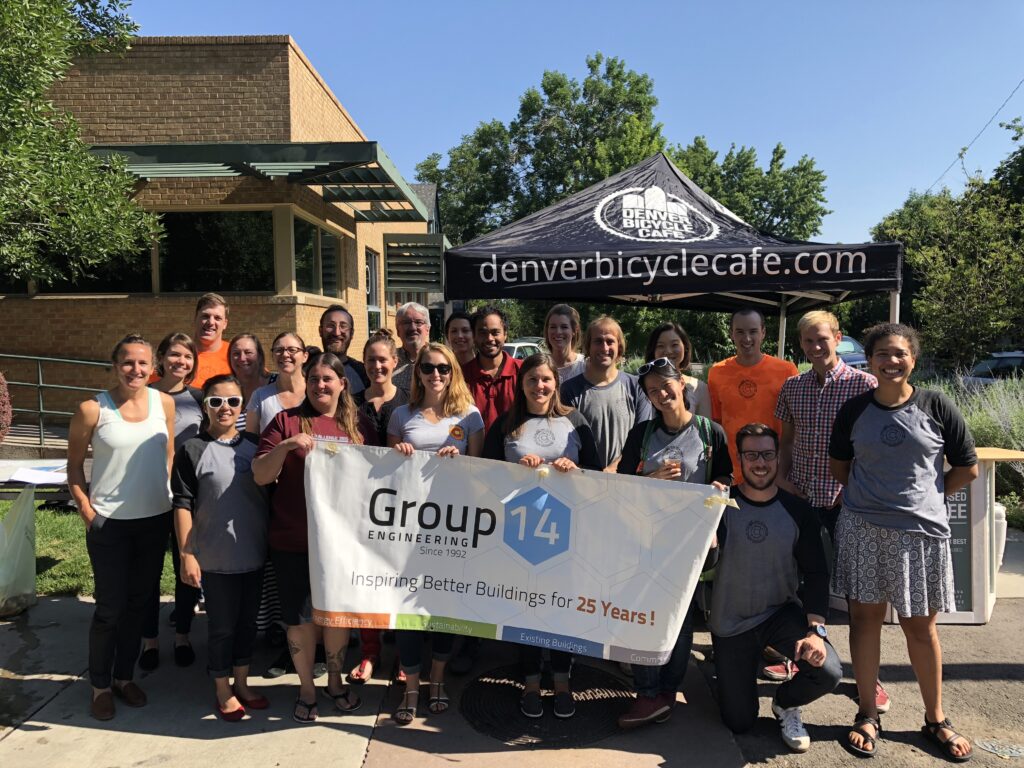 CHANGES IN POLICY
CAN YOU DESCRIBE SOME OF THE MOST CONSEQUENTIAL CHANGES TO ORGANIZATIONAL POLICIES AND PRACTICES AS A RESULT OF JUST? 
The biggest impact likely came around volunteer time. We now provide paid volunteer time and encourage everyone to use it! We all took part in volunteering in one way or another before and the policy gave everyone the real go ahead to do so on company time. It has inspired our employees to distribute volunteer opportunities they find to the staff in order to increase participation. We also created a way to track our volunteer time that we did not have in place before.
WHAT WORKED WELL
ARE THERE SPECIFIC POLICY CHANGES THAT HAVE BEEN PARTICULARLY WELL RECEIVED? PLEASE DESCRIBE. 
The community volunteering and our growing charitable giving policy. Our ownership team has always been very generous when it comes to charitable giving. JUST gave us the opportunity to create an actual policy and identify how Group14 would contribute and how we would match employees to ensure we are giving back to organizations our staff takes interest in. When we are able to use our corporate philanthropy to support causes that our staff care about – that's something special. It gives us all a greater purpose in coming to work each day.
MANAGEMENT TOOL
PLEASE DESCRIBE HOW THE FIRM INTENDS TO USE JUST AS A MANAGEMENT TOOL AND FRAMEWORK MOVING FORWARD. 
As a JUST Organization and Certified BCorp, we have created an internal "PB&J" (Public Benefit and JUST) committee. The committee uses both the BCorp Assessment and the JUST label to identify goals for each year and gathers staff input on what is the most valuable to the firm. The two programs have really helped to strengthen our ability to identify and set measurable goals as a company with tangible benefits to employees as well as our corporate social responsibility efforts.