In 2007, when green building typically meant incremental improvements in design and performance, Integral Group (formerly Integrated Design Associates "IDeAs") set out for radical change. This approach culminated in the creation of the The IDeAs Z2Design Facility, a net zero energy building that emits no carbon dioxide.
Through an integrated design approach focused on plug load reduction, plentiful daylighting and continuous energy metering, the project successfully met its "z-squared" goal and created a vibrant, inspiring environment for Integral Group employees. As one of the first two projects to achieve the International Living Future Institute's Net Zero Energy Building Certification, the Design Facility has set the bar for cutting edge, net zero energy development.
PROJECT WEBSITE www.integralgroup.com
Vital Stats
| | |
| --- | --- |
| Certification Status | Net Zero Energy Building Certified on April 4th, 2012 |
| Location | San Jose, CA |
| Bioregion | California |
| Living Transect | L4 |
| Typology | Renovation |
| Occupant Type | Office |
Project Team
| | |
| --- | --- |
| Architectural | EHDD Architecture |
| Landscape | MPA Design |
| Structural | Tipping and Mar |
| Contractor | Hillhouse Construction |
| Mechanical | Integral Group, Johnson Controls |
| Civil Engineer | Carroll Engineering |
| Lighting Design | Opsis Architecture |
| Electrical | Integral Group |
PLACE PETAL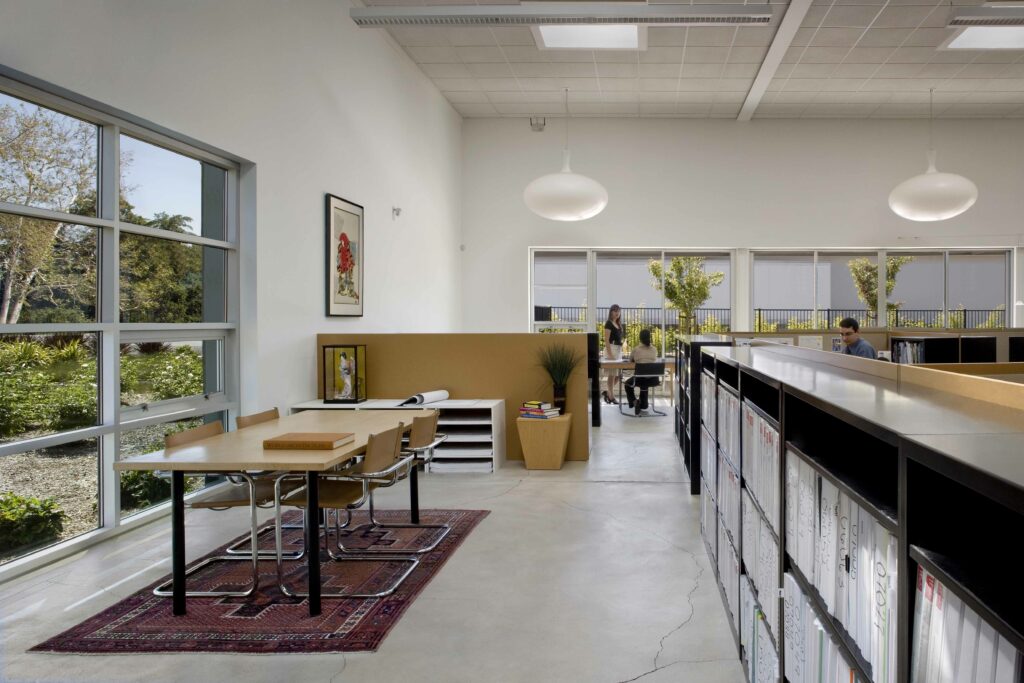 Rather than choose a greenfield as the site for its Design Facility, Integral Group chose to renovate a windowless building, formerly used as bank branch. The building was situated in a "sea of asphalt", but the project team hoped to transform the site into a source of inspiration for the surrounding community.
The excessive existing parking area reduced in size and converted into landscape. The landscape, comprised of native, drought resistant vegetation, captures much of the site's water for irrigation and filtration.
ENERGY PETAL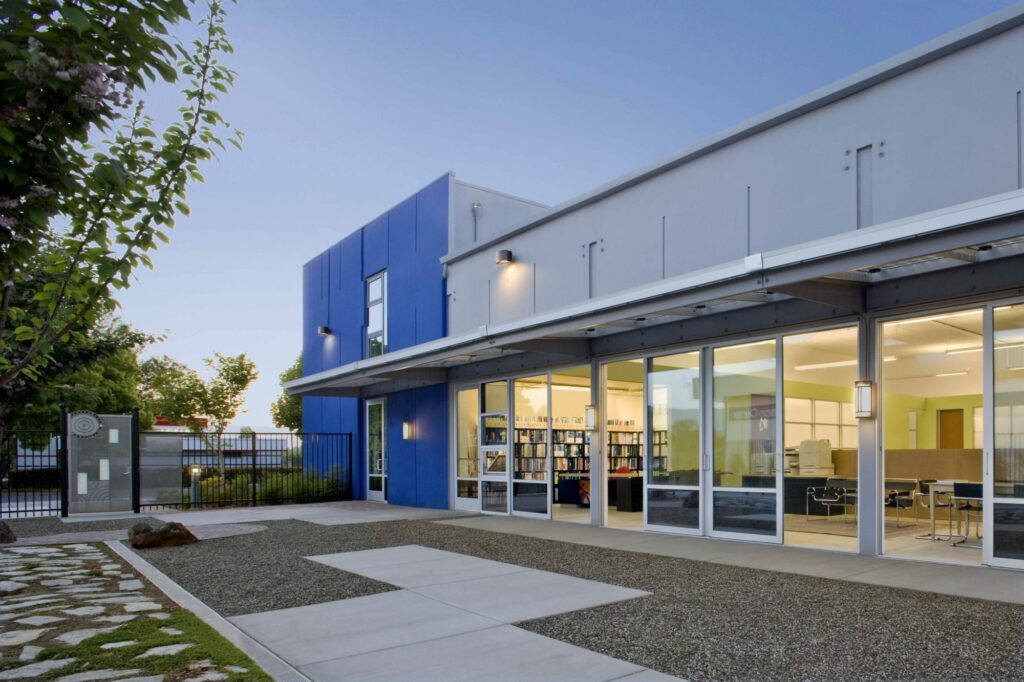 TYPE & SIZE OF RENEWABLE ENERGY SYSTEM
The project has a 2,600 square feet roof membrane integrated PV system which combines a single ply PVC, fire rated, white, waterproof roofing membrane with high efficiency SunPower A-300 monocrystaline solar cells. These cells have one of the highest efficiencies (20% to 21.5%) of any mass produced solar cell. The product is lightweight (2.5 pounds per ft2) and does not require special support structure, ballast, or structural penetrations. This system allows savings by eliminating the need for a support structure and because it is used both a PV panel and roof membrane. A second BIPV system using PV in a laminated glass entry canopy also was installed over the main entrance at the south side of the building.
ANNUAL ENERGY USE
| | |
| --- | --- |
| Designed | 56,000 kWh/yr |
| Actual Energy Use intensity | 21.17 kBtu/sf (2009) |
| Annual Electricity Generated | 21.73 kBtu/sf |
| Net Energy Use | -0.55 kBtu/sf |
NET ZERO ENERGY DESIGN STRATEGY
Daylighting is one of the key strategies for significantly reducing energy consumption. Skylights in the office space are over-sized to provide many hours of complete daylighting. The skylights are also sloped to reduce shading on the solar panels. Advanced glazing and insulation was another part of the design strategy. A electrochromatic glass system was selected for the building's east wall (the facade exposed to the morning sun). This window controls the entry of both light and heat into the building. Even with the best available glazing, skylights compromise the thermal insulation properties of the building. High-efficiency ceiling insulation helps offset this drawback.
In addition, active daylight-sensing lighting control systems, occupancy sensors and an astronomic time clock provide both high lighting quality and low power density. Because of the daylight entering through the skylights, the suspended T8 fluorescent lamp fixtures are off for most of the day.
The facility uses water to heat and cool the office space through a radiant floor topping slab. Compared to forced-are system, this practice uses less energy to provide the same amount of conditioning. Operable windows and doors installed throughout the building allow occupants to tailor their comfort levels. An electric, ground-source heat pump produces both chilled water and hot water to lower energy use. As the facility's owner, tenant and designer, Integral Group was also able to reduce plug loads by eliminating "phantom loads" and by using energy-saving office equipment. For example, workstations are equipped with occupancy-controlled power strips.
EQUITY PETAL
The IDeAs Z2 Design Facility does not block access to, nor diminish the quality of fresh air, sunlight or natural waterways to any member of society or adjacent developments.
Because the existing building used for renovation was isolated from other buildings by an overabundance of paved parking area, the facility does not infringe on the solar rights of neighboring buildings.
BEAUTY PETAL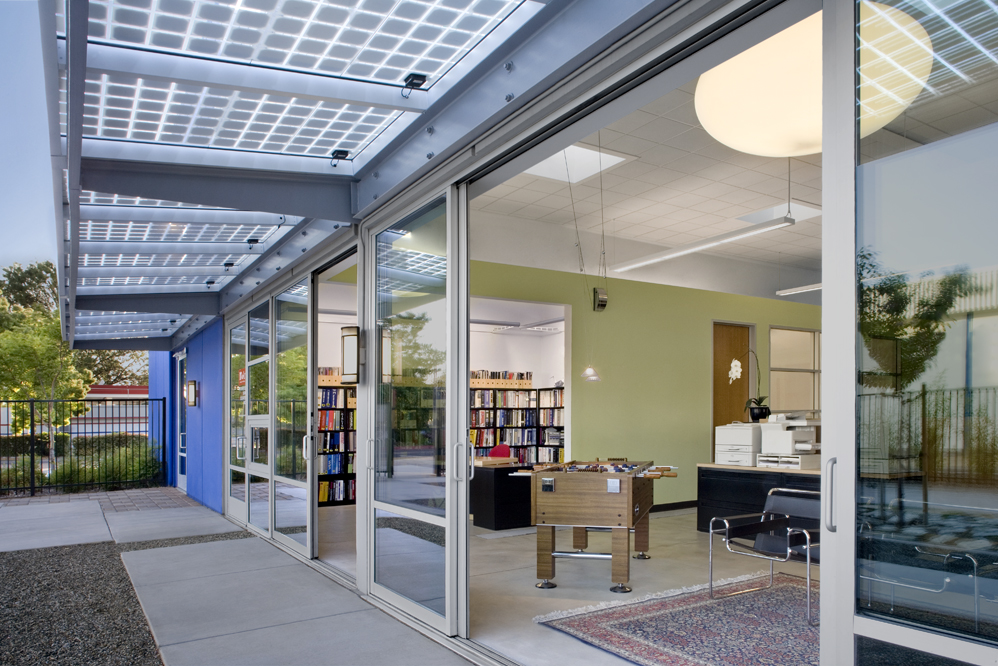 The design team for IDeAs Z2 Design Facility recognized the powerful impacts of daylight, views, fresh air and aesthetics the spirits of a buildings occupants. Rather than create an object, the design team set out to create a beautiful place that would foster a lively culture and community. As a result, the team transformed a dim, windowless and bland building into a source of joy and productivity. High window and doors offer on the south side of the building look out over a landscaped courtyard.In addition, skylights allow sunlight to track across the north wall of the office space, providing beautiful, ever-changing light on a daily basis.
20. INSPIRATION + EDUCATION IMPERATIVE
TOUR INFORMATION & EDUCATIONAL OPPORTUNITIES
Contact Heather Perez, hperez@integralgroup.com