Some schools build environmentally responsible buildings; some schools teach environmental responsibility. At Choate Rosemary Hall, the Kohler Environmental Center, a laboratory for living, brings these two objectives together. The new LEED Platinum 29,325-square-foot academic and residential facility, designed to achieve net-zero energy usage, accommodates cohorts of up to 20 students for a total-immersion environmental living experience. As students live at the center and take their classes and meals there, the building offers them control of their own environment; feedback from the building's monitoring systems enables them to teach themselves important lessons about how to live sustainably and responsibly.
The Kohler Environmental Center is approached by a footpath over a wooded wetland ravine, leading to a central, south-facing courtyard. A cloister lining the courtyard links the Kohler Center's program functions—14 dormitory rooms, faculty apartments, common spaces, classrooms, laboratories, and a state-of-the-art research greenhouse. The building's materials reflect its rustic nature—native stone walls, stained cedar trim, and fiber cement plank siding.
Set in the midst of 268 acres of meadows, agricultural fields, second-growth forest, and wetlands, the Kohler Center allows students to learn from the site's exceptional biodiversity and range of habitats. Another goal of the Center is to teach environmental stewardship through sustainable design. 100% of the building's annual energy needs is provided by a 294-kilowatt photovoltaic array, roof-mounted thermal solar panels, and waste cooking oil. A highly-efficient building envelope, developed daylight harvesting strategy, and careful solar orientation optimizes building performance, while monitoring systems encourage students to compete with each other to minimize their own energy consumption.
VITAL STATS
| | |
| --- | --- |
| Certification Status | Net Zero Energy Building Certified |
| Version of LBC | 3.0 |
| Location | Wallingford, CT, USA |
| Project Area | 29,325 SF |
| Start of Occupancy | August 2012 |
| Owner Occupied | Yes |
| Number of Occupants | 20 |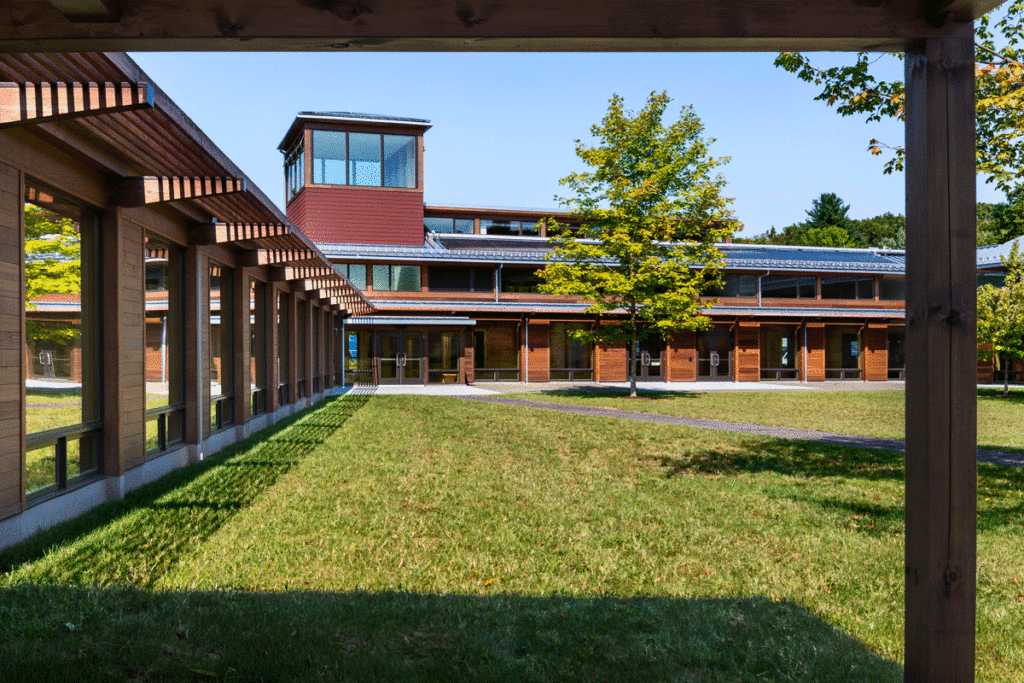 PROJECT TEAM
| | |
| --- | --- |
| Owner | Choate Rosemary Hall |
| Owner's Representative | Kohler Company |
| General Contractor | Shawmut Design & Construction |
| Architect | Robert A.M. Stern Architects, LLP |
| MEP Engineer | Kohler Ronan, LLC |
| Civil Engineer | Land-Tech Consultants, Inc. |
| Structural Engineer | DeStefano & Chamberlain, Inc. |
| Landscape | Andropogon Associates, Ltd. |
| Interior Design | Robert A.M. Stern Interiors, LLC |
| Specialty Consultant(s) and Role(s) | Atelier Ten – Lighting & Sustainability Consultant; Philip R. Sherman, P.E. – Code Consultant; Vermeulens Cost Consultants – Cost Consultant |
| Key Sub-Contractor(s) | Agritechnove Inc. – Greenhouse Consultant |
PLACE PETAL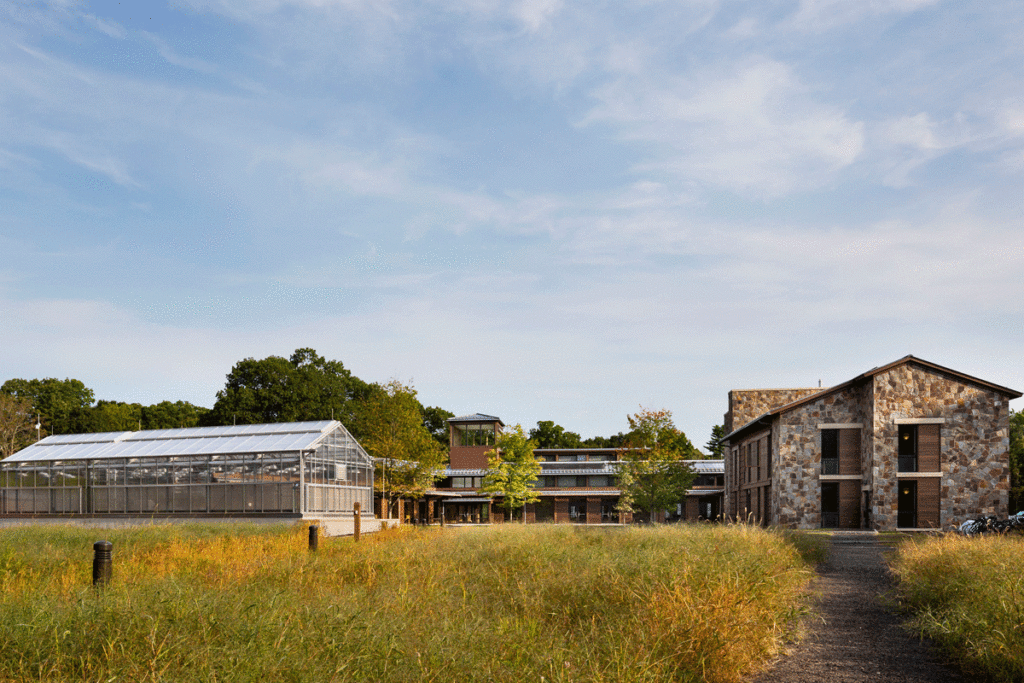 01. LIMITS TO GROWTH IMPERATIVE
The Kohler Environmental Center inhabits 266 acres of mixed forest, wetlands, meadows, and former agricultural fields in Wallingford, Connecticut. The center houses the Environmental Immersion Program of Choate Rosemary Hall, a year-long residential program that aims to create a scholarly community dedicated to promoting environmental understanding, stewardship of the land, and social responsibility. With these goals in mind, protection and restoration of the project site and landscape were considered carefully. Choate Rosemary Hall acquired the site, the former Paddock Farm, in 1934, utilizing the parcel as un-irrigated hayfield and grazing area for the school's dairy herd since then. The school also purchased a number of other nearby farms over the past century in order to protect and preserve the land from encroaching development.
A high priority during the creation of the KEC was understanding the existing ecosystems in order to limit the building's impact on its site as well as inform native plant restoration, land management goals, and environmental educational programs. The Center partnered with the New York Natural Heritage Program to conduct an extensive ecological community mapping study. Using the study as a guide, site disturbance was limited and native vegetation was planted to enhance rather than inhibit the existing ecological condition.
Promoting sustainable agriculture practices is a core mission of the Center, with students participating in organic farming and permaculture programs on the site, the fruits of which are used in the facility's kitchen. Additionally, students frequently carry out research studies in the area to investigate and learn about the region's natural systems. Ultimately, integrating the KEC into the existing site ecology and restoring native vegetation were key goals, as the project itself serves as a living lab for educating young people about sustainability and land stewardship.
ENERGY PETAL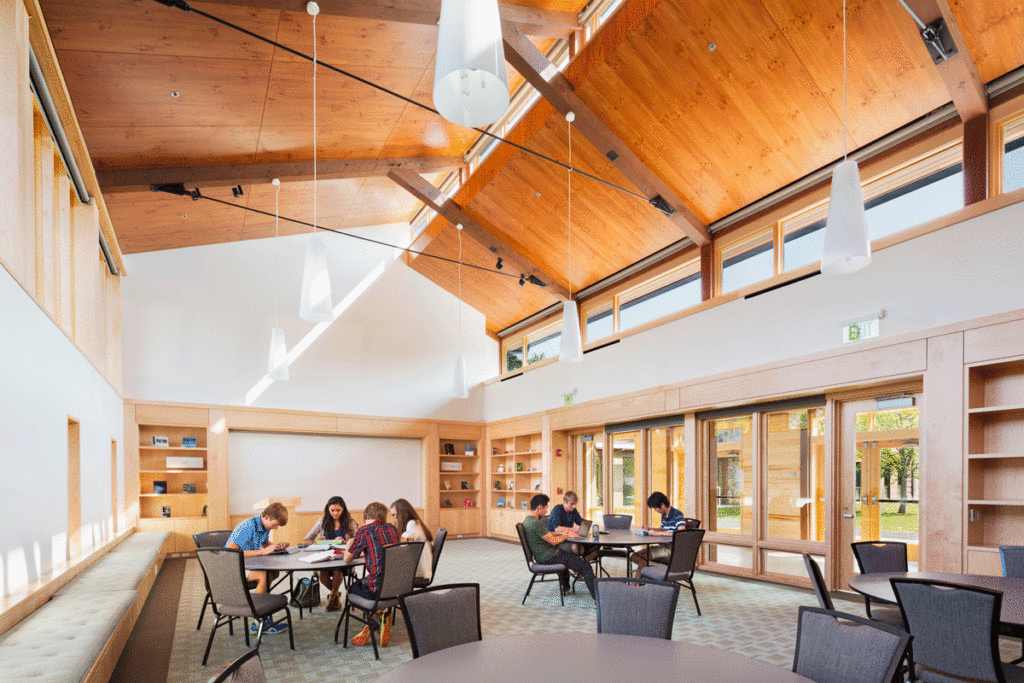 06. NET POSITIVE ENERGY IMPERATIVE
The goal of the Kohler Environmental Center is to teach environmental stewardship through sustainable design of the building itself. From its inception, achieving net zero energy was one of the targeted goals. From the concept phase on, the team used energy modeling to optimize the building.
Passive strategies include Structural Insulated Panels at the roof combined with thick and staggered double stud exterior walls filled with spray insulation provide more than double the insulating value of typical construction and minimize thermal bridging to the exterior. Deep eave overhangs and a south facing sun shade block solar heat gain in the summer and allow it in the winter. A narrow floorplate with single-loaded circulation allows extensive use of daylight and natural ventilation, with operable windows in all spaces for users to control thermal comfort as needed. The tower acts as a solar chimney by using convection to enhance the natural stack effect and enable hot air to exit the building. The classrooms and public spaces have operable windows on opposing walls, one high and one low, enhancing natural cross ventilation. Both side and clerestory windows provide natural daylight to the majority of the KEC's occupied spaces minimizing the need for artificial lighting, which is provided through a high efficiency lighting system with integrated occupancy and daylight sensors.
Two earth ducts, each composed of concrete pipe without a waterproof outer layer, were installed underground running to an air intake manifold at the building, with a bypass for direct air intake provided. The earth duct provides around 10-15% of pre-tempering for outdoor air, reducing peak cooling and heating demands. The building heating and cooling systems plant consists of a closed loop ground coupled geothermal heat pump system.
Energy recovery ventilators pretreat outdoor air using exhaust. All heat pumps are served by enthalpy heat recovery devices. Demand control ventilation varies the amount of outside air delivered to the space based on the CO2 levels measured by sensors. Water to water reverse cycle chiller heaters are installed to provide hot/chilled water to air handling units. Domestic hot water is generated by an evacuated tube thermal solar array with electric back-up. The thermal solar distribution incorporates an exterior heat dump cycle and an interior plate frame heat exchanger to supplement the geothermal loop in the heating season.
Over 100% of the building's annual energy needs is provided by a grid connected 294-kilowatt photovoltaic array as well as the roof-mounted thermal solar panels.
BEAUTY PETAL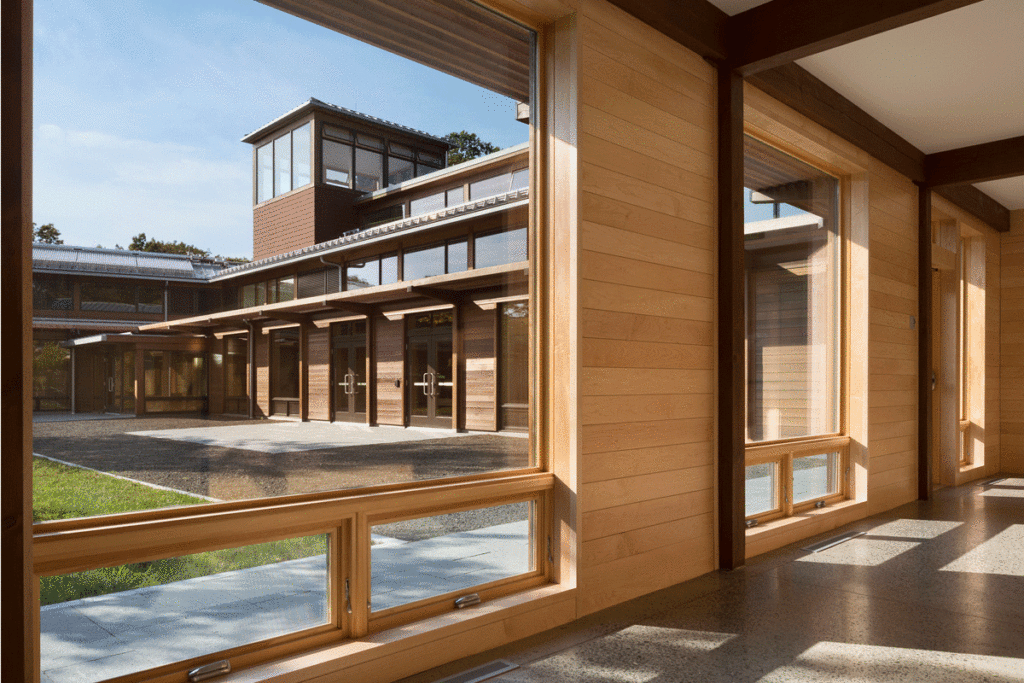 19. BEAUTY + SPIRIT IMPERATIVE
The sustainable infrastructure of the 31,325-square-foot Kohler Environmental Center is incorporated into a structure that responds to and minimally disrupts its site. Approached by a meandering wooded path, the Center sits in a small clearing set within a second-growth forest. Visitors are lead through this forest and over a small stream to gain access to the Center, giving them the full experience of the sit. The building's aesthetics – rough native stone and stained wood – were informed by New England's longstanding agricultural tradition. Inside the Center, repurposed timber, including maple from retired Vermont maple syrup producing trees with distinctive markings from the syrup taps, give the Center a homey feel and brings nature indoors. Tall and clerestory windows provide plentiful balanced natural sunlight to the majority of the building's occupied spaces, while operable windows give students control of thermal comfort as needed and also provide sweeping views of the surrounding landscape, ensuring their constant connection to nature. In the labs and reconfigurable lounges high ceilings are pitched to reflect light into these shared spaces. A tower over the lobby picks up on historical design precedents and serves as a solar chimney, bringing and reflecting daylight into the building while also using convection to enhance the natural stack effect of hot air to exit the building at a high point, while drawing cooler air in at low points. The chimney is the lungs of the building during the spring and fall. The wood paneled cloister-like single loaded corridor is designed with deep exterior eaves and south-facing sunshades that are sized to minimize heat gain in the summer and heat loss in the winter. The corridor surrounds a grassy courtyard, used for group study and relaxation in the warmer months, a manicured, maintained space that sits in contrast to the rest of the site.
Throughout the building, preference was given to materials with low embodied energy, including the timber frame structural system, which has substantially lower embodied energy than a steel or concrete structure of the same size would. Furniture has been specified with FSC certified wood, recycled content, and no added urea-formaldehyde resins. Materials have been chosen with low volatile organic compound (VOC) content to improve indoor air quality, including carpets, paints, adhesives, sealants, and finishes. In the public spaces and labs we chose to expose the structural slab and have it ground to expose the aggregate inside the concrete. This provides a beautiful and durable floor finish without the use of any additional materials. All of the building's materials come from both recycled and regional sources.
From the beginning, the goal for the Kohler Environmental Center was to create a leading-edge environmental research and education center specifically designated as a working laboratory for living. Several concepts were considered; the selected scheme was then fine-tuned to achieve our mandate of creating a beautiful, high-performance building. The building's annual energy needs are provided by a photovoltaic array and roof-mounted solar thermal panels while a highly efficient building envelope, built-in daylight harvesting, and careful solar orientation optimizes building performance. We planted indigenous plants, trees and grass to attract local wildlife, including under the PV array where we seeded the area with a native grass that won't grow taller than three feet, eliminating the need for energy-intensive mowing without blocking the PV array and allowing it to maintain its maximum output.
20. INSPIRATION + EDUCATION IMPERATIVE
An academic and residential facility, the Kohler Environmental Center accommodates cohorts of up to 20 students for a total immersion environmental living experience and curriculum. The educational program provides interdisciplinary coursework and purpose-driven research to teach the value of scholarly inquiry in environmental stewardship, the importance of social responsibility to community and the environment, and an appreciation for the natural world. As students live at the Center and take their classes and meals there, the building offers them control over their own environment, and feedback from the building's monitoring systems enables students to teach themselves important lessons about how to live responsibly by encouraging them to compete with each other in minimizing their own energy footprint. Students also engage with the site landscape through ecology studies and small scale organic farming. Now in its third academic year, the building has out-performed all expectations.
In addition to the school's educational programs, the Center supports community outreach through initiatives for elementary school-aged children that include guided nature walks and gardening projects. The Center also hosts a number of esteemed speakers on a range of sustainability topics to engage both students and the community with regional environmental issues. Ultimately, the KEC design team's mission was to advance experiential knowledge of an environmentally responsible building and the surrounding landscape in its restored state, protected from future construction and development. The key components of the program included creating an interdisciplinary curriculum and immersive experience for the students and building uses while designing a beautiful high-performance building.