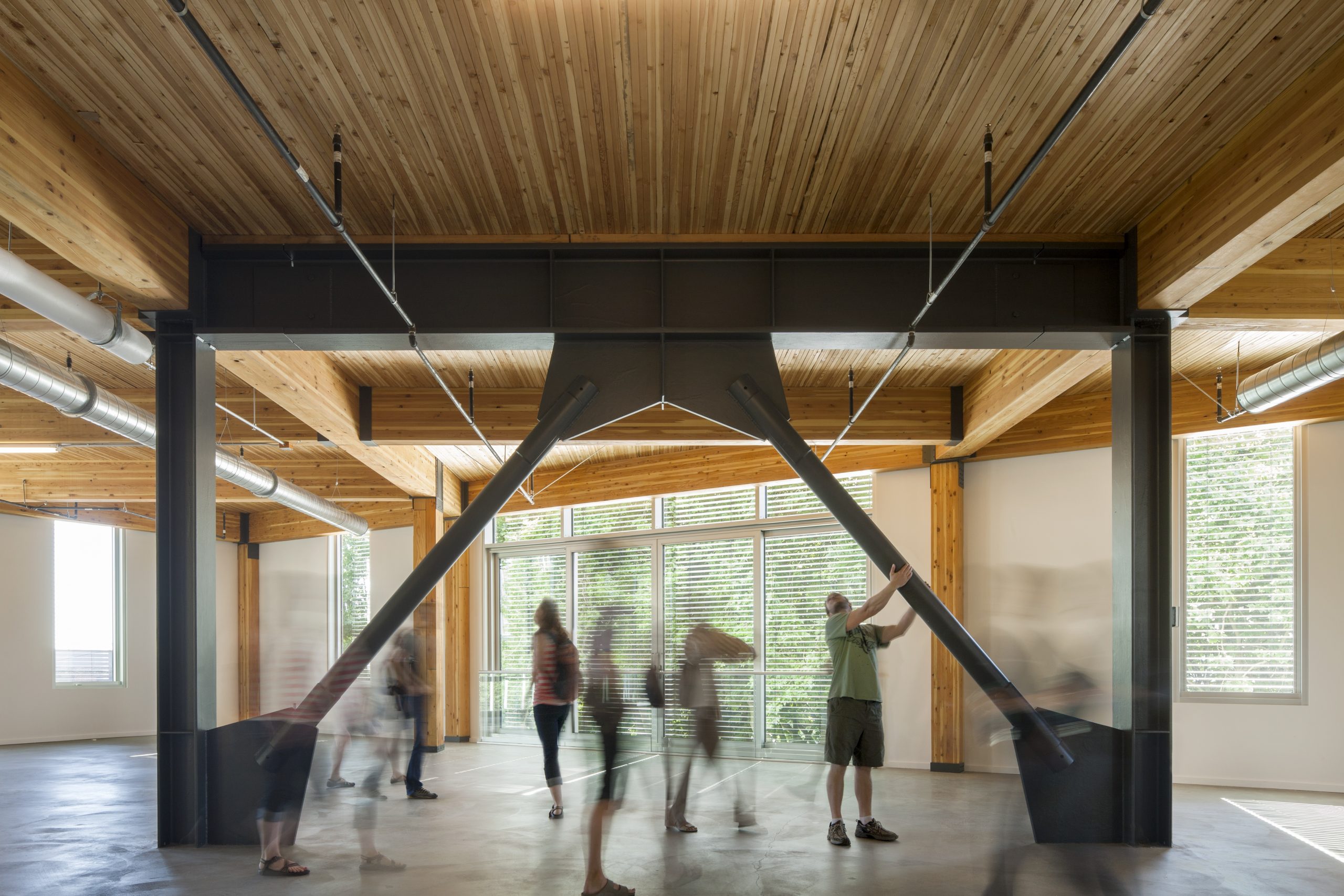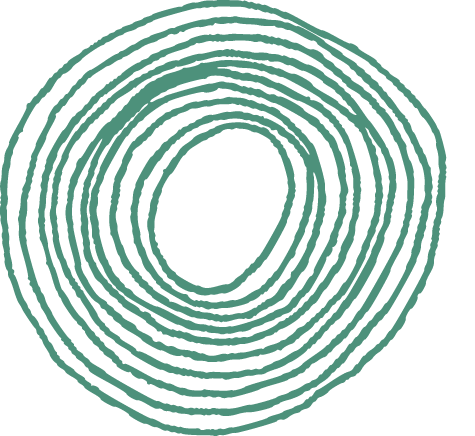 Core Green Building
Certification basics
IT'S TIME FOR A BEST PRACTICE GREEN BUILDING STANDARD THAT IS HOLISTIC AND SIMPLE TO USE.
The CORE GREEN BUILDING CERTIFICATION℠ (CORE) is a simple framework that outlines the 10 best practice achievements that a building must obtain to be considered a green or sustainable building. It puts the connection to nature, equity and the need for a building to be loved on even footing with the typical water, energy and materials concerns. CORE SEEKS TO RAPIDLY DIMINISH THE GAP BETWEEN THE HIGHEST LEVELS OF ESTABLISHED GREEN BUILDING CERTIFICATION PROGRAMS AND THE ASPIRATIONS OF THE LIVING BUILDING CHALLENGE.
Iterative process
Core satisfies our left-brain craving for order and thresholds, and our right-brain intuition that the focus needs to be on our relationship with and understanding of the whole of life. Regardless of the size or location of the project, Core simplifies the complexity contained within our current understanding of how we define a 'green building'.
Joining Zero Carbon Certification™, Zero Energy Certification™, Living Building Challenge® Petal Certification and Living Certification, Core completes the family of building certification programs administered by the International Living Future Institute. Together, they create a suite of certifications designed to address the many types of highly aspirational projects. The Imperatives of the Core Green Building Certification® fit seamlessly into the requirements in the Living Building Challenge®; it is both a stand-alone program and an integral part of the Living Building Challenge®.
Projects that achieve Core certification can claim to be role models in their communities for redefining the future of the built environment. Whether the project is Zero Energy, Zero Carbon, Core, Living Building Challenge® Petal or Living Certified, it has a home in the construct of ILFI building certifications.
The Core Green Building Certification® is simple and easy to use: There are ten simple Imperatives that must be met for any type of project, at any scale, in any location around the world.
Core is decidedly not a checklist—the requirements are performance-based and position demonstrated best practice as an indicator of success.
structure + applicability
THE CORE GREEN BUILDING CERTIFICATION CONSISTS OF 10 IMPERATIVES ADDRESSING PLACE, TRANSIT, WATER, ENERGY, HEALTH, MATERIALS, EQUITY, INCLUSION, BIOPHILIA AND INSPIRATION.
This compilation of Imperatives can be applied to almost every conceivable building project, of any scale and any location—be it a new building or an existing structure.
All ten of the Imperatives are embedded within the Living Building Challenge® and therefore clarifications, definitions and any exceptions are listed in the Petal Handbooks, which should be consulted for the most up-to-date rulings. Exceptions will be modified or removed as the market changes.
The Core Green Building Certification® is versatile and can apply to any building project. These include but are not limited to: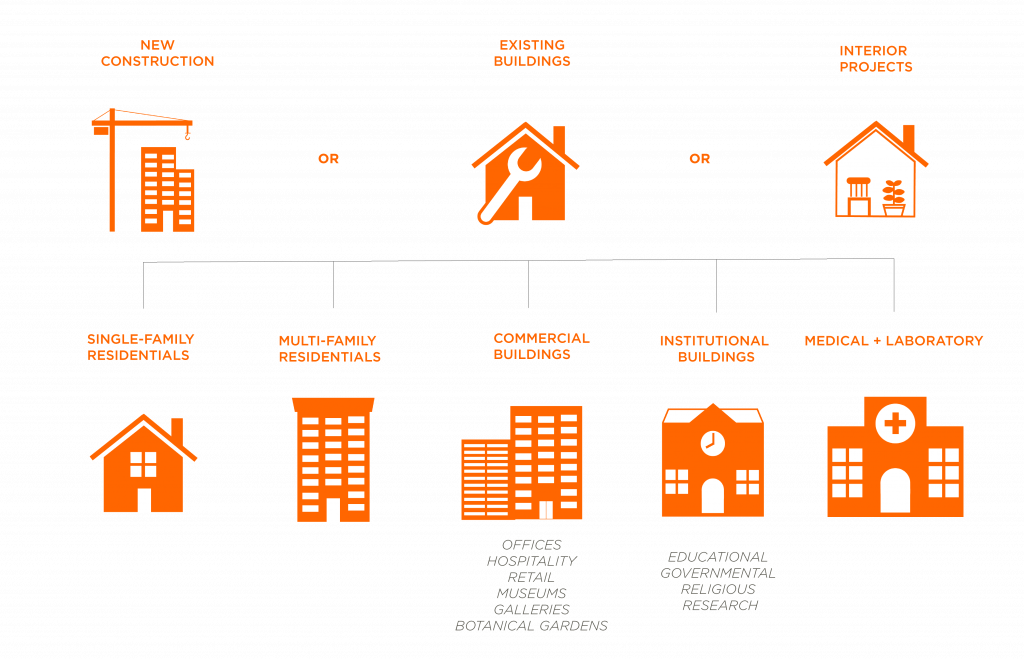 Core Green Building Certified projects come in all shapes and sizes and consist of both new construction and renovation projects— including historic preservation. If you can imagine it, then it can likely be a Core project given the right application of strategies, technologies, and imagination. Requirements can vary based on project context and conditions, but the intent of each Imperative remains the same, regardless of project type.
Typology
The Core Green Building Certificaiton is versatile and applies to different project scopes, or Typologies. There are three Typologies, and teams must identify the one that aligns with the project's scope to determine which requirements apply.
NEW BUILDING: This Typology is for any project that encompasses the construction of a new building.
EXISTING BUILDING: This Typology is for any project that alters either the envelope or the major systems of a building.
INTERIOR: This Typology is for any project that does not alter either the envelope or the major systems of a building.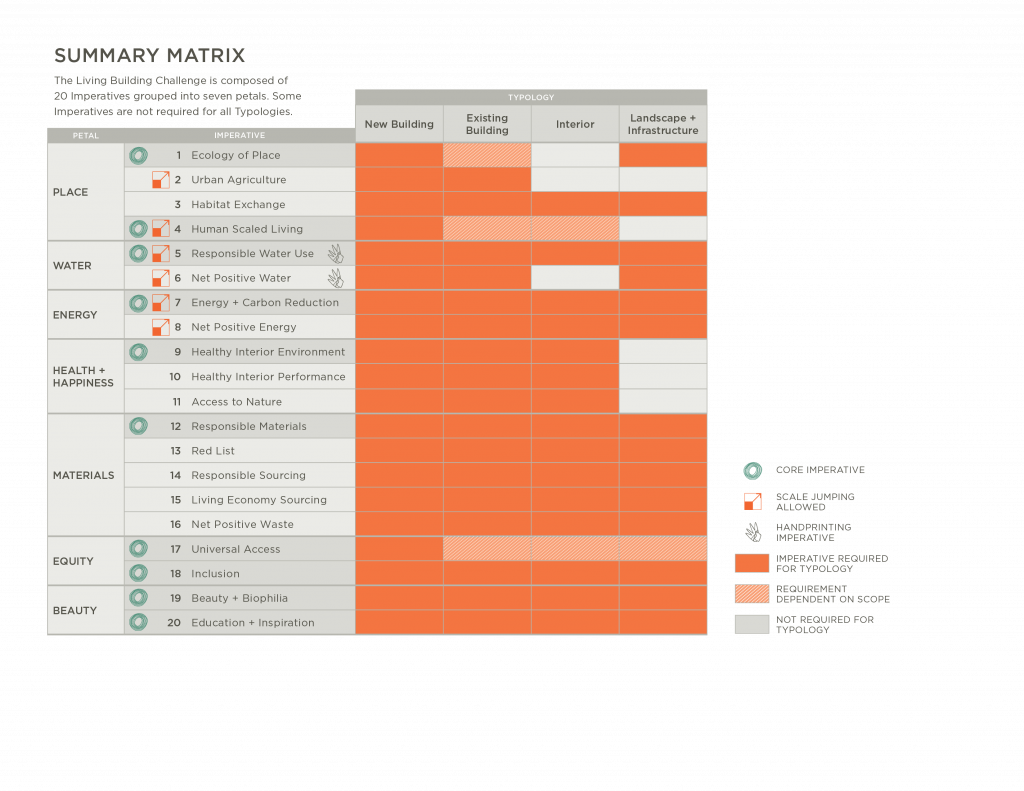 What does good look like?
We invite you to join us so that together we can continue to forge ahead on our path toward restoration and a Living Future.
The International Living Future Institute issues a challenge:
TO ALL DESIGN PROFESSIONALS, CONTRACTORS AND BUILDING OWNERS to transform the way we
create the built environment radically
and eliminate any negative impact on global health.
TO POLITICIANS AND GOVERNMENT OFFICIALS to remove barriers to systemic change, and to realign incentives to truly protect the health, safety and welfare of people and all beings.
TO ALL OF HUMANITY to reconcile the built environment with the natural environment, into a civilization that
creates greater biodiversity, resilience
and opportunities for life with each adaptation and development.
CATALYZE CHANGE
THE PAST DECADE HAS SEEN RELATIVELY SMALL PROGRESS TOWARD ADDRESSING GLOBAL CLIMATE CHANGE; WE ARE REACHING A POINT WHERE THE NEXT DECADE WILL SEE CHANGE TO OUR ECOSYSTEM HEALTH, FRESH WATER SUPPLIES AND CLIMATES AT UNPRECEDENTED LEVELS.
A world with seven billion people and counting.
A world where every single major ecological system is in decline, and the rate of that decline is increasing.
A world where global temperature increases means shifting rainfall distributions, acidified oceans and potentially catastrophic sea-level rise.
Nothing less than a sea change in building, infrastructure and community design is required. Indeed, this focus needs to be the great work of our generation. We must remake our cities, towns, neighborhoods, homes and offices, and all the spaces and infrastructure in between. This is part of the necessary process of reinventing our relationship with the natural world and each other—reestablishing ourselves as not separate from, but part of nature, "because the living environment is what really sustains us.
Getting Started
+ View Project Registration Details
+ Download the Core Green Building Certification® Standard