A triumvirate team of Developer/Sustainability-Consultant, Architect, and General Contractor engaged in creating a standard plan prototype house for infill lots in downtown Phoenix. The three main goals were to:
Create a prototype house inspired by the "case-study" homes of the 1960's, designed with time and place in mind, and to the highest standard of sustainability possible.
Create a low- to mid-cost home with high design, quality, and sustainability.
Create a design that may be replicated for any typical lot within Phoenix.
The team processed six versions of the design. They tested, energy-modeled, and priced each to find an optimal balance between design, performance, and cost.
The two-bedroom home is designed to fit on any typical downtown lot. The ultimate goal is to improve existing neighborhoods by building homes where derelict sites currently exist.
The home surpassed LEED Platinum certification and provided a blower test rating of .68 ACH50. The 1500 square foot house uses about 6000 kWh (about $700 worth) of electricity per year offset by a 3.6 kW photovoltaic system to create a net-positive energy house.
VITAL STATS
| | |
| --- | --- |
| Certification Goal | NZEB |
| Version of LBC | 3.0 |
| Location | Phoenix, Arizona |
| Typology | Building |
| Project Area | 6,500 sf |
| Gross Building Area | 1,500 sf |
| Building Footprint | 1,500 sf |
| Start of Construction | May 2013 |
| Start of Occupancy | December 2013 |
| Start of 12-month Performance Period | January 2015 |
| Owner Occupied | Yes |
| Occupancy Type | Residential |
| Number of Occupants | 2 |
PROJECT TEAM
| | |
| --- | --- |
| Owner | Vali Homes, LLC |
| Owner Representative | Austin Trautman |
| Architect | coLAB Studio, LLC |
| Project Director/Manager | Austin Trautman |
| Contractor | 180 Degrees, Inc. |
| Mechanical | Vali Homes, LLC |
| Electrical | Woodward Engineering, Inc. |
| Plumbing | coLAB Studio, LLC |
| Lighting Design | coLAB Studio, LLC |
| Landscape | Urban Cactus |
| Structural | BDA Engineering, Inc. |
| Interior Design | coLAB Studio, LLC |
PLACE PETAL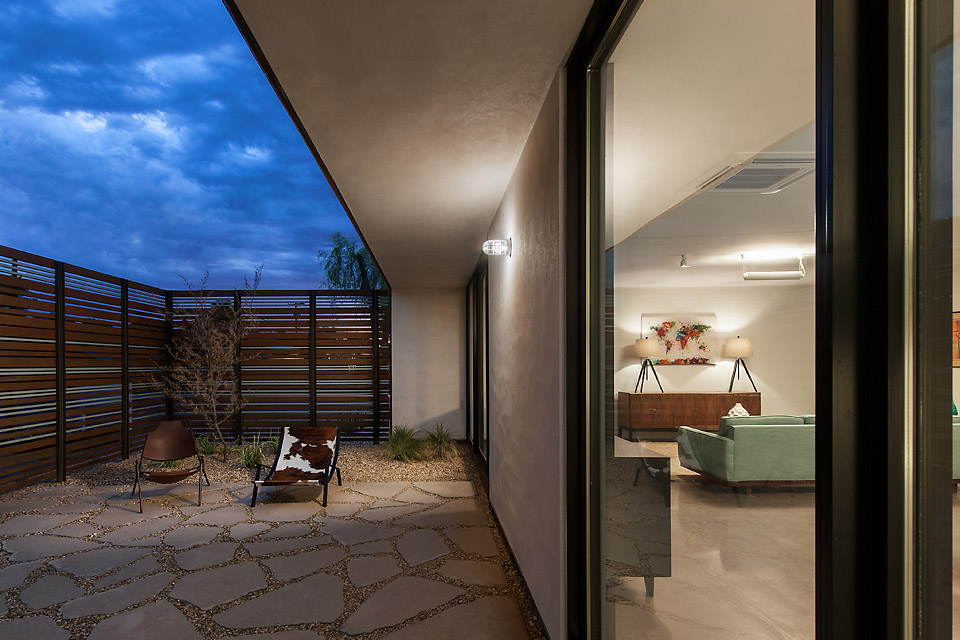 01. LIMITS TO GROWTH IMPERATIVE
Recognizing the huge issues sprawl brings to cities such as Phoenix, the team also realized single family homes are the dominant housing form being constructed. This inspired the team to create a demonstration project to showcase better design and construction practices.
The project site was empty prior to construction, considered a "missing tooth" of the surrounding 1970's suburban neighborhood. Because it was empty, the land was often used as an informal landfill and had trash on site. Because the landowner did not live in the neighborhood, there was no regular maintenance of the trash or landscape. Many of the neighbors felt the site was neglected and a blight for their community.
All landscaping is native desert species requiring little to no water use (after a one year establishment period) and little maintenance. All plant choices are located within 100 miles of the site. Native desert landscaping requires regular watering for 300-400 days before it can survive on rainfall alone. All watering occurred though an automated drip irrigation system.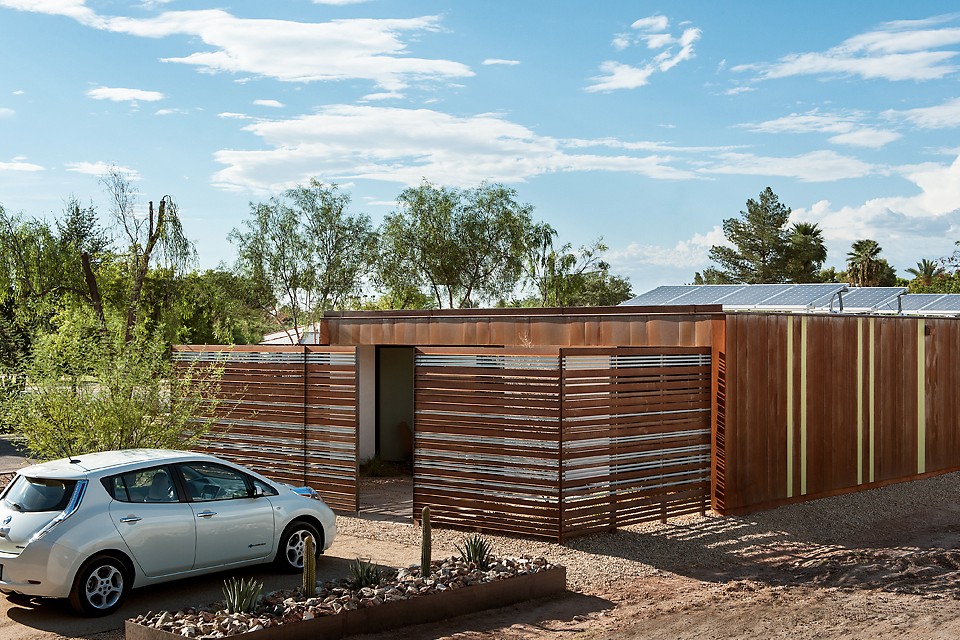 ENERGY PETAL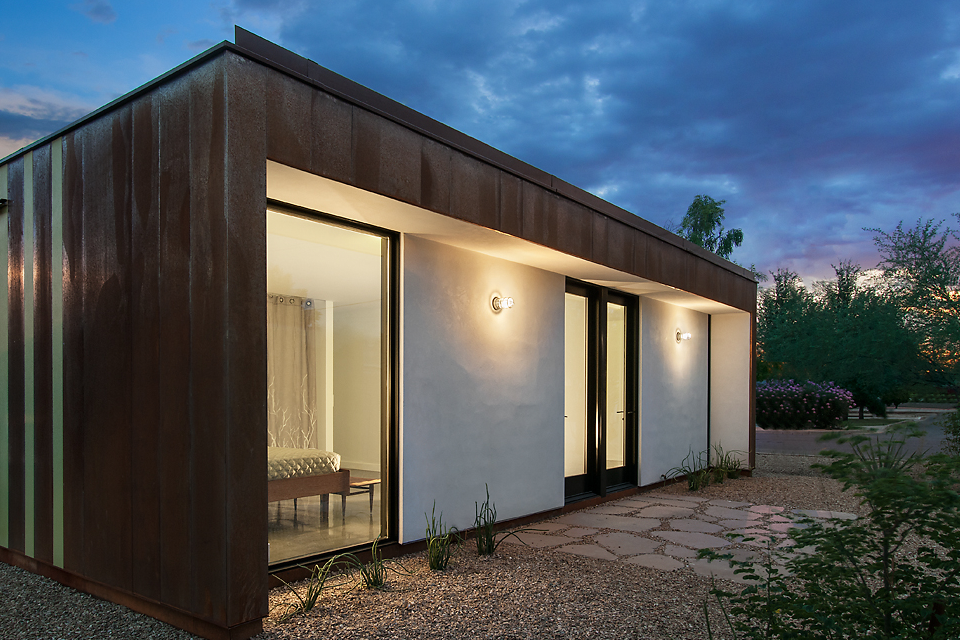 The estimated annual energy consumption for the home during the design phase was 6500 kWh. After the PV panels were installed, the measured energy use was 5334 kWh, while the measured onsite generation was 5720 kWh. By the end of the performance period, the home had generated 107% of its energy use onsite.
NET ZERO ENERGY DESIGN STRATEGIES
REDUCE ENERGY THROUGH BUILDING ENVELOPE
One major design strategy was to reduce energy use by means of thorough insulation. Additionally, measures were taken to limit infiltration in order to further reduce unwanted heat transfer. Materials were selected based on thermal properties, cost, and ease of installation, maintenance, and proper disposal.
Utilized Passive House energy modeling software to test various building envelope solutions and cross-checked each solution for cost-benefit analysis.
2×6 wall and 18" deep wood truss roof construction completely filled with blow-in cellulose insulation.
Use of advanced framing techniques to reduce amount of lumber used by approximately 20% when compared to conventional framing.
The cellulose insulation was chosen for its:

100% recycled content and near zero carbon footprint.
Increased R-value over typical fiberglass insulation with less air flow.
Ability to be blown into place to fit around ducts and pipes effectively.
Ability to be recycled and efficiency of material use (far less waste created when compared to conventional insulation)

1" rigid insulation installed between the exterior sheathing and wall cladding system to reduce thermal heat gain and further insulate the building envelope.
Tightly sealed building envelope including vapor barrier beneath the slab, sealing all floor penetrations, house-wrap tape sealant, and gaskets at all openings.
Blower door test provided rating of .68 ACH50.
Utilized wood doors with aluminum cladding to help reduce thermal heat gain.
Developed a vented bent-metal pan cladding system that sheds its own heat.

Creates zero construction waste as each piece is cut-to-length.
Extremely durable (rust protects steel in Phoenix region), zero maintenance.
1" profile creates vented skin system to separate exterior temperature from interior.
Low cost & 100% recyclable.
REDUCE ENERGY USE THROUGH APPLIANCES
Another concurrent design strategy used to help the home achieve Net Zero Energy was the reduction of energy use via efficient appliances and mechanical systems.
A heat recovery ventilator produces 24-hour air exchange while maintaining 90% HVAC energy.
Heat-pump water heater uses 1/3 as much energy as the conventional type, and acts as a half-ton A/C unit when operating (about 2-3 hours per day)
HVAC system is a ductless mini-split system to deliver air directly to living areas within the house. The entire system utilizes less than 12 amps when fully operational.
Ductless HVAC eliminates ducts in ceiling to ensure maximum insulation.
All kitchen appliances are low-energy use (ENERGY STAR at minimum).
DESIGN PROCESS AND BUILDING ORIENTATION
The team identified the importance of an integrated design process from the outset and made use of building orientation to help meet the goal of Net Zero Energy.
Inclusionary Team Design Process including Owner, Sustainability Consultant, Architect, Mechanical Engineer, Structural Engineer, General Contractor, and all sub-contractors.
Several forms of energy calculation processes were used including using Passive House software to study cost versus benefit for each design decision.
House was intentionally oriented on a north-south axis. There is zero east-west fenestration in order to reduce heat load.
100% shading on all glass during the four hottest summer months.
Open plan to minimize HVAC components.
Trees sited on east and west sides of house to shade the building.
Flat roof for easy PV system installation.
ON-SITE ENERGY SYSTEMS
The on-site energy is provided by roof-mounted photovoltaic panels and is supplemented via a grid connection.
3.6 kW PV system, roof-mounted.
System is grid-connected.
No energy storage system.
100%+ annual energy is offset by the PV system, transferred to utility grid.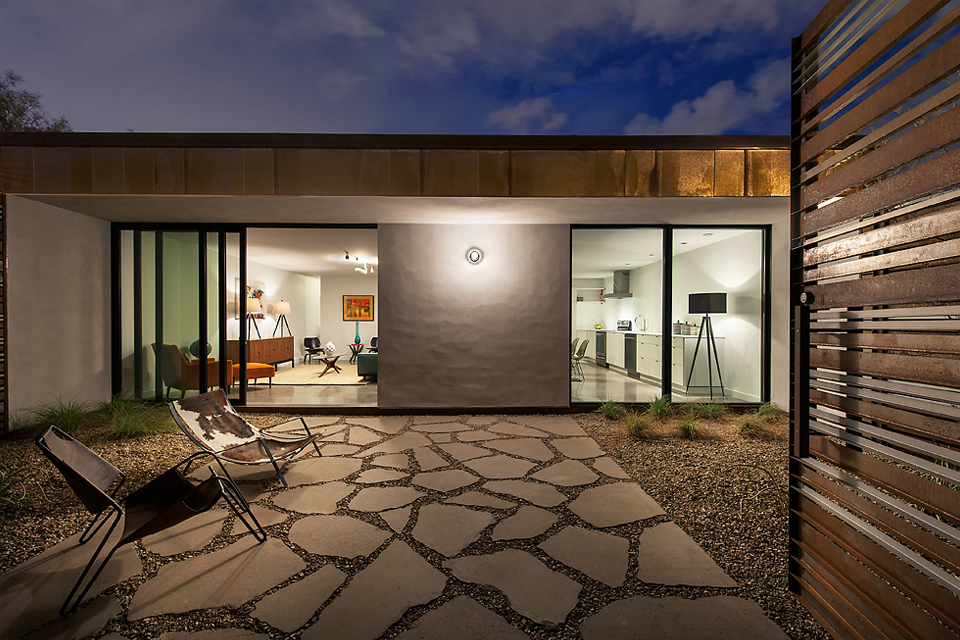 BEAUTY PETAL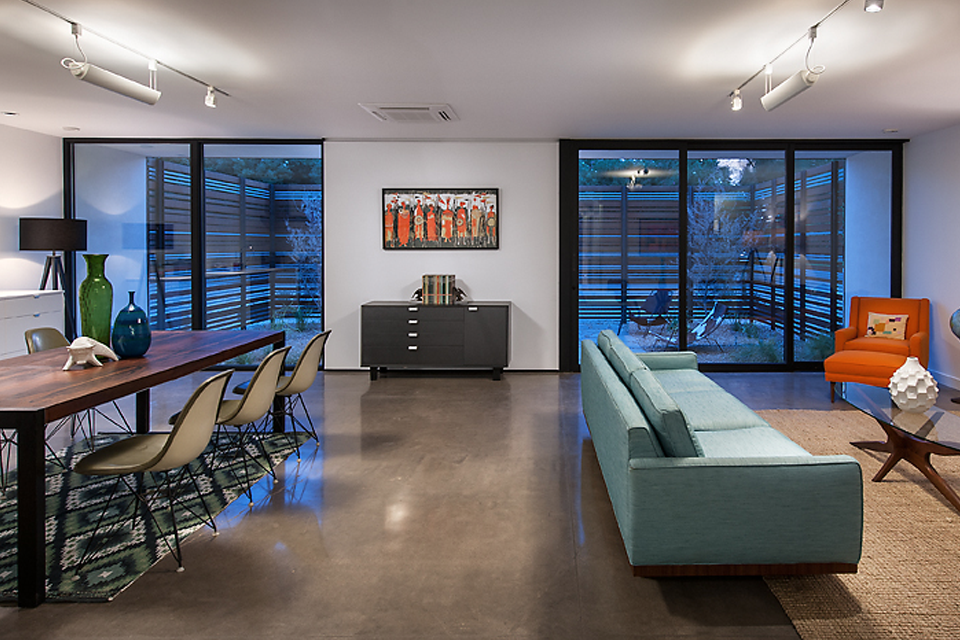 The idea for this project, and for future homes to be built on other sites, was to create a design in the mindset of the case-study homes of the 1960's – something visionary, stark, and simple. Though rather than copy the case-study home types, the team aimed to create something more specific for the current time and place, with much greater sustainability in mind.
The prototype project is meant to be as affordable as possible. To achieve that aim, the design needed to be as simple as possible. Within that simplicity, the team honed the design to produce human delight with pattern, color, sacred geometry, and biophilic elements and principals.
PATTERN:
The steel cladding on the exterior of the building is a slightly customized bent metal pan system of various widths to create visual variety. The majority of the cladding was intentionally designed to be rusted metal set in a "random" pattern for a variety of reasons.
The texture is rich and mimics patterns on local rock and ground cover. The material, left to naturally patina in this way, helps to blend it with the site, which was covered with local granite gravel paving.
The material itself is a reminder of the area's mining and agricultural past. Rust is often seen on the oldest remaining buildings in the city. Of course, durability is a key feature. But over time, the material changes, allowing the home to take on different appearances. In this region, mill finish steel left to rust lasts a minimum of 50 years even with a 20 gauge bent pan.
The varied widths and "random" pattern provide a biophilic interpretation into natural patterns.
The screen wall around the courtyard is created with a carefully placed set of horizontals, also with a variety of sized elements set in a seemingly "random" pattern to create a biophilic interpretation of natural patterns.
The colored glass wall at the back of the house is painted with a random pattern of bubbles.
COLOR:
The exterior cladding includes a few colored panels to break up the biophilic pattern further.
The green color is derived from the native Palo Verde tree. Its bark is green and allows the tree's skin to photosynthesize – something very unique to the plants in this region.
The "random" pattern of the green panels mimics the way a multi-trunked Palo Verde tree can look against a backdrop.
Two glass panels were added behind the house to provide a view to a colored wall plane.
SACRED GEOMETRY:
There are several areas that utilize geometries that are immediately recognizable and appreciated by the human eye.
The entire house in elevation from the street is made up of two rectangles of 10'x20' that make up the 40' long elevation.
The constant 8' height of the interior of the space is meant to be comfortably proportioned and sized.
The three white walls, not connected to the side walls, at the exterior elevation (one at the living room and one at each of the two bedrooms) are each exactly 8'x8'.
There is another white wall at the interior that is disconnected from the side wall and also exactly 8'x8'.
BIOPHILIA:
Every living space has multiple openings to college changing light patterns throughout the day.
Every living space has views to native landscaping.
The front courtyard provides a "refuge" and "prospect" for the living space to put occupants at ease by providing protection with a view of the surrounding area.
The green painted glass with bubble pattern mimics the way mud dries in the desert.
20. INSPIRATION & EDUCATION IMPERATIVE
Prior to construction, the team attended a neighborhood meeting to present the design and sustainability strategies of the house to the community. There were approximately 30 people in attendance. People seemed excited about two aspects of the project.
They were very happy to see that the previously empty lot in their neighborhood would now be filled with a house for ownership. The lot had always contained a fair bit of trash that people would leave there or that the wind would blow onto the property. Sometimes people would also park their cars on the lot, creating an eyesore for the neighborhood.
Several community members were very interested in the sustainability features we were employing, particularly the goal of net-zero energy usage. There was a bit of discussion and brainstorming about how the team could achieve this goal.
The team provided a "reader's digest" version of the design and building technologies that it planned to employ to accomplish the challenging goals. The neighborhood seemed pleased with the proposed solutions.
While aesthetics were discussed, the neighbors were less interested in discussing this aspect. However, they were also very happy the house would be limited to one story in height. The entire neighborhood is one story, and they saw the design as fitting in well with the scale and housing types of the community.
The team conducted several open house events before the house sold. All of them were tours given by both the developer/sustainability consultant and the architect. The tour guides verbally conveyed information on the building technologies, energy savings, and net-positive energy aspects of the house while showing the visitors the building technologies, including the solar PV array on the roof (seen from across the street). In particular, there was discussion around the use of advanced framing techniques, increased insulation, and the tightly sealed house-wrap system. There was also discussion around the need for and positive aspects of the heat recovery ventilator (HRV) equipment within the house. The vented steel skin system was a highlight; it is completely recyclable, requires no maintenance, and will last for a minimum of 50 years.
Announcements for the house were published through the team's websites, Facebook page, and local websites/Facebook pages for people interested in sustainability and architecture. All three Open Houses were open to the general public and free of charge.