Officially opened in April 2012, the UniverCity Childcare Centre is located at the heart of UniverCity, Simon Fraser University's high-density, sustainable community on Burnaby Mountain, British Columbia. The 5,700-ft2 facility hosts 50 children ranging from 3 to 5 years old. The building provides two centres with separate spaces and services for two groups of 25 children as well as a community space for the shared use and interaction of the two groups. In addition to the 6 staff from the SFU Childcare Society, the building also hosts academic researchers from Simon Fraser University who use the facility as a living lab to observe and conduct firsthand studies of early childhood education.
The UniverCity Childcare Centre is the first childcare centre in the world to integrate the most advanced environmental design with the renowned Reggio Emilia childcare program. The Reggio Emilia model emphasizes three "teachers": the educator, the environment, and the broader community in which the children live. The childcare facility itself becomes a laboratory for self-directed learning. It provides unique opportunities, both indoors and out, for the children to explore water, light, air, gravity, vegetation, and seasonal change.
| Vital Stats | |
| --- | --- |
| Certification Status | Certified Petal 2016 |
| Location | Burnaby, British Columbia, Canada |
| Bioregion | Cascadia |
| Living Transect | L5 – Urban Centre Zone |
| Typology | Childcare |
| Occupant Type | Children 3 to 5 years old + Adults (staff) |
| Project Area | 2,009 m2 |
| Building Area | 550 m2 |
| Building Footprint | 450 m2 |
| Start of Construction | November 2010 |
| Start of Occupancy | April 2012 |
| Owner Occupied | Yes |
| Number of Occupants | 50 children aged 3-5 + 6 staff |
| Number of Visitors | 5-75 parents for drop-off and pick-up |
| Hours of Operation | 8:00 AM to 5:00 PM |
| Project Team | |
| --- | --- |
| Geotechnical | Golder Associates |
| Civil | AECOM |
| Landscape | Space2Place |
| Structural | Fast + Epp |
| Architectural | Hughes Condon Marler Architects |
| Interior Design | Hughes Condon Marler Architects |
| Plumbing | Cobalt Engineering (Integral Group) |
| Mechanical | Cobalt Engineering (Integral Group) |
| Electrical | MMM Group |
| Lighting Design | MMM Group |
| Specialty Consultant(s) | ECOFluid Systems Inc. (Wastewater Treatment) |
| Contractor | Ledcor |
| Subcontractor(s) | Lockerbie & Hole (Mechanical), West Star Electric (Electrical), Wanes Custom Millwork (Millwork), 3E Glass (Glazing), North by Northwest Venture (Landscape) |
PLACE PETAL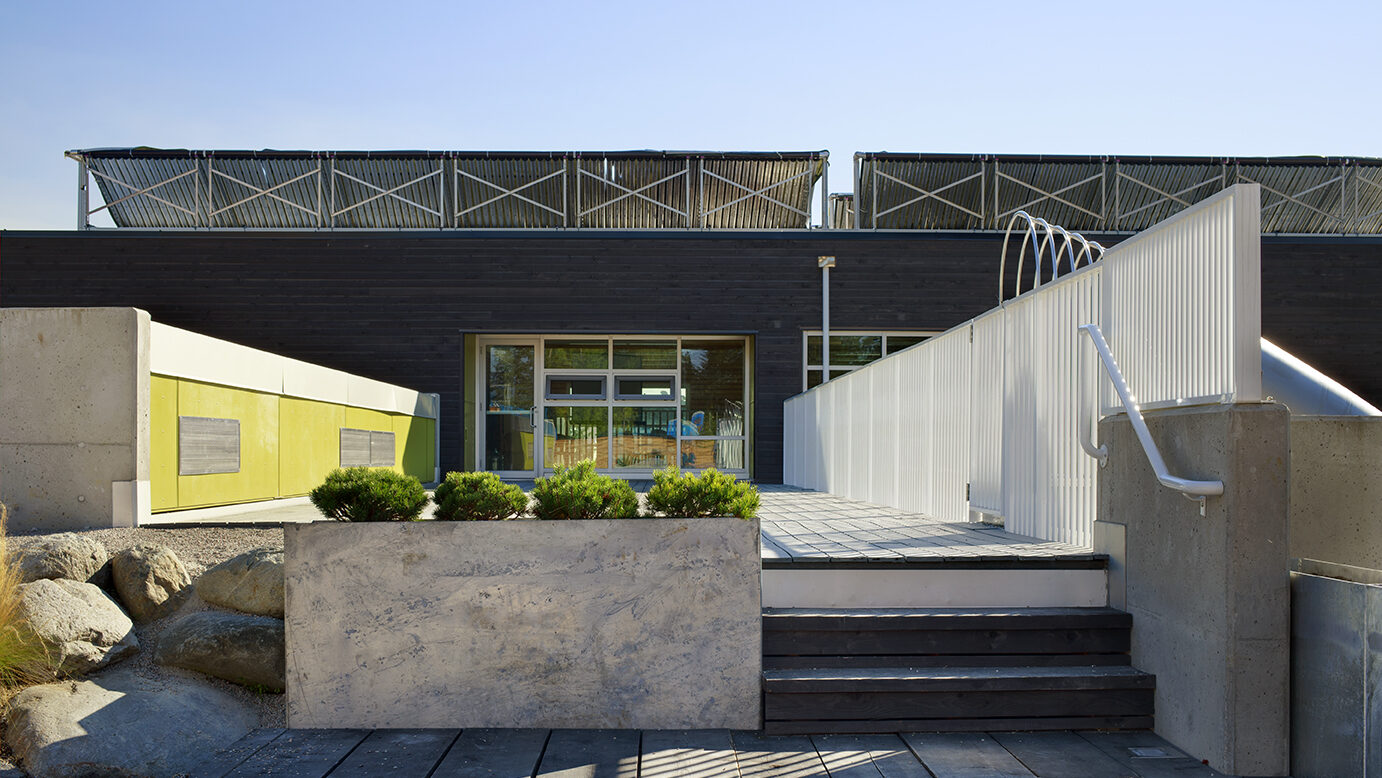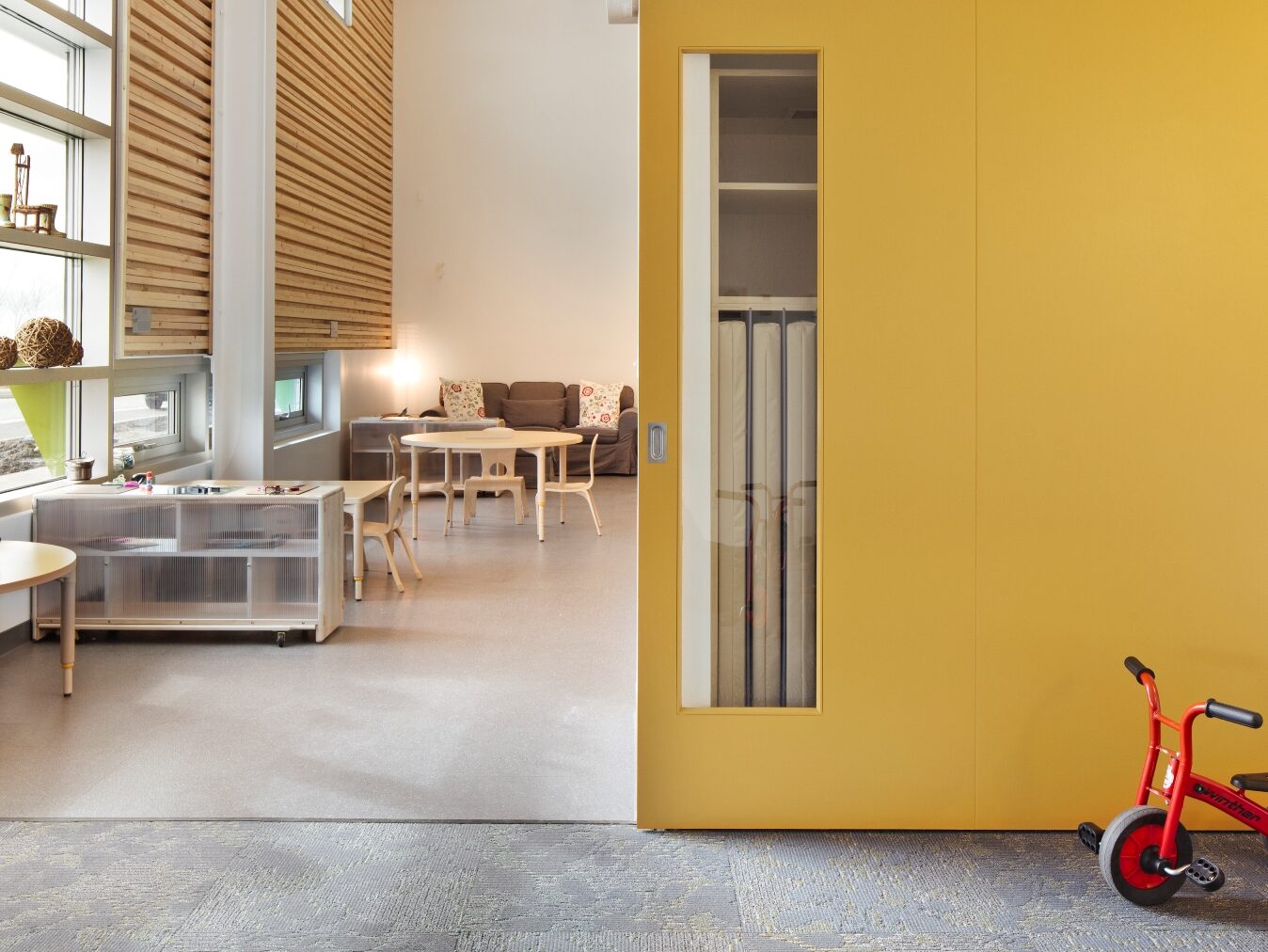 Photo courtesy of Martin Tessler
The UniverCity childcare is a stunningly simple and elegant building. The centre blends as well on its north and east sides into a neighborhood park, as it does on its west side with a 12-story contemporary residential tower. On south side, its black FSC cedar façade and floor-to-ceiling atrium window provide a proud face to Highland Court, the main street of access for the centre. The centre has beautiful presence and does not shy away from the street or stand concealed from the public. The UniverCity childcare celebrates its customers–50 children that learn to play, socialize and recreate in a way that is both friendly to the environment and engaging to the community.
The site of UniverCity and the childcare was previously a mix of campus surface parking lots and excavation fill/spoil storage from campus construction that began in the 1960s. The site was previously zoned P-6 Institutional by the City due to the assumed campus expansion. The site had one significant cedar tree in the NW corner, which was meticulously maintained throughout construction. The remaining spoils campus construction were used as backfill on an adjacent site. The naturally sloping north to south site lends itself to a strong street presence and south-facing orientation that maximize operational efficiencies. The building was also tied to an existing stormwater management system that allows Scale Jumping for excess water in peak flow periods.
WATER PETAL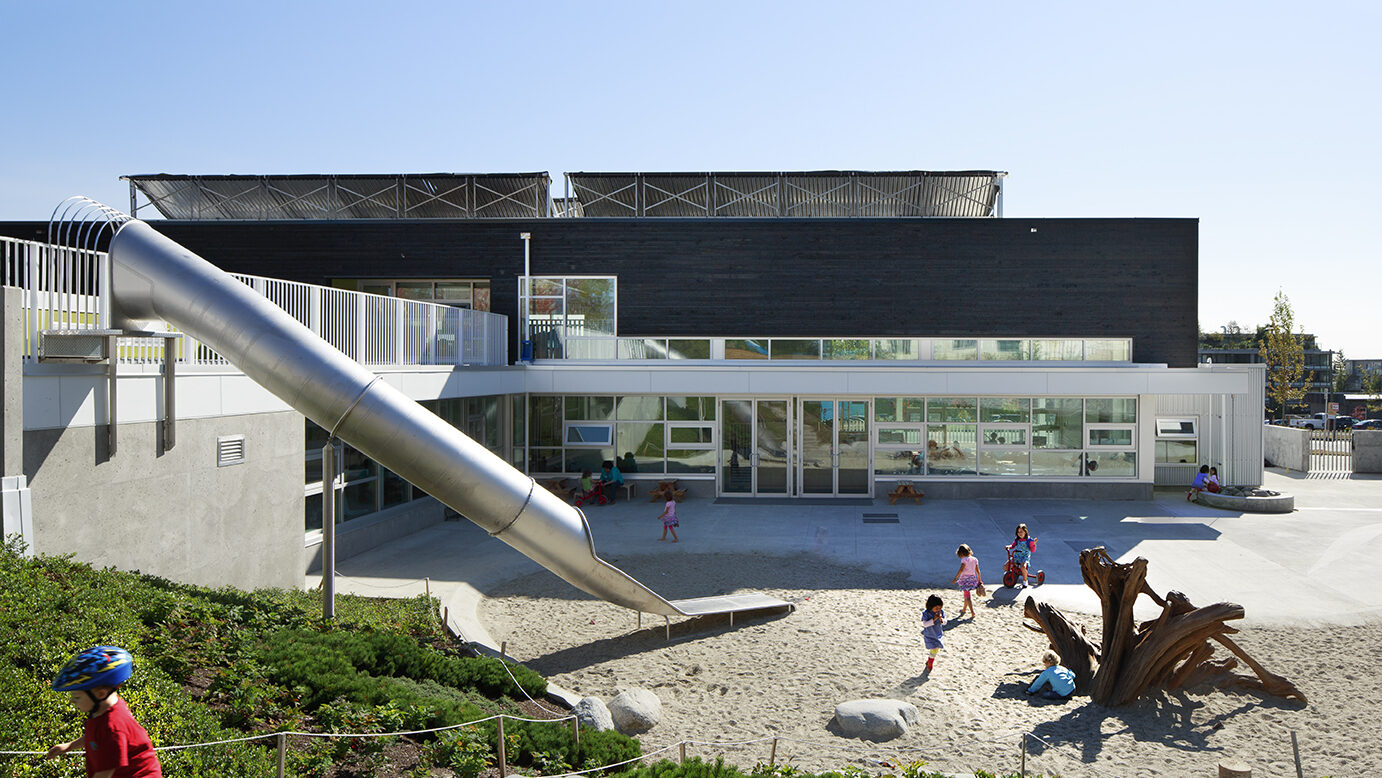 Photo courtesy of Martin Tessler
05. NET POSITIVE WATER IMPERATIVE
The UniverCity Childcare Project has achieved Water Petal certification through a number of systems. Reused water is used for laundry and toilet flushing after undergoing UV treatment. For a 12 month performance period, the supply for these systems was 100% rainwater. UniverCity captures rainwater onsite and stores in a cistern for reuse. Excess is infiltrated onsite. Similarly, blackwater and greywater are treated onsite and the treated effluent is infiltrated onsite, meeting the requirements of the Sustainable Water Discharge Prerequisite.
RAINWATER COLLECTION
A main component of the projects water management strategy is the collection of rainwater on site. Collected stormwater from the main building roof will flow into a below ground rainwater tank. This tank then supplies non-potable water for toilet flushing and washing machine use. When the tank level is high, an overflow valve will open and direct water flow into an on-site rock pit (infiltration field). Should this rock pit overflow, water will then be discharged to the UniverCity community scale stormwater system.
POTABLE WATER
Given the regulatory requirements, municipal water supplies potable uses for the project.
BLACKWATER TREATMENT
With an anticipated volume of 2,500 litres/day generated, all building sanitary drainage is directed to a bespoke treatment system that is compliant with local on-site wastewater treatment standards. As part of this system, all sanitary drainage is directed to a below ground bioreactor tank. Following primary treatment and filtration, discharge flows through a series of UV disinfection units located inside the buildings mechanical room. Treated water discharge then flows to the site's infiltration field where it is safely dispersed.The blackwater treatment method used is known as Upflow Sludge Blanket Filtration (USBF®), a state of the art self-regulating wastewater treatment process. Further information on this process is available via the project consultant's website.
HEALTH & HAPPINESS PETAL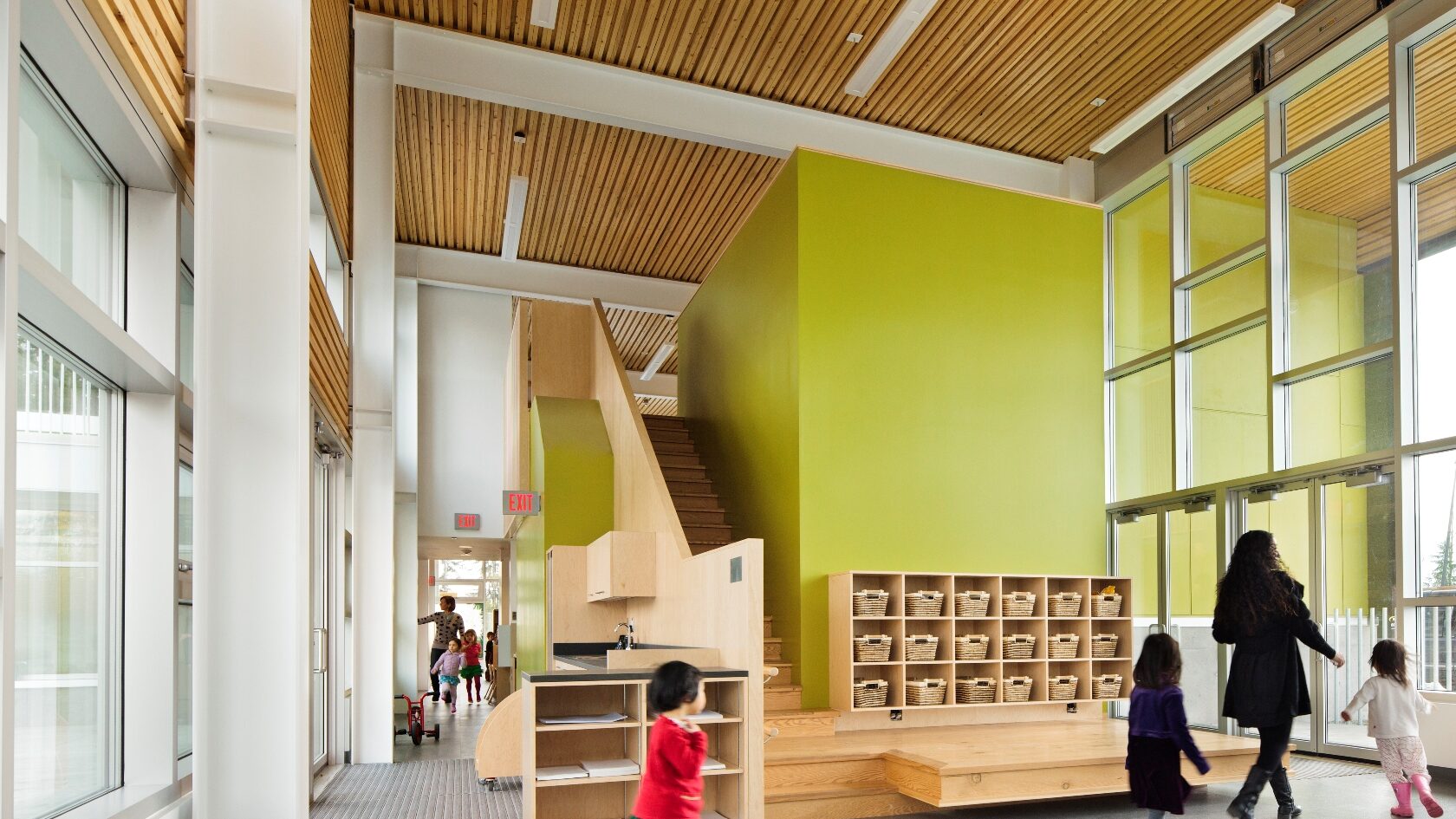 Photo courtesy of Martin Tessler
The UniverCity Childcare building prioritized the health of its occupants as the primary consideration throughout its procurement. The project's integrated design process required that all stakeholders be heavily involved in making important decisions during the design stage. The realized integrated design principles throughout the project act as figureheads for childcare facility design worldwide.
The building provides an inherent teaching experience to the occupants through its design and operation. Opportunities to experience nature are prominent within indoor spaces, allowing children to explore their senses through interactive education.
At construction stage, the contractor prepared a detailed indoor air quality plan which prescribed strict practices to maximize air quality throughout. This was coupled with strong attention to detail in the selection of materials and finishes to ensure that any risk of off-gassing or chemical exposure was eliminated.
07. CIVILIZED ENVIRONMENT IMPERATIVE
The childcare building ensured that access to the outdoors was maintained for every occupied space and provided an indoor environment that is naturally healthy, clean and civilized.
08. HEALTHY INTERIOR ENVIRONMENT IMPERATIVE
The UniverCity Childcare spatial programming has a functional aspect and a ventilation strategy for the building at its core. All the activity centres and heavily-occupied rooms are located on the perimeter of the building where operable windows are available, whereas the rooms where chemicals or a higher level of contaminants are present have been located centrally in the interior. This allows the system to be designed as a once-through system.
There are two distinct modes of ventilation: winter and summer. During the winter, the heat recovery unit provides 100% outdoor air to each space. The air is supplied through displacement ventilation diffusers in each room. As the occupants in the space warm up the ventilation air, the air rises and is then exhausted at the centre of the building through the kitchen area, washrooms, janitor room, and laundry.
Because the daycare has a strong connection to the outdoors, kids are regularly going outdoors. Such activity increases the infiltration, thus providing passive ventilation of the interior spaces. As such, ventilation rates have been calculated to account for this infiltration. Should the ventilation be insufficient, trickle vents located at high level within the spaces allows additional outdoor air to enter the space. The ventilation air rates and trickle vents are controlled through CO2 sensor in the spaces. As CO2 increases in spaces the trickle vents can be controlled to allow more outdoor air to enter the required space.
During the summer, the heat recovery unit provides exhaust only through the centre of the building in the kitchen, washrooms, janitor room, and laundry. Operable windows shall be operated by users. The indoor air quality is monitored through CO2 sensors. Should the CO2 exceed the preset levels, the trickle vents are automatically opened. As CO2 increases in spaces the trickle vents can be controlled to allow more outdoor air to enter the required space.
MATERIALS PETAL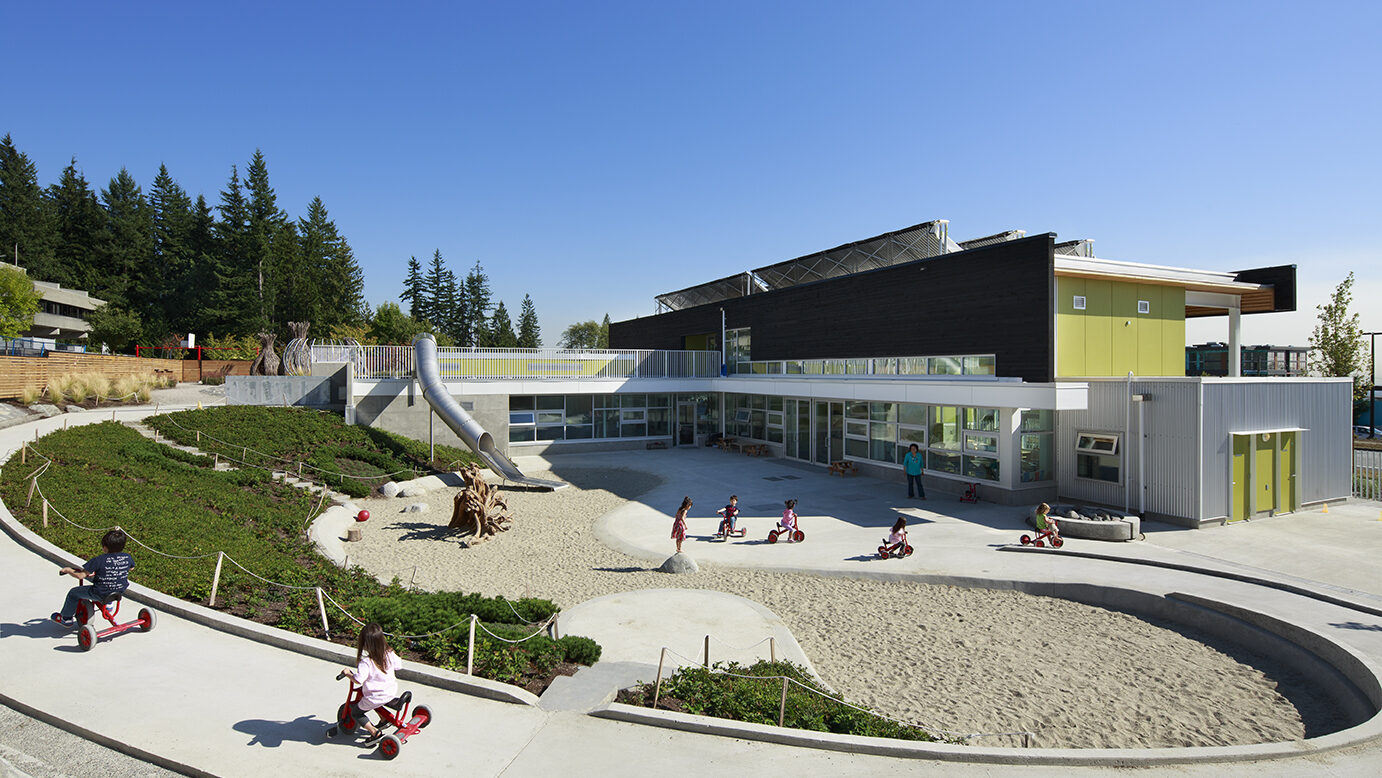 Photo courtesy of Martin Tessler
HCMA (ARCHITECT)
The project is significantly different than HCMA's typical projects. The design of the project was simplified with multi-purpose, non-complex building components and assemblies. The best example is the solid laminated wood panels which are structural components, provide interior finish and perform acoustically as well. The same solid laminated wood panels are used in both ceiling and walls.
The steel framing provides simple, single-span structural support and flexibility for the interior partitioning (if needed). The steel structure coupled with the solid laminated wood panels (nailed dimensional lumber) provides excellent end-of-life recyclability/reuse opportunities.
Mechanical systems also follow the simplicity principle. There is no cooling system and the heating is provided through in-floor heating–a desirable solution as the building occupants (mostly children aged 3 to 5) spend most of their time very close to or on the floor. The simplicity principle is also evident in terms of a net zero energy approach, wherein the entire energy use of the building, both electrical and heat, is offset by a single set of solar thermal evacuated tube panels.
The specification (pre-tender stage) was especially challenging as no contractor was appointed. Therefore, a performance-based approach was adopted where the requirements of LBC were highlighted. Following the selection of the contractor and during the construction process, HCMA and Ledcor (the contractor) closely collaborated to implement the requirements of LBC. Directly contacting manufacturers and suppliers was an approach HCMA had not previously undertaken.
LEDCOR (CONTRACTOR)
The team developed LBC Material Information Sheets for our subcontractors and their manufacturers containing all of the Imperatives we had to meet, including instructions on how to fill out the forms themselves. We drafted these forms to look like our LEED forms so it would not feel quite so foreign to our subcontractors. We've been told that made a huge difference in calming their initial fears about entering into this project. We kept the form to one page so it was not too intimidating. We realized the appropriate sourcing table had a lot of footnotes and would create some confusion and possibly room for error. We then created a project-specific sourcing matrix that enumerated every specification section and listed every item in a matrix with exact zone requirements. This way, the subcontractors could simply refer to the matrix to see where they needed to source materials. But it is about so much more than paperwork; our approach was to ensure every worker on site understood the bigger picture and really bought into the Challenge.
The mechanical subcontractor hired a new foreman who was educated in sustainability and keen to work through this challenge with us. It was a pleasure and relief to have their support as the mechanical documentation is a major portion of the materials binder.
SUCCESSFUL RED LIST SUBSTITUTIONS
| Red List Item | Substitution |
| --- | --- |
| Drain tile (PVC) | Custom drilled, rigid ABS (HDPE perforation spacing did not meet CSA standard) |
| Pipe (PVC) | HDPE and cast iron |
| Cat-5 cable (PVC) | Teflon-coated cable |
| Fly-ash | 'No fly-ash' specified for concrete |
| Tire-derived recycled rubber flooring | Virgin rubber flooring |
| PVC playground equipment | Custom-designed and locally-crafted by artists |
REGIONAL PRODUCTS
Pine beetle-killed wood from BC forests
Playground equipment: huts by Alastair Heseltine (Hornby Island, BC) and tree stump (climbing structure) by Warren Brubacher, Squamish, BC
Lighting fixtures by Propeller, Vancouver, BC
Outdoor bench by Brent Comber, Vancouver, BC
Concrete by Ocean Concrete
Wood doors by Lynden Doors
Drywall by CertainTeed
MANUFACTURERS OF FSC-CERTIFIED WOOD
Wood doors by Lynden Doors, Lynden WA
Fire-treated plywood by Norland Forest Products, Dillard OR
Plywood by Roseburg Forest Products, Roseburg OR
TIMBER-HARVEST & SALVAGING ORGANIZATIONS
Stoneridge Capital Incorporated – Vancouver BC
Kanam Pacific Construction Ltd. – North Vancouver BC
Litchfield Building Materials – Vancouver BC
Tham Demolition Ltd. – Vancouver BC
Most notably one of Ledcor's in-house estimators donated salvaged lumber from his heritage home which was refinished and used to construct the stage in the community Room.
CHALLENGES
HCMA
Every single product was a challenge as LBC requires a different and in-depth look at the makeup of a product and its ingredients. The requirements for local sourcing and responsible industry practices were also much stricter than we had previously considered in other projects. Overall, the learning curve was very steep and the amount of time to research and find compliant products was well beyond any project we had done before.
LEDCOR
Every product used in the construction of the SFU UniverCity Childcare presented challenges. One of the biggest challenges was working with our subtrades to help them understand the requirements and what was required from their suppliers/manufacturers, and more importantly, to help them see the bigger picture.
It was a challenge to keep the project on schedule and on budget when we couldn't source compliant materials in a timely manner. The procurement cycle was repeatedly stalled because very few manufacturers are fully vertically integrated. Most do not have information on all of the components that feed into their final manufacturing/assembly processes. This was a learning curve for all.
Information was steadily being updated on the LBC Dialogue so we had to be diligent not to miss an update or exception. We were required to submit copies of supporting data for each product researched – we ended up researching 99% of the products used. For example, UniverCity is on top of a mountain so we quickly realized that we could not use our usual snow-melt product and had to research to find a compliant snow melt (at 10x the cost).
At the time of construction, certain materials had no alternatives that met the Red List performance requirements and safety standards.
Want to learn more about this project? Purchase Generation Green, an EcoTone publication about the greenest childcare centre in the world.