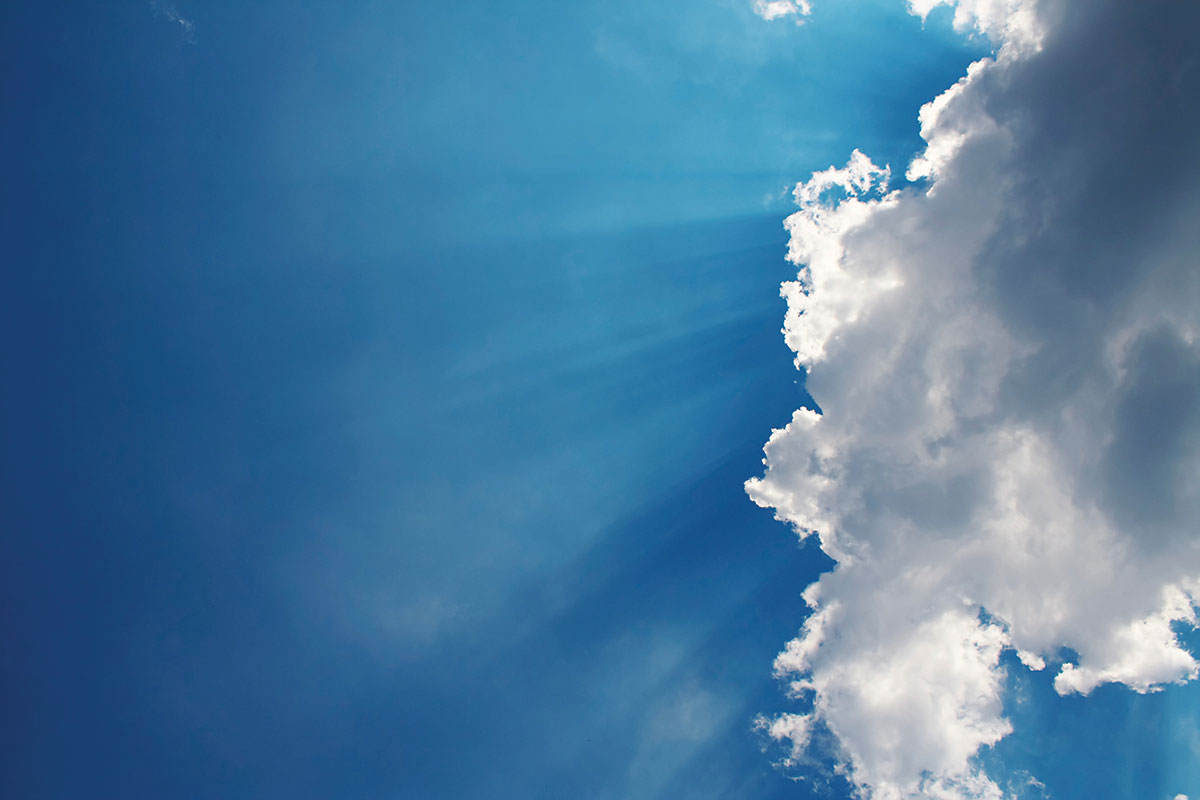 Make social justice your business
Help your organization optimize policies that improve social equity and enhance employee engagement.
The Just® program is a voluntary disclosure tool for organizations.
Just® is not a certification program, it is a transparency platform for organizations to disclose their operations, including how they treat their employees and where they make financial and community investments.
Just® is a nutrition label for socially just and equitable organizations.
This approach requires reporting on a range of organization- and employee-related indicators. Each indicator outlines measurable accountabilities in order for the organization to be recognized at four levels of performance, which are summarized elegantly on the label.
Organizations can use the label on their website or marketing to demonstrate their commitments to these issues.
Just® marks the beginning of a new era of corporate transparency. ILFI invites organizations everywhere to evaluate themselves through this social justice and equity lens and become a Just® organization. To begin your organization's Just® label using the new Just® 2.0, log in to the Membership Dashboard and click "Just® Organizations 2.0" in the Manage section.
What's included on a label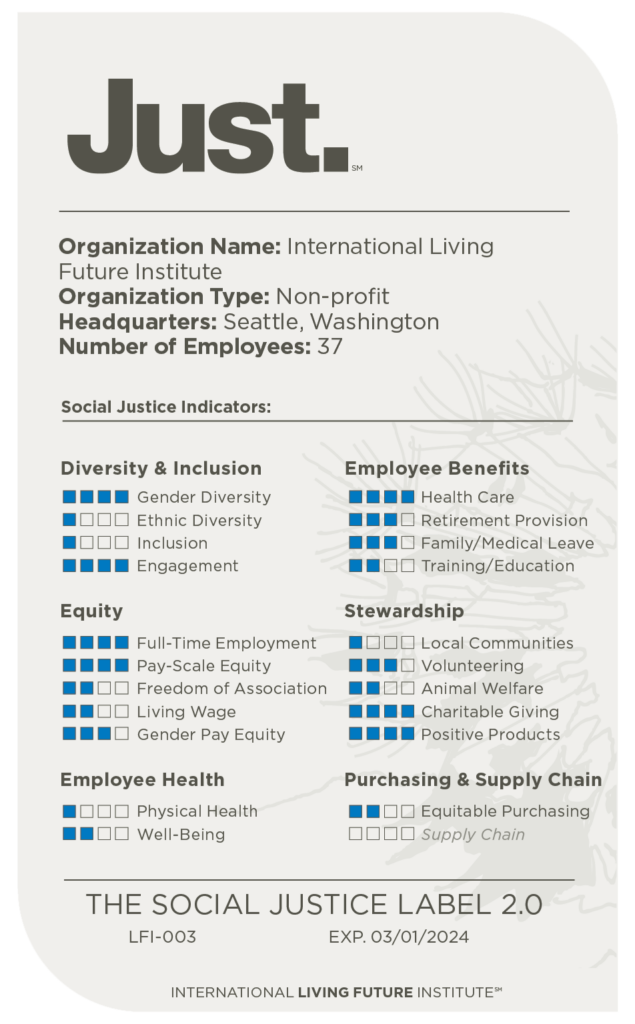 Just® user manual
The Just® User Manual offers a comprehensive overview of the program and describes the application process. Organizations are encouraged to review the manual prior to registering for the program. Organizations that are new to Just® are highly encouraged to download Just® 2.0 and begin documenting or developing policies that address indicators in this standard. Note that additional clarifications and updated metrics for indicators are provided on our Just® 2.0 Indicator FAQ page. For additional questions about the program, contact us.
Benefits
Just® is a robust management tool that will help organizations enhance human resources policies, programs and practices.
Just® helps organizations through the process of building a culture that values diversity, equity and inclusion.
Just® is a powerful recruiting tool and helps organizations attract millennials as this generation has shown a preference to work for organizations that demonstrate corporate social responsibility.
Just® helps organizations improve levels of morale and retention as the process of information disclosure and transparency builds trust and loyalty.
Just® offers a roadmap for organizations to deepen levels of employee engagement.
Just® provides a compliance pathway and credit in green building certification frameworks such as Living Building Challenge®, LEED v.4 and WELL.
Just® complements existing sustainability and corporate social responsibility programs such as B Corp and Global Reporting Initiative (GRI).
Just® can help enhance existing community stewardship practices and build a stronger brand.
Process and Fees
In order to register for the Just® program, at least one employee within your organization needs to join as a Living Future Member. Membership includes access to ILFI project registrations, conference discounts, and the Living Future Network community, among other benefits.
Once an employee has joined ILFI, your organization will be able to register for Just® 2.0 through the Membership Dashboard, begin uploading policies and data for each of the indicators, and submit your Just® label application. The program fee, which is due at the time of registration, is based on the number of full-time employees. It follows the formula: Base Fee + (Employee Fee × Number of Employees), which can be seen in the chart below.
| Number of Employees | Base Fee | Fee per Employee | Minimum | Maximum |
| --- | --- | --- | --- | --- |
| 1 – 99 | $2,000 | $10 | $2,010 | $2,990 |
| 100 – 999 | $2,300 | $7 | $3,000 | $9,293 |
| 1,000 – 9,999 | $7,300 | $2 | $9,300 | $27,298 |
| 10,000 or above | $17,300 | $1 | $27,300 | and up |
Please review this high-level overview of the Just® Submission process.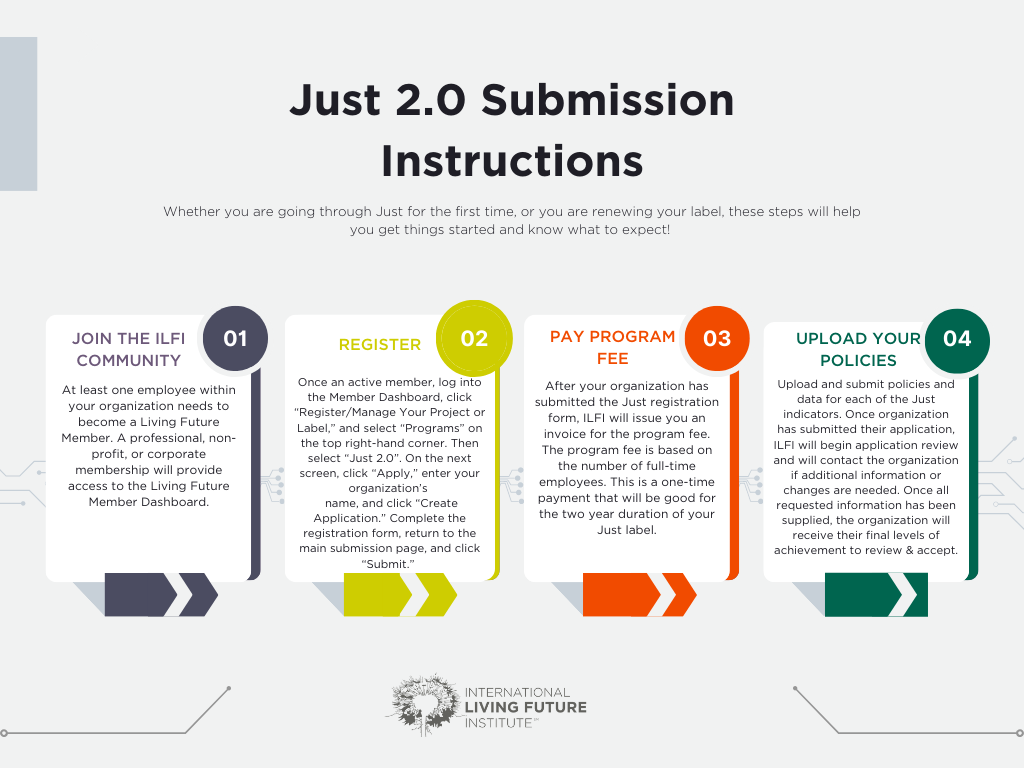 Register Now
To register for Just® 2.0, click the login button (here). From the Membership Dashboard, click "Just® Organizations 2.0" in the Manage section.
Thank you for your understanding as we continue to evolve and scale Just®. If you want to discuss the eligibility of your organization, or have any questions, please reach out to us (just.support@living-future.org). This decision does not impact existing Just® organizations that want to renew their labels.
Online Curriculum