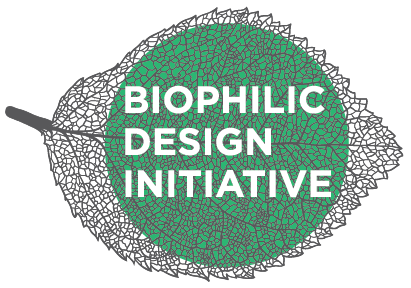 Biophilic Design Initiative
BIOPHILIC DESIGN IS THE PRACTICE OF CONNECTING PEOPLE AND NATURE WITHIN OUR BUILT ENVIRONMENTS AND COMMUNITIES.
The International Living Future Institute has seen a demonstrated need among the Living Building Challenge community for Biophilic Design resources that can take the practice from theory to reality. While progress has been made to communicate what Biophilic Design is and to demonstrate why it is crucial to a Living Future, very little has been made around the process of how to achieve it. The International Living Future Institute has brought together leading experts in the field to form an Advisory Task Force that will lead the initiative through collaboration and inclusion of existing resources. This initiative aims to achieve the goal of broad adoption of Biophilic Design among the design community, building owners and cities.
About the Initiative
A place to file, archive, and offer resources for public and network access.
Be a resource for ideas, resources, events and collaborative opportunities, connecting nodes around the country and world. Assemble and package educational tools and resources. Develop a databank for case studies.
Connect project teams with biophilic design practitioners and resources; connect design practitioners with research scientists; and compile science research databank.
Link design practitioners with scientists for solving design challenges and conducting more in-field research.
Create networking and collaborative opportunities.
Network members collaborating on projects and at events/conferences.
Draft a biophilic design implementation and documentation process for the Living Building Challenge.
Biophilic Design Toolkit
The Biophilic Design Toolkit is a robust collection of resources to help designers explore biophilic design and promote human-nature connection in the built environment. The toolkit provides guidance, inspiration, and support for key activities from introducing biophilic design to teams, to the planning and design stages, all the way through construction and occupancy.
The Biophilic Design Toolkit includes: Fundamentals of biophilic design, success stories, design guidance, biophilic design map, biophilic design activities and guidebook, and opportunities to go further.
FOUNDATIONS IN BIOPHILIC DESIGN CERTIFICATE
This 12-hour Foundations of Biophilic Design Certificate is delivered fully online and on-demand with content and guidance from the field's leading experts. In addition to online courses, an e-book, and a practice design activity, it includes access to the Biophilic Design Toolkit, a digital resource that's full of additional information you may explore within and beyond the certificate curriculum.
Upon completion, you will earn a Foundations of Biophilic Design Certificate issued by the International Living Future Institute and be equipped to bring a biophilic approach to your next project.
The STephen R. Kellert Biophilic Design Award
The Stephen R. Kellert Biophilic Design Award acknowledges Stephen's legacy as a pioneer in articulating and applying biophilic design principles to the built environment. His advocacy has encouraged widespread adoption of the practice of design for human-nature connection.
The award is in recognition of achievements in the built environment, including buildings, interiors, and communities, that demonstrate the principles and benefits of biophilic design.
Creating Biophilic Buildings
​​What if we could experience the same physical, psychological, and emotional benefits moving through an urban landscape that we experience walking through a forest? What if we could right our relationship with nature by transforming the built environment in a way that ensures buildings function in harmony with the natural world?
Creating Biophilic Buildings by Amanda Sturgeon calls for an intentional biophilic design renaissance providing a fresh, insightful place to begin exploring how to create places where people and nature can thrive together.
Biophilic Design Guidebook
This guidebook was developed to help Living Building Challenge project teams develop more biophilic projects and comply with the requirements and intent of Imperative 09 – Biophilic Environment. The guidebook includes a general overview, as well as recommended topics, content, and tips.
biophilic design Advisory committee
ILFI is grateful to the Biophilic Design Advisory Committee, a volunteer group of industry experts that guide and advise ILFI's biophilic activities. Please take the time to read the article, "Biophilic Design and Climate Change: Performance Parameters for Health" by Advisory Committee members to learn more about the impact of biophilic design in the midst of climate change.
JULIA KANE AFRICA, Biophilic Design Consultant, Former Nature and Health Program Leader at the Center for Health and the Global Environment at Harvard T.H. Chan School of Public Health
SONJA BOCHART, Principal, Shepley Bulfinch
BILL BROWNING, Founding Partner, Terrapin Bright Green
MARY DAVIDGE, Director of Campus Design, Real Estate and Workplace Services, Google
JUDITH HEERWAGEN, Program Expert, Office of Federal High-Performance Green Buildings, US General Services Administration
NICOLE ISLE, Chief Sustainability Strategist, Glumac
DAVID GERSON, Vice President of Marketing, Inscape
ERIN JENDE, Director of Marketing, Interface
VIVIAN LOFTNESS, University Professor of Architecture, Carnegie Mellon University
RICHARD PIACENTINI, Executive Director, Phipps Conservatory and Botanical Gardens
CATIE RYAN, Senior Project Manager, Terrapin Bright Green
Please take the time to read the article, "Biophilic Design and Climate Change: Performance Parameters for Health" by our BDI Advisory Members to learn more about the impact of biophilic design in the midst of climate change.
Initiative Sponsors
Special thanks to Glumac, Interface, HOK, Teknion, Mecho, + Armstrong World Industries – our generous sponsors of this initiative!