Standing above the High Line in the heart of New York City's hustle bustle Meatpacking District, the Delos Global Headquarters at 860 Washington Street serves as a beacon illustrating the best practices meeting the highest building certification standards available for adoption today. It is in this neighborhood by the Hudson River where historic urban relics commingle with tech icons represented through New York's Silicon Alley, emerged in a scene where boutique fashion brands replace old butcher shops, and celebrities and high society lifestyles rub shoulders with aspiring professionals. This is where the Delos mission to "innovate well" finds its perfect home. As the founder of the WELL Building Standard, promoting health and wellness in the built environment is paramount for Delos HQ. Beyond the project's rigorous health and wellness goals, it was clear that the project also wanted to push industry boundaries in sustainability and green building design. With that came the decision to pursue 3 certifications: Living Building Challenge Petal Certification, LEED v4, and WELL New & Existing Interiors. The Delos HQ project serves as a case study from which countless lessons can be learned about sustainable and healthy design.
Delos relocated their headquarters from a 3,500-square foot office on the 4th floor at 22 Little West 12th Street to a 19,318- square foot space at 860 Washington Street in New York City's Meatpacking District. The new office spans floors 4 and 5, and includes a 1,520-square foot terrace on the 4th floor. The north, east and west facing walls are full glass curtain walls, offering unobstructed, panoramic views of downtown, the High Line, and the Hudson River. The space layout includes mainly open benching, limited enclosed offices and conference rooms, and an array of huddle and phone rooms. While there are currently approximately 70 employees in the New York City area, the space was designed to accommodate approximately 95 people.
The Delos HQ project team went through a variety of charrette planning processes at the very beginning stages of the project to discuss goals. Follow-up meetings were held periodically to ensure that the requirements of three building certifications, as well as project-specific goals, were met during the design and construction phases.
VITAL STATS
| | |
| --- | --- |
| Certification Status | Petal |
| Version of LBC | 3.0 |
| Location | New York, NY, USA |
| Project Area | 19,318 SF |
| Start of Occupancy | September 2017 |
| Owner Occupied | No |
| Number of Occupants | 70 |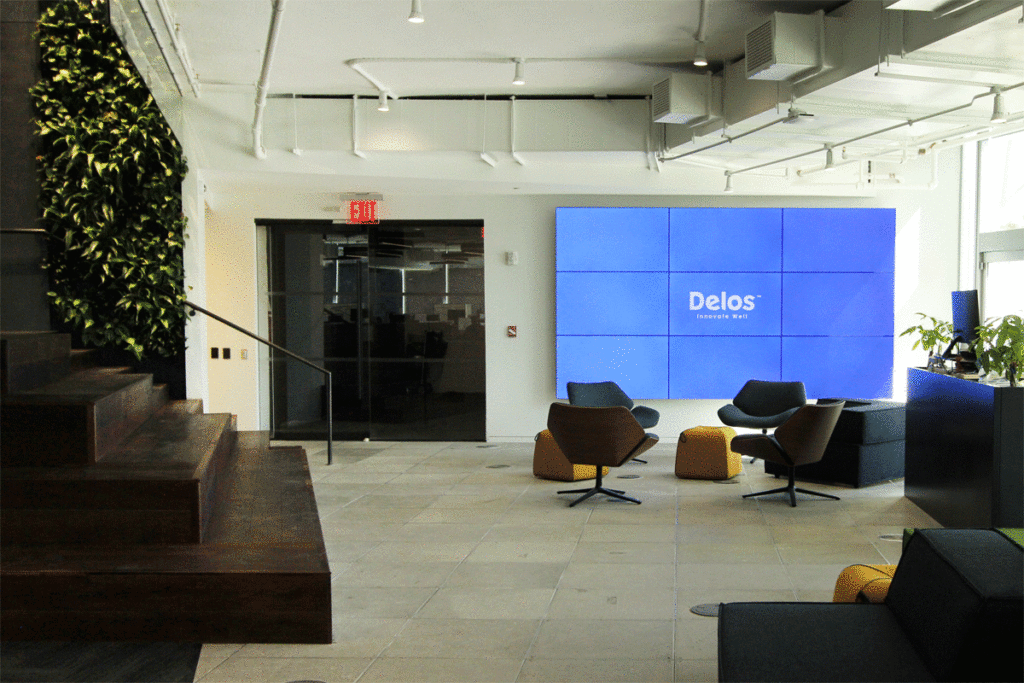 PROJECT TEAM
| | |
| --- | --- |
| Owner | Delos (Tenant) |
| General Contractor | Structure Tone |
| Construction Management | Structure Tone |
| Architect | Gensler |
| MEP Engineer | AKF |
| Structural Engineer | Thorton Thomasetti |
| Landscape | Harrison Green |
| Specialty Consultant(s) and Role(s) | Acoustics: Longman Lindsay; WELL & LBC Consultant: Delos; LEED Consultant: YR&G; Workplace Strategy: CBRE |
| Key Sub-Contractor(s) | Atelier 10 – Lighting; Longman Lindsay – Acoustics; Gensler – Digital Display Graphics & Technology |
PLACE PETAL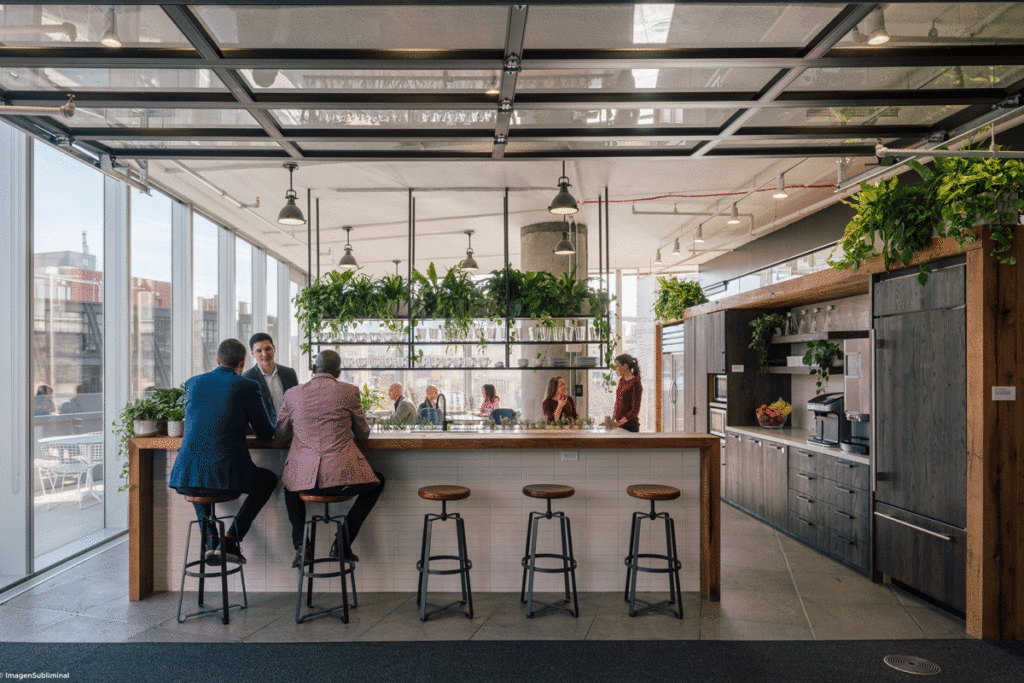 01. LIMITS TO GROWTH IMPERATIVE
860 Washington, where Delos HQ is located on floors 4 and 5, is tucked between the well-known Standard Hotel and the High Line and represents the modernism and progressive architecture of the emerging Meatpacking District. Constructed with a glass façade, 860 Washington's views of the Hudson River and the biophilia of the High Line was developed from a vacant warehouse storage lot. The building provides access to the Hudson River Greenway and retail shops and restaurants in the area. The Meatpacking District of New York is known for its history as an industrial area in the mid-1800's until the late 1980's when the area went through a complete rebirth. The district has been taken over by world-famous fashion designers, high-end retailers, the Whitney Museum of American Art, and The High Line. 860 Washington broke ground in 2014, was completed in 2016, and Delos moved in in late 2017.
The site of 860 Washington was developed at least as early as the mid-1800's, though the 860 Washington Building was new to the site in 2016. The project utilized I01-E12 Floodplain-L5/L6 Transects, which allows projects in L5 or L6 to build within the 100-year floodplain, due to its proximity to the Hudson River.
03. HABITAT EXCHANGE IMPERATIVE
Due to the relatively small size and therefore offset of the project, Delos decided to make their contribution to Living Future's Habitat Exchange program. This allows the Institute to aggregate funds from participating teams over the calendar year in order to make a more substantial annual purchase of high-value, intact ecosystem.
Name of Habitat Exchange project: Living Future Habitat Exchange
HEALTH & HAPPINESS PETAL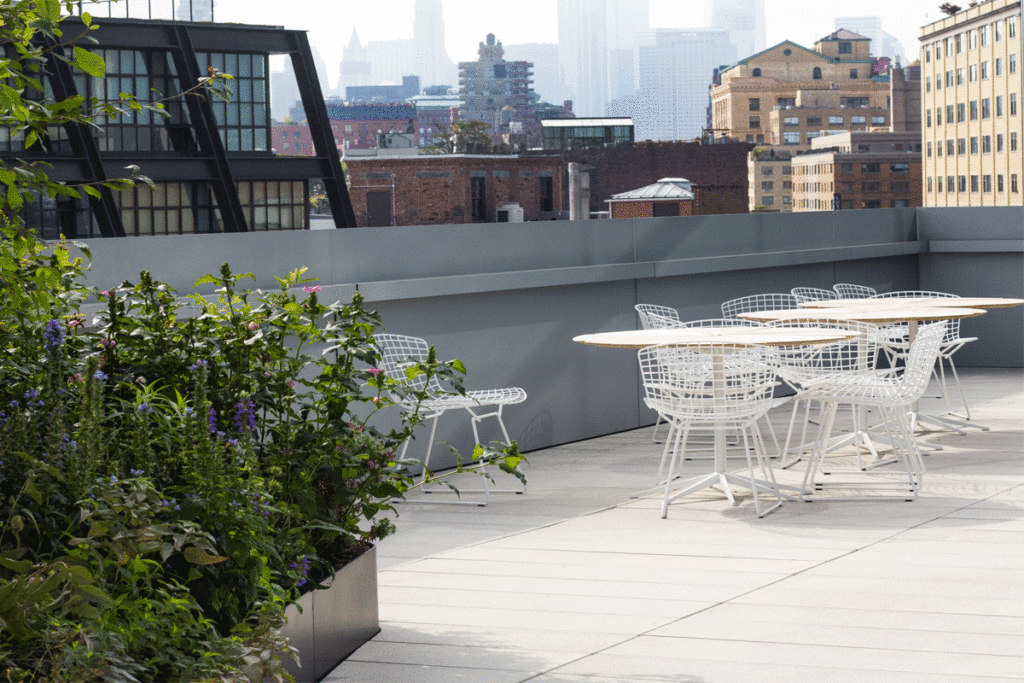 As the founder of the WELL Building Standard, promoting occupant health and wellness in the built environment is paramount for Delos and was a primary goal for the Headquarters project. In addition to pursuing Living Building Challenge and LEED, Delos HQ pursued WELL New & Existing Interiors Certification at the Platinum level. Occupant health and well- being was considered at each phase, from design to construction and occupancy. During design, the team planned an underfloor air distribution system which would keep clean air separate from the dirty air exhausted at the ceiling, optimizing air quality for human breathing. During construction, there was an elaborate indoor air quality management plan in place focusing on duct protection, filter replacement, moisture absorption management, and dust containment and removal.
Upon occupancy, educational signage was installed to teach occupants about all of the healthy design features implemented throughout the space and to empower employees to take advantage of the space and design features. Examples include reminders to practice mindful eating, healthy snacks provided free on-site, and ample access to filtered drinking water. All employees have access to daylight, as well as a 1,500 square foot landscaped outdoor terrace.
07. CIVILIZED ENVIRONMENT IMPERATIVE
While 860 Washington has an 11 foot glass curtainwall system, providing occupants with abundant access to natural daylight, there are no operable windows in the space. Because of this limitation, Delos provided employees with access to a 1,500 square foot terrace connected to the 4th floor of the space. The terrace enables employees and guests to have free access to fresh air and biophilia while also maintaining the carefully managed indoor air quality and also the individual comfort of occupants in the space. For example, the HVAC system is carefully designed to provide a thermal gradient across the space to allow occupants the ability to move to areas where they feel most comfortable. Additionally, the mechanical system provides ventilation rates 30% higher than required by ASHRAE 62.1 to introduce additional amounts of outdoor air and includes demand controlled ventilation tied to CO2 sensors to guarantee that CO2 levels in densely occupied spaces are kept below 800 ppm. Lastly, over 50 indoor environmental quality sensors monitors the quality of both indoor and outdoor air, to ensure indoor air quality is always optimal for human health and indicates when it is ideal to go outdoors.
08. HEALTHY INTERIOR ENVIRONMENT IMPERATIVE
As the founder of the WELL Building Standard, Delos identified good air quality as a major goal for the project. Although air quality is not apparent to the naked eye, good air quality is arguably one of the most important factors affecting human health in the built environment. Building materials, furniture, and cleaning products were vetted to ensure that they were low-VOC. During and following construction, the air in the space was tested for a variety of contaminants, such as VOCs, formaldehyde, and ozone. The space will also undergo onsite testing to check that good air quality is maintained over time. Delos HQ uses sensors throughout the space to continuously gather data on building performance. Collecting and displaying this IAQ data allows individuals to not only promptly fix any deviations in indoor quality metrics, but also increases occupant awareness and transparency.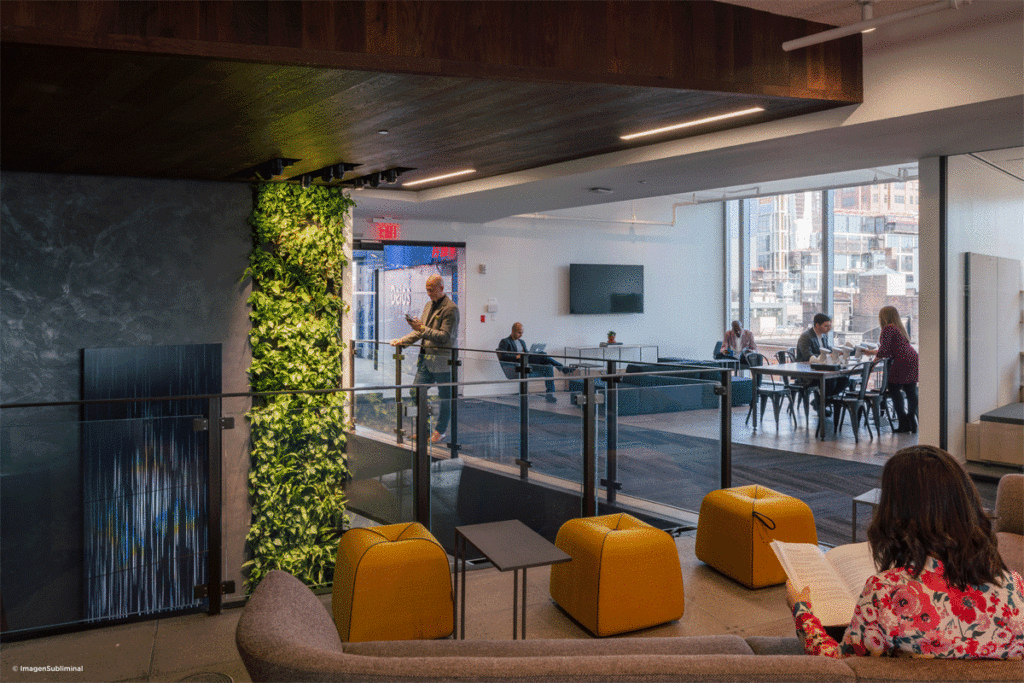 09. BIOPHILIC ENVIRONMENT IMPERATIVE
A major goal of the Delos HQ project was to bring the natural beauty of the outdoors inside and to create opportunities for biophilia. The open office is designed to create unobstructed views through the eastern, western, and southern facing floor-to-ceiling window facades. Low glass partitions between desks ensures every employee has access to the views of the outdoors. Pops of color on soft furniture and an abundance of plant walls and potted succulents throughout the space evoke happiness, energy, and wellbeing. Plants are incorporated throughout and most notably through the incorporation of 15+ Naava active green walls, which complement the architectural design elements of the space. The incorporation of nature's patterns through wood grain furniture and carpet laid out in a herringbone arrangement also nurture the innate human-nature connection within the project. Employees are encouraged to interact with nature not only inside the space, but also via the outdoor terrace located on the 4th floor. Zoned seating and an abundance of native plants create a welcoming and productive outdoor space where employees can enjoy lunch or have collaborative meetings.
MATERIALS PETAL
With a focus on the Materials Petal, the team worked diligently to find healthy and least environmentally impactful materials to use in the space. In pursuit of WELL, LEED and LBC Certification, the team also used the Delos HQ project as an opportunity to explore the alignment or lack of alignment between the materials requirements of all three standards. Therefore, with both the Materials Petal requirements as well as LEED and WELL requirements in mind, the team used a strategic approach to prioritize products with VOC testing, material ingredient disclosure and optimization as well as third party certifications. Some of these criteria and certifications include Declare labels, Greenguard Gold, salvaged or recycled materials, Health Product Declarations (HPDs) and, even more importantly for LBC, products that are completely Red List free. Additionally, the team looked for third party product certifications like Environmental Product Declarations (EPDs), Cradle to Cradle or Living Product Challenge certifications, which address environmental impacts of a product, as well as material ingredient disclosure.
Declare labeled products include Teknion chairs and workstations, Interface carpet, Assa Abloy door hardware and Knauf Ecobatt insulation, though these are just a few examples of the 33 products with/or in pursuit of Declare labels that were used at Delos. Even when the project team couldn't find products that were completely Red List free, they prioritized those that were Declared and advocated to manufacturers encouraging them to remove Red List chemicals from their products.
Reused materials capture the nature of Delos and also add beauty and aesthetic pleasure to the office. All of the wood products at Delos are FSC Certified and/or salvaged. The salvaged pieces come from places like an old hospital in Oregon as well as salvaged fence boards in the Midwest. Many other products in the space contain recycled content, supporting efforts to use as few virgin materials as possible.
Beyond simply meeting these requirements, Delos focused on transparency. They prioritized manufacturers that fully disclosed their ingredient lists and also made sure that employees have access to information about all of the products used that have Declare labels and HPDs. All is shared through a dropbox link – employees can find that link with Delos' office manager at the front desk!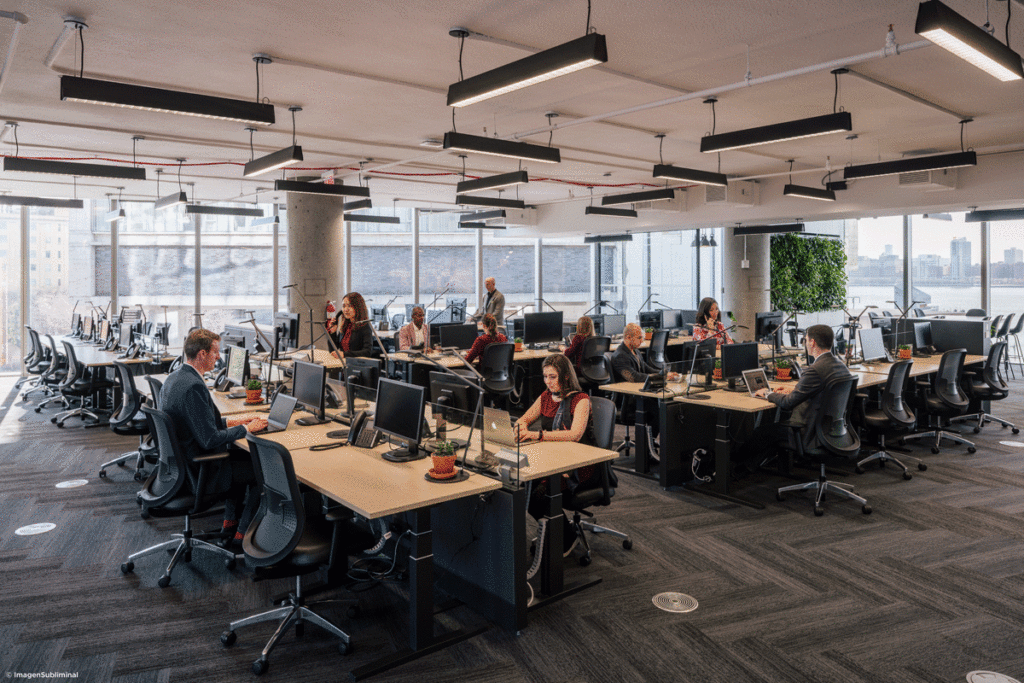 10. RED LIST IMPERATIVE
Two of the most challenging Red List items to avoid in this project were hexavalent chromium and PVC. Knowing that almost all galvanized steel contains intentionally added hexavalent chromium, which acts as an anti-corrosive, the team conducted research early in design to explore technologies that existed to avoid hexavalent chromium. Through conversations with manufacturers, the team was able to identify certain manufacturer locations that had phased out hexavalent chromium and order from there or, when a compliant alternative wasn't found, advocated to the manufacturer to remove chromium VI.
PVC was an issue in small components of products, especially the jacketing of internal wiring in lights and other electronics. Delos did have at least one success with replacing PVC, which was with the Koncept Mosso Pro task lights. Koncept was able to switch out PVC jacketing on their cabling and offer the product at the same price. While this was a "special order" and therefore couldn't be returned, Delos tested the task lights in advance to ensure they worked the way they expected, giving them confidence when the order was placed.
11. EMBODIED CARBON FOOTPRINT IMPERATIVE
From the beginning of the design phase, the team strategized ways to reduce the project's embodied carbon. Because Delos is the first tenant in the space, the team embraced the idea of a simplified and purposeful office design, which helped in reducing the project's carbon footprint. Minimizing the number of materials used lessened the need to create new products with virgin materials.
When the team needed to use new materials, they purchased as much as they could from local manufacturers. By purchasing over 75% of the materials construction budget from within 1000 km of the project, materials were transported shorter distances to the site, contributing to a lower carbon footprint.
| | |
| --- | --- |
| Embodied carbon footprint: (T CO2eq) | 101 |
| Calculator Used | Environment Age |
| Name of Carbon Offset project | Trees in the Big City with New York Restoration Project |
| Location of Carbon Offset project | New York, NY |
| Name of Carbon Offset provider: | Urban Offset |
| Carbon Offset provider website | http://urbanoffsets.co/ |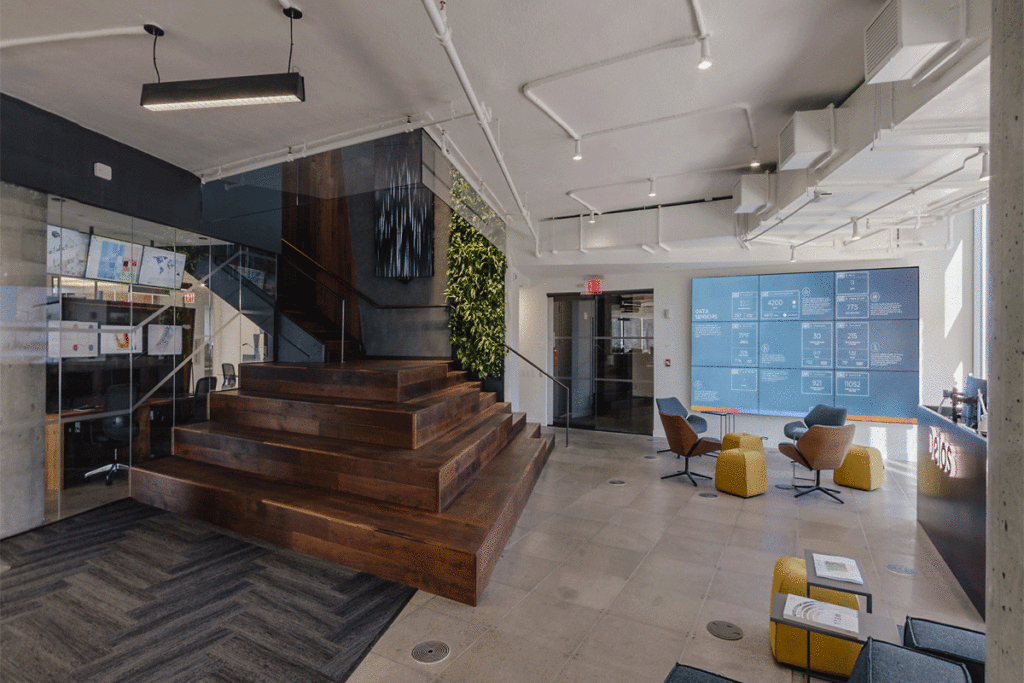 12. RESPONSIBLE INDUSTRY IMPERATIVE
With an industrial feel to the office, metal as well as wood were materials that were greatly utilized in the space. While some composite wood can be found in the space, the team used FSC certified hardwood wherever possible and even better, prioritized salvaged wood. Choosing these products not only encouraged more sustainable resource extraction, but also communicated exciting stories about the products. Some of the reclaimed wood in the space came from a hospital in Oregon, while other wood came from fence-posts in the Midwest. With such a strong commitment to healthy products in the space, the team aimed to provide a healthier work environment not only for employees, but also for the workers in the supply chains.
Delos also advocated for third party standards to be created to require sustainable and fair raw material extraction practices in sectors like aluminum and steel, where these standards don't yet exist.
Notable manufacturers of FSC certified wood products:
MDF – Medex, Medford, OR
Notable brokers of salvaged materials:
Cabinet fronts – Pioneer Millworks, Cold Spring, NY
Wood finish – The Hudson Company, Pine Plains, NY
DECLARE PRODUCTS
| | | | |
| --- | --- | --- | --- |
| 09 62 00 | Suspension systems | Interlude | Armstrong |
| 09 51 23 | PB Ceiling Panels | Optima | Armstrong |
| 09 62 00 | Shadowline Molding | Interlude | Armstrong |
| 09 51 23 | High NRC Ceiling Panels | Ultima | Armstrong |
| 08 71 00 | Hinges | Mckinney | Assa Abloy |
| 08 42 00 | Metal Door | Ceco | Assa Abloy |
| 08 71 00 | Perimeter Gasketing | Pemko | Assa Abloy |
| 08 71 00 | Magnalock | Secuitron | Assa Abloy |
| 09 91 23 | Paint | UltraSpec Eggshell | Benjamin Moore |
| 09 91 23 | Paint | UltraSpec Flat | Benjamin Moore |
| 09 68 13 | Broadloom Carpet | High Performance PC | Bentley |
| 12 36 61 | Countertop | Quartz Surface | Caesarstone |
| 09 20 00 | Gypsum | M2Tech Wallboard | CertainTeed |
| 12 00 00 | Office Fronts | Acme 50 | Inscape |
| 09 68 13 | Carpet Tile | Modular Carpet, Graphlex | Interface |
| 09 70 00 | Acoustical Panell | Acoustical Board Smooth | Knauf |
| 23 33 53 | Duct Liner | Atmosphere Duct Liner | Knauf |
| 09 00 00 | Insulation | Ecobatt unfaced | Knauf |
| 09 00 00 | Shading | Ecoveil Sheer | MechoSystems |
| 09 68 13 | Carpet | Ethos modular | Tandus Centiva |
| 12 59 00 | Desking System | District | Teknion |
| 12 59 23 | Table | Livello | Teknion |
| 12 00 00 | Stools | Projek | Teknion |
| 12 52 13 | Chairs | Projek | Teknion |
| 22 10 00 | Pipe | Cast Iron Soil Pipe | Tyler Pipe |
| 09 72 00 | Gypsum | Ecosmart Firecode 30 | USG |
| 09 77 13 | Fabric | Xorel Bio | Carnegie Fabrics |
| 09 64 00 | Flooring | Wood Floor | Mafi |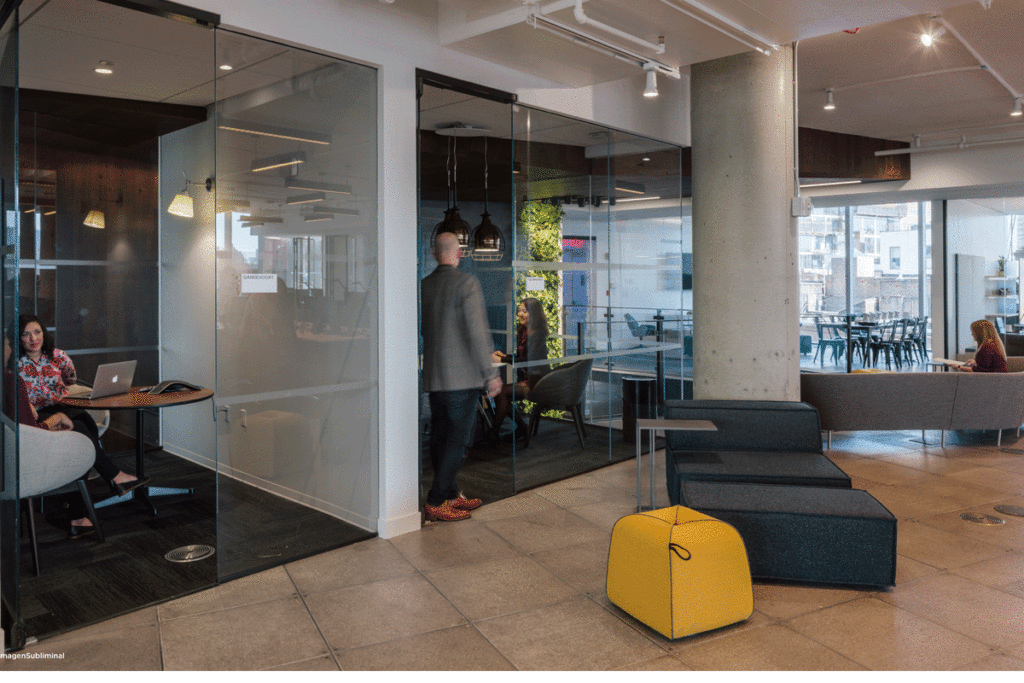 13. LIVING ECONOMY SOURCING IMPERATIVE
FINAL PERCENT OF TOTAL BUDGET SOURCED FROM EACH ZONE:
500 km
37%
1000 km
38%
2500 km
NYC-based project team
5000 km
23%
Notable regional products specified:
MechoSystems autoshading – Long Island City, NY
Benjamin Moore Paint – Newark, NJ
Teknion furniture, Toronto
14. NET POSITIVE WASTE IMPERATIVE
The team prioritized conservation management throughout all phases of the project, from the pre-building audit, through design and construction, and into operations. In designing the space, end of life was kept in mind to make sure that materials could be reused or recycled. Throughout schematic design, the team evaluated the potential reuse of many common materials and used as much salvaged wood and recycled metal as they could.
Delos contracted Evergreen Recycling Solutions to collect commingled construction waste for sorting and weighing offsite. Evergreen runs one of the most organized recycling companies in New York, capable of recycling dense and light construction debris, cardboard/paper, landscaping waste, batteries, lighting fixtures and accessories, wood, metal, oil, paint, and many other materials. Evergreen was selected for their ability to help the Delos Office divert as much waste as possible from the waste stream.
The Delos office is conscious about its energy consumption and waste generation. The office was designed with the infrastructure to facilitate waste diversion, including compost that gets picked up twice per week, and recycling for paper, cardboard, metal and plastics. Employees can also bring in batteries, plastic bags, electrical equipment and lightbulbs to ensure they are recycled properly.
Throughout design and construction, the team kept the end of life of the space in mind. One of the biggest efforts was the design for deconstruction and reuse at the end of the lease. Not only was removal important, but also the durability of materials, enabling them to be reused easily. Having a raised floor provides Delos with flexibility in the future, allowing them to rearrange office layouts without generating excess waste through a full renovation.
FINAL PERCENT DIVERTED FROM LANDFILL:
| | |
| --- | --- |
| Metals | 100% |
| Paper and Cardboard | 100% |
| Soil and biomass | 100% |
| Rigid foam, carpet, and insulation | 100% |
| All Others – combined weighted average | 100% |
To minimize waste, Delos used salvaged materials where possible. Many of the wood finishes in the space are reclaimed and much of the metal is recycled from other uses.
As the new Delos HQ quadrupled the size of the old office, there was little product that was able to be reused in the new space. Delos was, however, able to bring over under-desk storage cabinets from the old office for employee use and also use old furniture as temporary furniture while some of the final furniture pieces were delivered. This avoided the need to find other temporary furniture that may be discarded after only 1-2 uses.
MATERIAL PETAL – INNOVATIONS AND LESSONS LEARNED
Delos' 21 active green walls are from a company called Naava, who used NASA technology to build a wall that not only breaks down VOCs in the indoor environment, but also has a firm commitment to the product's own material health. Through this project, Delos and Naava worked together to collect all of the materials used in the product and Naava is on its way toward third party product certifications – stay tuned!
As more and more project teams are discovering, subcontractors play one of the most important roles in a project pursuing Living Building Challenge certification. Delos conducted sub-contractor trainings with each of the subcontractors to explain the goals of the project before the submittal process began, and StructureTone continued to reinforce these goals throughout the project. Subcontractors were not allowed to enter the space with non-compliant materials, which would not have been possible without a diligent contractor.
EQUITY PETAL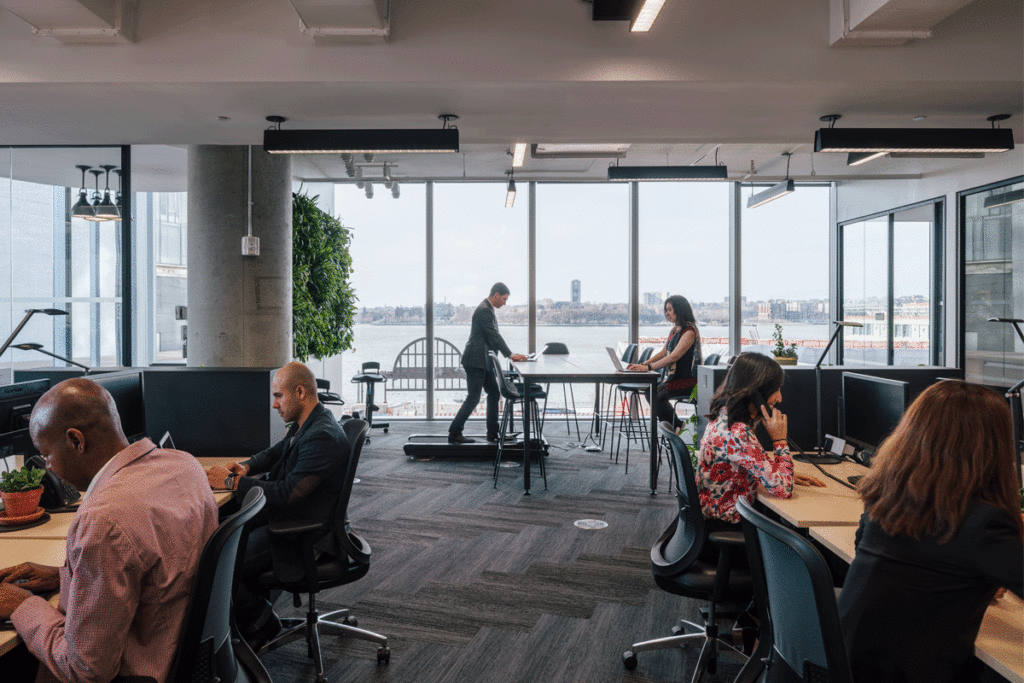 Photo Courtesy of Imagen Subliminal
17. EQUITABLE INVESTMENT IMPERATIVE
Every year, Delos employees donate to dozens of different charities that are near and dear to their hearts. Whether it's animal rescue, educational opportunities or assistance to those who have suffered severe loss, Delos supports employee donations and also encourages employees to give back. For employees that donate to a registered charity, Delos matches up to $100 annually per employee. Delos also makes company-wide contributions every year to organizations such as New York Cares and Bowery Mission. In addition to financial contributions, Delos employees have paid volunteer time every year to contribute not just money, but also their time, to charitable causes. In 2017, some examples of Delos contributions included the following:
$2,025 raised to support hurricane relief efforts in Puerto Rico
$1,352 of employee donations matched to support various non-profits
$450 donated to Leukemia & Lymphoma Society
$5,000 donated to New York Cares
750 meals served to New Yorkers in need
40 NYC children holiday wishes granted
$2,200 to support NY charities with baby blankets, repurposed bouquets, and children's costumes
36 hours of volunteering
And more to come!
18. JUST ORGANIZATIONS IMPERATIVE
Organizations on the project team with a Just label: Delos, Owner
BEAUTY PETAL
19. BEAUTY + SPIRIT IMPERATIVE
Delos HQ is located in the Meatpacking District, rich with opportunities to experience art and architecture that truly celebrate New York City's culture. The office space overlooks the High Line, a beautiful park created on old elevated railway lines, which snakes through the west side of Manhattan from Gansevoort Street up to 34th Street, allowing for beautiful skyline and riverfront views. Delos HQ's glass façade allows occupants to see all of this from the comfort of their desk, connecting them to the heart of the neighborhood.
Delos as a whole has a strong mission-driven spirit. The entire office is designed to support collaboration and meaningful interactions between employees. A variety of furniture (individual sit-stand desks, counter-high touch base surfaces, soft lounge seating, etc.) caters to each employees' preferences and work styles as they may change throughout the day.
Small conference rooms, informal spaces, and wellness amenities such as the café and the terrace serve as common areas and hubs within the office, designed for connectivity and communication. They provide spaces of varying design where employees can come together for meetings or other occasions. Rooms vary in size and furniture is adaptable to meet the needs of any type of productive interaction, whether it be a scheduled meeting or a serendipitous encounter. Each meeting room is named for streets, buildings, or parks in the Meatpacking District and West Village—The Whitney, Little West 12th, Standard, Hudson River, Gansevoort, etc.
A major goal of the Delos HQ project was to bring the natural beauty of the outdoors inside and create opportunities for biophilia. The open office is designed to create unobstructed views through the eastern, western, and southern facing floor-to-ceiling window facades. Low glass partitions between desks ensure every employee has access to the views of the outdoors. Pops of color on soft furniture and an abundance of plant walls and potted succulents throughout the space evoke happiness, energy, and wellbeing. Plants are incorporated all throughout and most notably through the incorporation of 15+ Naava Active Green Walls, which compliment the architectural design elements of the space. The incorporation of nature's patterns through wood grain furniture and a herringbone carpet layout also nurture the innate human-nature connection within the project.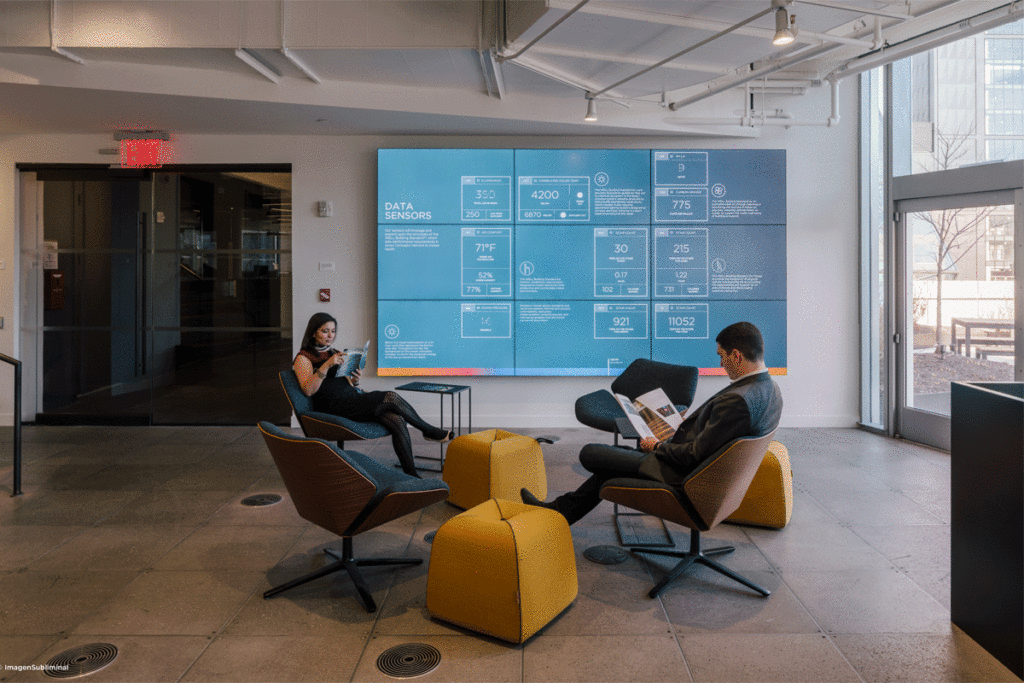 20. INSPIRATION + EDUCATION IMPERATIVE
With such a beautiful and healthy new space, Delos aims to share their office with the industry to educate and inspire responsible and healthy buildings worldwide. Delos HQ has implemented a robust education program that drives stakeholder education and engagement with the space and promotes transparency and industry development. One of the major goals of the project was to be a showcase space to demonstrate aspects of health and wellbeing in an office setting, and Delos strives to live out this mission.
Delos views the HQ at 860 as a case study project from which countless lessons learned can be passed on to the industry and public as a whole. Tours are available for all industry professionals and members of the general public, and will focus on health, sustainability, and design features, in addition to maintenance practices, capitalizing on the fact that this is a case study project. Delos is especially excited about its goal to host as many people as possible within the first year of operation. For those who will not be able to tour the space in person, Delos provides a flipbook brochure and virtual tour, available on the website.
Additionally, the project team has created a project profile to inform the design of other buildings based on the successes of this project. This manual will be made available online and in print in the lobby of the space. The project profile will summarize the health, sustainability, and design features, including all intentional decisions to impact and optimize employee wellbeing at Delos, and provide ideas about how these concepts can be applied in the design of other projects, or as part of day-to-day decisions around wellbeing.
Educational signage is also posted around the office, informing employees and visitors about the most special and sustainable elements in the space. From information about accessible public transportation to details about low-VOC materials that provide for a healthy interior environment, employees and visitors can learn and appreciate the effort that went in to creating a great workplace.
Delos HQ
860 Washington Street NY, NY
https://delos.com/project/delos-headquarters