VITAL STATS
| | |
| --- | --- |
| Certification Status | Petal Certified |
| Version of LBC | 3.1 |
| Location | Bellevue, WA, USA |
| Gross Building Area | 25,323 SF |
| Start of Occupancy | May 2020 |
| Owner Occupied | Yes |
| Number of Occupants | 58 |
PROJECT TEAM
| | |
| --- | --- |
| Owner & Project Director | PCC Community Markets |
| General Contractor | Woodman Construction |
| Architect | MG2 |
| Mechanical Design | Harris Group |
| Mechanical & Plumbing Consultant | Williams Mechanical |
| Lighting Design | Capitol Light |
| Structural Design | Quantum |
| Millwork Design & Fabrication | Silver Star |
| Food Service Design | Bargreen Ellingson |
| Environmental Graphics Design | Western Neon |
| Refrigeration Consultant | Key Mechanical |
| Sustainability Consultant | Silliker & Partners |
PLACE PETAL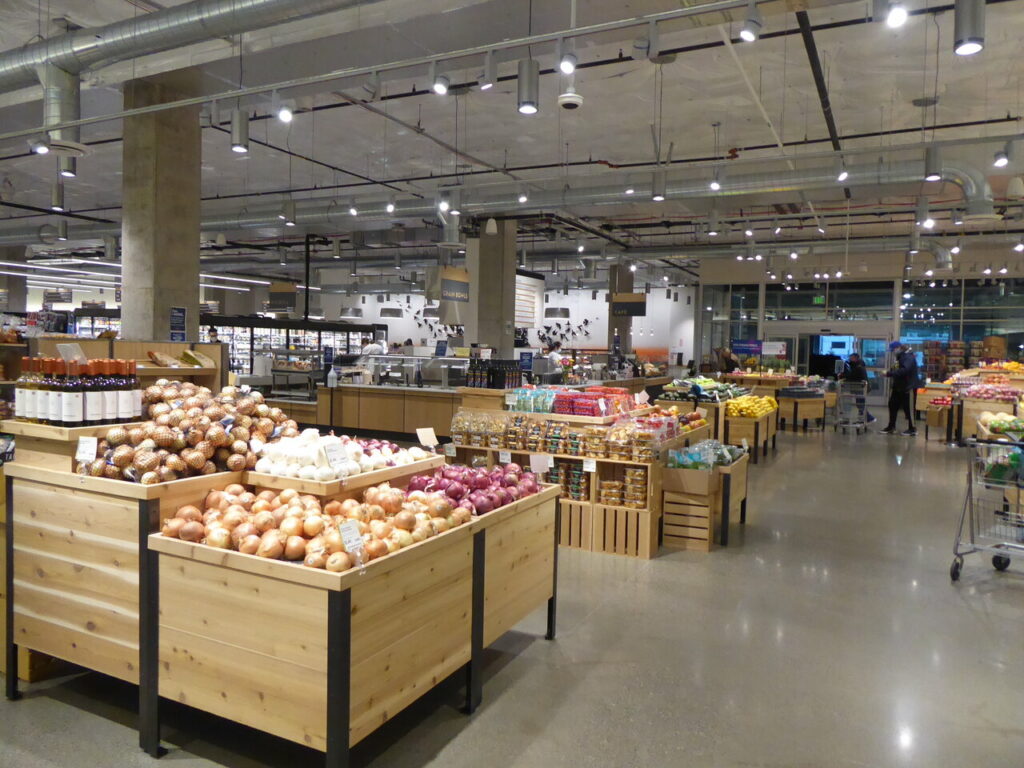 01. LIMITS TO GROWTH IMPERATIVE
PRIOR SITE CONDITIONS
The property is located in a commercial/industrial zoned area. The site was a surface parking lot for a car dealership for over 20 years prior to the PCC project.
VOLUNTARY CLEANUP PROGRAM
This site is under the Voluntary Cleanup Program at the Washington State Department of Ecology. The Voluntary Cleanup Program enables owners of contaminated sites to meet state cleanup standards independently and to receive technical guidance from Ecology during the process.
The Voluntary Cleanup Program enables owners to work on a contractual basis rather than under an Ecology legal order. Participants in the Voluntary Cleanup Program pay fees to Ecology to cover the department's costs for guidance and review. Voluntary Cleanup Program sites must meet the same cleanup standards as properties formally managed by Ecology under the state's cleanup law, the Model Toxics Control Act, created by a 1989 voter initiative.
Source: State of Washington Department of Ecology
APPROACH TO LANDSCAPE DESIGN
While the PCC project scope was solely interior and did not include landscaping, PCC successfully engaged with and encouraged the Owner to have plantings and a water feature along the street, outside the north entrance to the store.
02. URBAN AGRICULTURE IMPERATIVE
PCC Community Markets is a triple bottom line organization, which means that they balance their social, financial, and environmental impact in all decisions that they make. PCC Community Markets is dedicated to preserving local farmland and committed to supporting organic agriculture through the products that they sell on their shelves and their growing partnerships with Northwest producers and ranchers. Farmland protection is also part of PCC's public policy and community giving priorities.
The Washington Farmland Trust was founded by PCC Community Markets in 1999 when they raised the funds necessary to protect Nash's Organic Produce from impending housing development. They incubated the program with staffing, funding, office space, and employee benefits. Today, the Washington Farmland Trust is a separate 501(c)(3) nonprofit and PCC Community Markets remains its leading business sponsor. In October 2018, PCC Community Markets announced a $1 million commitment to the Washington Farmland Trust's Our Farm, Our Future fundraising campaign.
The Washington Farmland Trust works to protect and steward threatened Washington farmland from the growing pressures of development. To date, the Washington Farmland Trust has conserved 28 farms, totaling over 3,039 acres. Their Our Farm, Our Future fundraising campaign is solely focused on protecting near-urban farmland and has already raised $26 million and counting. The Washington Farmland Trust protects and conserves farmland when farmers can't by working directly with landowners to remove their farm's development potential, or by purchasing at-risk farmland with the goal of leasing or selling it to a local farmer. Tools such as conservation easements are also used to make farmland more affordable. The Washington Farmland Trust also ensures that protected land thrives for generations through its Farmland Stewardship practices. They continuously monitor physical conditions of protected farmland and supports farmers' efforts to improve their lands' water quality, habitat, and soil health.
Lastly, the Washington Farmland Trust also created the Farm to Farmer program, which provides an online and in-person matching and coaching platform to enable new farmers to connect with land opportunities needed to grow their business. It also helps retiring farmers transfer their land to the next generation, ensuring that their land is not lost to development.
03. HABITAT EXCHANGE IMPERATIVE
PCC sets aside in perpetuity habitat equivalent to the footprint of the project through the Institute's Living Future Habitat Exchange Program, which aggregates project funds to purchase large tracts of contiguous, high-value, intact ecosystems identified by the Wildlife Conservation Society.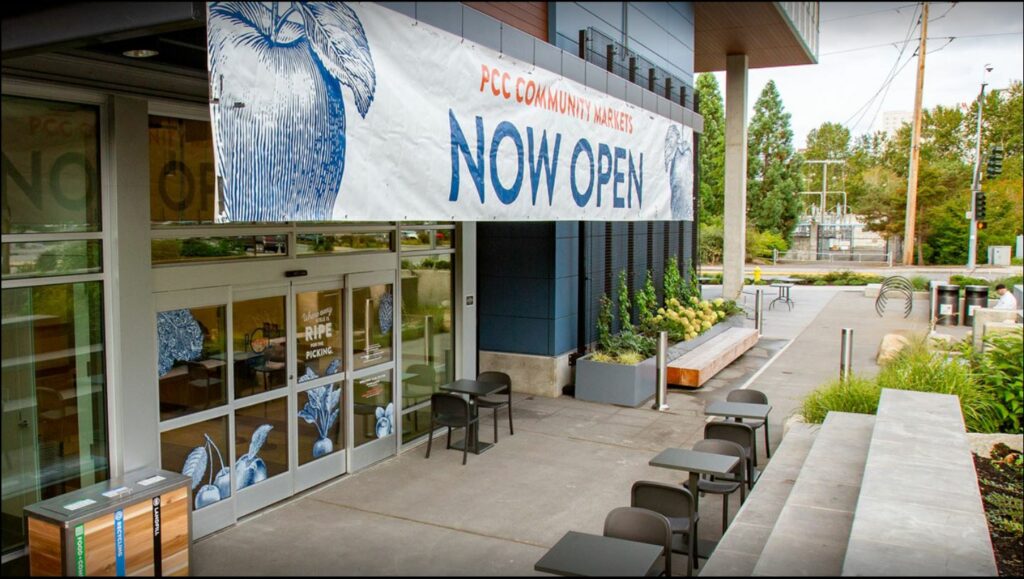 04. HUMAN POWERED LIVING IMPERATIVE
The PCC Bellevue project contributes toward reducing transportation-related environmental impacts and encourages compact, connected communities through increased FAR, supporting a productive lifestyle without the need of a car, and advocating for a human-powered community.
INCREASED FAR
The new PCC Bellevue store is an Interiors Pathway project, thus the project did not control the FAR decisions made during the design and construction of the core and shell structure. Even so, the project has clearly increased the density from the original condition of the site. The project is built on a site that was a parking lot for a car dealership. The project has occupiable area for a FAR of 1.0, an increase from a FAR of 0.0 prior to the project.
MOBILITY PLAN
The project supports human-powered lifestyle by fact that it is located within blocks of downtown Bellevue. The site is situated near many other retailers, businesses, healthcare facilities, other grocers, hotels, and medium-density residential buildings, which encourages daily pedestrian community activity. Located in the same block as a bus stop, it is very convenient for people to shop at this store without the need for a car.
This project is an Interiors Pathway, therefore exempt from enhancing pedestrian routes, however, the site was selected for the project in part because of its proximity to public transportation, connections to downtown Bellevue, and residential density nearby which will continue to support the surrounding community via human-powered means.
Combined onsite racks provide covered parking for 20 bicycles. There are uncovered racks on site for 20 additional bicycles. Staff also have access to on-site showers and lockers.
PCC offers every employee the option of receiving a discounted regional transit pass (ORCA card) that is accepted on regional buses, water taxies, ferries, monorail, rail, light rail, streetcars, vanpools, and vanshares.
ADVOCACY OF HUMAN-POWERED TRANSPORTATION
An advocacy letter was sent to Washington State Senators and Representatives requesting support for the Washington Wildlife Recreation Program (WWRP) at the $140 million level in the Washington State Recreation Conservation Office's 2021-2023 capital budget. This letter voiced the team's support of the Trails, Farmland Preservation, and Riparian Protection categories of the WWRP.
PCC Community Markets is making it easier for shoppers and staff to travel to and from their stores through more sustainable methods of transportation, such as cycling and walking. These efforts require a strong and expansive infrastructure for human-powered transportation options and community health and enjoyment. The WWRP trails grants help to support this infrastructure and help communities improve public health and lower the carbon impacts of transportation by facilitating walking and biking as an alternative to automobile and fossil-fuel-powered transportation. The WWRP is the largest source of trail support in the state of Washington.
MATERIALS PETAL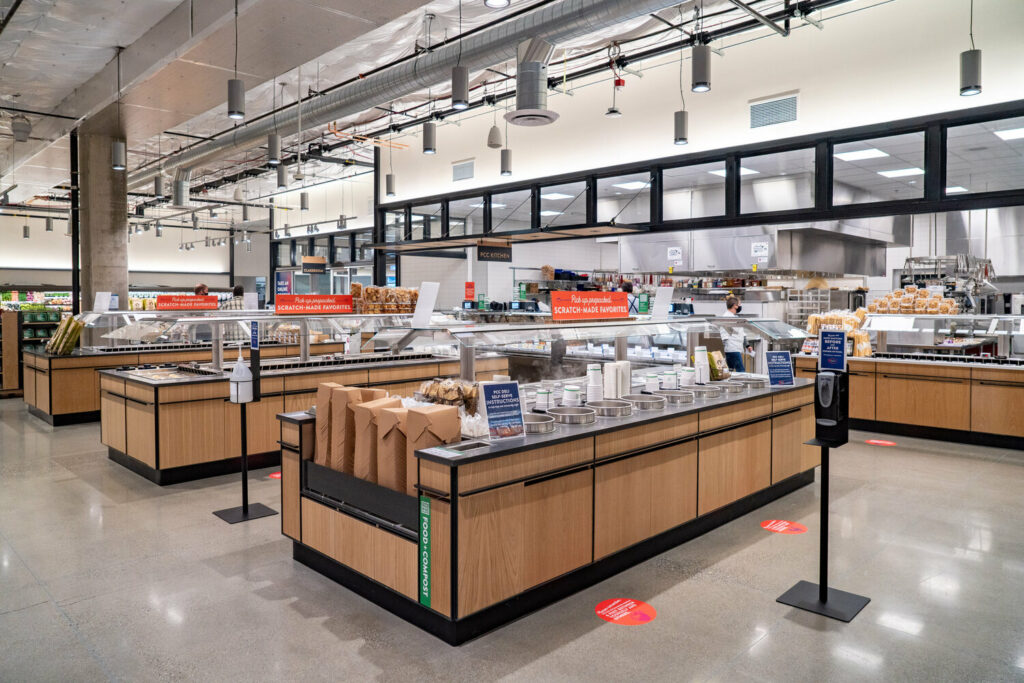 10. RED LIST IMPERATIVE
PCC performed an extensive product review to identify and eliminate Red List materials throughout their project. In two high visibility instances, the PCC team removed Red List ingredients through dialogue and manufacturer engagement. Both cases initially seemed very difficult to resolve, but ultimately material replacements were easily found.
PCC initially proposed exterior signage that used vinyl adhesive on an acrylic substrate to achieve the desired brand coloring when back-lit. PCC requested that their sign vendor remove the vinyl from the process. 3Form Chroma was substituted for the acrylic/vinyl assembly resulting in signage made from ingredients not on the Red List and which met their brand guidelines.
PCC customers interact with the checkout stands every time they shop, but the proposed conveyer belt material contained PVC, which is on the Red List. PCC reached out to the company who builds their casework to request a non-PVC option. After an extensive search for materials, they identified a urethane/polyester belt alternative.
Basic building wire was one of PCC's biggest challenges. Several non-PVC options were vetted and used, but these products ended up being very labor-intensive to install. Unfortunately, the team later learned that the non-PVC option utilized was treated with halogenated flame retardants. Thus, a regrettable substitution was made (one Red List ingredient for another). PCC is unaware of a wiring product for general conductor applications that is free of Red-List chemicals. In agreement with ILFI, PCC will return to using THHN wiring on future projects and will advocate to several wiring manufacturers to provide Red List-free wiring for standard building conductors.
While PCC was granted a red list exception for specialty food service equipment, they felt that it was important to advocate for toxics reductions in those products. PCC reached out to manufacturers to educate them about the Red List and to encourage them to explore other alternatives.
11. EMBODIED CARBON FOOTPRINT
PCC Community Markets examined the embodied carbon of its Bellevue store through several lenses. The analysis for this LBC imperative was done at a building level—essentially the shell that contains the store. While this does provide some context and a rough baseline for the embodied carbon impact, it also illustrates that as a tenant, they do not have influence over the major contributors to this carbon profile— namely, concrete and steel.
Aside from the shell analysis, the team limited the transportation impacts of the products installed in their tenant space. As seen in PCC's Living Economy Sourcing calculations, only 3 percent of their materials budget was manufactured outside of North America. PCC is also dedicated to high quality durable products, which reduces the need for replacement items over time.
Additionally, several design choices help to limit their carbon impact. PCC's custom casework is predominantly wood-based, which is generally less carbon intensive than metal. Their 100% FSC sourcing supports an important carbon-sink industry. Heavy-gauge steel is limited, and lightweight steel and aluminum is substituted whenever possible. Floors are mostly bare concrete and ceilings are exposed in nearly all areas, limiting the overall material required for the finished space. Materials with recycled content were selected whenever possible.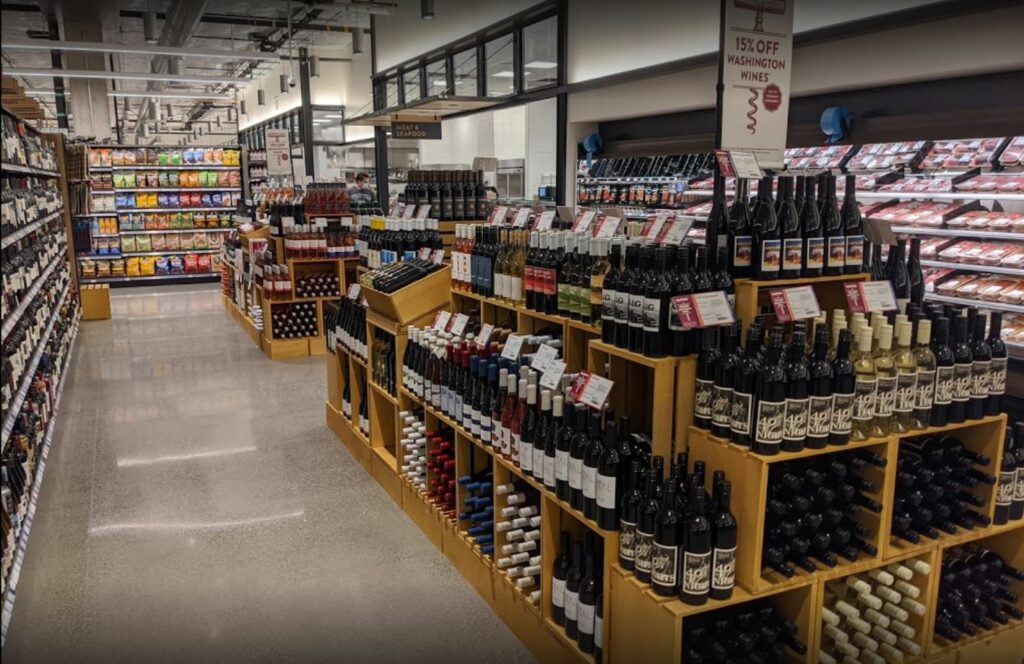 12. RESPONSIBLE INDUSTRY IMPERATIVE
PCC Bellevue utilized two primary lumber pathways—through the casework fabricator and the lumber distributor. Both partners carry their own FSC Chain-of-Custody certification and executed PCC's requirement to use 100% FSC wood. As such, FSC ensures (Principle 4) that forest management operations maintain or enhance the long-term social and economic well being of forest workers and local communities.
The PCC team also conducted advocacy to metal and mineral trade associations, encouraging the development of a third-party standard for sustainable extraction and fair labor practices within their respective industries.
13. LIVING ECONOMY SOURCING IMPERATIVE
PCC paid careful attention to specifying and purchasing local and regional products, to reduce long- distance shipping to the project site. The primary goal was to lower the embodied transportation carbon of materials used in the project. The entire design and construction team understood this goal and contributed by investigating manufacturing locations for all products and materials. In particular, PCC's ties to local fabricators of custom casework and signage is a large piece of its sourcing profile. While much of the project's kitchen and refrigeration equipment is manufactured outside the Pacific Northwest, the team worked hard to limit its purchases outside of North America to a mere 3% of the project's materials budget.
In all its materials, finishes, and equipment selections, PCC stands by its dedication to choose durable products that will perform at a high level for a long time, thus reducing the frequency of necessary replacements. Fewer replacements in the future will also reduce carbon emissions from manufacturing and transportation.
14. NET POSITIVE WASTE
PCC reused a variety of items at Bellevue that were salvaged from its other store locations including lockers, shelving, and tables.
During the construction of PCC Bellevue, the team utilized several bins to sort multiple recycling streams such as metal and wood. The general contractor worked closely with a leading hauler that provided best- in-class commingled recycling services, and also provided photographs and detailed reports of every load.
For many years PCC has incorporated comprehensive recycling and composting infrastructure in stores for employees and customers. In addition to providing well-marked waste bins, PCC offers a line of compostable containers for packaging bulk food and house-made deli items.
BEAUTY PETAL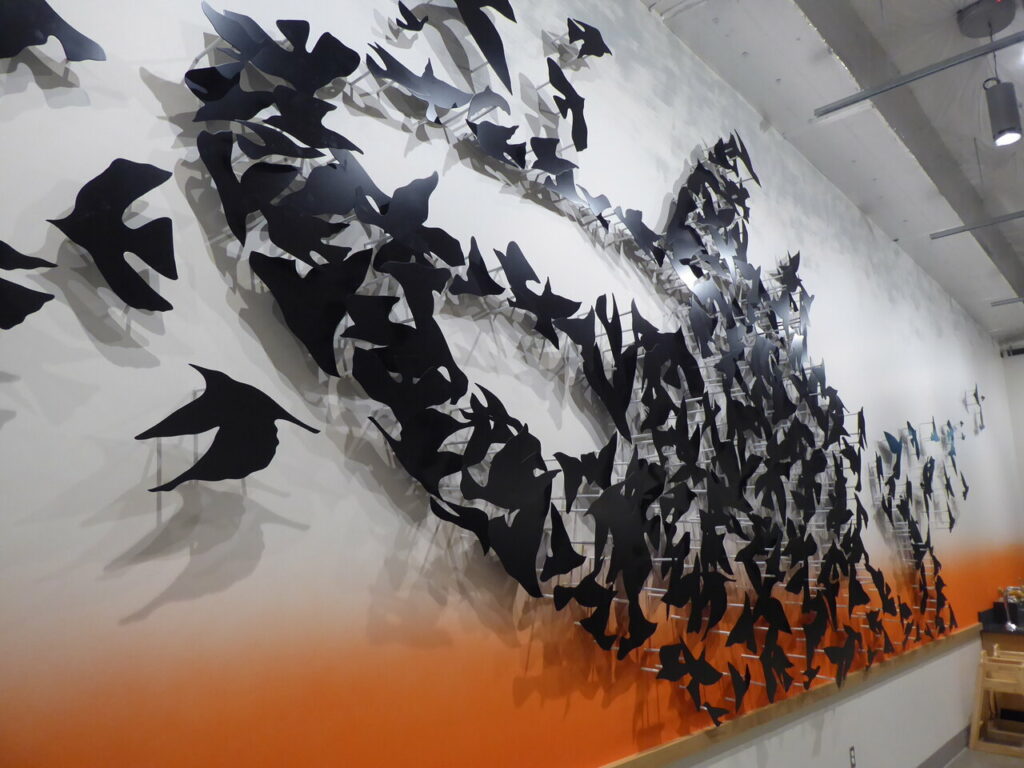 19. BEAUTY + SPIRIT IMPERATIVE
The materials palette throughout the store is deliberately simple, promoting stewardship of resources and also allowing the food to be the color and sparkle wherever possible.
The art installation called "Murmuration" located on the wall flanked by the checkout stands was designed by local artist, Shogo Ota. The materials used are all LBC compliant, and the birds were cut from a metal sheet in shapes that fit together to produce the least possible waste material. The work showcases a flock of birds that, while small individually, become mightier when they fly together, forming the shape of a Southern Resident Killer Whale.
"The birds are small, but when they fly together, the whole becomes greater than the sum of its parts. I thought this was a good concept for PCC, which supports communities, cares about people on an individual level and believes in the impact this can have on a grander scale."
– Local artist Shogo Ota
PCC discovered that the overall cost of materials for completing this artwork under LBC standards was not significantly higher than conventional supplies (only approximately 10 to 15% more). They connected their LBC artist with their signage vendor. This gave the artist access to fabrication techniques that reduced costs and simplified the installation while maintaining the artist's vision.
20. INSPIRATION + EDUCATION IMPERATIVE
PCC operates on a triple bottom line: financial, social, and environmental considerations are a part of everything they do. In deciding to pursue the Living Building Challenge, PCC strives to apply a similar rigor to the building of their new stores as they do to the products they carry inside their stores.
PCC strives to inspire and educate the public on socially and environmentally sustainable building design by encouraging the public to tour this store. PCC welcomes visitors and shoppers to stop by during operating hours, seven days a week, and learn what it takes for a grocery store to achieve Living Building Challenge Petal Certification.
Free brochures are available in the entrance vestibule for shoppers and visitors who want to learn more about PCC Bellevue's LBC features. This brochure was designed to accompany interpretive signage that is installed throughout the sales floor, adjacent to examples of various sustainability features. Signage includes detailed diagrams and informative descriptions of what makes the feature more socially and/or environmentally sustainable.
This brochure was designed to accompany the placards that contain descriptions and further details of each LBC feature. This encourages shoppers and visitors to physically tour the store with the brochure and read each sign while observing the building feature that it's next to.
The PCC Living Building Challenge webpage was designed to educate and to be a virtual LBC tour of the store. https://www.pccmarkets.com/living-building-challenge/; https://www.pccmarkets.com/living- building-challenge/bellevue-lbc/
The public may request a free guided store tour by submitting a request on this webpage: https://www.pccmarkets.com/stores/tours/request/