With the Davie & Andrews Branch in Ft. Lauderdale, PNC sets a new industry benchmark for high-performance retail bank branch design by achieving net zero energy. This project represented an evolution of PNC's Green Branch® prototype which was the first design to receive LEED Volume Certification and which led PNC to build more newly-constructed LEED certified buildings than any other company in the world.
The project team included PNC Realty Services, the Green Branch design team (Gensler, CJL Engineering, Paladino and Company) and researchers from the Pacific Northwest National Laboratory (PNNL), all of whom collaborated as part of the U.S. Department of Energy's Commercial Partnerships Program.
Using PNC's Green Branch prototype as a starting point, the team undertook a rigorous optimization process to analyze and adapt each system to the Fort Lauderdale climate. A target was set to reduce energy use by 50% compared to an ASHRAE 90.1-2004 baseline before supplementing with renewable energy. Starting with the building envelope, the team conducted a series of daylighting and energy analyses to review optimal glazing and shading configurations, as well as insulation materials with the highest efficiency. Next, lighting and HVAC systems were reviewed based on the latest available technology and the most appropriate systems to streamline the branch's long-term maintenance.
After all building-related optimizations were implemented, the team determined that further measures were required to achieve their 50% reduction target. PNNL and PNC partnered on a plug load study of an existing PNC branch to evaluate detailed hourly use profiles and equipment specifications. Conclusions from this study were taken to PNC's IT department which negotiated new equipment purchases and protocols for software updates that required minimal off-hour power use. Additionally, branch signage standards were re-evaluated in order to eliminate extraneous energy use. These final measures met the energy target and allowed the team to specify an optimized PV package, which was incorporated into the branch roof, parking canopies and drive-through.
The lessons learned from the PNC Davie & Andrews project have already been incorporated into the standards for PNC Bank branches. Similar systems and equipment are now specified for new branches and renovations, and IT protocols are being considered for rollout to all branches. Needless to say, while this project made an impact in Florida, the equally important impacts are the energy and cost savings realized across PNC Bank's entire portfolio.
PROJECT WEBSITE www.pnc.com/green
VITAL STATS
| | |
| --- | --- |
| Status | Final Submittted |
| Certification Goal | NZEB |
| LBC Version | 3.0 |
| Location | Fort Lauderdale, Broward County, Florida, USA |
| Living Transect | L4 |
| Typology | Building |
| Occupant Type | Retail Banking |
| Project Area | 4,766 sf |
| Building Area | 4,766 sf |
| Building Footprint | 4,920 sf |
| Start of Construction | December 12, 2011 |
| Start of Occupancy Period | January 18, 2013 |
| Owner Occupied | Yes |
| Number of Occupants | 9 |
| Number of Visitors (est. daily) | 30 |
| Operational Hours | Monday-Thursday 9am-5pm, Friday 9am-6pm, Saturday 9am-1pm |
PROJECT TEAMS
| | |
| --- | --- |
| Owners | PNC Bank — Pittsburgh; Benson Gabler |
| Project Director/Manager | PNC Bank — Pittsburgh; Gina Anderson |
| Architectural | Gensler (Washington, D.C., Ben Callam) |
| Contractor | Turner Construction |
| Mechanical | CJL Engineering |
| Electrical | CJL Engineering |
| Plumbing | CJL Engineering |
| Lighting Design | CJL Engineering |
| Civil | Bohler Engineering |
| Landscape | Terra Tonics |
| Structural | Gilsanz Murray Steficek LLP |
| Interior Design | Gensler |
| Specialty Consultant | Paladino and Company (sustainability consultant) |
PLACE PETAL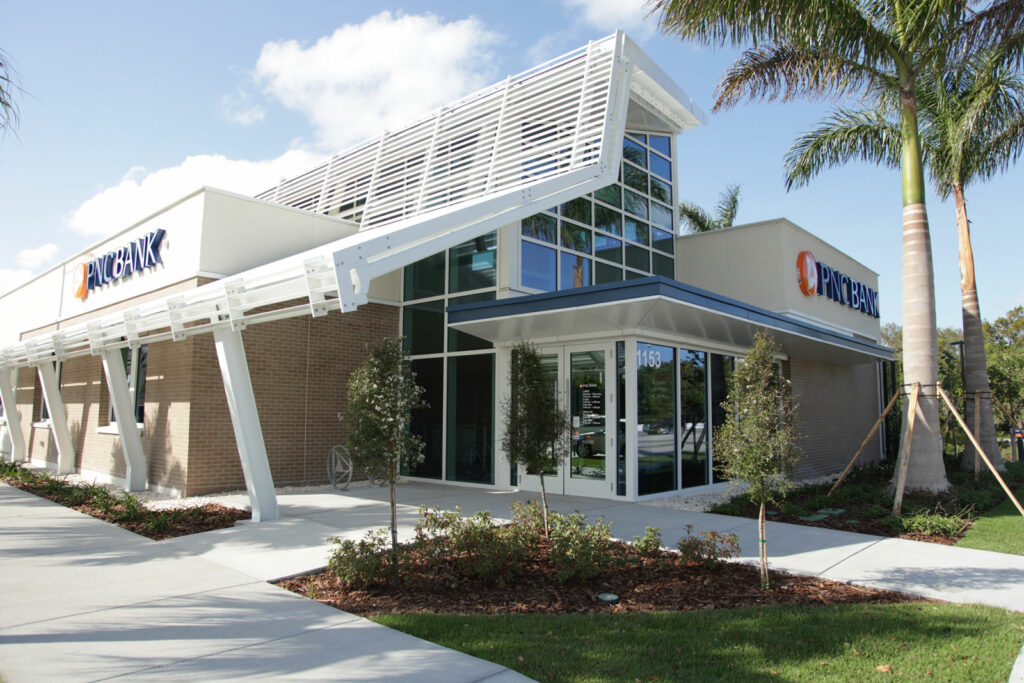 Site remediation included deconstruction of the existing building and pavement and remediation of site contaminants, including asbestos. The landscape design focuses on site retention and the filtration of stormwater, as well as the provision of amenities to connect visitors with the area's natural features. Paved areas were significantly downsized, and a portion of resurfaced area included porous concrete to allow direct infiltration. Native landscaping was provided around and between paved areas to retain and naturally filter stormwater runoff from the pavement. Additionally, the north boundary of the site,which was previously fenced along a concrete channel, was revitalized with a more natural edge condition to connect with the Tarpon River. A new walking path was also installed along this edge that wraps the entire site and provides an opportunity for staff, visitors and residents to enjoy a more natural corridor through the site.
ENERGY PETAL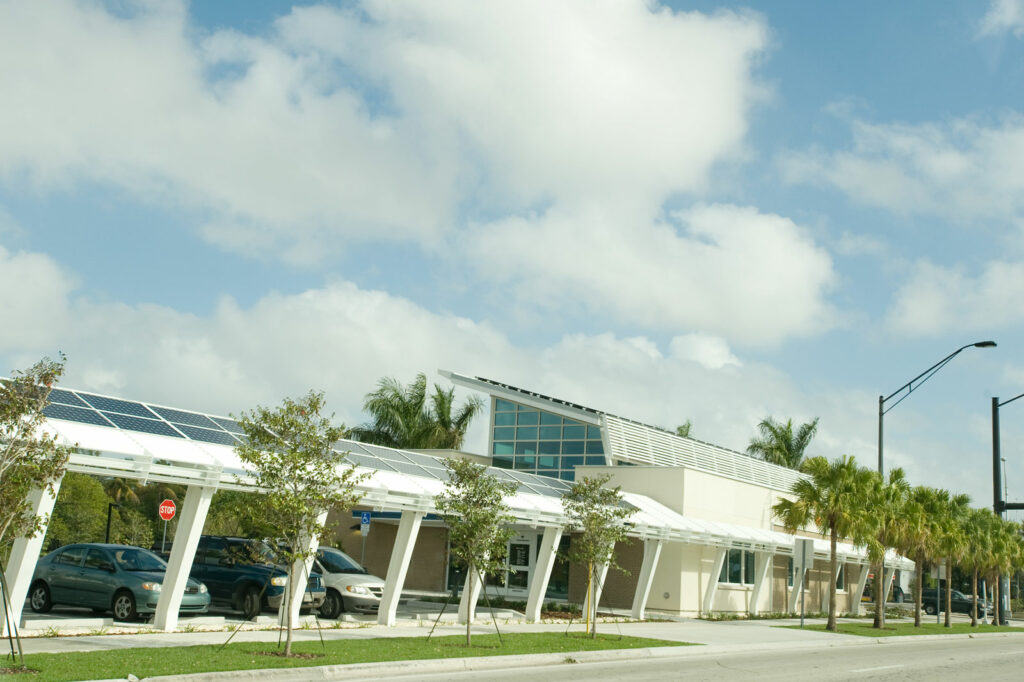 DESIGN APPROACH
As part of its aspiration to design a Net Zero branch and use PNC's Green Branch prototype as a starting point, PNC undertook a rigorous evaluation process to quantify the environmental performance of its design. Participation in a DOE-funded grant program required the team to achieve 50% energy savings below code. To achieve this aspirational goal, an integrative design approach was used to significantly reduce energy demand, as opposed to simply supplying a renewable energy system to meet PNC's standard Green Branch energy demands. Building orientation, daylighting simulation, building envelope, plug loads and glazing were all analyzed prior to the development of construction drawings, ensuring the most efficient use of the site in the adoption of a net-positive energy system.
HVAC
The HVAC system was designed for staged cooling to reduce compressor cycling. An energy recovery wheel was installed as part of the building exhaust system to recover energy from exhausted air and to dehumidify primary outdoor air. Additionally, a multi-speed adaptive fan was used to reduce energy use, along with an ultra-efficient rooftop unit.
LIGHTING
Interior and exterior fixtures use solely LED technology, including all of PNC's exterior signage. Interior lighting is direct solar powered 24V DC low voltage LED lights. These lights are controlled via occupancy sensors to reduce load. Lastly, all exterior lighting is automatically turned off during daylight hours.
PLUG LOADS
When possible, PNC installed ENERGY-STAR rated equipment to improve plug load efficiency. All non-essential equipment has been programmed to turn off outside of banking operation hours. Occupancy controlled plug-in strips turn off personal equipment after a short period of inactivity. Additionally, all computers are remotely turned off during off hours and all provide significant plug-load savings.
PHOTOVOLTAIC SYSTEM
The project uses a 55 kW DC photovoltaic system. The PVs are integrated into the building's roof and also shade a portion of the parking lot.
BEAUTY PETAL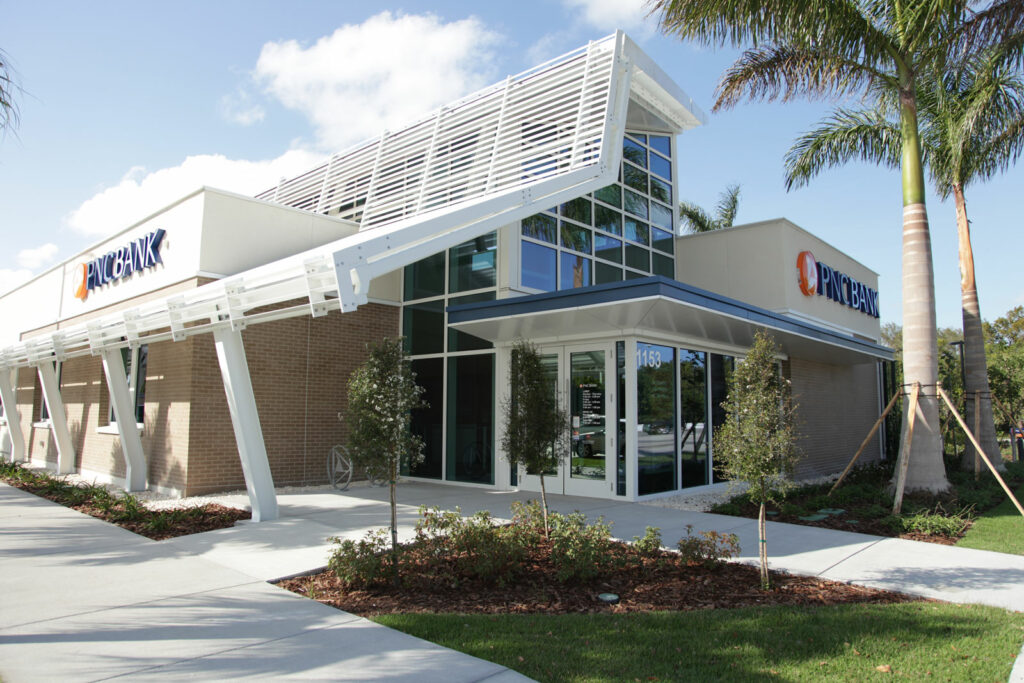 19. BEAUTY & SPIRIT IMPERATIVE
The branch is located in an up-and-coming neighborhood and was built to align with the South Andrews Avenue Master Plan's guidelines. Andrews Avenue connects the neighborhood to downtown Fort Lauderdale, the city's historic and cultural center.
The South Andrews Avenue Master Plan guidelines include:
Differentiating the street level of buildings by such means as a change in materials, bay rhythm, or a cornice line below the uppers floors
Recognition of the human scale at the ground level with elements such as stoops, display windows, awnings, and planters
Limited use of flat, undifferentiated surfaces such as curtain walls
No reflective glass at the ground level and sparing use of it elsewhere
Encouraging the use of architectural features such as tower, balconies, etc.
The branch and surrounding developments contribute to the city's initiatives to make the neighborhood more walkable, inviting, and connected to downtown Fort Lauderdale. The site is bordered by Tarpon River Park to the north and by residential areas further north and to the west. Commercial areas are located primarily to the east and south of the site, with a variety of restaurants, commercial businesses, not-for-profit organizations, and medical offices located south of Davie Boulevard.
The branch is also the recipient of local design awards, including the Fort Lauderdale Community Appearance Award and the Broward County Emerald Award for sustainable landscaping.
There are many elements of the project that were designed for human delight and the celebration of culture, spirit and place, including:
SOLAR SHADING
A canopy covers the building's southern exposure to reflect sunshine during the hottest part of the day while still allowing natural daylight into the building, resulting in reduced cooling costs.
MATERIAL SELECTION & INTERIOR DESIGN
When possible, PNC used local and recycled building resources for structural and shell materials, as well as interior finishes. Light colored building materials keep the interior of the building cool by reflecting heat and also give the building a bright and pleasant appearance.
GREEN WALL
A 216 square foot vertical green screen adorns the building's façade and features various plant species, providing both a visual and natural amenity.
WALKING PATH
A walking path along the river lines the north end of the site. The walking path is surrounded by trees and other native and adaptive plants selected for varied visual interest
20. INSPIRATION & EDUCATION IMPERATIVE
After a decade of successful company-wide adoption of sustainable design and construction practices, PNC sought to push the limits of their real-estate portfolio by developing a Net Zero energy project. PNC targeted Florida to locate their first Net Zero bank branch, in order to take advantage of the ample sunshine. This led to innovative ways to drive down cooling energy use and overall branch operations in order to become fully net zero. An integrated design approach was implemented to meet design, construction and verification goals. For example, multiple innovative strategies were pursued for tying together the building envelope, daylighting and façade style that met concurrent goals of performance, solar gain, daylighting, and architectural style.
PNC also wanted this branch to stand out in the market and be a building which people noticed as significant and unique. Therefore, the following strategies were used to generate local inspiration:
Native landscaping was included to provide an attractive and unique landscape. While many commercial properties use St. Augustine turf grass for their landscaped areas, PNC used a robust mix of native grasses and shrubs to provide a sense of place for visitors by tying the landscape to the regional ecosystem.
Bioswales were incorporated into the landscape to capture and treat site stormwater runoff, which also provide an attractive site amenity.
An accessible and publically available nature trail was incorporated into the site design to promote the health of visitors, generate awareness of a nearby river, and allow them to explore the native habitat.
The solar canopy was physically integrated into the structure to capture energy while providing shade inside and below for a more pedestrian friendly streetscape.
In typical commercial properties in this area, the buildings are set back from the sidewalk encouraging visitors to walk through a parking lot to enter the building. However, this building was sited directly adjacent to the sidewalk to promote pedestrian accessibility and walkability.
All the exterior building shell materials were produced locally.
PNC has a robust platform to educate the public on design and construction strategies targeting Net Zero in the branch. Notable strategies include:
ACTIVE COMMUNITY EDUCATION
PNC provides the opportunity for local enthusiasts, academics and professionals to visit the branch, receive a guided tour, or tour the facility at their leisure using PNC-provided materials. These opportunities include:
Architectural and energy-focused educational programs have come to tour the facility to see first-hand the strategies used to achieve net zero, such as solar PV, DC-direct LED lighting and efficient envelope strategies.
Local horticulture and landscape architecture programs have also visited to see how the native l­­­andscape provides a functional and aesthetic differentiator in Fort Lauderdale. This also includes touring the site for its site water management strategies including the green wall, permeable pavement and efficient irrigation strategies.
Lastly, multiple local schools use the branch as a destination for field trips, to provide students the opportunity to take tours around the site.
COMPREHENSIVE SIGNAGE PROGRAM
The Net-Zero energy branch has numerous educational materials throughout the branch that educate the public:
STATIC
There are several posters hanging in the branch describing the sustainable features of the branch. There is a brochure available to occupants that allows them to take a self-guided tour of the specific building features.
DYNAMIC
There is a building dashboard in the lobby that any visitors or branch users can interact with to learn about net zero strategies and their live performance as displayed through graphs, trends and other educational content.
TOURS
Tours are provided by directly contacting the branch manager.