The School of Design and Environment 4 (SDE4) is an inventive educational piece of architecture developed by the School of Design and Environment at the National University of Singapore, the institutional organization that promotes design, sustainability and education in South East Asia. SDE4 is the first new-build net-zero energy building in Singapore and it is designed as a 8,588 square-meter, six-story, multi-disciplinary space by Serie + Multiply Architects with Surbana Jurong. Located on a hillock along Clementi Road near the southern coastline of Singapore, SDE4 is a new addition to the Design & Environment precinct and it is part of a larger campus redevelopment. The climate-responsive building includes more than 1,500 square meters of design studio space, a 500 square-meter open plaza; a wide variety of public and social spaces; workshops and research centers; a new cafe and a library.
vital stats
| | |
| --- | --- |
| Certification Status | Zero Energy Certified |
| Version of LBC | 3.1 |
| Location | Singapore |
| Typology | Building |
| Project Area | 8,588 square meters |
| Start of Occupancy | January 2019 |
| Owner Occupied | Yes |
| Occupancy Type | Higher Education Instructional Building and Visitor Center |
| Number of Occupants | 600 |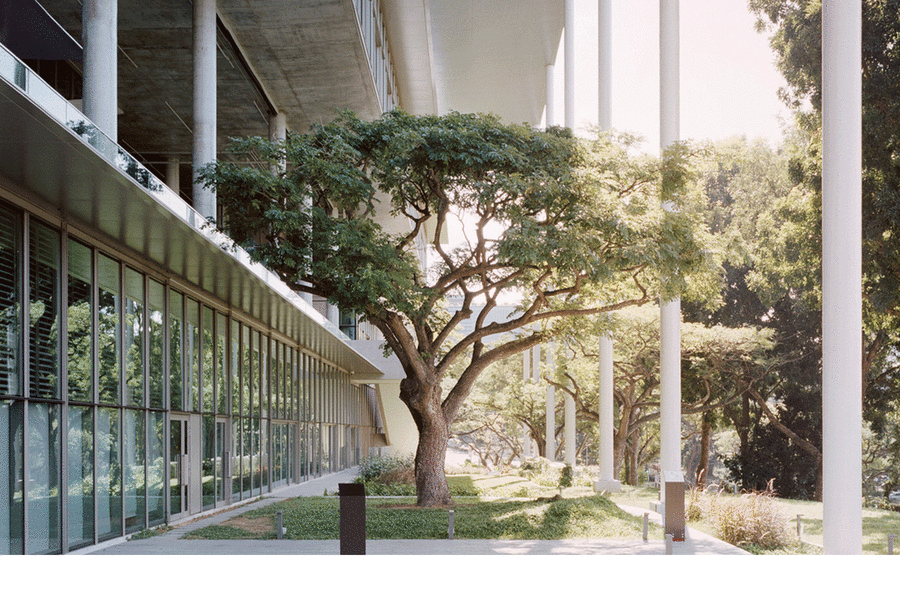 project team
| | |
| --- | --- |
| Owner | National University of Singapore |
| Project Manager | Office of Estate Development University Campus Infrastructure |
| Contractor | Kajima Overseas Asia Pte Ltd (KOA) |
| Architect | Serie + Multiply Consultants Pte. Ltd & Surbana Jurong |
| Mechanical and Electrical | Surbana Jurong |
| Civil and Structural | Surbana Jurong |
| Landscape | Surbana Jurong |
| Energy and Sustainable Design | Surbana Jurong |
| Quantity Surveyor | Surbana Jurong |
| Energy and Climate Consultant | Transsolar Energietechnik GMBH |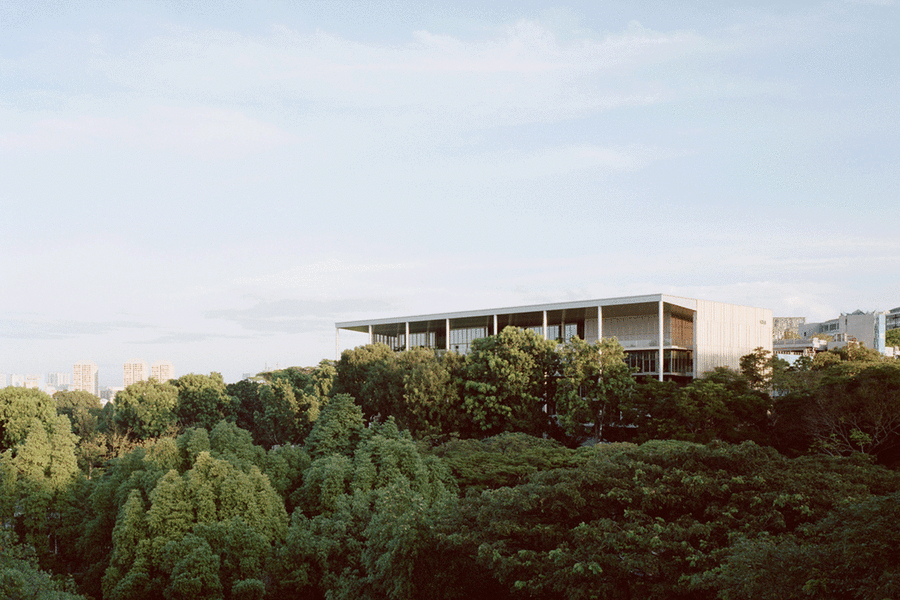 performance
| | |
| --- | --- |
| Actual energy use during performance period | 470,750 kWh |
| Actual energy produced during performance period | 619,345 kWh |
| Net Energy Use | -148,595 kWh |
| EUI | 17.55 kBTU/sf/yr |
SUSTAINABLE DESIGN FEATURES
The building consists of a range of sustainable design features that have been holistically integrated into its architecture to not only deliver user health and comfort in the tropical context, but also meticulously programmed to be highly energy efficient.
SDE4 upholds key tenets of tropical design in its climate-responsive architectural form and spatial layout optimized for natural ventilation interspersed with thermal buffers/social spaces and landscaped balconies. A large overhanging roof hosts more than 1200 photovoltaic (PV) panels to harness solar energy to meet the energy demands of the building.
Enclosed spaces feature an innovative hybrid cooling system, designed by Transsolar Klima Engineering, that supplies 100% fresh pre-cooled air, albeit at higher temperatures and humidity levels than in a conventional system, and augments this with an elevated air speed by ceiling fans.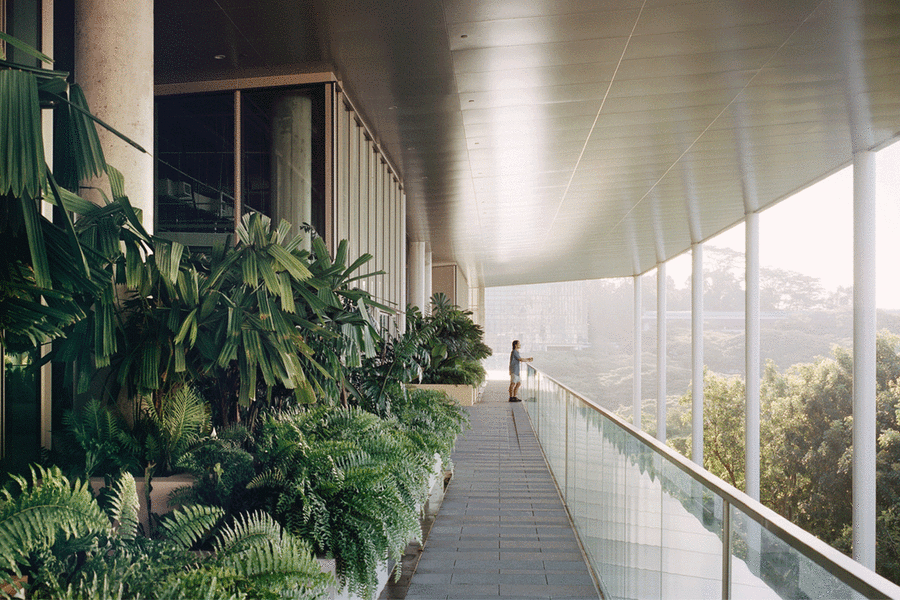 BUILDING OPTIMIZATION
The net-positive energy outcome is a result of a collaborative effort by the School management and building users who have ensured a prudent consumption of energy all-year-round. A Building Management System that includes Occupancy Sensing Thermal Controls and IEQ Monitoring overseen by the School ensures that these trends in building occupancy and energy usage are monitored and studied for a continued and sustainable impact through the building life-span.
RENEWABLE PRODUCTION SYSTEMS INFORMATION
| | |
| --- | --- |
| Panel Array Size | 428 kW |
| PV Output Per Capacity Nameplate | 345 W |
| Panel Quantity | 1225 |
| PV Type and Brand | Sunpower X21 and X22 |
| PV Inverter Quantity | 17 |
| PV Location | Roof |
| PV Ownership Details | National University of Singapore |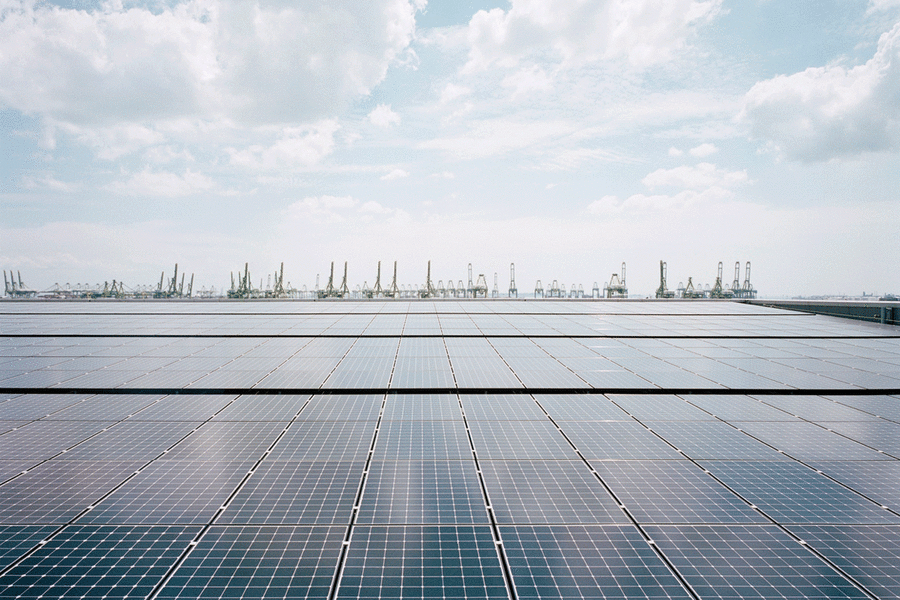 ADDITIONAL INFORMATION
Prof Lam Khee Poh, Dean at the School of Design and Environment, says: "The fact that the building exceed its original energy targets chronicles an important milestone in SDE4's Well and Green vision for environmental stewardship. We are now progressively expanding our sustainability targets from net-zero energy buildings to integrated zero carbon developments."
Learn more about the project here: https://www.archdaily.com/912021/nus-school-of-design-and-environment-serie-architects-plus-multiply-architects-plus-surbana-jurong