Armstrong World Industries, Inc. (AWI) is an industry leader in the design and manufacture of innovative commercial and residential ceiling, wall and suspension system solutions. At home, at work, in healthcare facilities, classrooms, stores, or restaurants, Armstrong World Industries offers interior solutions that help to enhance comfort, save time, improve building efficiency and overall performance, and create beautiful spaces.
For more than 150 years, we have built our business on trust and integrity. It set us apart then, and it sets us apart now, along with our ability to collaborate with and innovate for the people we're here to serve – our customers, our shareholders, our communities and our employees.
We are committed to developing new and sustainable ceiling solutions, with design and performance possibilities that empower our customers to create beautiful, high-performance residential and commercial buildings. One example of this commitment is our purchase of the Tectum business. When Armstrong World Industries acquired Tectum, Inc., in 2017, it immediately identified the product as a candidate to put through the process, because its composition was already highly sustainable.
Tectum is a wood composite derived from the Wisconsin aspen, one of the most sustainably-harvested trees of its kind. Seeding or replanting is not necessary. The Aspen is always reproducing. Hundreds of new growth are released from a single Aspen root system. Aspen is the largest single organism in the planet. The part of the Aspen that grows above ground can live between 40 – 150 years. The root system of the Aspen can survive thousands of years. The natural life cycle of the Aspen tree quickly regenerates itself from its root system after the trunk has been harvested and is ideal for building product production.
To create Tectum, Forest Stewardship Council (FSC)–certified wood is air-dried and pressed into panels using natural binders (magnesium oxysulfate and sodium silicate sourced from sand) instead of more common petroleum- or formaldehyde-based binders.
The natural fibers and binders are turned into unique, sound absorbing, textured ceiling and wall panels that bring nature inside. Ideal for spaces where sustainability, durability, and noise control are needed. Most known for its durability and use in high impact environments, it has a unique visual that contributes to its acoustical performance.
Tectum has been around for many years so our goal with this certification was to show its sustainable performance as well. Tectum panels are the first and only acoustical ceiling and wall solution to receive Living Product Challenge Imperative Certification from the International Living Future Institute.
TAKING ON THE CHALLENGE
Tectum achieved Living Product Challenge 1.1 Imperative Certification by meeting 14 of the 20 program Imperatives. The certification covers the Place and Beauty Petals in full, and meet certain Imperatives of the Health, Materials and Equity Petals.
Certifying Tectum did not mean making compositional changes, but it did mean documenting attributes of the product both from a material and impact standpoint, and making operational and facility changes.
All certified products must meet core criteria under seven "Petals," or performance areas. These range from the measurable (energy footprint or net positive waste) to the sublime ("beauty + spirit" or "human thriving"), and crucially, the life cycle of a product. Though Tectum was always FSC-certified, its packaging is now, too. And most significantly, Armstrong invested in a lighting retrofit project at its ceilings plant in Marietta, PA, which reduced its energy footprint and offset the remaining energy required for Living Product Challenge certification. Future improvements are underway in the Tectum facility as well that will create further reductions.
ARMSTRONG WORLD INDUSTRIES' BETTER SPACES AND SUSTAIN PORTFOLIOS
In 2017, Armstrong World Industries created SUSTAIN™ , a portfolio featuring its top selling mineral fiber, plant based fiberglass, metal, suspension systems, and trim products. We continue on our journey to add more products to this platform.
Tectum is part of the SUSTAIN™ portfolio. All products in this portfolio meet our most stringent sustainability criteria. Armstrong Innovation developed a breakthrough to remove formaldehyde from our back coat for our mineral fiber products at all plants resulting in the reformulation of over 1000 items to meet SUSTAIN requirements. We partnered with over 20 companies in our supply chain to gain material ingredient disclosures; published 28 Health Product Declarations and 41 Declare Labels and 23 Third party certified EPDs by UL Environment. The Sustain portfolio makes it simple to find ceiling and wall products that meet Living Building Challenge, LEED and WELL credits and requirements.
Through Living Product Challenge Certification, Tectum's existing Declare label was third party reviewed and is now a Third Party Verified Declare label with LBC Red List Free status.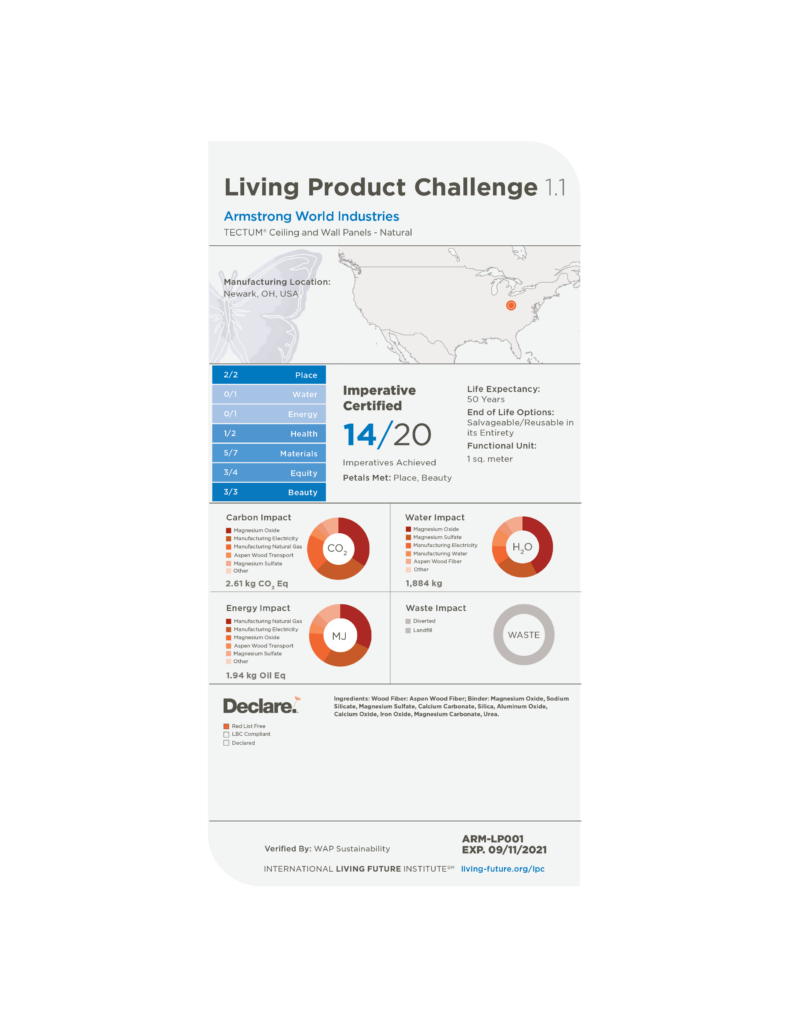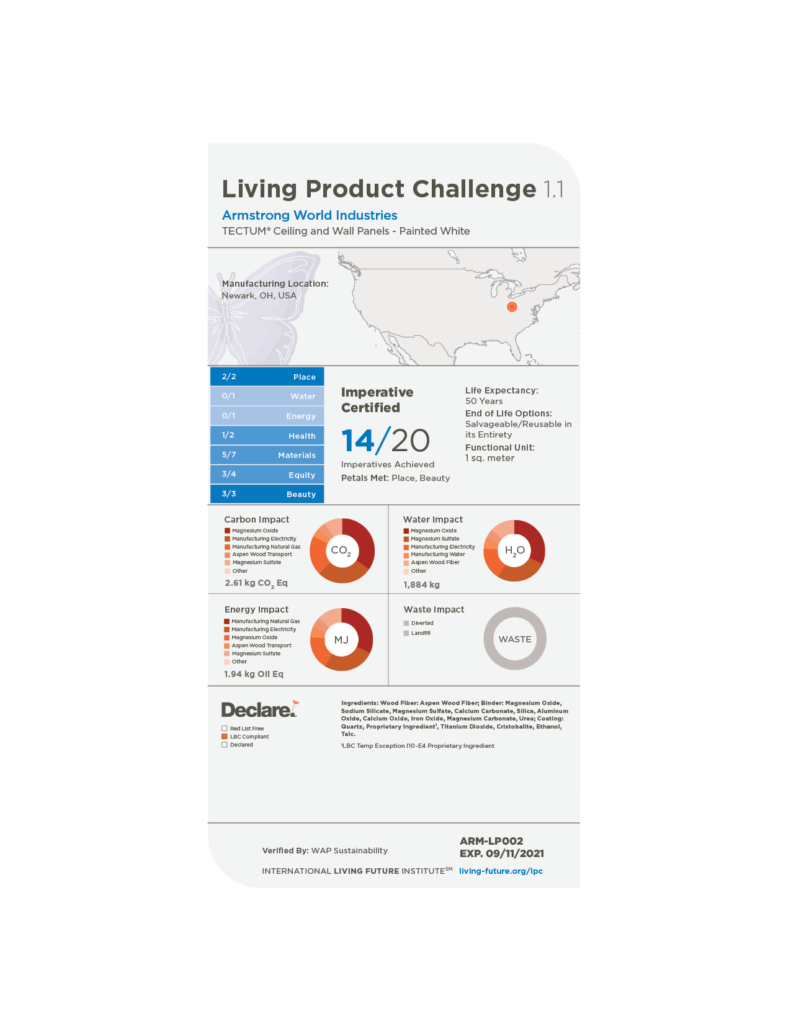 TOP HURDLES TO CERTIFICATION
IMPERATIVE 03 NET POSITIVE WATER: Process water could use captured rainwater if a process was set up to capture rainwater on-site via roof run-off capture or a retention pond. Plans for future water efficiency are underway.
IMPERATIVE 04 NET POSITIVE ENERGY: Though the site is space constrained, there are opportunities for on-site renewables. Plans for future energy efficiency are underway.
IMPERATIVE 11 NET POSITIVE WASTE: Armstrong has an extensive program to reduce their waste as much as possible by salvaging their waste to be used in other products and packaging materials. Even though this extensive program exists, a large portion of the waste still goes to landfill, resulting in this being an improvement area.
PLACE PETAL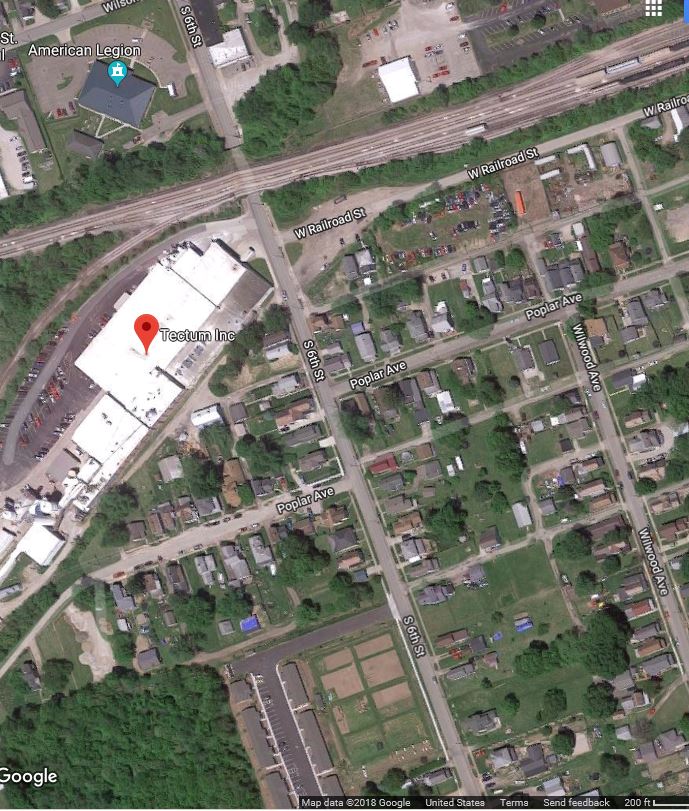 01. RESPONSIBLE PLACE AND HABITATS IMPERATIVE
The Tectum facility was in place before 2007. The site visit and documentation confirmed that the material inputs are not from habitats where there are endangered species and the manufacturing facility is not located on or near sensitive ecological habitats. The facility is not within 50 miles of sensitive ecological habitat and there are no endangered species in the area.
02. HABITAT EXCHANGE IMPERATIVE
The requirement for this Imperative is for every dollar of gross profit, donate a ½ cent to a certified land trust.
As a company, Armstrong has donated both time and material to Lancaster County Conservancy. We have provided 120+ volunteer man hours to support clean up the Conestoga River in Lancaster County. We have provided 140+ volunteer hours to support the renovation and clean-up of The Climbers Run. We have donated $500 worth of acoustical ceiling panels to support the renovation of their new nature education center at the Climbers Run.
In addition to meet the remaining requirements, we started a partnership with the National Forest Foundation to preserve the aspen forest. This partnership will preserve the aspen forest by planting 10,000 Trees.
HEALTH + HAPPINESS PETAL
06. HUMAN THRIVING IMPERATIVE
Armstrong makes a commitment to encourage worker interaction with nature, through various programs. The site visit confirmed that there is appropriate provision for worker interaction with nature. The employee surveys came back with several good ideas on things to do to improve this interaction and wellness of employees.
MATERIALS PETAL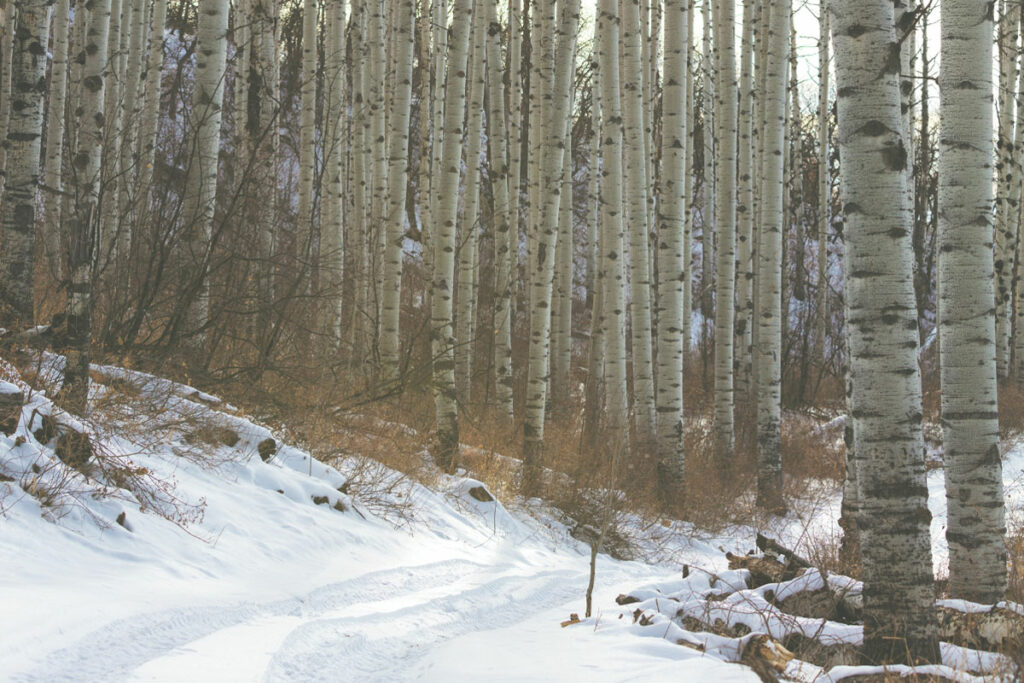 07. RED LIST IMPERATIVE
As this certification represents two different products (Natural and Painted White), two Declare labels were created for the product. The unpainted version is Red List Free, and the painted version is LBC Compliant due to difficulty obtaining proprietary information from the paint supplier. The product's Third Party Verified Declare Label confirms compliance with this Imperative.
09. RESPONSIBLE INDUSTRY IMPERATIVE
Tectum has received the Forest Stewardship Council certification from Rainforest Alliance. As part of the certification, we also made changes to our packaging to align with the FSC requirement. The product and the packaging are now 100% certified.
10. NET POSITIVE CLIMATE IMPERATIVE
Armstrong has been conducting life cycle assessments on our products for many years. We track and publish our products' impacts to the environment in our Environmental Product Declarations (EPDs).
The Tectum product has an existing LCA that has been updated with 2017 data, along with an EPD based on 2016 data. Using this information, the top 5 hotspots were identified along with ways to help reduce this impact.
Furthermore, Armstrong has implemented several energy savings projects at their facilities, including a lighting project that accounts for a handprint greater than the footprint of Tectum, resulting in Tectum being considered Net Positive for Climate.
12. PRODUCT FIT TO USE IMPERATIVE
Design for durability is well integrated into Armstrong's Design For Environment (DFE) process. Tectum's lifespan of 50 years exceeds the average for its product category (30 years). It is a very durable product and is well known for this quality.
EQUITY PETAL
14. EQUITABLE PRODUCT ACCESS IMPERATIVE
While Armstrong generally does not sell directly to residential customers, if the opportunity presents itself, Armstrong will sell products to low income housing projects at cost parity to similar products..
15. RESPONSIBLE CO-PRODUCTS IMPERATIVE
Armstrong World Industries does not directly engage in any of the banned activities, nor produce any of the products, proscribed by the Living Product Challenge Standard.
16. EQUITABLE INVESTMENT IMPERATIVE
Armstrong World Industries supplied acoustical ceiling and wall panels (Tectum), design support and installation to improve the acoustics of the Hill Clubhouse gym on Water St. The recreational center serves about 100-150 kids ages 6 to 18 daily.
The clubhouse was carved from a 1910 four-story brick building that once operated as a candy factory then paper supply warehouse. The building's high, hard surface walls presented a chaotic noise environment for active kids and their adult supervisors who had to shout to be heard.
Our products were installed on walls and ceilings as a retrofit solution to absorb sound before it got reflected, or bounced back, in a rippling effect that our ears perceive as noise. According to Armstrong acoustical engineers working on the project, the space achieved a 63% reduction in reverberation time, which significantly improved the sound quality of the space. The Tectum wall panels were also custom configured in the Boys & Girls Club logo, serving as a reminder of the organization's mission to provide a safe, positive and encouraging place for kids.
BEAUTY PETAL
18. POSITIVE HANDPRINTING IMPERATIVE
We offset the climate impact of Tectum by positive handprint reductions in other Armstrong facilities.
Due to the improvements at the Boys and Girls Club, we provided a positive environment for the boys and girls who use this space on a daily basis. View the case study and listen to the story.
19. BEAUTY + SPIRIT IMPERATIVE
Tectum® Ceiling and Wall Panels provide durable, sustainable, acoustical solutions with unlimited design options. From direct attach designs, to blades and baffles, shapes and clouds, and wall solutions, there are many options for your space. Create a signature element in a space to complement your interior design. The possibilities are endless, the look is one-of-a-kind, and the acoustic properties of Tectum panels can help quiet the space. Discover more in the Tectum brochure or at our Tectum site.
20. INSPIRATION + EDUCATION IMPERATIVE
INTERNAL EDUCATION:
We educated our internal sales and business units on the Living Product Challenge. We also created signage and education at the Tectum facility.
There are several Continuing Education courses available on Tectum.
EXTERNAL EDUCATION:
Armstrong has hosted two educational events about our experience at Living Product Expo in Pittsburgh and at the Green Building United Chapter in Philadelphia, PA. There have also been a series of meetings with clients, partners, and others in our network to spread the word about the Living Product Challenge, and there are plans for more.
Tectum was featured in the April Metropolis edition highlighting the achievement of the Living Product Challenge – the Industry's most rigorous sustainable certification.
For more information on the Tectum Living Product Challenge Imperative Certification, visit https://www.armstrongceilings.com/livingproductchallenge, chat live, or call Armstrong Techline at 1-800-276-7876.
SUMMARY OF PROCESS AND BENEFIT OF PURSUING LIVING PRODUCT CHALLENGE
The Living Product certification has turned into a larger improvement plan for Armstrong—one consistent with the company's mission to create better spaces and, more importantly, one with work still under way.
This certification has brought new life to an existing product. By demonstrating the sustainable performance of this wood fiber product, this is now part of many Living Building Challenge projects.